Well, August was interesting for me as it was the first month as a full-time blogger that I took 2 weeks off.
I was a little worried that my income might have suffered for it.
Well, check out the video to see if it did.
Here is a full breakdown of my blogging income report for July 2021.
In this video, I show you all my income and even share my P&L which includes my YouTube revenue, Website earnings, and affiliate income.
Let's see how much I made online and what expenses I paid out.
Here is my income reports from all my websites, YouTube, and Affiliate marketing programs I take part in.
It was another great month in which I broke the $10k target for the second month running.
Which I'm super pleased about
Especially as QTR2 is not known for being a big month.
Watch the video for a detailed breakdown and my P&L review
Thanks for watching!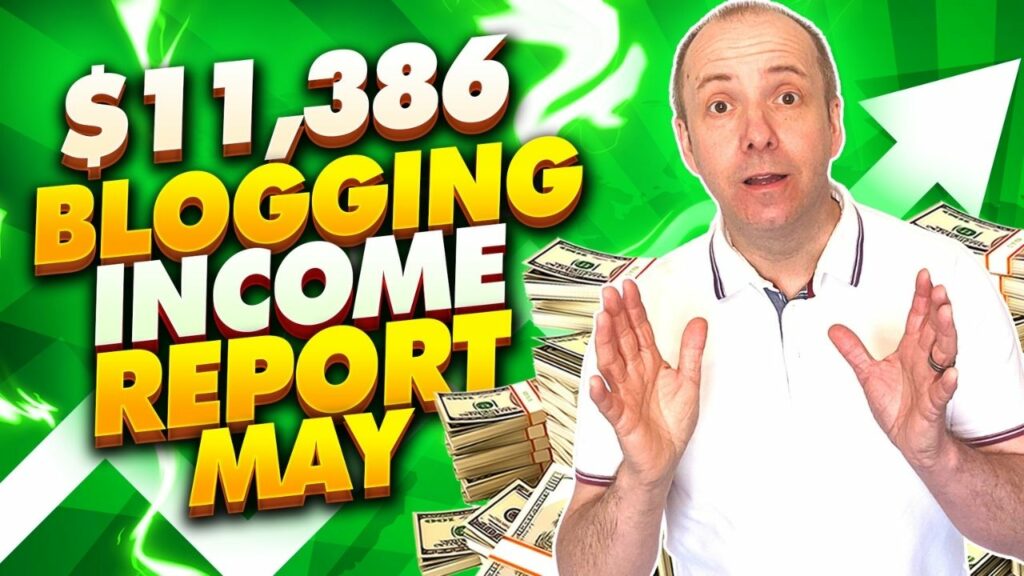 Well, what a month it has been.
For those of you who just want to see the numbers I have listed them below.
However, there is a lot of detail in the video so I suggest you watch it until the end.
Total income $11386
Websites $5347.93
Affiliate Brand income $6038.07
Before tax profit $6739.45
I always list my income in dollars even though I live in the UK and get paid in good old British Pounds.
The reason is that 70% of my audience is from the USA and most affiliate programs and revenue from display ads also come in in dollars.
This makes it easy for me to report to you... But hard for my accountant. LOL
It's the BIGGEST month I have had since becoming a full-time affiliate marketer without selling a website.
You may remember that I sold one of my websites a while back now and that income added to my affiliate income was $25772.52 you can see that report here.
May 2021 was also the first month that I broke into the exclusive 5 figure a month blogging income report level. I actually thought it would take me until the end of this year to bring to you a 5 figure income report.
But, thanks to a few affiliate programs I shared with you all. I hit that target a bit sooner than I thought.
I'm focusing on more and more blogs for this website and my brand carlbroadbent.com and you will see from the video that I have started to invest time and money into my affiliate brand.
Why?
Well, when you watch the video you'll see the numbers are starting to beat my website income.
Granted, my websites are in the quietest part of the year and in QTR4 there is no way my affiliate income will beat my websites.
Unless tow things happen..
My websites get hit by all the Google Updates
My affiliate brand and carlbroadbent.com grows faster than I had thought
Other wise the RPM and SALES made in Oct, Nov and Dec of 2021 should be some of the best yet.
I'm very excited for the end of the year.
I was going to write the entire income report out here on this blog but I feel the videos do it better justice.
However, if you feel that it would be valuable to you. Then please let me know and I will start to type them up in future if it helps you.
But for now... Watch the detailed income report on YouTube and let me know in the comments ' how you're doing? '
I would love to know.
Here is my blogging income report ( Affiliate marketing ) it really should be called as a lot of my income comes from many places now not just my websites.
I hope by providing these very detailed income reports you can see what you'll need to do to make similar amounts and how much time and work it took myself to achieve these numbers.
It in in no way an easy process and is certainly not a ' Get rich quick ' business.
Some people do find success faster than other, but for me it took 3.5 years to get to the point I'm at now.
And that's working a full-time job for 3 years of that and then working 2 hours before work and 4 hours after work for 5-6 days a week, for 3 years.
Only, after 3 years was I able to quit my job and become a full-time blogger/affiliate marketer.
I hope you find some of the information either useful or inspiring in some ways.
I make these income reports because I know when I was first starting out building niche websites and chasing that passive income lifestyle I loved to read peoples income reports.
People like Spencer Haws and Pat Flynn was a big inspiration for me and I watched all their income reports!
Now, strangly I'm doing my own.
Weird how life changes within the space of 3.5 years! Crazy.
Anyway.... Enjoy!
We are halfway through Q1 2021 and I'm pleased to say, it was another awesome month.
January and February are notoriously slow months depending on your niche. But still, I managed to pull in just short of $6000.
There were website purchases, Bog spends on content, and lots of excitement building up for Q2 and especially Q3.
I'm thinking ahead and ordering content in preparation for Q3 & Q4 which I'm hoping for record months.
I'm using my team of writers along with BuySellText. ( Affiliate link )
But for now, a great start to 2021 but the profits are not where I would like them to be.
Watch the video to see why.
Thanks for following my income reports
For the first time in over 12 months I report a negative income report.
However, it's not anything to be worried about. I have simply invested back into my business.
I still earned over $6500+ through January which is one of the hardest months for bloggers and affiliate marketers due to ad spend being very low and everyone has usually ( Like me ) over spent at Christmas.
So, money is tight and people just don't spend.
January sales don't really affect income for affiliate marketers. It's more of a retail high street Month.
Take a look at what I invested more than $8000 in throughout the month of January.
Spoiler aleart.... I bought two new websites and invested in LOTS of content.
Here is my latest income report with all my affiliate income included.
I have a diversified income to protect myself from things like Traffic loss on a website. So, it would be very difficult for me to list every item and every source of income in this video
( Not too mention boring for you )
My income is made up mainly from:
Ads on my websites
Amazon affiliate sales commissions
Affiliate Products
YouTube revenue
Sale of my keyword service
Sales of websites
Sponsorship
But, I do include all the main incomes, totals and total expenditures.
I also tell you my plans for Jan 2021
So, this month as you can see by the thumbnail has been one of my best month as far as income is concerned.
The figure you see is from all my affiliate income apx $7500 and the sale of one of my websites fishkeepingforever.com.
Take a look at the video and see how and where this total income came from. I break the revenue down piece by piece in a hope that it will help you or inspire you to grow your nice website or passive income online.
Here is my income reports from May 2020 and as you can see from the thumbnail it was better than Feb as the number in green suggests.
But how did I earn this money from my online affiliate websites? Well, play the video and all will be revealed.