Welcome to my latest blog post where I'll be sharing my income report for the month!
As a blogger, it's important to track my earnings and expenses to ensure that my blog is not only successful but also profitable. I'm excited to share with you how I made money from my blog, as well as the strategies and techniques that worked best for me.
Whether you're a blogger looking to monetize your website or just curious about how bloggers make money, I hope this income report will give you valuable insights and inspiration to help you achieve your own blogging goals.
I also write them to hopefully give you some inspiration or confirmation that blogs still work in 2023.
A little history about the website:
I purchased this website back in the latter part of 2022. It had about 50-60 articles on the site and was getting about 200 views a day and making about $20-40 per month.
It's about 1.5 years old in total. But remember, I have only been working on the site for about 4 months now.
So, the numbers you see are pretty much the numbers that we have achieved in 4 months
I think they are really good results so far.
So, let's see what you think.
The Team and Instructions
How the team looks right now:
Myself
Editor
VA and Proofreader
12 Writers
We hired a new writer this week and got her up to speed on this project.
I also had to issue a team-wide email to focus their attention on the language used in their content.
A few had slipped into a generic tone and style of writing which didn't read very well. So, I instructed them to start paying attention to the way they include words that Google's AI systems will pick up on and how they use this to meet their E.E.A.T metrics.
Example:
Bad version: " The best hotel in Florida is the xxx. It has lots of good reviews on TripAdvisor and has a star rating of 4.5 out of 5. It's a great option for a hotel for your next vacation and might save you some money.
Good version: After visiting Florida for several years now, I'm experienced enough to offer some helpful insights for booking a hotel in the sunshine state of Florida for your next vacation. After reading this review, I'm hoping that you'll avoid some of the pitfalls and mistakes I've made and find the best hotel for you and your family.
Using words and sentences like:
"My son found the pool to be very cold first thing in the morning"
"After my husband had used the restaurant several times, he started to find the food bland"
"On arrival, we were greeted by xxxx"
"We loved the fact that the rooms had aircon which is so important when you have young children I found if I set it to xxx deg it was perfect by day and night."
Sentences and paragraphs like this will be picked by Google's new language-based tools and will look like content that is trustworthy and meets some of their E.E.A.T criteria.
Templates
We also created a template for a review-style post. Many of the writers were issued a list of keywords and all of them had their own style of writing and structure for the posts. This made editing a nightmare and was taking a very experienced editor 2 hours per post to format and edit.
When you have 10-12 being uploaded to draft every day, you can see that we had to make changes.
Now that they have a template to work from it's so much easier.
Backlog
Even with the new template, we are still behind on publishing everything, but my editor and VA have been doing a wonderful job and I'm fine with 20-40 still in draft.
I haven't been able to put the time into this website as I would have liked this month due to plans for the Affiliate Gathering event in May.
Here's what we posted last month and what's still left to do:
490 total articles
108 Published in February
47 in draft

108 Published on one site is really good. And don't forget the same team has been working on the back up site as well.
New keyword hit lists have been issued to the team for March already, so we need to continue to publish content that's in draft.
My proofreader is also now formatting content and I'm going to work on the site next week so I'm sure we'll catch up.
But I bet as soon as we do, the writers will upload a big batch of content issued in March and the process starts all over again 😂
You can see a lot of detail on this cool feature which is FREE inside the theme we use. Popcorntheme which is a theme I helped develop, has saved us hours in editing and we don't need plugins like: Wordcounter, Amalink Pro for products, Block builder plugins, and much more.
This speeds the site up and saves on monthly subscriptions. Which I hate paying!
Take a look at all the features available in Popcorntheme and use this code to get 10% off the purchase price at the checkout. (Carl10)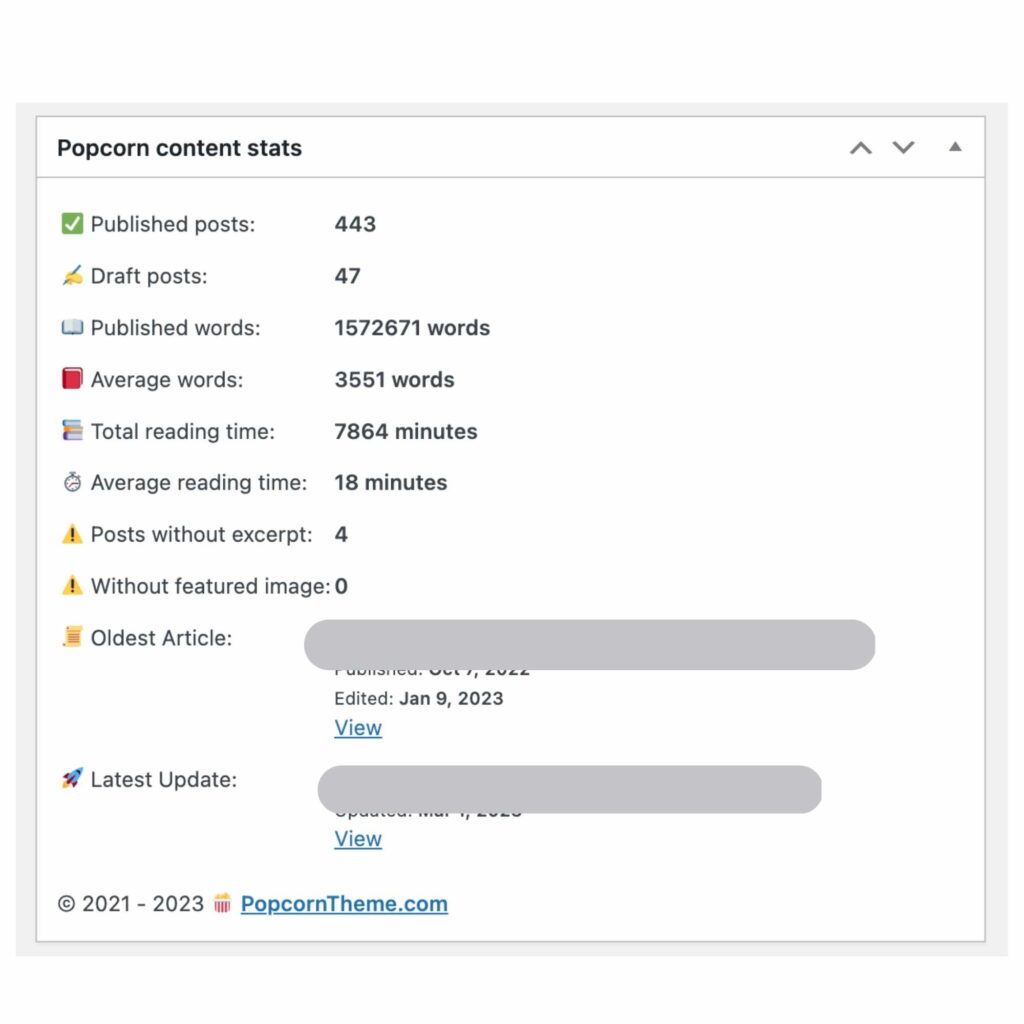 Even with all those articles and over 1.5 million words and hundreds of images. Here's the speed and performance of the website using Popcorntheme and Spidrweb.net hosting.

What we did this month
We hit the Jackpot with one keyword.
No kidding, I haven't stumbled on a keyword like this since the first year I started blogging.
So, we built a silo around it. I have a video out soon.
It's great because this is ranking super-fast, and we can gain some income from it whilst all the harder travel keywords find their place in the SERPs.
It's hard to publish hundreds of articles without much to show for it. So, this trending and growing keyword is really helping us out financially and inspirationally.
Pinterest
I had a nightmare with Pinterest a few years ago. My pins were duplicating my rankings for content in the SERPs. Basically, thanks to the Pins, my articles were flagged as duplicate content.
So, I stayed away from Pinterest for 2 years.
Also, Pinterest changed its algorithm, and it was pointless wasting time on there. Pinterest wasn't sending people off their platform to your blogs.
Thankfully, things have changed recently, and people are again seeing huge success.
The travel niche is perfect for Pinterest. So, I've opened a new account and I'm making travel boards and pins.
I'll keep you updated on that progress. It's very early days yet.
Google News
I'm still trying to figure this out.
I must be doing something wrong as I have published over 70 news articles and not one has been picked up by Google News or Google Discovery.
I have all the correct schema and images set up on the site to be accepted into Google News. But not one article has even popped into that listing.

Nothing at all, not even impressions.
Very Strange
However, my backup site, which is not set up for Google News, does get a few impressions and clicks. It's like Google wants to index articles in Google Discovery for this site but then realizes it's not set up for it and bounces them out.

Back up site gets more impressions and clicks.
But with my main site, it's not even testing them?
If you have any thoughts on this, please let me know.
Some people say you have to have 6 months of news articles published before it trusts you. I have no idea.
TikTok
We also published 60 TikTok videos and set up a YouTube channel for short-form videos.
Both haven't done really well.
TikTok: About 34 followers and 554 likes
YouTube: 60+ Subscribers and a few hours of watching time.
So far, these two platforms have been a waste of time. But they may have increased our brand awareness and authority and possibly 1-2 backlinks.
I'm more confident Pinterest will result in better traffic numbers and money earned.
We shall see.
Traffic
Traffic is up and continues to grow at an impressive rate.
But you'd expect that with 100+ articles published. You need to remember that a lot of the content is focused on high-paying traffic and medium to high-difficulty keywords. So, I wasn't expecting huge traffic growth.
But, thanks to that one keyword we have now covered over 60 articles in a silo cluster for this topic. Traffic has grown overall.
Here's a screenshot with a comparison to last month so you can see the growth as a percentage number.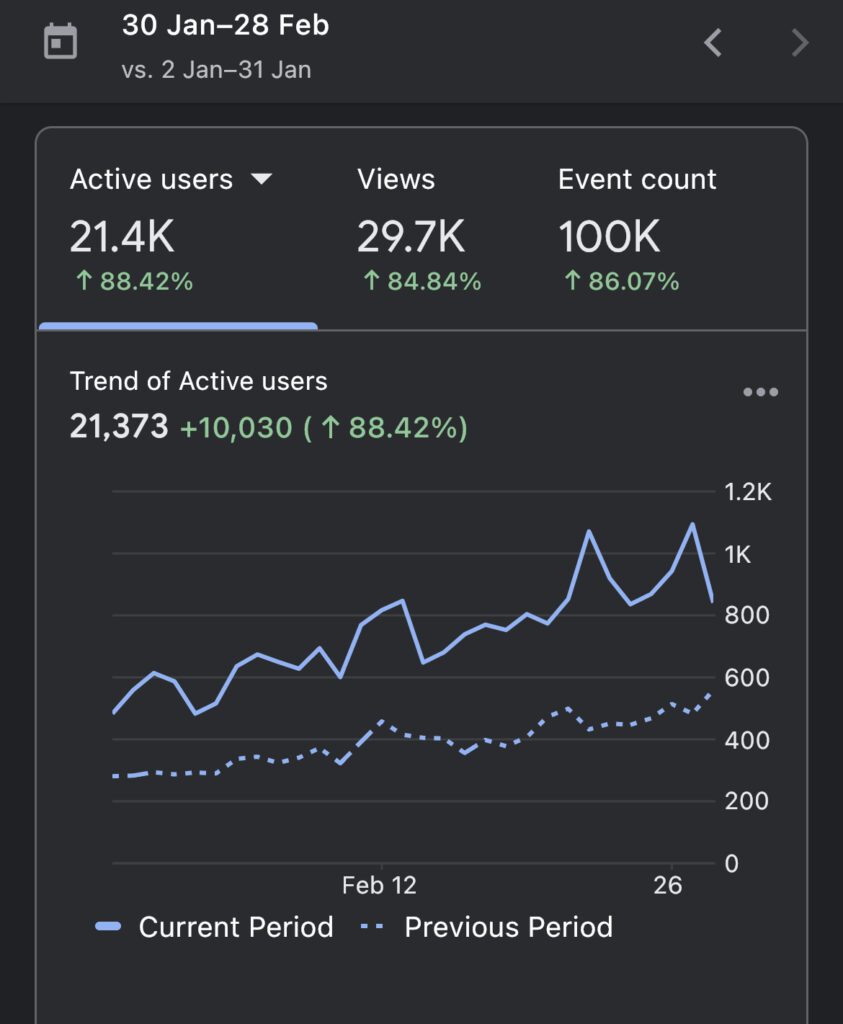 Here is a screenshot from Google Search Console as well. The big hockey stick growth is due to the new keyword that is trending and growing fast

Ezoic Numbers
I monetize this blog with display ads and affiliate programs like Travelpayouts.com
I have considered taking ads off and just pushing travel affiliate programs but I'm not sure just yet. I know a few travel bloggers and they do not run ads.
But when you start to see the ad revenue income start to grow it's a hard decision to take them off, knowing that you'll instantly lose income and might not gain more affiliate sales.
Let me know your thoughts please…
First, EPMV: At the moment, display ad revenue is taking a hit globally due to world events and the uncertain future in the business community. Global recession, wars, fuel crisis, pay disputes all mean lower ad revenues.
However, I'm really happy with the EPMV and revenue generated on this website. Compare this to my backup site, this is doing really well.
I expected in the best months in the travel niche to be getting around $18 per 1000 visitors and for the month of Feb, we are at $11.11. Overall, the site is between $13-14.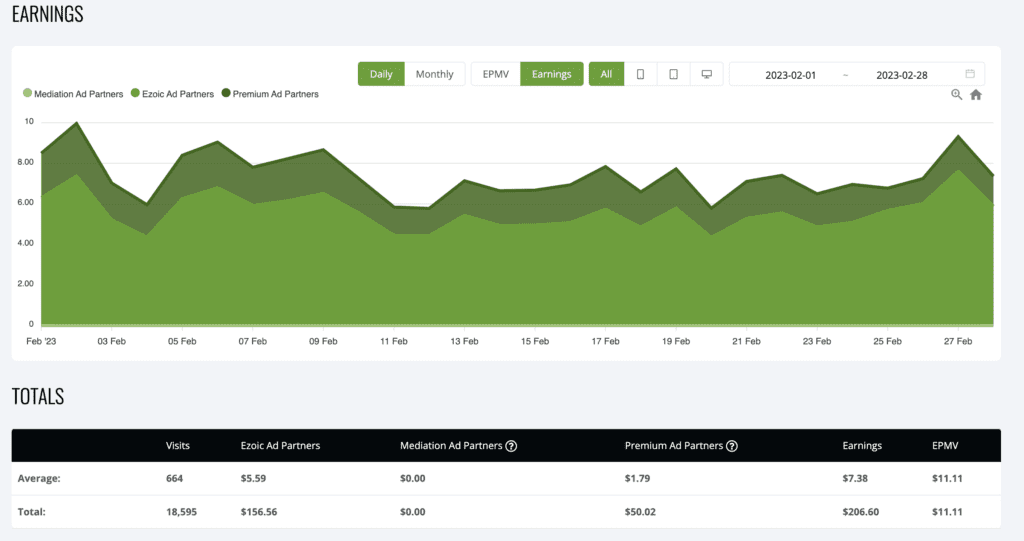 This is last month's numbers compared to Jan

As you can see, everything is up apart from EPMV which was expected. The site looks like it's about to break the $10 a day mark for the first time. Exciting!

Again, this is only really a 4-month-old site. Ie: We have only been working on it for the last 3-4 months. So, $10 a day isn't bad at all.
Plus, the affiliate commissions which I'll cover now.
Income and Expenses
Income:
Ezoic $206.60
Affiliate Commissions $122.80
Total =$329.40
Outgoings:
Hosting $9
Content $2628.03
Editors and VA $1184
Videos for YT & TikTok $240
Total = $4061.03
Loss Feb = $3731.63
Ok, So, I didn't stick to my promise of spending less this month.
I just can't help it. When we hit that new keyword, I had to go after it hard. It will bring in traffic and money for years to come.
Plans for next month
About the same level of content. 100 articles would be nice. I also need to keep going with the news content and see after 6 months if Google allows us into the Google News search.
So, 100 articles and 12 news articles would be great. To say we have 40+ articles in draft already. I can't see these numbers being an issue.
Final Thoughts for the main site
I'm very pleased with the site's performance and the team's work and dedication this month.
Let's try to continue on the same path and hopefully next month we will have over 50,000 pageviews in less than 5 months.
That's something to be pleased with for sure.
I'd also like to see income over $500 and I'm super confident that will happen.
You can see the growth inside the affiliate program here which is just Booking dot com.
I have signed up for multiple travel programs now using the Travelpayouts app. It's super quick and easy to apply for dozens of programs all in one place.
Here's my affiliate link if you want to check them out!

Back-up site information
This was supposed to be a smaller site that was in the background in case we got smashed by a Google update or something.
Amazingly, this site has taken off like a rocket!
I won't share too many details for this site as I don't want to confuse you and distract you from the main case study.
But I'll drop a few screenshots below
What we did
Nothing other than posting 26 articles in February. The average word count is huge though. Not what we planned but the writer got carried away.

What's working
Everything, all the content is doing really good. It's all information about the area, the history of the topic and country and not really product or hotel focused just yet.
We will chase after affiliate hotel bookings etc if it continues to grow.
Why not hey!
Traffic
85% growth week on week. Insane growth from just 30 + articles published per month

Ezoic Numbers
Daily earnings are on the up.
But the EMPV is a mystery to me. It rarely gets to $6. Compare that with the main travel site at $11-$14
But many travel bloggers are saying $6-$7 is about right.
What are your thoughts on that?

Income and Expenses
Income:
Ezoic $113.05
Affiliates $0
Amazon $ 10.03
Total $125.08
Expenses:
Hosting $9
Editor $124
Content $2072.61
Total $2205.61
Total loss for Feb 2023 $2080.53
I have paid for some content in the figures above that I have not yet received. Hence, over $2000+ and only 30 articles for the month of February published.
Plans for next month
The same, continue to publish about 20-30 articles max.
Maybe in April/May, I will turn my attention to affiliate products. But at the moment the site's traffic is growing super-fast. So, I'll just leave it alone to continue to grow.
Final Thoughts
I'm surprised at the growth of this site. Especially as we haven't found any big keywords. Just regular blog and information posts that Google is ranking fast.
So, let's hope it continues.