Here are some of the top tips I received after meeting some of the biggest publishers on the internet.
Some of them have a small team and still earn more than $9000 a day!
They shared some of their helpful tips with me and now I'm passing them onto you.
Enjoy
So much has been going on for me this past month.
Both Online and offline that I thought it would be easier to do a roundup video covering some of the important parts. In this video I cover:
Snippet Updates
Algorithm Product Update
Photos and Images
Fun with my team
Aged domain Case study
Helping a friend buy a website
Garage sale
Affiliate Gathering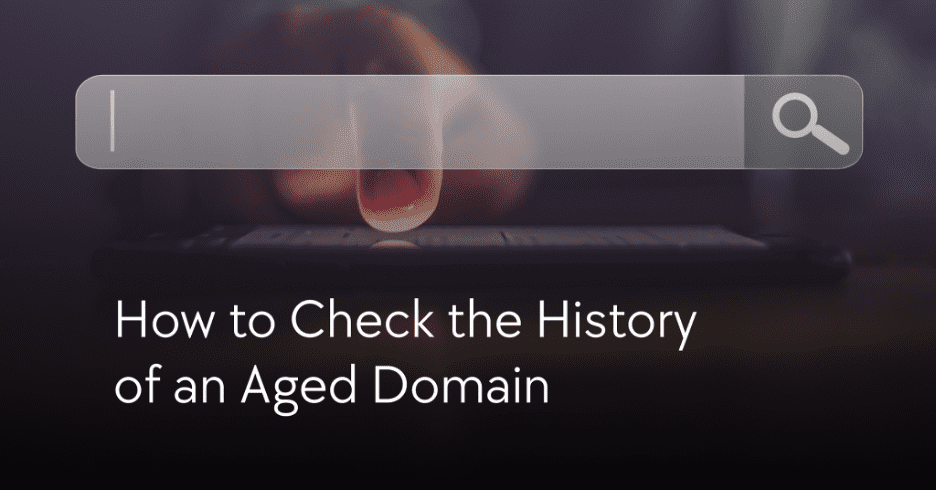 Regardless of whether you're registering a brand new domain and purchasing an aged domain, one of the first things you'll want to do is check if the domain has a good history.
Domain history relates to the manner in which the domain was used in the past and thus the nature of backlinks that it carries (in case the domain was used prior to purchase - aged domain).
Why is a good domain history important?
Regardless of whether you're purchasing a new or an aged domain, checking its history is a wise step prior to the purchase for several reasons.
First and foremost the domain may have been penalized by Google and in this case, the penalty will be carried over with the domain to the new owner.
It is thus your responsibility to check if the domain was previously in trouble with Google, if you're not eager to submit a reconsideration request later down the line.
Marketplaces like Odys Global vet the domains ensuring they haven't been used for SPAM and as Matt Cutts put it "burned into the ground'.
How to check if a domain is in trouble with Google?
The easiest way to check if an aged domain isn't in trouble with Google is to simply do a site search in Google Search, by typing "site:domain.com" into the search bar. If there are no results at all, especially if there is content on the domain, then it is typically a bad sign.
However, this is not always the case as some domains may be removed from Google Search because they're parked and Google are attempting to take out the parked domains out of their search engine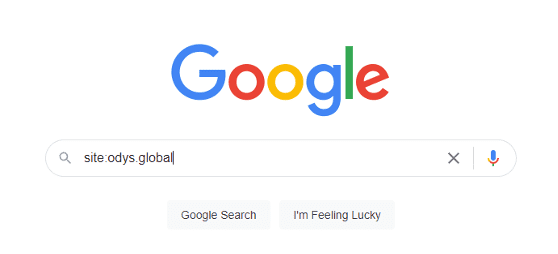 As Matt Cutts recommends, just search for the domain name or the brand name in Google Search in order to find a picture of the reputation of the domain name. Is it associated with SPAM, were the people talking about it in a good or bad way?
How to check the previous website under a domain name?
An equally good way of checking the history of a domain name is using the internet archive. So, if you go to archive.org and put in the domain name, the archive will show you what the previous versions of that website looked like.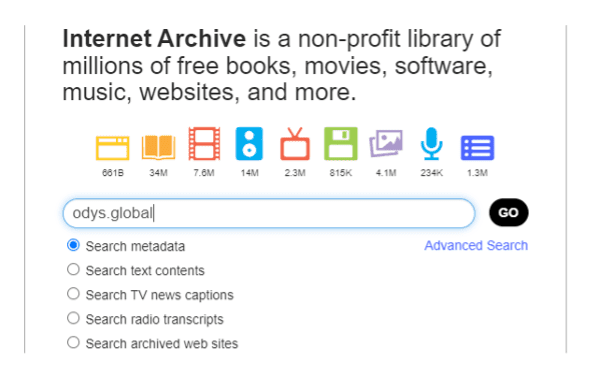 This is your opportunity to steer clear of websites that are associated with SPAM. Otherwise, you may end up with a domain that was used for illegitimate purposes and you may eventually find yourself spending time just to bring it back to level ground.
How to check a domain's backlink profile?
Lastly, particularly in the case of aged domains, it's always a good idea to check the backlink profile of the domain. This can be achieved using a premium AHREFS account, in the backlinks, referring domains, or best by links reports.

When looking at the backlink profile of a domain, the general recommendation is to avoid domains with spammy anchor text and unnaturally-built backlinks.
Visit Odys blog to learn more about aged domains and proven tactics on how to use them to your advantage.
It's been a few years since Ricky and Jim visited my home and a lot has changed for me and for Income School.
Jim has left the business to do his own websites and YouTube channel and Ricky has grown Income School even further and made it a huge success.
We had a chat about where my journey has taken me over the past 4 years and how much the industry has changed.
If you haven't seen the first video where they visited my home I'll leave a link here.
Watch that first and then watch the catch-up video after.
Enjoy the catch up!
If you would like to purchase and take the same course I did when I first started. The link is below.
The course has been updated many times since I took it and it's now a huge course covering every topic possible including winning Snippets, SEO, and using YouTube to grow your business.
Here is my Project 24 course link ( Affiliate link ) See prices here!
First Video
Latest Catch Up Video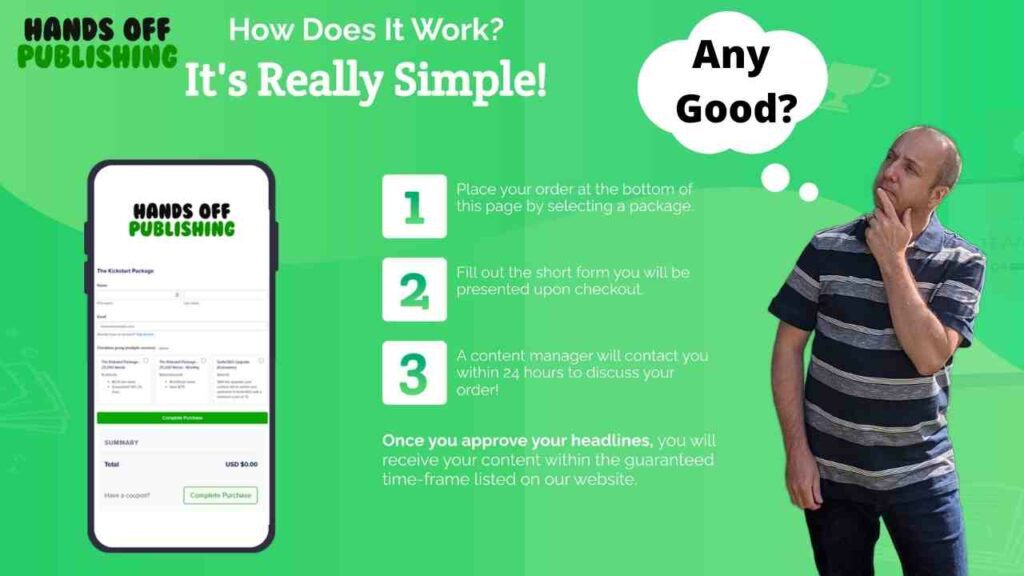 Here we go with another content agency review. Well, that is the business we're in so I suppose there's never enough content you can buy or try.
I'll be reviewing a content agency called Hands Off Publishing founded out of the UK (where I'm from) and walking you through my experience with them.
Before I get into that, I want to explain why I do these reviews. The first thought most readers might have is affiliate commissions. You're not wrong that I do get commissions if I recommend a business, but a review and a recommendation are two entirely different things.
When I begin reviewing a content agency, my initial focus is finding a good content provider for my sites that can produce well-written articles at an affordable rate.
If they can't provide me with that, then simply put, how will they serve my customers?
That's what this unbiased review is about today. Is Hands Off Publishing a good content provider?
Should you outsource your content to them? Let's find out.
PS. There is a discount code available should you wish to test them for yourself.
And yes, I am an affiliate because I do actually like and use them ( Spoiler )
Discount code: carl75 Get 7.5% off 25k word plans
Who is Hands Off Publishing? And who's behind it?
Hands Off Publishing claims to be the solution to all your content issues from keyword research to publishing. I mean maybe because they offer it all - research, writing, images and publishing.
Founded by Abdullah Ashraf (UK), and co-founder Sidharth Ganguly (India). Two young entrepreneurs with a history of launching successful digital businesses from publisher sites to online courses and now a thriving content agency.
They provide keyword research, writing, images, and publishing to WordPress sites all under one fee.
That alone is a very powerful offer but not everyone can live up to such promises. 
Obviously, I've already received content from them to be writing this review today, but I'm going to take you along my entire journey from discovering them to buying from them and to publishing their content (or did I?).
Here's what they offer and promise their customers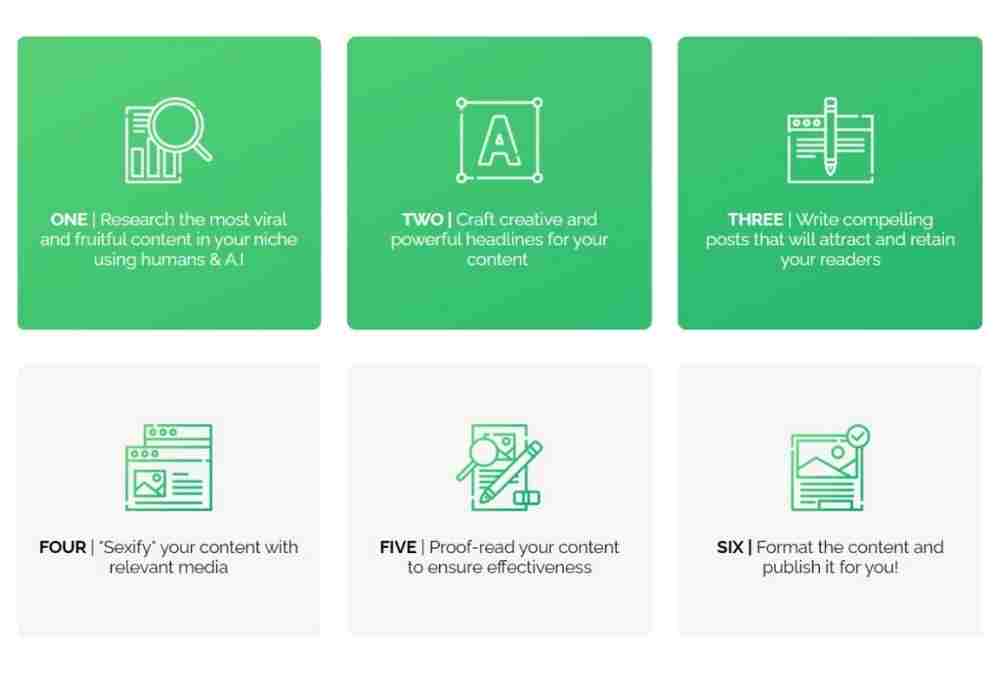 How I came across Hands Off Publishing
Other influencers in the space that I do business with, and trust started to promote their sponsored ads in their email lists and on their blogs. Brands like Fat Stacks Blog, Niche Pursuits, Investing.io, and some others.
When you see money, you don't just wave it goodbye. I reached out to them and let them know I'd be happy to sell them ad space if they can tell me a little more about their business, and if they're well equipped to serve my customers.
Without personally ordering from them, they provided me with enough information to give me the confidence to run their sponsored ad. The next time I heard about them was from my own customers and subscribers.
The good reviews started coming in. I had some space in my content calendar and figured it's high time I give them a shot myself.
What do people say about them?
There are a few reasons why I and many others purchase content from them:
Their content is SEO friendly
All-in-one service
Super affordable high-quality content
An experienced and talented team of writers
Great support and transparency
In this post, I will walk you through their entire service, their different offers, and discuss my experience with them to help you make an informed decision on trying out their content.
Some thoughts I had before testing them
I uncovered a slightly concerning review on the internet, but it was the only one at the time and was a little outdated. 
Plus, I already had a good experience with them long before this review and since then, they have changed a lot. My review today is about my most recent experience with them starting from September 2021.
Plus, I'm always in need of content. My audience is always in need of content. There are never enough words one can publish, so let's give these guys a shot.
With businesses like this that appear out of nowhere making unique offers and promises, I truly hope it works out because I know how game-changing it could be.
Let's try them out, shall we?
Transparency is key
One more thing to mention before looking inside their company and the service they delivered to me, is their transparency. This really won me over and cleared any doubts I had before ordering.
Since they're a new agency with young and hungry directors, they're very reachable. From my own experience, what I've been told by Hands Off Publishing and my customers, Abdullah and Sidharth (the founders) handle all their support inquiries.
Abdullah was happy to take me back to the early days of their agency (a year later, we can still call these early days). He explained that their first few months of business were a little rough as they were not clued up on everything, bit off more than they could chew, and compromised on content quality on multiple occasions.
He even went ahead and shared that they refunded just under $25,000 in their first 4 months of running their content agency to make up for any inconvenience they caused their customers while delivering free content across the board. Legends say they're still recovering from this loss (bad joke?)
Good thing is, today they boast an under 1% refund rate for a business that operates in volume, that's pretty impressive. Heck, they served over 6,000,000 words in their first year of business.
Let's talk about their writers
Abdullah regularly boasts on social media that he majorly hires across India and Pakistan with the help of his partner who as mentioned earlier, is based in India.
Over the last few months, as their demand has heavily increased and their prices have gone up, they're brought on many native writers which I've had to work on my jobs too – honestly, you can't tell the difference.
They discover their writers through freelance platforms, job boards, word of mouth, and social media. They have a very thorough hiring process which you can see the start of here.
Hired writers are then monitored and trained by Abdullah who is quite the writer himself; he's published 100s of thousands of words on Facebook alone that go back 5+ years – ties right back into the transparency factor.
It's almost crunch time a.k.a. reviewing the ordering process and the content itself, but can I just confirm that you're at the right place?
Is Hands Off Publishing for you?
Well, do you need blog content?
Are you tired of filtering through writer networks and freelance platforms?
Could you do with paying one fee for all your content needs?
Look, if you're about saving time, money and exploring new content options, it's safe to say this agency is a must-try.
Ok, it's crunch time.
The day is Thursday. It's the 23rd of September 2021. I'm placing my first order at Hands Off Publishing straight through their website.
I was actually one of their first customers when they first launched in January 2021, but I'm leaving that experience out of this review as their service, ordering process and fulfillment methods were completely different then.
In case you're worried that went bad, here's the email I sent them that month.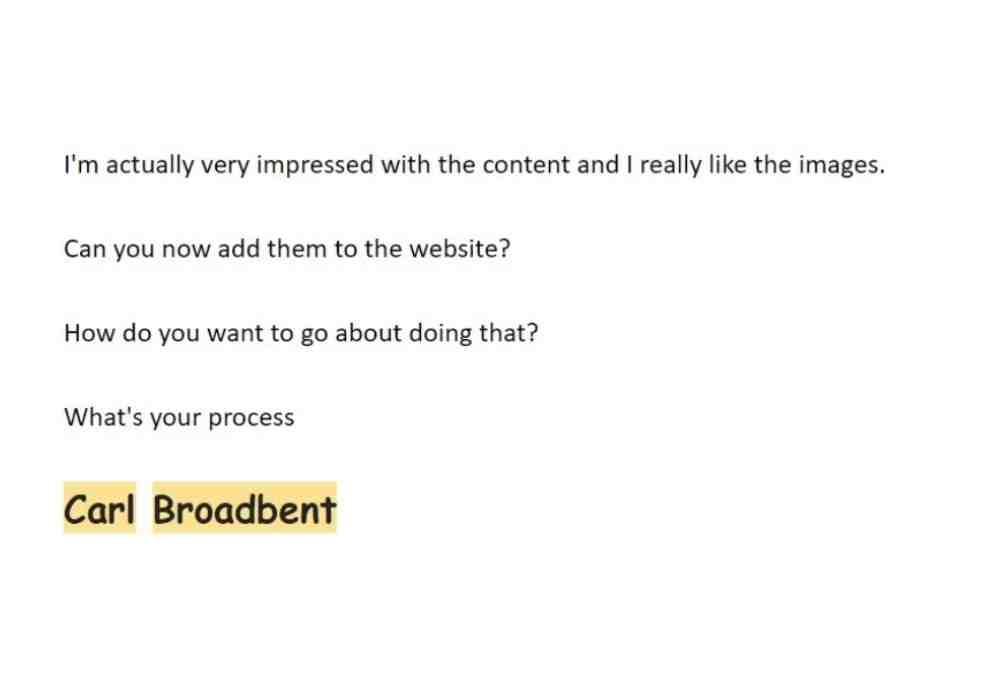 Let's get back to the 23rd of September. I went ahead and ordered their Baby package (10,000 words) which I was familiar with, but not the pricing. What was once $350 had become $415, and $450 today but I guess that comes down to the transformations they went through in all this time.
I do appreciate their transparency during the year, however. They sent constant email reminders and updates that their current prices are temporary as they are new, and weeks' notice before rolling out new pricing.
Fast forward to today
I've ordered and received 55,000 words from them. My experience with them has been seamless, no revisions have been requested till now and I've always been pleased with the outcome.
Broken down into their packages, we're looking at 3x Baby Packages (10,000 words) and 1x Kickstarter Package (25,000 words).
Let's go through their ordering process – super straightforward.
Before I show you the full process I highly recommend testing their 'TESTER' plan out. Try for yourself. What have you got to lose?
---
How to place an order at Hands Off Publishing
In three steps your content is ordered, and in another three, it's on its way to you.
Step 1) Go to their website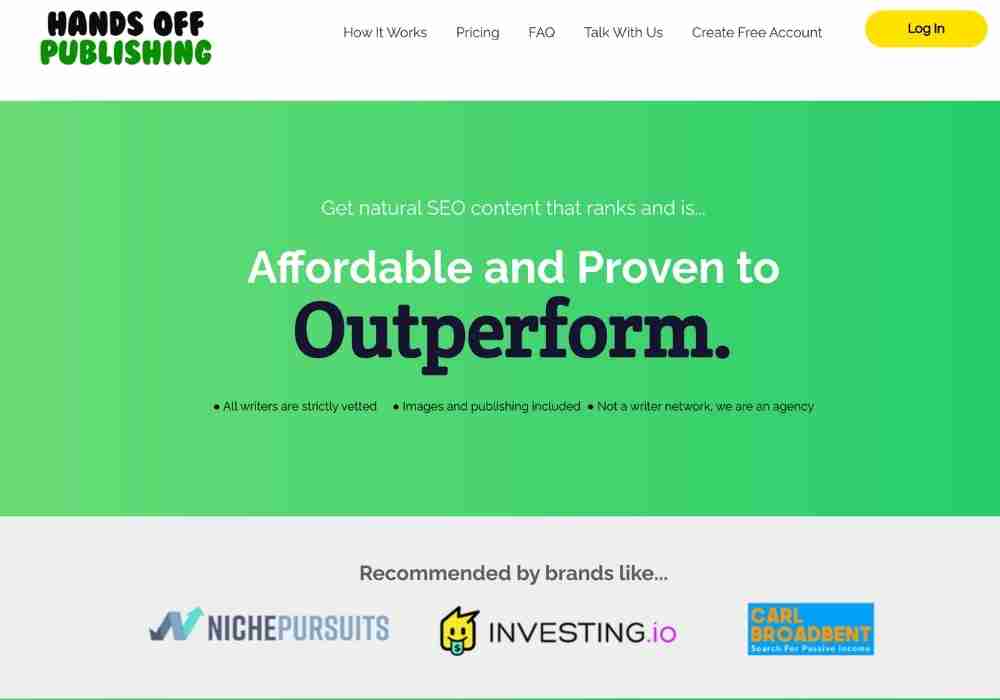 Step 2) Select your content package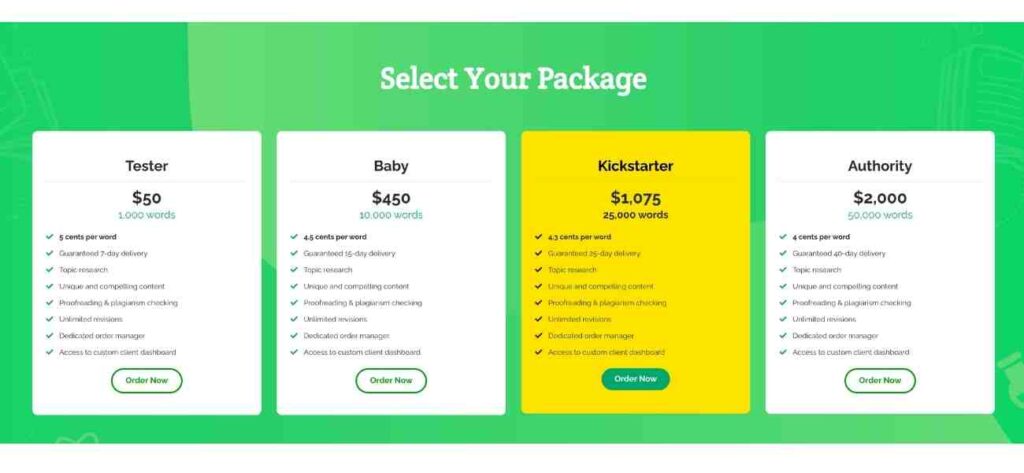 Step 3) Check out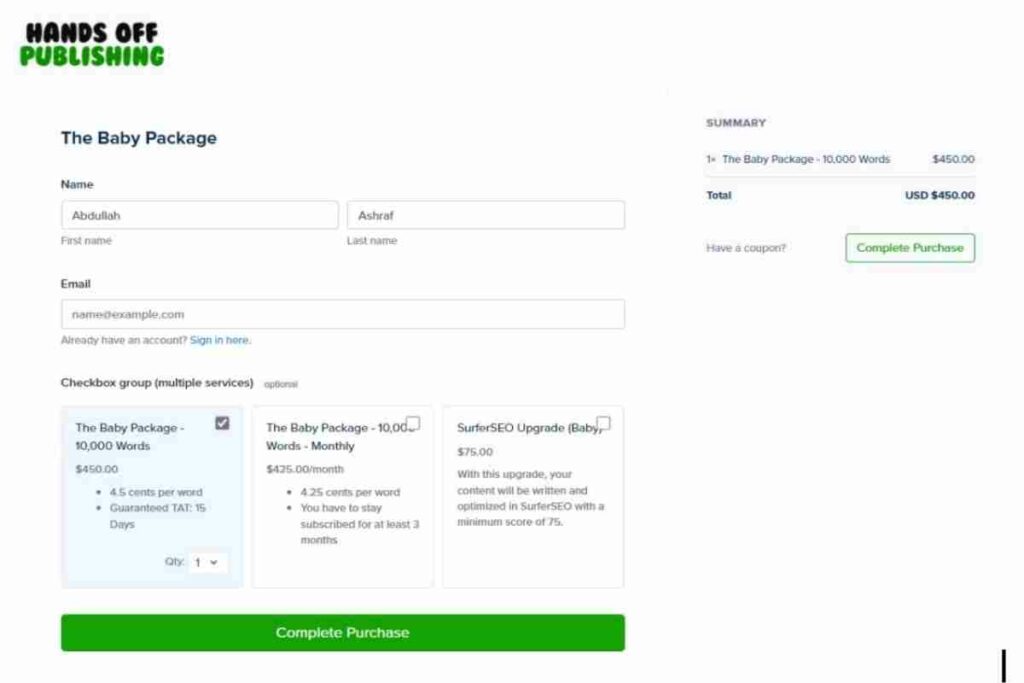 Step 4) Enter customer dashboard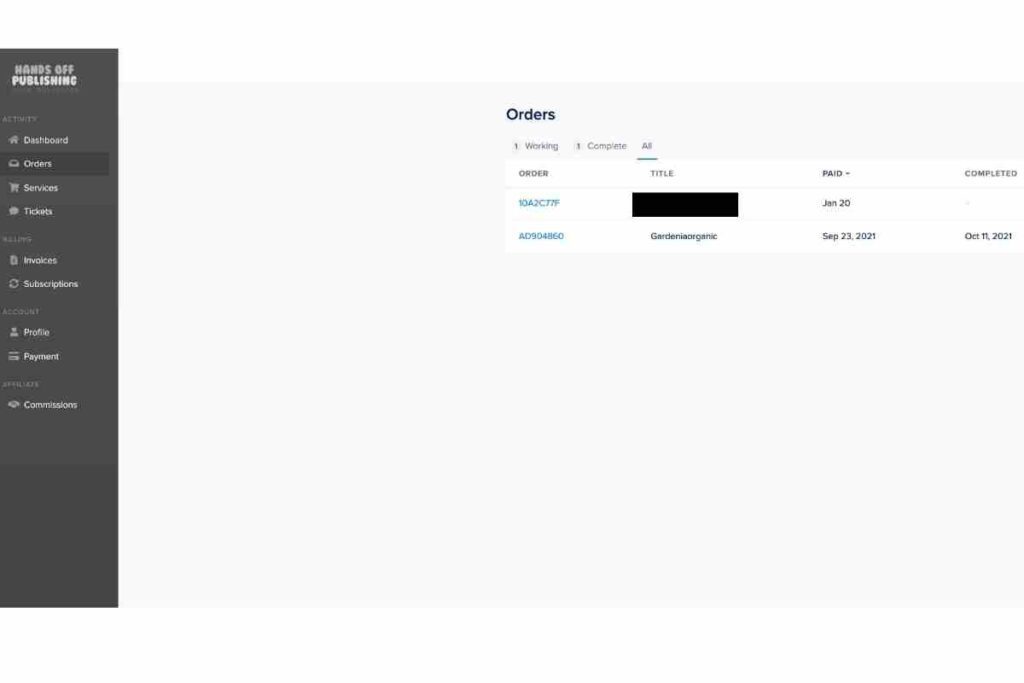 Step 5) Fill out the order form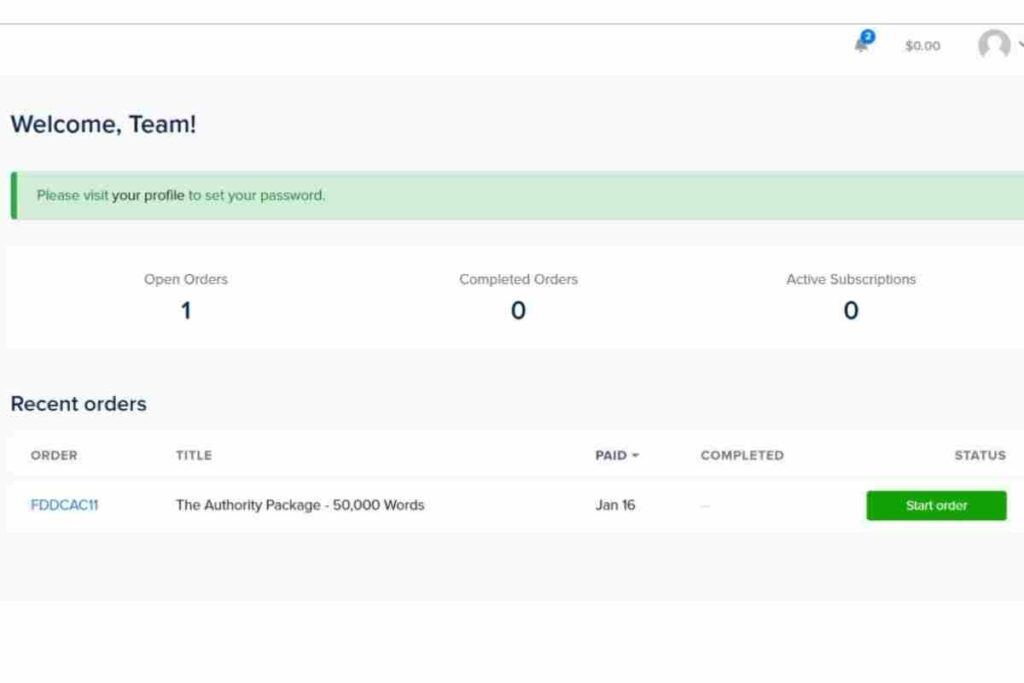 Step 6) Wait for an order manager to reach you
This is typically one of the founders, but in recent times, they've added managers to keep up with the orders.
Huge Key: Work Directly with the Creators of HOP
Who's going to be more passionate about a business and its customers than the creators of it? Not many and that's why it's a real blessing to be able to work directly with Abdullah and Sidharth on orders.
Since they've been in this business themselves for a long time, they know exactly what their customers are after and a year of running Hands Off Publishing later, they know exactly how to give it to them.
As mentioned earlier, there's no exclusivity on this matter. Whether you order 1,000 words or 50,000 words. Whether you're Carl Broadbent or John Doe, you'll get the chance to work directly with them, if not on your order, all calls booked through their website are taken by them.
Order intake form
Once you place your order, an account is created for you inside the client dashboard where you will be presented with a form that'll ask you the following questions so they can get started with your order.
Project name – This is going to help you stay organized. Whether it's different websites you're working on or different clients, it's always good to be able to keep on top of your work from one place.
What niche is this order for? I'm sure you can work your way around this one.
What is your website URL? You don't have to provide this, but it just helps their writers get a better idea of the type of content and quality you're looking for.
How would you like this order broke down? Let's say you place an order of 10,000 words. Hands Off Publishing is happy to break this order down for you however you like, across however many articles, niches, and sites you like. This is an amazing benefit of working with them.
Would you like us to carry out your Topic Research for you? If you don't have keywords/briefs ready to give them, you can have them carry out your keyword research and prepare topics to write on for you. They run them by you for approval before they start writing and are happy to keep replacing them until you are satisfied.
Please provide us with more information around the type of content you are looking for and what we should look out for when carrying out your Topic Research. If you opt for Topic Research, you can provide them with more information on what you're after and maybe share with them a list of keywords to not research in case you've already published them, or simply don't want articles around them.
Please upload your own keywords/briefs here – You can upload your own keyword sheet or briefs here if you already have keywords for them to write on. If the briefs are a little technical or you have links to frase.io (or similar software) briefs, you can just send them as a message through the order chat.
Is there a specific tone you'd like us to write in? 1st or 3rd person, formal or informal, let them know here so later you're not needing them to redo the entire piece.
Do you want us to add images? Type "yes" and they'll research high-quality, relevant, royalty-free images for your content.
Do you want us to upload the content to your WP site? Just type "yes" here if you require uploading to your site, but you don't need to provide them details till the job is done and you are satisfied with the content. This will save you from removing content from your site that requires revisions then re-uploading.
Is there anything else you'd like to add before we get started on your order? Literally, anything else you want to add regarding your order.
That's it. One of the managers or the founders will reach out to confirm they've received your order and that it's in motion. If there are any delays, they'll inform you and if they have any questions, they'll let you know.
It's always good to have someone who understands the publishing game on the other side. If they think you need more or less words for a post, they'll let you know. If they think they won't be able to do a good job at writing one of your suggested topics, guess what? They'll let you know.
Only one thing left now…
Fulfillment day!
13 days later, they delivered the entire 10,000 words in one batch which falls under their guaranteed 15-day TAT. So timely delivery?
Check. If you need content earlier than the guaranteed time-frame, I'm sure you could message them and ask them to deliver some content earlier.
Each post will be formatted into a Google Doc and placed inside a Drive folder.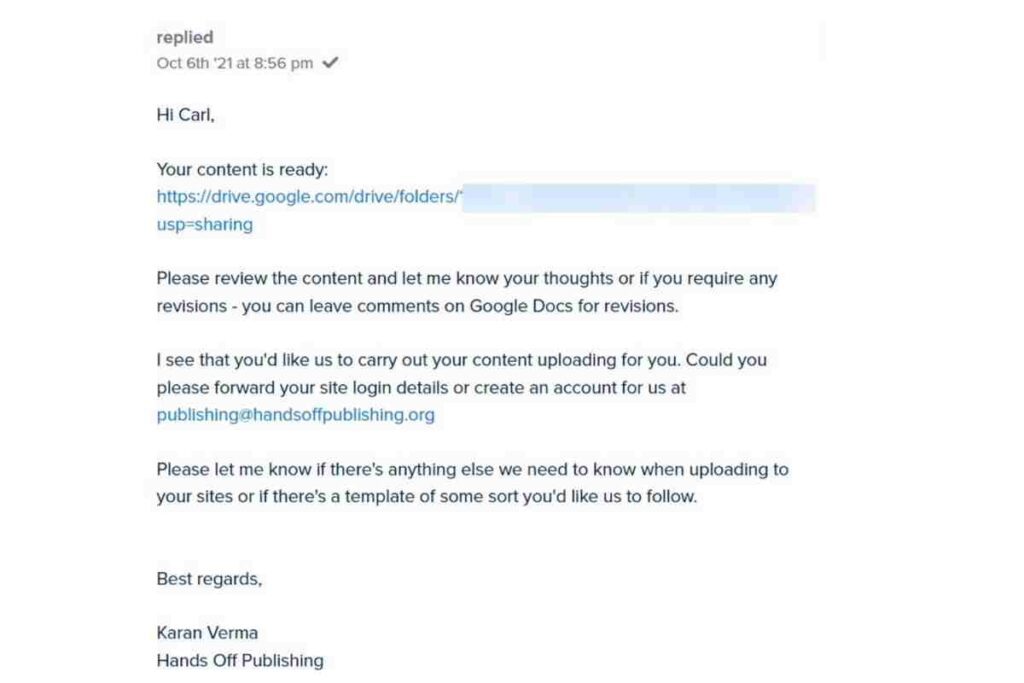 Any orders above 10,000 words are delivered in more than one batch so the above just applies to orders of 10,000 words or less.
As mentioned, all orders are delivered in secure Google Drive folders through their Dashboard. I prefer this as I can then seamlessly leave comments and suggestions on Google Docs if revisions are required.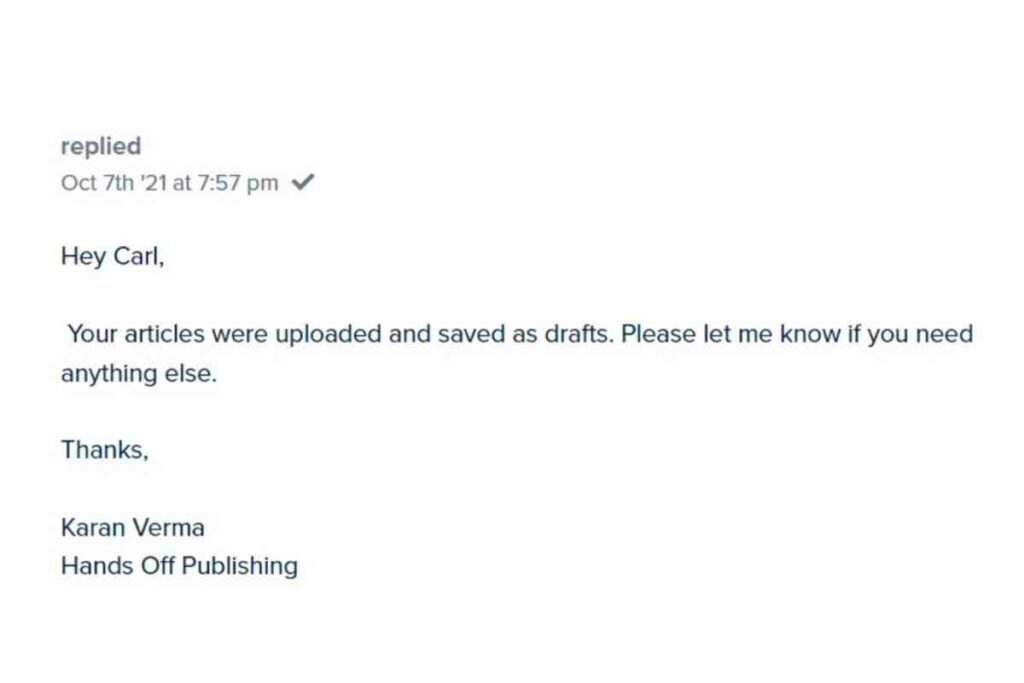 That's when I decided to create this video.
Perfectionist? Don't worry.
They offer unlimited revisions on all the work they produce and really do honor them. Just leave comments on Google Docs and relay any other information you think they could do with through their client dashboard in your order chat.
It's common business knowledge to give your customers what they want so they come back for more vs dragging them out and making their experience miserable.
Of course, many still don't understand this in the content writing industry, and any industry for that matter.
Luckily, Hands Off Publishing is a customer-first content agency from the $25,000 they refunded in their early days, to the countless good reviews customers leave for them and my personal experience with them.
You can feel confident that you'll end up satisfied whatever the outcome with these guys.
Content packages and pricing
You've got to appreciate their simple pricing. No quality tiers. No additional fees for images and publishing. You get charged by the word and the more you order, the cheaper it gets.
Take a look at their packages:
Some customers get confused and think that it's not possible to order between 1,000 to 10,000 words. All you have to do is select the 1,000 word package (Tester) and on the checkout page, increase the quantity of it.
Keep in mind that this can become quite costly – well it's all perspective really but the larger packages offer great savings.
If you want to place an order larger than 50,000 words, then you can book a call with them through their site, and they'll be able to arrange a special deal for you.
Since they charge by the word, you can even order something as specific as 64,500 words, but you'll have to email or call them to discuss this.
5 Reasons I think Hands Off Publishing are a good choice
Don't get it twisted, this is still a review before you think "damn Carl, you just went pro HOP".
Here are 5 things that are great about Hands Off Publishing and why I'll continue to do business with them.
1) Easy to work with
They always understand my requirements (so far), are super easy to communicate with, and are prompt with their delivery.
2) Not a writer network
All writers are constantly monitored and reviewed by the same person ensuring a strict quality across the board. All writers go through the same hiring process and must pass the same criteria. 90% of their writers are their employees and the rest are freelancers who exclusively work for them.
3) Customer-first attitude
They say the customer is always right but it's quite rare you get to feel this way. Hands Off Publishing always puts their customers first from what my experience and what I've seen from my own audience. I've sent them 57 customers to date, and not one refund or complaint.
4) One writing tier
You don't have to worry about trying your luck with different writing tiers. They don't believe in this concept. Either a writer is fit for the job, or they're not. There's no in-between in their eyes, and I very much believe this myself. You're after results, not words.
5) Everything in one place
Say goodbye to hiring 3-4 different people to manage your content calendar. Their research team will carry out your Topic Research, their writers will write your content, their editors will proofread and edit your content before it reaches you and their graphics team will source images for you.
You'll receive one well-researched, compelling piece with images and external links, everything that gives you the satisfaction of a wonderful post. Finally, their publishing team will upload the content for you. Each department strictly handles its job.
They will research, write and publish for you.
Even after mentioning these amazing things, it's not all sunshine and rainbows.
But how can you expect it to be? This is the real world, not a fantasy.
Let's look at 4 potential cons about working with them
Did you think they'll get away scratch-free? Here are some problems we've not yet discussed but you should be aware of.
1) A little difficult to scale with them
Their writer team is growing faster than ever this year as Abdullah just posted to Facebook the other day saying they received 700+ writer applications in 36 hours, however, their hiring rate is very low.
They currently have 24 writers on their team and are capped at serving around 1.2m words per month. The good thing is, I know this is temporary and growth is imminent.
2) They sell out by the middle of the month
Due to their limited capacity and huge demand, by the middle of the month they are sold out. This does not mean you won't be able to order but you might receive a follow-up email that there could be some slight delays.
I wouldn't worry too much about this as they are super transparent, they're growing very fast, and delays are never any longer than the guaranteed time frame + 10 days (this is what I've been told by Abdullah).
3) No live chat
If you wanted an immediate response and the satisfaction of seeing that "Online" symbol on the live chat, you won't be able to get that here.
The good thing is their operating hours are 9 AM to 5 PM EST and they are very active in those hours. I've never had to wait more than 6 hours to receive a response from them.
Like most founders, they never sleep and so if your order manager does not respond during the day, Abdullah or Sidharth will be sure to.
4) Don't offer PayPal payment
At least they take Amex, hey? So, I guess if you're 100% PayPal, you're going to have to say goodbye to Hands Off Publishing but I truly doubt anybody is one hundred percent PayPal.
I know many businesses have 100% hate for them, but fully dependent on them, I don't think so.
Did I tell you about their SEO upgrade?
You might've seen it on their checkout page. It's pretty common for content agencies to offer this service these days. They use a software called SurferSEO to write and optimize your content for the search engine.
You can totally do this yourself once you receive your content, but you're looking at $199 per month and it's harder to optimize content than write from scratch using the tool.
For what it's worth, they don't charge too much more for the upgrade.
Many writers and agencies boast SurferSEO but when you receive your content, you're looking at spammy, keyword-filled posts that you wouldn't even offer your worst client.
HOP lets you know beforehand that delivering a natural piece is their priority and optimizing based on Surfer suggestions comes secondary.
So you won't hear them guarantee a 100 score on Surfer, in fact, on their website they guarantee a score of 75+ which is just perfect.
Who are you going to trust to do a better job? Human or software? Some years from now (around the corner) we'll be able to say software, but for now, I'm sure Google appreciates a good human-written article far more than a keyword-spammed post.
A quick recap on delivery times
Every package at Hands Off Publishing comes with a guaranteed fulfillment timeframe. If you request specific writers to work on your job or provide them with multiple websites/niches to work on under one order this can delay the guaranteed TAT and they'll let you know this.
Here's the TAT breakdown:
Tester – 5 days
Baby – 15 days
Kickstarter – 25 days
Authority – 45 days
Custom orders – they'll inform you over the phone or email
Out of the 4 orders I've made, deliveries have always been made on time, and quality was never compromised.
Final thoughts about Hands Off Publishing
From their transparency to their content quality and prompt communications, I think Hands Off Publishing stands up there with some of the best content agencies on the market.
Once I run a 100,000-word order with them, then I'll really be able to establish the final verdict on this agency but until now, my experience with them hasn't been anything but smooth or short of amazing.
Do you want to save on time, money, and general resources? Hands Off Publishing has everything your website needs all in one place and is not out to break your bank.
If you're a blogger, e-commerce business owner, run multiple sites, or a small to medium-sized agency, you ought to give these guys a shot.
Use my coupon code "CARL75" to get 7.5% off your first order of 25,000 words or more.
Here is my monthly blogging and affiliate marketing income report for the month of Nov 2021
In this video, I share all my income and expenses for the month.
I even share my p&l with all the financials
Hope you like it
Over the past 12 months I have done lots and lots of testing and working on my website.
As I look back over the past year I can see many things that worked but also many that didn't.
​You know me.... I like to share everything with you guys to hopefully help you make an educated decision if you should try the same tactics on your websites.
​Or... Stay well clear and save yourself time and money .
​Let us take a look at 9 Things that DIDN'T work on my websites in 2021 ( Plus a few that did work )
Some of these will be relevant to your business and website and some maybe just relevant to my own personal business and brand.
​Not everyone will share the same experience or opinion.
​I can only report on mine and hope it helps you.
​Here we go:
​Oh, Ps.... I have a video on this topic if you'd rather watch it than read it. Link Below
1) Web stories - I thought Google web stories would be the next BIG thing for my website and I took advice and inspiration from a lady who was killing it with them.
Well, it didn't really work for me. I invested over $800+ and saw less than 100 visits from each website.
Maybe my niche wasn't a good fit for them, maybe Google stopped using them or maybe i just implemented them wrong?
Who knows. But it didn't work for me in 2021
​
2) Pinterest - Pinterest has gone through some turbulent times this past year and not in a good way. Increasing ads on their platform, selling shares to Paypal, and algorithm changes have seen the effectiveness of this platform for organic traffic decrease.
What will happen in 2022? I hope they see the error of their ways and change things back to how they were.
I still get 25k - 30k visitors a year from it.
But new campaigns on Pinterest just don't work like they used to.
​
3) YouTube 2nd Channel - I wanted to test out other videos within the affiliate marketing space and online business on this new channel. My current channel is stuck in a certain niche and my audience loves a certain type of content.
So, I thought I would jump on the #shorts bandwagon and create a more diverse online affiliate marketing channel.
What went wrong..?
Time. I simply don't have enough time to run two channels.
You can subscribe to the channel here. ​
​
4) Social Media for Websites- Creating social media channels and profiles will always be a good thing for creating authority and awareness to your audience and Google.
However, spending hours each day trying to post and keep them updated was time wasted for my websites. For carlbroadbent.com it's perfect and part of the business plan. But posting about the best dog food just simply doesn't have a good ROI for your time and sometimes your money.
By all means creating links to social media channels and add a post a month or something.
But unless you're prepared to spend 2-3 hours a day constantly running on the social media treadmill ( Which you can't get off ) then don't start them.
Just focus on hitting publish on great content
​
5) Giveaway website - The thought was there and still is. Creating a successful website that makes money and giving it away still appeals to me. However, The niche we selected as a group of viewers was not the best one to be honest.
Can it still work in the ' Lifestyle hacks niche ' Yes, absolutely and I do have some page 1 ranking articles
But is it a niche I love and can't wait to spend time writing articles about? NO
You have to have some passion or interest in what you write about.
Otherwise, you'll get blogger burnout and just give up.
I still plan to add more articles to the website before the BIG GIVEAWAY in Jan 2022 But I do wish I had chosen the niche myself and built a better, more successful website to giveaway 😢
But someone will still get a website that is aged a little now, has some authority, gets traffic and is ready to monetize with ads and Amazon.
Go check out how Helpful Monk is doing here
​
6) YouTube Niche - I seem to have trapped myself in a certain niche on my YouTube channel. My videos do really well for income reports and keyword research but I can't seem to break out of that sector.
If I want to make other videos within the online marketing space ( Let's say... email marketing ) YouTube and my audience just don't like it.
I go from getting 2000 videos on a video to 200.
I'm not sure how I can change the way my channel is viewed and searched?
After all, I love to test new things and would love to show you guys. But if YouTube won't share my content.
Is it worth the time and effort?
I'll always have and always will focus on my main channel as the primary source if video content.
But it would be nice to be able to test new videos.
​
7) Lost Focus - 2021 was very successful for me as an online marketer. But not as successful as an online publisher.
My portfolio wasn't as big as I would have liked. This is due to me focusing on YouTube and Email marketing.
Which is not a bad thing.
I now have a SIX figure income which is 5 times bigger than my supermarket managerial job from 2020.
Which is amazing.
But I do think that I lost focus on building 1 or 2 very successful websites.
Something I hope to change with Gardeniaorganic.com and Hutchandcage.com​
​
8) Working from home - How the hell can this be a bad thing, I hear you say?
For two reasons. Firstly, I get distracted very easily and my wife thinks that because I'm at home I can clean the house, do the washing, mow the lawn, wash the car all the time.
Because, I'm at home doing nothing, Right? Lol
That's fine, I get that I have more time to do these things, but it's hard to balance home and work.
Plus, I feel it can be less productive and even dare I say it less rewarding.
​
What do I mean by that?
​
When I left for work in the morning and came back 8-9 hours later. I always felt like I had done a good days work and reset, relaxed, and interacted with my family better.
There was a break or a gap in my day. If that makes sense.
Now my days seem to blend into one long day.
​
Secondly, I feel that I do miss the interaction with work colleagues and friends.
I am considering looking for a shared office or community workspace next year.
Don't get me wrong there are plenty of benefits from working from home but it has to be said there are some drawbacks also.
​
9) Mega Website - Well, you know the story. $20000 spent so far and little to show for it. Although this last Google update was promising, it still only gets about 100 visitors a day from 350+ Articles.
Shockingly bad.
But i haven't given up just yet.
But I do think I would rather have the $20k in my bank or invested in another project like the gardening aged domain.
Oh well.... We live and learn
​
So, what worked?
​Why don't you pop over to the video and take a look.
I have listed 5 things and tips that really did work for me in 2021 and hopefully, they will work for you.
Enjoy the video.
​
Well, August was interesting for me as it was the first month as a full-time blogger that I took 2 weeks off.
I was a little worried that my income might have suffered for it.
Well, check out the video to see if it did.
One of the most important things about your website and your online presence as a brand is your domain.
Unfortunately, it's extremely difficult to start using a new domain from scratch – you're automatically relegated to the bottom of SEO ranks.
This is why many businesses turn to aged and expired domains.
Aged and expired domains are both domains for which the original owner has stopped making payments and which have gone back to the open registry. Expired domains are within their default period, and may have been used for sketchy reasons. Aged domains have been out of use for quite some time, and are more historically secure.
Here's what you need to know about aged and expired domains, and how to choose the right one for your brand.
Aged Domains
Aged domains are domains – that is, a unique identifying name appearing in the URL of a particular website – which have existed for more than a few years.
These domains have gathered backlinks and worked their way up in search engine results pages (SERPs), meaning that they have an inherent advantage over new domains.
There are many reasons that an aged domain might become available, including:
The original owner manually giving up the domain due to a lack of interest
Nonpayment by the original owner for the domain
The domain is no longer useful to the original owner due to a failed business
Aged domains are regularly auctioned by hosting websites, and can range from around $50 to upwards of $1000, depending on its popularity.
While this may seem expensive, it's for good reason – having an aged domain you can use for your brand means instant SEO boosts and the potential for redirected traffic.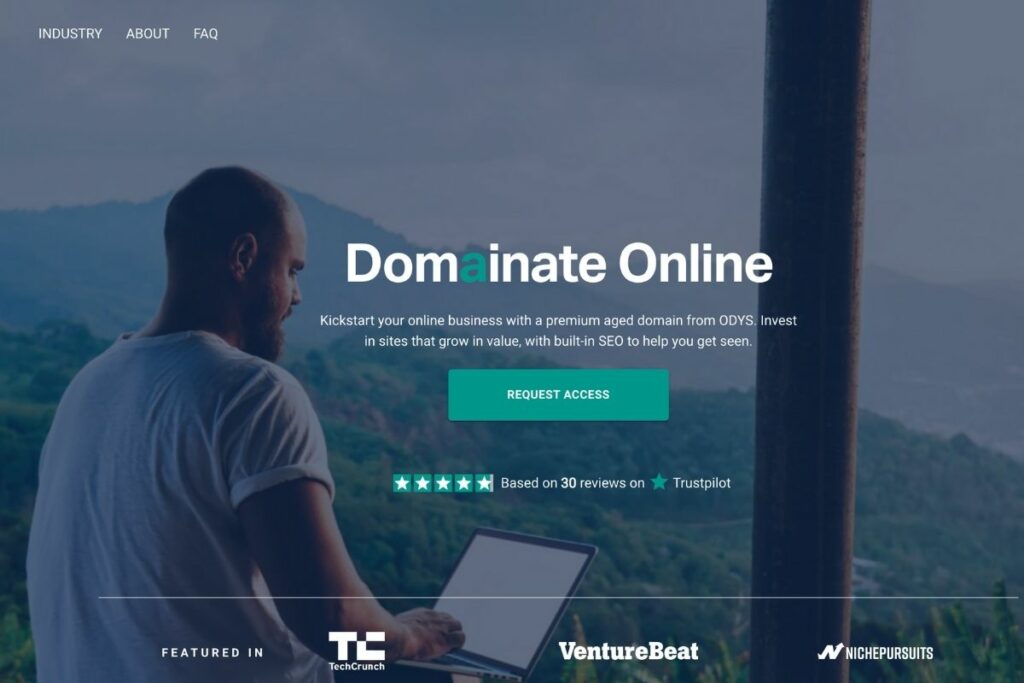 Expired Domains
Expired domains are, as the name implies, domains for which the ownership rights have, or will shortly become, expired.
This could again be due to lack of payment or forgetfulness on the part of the original owner, but it may also just be that the site is no longer in use.
They can also become available because they've been found to be used for spam and have been seized from the original owner.
Because of their somewhat sketchier possibilities, it's important to vet expired sites carefully by examining their link profile for quality.
If search engines are already marking the domain as spam, it may cancel out any potential longevity benefits it would otherwise have had.
This means that aiming to use an expired domain for SEO reasons is probably not the best use – they're better for brand new sites.
On a positive note, expired domains tend to be significantly cheaper than aged domains due to their quick reselling (most within 30 days of defaulting on payment or seizure) and link profile quality.
Expired domains can start at around $12, making them affordable for new businesses and startups to purchase and invest in.
Choosing Your Domain
Regardless of which kind of domain it is, if you're choosing to purchase and reuse a previously owned domain, you need to do some basic research to ensure that you're getting the quality and advantage you've paid for.
Firstly, you'll want to run a search on a website archival device. These tools, such as the Wayback Machine, allow you to see the website as it would have appeared during its live history.

This gives you a sense of who the original owner was, what they used the site for, and the potential audience you're inheriting. It also lets you verify the age of the website.
After that, you'll want to gather a complete link profile of the domain. Assess the quality of the backlinks the domain received and whether or not it was used for spam.
This can help you spot red flags early and avoid domains that have been flagged by Google and other search engines.
Finally, you'll want to check for any patents or trademarks associated with the domain. This can help you avoid purchasing a domain that sounds too similar to a trademarked brand name that is currently in use.
Once you've done that, you can purchase the domain and begin using it for yourself.
Before you go!
If you're looking to start a new website then maybe you should consider an aged domain. No waiting for that 7-9 month sandbox before you see some results. Get fast results by using aged domains. I recommend ODYS which is where I purchase mine from.
What's the fastest way to monetize your blog? Display ads of course and you can't go far wrong with Ezoic. You can also join their program with a small and even brand new website. By using my link to their Access Now program you'll get quick access to high-paying display ads for your website. Start earning money today! Sign up here.
and finally...
All websites need one thing. Content, whether that be outsourced content like I get from BuySellText or AI software that will write it for you like Jarvis.AI. Currently, the best tool out there if you like AI software.
If you can't see the tool or resources you need here. Check out my resource page which is packed with helpful tools, software, and apps that can help you maximize your revenue and grow your website faster. Many of which are discounted if you click my affiliate link. See my resources page.
After the upheavals of 2020, it seems that all eyes are on the opportunities the internet can provide for building businesses and generating income.
Indeed, 2020 was the year that I kicked off my YouTube channel.
In just 12 months my two channels have seen amazing growth and enabled me to build an authentic encouraging community that I learn so much from:
As a full-time blogger and affiliate marketer, who has built and sold multiple online businesses, I am well aware of the surging demand that is building up for websites that are capable of generating passive income.
More and more people are becoming switched on to just how much they can achieve with a well-targeted and optimized online blog. 
I've said it before and I'll say it again. There has never been a better time to start an online business than right now!
Resources, expertise and free advice about online businesses are in plentiful supply meaning everyday people can quickly and effectively build profitable online businesses that they can run for income or sell for capital sums.
The internet is the perfect place for a self-starter to build a business and as I have found out creating engaging and insightful content is a key driver of success!
But if you are still in doubt, or hesitant to take that first step, let's take a look at some global stats that will give you insight into the sheer scale and scope of online businesses, blogging and affiliate marketing in 2021.
I've stacked up some remarkable online business stats, affiliate marketing stats, and blog statistics that I hope will show that online enterprise is a great investment of your time and effort.
Let's get into this!
Whopping world wide web statistics for 2021
The internet provides a unique opportunity to have an unprecedented global reach with over half of the world's population using the internet (4.66 billion).
Google is the world's most popular search engine (as if we didn't know), with over 63K searches every second! Make this your motivation for ranking well. 
Mobile phones account for half of all web traffic worldwide. You cannot afford the websites you build or run to not be responsive. In 2018 the percentage of responsive sites was just over 50%, but progress in increasing this proportion continues to be slow. The number of people using a smartphone to access the internet is over 4 billion, with numbers expected to climb higher in the coming years. 
If you are wondering where, to begin with starting your turbo-charged website, I thoroughly recommend watching my friend Alex at WP Eagle break down how you can set up your own affiliate marketing website.
This video runs through all the key steps from start to finish:
Use these online business statistics as motivation for getting yours off the ground:
Working out the total number of online businesses in the world is tricky, but there are more than 20 million e-commerce sites across the world. 
The 2020 pandemic led to a surge in online business activity with a 27.9% jump in the percentage of business conducted online. Online business activity now accounts for over 30% of all business and commercial activity. 
Empire Flippers, a leading online business broker reports an average sale price of over $269,000 across 298 businesses they sold in 2020. Their listings spend an average of 48 days on the market before being sold. 
According to website sales experts Flippa, revenue per user is highest in internet marketing businesses, followed by the business sector and social media-based online businesses. 
Do you want to know when the best time is to sell your online business?
Take a read of my article "When should you sell a website?"
The affiliate marketing industry is certainly going from strength to strength…
In recent years, spending via affiliate marketing has grown 10.1% year on year, with global spending of at least 14 billion US dollars in 2020. 
Affiliate marketing now has a 15% share of all digital media revenue, with between 15 and 30% of all online sales being generated by this form of digital marketing. 
Along with email marketing, affiliate marketing is one of the most lucrative sources of online income generation. These combined forms of marketing are thought to generate 16% of all e-commerce orders in the US and Canada. 
Over 80% of leading brands are offering some sort of affiliate marketing programme, demonstrating that companies see affiliate marketing as a viable and effective way of promoting their products and services.
According to a report commissioned by the Japanese e-commerce company Rakuten, 84% of online publishers use affiliate marketing to generate revenue. 
More than half of all traffic referred by affiliate websites is via a mobile phone. This emphasises why it is vital that your website is mobile-ready!
Did you know that Amazon Associates has over 900,000 signed-up and active affiliates?
According to AffStat, the 5 leading categories that are promoted by affiliate marketers are:

computing and electronic products with a 40% share 
clothing and apparel at 41%
Internet-based services at 30%
Accessories at 29%
Beauty at 28%
Affiliate earnings are a big draw to this type of online business, and it's easy to see why. Here is the typical annual passive or residual income from affiliate marketing from leading sources:
For a lot of people, the concept of affiliate marketing and its earning potential sounds just that little bit too good to be true. In these articles I answer the naysayers:
Here are some great stats on online purchasing decisions:
The same survey by Bright Local found that 84% of their respondents trust online reviews as much as their friends.
Another survey found that almost 70% of consumers will not trust sponsored ads or press releases.
"The Truth About Online Consumers" survey by KPMG found that over half of respondents firstly search online for reviews before they make a purchase, followed by 47% heading over to the company website and only 26% attempting to check a store. 
According to KPMG,  92% of all online feedback is positive. 6% was found to be neutral and only 2% negative!
Interestingly, men buy more online, and will also spend larger amounts of money per transaction than women. The average e-commerce purchaser is male and aged between 25 and 49 years.
People are heading to the internet to buy because they believe they will get a deal. Over 70% of a surveyed group believed that an online item will be a better deal, even if it is not on sale.  
If you're on the fence about becoming an Amazon Associate, these Amazon statistics show why this affiliate programme is one of the most popular: 
Amazon is the first website that almost 60% of Millennials will head to when they want to purchase products or services. 
There are over 1.2 million websites that are known to have participated in the Amazon Associates programme since it began. It is thought that there are currently 88,9776 active websites and just over 34,000 domains that are currently participating in Amazon's affiliate programme. 
The leading countries for Amazon Associates participation include:

United States of America
Japan
Germany
United Kingdom
France 
Are you interested in what is going on with the Amazon Associates program right now?
Get up to speed with my video 7 Pros and Cons of the Amazon Associate Program in 2021:
If, like me, you use WordPress, take a look at the remarkable market share this content management system (CMS) has:
500 new WordPress websites are built every day!
According to Kinsta, over 40% of websites are WordPress websites. WordPress leads other popular content management systems including Drupal, Magento, Blogger and Shopify.
Plugins make WordPress websites! Did you know that there are more than 50 thousand WordPress plugins listed in their official directory?  WordPress plugins have received over a billion downloads since the first one was released. 
Yoast's SEO plugin is one of the most popular WP plugins of all time. 
If you are looking for a cracking WordPress theme for your next affiliate marketing niche website, you need to check out the POPCORN theme I have just released in partnership with Alex from WP Eagle and Phil from SpidrWeb that has been built for outstanding speed.
Learn more in this video:
Stay up to date with the competition with these 2021 blogging stats:
According to Semrush, bloggers are putting more time and effort into the blogs and articles they publish. In 2014, a single blog post took two hours to write, in 2020 this was up to over six hours for the majority of bloggers!
Those bloggers who put in more hours get the rewards with posts that took six hours or more to write performing 31% better than more quickly produced content.
According to HubSpot, the ideal word count for an article is between 2,250 and 2,500 words as these articles earn the most traffic. 
Semrush says that a long-form article of more than 3000 words generates three times the traffic of shorter 1000 to 1500 words posts
However, your site visitors are likely to be spending no more than 55 seconds reading your articles.
When people were questioned about their online browsing habits, three quarters preferred reading articles that were less than 1000 words long.
Bloggers who hit the publish button every day get 57% better results than bloggers who publish a few times per week!
The Nielsen Normal Group found that website visitors tend to read web pages in an F-shaped pattern. Users were found to start reading in the upper left of the page content, working horizontally across the page, they would scan down the page not reading a shorter horizontal length, then scanning down the left-hand side of the page quickly. 
If you are on this site, you will know that blogging can be a lucrative trade.
Learn more about the income streams you can enjoy as a blogger in my article, "How do bloggers make their money?"
Have a look at the state of play for social media in 2021:
According to Brian Dean of Backlinko, Asia has led the growth in active social media use (+16.98%) followed by Africa (+13.92%) and South America (+8%).
The average social media user has 8.8 accounts. 
In India, almost half of social media users are using it for their work.
In 2021, the big players have continued to be the most popular: Instagram, Facebook, TikTok, YouTube, WhatsApp, and Facebook Messenger.
Interestingly, on Facebook, links are the content type that is most commonly used and shared by businesses and are featured in 44% of brand posts. 
Internet users on average spend over two hours per day (144 minutes) on social media!
Pinterest has enjoyed significant growth in 2020/21 with 442 million Pinners being monthly active users. Though pinners are mainly female, male Pinners have increased by 50% each year. 
Look at that! I'm a man with Pinterest boards. In this video I tell you all about them and how I use them to drive lots of traffic to my sites:
If you have not yet looked into email marketing, these intriguing email marketing statistics demonstrate that it offers a wealth of opportunity!
Email marketing is the most widely used modality for engaging customers, exceeding content management and social media.
Over 80% of B2B marketers have made email marketing a key part of their as part of content marketing strategy. 89% of all marketers use email to generate leads, and 40% of B2B marketers report that email newsletters are the most important part of their content marketing strategy. 
Marketers rate email highly, with just under a third of marketers rating it as the most effective marketing channel behind social media, SEO and content marketing. Email is thought to be the most effective channel for boosting brand loyalty and custom retention, ahead of websites and social media. 
According to SaleCycle, email marketing influences the buying decisions of over 50% of potential customers.
If you are thinking about setting up email marketing. I have reviewed 5 great Email Service Providers that are just right for starting as they are all under $30 per month.
Take a look at "5 Email marketing tools under $30 a month".
For me, these stats are encouraging indicators of a bright future for online businesses that utilize digital and content marketing to engage an audience. 
There are so many opportunities to make an impact online in a variety of niches and sectors, with powerful marketing channels and tools that everyone has the opportunity to access. 
Let these statistics motivate you to participate in these fast-moving sectors that are experiencing real growth that you can harness and profit from. 
In addition, you have a wealth of experience and expertise you can learn from in the form of digital marketers and affiliate marketers like me who take the time to show you how to build passive income through quality content creation. 
Before you go!
If you're looking to start a new website then maybe you should consider an aged domain. No waiting for that 7-9 month sandbox before you see some results. Get fast results by using aged domains. I recommend ODYS which is where I purchase mine from.
What's the fastest way to monetize your blog? Display ads of course and you can't go far wrong with Ezoic. You can also join their program with a small and even brand new website. By using my link to their Access Now program you'll get quick access to high-paying display ads for your website. Start earning money today! Sign up here.
and finally...
All websites need one thing. Content, whether that be outsourced content like I get from BuySellText or AI software that will write it for you like Jarvis.AI. Currently, the best tool out there if you like AI software.
If you can't see the tool or resources you need here. Check out my resource page which is packed with helpful tools, software, and apps that can help you maximize your revenue and grow your website faster. Many of which are discounted if you click my affiliate link. See my resources page.