May has flown by with some big changes on my travel website, but hopefully, a trajectory for growth is becoming clearer. 
Just to recap, this is the travel site I purchased back in 2022, for just under £3500. When I got my hands on it, the site had 50 to 60 articles on it and was generating no more than $40 per month with 200 views daily. 
To save you from scrolling, here are my headline numbers for May: 
Income: $482.08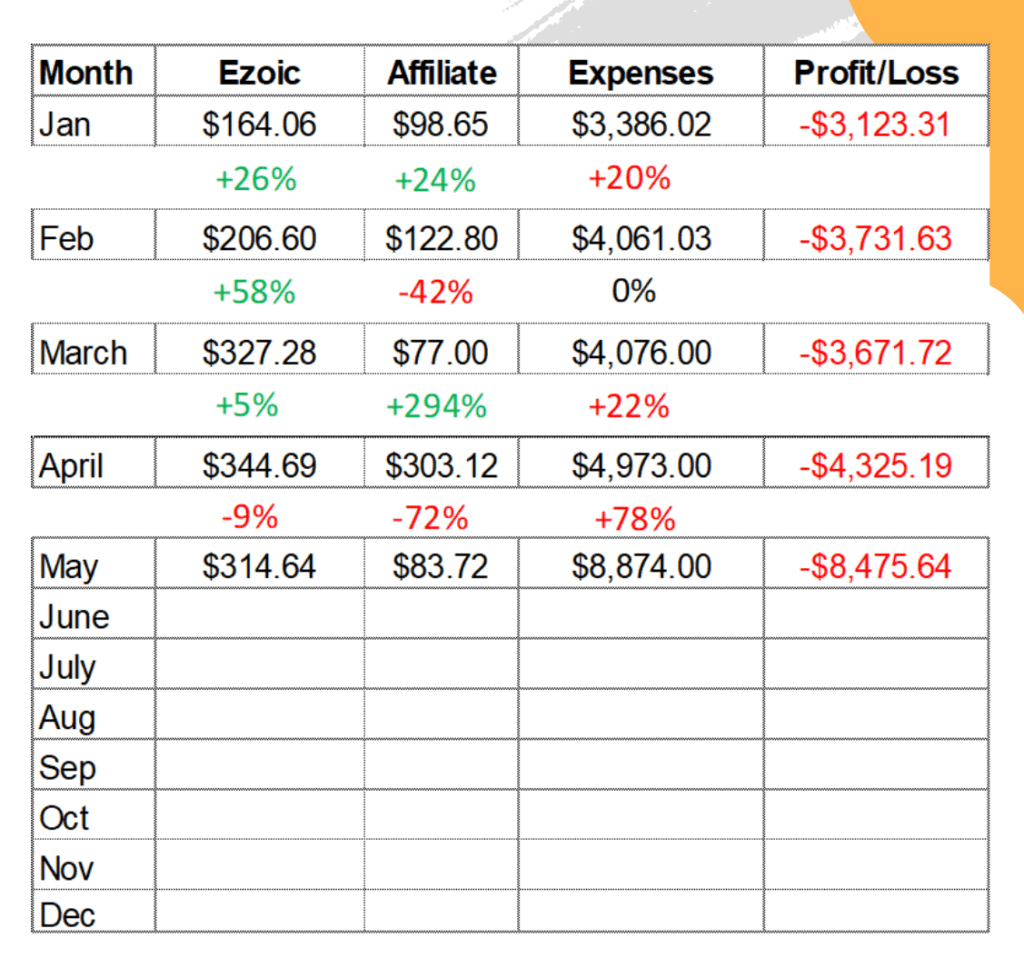 Outgoings: $8,874.00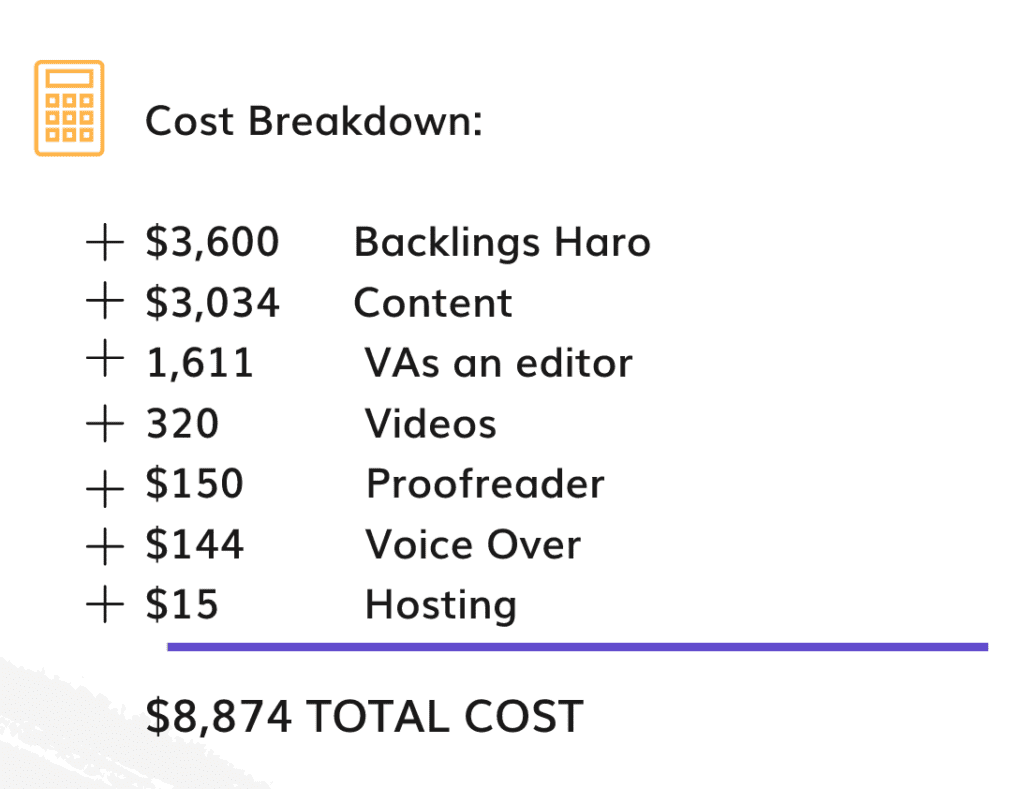 Could I have spent this $8,800+ better?
There is only one obvious takeaway from this. The monthly spend for this site is getting out of control!
And as you'll see below, something's got to give. 
My focus this month
I have been plowing a lot of blog posts into this domain for around eight months and am now ready for a change. Going forward, I'm looking to:
Diversify my content with videos
Refresh and update existing content
Invest time and cash in optimizing the site so it performs better.
Team shake-up
This month, I let go of six of my writers. They were doing a fantastic job, but as you can see from my profit/loss above, the high level of expenditure simply wasn't sustainable.
Right now, the site has over 662 human-written published articles. In addition, there are 16 articles awaiting editing, and I've got 38 on order. There is now more than enough content on board for this site to generate a healthy monthly profit.
As I am taking things in a different direction, I can scale back the rate of blog content production while I optimize what I've got.
Popcorn theme is going strong
The speed and simplicity of the Popcorn theme have taken a large amount of hassle out of running this site. As you may know, I helped to develop this affiliate marketing WordPress theme and am a part-owner of it.
We integrated all the plugins and features you'd need for an affiliate marketing website so you know that things like product boxes, tables of content, and word counts, are all sorted and ready to go. 
Right now there's a 10% discount if you purchase the Popcorn theme at popcorntheme.com. Just use my code CARL10 at the checkout.
What we did this month
So, this month was all about heading back to the drawing board…
On the website
A single keyword is generating the bulk of the traffic through this website (up to 35,000 page views per month). Our efforts have been focused on replicating this performance with a second keyword. We're going for this by creating a cluster of 75 articles that are all focused on this new keyword.
I'm also digging deep for new affiliate programs that may be a better fit for the site. Given the travel theme, I'm looking for a better deal from travel insurance sites, or hotel affiliate programs that are a better fit for the site's content/audience.
Scaling YouTube
The YouTube channel is extremely new, but it is growing, with 32,000 total views so far. This month, it crossed the hundred subscriber line, with the addition of 21 new subscribers. The content is faceless, but we're seeing an emerging pattern that will help us focus our efforts and my investment on decent video content in the coming months.
Video production is 100% outsourced (hands-off for me) and costs around $50 to 60 per video. For that, I'm getting:
Scriptwriter
Videographer
Voice-over lady
A mixed month for Pinterest
After excellent performance in the previous month, this month things have slowed down. It's unclear why, though it may just be that a topic that was trending is now fading off. One highlight is the surprising performance of a video short that we made from a YouTube video that we posted on TikTok and Pinterest.
On Pinterest, this short earned a decent 658 views, with 33 clicks and 3 subscriptions to the site's YouTube channel. This has encouraged me to post more video content to Pinterest in the coming weeks.
TikTok experimentation
We've continued to post more repurposed content to the TikTok channel. We're now sure that TikTok does not like old or stock video content. Some original footage I took recently of the seaside and a lighthouse did well whereas, stock footage of coastal scenes did not perform. So my priority is sourcing more original video content to keep viewers happy.
Web traffic hit
For some reason, May's web traffic was down 10.39% with 44,900 pageviews.
I'll be honest, it was a little disheartening but I'm confident that it was not something serious or sustained. It is most likely because of seasonal traffic patterns which are related to content surrounding an event that only happens in May.
Plus so much of the traffic surrounds a single keyword, which is a holiday activity. This activity just may not have been as popular this year. 
Another single article performed particularly well the previous month with 7000+ page views over just a couple of days so this may have inflated things. I think we'll probably know more about what's going on at the end of June.
Impressions are climbing, clicks are not
This is not great news, but I suspect this is likely to be due to background changes in Google SERPs, or potentially because of them testing their new AI search feature. The average position has improved to 17.9, but I'm keeping an eye on things.
EZOIC shows room for improvement
So this month, 33,000 pageviews were tracked and paid, yielding around $8 per day.
EZOIC is holding steady with an average income of £310 per month. The EPMV is between $8 and $13, but I would like to get it to $17 or $18 which would be decent for a website in the travel niche.
What's up with my affiliate income?
Booking.com
Booking.com dropped significantly this month from $300 to just $81. However, early June sales have picked up.
GETYOURGUIDE
200 to 300 clicks every month and zero sales. Not sure what's up with this one.
I have reached out to their team for advice and guidance, but they have said that everything is fine.
Expedia
I've also been experiencing high click-through rates and zero sales with Expedia, despite it having a longer cookie period than Booking.com.
Tiqets
This is a new program I've joined as an alternative to GETYOURGUIDE. It's just been set up on the sites. So far, there have been 32 visitors and 13 clicks but we're waiting for a sale. 
Closing thoughts
Spending has been high, and I know that everyone is feeling the effects of depressed ad revenue and waiting for things to pick up. It's still early days for this site, so I consider the content and HARO link spend an investment.
Coming up, I'm making a big push for video content on this site. It's cheaper than written content, and if it does well, we should see decent ROI kick in. So back to the drawing board…
See you in June for the next Income Report!
Carl