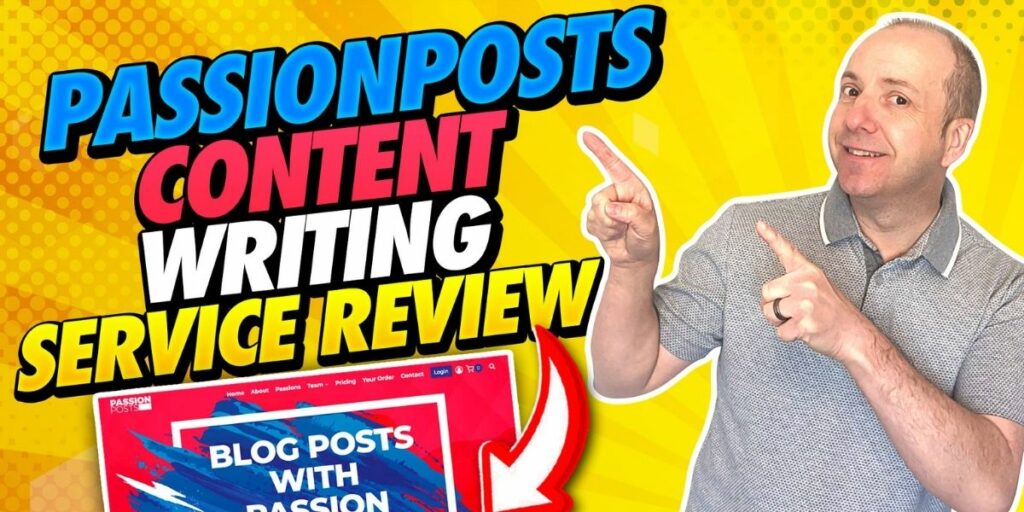 Finding the right content writing service to use for your website can be a bit like wading through a swamp.
There are just so many companies out there and it's impossible to know which ones are good and it can feel like buying an article is more of a gamble than a legitimate business transaction.
Well I have been stung more than once, and so you don't have to, I'm sharing the places I go to purchase decent, reliable writing for my portfolio of sites.
In this article, we're going to take a look at Passionposts.com.
I'm reviewing all the need to know aspects of using their popular content writing services and taking a look at how you can work with them to make a success of your affiliate site.
Why content writing services for your blog are inescapable
If you're serious about full-time blogging or scaling your affiliate marketing sites, the time comes when you can no longer peddle your enterprise alone.
With all the heart and enthusiasm in the world, maintaining the lyrical flow that ensures your articles demonstrate expertise, authority, and trustworthiness, will soon become a burden too much for even the most seasoned of copywriters.
Creating content eats up valuable time
According to CopyPress, the average top-ranked article is just under 2500 words and long copy has been shown to consistently outrank shorter thinner articles.
But as I am sure you know, producing quality long-form content takes ages.
If, like me, you are on the journey to building passive income, you'll know that every second of time is accounted for in all the other tasks needed to keep a portfolio of sites viable.
Because of this, I increasingly see purchasing content writing services as a way of buying back my time so it can be used more profitably.
There is no shame in calling in reinforcements to help or even take over your content writing
I've found that bloggers and affiliate marketers really vary in their willingness to admit that they need to hire writers or buy articles online.
Perhaps they worry that their readers will not see their content as being authentic or genuine.
But using content writing services not only helps you to produce a better quality of content but actually helps your site grow and become more cohesive and established.
Why?
Well, if you are anything like me, you may not be that great of a writer.
It took me ages to get the hang of writing the kind of content that would rank, as well as keeping my spelling and grammar up to scratch!
I knew I needed to improve the quality of my content when I showed my work colleagues an article I had written and they laughed. The spelling and Grammar were horrific, to say the least. I knew then I had to get professional help and outsource my content.
Also, because you aren't doing the writing you can put your energies into crafting a keyword-rich well-optimized content plan and refining your on-page and off-page SEO.
The buy-back of time from outsourcing your content can be used to establish a thriving email subscriber list, or penetrate new social media platforms with your brand.
Outsourcing your writing is all about making the transition to being an authentic entrepreneur.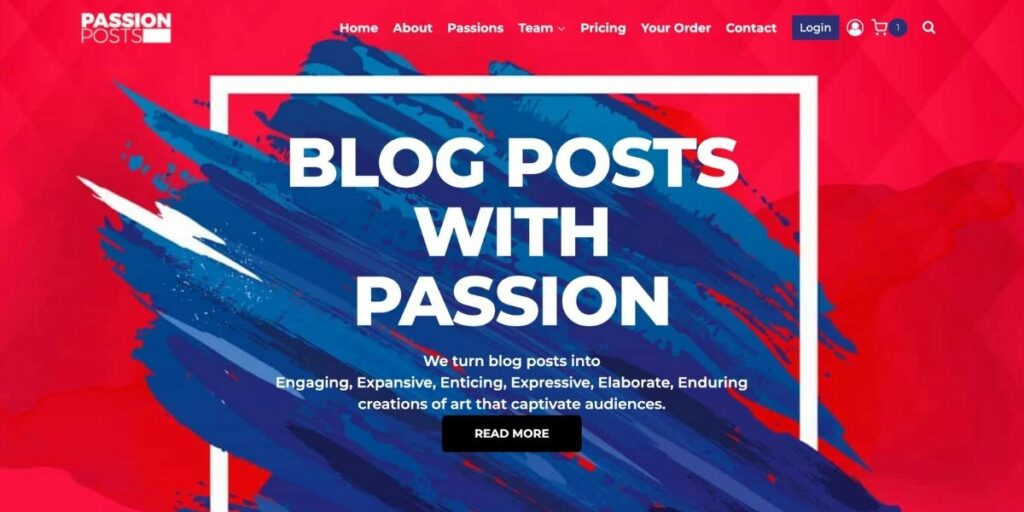 Buying your articles online needn't be a clandestine affair
Perhaps you have been stung in the past with illegible paid articles, fraudsters or worse. Some of the well-know content platforms are dicey to deal with, even when 
That's why I have made it a priority to share with you legitimate places online where you can buy good quality writing for a decent price.
I will only review or recommend products and services I have tried out and done my research on so you can be confident that with Passionposts.com you are dealing with a credible business.
Which brings me to the name Passion Posts…
I have to be honest. When I heard the name of this site I wasn't entirely sure that it was for content writing, but I can reassure you that you can click with confidence as this is really a blog writing business – honest!
It turns out that the 'Passion' is all about the expertise and enthusiasm of their writers.
The founders have a lot of experience in buying and selling content and it seems they became pretty bored with the 2-dimensional and canned writing that is widespread on certain platforms.
So they decided to place passion at the heart of what they do.

Their unique selling point is all about working with writers who are genuinely interested and enthused about the content they write.
I think this is a great idea and the quality of writing you'll receive will benefit from being written by someone who is actually interested and engaged in the niches you require.
Passion Posts have amassed a solid team of experienced writers that appear to be pretty switched on when it comes to delivering writing that will hit the mark for your blog and get your readers enthused about your products and services.
So, how does PassionPosts.com work?
Passion Posts make it easy to order blogs, articles and other written content that is precisely aligned with your needs.
Their niche and writer based approach completely removes the trepidation you have when you pre-pay for articles from the large content mills and have absolutely no idea what is going to hit your inbox in response.
I like that Passion Posts are up front about the niches they cover and who exactly will be writing the content.
This means that you can be certain you are getting a writer who is a good match for your site, a big step towards keeping things authentic. So here's how it all works at Passion Posts:
Choose your Passion Posts niche
We all know that the right niche is everything to making an affiliate marketing site viable.
Passion Posts make it simple to see if they have writing expertise on hand that will align with your project.
So far you can choose from the following 'passions' with niche subcategories covering everything from canning to herpetology:
Animals
Lifestyle
Food
Music
Business and Finance
Tech
Health and Wellness
Sports, hobbies outdoors
Education
Other
Choose your Passion Posts writer
Passion Posts want you to know that you will be getting authentic, original content writing from professional writers so they are upfront about sharing the profiles of their writing teams.
Their self-written bio gives you an additional taster of the quality of writing you can expect.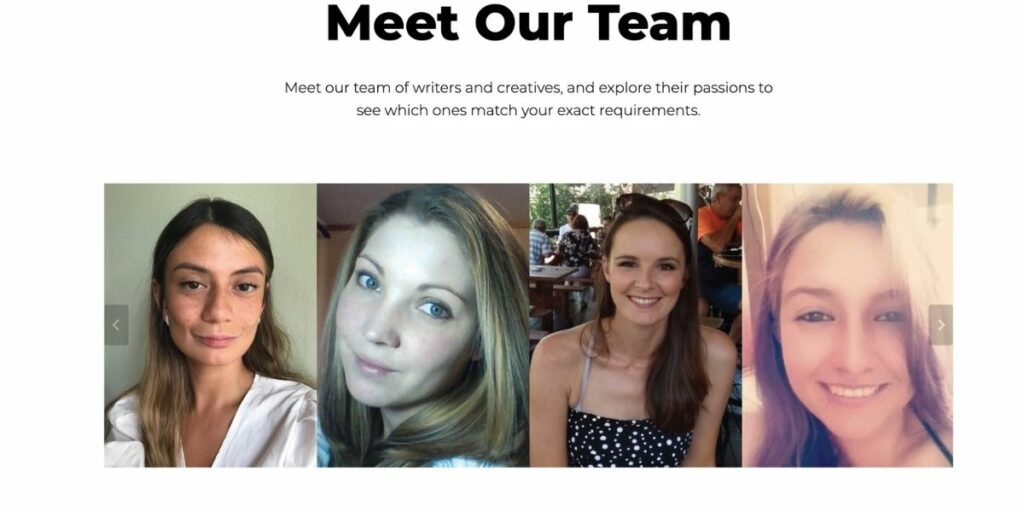 Everything is handled via the Passion Posts website
The simple website has everything needed to select the writing package and writer(s) you want.
As I explain further on, all you need to do is make out and order and pay.
Available content writing packages from PassionPosts.com
Passion Posts have a number of packages ranging from single posts to the bulk writing packages that can really boost your website.
They all have different names which can be a little confusing but if you know about Income School you will recognize some of the terms.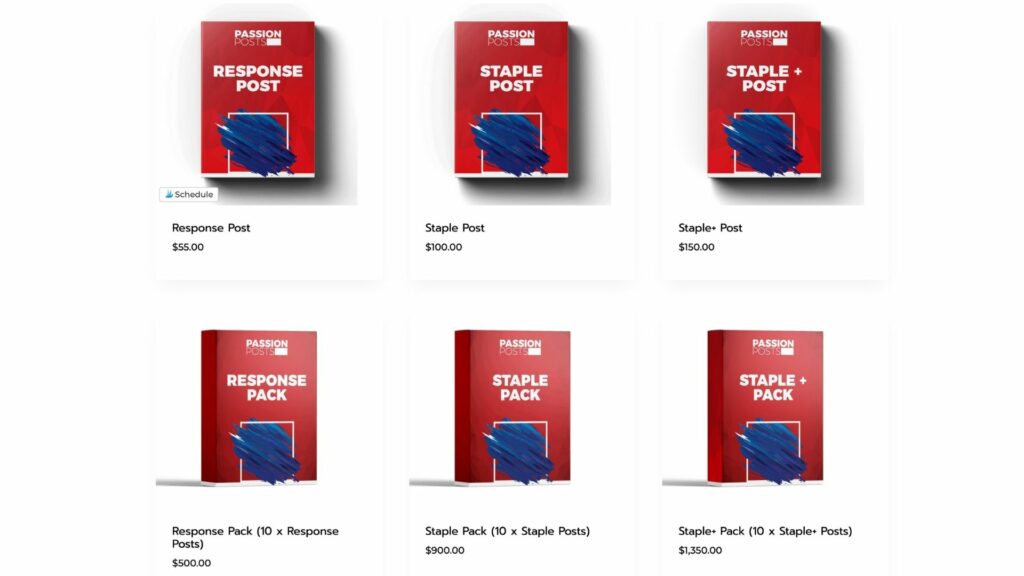 I'll run through them here so you will know what to expect:
Passion Posts individual posts
Response Post
This is a single post of up to 1250 words in length. Just like the Income School posts of that name I think these will do for regular blogs, answering questions, or supporting content for articles you want to boost.
Staple Post
Remember staple posts from Income School? Staple posts are longer articles that are hitting that vital 2000 to 2500 word length. These are ideal pillar articles that will let search engines know that you mean business!
Staple+ Post
Use these longer posts to really hit the mark for a particular niche. The Staple+ posts can be used for the kind of skyscraper content that will help your site weigh anchor with some decent rankings for your primary keywords.
Passion Posts 10 pack posts
You can purchase a bundle of 10 posts in either the Response, Staple or Staple+ categories. Buy in bulk and you'll earn yourself a 10 percent discount.
This is our recommendation: Get 10% off today when you place your order and add our coupon at the check out.
Code: 8JVC7X7ZRM
Passion Posts big packs
A whole lot of passion is packed into these extra large article bundles, that I am sure could be easily used to seed a new site in one go.
Passion Posts' Big Packs combine Response, Staple and Staple+ posts in various proportions. Select yours by the word count you need:
Full pack
Full pack it certainly is with a whopping 50K words spread between 15 Staple and 10 Response posts.
Power Pack
This package delivers a staggering 100K words spread between 30 Staple posts and 20 Response posts.
Ultimate Pack
With 150K words of niche content writing from Passion Posts you will easily eviscerate your competitors! Make sure that you use them wisely! You'll get 45 Staple posts and 30 Response posts.
Passion Pack
If you did not think you could buy more words at once, the Passion Pack doubles down on word count with a website changing 200K words spread across 60 Staple posts and 40 Response posts.
Passion Posts pricing
Those of you who have ever used content writing services purchased articles or hired a copywriter will know that pricing for content is quite variable.
Being expensive is not always a guarantee of the quality or suitability of content for your site.
Thankfully, Passion Posts have a team of writers who have considerable expertise. When you take this into account you'll find that their writing bundles offer great value for money.
All prices are inclusive of revisions to completed posts.
Like other content writing services, the writing rate for Passion Posts drops with larger orders with their rate starting at around 3.5 to 5 cents per word. For example:
A Response post of up to 1500 words apx will cost $55
A Staple post of 2500 words apx will cost $100
A Staple+ article of up to 4000 apx words will cost $150
As I mentioned above – scaling up to a bundle of ten posts will save you around 10%
Purchasing the big packs will of course get you an even bigger discount, with you paying around 3 cents per word.
Passion Posts are not the cheapest content writing service out there, but you are benefiting from the opportunity for greater scrutiny of your writers before you use them.
I would recommend, purchasing a Response or Staple article first to see if the writing works for your site, before jumping in and investing in a larger volume of content.
Making an order on PassionPosts.com
Having used their service, I found that getting my content written by Passion Posts was very easy. Here are the key steps for ordering content: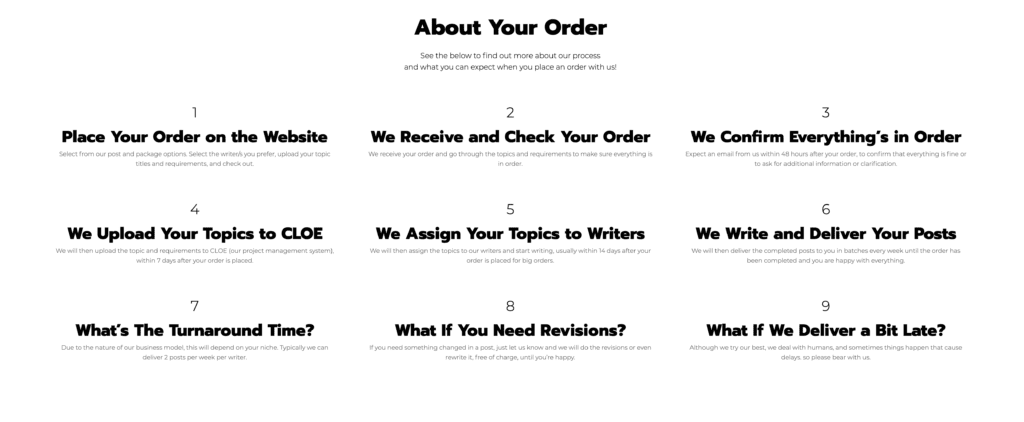 Orders are placed on the PassionPost.com website
Just select the content package you would like and your preferred writer(s).
You will also need to upload details of your content titles, details and other necessary requirements.
You can pay by PayPal and the leading debit and credit cards.
Passion Posts will then check the order
Confirmation and review should be completed within 48 hours to ensure everyone is on the same page.
Passion Posts manages your copywriting via their project management system, CLOE
Work should commence within 7 days of placing your order.
Within the content management system they will assign your writers. If the order is large, this can take up to 2 weeks.
Your completed posts are delivered at a weekly rate until the order is fully completed
The writing is delivered at a rate of two posts for each writer you request.
Passion Posts deal with revisions promptly.
Passion Posts are happy to change or rewrite content in posts to ensure you are happy with the content you have received.
Ive outlined the steps you need to take to order content from Passion Posts on my YouTube site. Take a look at my video: ""
Passion Posts is definitely off to a strong start in providing content writing with heart.
So far, I'm impressed at what Passion Posts has to offer and the way they have made selecting writers with relevant interests so easy.
It really makes a difference in the quality of the content you are going to get.
They are not the fastest service I have used. That would be Buyselltext who seem to deliver most articles to me within 72 hours.
Register today and use my code : carl01
To receive 10% off your first order.
PassionPosts selection of content packages does indicate a real understanding of how content type and structure will affect the performance of affiliate sites.
And Passion Posts don't just leave it at content, you can also get their assistance with image creation, SEO, list building, graphic design, and other marketing services for your site.