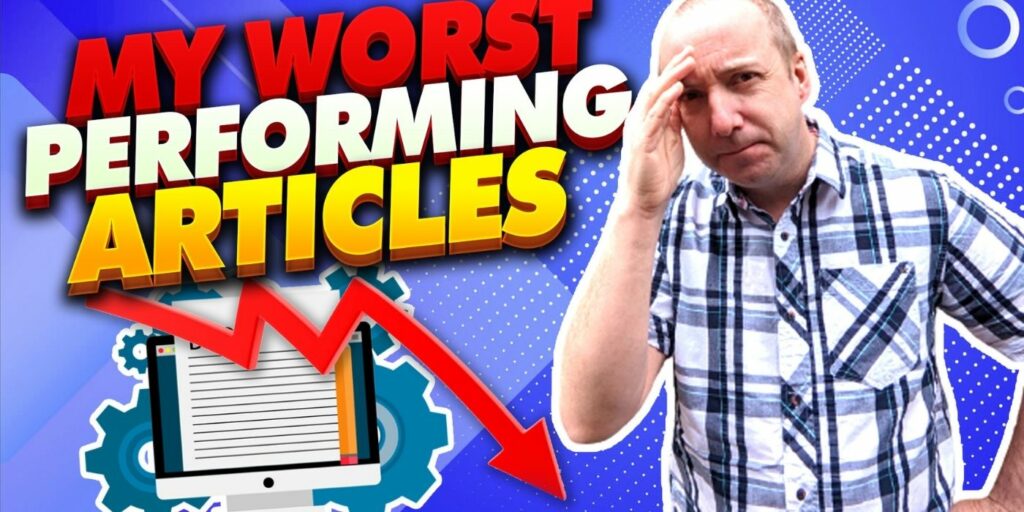 My search for my worst performing articles – and what you can do about yours.
This article is to show you that everyone has bad or poor-performing content. No matter how successful you are, you'll have some content that just does not do very well.
I thought it would be worthwhile to plumb the depths of my analytics and look at some of my content that is performing poorly online.
With thousands of pieces of content out there, it is easy to overlook the articles and blog posts that are not performing as they should.
So much of the focus of affiliate marketing is to get as much content as you can out there and decently ranked, but it is vital to your profitability that the content you already have pulls its weight and the page view and profitability that you have in mind.
I don't review underperforming content as often as I should but in this article, I'll show you how I find the articles that aren't getting much traffic.
We will also take a look at an article from my rogues' gallery of my worst blog posts and see whether there is anything we can do to improve it and boost the flow of organic traffic.
How do we define underperforming content?
I mean once it is up there, it's up there isn't it?
But to tackle your straggling content you have to know how to recognize it.
There is no hard or fast definition to answer "What is underperforming content?", but it is largely accepted that underperforming content is content of any type (written, video, infographics) that is not meeting its potential in terms of generation of organic traffic, sales conversions or sign-ups.
Given that, according to ahrefs
those stagnating articles are not alone, but if you are used to a decent flow of traffic to your content it's worth investigating what is wrong.
Personally, my expectation for each piece of content is that they should generate at least 250+ page views per month.
Others set higher targets of 1000 visitors from each article minimum.
I think, for me, 250+ visitors represents a decent return on investment for the cost or time used to write the article. Having a benchmark like this makes it easy to
Detect and improve content pieces that I think could be doing better at targeting my selected keywords.
Why does underperforming content matter?
Well, tackling underperforming content is one of the biggest best actionables you can do to improve your website.
If the content is improved and shifts you will enjoy great ROI for the time and money that you put in.

Think about it. You've paid money or spent the equivalent in time to produce your blog post. Ideally, this is a profitable investment, driving traffic to your website or directly generating ongoing income through affiliate links.
If you are on the road to generating passive income long-term, you cannot afford to accumulate straggler pages that are loss-making.
After all, a key benefit of blogging is the ongoing recurring benefit you get from the old content.
Waste not want not!
In the mad rush for producing content, content, and even more content, you are neglecting the untapped opportunity for growth that lies within your historic blog content.
Pamela Vaughan of HubSpot undertook a study that tackled the optimization of underperforming blogs and demonstrated a straight doubling of monthly leads these tired old blogs generated.
In fact, historical blog optimization is turning out to be one of 2021s hottest content production trends, with HubSpot, Moz, and other marketing experts recommending this approach actually growing and scaling your results.
So, what could be going wrong with my historic blog content?
Once you have identified a piece of content that is not meeting the mark you need to consider why this is happening.
You may have authored an exemplary post that is fresh, informative, engaging, solutions-based, and of course highly relevant so what's going wrong?
---
10 main reasons why your content just does perform the way it should
1. Your format does not fit with the content that Google ranking for the keyword
You may have produced some epic long-form content for a keyword or search term where Google is prioritizing videos.
This is becoming more of an issue for ranked legacy content where priorities have changed over time.
This means that your content piece will not have the visibility you were expecting.
2. The content is not a great match for user intent
This is one of those issues that becomes obvious after you have published and ranked for your post.
You may have a great article that could provide loads of benefits to users, but if the blog post keywords do not match the search intent that Google is presenting in its SERPS you're going to be missing out.
An example of this is trying to rank for a navigational search term like "Fish and chips Skegness" with an informational article on fish and chip shops in Skegness. The difference is very slight but still there.
3. Thin content is always going to struggle to rank
Short cuts are a great temptation when you are trying to get a blog off the ground, but that cheap and cheerful content is going to do you no favors long term.
Length isn't everything, but content that is very thin (less than 500 words) and lacking in reverence and completeness will simply not be authoritative enough to rank especially where there is competition.
4. Your old content is no longer fresh
Sounds obvious, doesn't it, but so much changes within industries, niches, sectors, and current affairs meaning even the most authoritative content pieces can really age out of the rankings.
Legal, regulatory information and news events will affect the relevance of your historic content with certain niches being more affected by Google does recognize posts that are kept fresh and up to date, you know the 2020 posts that get a 2021 refresh.
You may also have content that is genuinely historic, about some topical event that is well and truly in the past like sports games, or political or cultural events that may wane in page views as interest recedes.
5. Duplicate or cannibalized content!!
The nightmare of any blogger or marketer can happen simply through over-enthusiasm for keywords. If you have targeted the same keywords over and over again over time, or have used the same metadata or linking structure, you can trigger a duplication status for those content pieces, or devour the existing visibility that you had.
6. Your problematic post is light on links
Internal links, external links, and backlinks are still the bread and butter of SEO and if your articles have been targeting very competitive keywords a poor link structure and lack of backlinks will probably go against you.
In this case, a link-poor article may find it difficult to rank, let alone generate page views.
Backlinks often take a lot of effort and time to generate but there is no excuse for a poor internal linking structure as we will see below.
7. Algorithm updates have led to very drastic SERP changes
SERP has evolved massively in the last 5 to 10 years meaning that as an affiliate marketer you can take NOTHING for granted.
Websites can take massive impacts when search engines like Google make changes to their algorithm or implement core updates.
Older content that seemed stable can be blown to oblivion with big hits taken across your precious legacy page one ranking.
As a full-time affiliate marketer, Google updates are always a nerve-wracking time as you can see in my video on the nail-biting 2021 Product Review algorithm update:
After wailing and grieving you have to pick yourself up off the ground and do everything you can to recover your territories as your competition will not sit still.
People Also Ask (PAA) content is well known for being fickle too.
8. Old indexing problems count against you
Technical blips like canonical tag issues, incorrect hreflang tags, unexpected no-index tag, page status changes, and other mistakes or errors can mean that a decent page is clean removed from Google's index.
If the page is old and you have moved onto other things without a search you will miss these mistakes that alter your page's indexation.
9. You have JavaScript (JS) issues
JS can bring so much joy but also pain to the performance of your site, and when it goes wrong it can go very wrong.
Dynamic JS changes can affect the on-page SEO elements that Google relies on for indexing.
JavaScript changes can therefore get you kicked off of Google if the search engine struggles to render the content effectively for its users.
10. Poor spelling, grammar, and formatting
Basics like your spelling and trip you up. Believe me, I know!
Even if your post is very relevant and informative, it will be marked down if it is badly written. Get Grammarly involved and correct any errors that you may have missed.
Address formatting issues like long unwieldy paragraphs without headings and subheadings as you want to make your writing as easy as possible for your users to read.
If you are now ready to go hunting for treasure in your old blogs, let's get into how I hunt quick wins among my worst-performing articles.
Identifying your worst-performing content.
We're going to take a closer look at one of my key underperforming articles. But before we get into that, let's talk about how you can identify the worst-performing content:
Hunt for pages that have low organic traffic: as I am going to explain further on, a poorly performing post is one that simply isn't generating enough traffic. As we'll see, my worst-performing article has only single-digit page views per month.
Look out for blog posts that suffer a loss of traffic: it's worthwhile keeping a lookout for posts that have a sudden drop in page views especially if they had had an appreciable amount of traffic and engagement as the underlying cause may be able to be corrected.
Target articles that have generally poor metrics: you should be taking action on articles that not only have low traffic but show poor performance in key metrics such as dwell time or bounce
Stay alert for posts that have a clear CTA but no engagement: even if rankings and traffic are high for a page, if it has a clear call to action that is continually overlooked, it may be time to review relevance or the CTA itself.
Review posts have few social signals: if your content is not being disseminated as it should on the leading social media platforms your post has an issue. A lack of follow-through should also be a cause for concern.
Let's put this into action. I am going to walk you through how I do this with one of my OWN websites!
To show you how this works, I have made a video that outlines how I find and tackle straggling content on one of my existing live websites.
In my video,
"How to get more traffic to your blog posts – My WORST performing Articles"
We'll log into the live dashboard of my Google Analytics account to look at and export the page view data for my articles over one month.
Yes, you'll see my site, the keywords I am targeting, and the rubbish performance of an offending post, but I think it's worthwhile for you to see in real-time the traffic these poor performers are getting and the simple things we can do to boost the organic traffic.
If I can update and improve my worst posts, I should be benefiting from an uptick in traffic and rankings for only a small amount of work. Take a look and read the key points below:
Other strategies for hunting your worst performing articles
The other techniques that you can use to review underperforming content are all about reviewing those 10 common causes we went through above.
By running these additional checks you can gain insights into the root problems that are holding your content back and hopefully have the opportunity to boost the content with hassle-free quick fixes.
Inspect page status with the URL inspection tool in Google Search Console.
This will help you get to the bottom of if the page in question has been crawled or indexed. The Index Coverage report is valuable because you can review the index state of all of your website's URLs.
Run browser-based diagnostics on your problem page with Chrome SEO extensions.
It's great that you can conveniently review your worst-performing pages for on-page SEO basics including canonical tags and hreflang. If you are like me, you probably have overloaded your browser with them.
SEO Minion is a great Chrome extension that is also FREE! Read my article "What's up with SEO Minion?", to see how you can use it to undertake a quick SEO page review.
JavaScript checks can help you catch fatal errors in your pages.
The dynamism and interactivity of JavaScript can introduce unwanted alterations to critical HTML-based SEO elements. There are a variety of tools available that you can use to check if JS is causing you trouble, including Google's URL Inspection Tool.
SERP analysis can help you to better align your content user intent.
It's worth reviewing the SERP for the keyword that your underperforming content is targeting. Establish whether the ranked pages are transactional or informational. What are the ads like? Are there YouTube videos?
Over time things can change so by undertaking some basic SERP analysis you may be able to better align your existing content and perhaps even change the existing content format or include suitably formatted content.
Some competitor analysis will also help you appraise the quality of your competitor's content and see if there are improvements your can make to your existing content to outrank them.
Give your historic blog content a spruce up.
As you saw in my video I have started work on improving the underperforming content on my site and am looking forward to seeing some improvements in those badly performing posts.
Before we round up I thought I'd leave you with a list of 7 quick fixes, or historical optimization techniques that you can implement on your content to give it the lift it needs.
#1 Improve your headlines to encourage users to click and stay on your page.
Your CTR is a significant ranking factor so you need to do more to encourage, motivate or even compel users to click on your page.
Put your creative energies into writing the types of headlines that will get you more clickthroughs.
Writing a witty headline does not come naturally to everyone so if your struggling, did you know you can Artificial Intelligence content writing to generate high conversion headlines?
Take a look at my article on the Top 10 AI writing tools and software, for smart tools that can generate great headlines for your posts that are based on what works.
#2 It's a chore, but overhaul your meta content too.
Many bloggers and content writers treat meta descriptions as an afterthought, but if you are looking to improve underperforming content you should leave nothing to chance.
Starting those first 150 characters with something that will draw visitors in can also boost your CTR. Bring out your inner salesman write an engaging meta description.
#3 Find and use long-tail keywords that will help your failing article match the desired user intent better.
Going back to the drawing board with refreshed keyword research may make all the difference in edging your post towards the users that are looking for it.
#4 Dive in and redraft your content so it matches the user intent for your keyword.
Like I did with my site, editing your existing post is totally legitimate and could earn you that audience that you have been searching for.
As you redraft make sure you overcome any identified mismatch between your exiting content and the search intent. When you are done, reindex your upgraded article.
#5 If you have a cluster of straggling articles or posts why not consolidate them into a bigger better and more comprehensive piece?
By combining posts you can increase the value that you will deliver to your site's visitors. Again, you will need to redraft the content and ensure everything is coherent and reads well.
Then you can set up redirects from the underperforming pieces.
#6 Address your on-page links.
Links a good sign of authoritative content that is backed up with evidence and other relevant information on your site. If your articles are a link desert, they generally won't do well.
Make that stale article more credible and refreshed by adding decent external links and relevant internal links to your other relevant content.
#7 Mop up weak and straggling content with an excellent pillar post.
Weaker pieces of content can also be pulled up by the creation of an exemplary pillar post that can be linked to a set of related pieces of underperforming content.
This cluster content approach can be used to pitch a bigger piece of content that will drag up your neglected posts as it ascends the rankings.
One of the best tools to find cluster content and keywords is Keywordchef.
How often should I be looking for my worst-performing articles?
This is one of those housekeeping tasks that can be left on the back burner. But you should be taking a look at what is going on every six months or so.
As you see in my video, I work with a 30-day snapshot of what is going on in my site to identify content that isn't doing as well as it should.
Are you ready to give updating your old content a go?
Because underperforming content is such a common issue it means that most websites are ripe for opportunities to refresh and re-index content pieces for more organic traffic.
My challenge to you is to follow these steps to extract the maximum value from the content you have worked hard to invest in.
I find that updating old content is great for keeping your current content creation at its best. It will keep your on-page SEO habits at their best to ensure that your content consistently meets the mark.