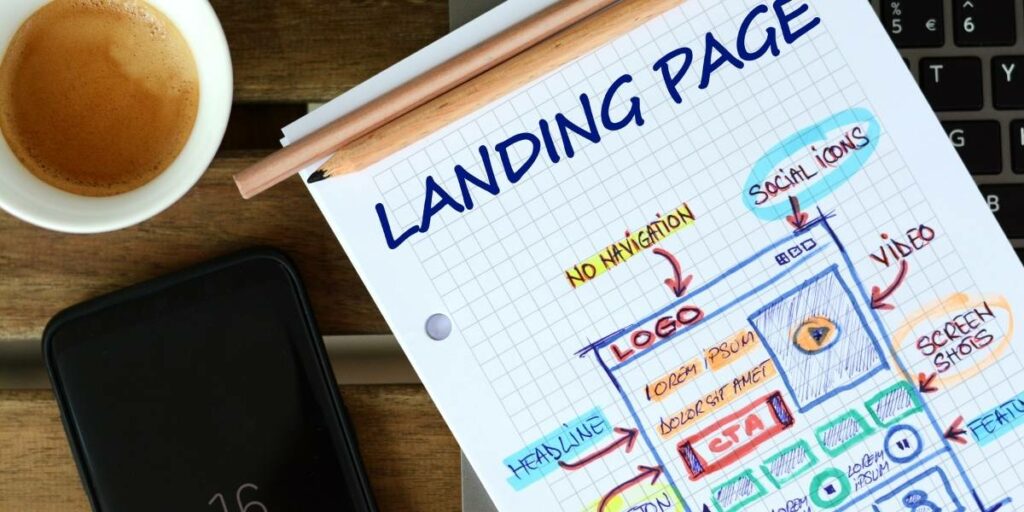 A surprisingly common question I am encountering increasingly, is if you need a website to create a landing page?
Actually, you don't need a website to create landing pages! You can use an email software provider like ConvertKit to create an authentic landing page, complete with a URL without a website. It will look like a website but be hosted and designed using their service and templates.
Here, I'll explain how I create engaging, interactive landing pages for my business without ever having to touch my websites. Let's get into this.
If you have a large following on Twitter, Facebook, or LinkedIn and are wondering how you can leverage followers of your online content to a viable income, you may be wondering if you can adapt some of the affiliate marketing strategies and techniques that I am sharing here and on my YouTube channel.
If YouTube or social media are your natural environments as a content creator, you may want to avoid all the hassle and expense of breaking new ground with a fully-fledged website.
However, for monetization projects or other campaigns, you may need a landing page, where your audience or visitors can subscribe for further content offers or deals that you are promoting.
Firstly, what is a landing page?
Landing pages are stand-alone web pages that are usually used for promotional or lead capture purposes.
You may have also heard them being described as lead capture pages, opt-in pages, or static pages, but 'landing pages' is by far the most commonly used term.
Visitors are directed to landing pages as a result of online searches, clicking on social media links or in response to email marketing.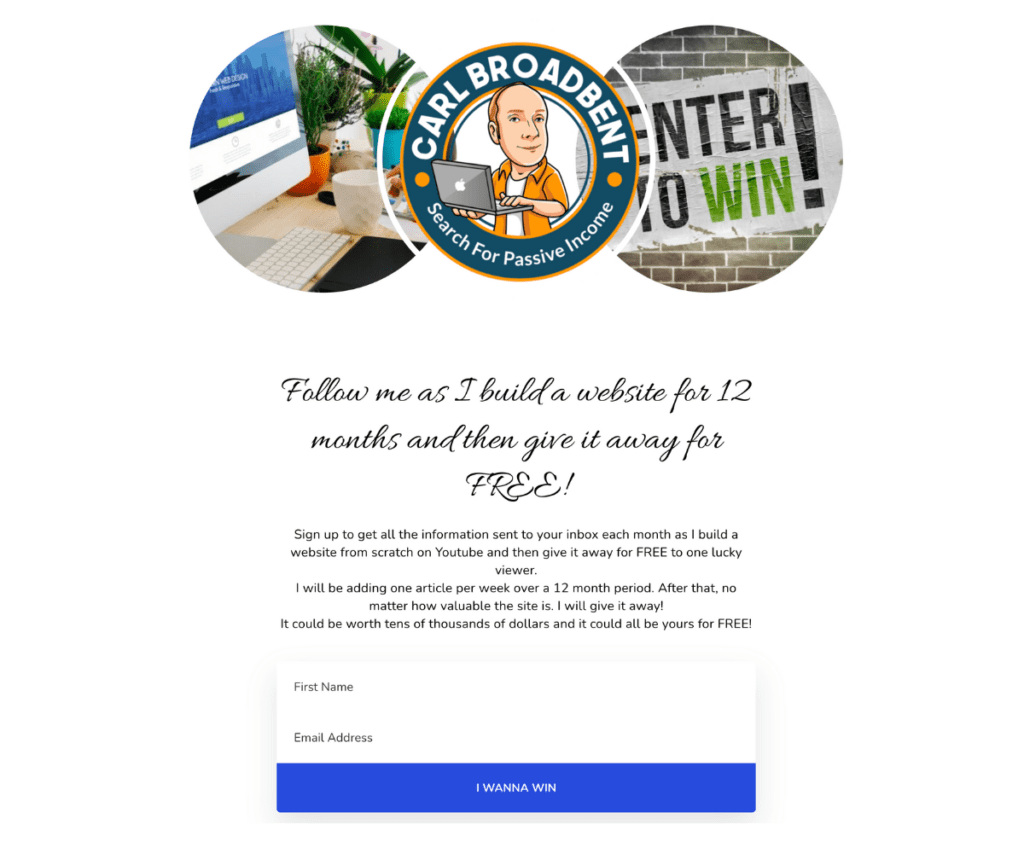 Unlike, standard website pages or blogs, landing pages are highly targeted and purposeful and are engineered to generate leads, subscriptions, or sales; so you can see why digital marketers of all kinds will want to be able to use them.
Why are landing pages important for my business?
Landing pages are an incredibly versatile tool for trying out a range of marketing campaigns and ideas. You can set up landing pages temporarily or permanently if they do their job well.
As an affiliate marketer, I use landing pages to spread my reach for specific projects and build my email subscriber list.
By using landing pages that are separate from my website I don't get into a mess with the SEO for my main site. I can experiment and my main domains are undisturbed.
By being smart about using landing pages you can really build your online brand and I've found that they are one of the best ways to get people to your offer or value proposition and get them to take action.
This is because landing pages are 100% focused, your visitors don't have the distraction of site navigation, a million pop-ups, or long-form copy, or outbound links that will take them away from the page.
With landing pages, it's all about conversion!
According to HubSpot, the average landing page has a conversion rate of 9.7%, which is pretty good in my opinion, and form-based landing pages have a conversion rate of as much as 23%!
So, it's clear that landing pages can do a lot of good for your bottom line. Landing pages are so successful that in fact, some marketers are now recommending that primarily as the way to go for marketing an online venture.
Right. So, you can see that creating landing pages could be really worth your while
And when you realize that you can create a great landing page without a website attached, there is absolutely nothing to prevent you from giving it a go.
What are the options for creating landing pages without a website?
This is just the right time for getting into creating your one, stand-alone landing page, as the options for doing this with a professional finish are continually increasing.
Here are three key methods for creating landing pages without a website that you can try:
Microsites: Microsites are a single page or small cluster of pages that have a domain. They are fully branded but are non-navigable and engineered to lead your customers to take a specific action. These sites are often used alongside a main site or social media account for specific campaigns. They are often temporary and will be taken down once the campaign they were used for has ended.
Landing page builder: The explosion in landing page marketing has led to a wide variety of landing page building software. Going through them all is beyond the scope of this article, but for the vast majority of them, you do not need to know code, a relief for people like me who do not have a web development background. Landing page builder apps, usually feature drag and drop design or a wide range of templates that can be modified with your own, branding, text, and images. Many of these sites will host your landing page for you with a dedicated URL, meaning everything you need to get your message out there is in one place.
Email software providers: My favorite as it's all in one place and reliable, is ConvertKit. I use ConvertKit for mine and I love it. As landing pages are often used to sign up email subscribers, it makes complete sense that pro-email service providers are muscling in on both ends of the market by providing the platforms for creating a range of smart landing pages. By using Mailchimp, AWeber, and other ESPs to create your landing pages, you also benefit from their powerful analytical software which enables you to gain insight into how visitors are interacting with your landing page and how it can be improved.
Now let me show you how I have been able to create truly awesome website-free landing pages with ConvertKit, the email software provider I use.
I've been using ConverKit for building the email subscriber list here at CarlBroadbent.com for a while now, and I am continually blown away at the power and utility of their email service provider.
One of the key things I use ConvertKit for, aside from emails, is its super simple responsive landing page builder which gives consistently great results on all devices.
The best thing about this landing page builder is that it is totally separate from my website. ConvertKit can host the pages so what happens on ConvertKit stays on ConvertKit.
If a fuss-free good looking opt-in page is what you want. I'll run through how I build my pages on ConvertKit.
Step one: Sign up to ConvertKit
To gain access to the landing page builder that you need for your project, your first step is to sign up with ConvertKit for an account.
The great news is that ConvertKit's landing page templates and email marketing services are free for your first 1000 subscribers, meaning that you can get started with creating an unlimited number of landing pages right now.
If you already have more than 1000 subscribers, or, like me, are serious about growing your email marketing lists, you will probably need to upgrade to a premium account.
For your first 5000 subscribers, you will be paying around 79 dollars per month, with prices climbing from there. ConvertKit's premium email packages also include pro support and monetization features.
It sounds expensive but, trust me a good email list is worth its weight in gold. See my article here for some facts and figures.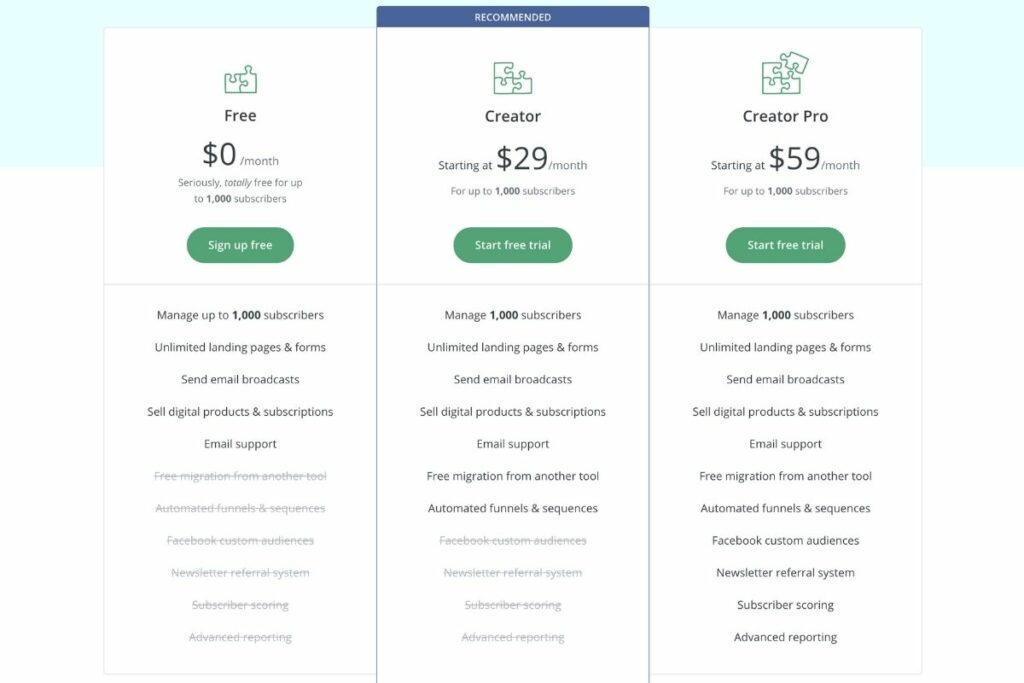 Step two: Select a landing page template
ConvertKit has a great selection of landing page templates that you can choose from to customize your landing pages.
Take a scroll through their designs and assess each one for your project, they have worked hard to provide something for everyone.
Each landing page can be previewed so you can get an idea of how your landing page will look if you use that design.
Step three: Start editing your landing page by creating a headline
You will need to come up with an attention-grabbing headline to keep your visitors on the page. I've found that sharing a value proposition like a great offer works really well.
Step four: Maintain interest with great (relevant) visuals
Most templates will prove customizable areas where you can integrate images or video. You can modify the landing page background and focal images.
Upload images from your computer, your Instagram account, or Unsplash and Hero Patterns, ConvertKit's royalty-free image partner.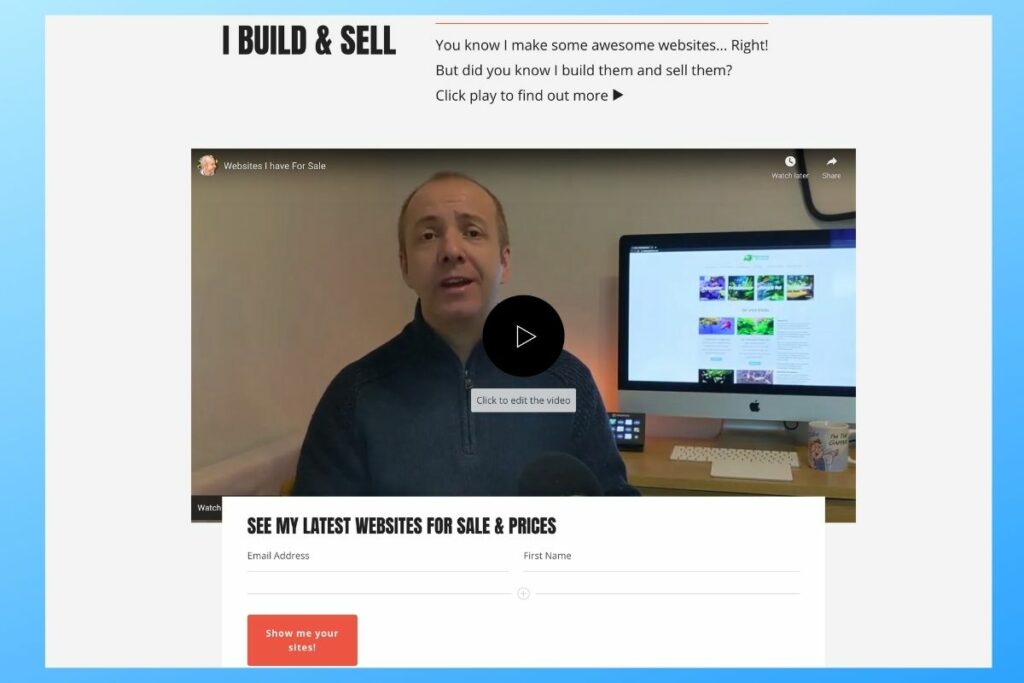 I find it best to try different things out, as almost everything in the template can be clicked on and customized. Don't stay on the default settings. Vary the colors, fonts, and buttons for maximum impact with your page.
Step five: Fill your landing page with winning landing page content
This is where your message takes center stage, so make your words count! Keep your content simple, concise, and actionable. Remember this isn't web content or a blog.
When I create a landing page, I want to convey my offer clearly, describing both it and its benefits with the minimum number of words necessary.
Step six: Save and preview your hard work
Just like a Content Management System (CMS) like WordPress, you can save and preview your landing pages on ConvertKit. You can preview the landing page's responsive design on your phone or tablet and make adjustments as necessary.
Step seven: Go ahead and share your landing page with the world!
Once you are happy with your landing page, you are ready to publish it. Hit the share button to spread your page far and wide by copying and pasting the custom URL for the landing page.
A note on custom domains and URLs
Just like you, your landing page will need an address. If you do not have a website, you can breathe a sigh of relief as ConvertKit will create a default landing page URL straight out of the box!
No, I'm not kidding. It's that great. All these landing pages are hosted by ConvertKit and you don't need to worry yourself with creating a custom domain or URL if you don't want to.
All ConvertKit landing pages come with a domain structure that is something like this:
your-business-name.ck.page
However, if you do want a custom URL that perhaps uses a domain you already have, you will need to do a few more steps for your landing page(s).
You can change the account domain of your ConvertKit account to something that matches your brand, provided that your specific custom .ck domain is not already in use.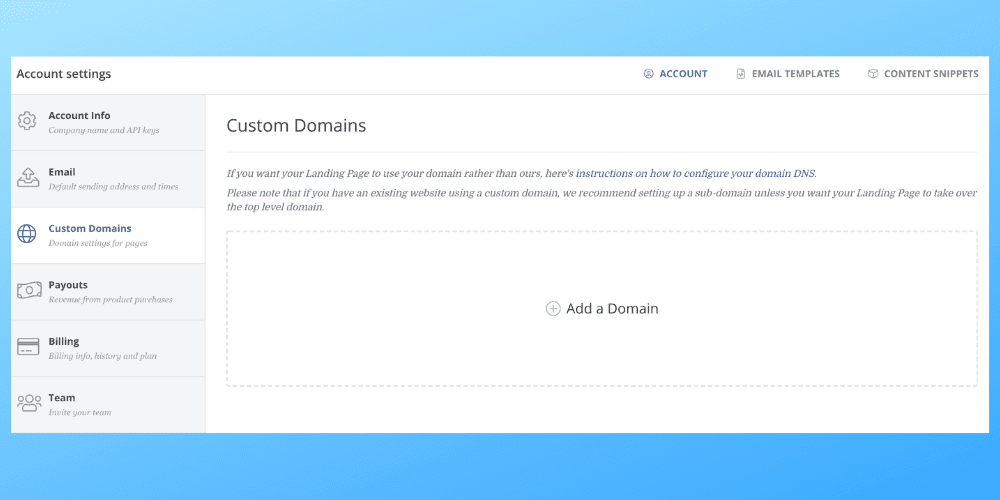 Alternatively, you can configure the ConvertKit account to draw its domain from your own domain. This is a technical step as it requires changes in your existing domains DNS settings.
Thankfully ConvertKit has created a great tutorial that will walk you through these very technical steps.
Last-minute tips for making a winning landing page:
Keep it focused. Landing pages are different from web copy and blogs. They are all about the bottom line and your visitors will thank you for keeping the information provided on-point.
Keep your branding consistent. Your branding that you use elsewhere should be used in the landing pages so that visitors who are familiar with your online content can identify quickly that the landing page is from you.
Test, test, and test again. Landing pages are all about results so do not be afraid to change and tweak your pages to optimize their conversion rate.

Looks like you're all set to get your new landing pages out there!
When I first tried out this method for creating landing pages without a website, I was genuinely surprised by how easy everything was and the quality of the pages I could produce.
I genuinely recommend building landing pages with ConvertKit because of the convenience, but I am sure you can get great results with other landing page builders.
So, as you can see there is absolutely no barrier to extending your reach with custom landing pages that you can get working for you in minutes. Whether you have a website or not the best time to start is always now!