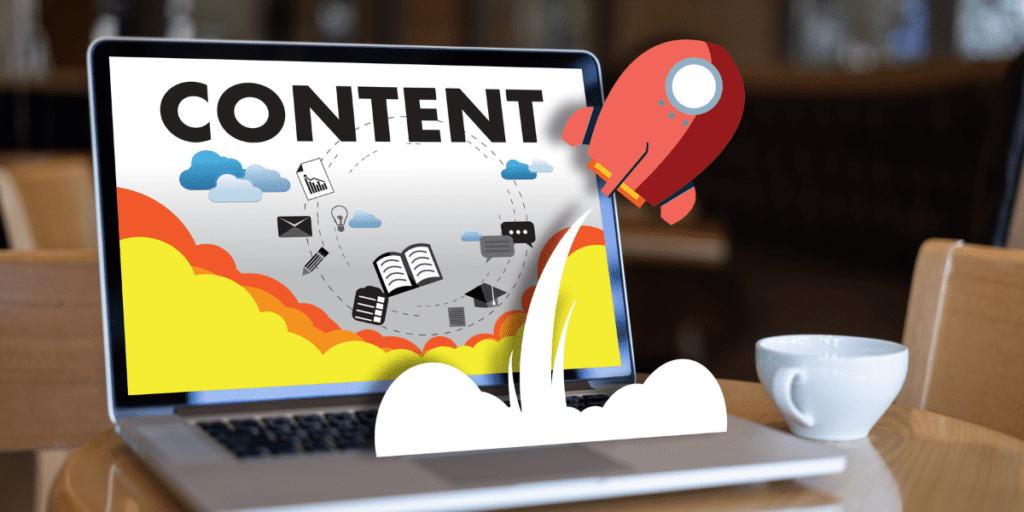 As an affiliate marketer, you'll know that content writing is the lifeblood of your operation. If you're anything like me, you will know that in the beginning, I struggled to find good writers who can meet the mark consistently across all my niches.
Getting the right type of content for your site, especially if you are not a strong writer, or do not have the time to do it yourself, is critical for getting a decent domain off the ground and moving.
Thankfully, I am now at the stage where I have a pool of experienced writers who work for me directly, but if you have not yet been able to assemble your own team of in-house writers, your first stop for copywriting support will be a blog content writing service.
These content writing platforms provide a copywriting service where you can pay for the quantity and quality of content that you need for your projects.
In the business of blogging, where margins count, you want content writing to be not only cost-effective but provide a good return in terms of traffic, engagement, and ideally, sales.
If you want to know more about my journey to assembling an in-house writing team why not take a look at my video?
To help you get started let's take a look at 7 key content writing platforms and sites where affiliate marketers can buy articles online that are fresh, diverse unique, and jam-packed with the helpful data and information your readers need.
I have to also check the last content service I gave an honorable mention to at the bottom. Conversion.ai – which seems to be the talk of the town.
---
1. BuySellText.com
If you are currently purchasing articles to grow your affiliate site, you may have come across BuySellText.com in your searches for a blog content writing service. BuySellText is one of the main companies I outsource content to for my sites.
I've worked with them for a while and have spent quite a bit, but I have always found that they offer a fast professional, and personable service. Let's take a closer look.
Here is my spend over the past four months

For me, BuySellText.com is a one-stop shop for competent writing on just about any subject I need. This content writing service has an in-house team of vetted professional copywriters who are adept at turning around content written to brief quickly and whenever you need it. All their copywriters are US nationals, which is great if you are writing for an American or Canadian audience.
Types of writing you can order from BuySellText.
So far, nothing has been a problem for these well-informed writers. BuySellText covers a range of content formats including article re-writes, product descriptions and of course, regular blog posts. For a premium, the BuySellText.com team can also put articles straight into your site, saving you time if you are running a large number of sites.
What is their pricing like?
BuySellText.com grade their writers so you pay a price per word according to the quality of the writer you have chosen. Prices start at 2.5 cents per word – outstanding value for a native English writer! Their highest rate is 10 cents per word.
You can also pay more for extras like 24-hour delivery, referencing and posting the content on your site.
How do you order articles from BuySellText?
You can even import a spreadsheet of articles to order in bulk (see below)

One of the things I like about BuySellText is that the ordering is simple. They supply an order form on the site that you just fill out with basic details about what you want and the price you are willing to pay.
Of course, you will need to provide instructions on the topics, keywords and length of post required. You can also order extras if you want.
Submit your order with credit card or PayPal payment and your work is usually with you within 72 hours.
Pros and cons of BuySellText.com
As I mentioned, I do use BuySellText quite a bit. Their articles are unique and plagiarism-free, and they will revise things if you are not happy. Compared to other content sites their customer service is good.
It is also really easy to make regular orders and you have a client dashboard that keeps track of your orders and payments.
On the downside, I have found the bulk migration of content over to WordPress a bit tricky but perhaps that's just me.
Get 10% off your first order by using my referral code: Carl01 on registration
---
2. iWriter.com
iWriter is another popular platform where you can get yourself some decent writing for your site with a prompt turnaround. I used iWriter right at the very start of my blogging journey and made a few videos about it.
It now seems like it has a little bit of a reputation for being the Wild West of content platforms, with some reviewers having been stung, I have thankfully come out unscathed.
What I mean by that is it can be a little hit and miss on the quality of the content from my experience. You can see my approval rate for them from their own dashboard. It's at 87.5%.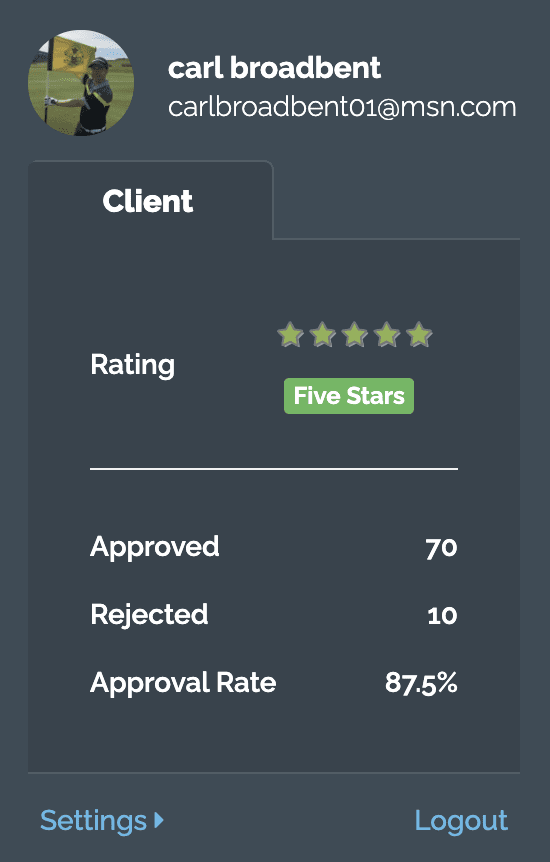 iWriter is created and owned by Brad Callen. It is a US-based platform but hires writers from around the world who log into the site and pick up orders posted by customers.
Writers choose the jobs they want and complete them. The orders once collected, are timed by iWriter and written on their site.
Once completed, your order is ready to download.
Types of writing you can order from iWriter.
Nothing is off-limits with iWriter, longer and more complex orders may wait a while on the site to be picked up. Their writers produce anything from press releases to e-books, so you just have to explain what is required as you make your order.
What is their pricing like?
As with many content-writing services, the writers at iWriter are graded Standard, Premium, Elite, and Elite Plus. Standard quality articles are cheapest at just under 1 cent per word to just over 13 cents per word for a longer premium document written by an Elite Plus writer.
Within the writing grades, the price you pay will vary with the length of the article.
The blog posts I have ordered at the Elite level have cost me about $55 for a 2500-word article (0.22 cents per word).
How do you order articles from iWriter?
Like most sites that sell content, iWriter expects you to log in and create an account with them.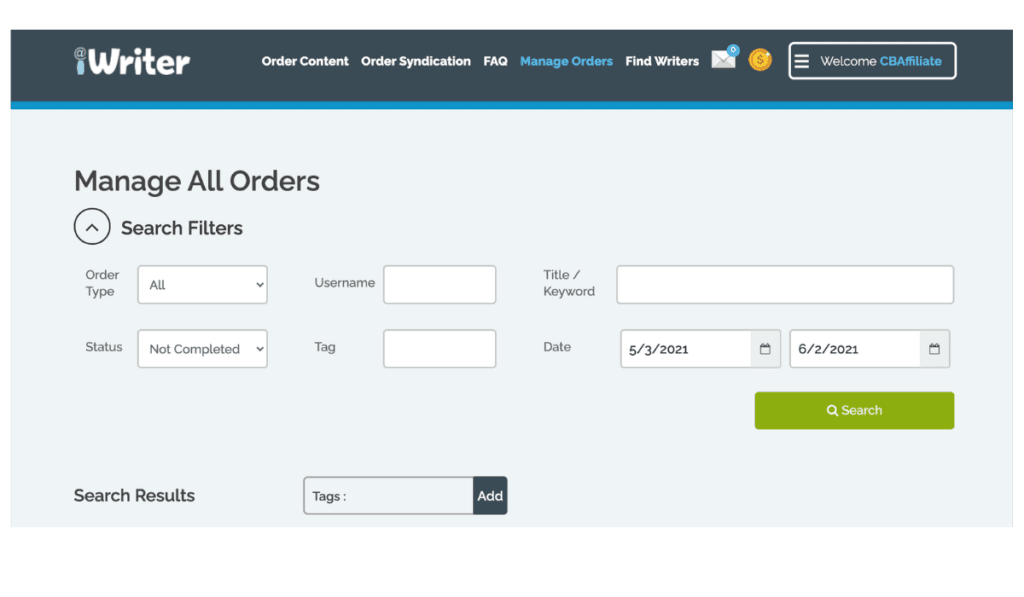 iWriter will want your PayPal details or other account information upfront. To order your blogs, you need to fill out an order form that allows you to choose the length of the article and the level of writer that you need.
With iWriter, the more information you can supply when creating an order, the better, as it can be easy for wires to get crossed on such a busy platform.
Payment is upfront which can be dicey as I will explain in the pros and cons further on.
Here is a quick video tutorial from iWriter.com on the ordering process:
Pros and cons of iWriter.com
I find iWriter a handy site for buying blog posts and other web content affordably. However, some customers have been stung by this site.
Firstly, when you make an order, unless you have found a specific writer you want to work with, your job will be posted to a job board where writers will pick up whichever jobs they want.
Unfortunately, some jobs can languish on the job board which is a hassle as you have paid upfront.
Due to hacking and fraud on the platform, iWriter also has a low threshold for shutting down accounts with no explanation.
---
3. Handsoffpublishing.com
Hands Off Publishing is a platform I have used a few times in the last six months. It's relatively new but is getting some great reviews on social media as word spreads about them.
If you are looking for your blog content to be written, uploaded, and formatted on your site they will definitely make themselves helpful in that area.
I have been using and testing them on some of the more difficult niche websites I own. One where the content is very technical, or data driven. These really test some content providers!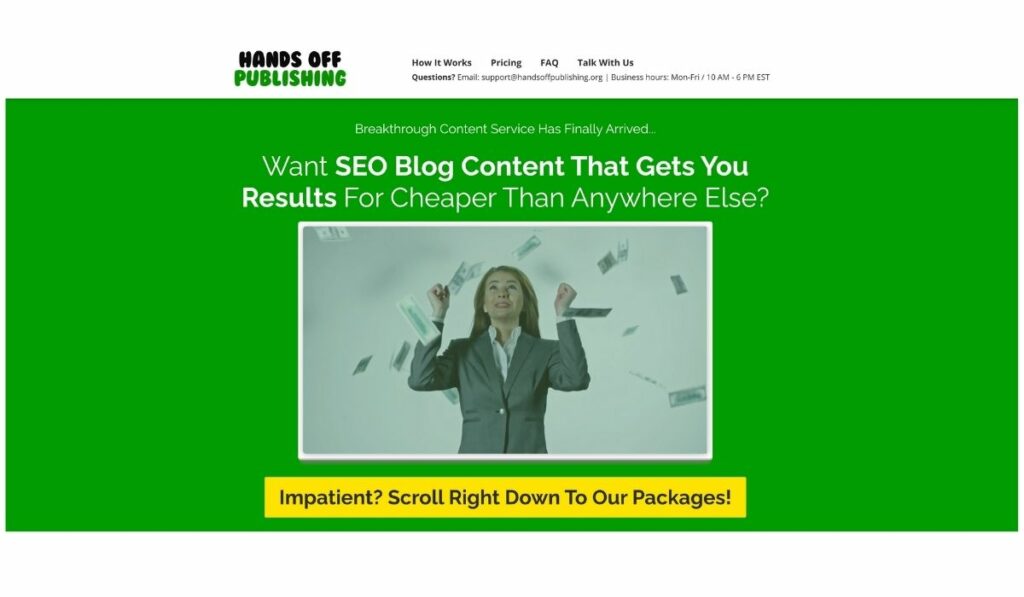 About Hands Off Publishing
Hands Off Publishing has set itself apart as a full-service content publisher. This means that not only will they deliver decent SEO-friendly content, but they will also add the images, video links, headings, and internal and external links needed for the post to be fully published.
Types of writing you can order from Hands Off Publishing.
You can get just about any type of content researched, prepared, and published on any site of your choice. Hands Off Publishing will also source relevant Creative Content licensed stock images for your content and include them in the published post or page.
What is their pricing like?
This site is all about providing their service at scale, rather than grading writers as you see on other content platforms. If you are only looking for one or two blogs, you are not going to get the best value from this Hands Off Publishing's pricing. You can choose from one of the following packages:
Tester: 1K words for $38 (0.038 cents per word)
Baby: 10K words for $350 (0.035 cents per word)
Kickstart: 25K words for $825 (0.033 cents per word)
Authority: 50K words for $1500 (0.030 cents per word)
Exclusive: 3K words for $140 (0.047 cents per word)
Trailblazer: POA
So, you can buy a week or a month's worth of blogs or even a long-term content campaign at some very competitive prices.
How do you order articles from Hands Off Publishing?
You make your order by contacting the Hands Off Publishing team via email with your order. They will provide a well-structured order form that you can fill in with what you need. Once you pay them, you will have your own Content Manager to liaise with you and keep your order on track.
Pros and cons of Handsoffpublishing.com
Hands Off Publishing is great for the bulk orders I have been doing because I am now at the stage of ordering multiple articles at a time.
It was useful to be able to order a 1000-word tester article before diving into my bulk order at a competitive rate, but it would be good if they offered a package between the 1K and 10K option.
On the downside, the pictures they selected for my content weren't so relevant, so I did replace them with my Shutterstock subscription. Overall, I wish them well and would use them again in the future. In fact, I have just prepared an order for them today.
---
4. Copify
Copify is a UK company that provides decent content for both the US and UK marketplace. Their take on things is a little bit more focused on business page content and e-commerce copy so, depending on your niche it may be straightlaced.
(Total transparency) I have not used this service yet but I'm just in the process of placing my first order.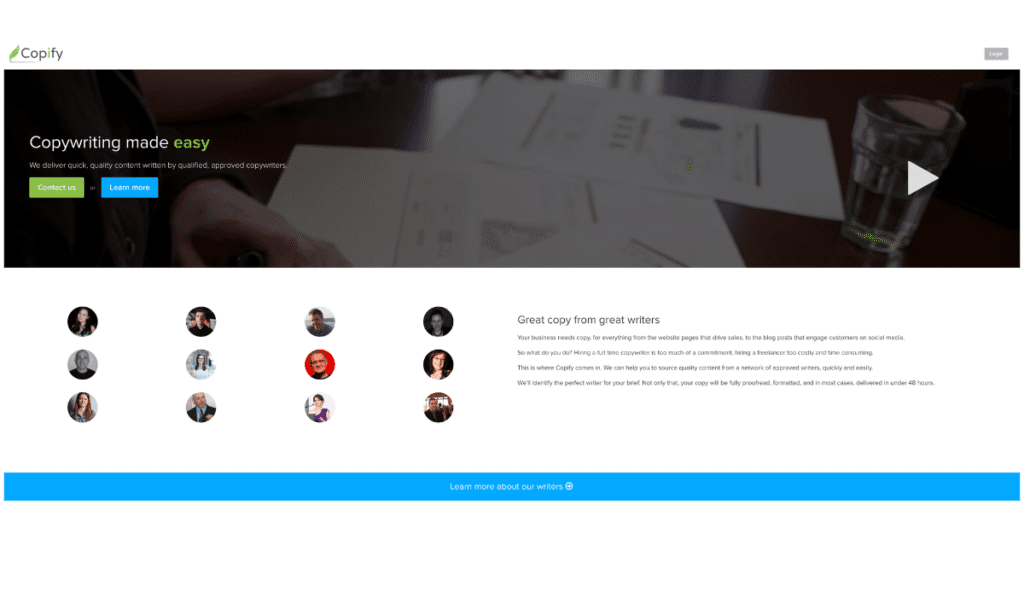 Founded by Martin Harrison in 2009, Copify is a simple online writing platform that provides a professional article writing service. They initially had a UK focus, but have now expanded to provide native English writing worldwide.
Types of writing you can order from Copify
Copify provides all the major types of content an affiliate marketer would need, including blogging, page content and an email writing service.
What is their pricing like?
The Copify pricing isn't so clear as they do not publish their pricing online, but their rates start at £0.04 per word. You have to contact them with your requirements to get a precise quote.
How do you order articles from Copify?
To order content you will need to contact the Copify team directly. Beware, they are sales heavy. However, they do provide a dashboard within their sites where your orders are queued, and you can make payments and request revisions.
Pros and cons of Copify
From what I have heard from others who have used them, you'll either love it or hate it. My impression is that they move a lot of bulk orders, meaning the customer support that you need when you are starting with a content platform might be missing.
Also, because Copify creates the brief that is provided to the writers, a lot could get lost in translation, meaning that you end up with an article that is markedly different from what you requested.
I do think the benefit is that they have some talented writers for the UK on their books and they can match you up with a specific writer fit for your niche. I will bring you a full review when I have my content back from them and have published for you to read.
---
5. Constant Content
I'm glad I get to tell you about Constant Content because this company approaches paid content in a completely different way to the other sites I've just shared.
With Constant Content, you can simply buy completed articles straight off the site to download and put into your blog!
About Constant-content.com
Over the last decade, Constant Content has emerged as an online leader for pre-written, search engine friendly content.
They have amassed the largest inventory of this type of content for sale on the web, with an inventory of over 100,000 ready to buy articles to choose from.
Types of writing you can order from Constant Content.
There is very little that you cannot find in Constant Contents encyclopedic library of articles, which includes many technical articles on niche topics.
You can type in your keywords into their database and see what comes up. The articles are shown as picture samples. They are not actually published online meaning customers do not have to worry about duplicate content issues.
What is their pricing like?
Pricing is set by the writer who takes 65% of the sale price. Expect to pay around $50 for 1000 words.
How do you order articles from Constant Content?
If you have a specific request, you can also make a content request by submitting a brief and price range for your work. Once completed the article will be offered to you first, but if you don't want it, it will be added to the Constant Content library.
Pros and cons of Constant Content
I like the thought that you could almost instantly start or boost a blog with ready-made content and it's great that there is a platform that has addressed this. Constant Content makes the purchase process highly convenient and it's clear their writers are of good quality.
Of course, when buying a blog post or article based on an excerpt, you may find that some content is not a good fit or not quite as you'd envisaged.
---
6. Nichewebsite.builders
You may not have heard of them but Niche Website Builders are a specialist content outfit that I use for the ultra-technical and detailed content that I need on some of my niche sites that require well-researched precision writing.
This is a premium service, but for me, it's worth it because they do not go wrong. I have been using them for a while now and I love their content and service.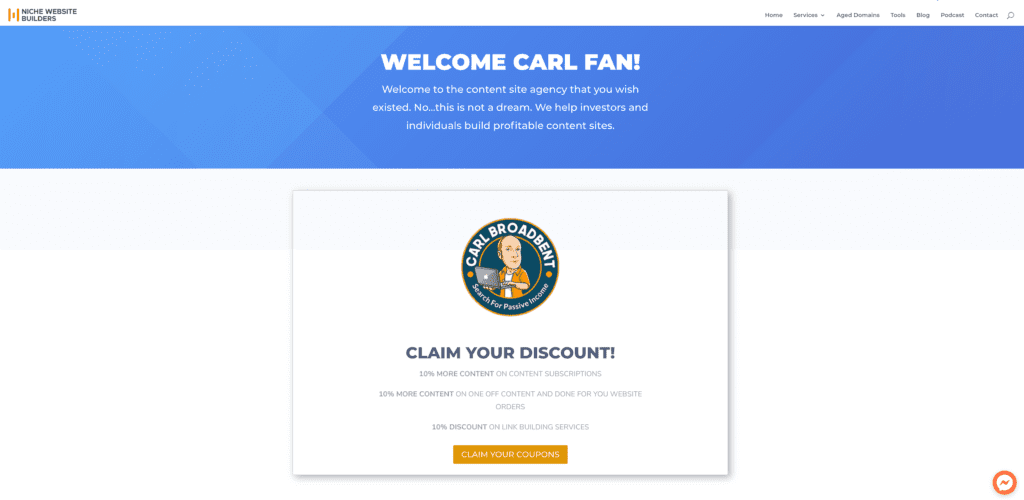 But as I go into more detail below you can see it's an all-in-one service. Research, writing, and publishing which means the cost is higher.
But… You get what you pay for!
About Niche Website Builders
Niche Website Builders do affiliate marketing with a twist as they do not only provide high-quality content writing but turnkey services for building and flipping profitable affiliate marketing sites.
They even sell sites and aged domains, which is ideal if you are looking to expand your stable of affiliate marketing sites. Their strength is that the company is built by affiliate marketers, for affiliate marketers.
Founders Mark Mars and Adam Smith set up the business in response to difficulties they were experiencing in getting content and affiliate marketing services of the right quality for their projects.
Types of writing you can order from Niche Website Builders
Nothing is going to be a problem for these guys. Their 22-strong team of content marketing pros, cover all aspects of creating high-quality niche content that is rigorously keyword researched and detail-rich. If you need attention to detail for your financial, health or tech blog, these are the guys for you.
What is their pricing like?
The 10K – 10K words for $650
The 20K – 20K words for $1200
The 30K – 30K words for $1800
The 50K – 50K words for $3000
The 100K – 100K words for $6000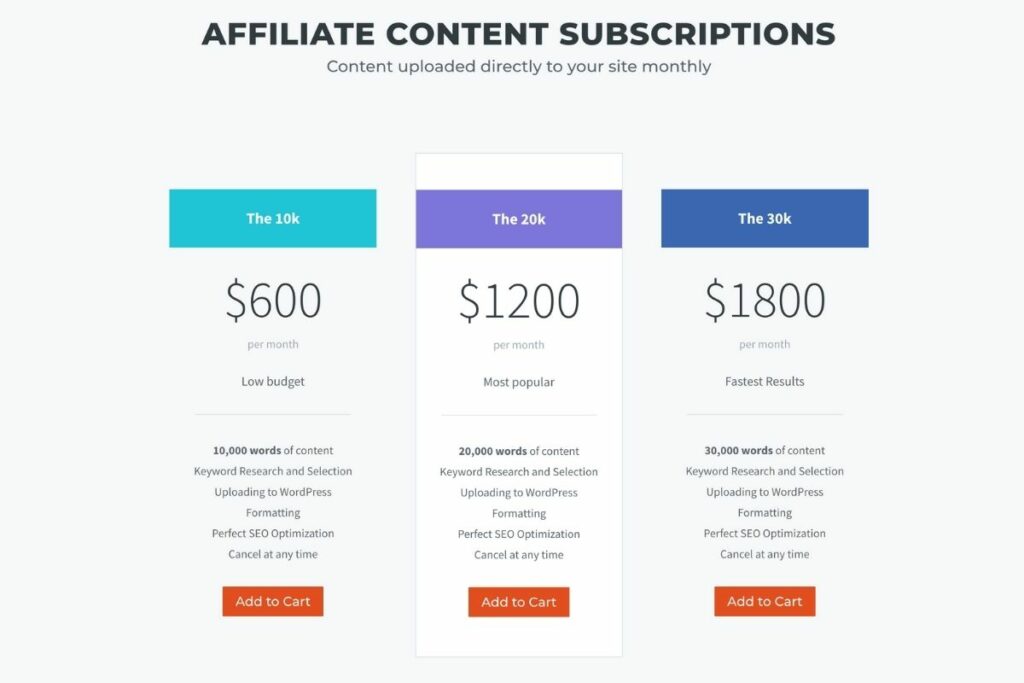 How do you order articles from Nichewebsite.builders?
Your content package is added like an order to your shopping cart. Pay and then you can provide more information about your domain and briefs for the writing to commence. Once completed, everything is uploaded to your site.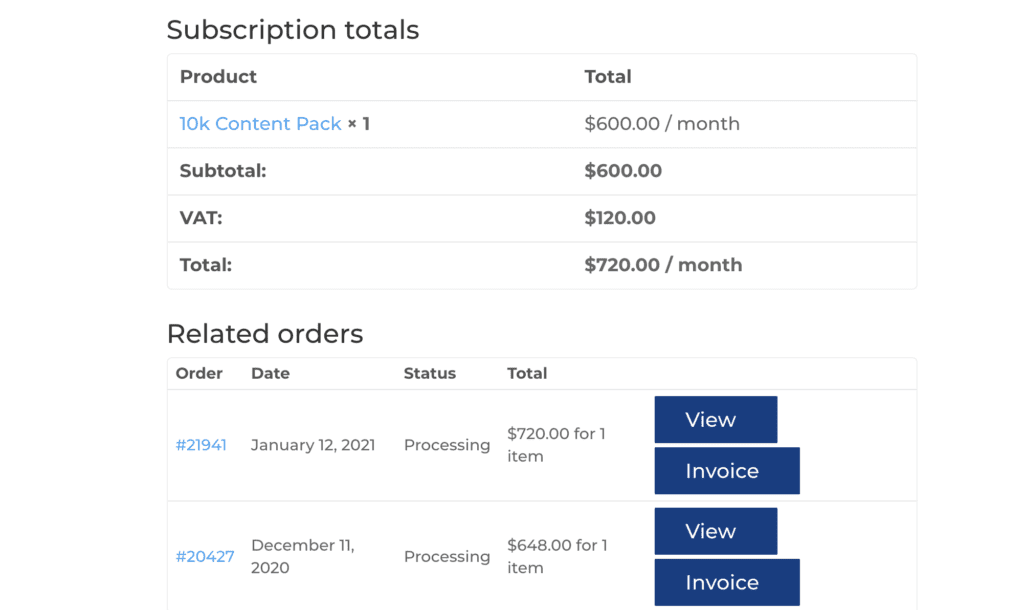 Pros and cons of Nichewebsite.builders
They definitely aren't cheap, but for your money, you will get a completely professional turnkey service that is full of insights that only seasoned affiliate marketers would know.
Their content is search engine optimized with links and goes straight into your site. I have had good results with the 10K package and very little of what they provided needed changing.
A con which I wasn't aware of is: You have to pay VAT (UK orders) – I'm not sure about the USA – you would have to check before ordering.
You can get a discount if you click my link below on your first order
---
7. TextBroker
TextBroker is another well-known platform that has a decent reputation for good quality, affordable content. I've found that some of the more established content writing platforms have established themselves writing for business and producing web copy rather than blogs or affiliate marketing, but TextBroker is quite switched on to the rise of affiliate marketing and what you will need for content that generates profit.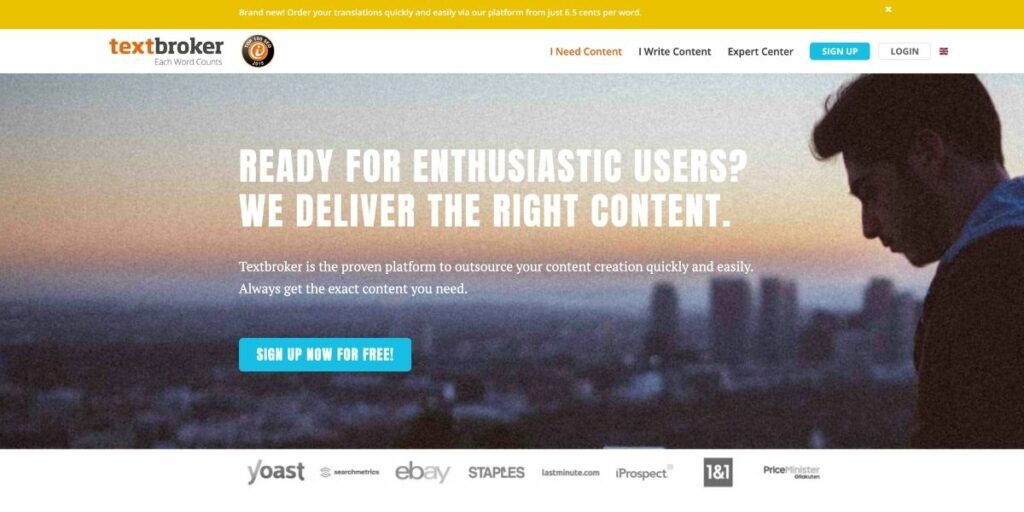 TextBroker was founded by SEO Jan Becker-Fochler, who recognized the need for well-optimized content as a separate, specialized service for web-based entrepreneurs.
Types of writing you can order from TextBroker.com.
TextBroker provides quality content across a range of niches, and topics. They do one-off orders, bulk or custom packages, and even professional translation if required.
What is their pricing like?
You can work with TextBroker.com in a variety of ways. Their self-service option means that you can choose the word count, quality level and price point for your content.
The cheapest orders, starting at 1.5 cents per word, are directed to their writing pool, and if you find a writer you like you can work with them via direct orders.
TextBroker also provide managed content services with a minimum order value of $2500.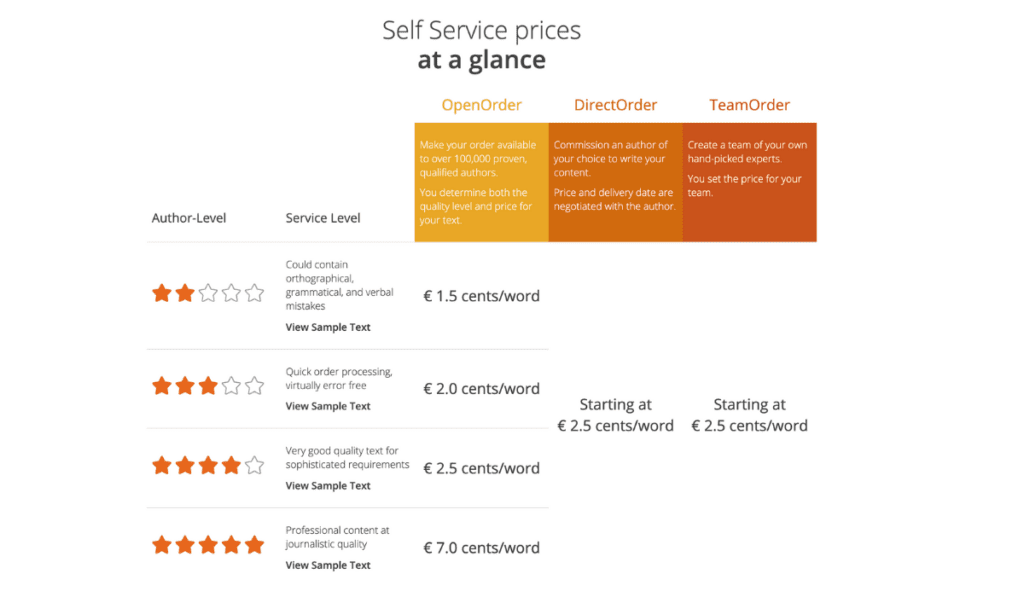 How do you order articles from TextBroker.com?
To use TextBroker, you'll need to sign up for an account that provides the dashboard where you can make your orders.
Pros and cons of TextBroker
TextBroker provides a very cost-effective way of meeting your content requirements and if you encounter a writer that has the quality and tone that your site needs, it's great that you can work with them directly.
They are definitely becoming switched on to affiliate marketing, which is clear from the packages, pricing, and other information they provide on their site. However, their service is a no-frills one; don't expect anything more than the words.
---
Last-minute FAQs for buying articles from a blog content writing service.
Q. How can I be sure that the content provided is truly original?
As an affiliate marketer, ensuring that your content is truly unique is critical if you do not want to fall foul of Google and other search engines.
Online content writing platforms are a mixed bag, and some unscrupulous operators will sell junk or plagiarized content after taking your money.
All of the sites that I have shared will perform rigorous plagiarism checks with Copyscape or equivalent software. To be absolutely certain, it's well worth putting the articles through Copyscape yourself before you hit the publish button.
Q. Do I legally own writing purchased from a content writing platform?
Good question. To be absolutely clear about this you will need to refer to the specific terms and conditions of the content provider you use.
Generally, once the article is handed over to you, you own the exclusive copyright for the writing. Always keep a paper trail so you can establish that you own the full rights to the content you paid for.
Q. What can I do if I am not happy with the articles that have been written?
When I get hold of the content I have ordered, I'll immediately read through it and check that it meets my requirements.
Most platforms will make one or more revisions to the article so that you can get the article just right. If a content platform will not provide changes but wants to take your money upfront, it's probably best to save yourself the hassle and move on to another company.
Honourable Mention
We can't talk about content and not mention Conversion.ai. It seems to be taking the world by storm. Whether you're a believer or a doubter in ai content, you cannot get away from the fact that it's here to stay and will only get better.
Will it replace human writers…? No. I really don't think it will. Certainly not in the next 5-10 years. However, never say never. Who knows what the future holds?
For now, I do use Conversion.ai for ideas and to help with writer's block. It also is really good at SEO titles and H2 subheadings. I even use it to write some of my YouTube clickbait titles. 😂
If you would like to take a look you can get 10,000 words for free which will get you at least 1-2 great articles. Then I suggest their Pro-Plan which gives you unlimited words. You could, in theory, publish millions of words each month!
Rounding up
I hope you have found this breakdown of these 7 blog content writing services useful. I know how hard it is to find reliable places to find quality blog content, so it is great to be able to give you a heads up.
In this business, quality is everything, so even if you find yourself having to pay a little bit more for great content you can trust and your readers will enjoy, I think it is well worth it and I'm sure that your readers will too.