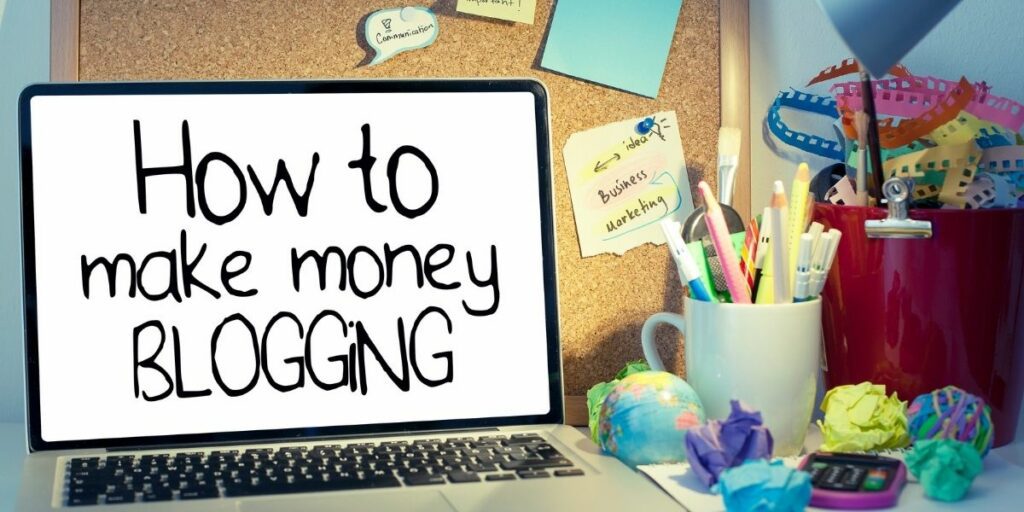 I thought it would be worth taking a look at how bloggers receive their money
Blogging can prove to be a satisfying way of generating a decent income, but in many ways, the rulebook for this way of working is still being written, making it hard to know the way to proceed.
For most entrepreneurial and creative ventures, money is an issue. Knowing something of how bloggers receive their money can make it easier to assess the financial viability of a particular website or blog and the type of return on your investments of time and money.
Your existing blog may also be an authentic hobby or passion that may be at a stage of maturity where you think you could earn some money from it. Understanding where your blogging contemporaries are getting their money from will give you insights into how you can do the same!
A word that is frowned upon but actually has some truth to it is " passive income "
I have just been away for my 50th Birthday and when I returned 5 days later… My income was the same. I didn't have to tell a boss I needed time off. I didn't have to use Holiday leave or dip into my savings to cover the time off.
I still earned the same as if I had been here at my computer.
Okay, I know that wouldn't last forever. If i didn't put in the hard work that passive income would eventually drop off. But many of the income streams affiliate marketers and bloggers have are 'passive' to a certain extent.
Is making money from a blog still sounding like a big mystery to you?
I know that before I managed to make real inroads into affiliate marketing, the idea of making money from a blog sounded like an impossibility.
My wife still doesn't fully understand what I do and my son thinks because I sell other people's products that I don't own I'm stealing!
Combing through Instagram accounts, income reports and blog profiles make it seem as if this amazing lifestyle is 100% fuss-free, but I can assure you that it needs bags of hard work, sleepless nights chewed nails and more than a few grey hairs!
So, let's dig deep into how bloggers make and receive their money. We'll take a look at not only the major methods of monetizing a blog but also how you can receive the money that your website generates, weighing up the pros and the cons of different approaches.
If you are on this site, I'm sure that we can agree that blogging can make you money. Right?
But with over 600 million blogs floating around the world wide web, competition has gotten stiffer with time. Nowadays, the most common reason for starting a blog according to 99 Firms is to make money.
However, despite the rise of YouTube and social media, the written word still remains popular for the majority of internet users, with over 70% catching up on their favourite blog posts regularly.
Because internet users prefer learning about trends companies and products through blogs, it's easy to join the dots and see that by using advertising or creating engaging, well-executed blog content on the products and services of selected companies you can begin to draw in some form of an income if you can consistently hold the attention of an interested audience.
So let's take a look at the most common methods of making money through a blog.
Because website visitors can be a fickle bunch, experienced bloggers know to use more than one method of making money from the blogs they author. The methods used will also affect how the monies are received.
Creating multiple income streams in a single site can boost the return on your content and get to your destination of financial freedom all the sooner!
Some of the methods that bloggers use to receive money can be implemented immediately, others will require the effort and investment of growing adequate traffic before you reap some rewards.
One of the things I think is great about monetizing a blog is that everyone can find a method that works for them.
Let's get into some of the key revenue-generating strategies you can use on both blogs and websites. I've covered the most popular methods apart from selling physical products online (which is a big topic that is probably a bit beyond the scope of this article).
[A] Internet advertising
Some bloggers find internet advertising a little on the seedy side, or frankly unethical, but to be honest, I'd have to say that online ads are one of the fastest ways to get the monies flowing from your site.
Yes, I know it is irritating to be tracked across the web by random items you browsed on some e-commerce site, but there is money to be made.
If you know how to use them effectively, online ads are unlikely to spam your blog and I guarantee that you will be surprised by the passive income a blog with decent traffic can generate.
What is internet advertising?
Paid online ads are adverts that businesses have paid leading online advertising networks to display on a range of website pages, usually interspersed in the websites content or displayed in an eye-catching area of the page, much like offline ads in a newspaper or magazine.
In some cases, companies may approach bloggers directly to place ads on their sites, especially if they have a large audience in a niche that is relevant to the business.
In the online advertising world, that type of arrangement is known as a direct deal.
How does internet advertising work?
For most bloggers, this will involve signing up with an ad network and making space available on your site for them to place display ads and even videos.
The ad network will essentially sell that space to companies that use their paid advertising service.
The ad network will work to deliver relevant ads, paying you for clicks and interactions with the ad.
The amount of money that you make from paid advertising on your site will depend on the amount of web traffic your site has, amongst other factors.
What are my options for adding internet advertising to my blog?
These are some of the most popular ad networks used by bloggers for monetization. An exhaustive list is beyond the scope of this article but my Carl Broadbent YouTube channel is packed with more information and reviews on internet advertising for bloggers as I have probably tried them all in one way or another.
AdSense is the flagship paid ads service from Google. The barrier to entry is low and Google will payout monthly for AdSense earnings above a $100 threshold Getting started with AdSense is easy as all that you need to do is set up a free account and choose from the text, image or media-rich ad options that would work best for your blog. Paste the custom snippet they generate on your site and you are ready to go. Want to know how much you could earn? Check out Googles AdSense revenue calculator.
Mediavine is a full-service ad management company that is a popular alternative to AdSense for bloggers. For me, Mediavine was a step up from AdSense and their ads earn far more. However, to qualify for Mediavine, your sites will need to have traffic of at least 50,000 visitors per month and good standing with Google AdSense. Setup is completed via a proprietary control panel plugin supplied by Mediavine.
If you want to take a look at the Mediavine dashboard, I have a great Mediavine dashboard walkthrough on YouTube that provides everything you need to know:
Ezoic is another certified Google AdSense partner, that can provide optimize internet advertising opportunities on your blog. Their software takes a lot more control of how ads are displayed and managed on a blog to get you the maximum possible ad revenues. I have used Ezoic with a number of my sites and have found the income I generate has been pretty good. They have recently switched up the game by dropping their 10K minimum monthly visitors, meaning you can put this Ad platform straight into your new blog. I explain more about this here.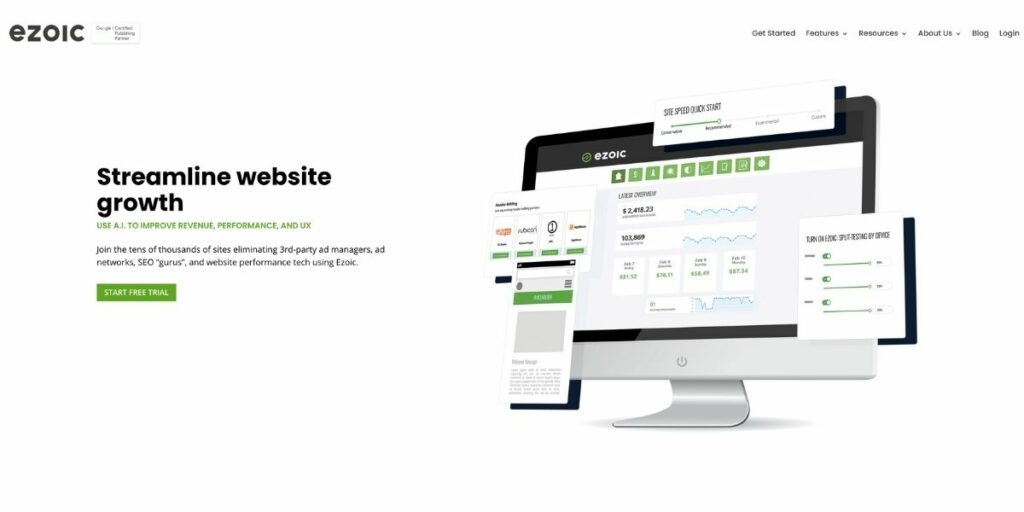 WordAds is a similar paid advertising network for WordPress.com bloggers. It draws its ads from Google, Amazon and other leading ad networks.
How do bloggers receive their money from internet advertising?
Depending on the Ad network they work with, bloggers can receive their funds via direct payments into their bank account, via PayPal or other common payment methods. Payments are usually on a NET-30, NET-65 or even NET-90 basis so no instant withdrawals! For example:
Google AdSense will deposit your funds according to the payment methods you register in your Google account. They can deposit directly into your bank account or send a cheque. Payments are sent between the 21st and 26th of the month.
Mediavine transfers payments on a NET-65 basis, meaning that you will have to wait up to 65 days after the end of the month when the monies were earned. They can make domestic or international bank transfers or payout via PayPal.
Ezoic: Monthly via Paypal
[B] Affiliate Marketing
Affiliate marketing is growing exponentially as a blogging monetization method and now accounts for over 15% of revenue in the digital media industry.
With affiliate marketing, you put your creative energies into content that will promote and sell the products and services of other individuals and businesses.
What is affiliate marketing?
Affiliate marketing is a commercial arrangement between content creators and businesses where the business will pay the continent creator a commission for traffic or sales referred to their site by the content creator.
Blogging is one of the most popular methods of generating traffic for affiliate marketing, but the content marketing that drives the referral traffic could be created for social media, YouTube or email marketing as well.
How does affiliate marketing work?
As an affiliate marketer, I really appreciate this type of monetisation because there really is something for everyone. You have an infinite number of niches, companies, affiliate marketing schemes, and of course, products and services to choose from.
This means that there is no reason why you should not develop a blog in line with your interests and grow it in partnership with your affiliate programs of choice.
If you become adept at mastering this form of digital marketing you can reap some serious financial rewards as you'll find that companies are literally lining up to pay you a percentage commission of sales you refer.
You simply sign up with a relevant company and if you are accepted on their affiliate program you will receive a unique affiliate link that can be inserted into your blog content.
If your site visitors follow the link and make a purchase, you will be credited with the sale. Some of the most popular affiliate marketing programs include Amazon Associates, Clickbank, ShareASale, and the eBay Partner Network. Many smaller and niche companies also offer affiliate programs, often offering a higher percentage of referred sales.
What are my options for using affiliate marketing with a blog?
You may be adapting a blog with an existing audience or starting a new website, solely for the purpose of affiliate marketing.
You can integrate the affiliate content in the form of informative blog posts that relate to the products and services you are promoting. Typical types of blog content include reviews, product comparisons, tutorials, and guides.
How do bloggers receive their money from affiliate marketing?
The money that bloggers receive through affiliate marketing will very much depend on how the affiliate programs they joined are structured. Earnings are usually generated through one three key methods:
Pay-per-click: Bloggers receive a small commission every time one of their site visitors click on links to the companies site. A sale does not have to be made.
Pay-per-action: In this form of affiliate marketing, bloggers get paid for leads or sales generated by their blogs.
Pay-per-impression: The blogger receives income if their site visitors click on ads displayed by the company.
These programs may also include targets, raises in commission rates and bonuses as other methods of boosting the revenue of participating blogs.
The accrued commissions are paid out usually when a pre-set payment threshold has been reached. When you are starting out this can take time as you are dealing in low amounts. Bloggers receive their funds through payment methods that include:
PayPal
Pre-paid cards
Bank transfers
Cheques
[C] Authoring eBooks
I don't know if you have heard of Pat Flynn of Smart Passive Income but he gives a great account of how he first got into making money through blogging online.
Once he started to realize that his humble architectural training site was capable of making money, one of his earliest monetization projects was the creation of an e-book.
What are eBooks?
eBooks are simply books that are primarily published in digital format to read on devices like the Amazon Kindle, phone or tablet. Bloggers can make money from the sales of eBooks that they have self-published on their site or other online platforms.
eBooks can be produced in a variety of file types. EPUB is the most widely used format but PDFs can also be just as effective and downloaded directly from a website.
What are my options for selling eBooks on a blog?
eBooks are a great option for selling your own products on your blog if you do not have a physical product or software. After all, if your readers are already enjoying what you write on your blog they are likely to be interested in purchasing your e-book.
Experienced bloggers will have all the market research for their niche in hand as their site analytics and reader comment will provide insights into what information their site visitors require.
If a blogger has a healthy email subscriber list, this is a win-win as the book can be quickly and effectively marketed to them.
I personally know a Tropical Fish website that sells an eBook for $19.99 and has over 6000+ sales!
How do bloggers receive their money from ebooks?
eBooks can be sold directed on your site as downloads via a straightforward eCommerce transaction. WP plugins like the Easy Digital Downloads plugin are fast and effective for selling eBooks on a WordPress website.
Bloggers who sell their eBooks directly take almost all of the sale price of their book apart from any fees for the payment gateway they use for e-Commerce.
Bloggers can also use indie publishing platforms like Gumroad to generate sales and get their money. Of course Amazon, Nook, and Kobo are larger eBook retailers that offer the potential for big sales,
However, the cut of each sale will be less and they may also have to pay fees for using a particular platform. The royalties earned on platforms may be scaled according to the value of the eBook.
Precise payment methods vary, but as with other forms of website monetization, bloggers can receive payments directly to their debit card, bank account, via cheque or PayPal. Amazon and other platforms have a minimum payment threshold and may pay on a NET60 basis.
[D] Creating online courses
Bloggers who have a productive niche can also generate income through selling online courses. E-learning is a massive sector, generating hundreds of billions of dollars in revenues.
I have personally benefitted from some great online courses and training that has helped me gain the skills that I use to make my websites profitable so I can attest to the fact that the right online course is a profitable investment.
What is an online course?
Online courses are structured programs of learning that are primarily delivered online. Online courses are used to teach skills in a convenient and accessible manner and can be delivered in a variety of formats, including video, email and text.
As a blogger, if you can identify your audience's issues and questions and provide authentic, actionable solutions, you may be ready to package your know-how in a premium course.
What are my options for selling online courses?
As with eBooks, there are a variety of platforms for selling a successful online course. You can self-host your course, using a variety of plugins for undertaking the administration of the course and taking payments via your website.
If you create email courses, you can use an Email Service Provider to deliver the course via email to the inboxes of your customers.
Online course platforms and marketplaces are a very convenient way of getting your course sold. Udemy and Kajabi are examples. You can drive traffic to your course on these sites to boost your revenues further.
How do bloggers receive their money from online courses?
Online courses have a twist as you may want customers to pay for the course upfront or pay incremental fees. If you do not use a platform you will have to devise a courses payment structure that can be tiered or subscriber-based, with additional features provided for a higher fee.
Bloggers who sell directly will get paid directly. Online course platforms will take commission or subscription charges for hosting your course and the visibility of your course to potential customers is not guaranteed.
For this reason, I think that using an Email Software Provider like ConverKit may be a cost-effective method of marketing and delivering courses related to a blog.
[E] Proving a sponsored post or guest blogging service
Bloggers who have worked hard to gain good traction in a specific niche will often find themselves being approached by business and organization that are keen to market to their audience.
I'm sure you have seen the "Work With Me" link on many blogs, where they set out their terms for doing this type of collaborative or influencer work.
Bloggers can and will charge companies for writing about their products and services or publishing guest-authored posts that have been written by the company in return for a fee.
What is a sponsored post?
Sponsored posts and paid guest blogs are types of premium blog content that individuals, businesses and organizations will pay bloggers to publish on their site. They will almost always contain links that will refer back to their products and services.
This type of influencer marketing is popular with a large proportion of businesses now including influencer marketing as part of their marketing spend.
What are my options for sponsored posts?
Bloggers have the option of authoring the sponsored content themselves or publishing a pre-written article from a companies marketing team. Bloggers will be careful about how they use their site and audiences time so they retain the maximum editorial control.
How do bloggers receive their money from sponsored posts?
Bloggers can earn from sponsored posts on their terms, making this a popular form of monetization. Rates for a sponsored post or review can be sold for hundreds or even thousands of dollars if the content will be posted on a popular site with high traffic. Monies are paid to you directly without commissions or fees.
Some bloggers do work with influencer marketing agencies or platforms that provide them with introductions to interested companies and these platforms will charge a fee for the service.
Not all companies want to part with cash though, and many will provide products, trips and vouchers in exchange for favourable content.
[F] Selling coaching or consultancy
Bloggers who have gained a large amount of knowledge in a particular area, or have been financially successful through blogging are often asked to provide coaching and consultancy in their area of expertise.
On my journey to building my online businesses, I have found the direct coaching of Ricky and Jim of Income School invaluable to the progress I have made.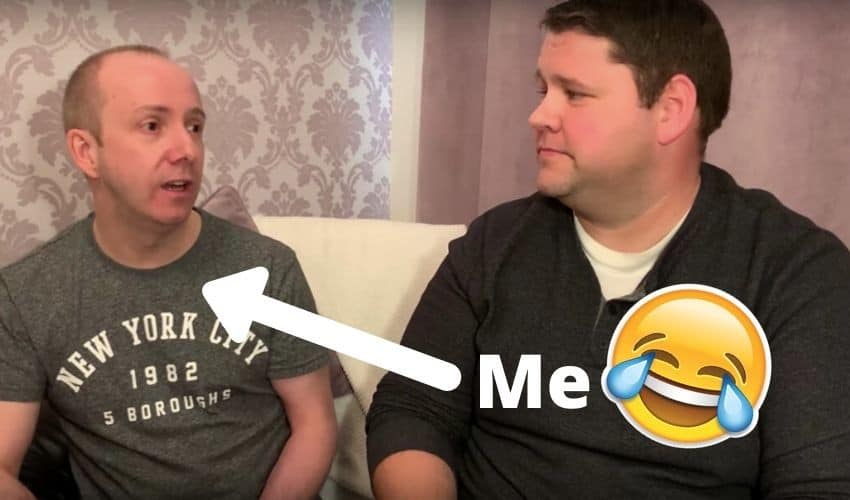 I have also established a thriving consultancy providing niche keyword research packages to help bloggers to get their content to rank quickly, so you can see that I think coaching and consultancy are great ways of monetizing a blog.
Check out Income School Project 24 where I learned a lot of my skills here!
What is coaching?
Coaching is a program of development and targeted support in a particular area of knowledge or functioning provided to clients over a period of time in exchange for a fee.
It can be provided as a service to anyone who has the expertise to share with individuals who want to develop personally or professionally.
What are my options for consultancy or coaching?
Some bloggers use their blog as a means of lead generation for a full-time coaching and consultancy practice. For others, coaching is a very satisfying side hustle.
The coaching can be delivered face to face, by phone or by email depending on what is most convenient for clients and coaches.
How do bloggers receive their money from coaching or consultancy?
Bloggers who coach will create their own programs, packages, and payment methods. It is a way of working that delivers a lot of control and can be successfully undertaken alongside other entrepreneurial ventures.
Coaches that have a winning success formula often train others to deliver the coaching, expanding their business and brand.
So you can see that bloggers have a lot of options for generating and receiving funds through their online enterprises.
For monetization to be successful, you should consider how you are going to do it at the inception of your blog and perhaps include one or more of these methods that can grow alongside your efforts into a decent income stream.
As you grow and scale your first blog the generation of income should kick in, allowing you to integrate other monetization methods or develop new blogs in other niches.
It's no wonder that so many people are flocking to build successful online businesses through blogging! I started doing this just over 3 years ago and I haven't looked back.
In this game, persistence and perseverance are key. If you take a look at my income report videos and blogs over the last few years you will see that they have been a rollercoaster of highs and lows.
Want to see how these income methods work in real life? Watch my video where I lay bare EVERY affiliate income stream I have!