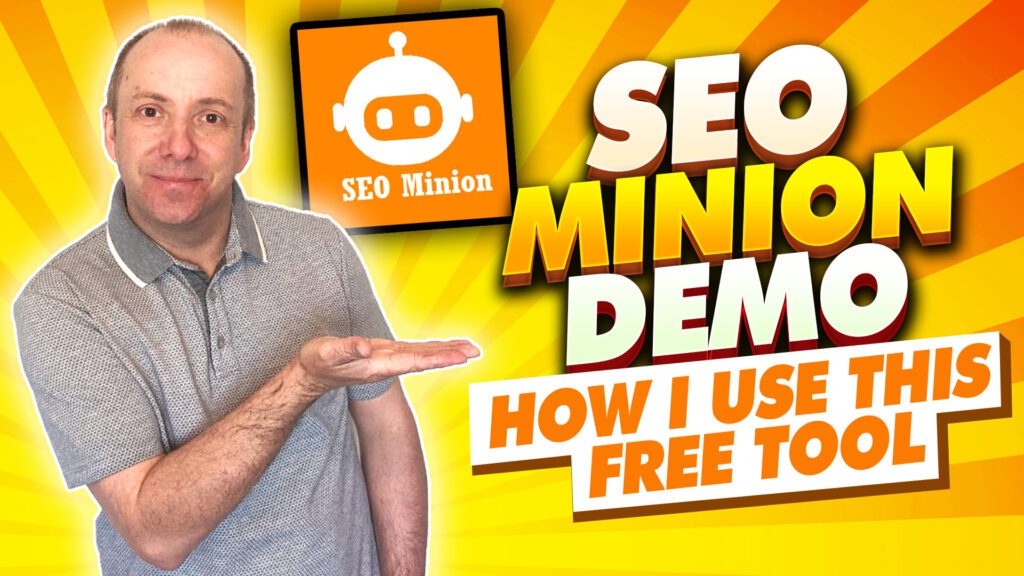 There's a mind-boggling array of SEO plugins and extensions for bloggers and online marketers many complete with an eye-watering subscription fee.
You will either be relieved or very frustrated to know that there is an SEO tool that will take care of your on-page SEO, broken links, SERP preview, Hreflang, and more.
All in a single extension.
And did I mention it's FREE? (At the moment)
It's going by the name of SEO Minion, but as we take a look you'll see there is nothing diminutive about it.
SEO Minion has proven to be a very handy tool that I have been testing now for many months. It's great for improving your existing content and good for evaluating your competitor content
( Not to copy, but gain ideas to enrich your own content )
If you read on I share how I use it to win more SERP positions, using some useful hacks that have made a real difference in the performance of my portfolio of sites.
So I thought we'd take a closer look at SEO Minion, its features, benefits and how it stacks up against its main competitors.
After all, to share is to care!
Let's get into this.
So, what is SEO Minion?
SEO Minion is an extension that has been developed to run in Chrome and Firefox browsers. It's built using common programming languages and customizes your browsing experience so you can carry out key SEO analysis and tasks.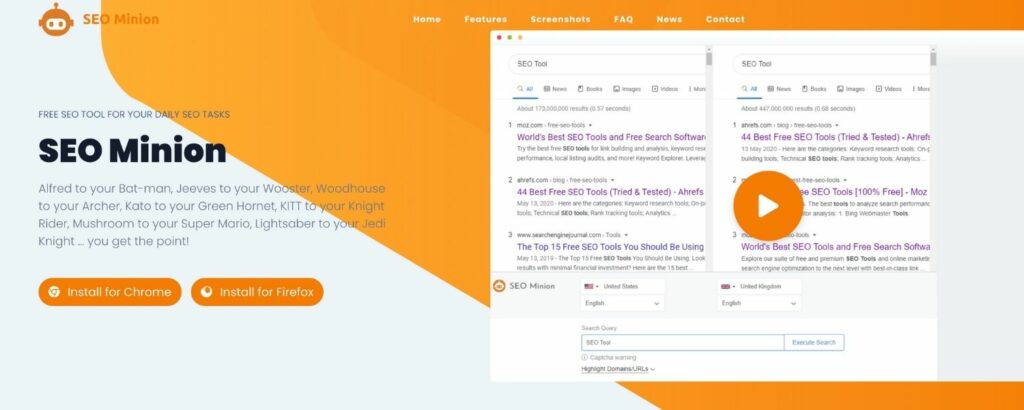 SEO Minion is brought to you by the creators of Keywords Everywhere and Keyword Keg, some other popular freemium browser extensions for SEO.
So far SEO Minion has been a runaway success, achieving great ratings from both Chrome and Firefox users:
On Chrome, the SEO Minion extension has over 100,000 users with 442 5-star reviews.
Just under 4000 Firefox users are using the SEO Minion add-on with an average 4.9-star rating.
Did I hear you say SEO Minion is FREE?
Yes, SEO Minion is entirely free.
I have to be honest that I am truly surprised this SEO tool that does what it does so well without costing anything or putting up with the majority of the features being greyed out in expectation of an upgrade.
However, I will say both Keywords everywhere and Keywordkeg were also free to start with. A common practise in marketing.
Give it away for free for the first 6-12 months. Get everyone hooked on using it and then change it to a paid tool.
I have no idea if this will be the case with this tool ( But if a was a betting, man I would say it will )
SEO Minions makers hope that this extension will be a go-to SEOs to carry out their daily tasks making it a head-on contender with many of the premium tools like SEO Moz.
Need to know features of SEO Minion
SEO Minion has been created to help you perform many essential SEO tasks all in one place.
Conveniently, SEO Minion has all the features that you can use to regularly keep on top of everyday website optimization tasks, in particular your on-page SEO.
I use SEO Minion for its well thought out features that include:
Analyze on-page SEO:
SEO Minion will crawl and analyse any page you view in your browser with the extension on.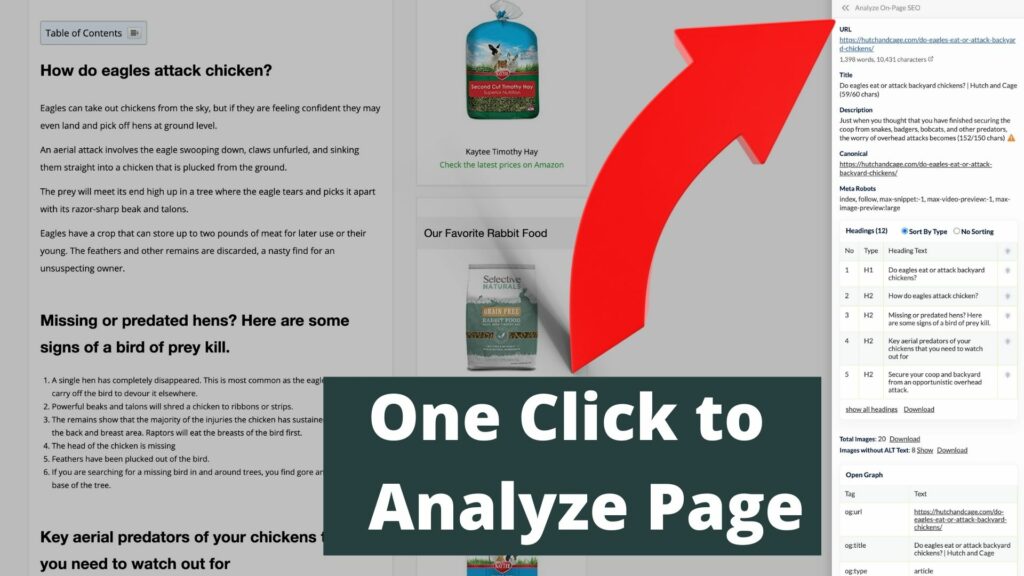 This HTML analysis provides you with key metrics that make all the difference in optimizing your content so it will rank better. With this feature, you can take a look at:
Title with character count out of 60 characters
SEO description with character count out of 150 characters
Word and character count
Canonical tags
Headings and their types
Open graph tags
The on-page feature provides so many actionable opportunities to tackle on-page SEO as it shows up the glaring errors or gaps that are holding back your articles.
By displaying the length of your title or description tags, you can make ready adjustments that will make all the difference with the search engines.
We know Google does not like titles longer than 70 characters long.
I personally try to stil within 60 to be on the safe side.
Headings can be viewed all in one place making it easier to review them critically and insert keywords that are topically or semantically linked.
Images often get overlooked, but with SEO Minion you can stay ahead of populating the alt attributes.
Want to know how your content will look on social media? Use the open graph tags to get insight into your link previews.
Highlight all links
At the click of a button, you can take a look at all the links in your content.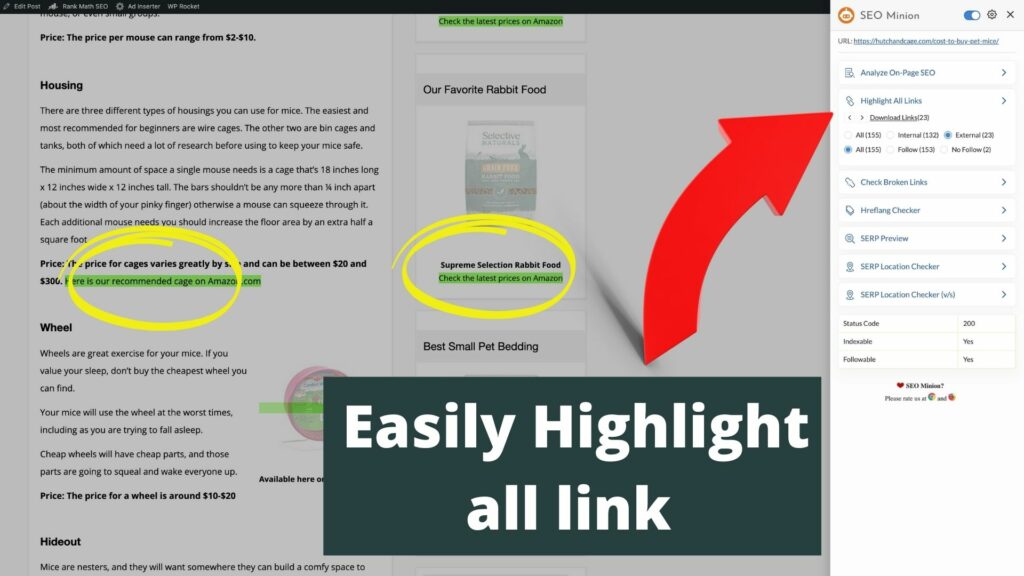 They are organized by internal/external and follow/no follow, making it easy to filter the results and adjust your linking strategy where needed. Links that are healthy are highlighted in green.
Check broken links
We all know broking links can have a detrimental effect on your sites SEO, so SEO Minions broken link checker is a valuable service. I simply click on the "Check Broken Links" tab to get a breakdown of :
Valid links
404 links
No domain links
Redirects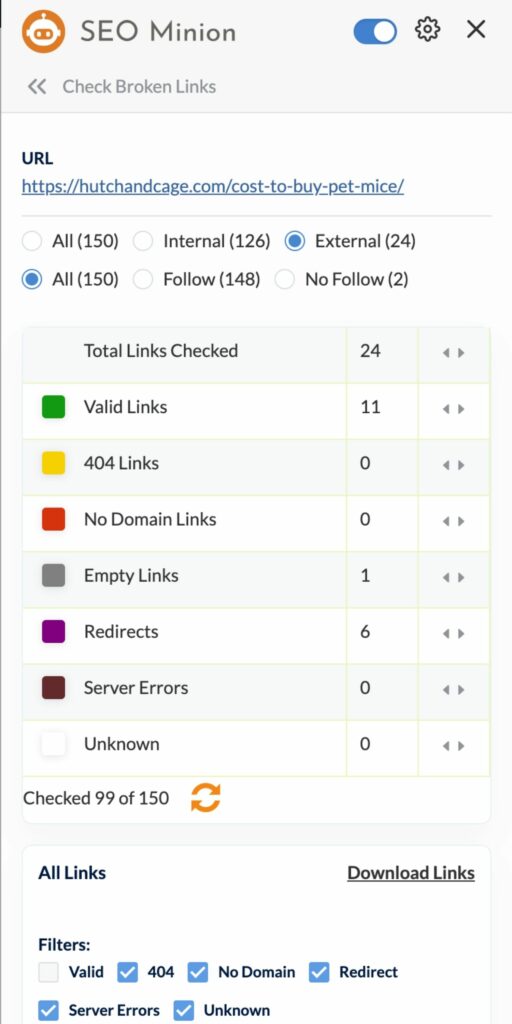 and more! Your broken links are all highlighted for you, to zoom in and take action to immediately remedy them. Redirects can be followed up and promptly tackled.
Hreflang checker
Hreflang annotations can be tricky at the best of times and if poorly implemented they can really go against your site.
SEO Minion will check all your on-page Hreflang tacks and any pages that link through your Hreflang tags.
SERP preview
If you are addicted to SERP results this SEO Minion feature will not help you!
The SERP preview tab provides you will a preview of how your site would look at the top of Google for any keyword of your choice.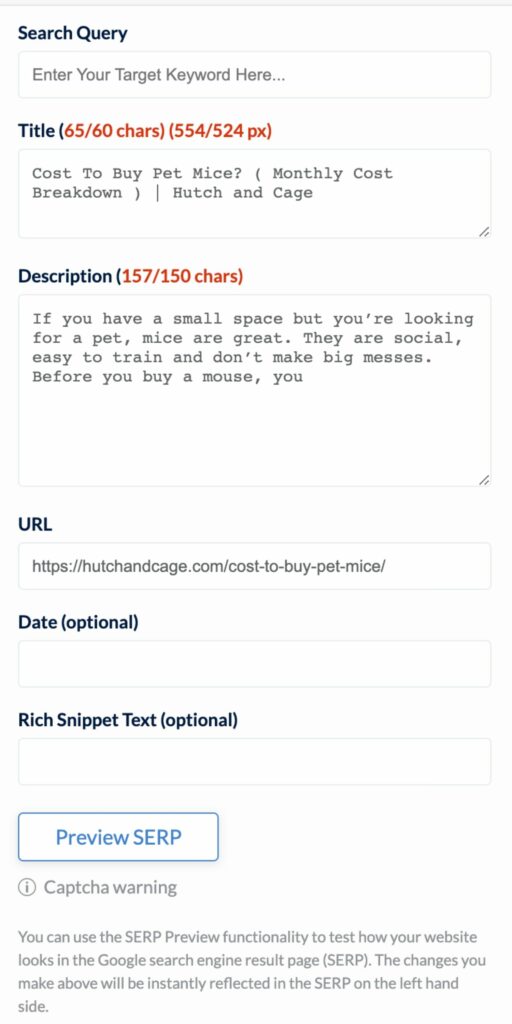 This tool is not just for daydreaming. You can use it to fine-tune your product and description tags and preview the real-time changes.
SERP location checker
SEO Minios SERP location checker enables you to take a look at your web rankings in various countries and territories with reliable search results that aren't personalized.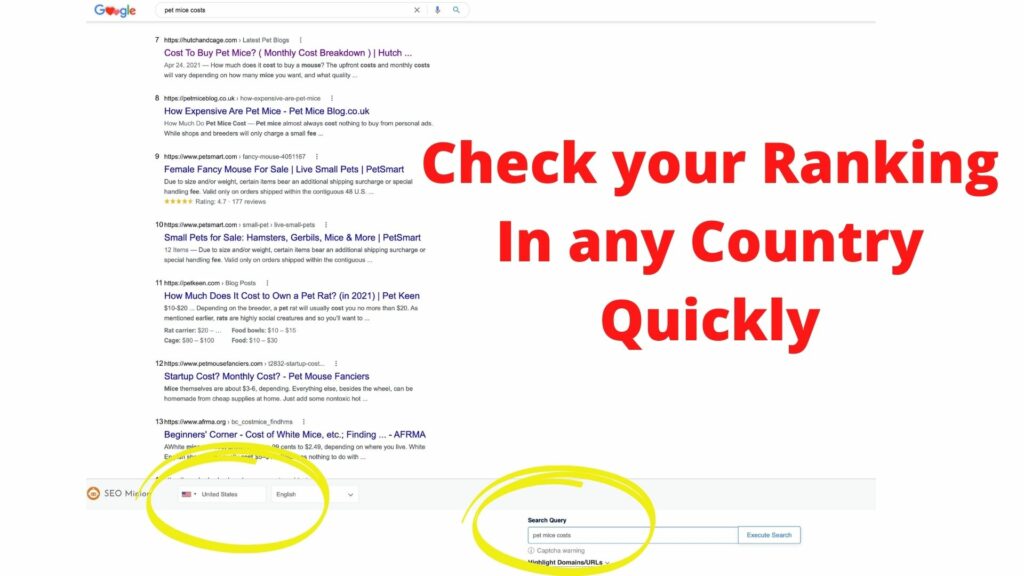 As you can compare more than one country or language simultaneously, you can get an idea of how you are doing in reaching a global audience.
PAA download
People Also Ask (PAA) data is invaluable for ensuring you give yourself the best opportunity to snap up the rich snippets that are available for your keywords or content.
SEO Minion will let you download up to 200 PAA results as a CSV file that you can work with.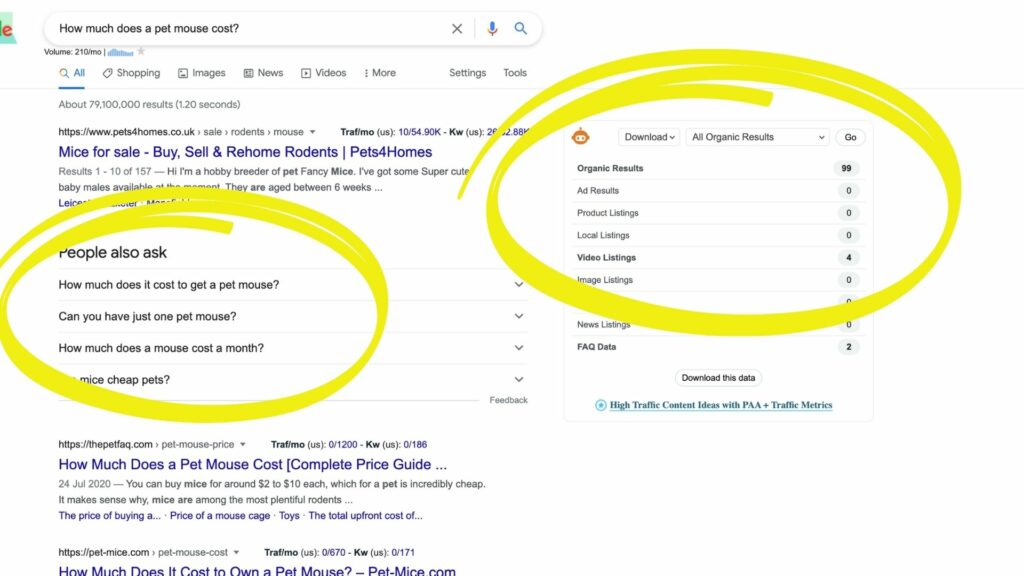 Not only can you specifically target PAA as part of an FAQ section for your site, but you can also ensure that they are always incorporated in your content, mopping up value long-tail keywords.
What will SEO Minion do for my site?
Given that SEO Minion is completely free, I can't think of any way in which you can lose out by using it for your sites.
In fact, if you have been slow to tap into the benefits of on-page SEO, you will find that SEO Minion will soon get you into some good habits.
Key benefits of using SEO Minion include:
No matter how great your content is, your hard work does not pay off until you tackle your on-page SEO.
By targeting areas for improvement pointed out by SEO Minion, you make it much easier for search engines to understand that your content is relevant to user queries and list your pages higher in the SERPs.
Neglecting headings, tags, and mark-ups will mean that your pages lose out to competitors. SEO Minion highlights these critical areas of improvement so that you can correct them and benefit from better-structured content.
Boosted click-through rate
Even if you are getting visitors to your site, you want to be sure that they are the right ones and will subscribe, make a purchase or visit the links you provide.
Good on-page SEO practices make it clear in the search results that your content is relevant to users.
This is likely to not only boost your rankings but also enhance your conversion rate as you are a better match to visitors to your page.
Using SEO Minion helps you structure and optimize your Meta titles and Meta description, comparing them with competitor sites to get the very best results.
Optimized meta descriptions are the correct length and target your main keywords, meaning that they rank better, have an improved click-through rate, and potentially boost your bottom-line earnings.
Better local search results
The SERP location checker means that you can work towards improved visibility in reach in the regions where your site visitors are searching for the products and services you promote.
How to use SEO Minion
Because the add-on is in your browser, it is so easy to switch it on and take a look at the metrics of any page on your own or other sites.
To use SEO Minion simply visit the SEO Minion site and click on the link for the browser that you use. Alternatively, you can click the hamburger button in the right hand of your Chrome or Firefox Browser and click the extensions link. Search for "SEO Minion" and install it in your browser. It's as simple as that.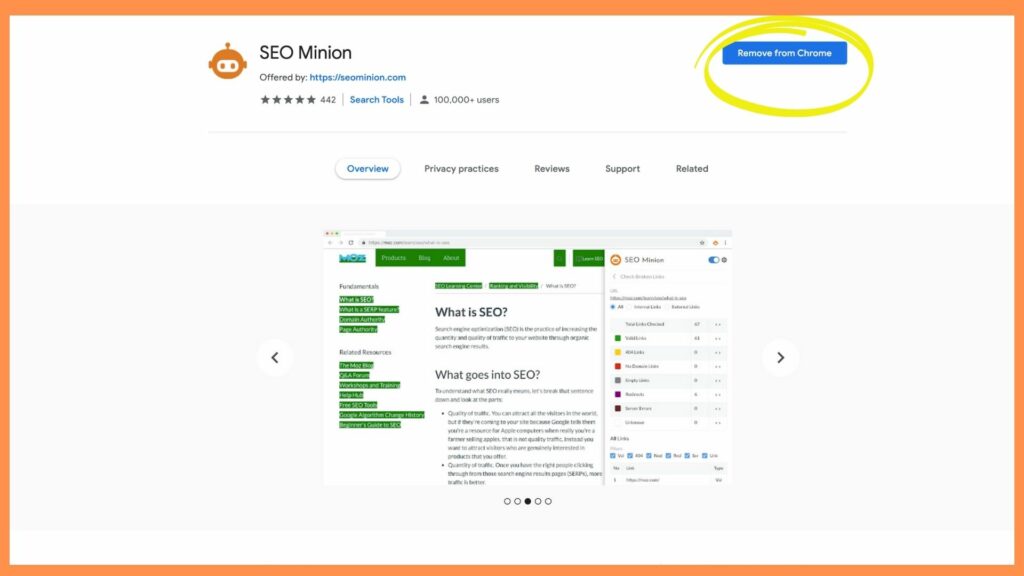 To analyze pages click the SEO Minion robot icon in your browser, usually to the right of the address bar.
SEO Minion will open to the right of the page you are viewing and provide an on-page SEO breakdown, complete with clickable tabs for each feature described above.
My go-to SEO Minion hacks
After a few weeks of playing around with this add-on, I have found some useful hacks that go beyond the basic, bread and butter on-page SEO stuff.
You'll find that the other reasons I use SEO Minion show that it is an unexpectedly powerful tool.
Take a look at my YouTube SEO Minion review to get an idea of how I use this tool to get the edge over my competitors:
A quick point: SEO Minion vs Moz Bar
You may be wondering how SEO Minion squares up against some of the most popular SEO extension.
In particular, the MozBar freemium toolbar is an industry leader for competitor analysis and page optimization.
MoZBar is creeping close to a million users so if you are looking for an extension-based SEO tool it will definitely be on your radar.
MozBar does have similar on-page SEO features to SEO Minion but also provides page authority, domain authority, spam score with the option of additional SERP related data for a subscription fee.
I use MozBar to display the Authority of the ranking pages in the Serps and also the number of backlinks each page has.
This tool in combination with SEO Minion can be a winning combination (And both are Free)
SEO Minion versus Check My Links
Check My Links is another popular alternative Chrome extension for SEO that will crawl your site for broken links so you can get them cleaned up quickly.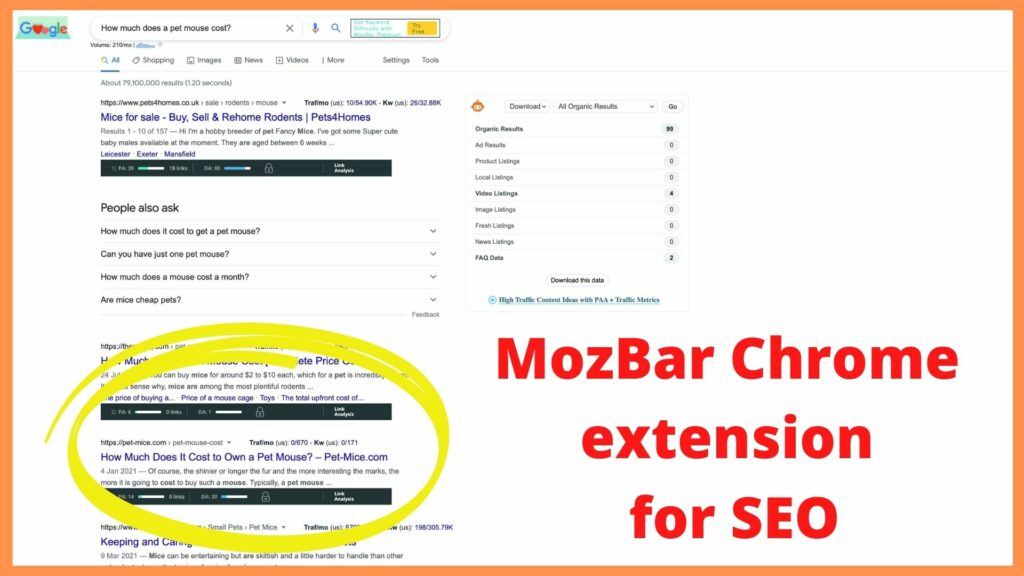 It's a neat plug-in that is super efficient at checking and categorizing your links.
It does not have any of the additional on-page SEO features of SEO Minion, meaning that SEO Minion can save you the hassle of using multiple tools.
Help yourself while SEO Minion remains free!
I think that it is highly possible that SEO Minion will become a premium tool following the path of the ever-popular Keywords Everywhere extension.
I have definitely found it helpful and if you are just easing yourself into a more disciplined approach to your on-page SEO, this extension will definitely keep you on track and motivated.