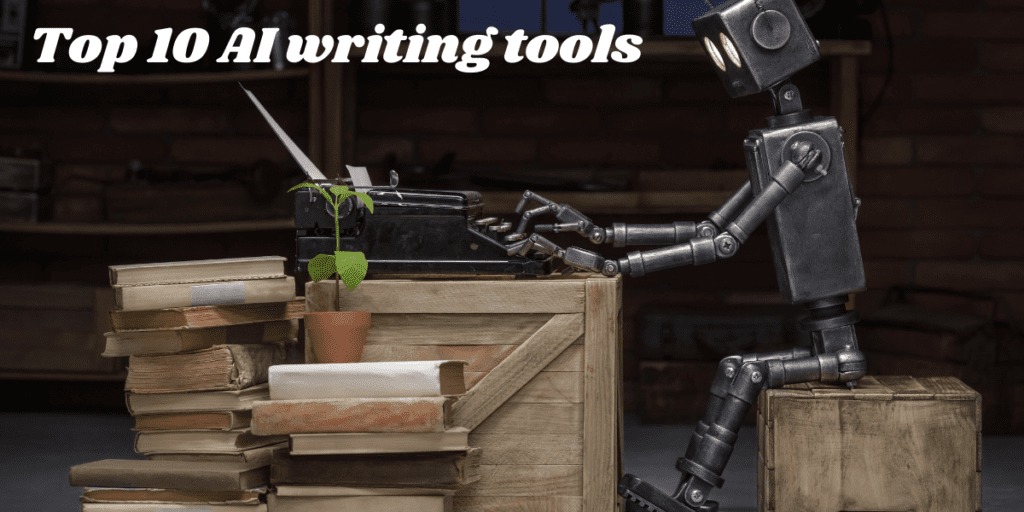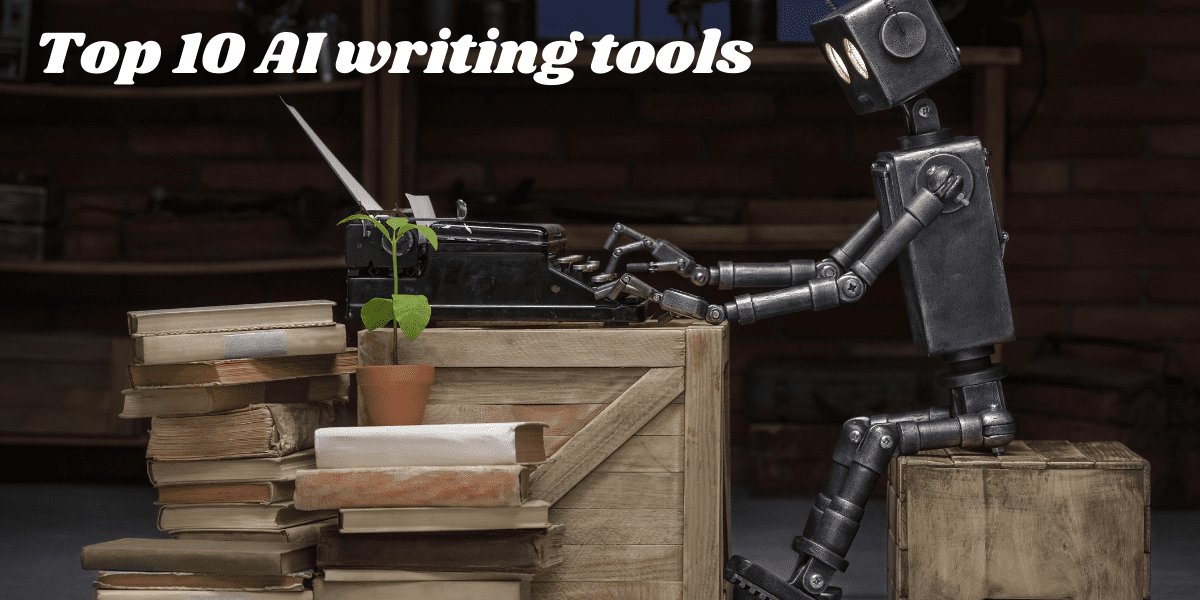 If you haven't heard, the Artificial Intelligence writing revolution is here!
Excited? I am.
I have been following the progression in content automation for a while as I think it has real potential to help people like you and me build and maintain profitable online businesses.
The concept of a bot writing articles for you may seem far off, but after reading my rollcall of the the top 10 AI writing tools and software I am sure you will be able to see that the future is here!
AI writing tools and software are computer programs that have been designed and coded to generate all sorts of written content for your site.
Spoiler Alert

This is the one I use and You can test it out for free here – Jasper.AI Boss Mode
You'll be surprised at the versatility, quality, and relevance of the writing that just pops up on your screen within minutes.
They achieve their results by using expertly coded algorithms that crawl hundreds of thousands of content pieces to literally learn to write like a pro.
If you are blogging and want to save time and boost your productivity, AI writing assistants like the ones I am sharing with you will completely change how you work.
They are also great if you are blogging in English as a second language and want to sound more authentic.
I am sure that affiliate marketers, entrepreneurs, small business owners, and large enterprises that want to quickly grow their online footprint can use these software for great results.
Interested? Let's take a look at 10 of the best AI writing tools on the market today
#1 Articoolo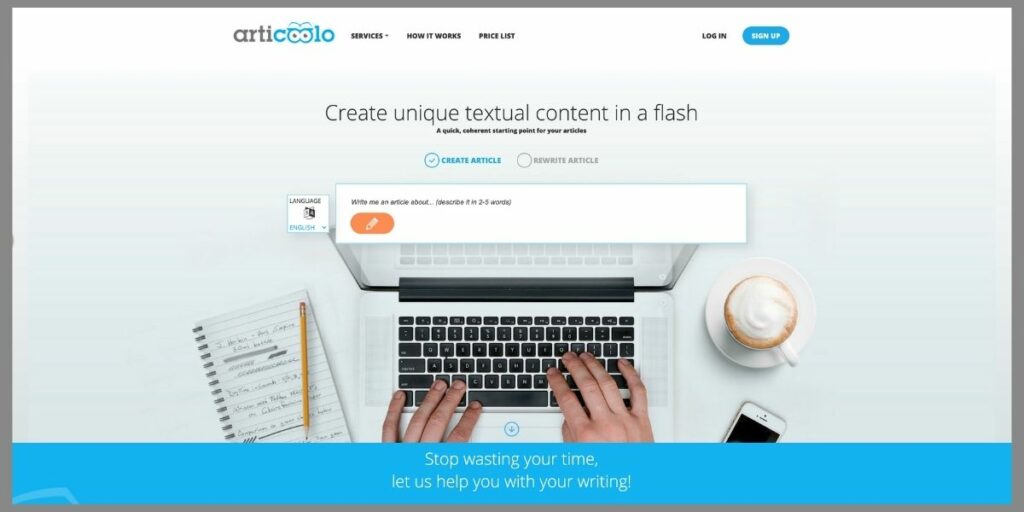 Articoolo has combined the experience and expertise of computer scientists, marketers, and, of course, content writers to develop an algorithm based content writing software.
It provides a cost-effective and simple way of trying out AI writing for your blog.
What is Articoolo?
Articoolo is a Natural Language Generation based automated writing software that you can use to create textual content, drafted according to the topic and length you choose.
The content is generated by Articoolo's proprietary algorithm and is delivered as a 100% unique and proofread article.
Key features of Articoolo
The Articoolo team have packed this content writing SaaS with handy tools that should be able to lighten the load of creating blog content. Their services include:
Creating and revising articles.
Translation
Title generator
Image selection
WordPress integration
Free trial article
How to use Articoolo.
Using Articoolo is quick and simple. Once you have signed up for an account and subscription package, you simply type your required article topic into the search bar, select your desired word count (up to 500 words) and hit the button with the pencil icon.
Like ordering from the drive-thru, you will have to wait a few minutes for your order to be prepared and ready for download.
Articoolo pricing
Articoolo has very competitive pricing. You can pay per use or set up a monthly subscription.

10 articles cost $19
50 articles cost $75
100 articles cost $99
Alternatively, monthly subscriptions cost from $29 for 30 articles per month to $99 for 250 articles per month.
Pros and cons of using Articoolo
Articoolo is a very basic platform that produces short articles and content ideas that would make it a great writing assistant for a lone blogger in a straightforward niche that is looking for some cheap shortcuts.
But there are teething problems with the Beta version I tried. It struggled to generate a 500-word article for the 5 basic topics I typed in.
This makes me think that this AI writer is better suited to snippets and paragraphs, though I'm sure they will iron out any kinks in the system soon.
---
#2 Article Forge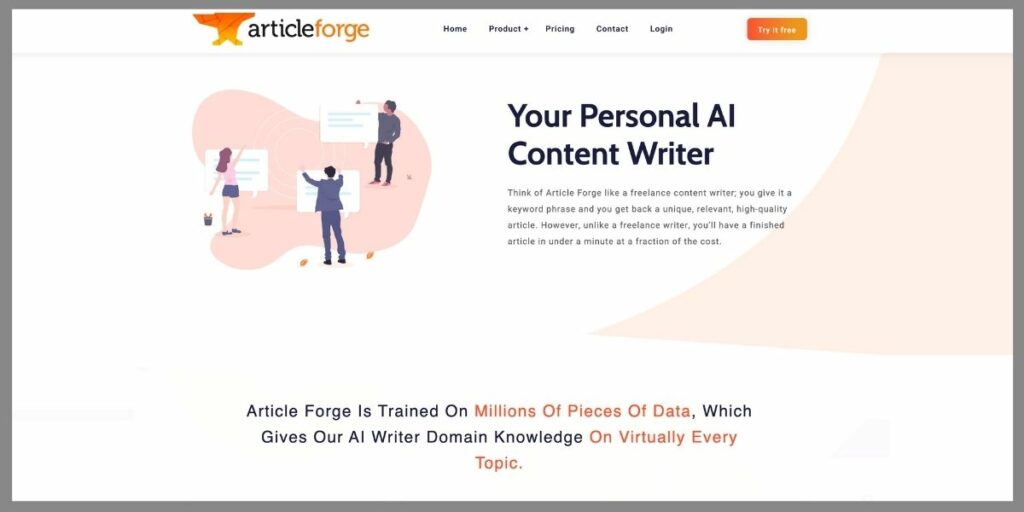 Article Forge is a well known AI writer that is known for its speed and uniqueness. You can use this software to create a large amount of automated content in a very short time.
What is Article Forge?
Article Forge is a personal automatic article writer that produces a unique article in no more than 2 minutes!
It uses deep learning AI software that is programmed to crawl the web and read millions of articles that are relevant to your selected keyword or topic, aggregating the text data and using it to generate a novel, authoritative article – similar to spinning.
The articles take no more than a few minutes to produce and are guaranteed to be 100% unique by Article Forge.
Key features of Article Forge
Keyword and topic-controlled article production
Scrape content and create multiple articles for several platforms with a single crawl.
Enriched content production with the inclusion of relevant videos, images and links
Seamless integration with leading SEO tools
Available in seven languages
Free trial available
How to use Article Forge
Log into Article Forge with your keyword research and topics in hand. You will need to click the create article button and fill in the form with your primary and secondary keywords.
Remember to select your language too. You can customize your article using a range of options and opt to post your content to your WordPress blog.
Article length of up to 750 words are available and once started article forge will deliver your completed article within minutes, supplying a link to your content.
Article Forge pricing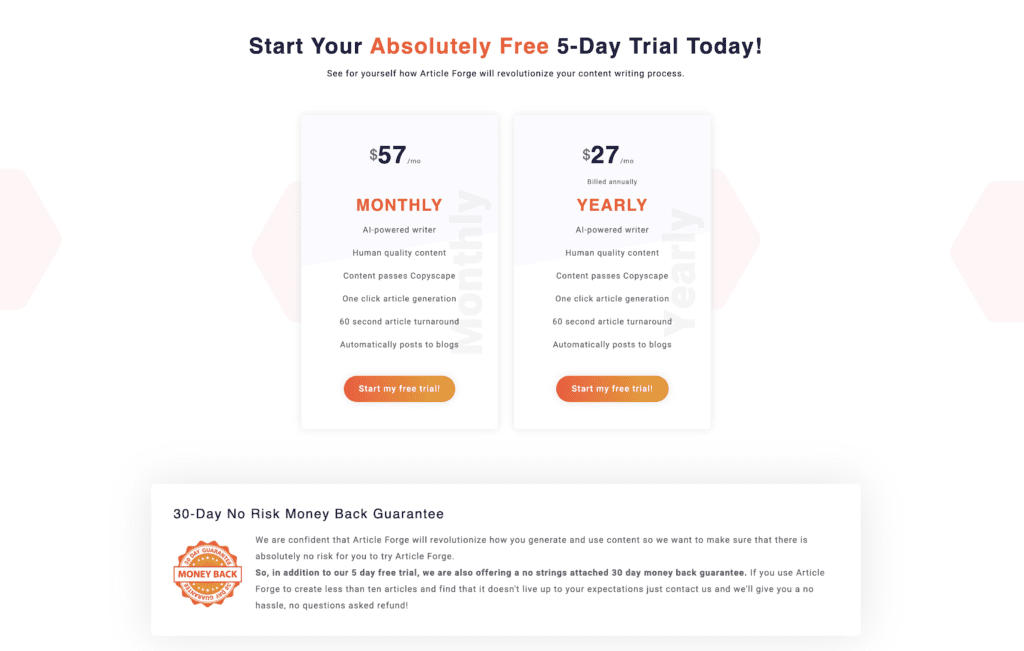 Article Forge runs on a monthly or annual subscription. If you want to use Article Forge for a month you will pay $57 which provides unlimited content production.
The annual subscription works out at $27 per month which is billed as a lump sum ($313).
Pros and cons of using Article Forge
Article forge is capable of producing credible articles that would make populating a blog a very fast process. It appears to be popular with bloggers who do not speak English as their first language which is a great reason for using AI software.
However, Article Forge can make mistakes and end up producing wildly off-topic articles, especially if the subject is obscure.
---
#3 AI Writer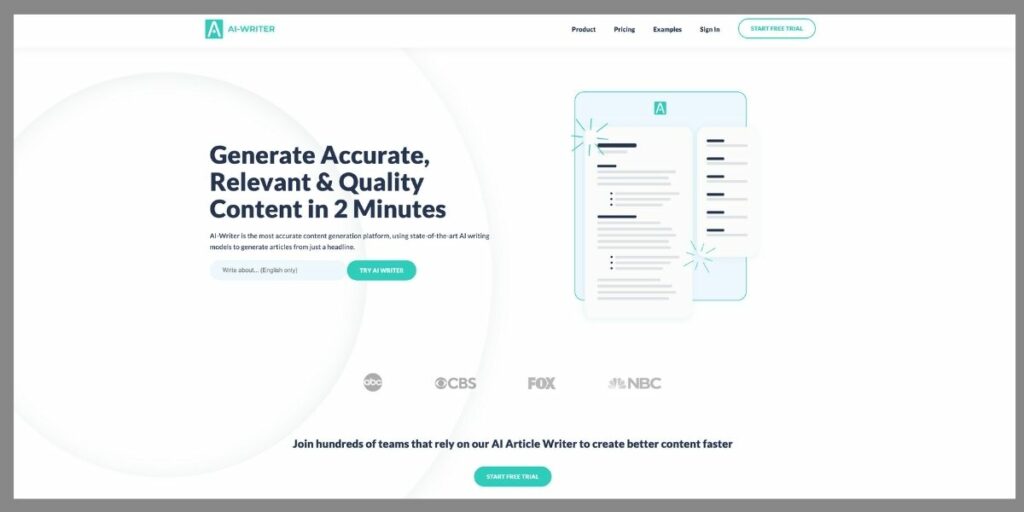 AI Writer is another simple, cost-effective program that you can use to produce content in minutes. It can generate its content from just a headline or keyword.
What is AI Writer?
The AI Writer web application creates articles from the keywords or topics you provide. The AI Writer algorithm has been programmed using hundreds of thousands of articles to generate writing that is accurate and unique.
Key features of AI Writer.
AI Writer provides:
Full-length article drafts.
Citations.
The percentage of unique text is provided with the article.
The text provided is SEO-friendly.
How to use AI Writer
Once you sign up and log in, you simply paste the article title, keyword or topic into the search bar in the user area. The software will take just under 2 minutes to ge
nerate a thousand words of relevant content. You can view your writing on the screen the or download it as a HTML text file.
AI Writer pricing

AI writer has the following pricing:
$19 per month for up to 40 articles
$49 per month for up to 120 articles
They also can provide custom packages for unlimited use by any number of users, but you will have to contact them directly. A week-long free trial is also available and can be accessed by signing up.
Pros and cons of using AI Writer
AI writer is very cheap but in many ways, you get what you pay for. The software can generate content for just about any title, topic, or keyword that is typed in.
The writing generated is relevant but incoherent and disjointed in many places. The inclusion of citations is useful for backlinks and referencing.
AI Writer is probably best used for generating article ideas or small portions of content that can be worked into an article drafted by a professional copywriter.
---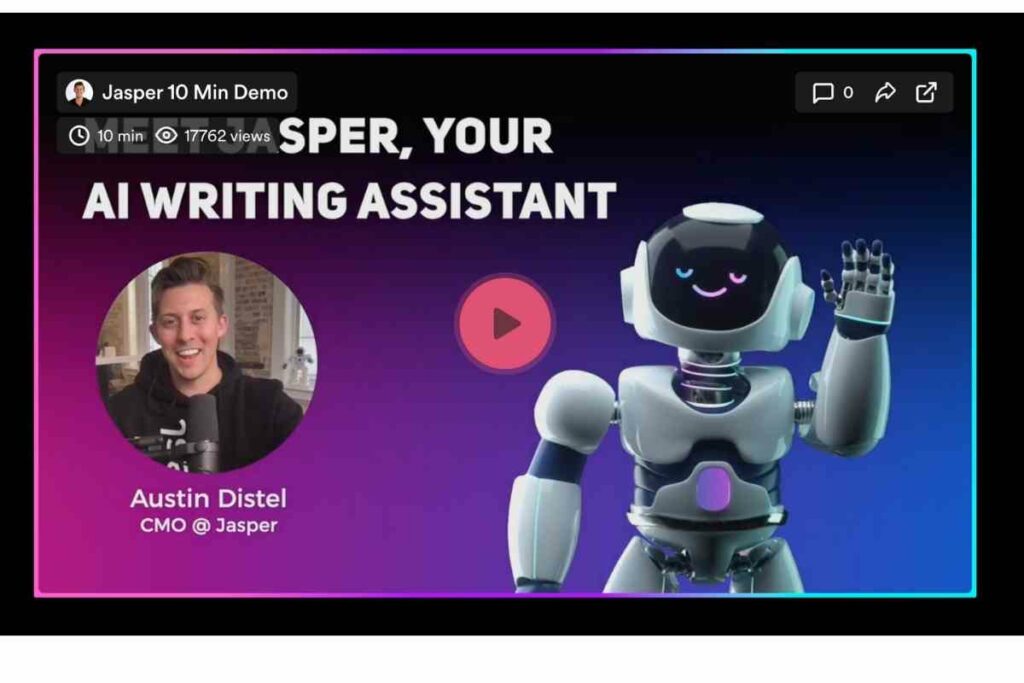 ( Spoiler alert-My Favorite )
Jasper.ai is building a strong reputation for being able to generate high converting content that can be tailored to the online platform where it is used.
What is Jasper.AI
Jasper.AI is an artificial intelligence software developed by a team of computer scientists, content writers and marketers.
The parent company also produces UseProof, social proof software, demonstrating their established credentials in this sector.
Their program, named Jasper, uses machine learning to create best practice content that is tailored for blogging, social media, and e-commerce.
Key features of Jasper
Jarvis can deliver a variety of AI-generated content types including:
Google Ad content
Amazon product descriptions
Facebook ads and posts
YouTube video titles and descriptions
Blog posts of up to 5000 words
Email marketing content
Landing page content
Review responders
Free trial of 10,000 words available.
How to use Conversion.ai
Once you have signed up for an account, you will need to select the type of content you would like Jarvis to prepare for you.
For example, if you require a long-form article (part of their Pro Unlimited package), you fill in a form describing in a few short sentences what you want the article to be about and add in your primary and secondary keywords.
Jarvis is extremely helpful at generating headlines and titles, so you can let the program do that for you.
You then work through the structure of the article including the intro paragraph and further options for structuring and templating the final article.
Jasper.AI
Jasper offers two packages that allow access to the software on a monthly subscription basis:
Starter: For $29.99 per month, an unlimited number of users can generate up to 20,000 words of short-form copy.
Unlimited Pro: 1 user can create unlimited long-form copy for $109 per month.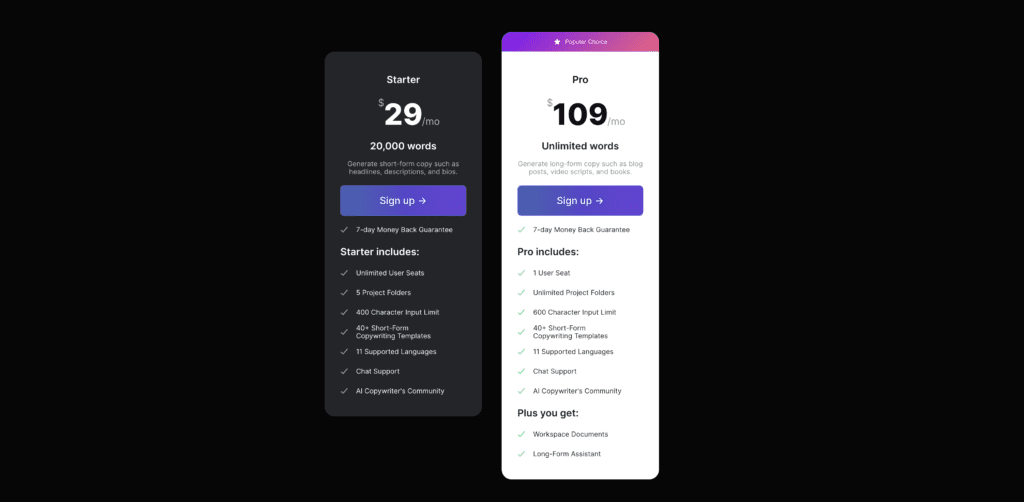 In addition, Jasper.AI help you on your way with chat support and a copywriters community where you can ask questions and share ideas.
Other resources include a training academy where you can learn how to use Jarvis optimally and Webinars with the founding team.
Pros and cons of using Jasper
At the time of writing this article, I am currently in the process of testing the Unlimited Pro features of Jasper.AI but is a powerful AI writing tool that has a lot of applications for a business like mine.
It is highly customizable, allowing you to create posts of varying type and length and choose between portions of generated content to create articles that reflect how an engaging writer communicates.
As with most AI software, Jarvis can get things a little mixed up so this is very much a hands-on tool for now. But you can learn shortcuts to help direct Jarvis in the right direction.
Once you start using these shortcuts you'll see how good it really is.
You can also try conversion.ai out for free and you get 10'000 free words. That's enough to write 2-3 really good articles.
My one point would be to stick with it until you know all the shortcuts, tricks and tips to get the most out of it. The dashboard and templates can be a little bit overwhelming at first.
But like all things new, give it at least 2-3 months of learning the ropes only then will you be able to make a conclusive judgment on the software.
---
#5 Kafkai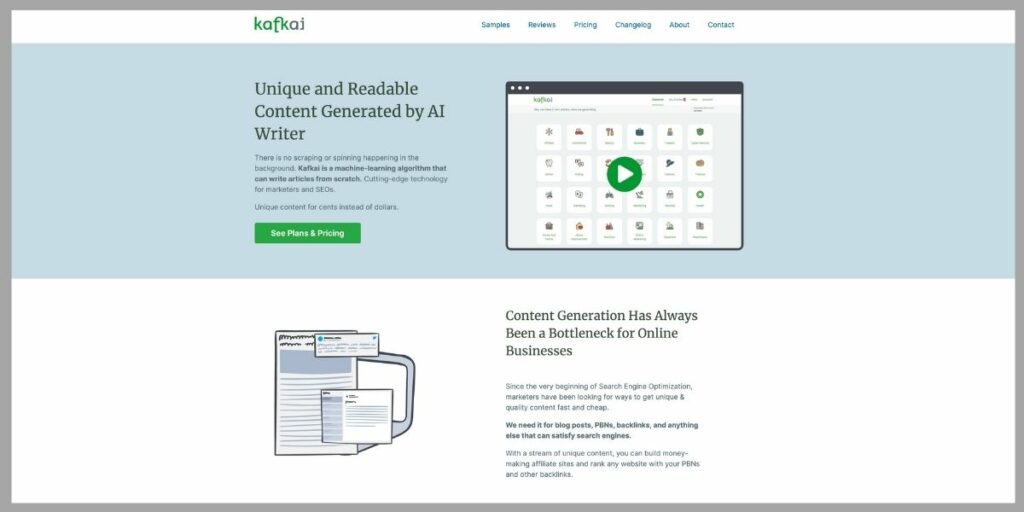 Built with SEOs and marketers in mind, Kafkai has been developed to provide niche article writing, with the translation of content produced into seven languages if required.
What is Kafkai?
Kafkai is a WordPress plug-in that uses a machine-learning algorithm to generate unique content for your site.
It is built on Open Source GP-2 software, by a small, international team of developers, and is designed to provide a cost-effective solution for generating targeted content for a range of niches.
Key features of Kafkai.
Articles are templated for a diverse range of niches and sectors including, automotive, health, nutrition and travel. Kafkai operates in three modes which can be selected by the user:
Niche Article Writer mode: This setting allows you to quickly select a niche and Kafakai will randomly generate a relevant unique article for you.
Advanced Niche Article Writer with Seeding: This mode allows you to add a bit more detail to your request including a seed paragraph that Kafkai will use to base the final article on.
General Writer with Seeding: This final mode is more generalised. Just past in an example paragraph for Kafkai to study and it will produce a relevant article from it.
How to use Kafkai
Kafkai pricing.
A three-day free trial is available, where you can create up to 25 articles to test the software.
There are four premium packages available from Kafkai on a monthly subscription basis: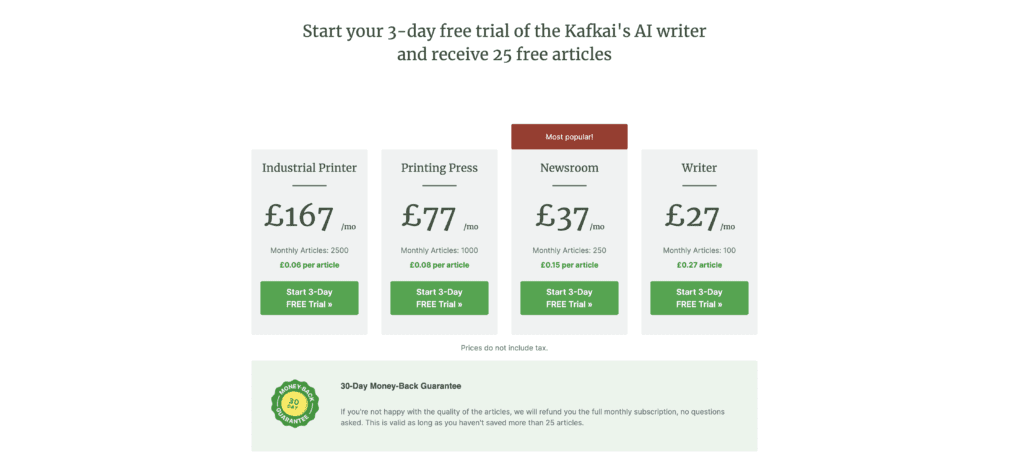 Writer:$40 gets you 100 articles per month
Newsroom: $50 gets you 250 articles per month
Printing Press: $108 gets you 1000 articles per month
Industrial Printer: $235 gets you 2500 articles per month
Pros and cons of using Kafkai
As you can see, Kafka is expensive. However, the niche base approach and article seeding means that it can produce highly relevant content.
The articles provided are typically between 500 and 900 words in length making it a great writing assistant for blogging.
Reviews online are a mixed bag, but you do have the opportunity to try out Kafkai before making a purchase.
---
# 6 INKFORALL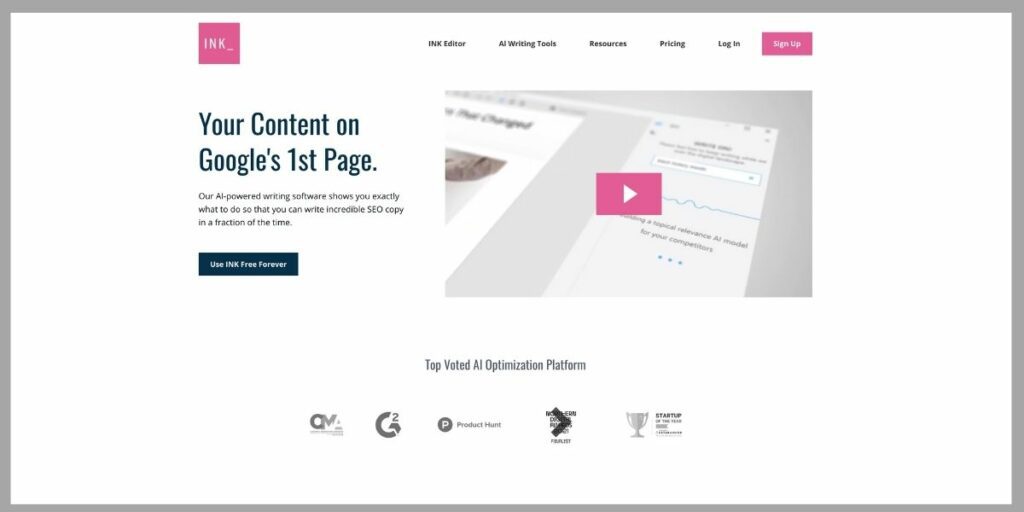 If writing copy for your website is a chore, crafting SEO-friendly writing can be even more of a headache. INK is an artificial intelligence writing tool that aims to take the load off creating SEO copy.
What is INK?
INK for All is an AI-powered SEO content writing tool that has been designed to generate content that will rank.
Key features of INK
INK provides over 40 short-form SEO writing tools that you can use as part of your affiliate marketing, blogging, PPC advertising and social media campaigns. Their precision algorithms cover:
Facebook post bullet points
Facebook CTAs
LinkedIn post content
YouTube video description
AIDA copy
Blog idea generation
How does INK work?
SEO Web Content Writing Editor Powered by AI | INK
INK pricing
INK has packages for every price point including an INK Free version that allows limited daily and monthly use with reduced functionality.
Their program use is purchased using a points-based system with each article using a certain number of points depending on the type of content generated.
The premium packages are:
INK Pro: For $29 per month a single user gets 1,000 INK points a month.
INK Pro Unlimited: For $82 per month up to three users have unlimited INK points each month.
In addition, INK subscribers are provided with a catalogue of market-leading SEO tools and writing assistants that they can use with their writing and unlimited chat support.
INK annual subscriptions are offered with two months free.
Pros and cons of using INK
INK's AI is highly rated by its users especially rating the distraction-free environment they provide for working on articles.
It has positioned itself well as a discrete, efficient tool for creatives who want their content to be more targeted and results-driven.
The forever free package means that users have few reasons not to give this software a go.
---
#7 Writesonic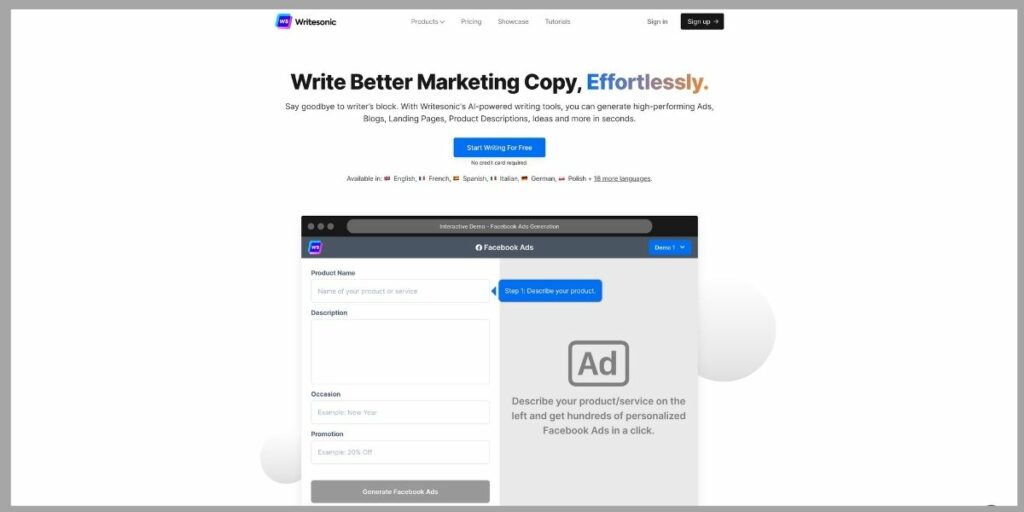 Writesonic is another AI writing tool that is capable of creating convincing short and long-form content for your blogs and campaigns.
What is Writesonic?
Writesonic is an AI-driven software that has been designed to take the effort out of writing performance marketing copy.
Key features of Writesonic
Like the other artificial intelligence tools we have featured, Writesonic is highly versatile and able to generate a variety of short and long-form content including:
Website copy
Online as copy
Blog copy
Press releases
YouTube titles and descriptions
Company and personal bios.
Email copy
Landing page content
How does Writesonic work?
Once subscribed, you can simply choose an article template for the type of content you require.
Describe the niche, theme, product or service in a few lines and press the "Generate" button.
Writesonic will set to work, providing you with multiple content variants that you can use to compose your final article.
Writesonic pricing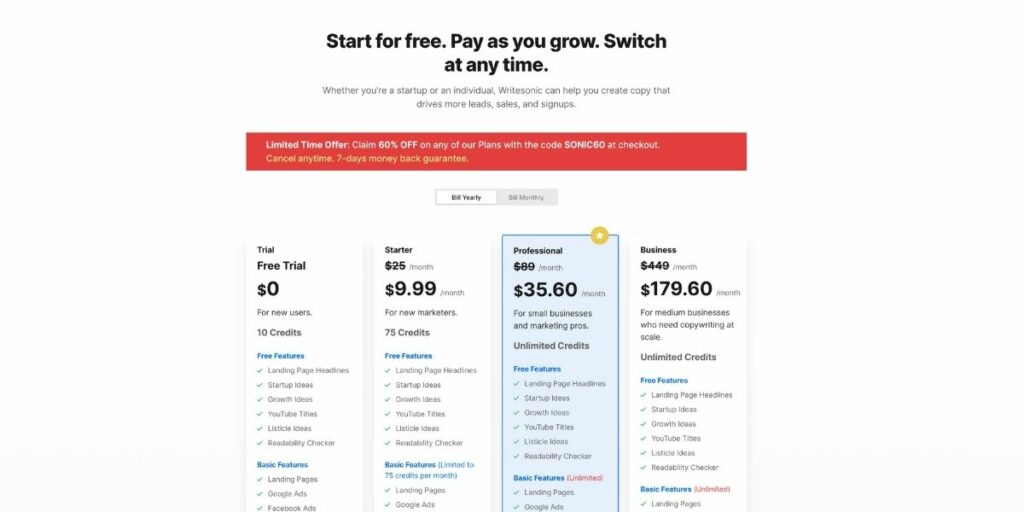 Writesonic uses a system of credits that are allotted each month and deducted as the software is used.
Some of the short-form content generation like YouTube titles and landing page headers are free to all subscribers.
New users are offered a free trial of 10 credits to see how Writesonic works.
They have 3 graded packages targeting everyone from small business to enterprise-level marketers.
Starter: This package provides 75 credits per month for $9.99
Professional: The Pro package is $36.50 per month and provides unlimited credits. Long-form content access is limited to a set amount each month.
Business: For $179.60, Writesonic provides business packages that are unlimited across the board.
Pros and cons of using Writesonic
Writesonic is very much a tool rather than a turnkey article generator.
With this software, user's tend to create multiple articles and piece together snippets and articles themselves.
The short-form description and headers are a very useful complimentary service.
---
#8 Copysmith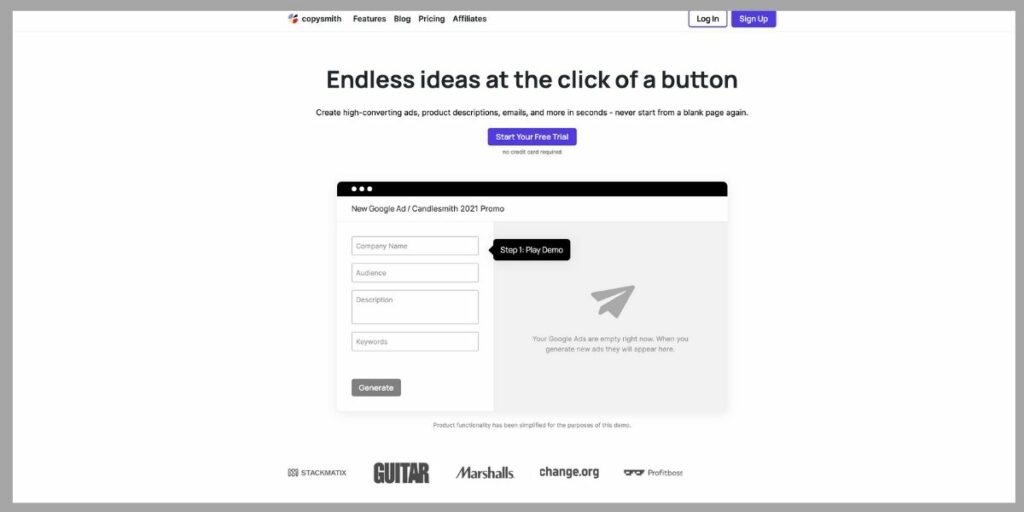 Copysmith is new to the AI writing game, having only been founded in 2020. However, it is on a strong growth trajectory, making it well worth considering as a writing assistant for your blog.
What is Copysmith?
Copysmith is an AI content generator software that has been designed by marketers, AI researchers, and leading copywriters.
Co-founder Jasmine Wang is a computer science graduate with expertise in Natural Language Processing.
You can use Copysmith to write articles, as well as descriptions, metadata, ads, and landing pages, with all content completed in minutes.
Key features of Copysmith
This versatile AI generator provides templates for a wide range of digital marketing content including social media and e-commerce content.
In addition, Copysmith provides integrations for Chrome and Shopify.
Where blogging is concerned, Copysmith suggests that they can get you 80% of the way there with their blog outlines and posts.
Their content expander tool is also very smart if you want to refresh or upgrade published blog posts.
How does Copysmith work?
Using Copysmith is simple and fuss-free. Subscribers simply choose the template that fulfils their needs and provides basic data to generate their content within minutes.
Copysmith pricing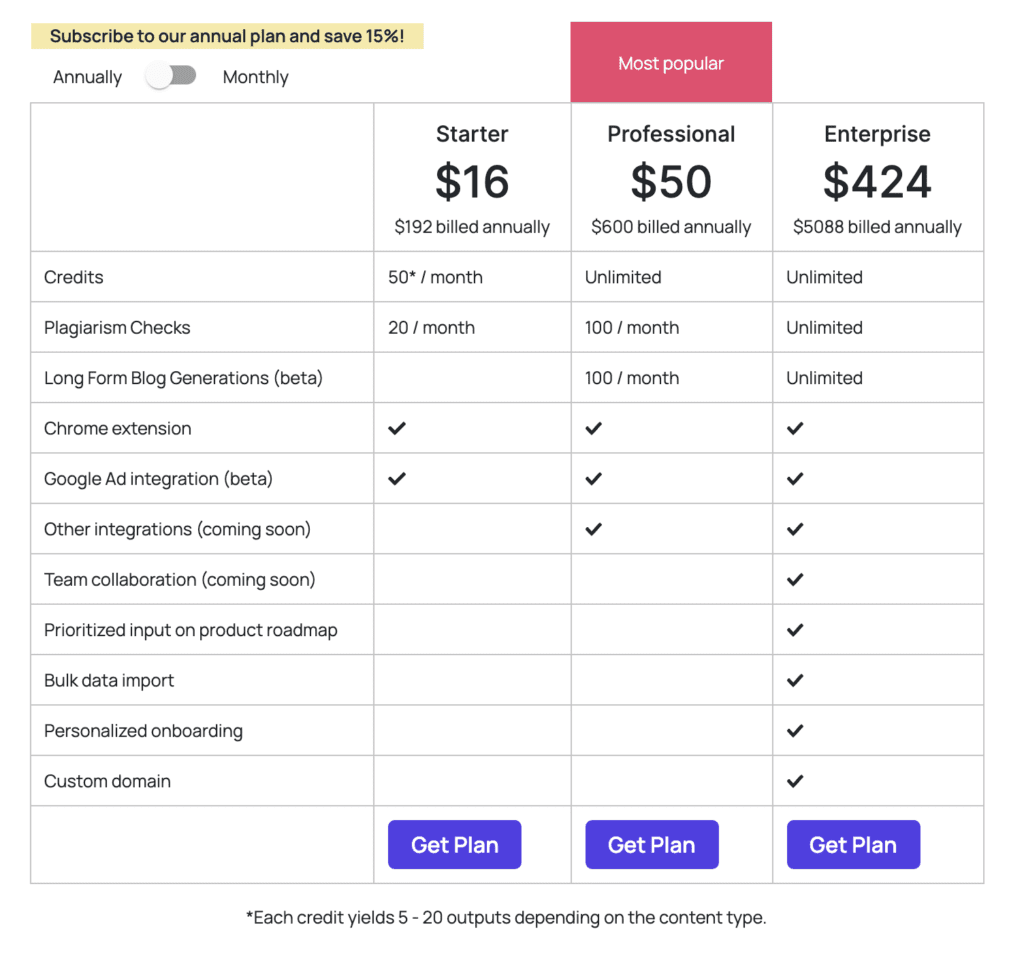 Copysmith offers three price plans:
Starter: This package, for $16, limits the use of the software to 50 credits per month and only short-form content creation.
Professional: For $50 per month, you get unlimited short-form content and up to 100 long-form blogs.
Enterprise: $424 gets you unlimited short and long-form content generation.
Pros and cons of using Copysmith.
Copysmith is very very new so there are some teething problems, like the blog post templates requiring refinement.
However, the overall results, especially for short-form copy are good. One to watch.
---
# 9 Grammarly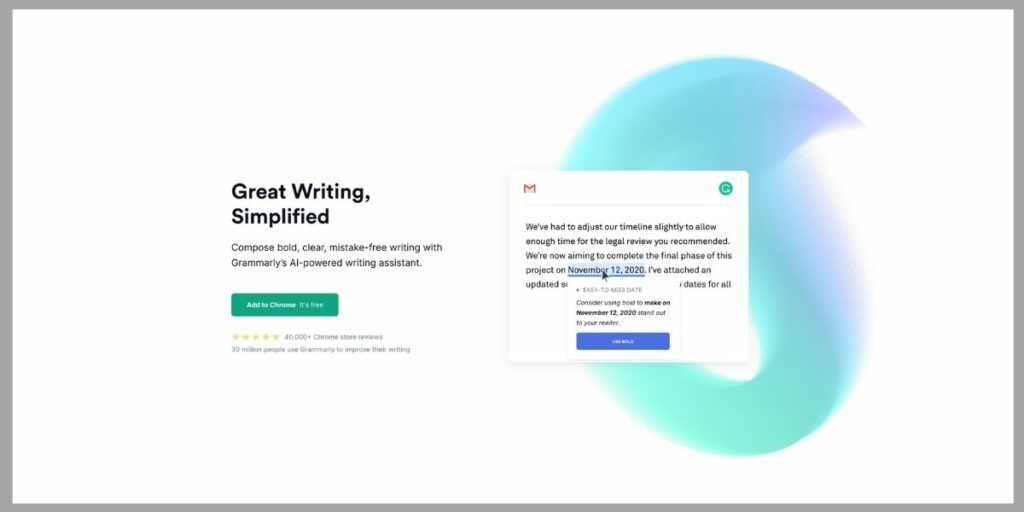 It's easy to forget that Grammarly is an AI tool. If you are used to the free spell checker function it is well worth investigating their premium packages to see how it can help you ramp up your content production.
What is Grammarly?
Grammarly is an artificial intelligence writing assistant that uses cloud computing to operate on a cross-platform basis.
Users install Grammarly on their devices to review spelling and grammar as well as make technical adjustments in the tone and clarity of their writing.
Key features of Grammarly
In addition to the free spelling and grammar checks, Grammarly Premium offers writing suggestions for:
Clarity
Fluency
Readability
Engagement
Delivery
Plagiarism
How to use Grammarly
This software is downloaded and installed on your devices.
Grammarly is designed to continually crawl The writing your produce in blogs, emails, social media and any other text-based communications you make.
It will continuously compare your writing against the standard practices in its algorithm.
Where it encounters discrepancies in language, grammar, punctuation, spelling, or language in your writing it will automatically highlight them and suggest alternative phrasing that you can opt to use by clicking on the suggested text.
Grammarly pricing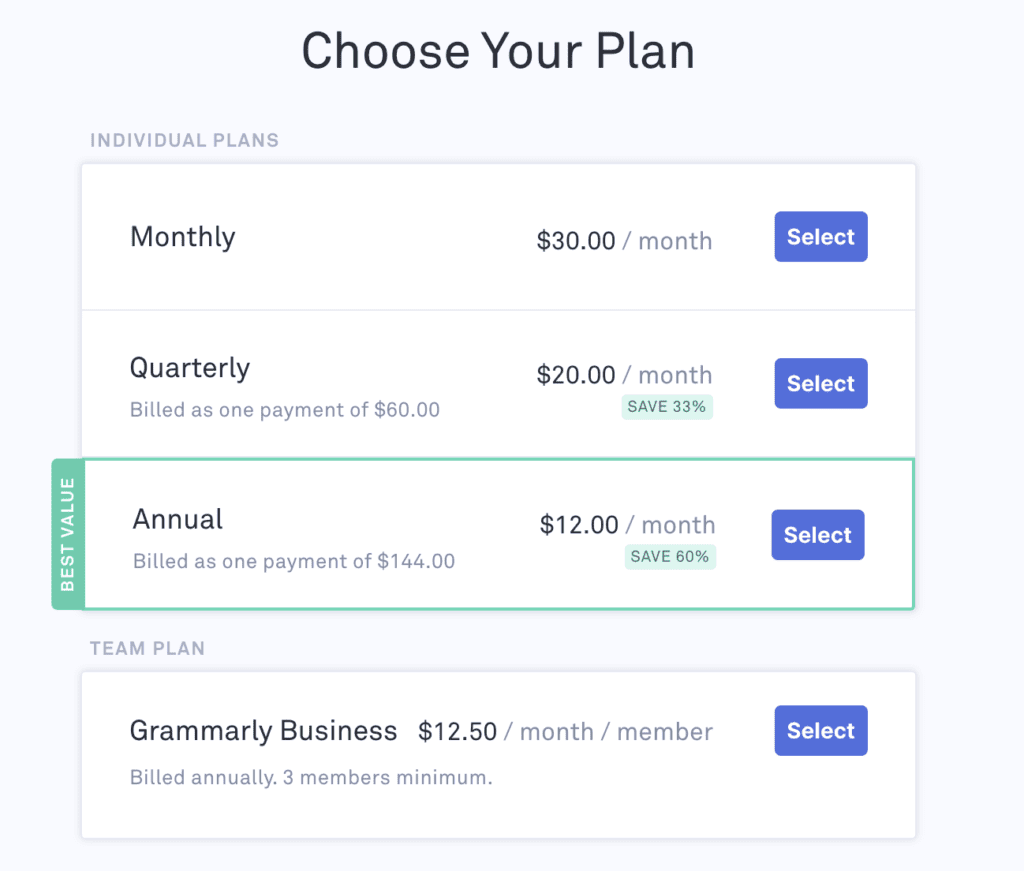 Grammarly Premium is available on a monthly subscription basis for individual or team use.
Packages start at $30 per month with quarterly or annual billing attracting a discount.
Pros and cons of using Grammarly
You are going to have to do the hard work of writing yourself, but Grammarly provides a convenient tool for elevating the quality and clarity of your writing.
It is widely used by copywriters who need to meet stringent spelling and grammar standards.
---
#10 Rytr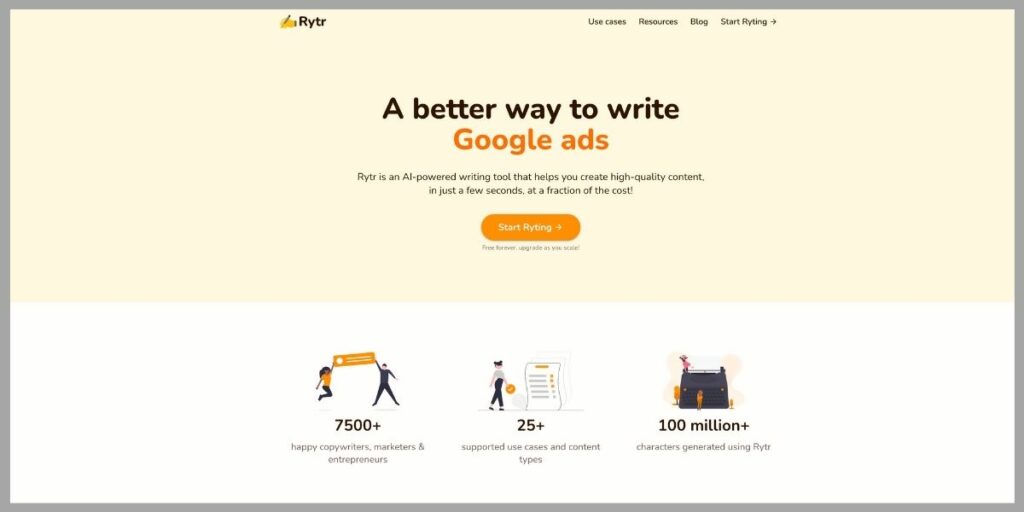 Rytr is a cost-effective template-based writing tool that provides a quick and easy solution for your basic content needs.
What is Rytr?
Rytr is an artificial intelligence writing tool that can generate credible content for use in emails, blogs, websites and social media from just a few keywords.
The AI has been programmed to leverage best practices from marketing and SEO to generate content that is readable and will rank!
Key features of Rytr.
Rytr is flexible and allows you to use the software to generate whatever kind of content you want.
If you are looking for structure, they have 20 pre-set templates and tones to choose from to create your article.
Rytr also is available in over 15 languages, making AI content widely available.
How to use Rytr
Getting started is as easy as signing up for a forever free account.
Ryter only charges you an upgrade subscription fee when you start to use the software heavily.
Once you are logged in to their site, all you need to do is choose from their templates, add some initial input text and wait for Rytr to generate your automated output.
Rytr pricing
The pricing for Rytr is as simple as their platform. For $29 per month, you can generate unlimited content, with two months free if you purchase an annual subscription.
In addition, you will benefit from a dedicated account manager and email and chat support.
Pros and cons of using Rytr
Rytr is generally more suited to short form content, being used as a writing assistant to boost the creativity and productivity of your own writing.
Its flat price approach means that it is affordable and value for money if it saves you time.
---
F.A.Q for the top 10 AI writing tools and software
What is AI writing?
AI writing is simply writing that has been automatically generated by a computer program. The software that creates artificial intelligence writing uses an algorithm that crawls a data set of thousands of pieces of content to come up with unique writing that is comparable in theme, structure, and tone. 
What is Natural Language Generation?
Natural Language Generation (NLG) is the software process used by these AI writing tools and software to write content. It is able to crawl and scrape a variety of text and language inputs to generate a human sounding  text output. 
Can AI write a meaningful story?
AI coders are exploring the ways in which AI can be used for creative writing, with bots creating short stories, poems and even novels. I took a look at creative writing AI in my article "Can AI write stories?".
Will AI take over writing? 
I think the next 10 years will see AI begin to dominate online content production, but I dont think the bots will completely replace human writers. I share my thoughts on the future of automated content production in the article "Will AI replace human writers in 10 years time?".
I'm sure you are raring to give some of these AI writing tools a try.
If you are struggling with a content plan that is going to take ages to complete, and have a limited budget for writers or buying articles, I think AI writing tools like these are going to make a real difference to what you can achieve with your blog.
I have to admit, since I first encountered AI writing tools I have been intrigued by them and am looking at the ways in which they can help me be more productive in my business.
For me, AI writing definitely has big potential for completely disrupting the affiliate marketing industry, though I don't think we are yet at the stage of leaving our human writers out in the cold.
Many of the tools I tested above seem to look very similar and could possibly by owned by the same people/company just under another name.
I'm not 100% sure but the style and fonts used and price plans look identical.
So far, I have found their short-form content generation useful for creating smart and engaging YouTube titles and descriptions, blog titles, and headers and I am getting to grips with some long-form content creation on Jasper.AI
I'm not sure yet if I have found my ideal platform for using this technology but I hope to keep testing these remarkable bots and will bring you more in-depth review recommendations as I learn more.