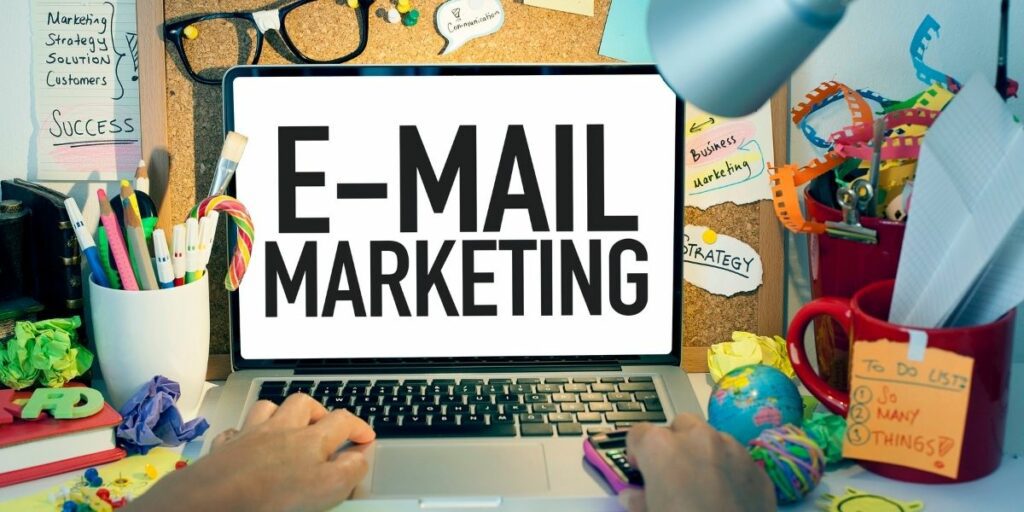 Finding an Email Service Provider for under $30 per month needn't be a hassle!
More and more affiliate marketers are switching on to the potency of email as a means of generating revenues and strengthening audience engagement.
After all, it is one of the few areas among the constant upheavals of affiliate marketing where you can complete ownership and control.
For email marketing to work, you need to have an Email Service Provider or ESP which can be used to manage your email subscribers and communicate with them via great looking HTML email broadcasts.
If you haven't got time and you trust my opinion then click here to visit Convertkits FREE plan. It's the one I started with.
What should I be looking for in email marketing tools?
I've found that email marketing can take on a life of its own and with the right targeting of your online audience, you will find that new subscribers will soon flood in.
When you have amassed a large number of subscribers it's important to treat them right and your ESP needs to be able to keep up with your growth and perform responsively.
Here are some key features that I think an ESP should provide at a minimum:
Supported imports of your existing list: Doing this yourself can be tricky so it is great if an Email Service Provider will assist with migrating your subscribers properly.
Unlimited emails: The size of your email lists or the number of autoresponders and campaigns you run can grow quickly. Some ESPs limit the number of emails you can send per day or per month meaning that you constantly have to upgrade or buy credits to send more emails.
24/7 support: If you are new to a platform or run into issues with your account you need to know that the support from your ESP will be responsive.
Self-hosted landing pages: These are very useful for acquiring new subscribers. I talk in-depth about ESP-hosted landing pages in the article "Do you need a website to create a landing page?".
Segmentation: Being able to insightfully segment your subscriber list means that you can be super focused in your email marketing.
Structured reporting: Reporting that can be easily deciphered will help you keep track of the effectiveness of your campaigns.
Exit intents: Exit-intent technology is a great way of mopping up subscribers from people who were going to leave your site. I will talk more about this below.
Privacy /GDPR compliance: You want to ensure that your ESP has high standards of data protection and is being used to communicate with your subscribers in a lawful manner.
5 email marketing tools that should get your email marketing underway for less than $30 per month.
I thought that this could be a big ask but some of the best Email Software Providers have some competitively priced packages which are more than enough for growing your subscriber list and having a professional finish your communications.
Here are the five I think you should take a look at:
1. Mailchimp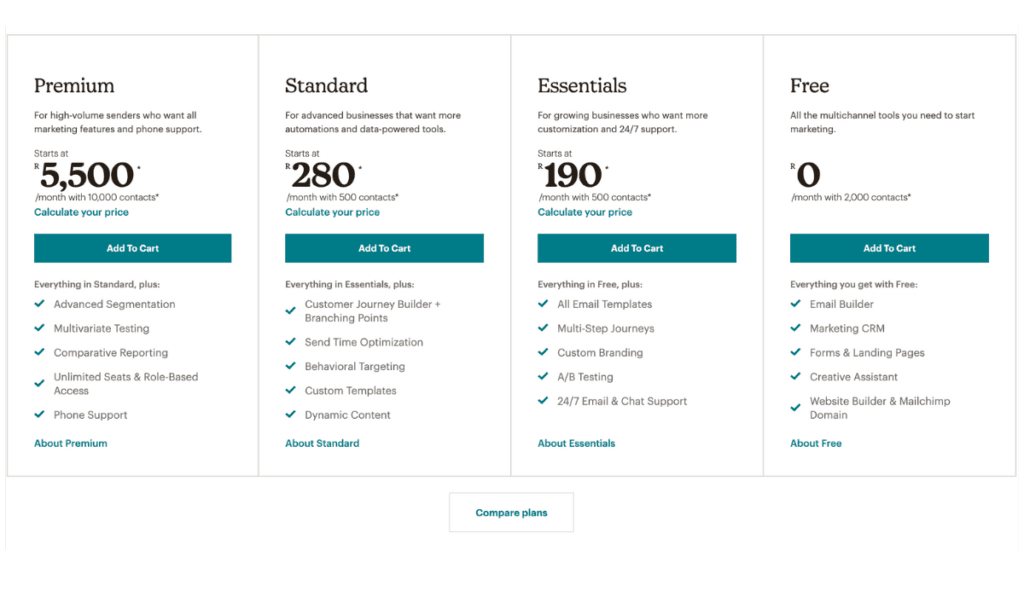 Almost everyone has seen their copycat Curious George with a mailman's hat on. And it's no surprise as Mailchimp has been in the bulk email delivery game for over twenty years!
In the last two decades, email marketing technology has changed beyond all recognition but Mailchimp has been able to stand firm. Let's take a look at what has made mail chimp one of the world's leading email marketing tools.
What is Mailchimp?
Mailchimp is an email marketing and marketing automation platform, founded and privately held by Ben Cheshunt, Mark Armstrong and Dan Kurzius since 2001.
Though they initially started in basic mail distribution, MailChimp has become a full marketing platform with some great features that we will take a look at below.
Must-use features of Mailchimp.
Mailchimp is no longer that blocky old-fashioned newsletter distribution software with limited customisation. They are providing a turnkey digital marketing solution including hosted websites and a decent CRM. Key email marketing tools provided by MailChimp include:
A bulk email delivery service
Email and landing page templates
Digital Ads
Snail mail postcards (yes they will mail your subscribers a postcard anywhere in the world!)
Integrations aplenty including Facebook, WordPress, WooCommerce, Stripe, and Photoshop!
What is Mailchimp's pricing like?
Like most email marketing tools Mailchimp will get you started for free and will only start charging when your email subscriber list starts to grow.
Here are the email marketing packages that Mailchimp offers for under $30 per month:
Free
If you have less than 2000 subscribers you can use MailChimp for FREE! This is great for startups as you will benefit from:
The Mailchimp email builder
Mailchimp's marketing and CRM software to manage your subscriber list.
All the forms and landing pages you need.
A website builder for a Mailchimp hosted domain.
Essentials
Mailchimp's essentials package is a paid service with everything you get for free plus some additional marketing tools that are worth taking a look at.
You can get the essentials package for accounts with 500 subscribers or more. Starting at $9.99 per month you additionally get:
Email templates
Custom branding for your landing pages and emails
A/B testing functionality
24/7 support
Standard
The standard package starts from 14.99 monthly for a list with 500 subscribers and cost rising with the list numbers. Of course, you get everything that is provided in the essentials package but also benefits from greater customisation and control including:
Custom templates
Dynamic content
Send-time optimisation (fine-tuning your send time to improve opening rates)
Behavioural targeting software
Quick pros and cons of using Mailchimp
I am definitely tipping my mailman's cap to Mailchimp for their effort in creating an email marketing tool that is versatile and scalable-just what is needed in 2021.
In many ways, Mailchimp is still serving small businesses as it was at the start, especially with the offline post options. Some of the features may not be necessary for an email marketing purist.
---
2. Constant Contact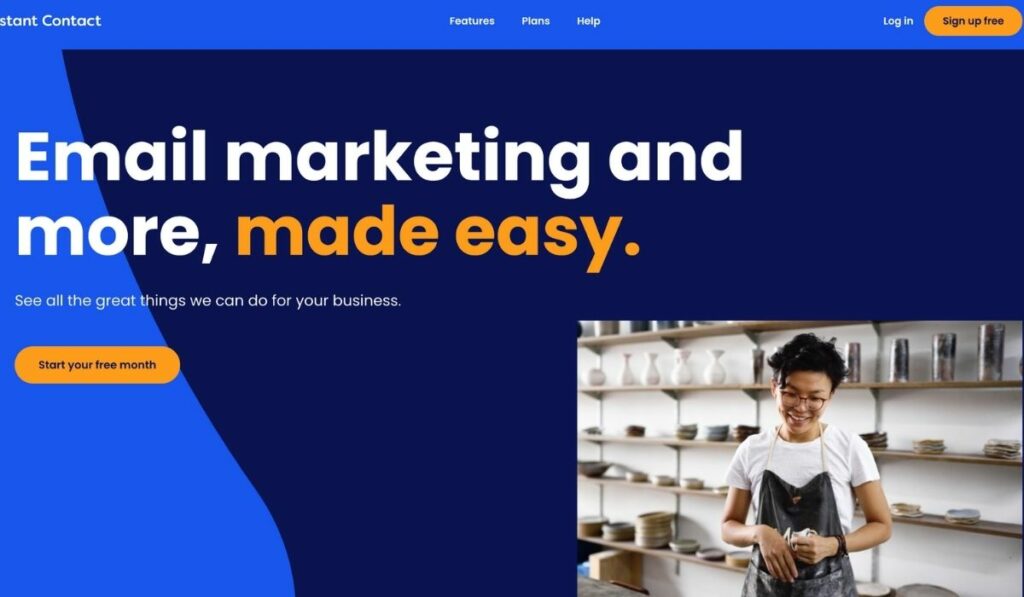 Constant Contact is another oldie that has been providing email marketing services in various forms and under various identities since 1995.
Over the years they have acquired other Email Service Providers and software and are now at the stage where they can offer the contemporary full-service email marketing option.
What is Constant Contact?
Constant Contact is an online marketing platform that includes email marketing software. You can use Constant Contact for targeted marketing campaigns via email, on social media and for eCommerce.
Everything is wrapped up in their platform including integrations with Eventbrite, Shopify, and iOS.
Must-use features of Constant Contact.
There are some excellent features provided by this email service provider. Handy email marketing tools include:
A drag and drop HTML email builder
Extensive email marketing automation
eCommerce tools and integrations
Real-time email tracking
Email subscriber list segmentation
What is Constant Contact's pricing like?
For under $30, Constant Contact offers only the following package:
Email
The email package starts at $20 per month and allows three users to market to a subscriber list of up to 500 subscribers with the first month free. You'll get:
The ability to send an unlimited number of emails
Customizable templates and sign up forms
Tracking and reporting for your campaigns
List building tools
Integrations
CRM
List segmentation
A limited number of autoresponders
Quick pros and cons of using Constant Contact
Constant Contact does have the key features and functions expected for contemporary email marketing but you are paying a higher price for features that are standard or even free with over ESPs such as
Segmentation of your email subscriber list
The ability to run polls and issue coupons
Customizable landing pages
E-commerce functionality
Hosted SSL certified websites
This premium package starts at $45 to support a list of 500 subscribers and 10 users. It provides much more automation and control.
They have no free or freemium options. Some people have found it difficult to close their Constant Contact account as this has to be done by phone.
Check out Constant Contact here
---
3. AWeber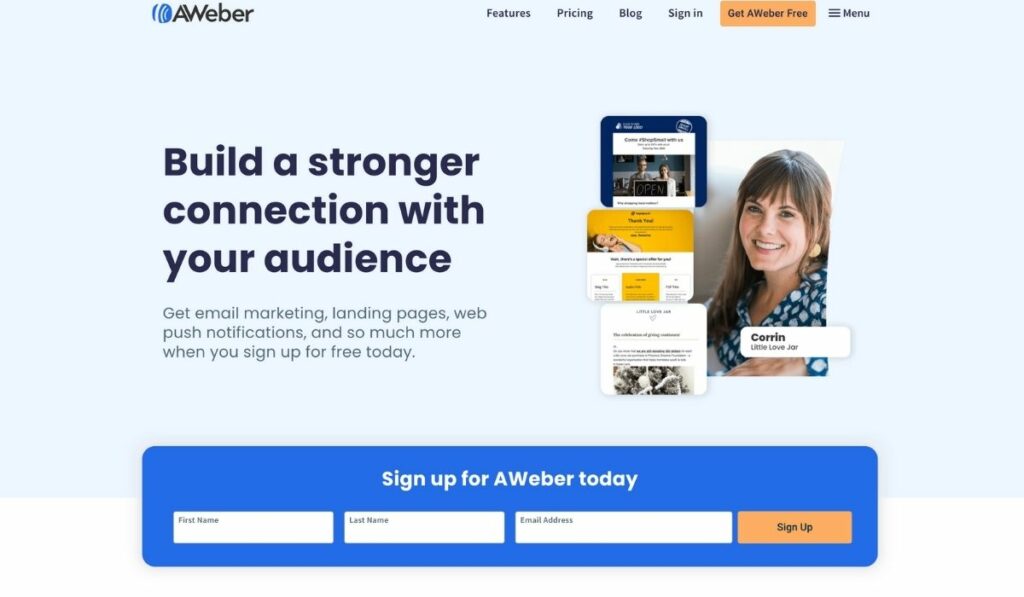 For me, having Brian Dean of Backlinko as a customer is enough to get me to sit up and listen to what AWeber's email marketing software has to offer.
AWeber was first developed in the late 1990s as an automated web assistant by Tom Kulzer, a software engineer.
It has always been about supporting businesses to hit their sales targets, developing from being a lead generation and customer relations software to the powerful email marketing tool that it has become.
What is AWeber?
AWeber is primarily an Email Service Provider but also provides additional marketing tools and technologies to support small businesses marketing seamlessly.
It is designed to be an easily integrated platform for full-service digital marketers who want to keep their branding and communications consistent across all platforms.
Must-use features of AWeber
AWeber delivers powerful email service provider software alongside highly customizable drag-and-drop HTML email design.
Adding their performance landing pages, funnelling and segmentation, you'll have everything you need to boost your email subscriber list and keep your audiences engaged. Key AWeber features include:
AWeber's email software is engineered to hit the inbox rather than the promotions or spam folders.
A tagging function that allows you to tag individual subscribers for finely tuned email list segmentation.
Robust automation with a scheduling function so a whole campaign can be set up and scheduled in a single session of work.
Free stock images for HTML email design.
Email and landing page templates
You can also do web-push notifications to keep your audience continually up to date with your content.
Auto-newsletters are a feature that is not to be underestimated. AWeber can pull content from your site and generate a newsletter to send to your subscribers.
Reporting and analytics for all campaigns
[Want to know how to build an email list that can be managed with these ESPs? Get the road map by checking out my post on how to get your first 5000 subscribers!]
What is AWeber's pricing like?
I like the fact that AWeber is competitively priced with an all-important FREE package to get you started with building your email list.
The FREE plan
This is great for starting with email marketing and you will pay absolutely nothing for the first 500 subscribers. It is a decent package that includes:
Up to 3000 emails monthly (which will carry AWeber branding)
The email builder and templates
Email automation
Free professional images to include in your campaigns
Landing pages and list building
Free migration of an existing list
Reporting
24/7 support
The PRO plan
The PRO plan unleashes the full capabilities of AWeber and starts at $19.99 per month for the first 500 subscribers. With this package, you can send unlimited emails as well as:
A/B testing
Click tracking
Fully customizable branding across all the content
Advanced reporting including website tracking, email tracking and audience analytics
Quick pros and cons of using AWeber
I must say that AWeber is a smart and very simple interface considering how powerful it is.
However, for me, it is lacking one thing, exit intent, which I am going to talk more about below because I think it is extremely important for accelerating the building of your email lists.
AWeber's opinion on exit intent is that it is not that great an idea, but the stats do back it up. Once you understand how important exit intent is, you will see why marketing pros like Neil Patel are never without it.
You would have to buy separate exit intent software alongside AWeber.
---
4. ConvertKit (The one I use)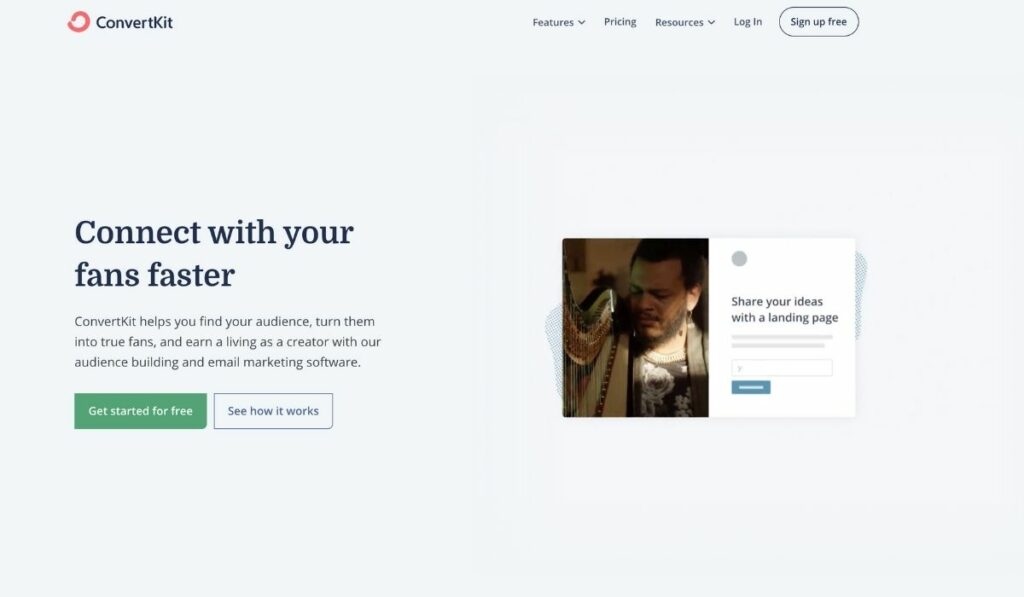 ConvertKit is a bit of a youngster in the email marketing industry, but I have to admit, as a customer that they are doing a great job and I am continuing to build my email list with them.
ConvertKits founder Nathan Barry is as close to a native digital marketer as you can get and took his cues for building this email marketing platform from Pat Flynn after meeting him in a coffee shop!
He aims to help his users to earn a billion dollars in revenues via this software.
What is ConvertKit?
ConvertKit is a full-featured email marketing software that delivers a high degree of customization and automation.
It has been developed for digital creatives who want to earn a living online and is equipped with all the tools needed to market professionally and effectively.
Must-use features of ConvertKit.
With ConvertKit, everything needed to get your email marketing underway is included as well as marketing tools that you can use to penetrate social media and other new audiences with your brand.
Key ConvertKit features include:
100% customizable landing pages
Email sign up forms
HTML email design and email marketing
Advanced segmentation, marketing, and surveillance tools with CreatorPro
Smart exit-intent functionality
Automation
Monetization options
Zapier-based integrations for hundreds of leading software.
What is ConvertKit's pricing like?
Like many other email marketing tools, you can get onto ConvertKit for free. With ConvertKit, they are assertive about getting your subscriber list trending upwards as quickly as possible so they throw in a lot of their features with their free plan.
Let's take a closer look at what's available:
Free
The free plan is for an email list of up to 1000 subscribers, with fees kicking in when you go above this or purchase a premium plan. Free plan users get:
Unlimited email – which is great for free
Unlimited landing pages that are hosted by ConvertKit
Opt-in incentives
Reporting
Subscriber tagging and segmentation
Paid services like subscription newsletters or digital sales.
[If you want to know more about how ConvertiKits landing pages work – take a look at my post ]
Creator
The Creator package starts at $29 per month of a list of up to 1000 subscribers. Of course, you get all the free features but you also benefit from:
Free migration from another ESP
Automated funnels and sequences – which are key if you are intent on using email marketing effectively.
There is also a pricier Creator Pro package starting at $59 per month which is targeting professional email marketers.
Quick pros and cons of using ConvertKit
I have to say that I am so far pleased with the functionality of ConvertKit.
They have made it very easy to use and integrate into my current online business activities.
The one thing I think is a let-down is that free migration from another tool is not available for the free plan which may put off people who want to try it out.
For me, using ConvertKit is all about my mission to "take back control".
You can get a look at ConvertKit and learn a little bit more about it on my YouTube channel:
Get your FREE convertkit here today
5. Send In Blue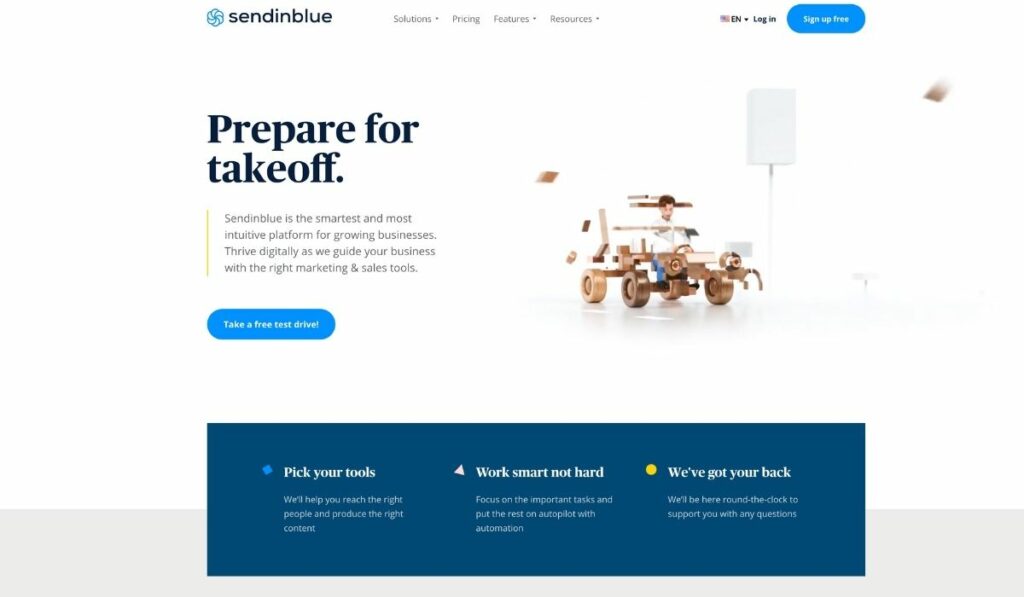 Send In Blue is the brainchild of Armand Thiberge and Kapil Sharma. Launched in 2007, this marketing platform provides powerful cloud-based marketing tools including email marketing with over 100,000 emails sent daily.
What is Send In Blue?
Send in Blue is a powerful relationship marketing software platform that includes full-service email marketing.
It differs from the other email marketing tools we shared so far as it included SMS marketing and chat functionality in all its packages.
Must-use features of Send In Blue
Send In Blue has come pretty close to providing a comprehensive set of solutions for digital marketing, with the inclusion of SMS marketing and chat is useful for users who want to remain responsive and have more personal communications with their subscribers.
Other features include:
Drag and drop HTML email builder
A/B testing
Machine learning for optimized delivery of emails
Segmentation
Automation
Transactional emails
Landing pages and sign-up forms
What is Send In Blue's pricing like?
For under $30 per month, you can benefit from either their free plan or the lowest-priced of the three premium plans offered by Send in Blue.
Free
The Send In Blue free plan allows you to send up to 300 emails per day to an unlimited number of contacts. You also get the email and landing page builders and templates and access to the SMS and chat tools.
Lite
The Lite package for approximately $25 provides:
Unlimited, fully customizable, full email marketing functionality including HTML email builder and templates
Customizable landing pages and sign-up forms
Transactional email functionality
Page and email tracking
Automation
Real-time reporting
Basic integrations
Quick pros and cons of using Send In Blue
Send InBlue is clearly a powerful piece of marketing software that allows you to create a highly targeted and integrated approach to your promotions and campaigns.
However, where email marketing is concerned, you are going to have to pay more than $30 per month, opting for the premium plan to get the comprehensive email marketing functionality seen in other software we've looked at.
It seems that because Send In Blue does so much, the email marketing package gets lost amid the SMS and chat features.
A special mention about exit intent
I am sure that you are just as keen as I am to grow your list and commence impactful email marketing campaigns.
That is why I wanted to share with you the importance of exit intent and how it can boost your email sign-up conversions.
Exit-Intent® Javascript technology tracks the actions and mouse movements of your website visitor on the page, triggering a timely pop-up just before they hit the "x" at the top of the screen.
You probably have encountered these pop-ups on many sites and just like Marmite you'll either love them or hate them.
However, exit-intent popups are incredibly effective at clawing back potential subscribers that were about to leave your site.
According to Optinmonster your conversion rate with these highly targeted popups could be high as 50%!
This is why I think it is important that the email subscription software that you use provides some form of exit-intent technology.
The level of functionality will vary between platforms but all offer the opportunity to present your visitors with a great value proposition that can motivate them to sign up.
Exploring the powerful exit-intent tools on the market is a bit beyond the scope of this article, but I think that this is a feature that you should ensure is available with the ESP you choose.
So, now you have a better understanding of ESP under $30
If you have an existing site and you have not yet started to collect email subscribers, I would really encourage you to start right now as you probably are missing out on a large number of site visitors who would be keen to hear from you via email.
And as you can sign up for free in most cases there are few reasons not to give email marketing a go.