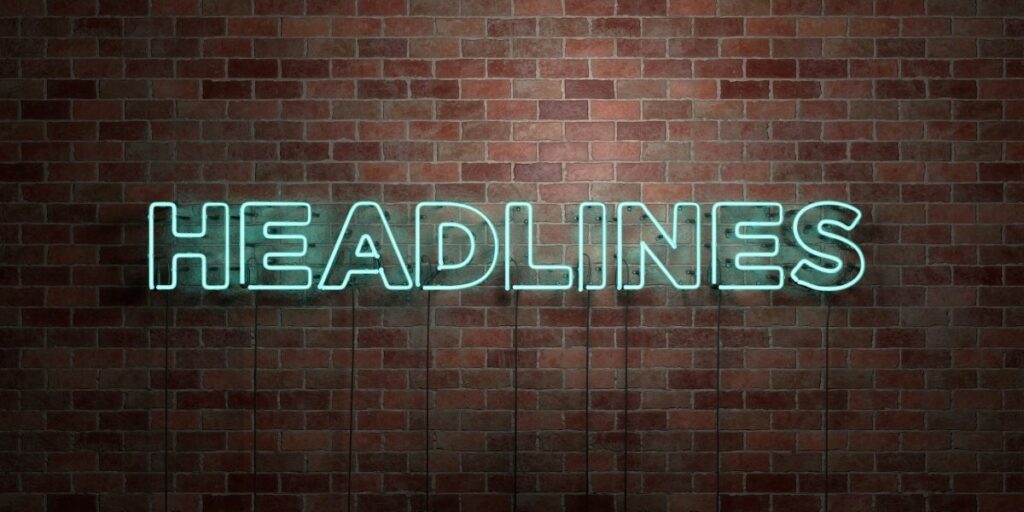 There is nothing more frustrating than being stuck with dense writer's block when it comes to getting your content production underway.
If you are anything like me you will start with the headline or title and let the rest of the content flow from there.
But…
After years of blogging, I still find myself stuck on creating blog headlines that sound authentic and engaging.
There are just some days where it's hard to do the mental acrobatics that keeps my content fresh and original.
And when I have a block at the start of the article it can create a real backup in keeping my content plan on track.
So, How do you write catchy Blog Titles?
Well, I'd like to share with you some interesting tools I am experimenting with right now that claim to be able to serve up the high-converting headlines your content needs.
They are called headline generator tools and they provide an automated solution for creating as many blog titles as you need, whenever you want.
You may not have come across them online but there are actually a lot of them out there and I've gathered 10 of the best headline generators to share with you here.
Watch my Youtube video on this topic below!
Let's cover the key points about headline generator tools
What are headline generator tools?
Headline generator tools are a type of simple writing software that is designed and engineered to generate a blog title that features keywords that you provide.
They are also known as blog title name generators, blog title generators, blog post title generators, and simply,  title generators.
How do title generators work?
Most of the blog title generators we will take a look at are in the form of a webpage where you type in your keyword, hit ENTER, and wait for the generator to come up with something snappy.
Most either give you one suggested title at a time or a list of titles that you can pick your winning headline from. 
At the backend of these sites, the software used to create headline generators can vary massively, depending on what the developers have "trained" the title generator on. 
Some headline generators have a limited database of words and phrases that the software will spin into new titles featuring your keyword.
Alternatively, more complex title generator tools use Natural Language Programming (NLP) and deep learning to produce high conversion titles.
So with blog title generators, you will find that they vary massively in the sophistication and quality of the results you get. 
Are headline generators ArtificaI Intelligence?
In some ways, headline generators do class as an artificial intelligence writing tool, as the software generates the titles without any human input.
However, compared to other short-form and long-form AI writing tools, a title generator is pretty primitive. 
Remember, AI writing tools can also generate the high converting headlines you need.
If you are interested in AI writing tools, why not take a look at my article "Top 10 AI Writing Tools and Software" where you can see writing software that can generate whole blogs as well as the titles you need.
I have included one or two AI writing software as they create blog titles and headlines excellently. 
Are headline generator tools spinning content?
Most blog title generators are closer in programming and performance to automated content spinners.
As you will see, the results you get with these writing tools can be just a little bit unnatural, but you are likely to get just what you need for short-form content like a title.
So, let's get into these 10 amazing headline generator tools
If your creative juices have run dry or you are feeling experimental, these are 10 of the most reliable title generators on the web.
To save you the hassle, I will test these out, generating titles that feature the keyword POPCORN for my super-fast affiliate site bestcornpopper.com!
#1 : HubSpot Blog Topic Generator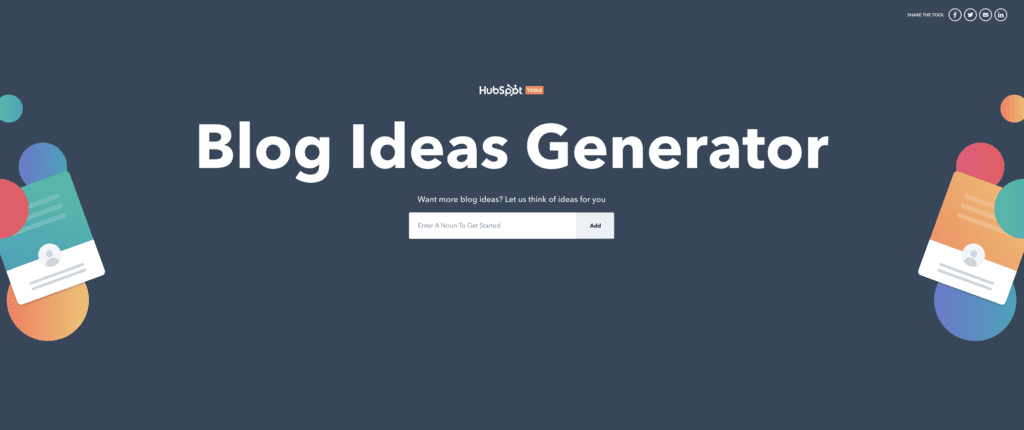 Marketing mavericks HubSpot lead the charge with a quick and quirky blog topic generator that is simple to use. Type in your keyword and it will immediately provide you with 5 title ideas and up to 250 more if you fill in their sneaky opt-in.
Is it free? Yes. Using HubSpots Blog Topic Generator will cost you absolutely nothing, though if you want the full set of titles you have to subscribe.
3 example blog titles about POPCORN generated by the HubSpot Blog Topic Generator:

This Week's Top Stories About POPCORN
The Next Big Thing in POPCORN
Will POPCORN Ever Rule the World?
---
#2 : SEOPressor Blog Title Generator
SEOPressor provided a quick and easy headline generator that generates unlimited titles on just about anything you want.
It is a step up from the HubSpot version as you can refine your keyword input by describing what your keyword is (product, person, industry, etc), using a drop down selection. Hit enter and it will give you over a thousand titles that you can work through until you find what you want.
Is it free? Yes. No strings attached!
3 example blog titles about POPCORN generated by theSEOPressor Blog Title Generator:

10 Ingenious things You Can Do With POPCORN
Five Reasons The Quality Of POPCORN Is So Much More Important Than Quantity
10 Ingenious Ways You Can Do With POPCORN
---
#3 : Fat Joe Blog Title Generator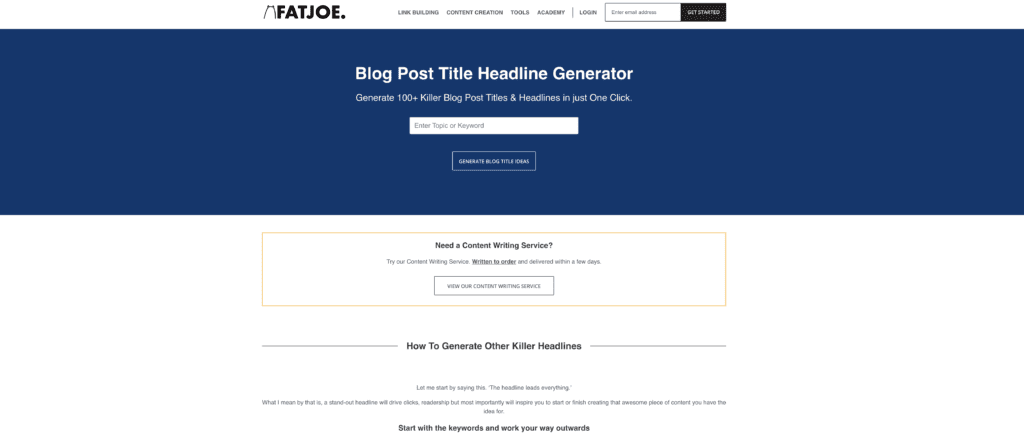 FATJOE are known for the SEO, link building and content outsourcing, so it's no surprise that they have decided to give back with a free content title generator. Enter your keyword to immediately receive 10 blog titles, with up to 100 more if you give them your email.
Is it free? Yes, but if you want more than 10 you will have to complete their email marketing opt-in.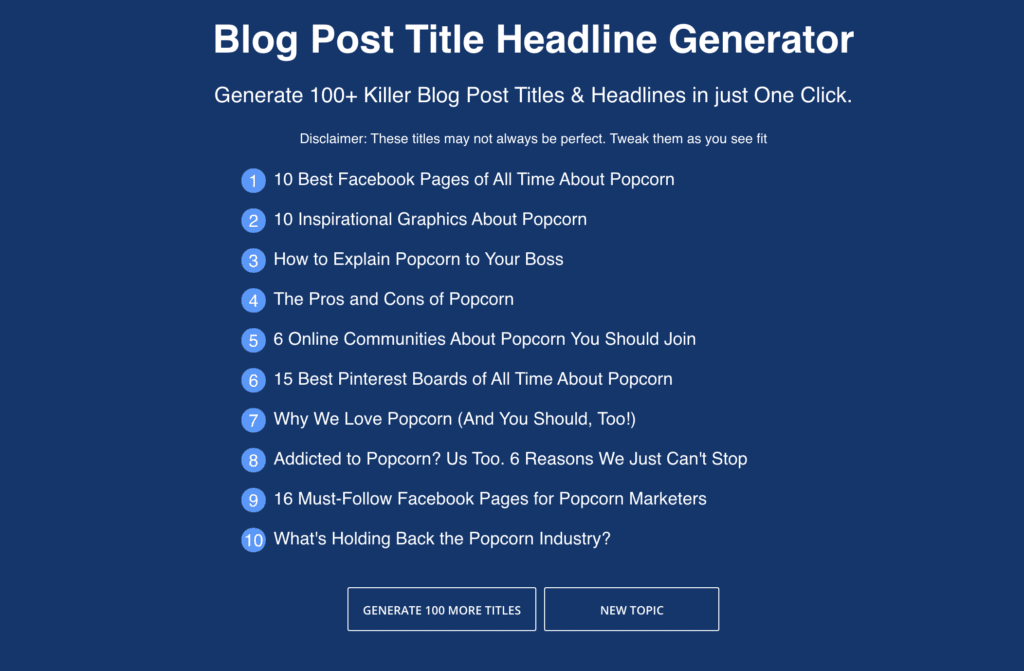 3 example blog titles about POPCORN generated by the Fat Joe Blog Title Generator:

7 Simple Secrets to Totally Rocking Your POPCORN
10 Best Facebook Pages of All Time About POPCORN
Don't Make This Silly Mistake With Your POPCORN
---
#4 : Title Generator

This no-frills site does what it says on the tin. Stick your keyword into the box provided and wait for up to 700 headlines to head your way. The page with your title is a little bit busy with ads but sure enough you'll find your titles as you scroll down.
3 example blog titles about POPCORN generated by Title Generator:

12 Questions Answered About POPCORN
POPCORN Made Simple – Even Your Kids Can Do It
3 Simple Tips For Using POPCORN To Get Ahead Your Competition
---
#5 : Capitalize My Title – Blog Title Generator

Capitalize My Title is a copyrights secret, as they have lots of useful tools for producing well-formatted content. As well as their trademark title capitalization tool, they also have a handy blog title generator that you can use to get up to 10 unique blog titles. I like that Capitalize My Title goes a step further and provides an additional free Headline Analyser Tool that scores your headline on the basis of SEO, readability and sentiment.
Is it free? Yes. The other free tools are worth trying out too.
3 example blog titles about POPCORN generated by Capitalize My title – Blog Title Generator:

15 Gifts for the POPCORN Lover in Your Life
10 Tips for Making a Good POPCORN Even Better
The Most Pervasive Problems in POPCORN
---
#6 : BlogAbout by IMPACT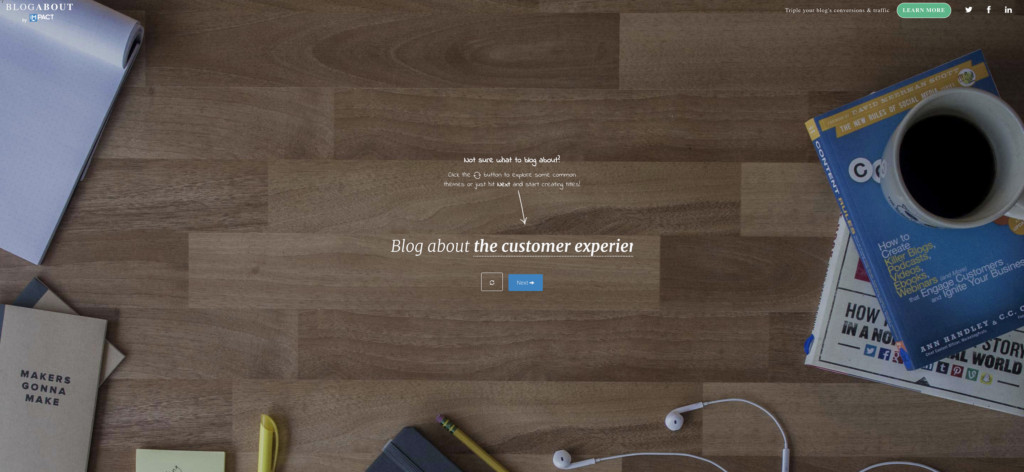 I would consider BlogAbout more of an ideas generator than a headline generator tool, simply because it does not provide whole titles with your keyword inserted. I may be using it incorrectly, but this tool seems to produce a string of generic titles with spaces for you to insert keywords which may not be exactly what you are looking for. On a brighter note, if you get bored they provide a free doodle tool for you to while away some time with.
3 example blog titles about POPCORN generated by BlogAbout by IMPACT:

How POPCORN also Helps You ______
10 Things POPCORN Love to See
4 Ways to Put an End to POPCORN
---
#7 : The HOTH Headline Title Generator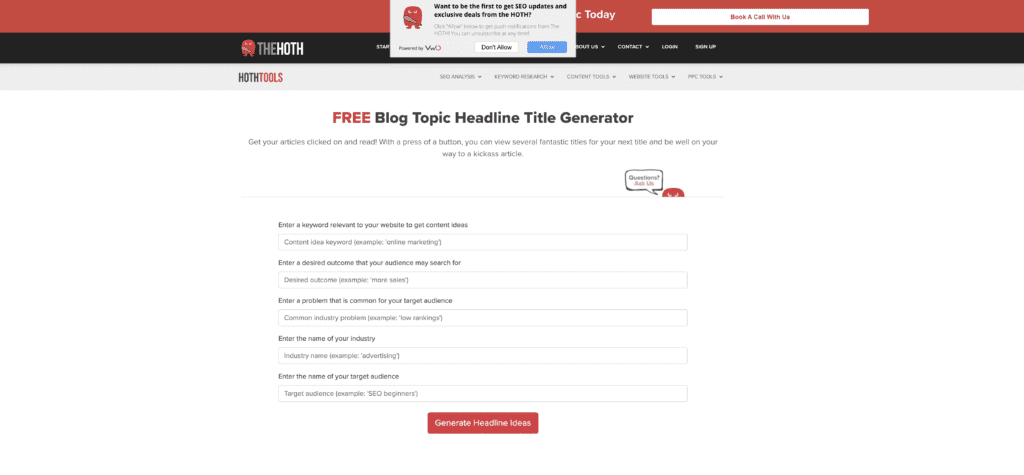 From the people who brought you iWriter comes a rather sophisticated headline generator tool which will provide you with some decent titles and ideas for your lead keywords. The HOTHs version of a headline generator asks for extra information about your blog, including the industry you are operating in, a common problem for your audience and a desired outcome you want.
Is it free? Yes BUT they want you to sign up with LinkedIn and give them access to your account which not everyone may want to do.
3 example blog titles about POPCORN generated by The HOTH Headline Title Generator:

POPCORN versus ______
What would the world look like without POPCORN
My Top 10 Tips for POPCORN
---
#8 : Zyro Blog Title Generator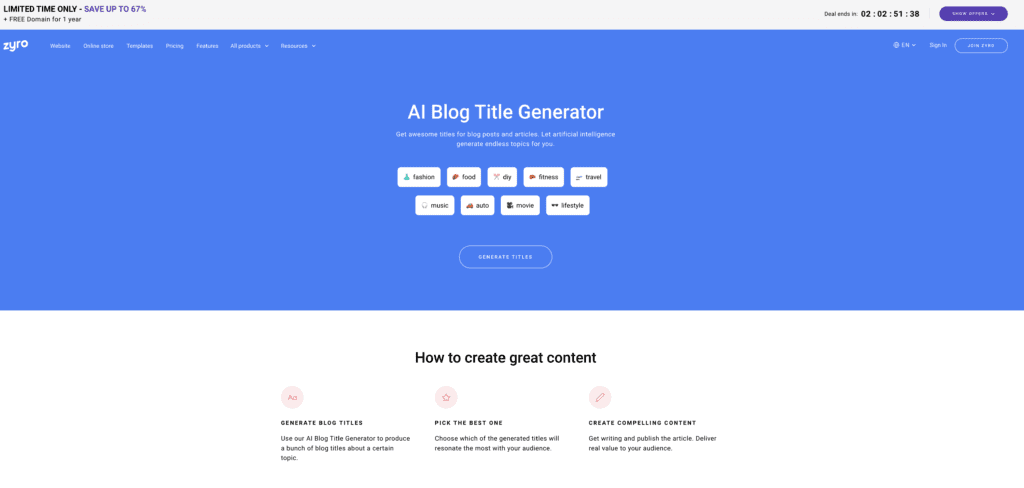 Website builder Zyro has targeted bloggers with their own headline generator, powered by AI. It works slightly differently to the other generators as do not enter your keyword but choose a topic from a number provided. It then generates the titles it wants. As Im blogging about POPCORN. I clicked on food but was met with all sorts of recipe ideas, pretty much everything other than POPCORN.
3 example blog titles about POPCORN generated by Zyro Blog Title Generator:

Crispy Roasted Eggplant with Carrots and Tomatoes
Orange, Lemon and Cream Cheese Crumble
Strawberry Rhubarb Brownies
#9 : SEMRush Title Generator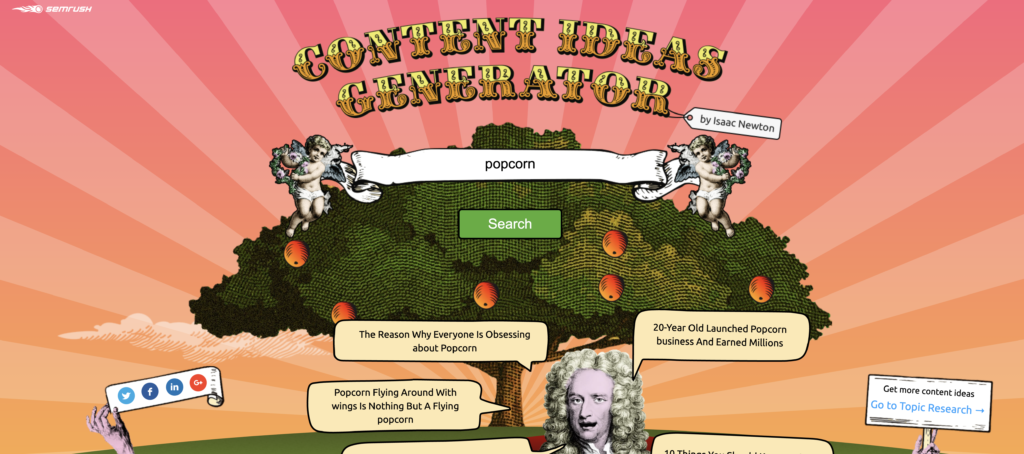 SEMRush has produced their own fun version of a headline content generator. It is quirily animated and clearly designed for social shares. Just type in the target keyword and randomly generated content titles will fall like apples from a tree. Keep hitting the search button for more randomly generated titles.
Is it free? Yes – no strings attached.
3 example blog titles about POPCORN generated by SEMRush Title Generator.

How Gen-Z Has Rediscovered POPCORN
Making Fun With POPCORN At A College Party
Top 10 Videos About POPCORN
---
#10 : Tweak your Biz Title Generator:
URL: tweakyourbiz.com/title-generator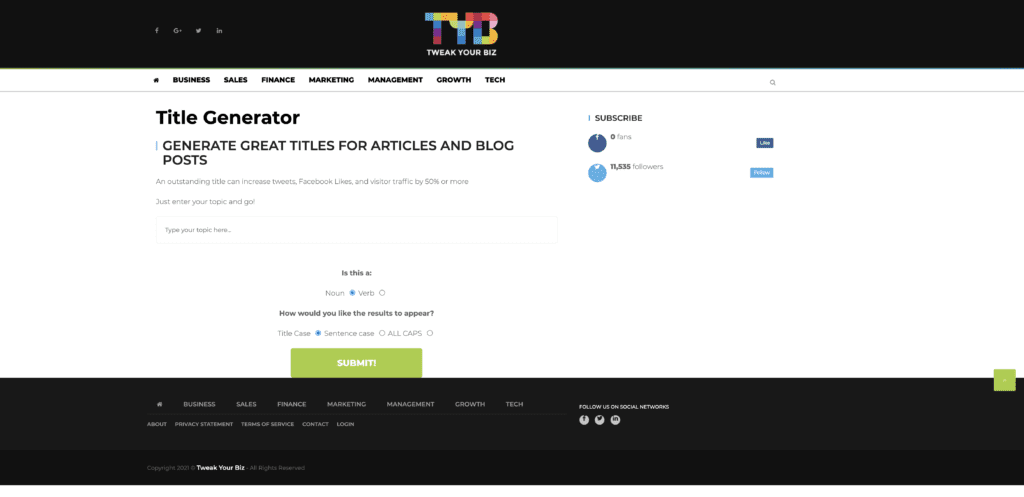 Tweak Your Biz has a fast and free title generator that requires nothing more than your keyword, and selecting whether it is a noun or a verb and the capitalization you require. I like this tool because you get lots of titles that are categorized by whether they are lists, use the word "BEST", are "How To" articles, and more. You will definitely walk away with a lot of titles and ideas for the style and format of your posts.
Is it free? Yes – no strings attached.
3 example blog titles about POPCORN generated by Tweak your Biz Title Generator.

How To Get A Fabulous Popcorn On A Tight Budget
Best 50 Tips For Popcorn
Fall In Love With Popcorn
---
Remember blog titles are not an afterthought
The composition of your blog title is not only important for catching the attention of the user, but also informing the search engines of what the article is about.
Creating a successful blog title is about striking a balance between displaying your keyword and demonstrating relevance and creating an exciting engaging headline that your reader will not be able to pass by.
I think that these headline generator tools are great for getting some interesting ideas, but I find that with tools, automation, and AI, you are still going to have to put in some effort to generate the perfect title for your posts.
So try out these amazing headline generator tools, but be prepared to tweak and tweak again, to get your titles just right!
Before you go!
If you're looking to start a new website then maybe you should consider an aged domain. No waiting for that 7-9 month sandbox before you see some results. Get fast results by using aged domains. I recommend ODYS which is where I purchase mine from.
What's the fastest way to monetize your blog? Display ads of course and you can't go far wrong with Ezoic. You can also join their program with a small and even brand new website. By using my link to their Access Now program you'll get quick access to high-paying display ads for your website. Start earning money today! Sign up here.
and finally…
All websites need one thing. Content, whether that be outsourced content like I get from BuySellText or AI software that will write it for you like Jarvis.AI. Currently, the best tool out there if you like AI software.
If you can't see the tool or resources you need here. Check out my resource page which is packed with helpful tools, software, and apps that can help you maximize your revenue and grow your website faster. Many of which are discounted if you click my affiliate link. See my resources page.