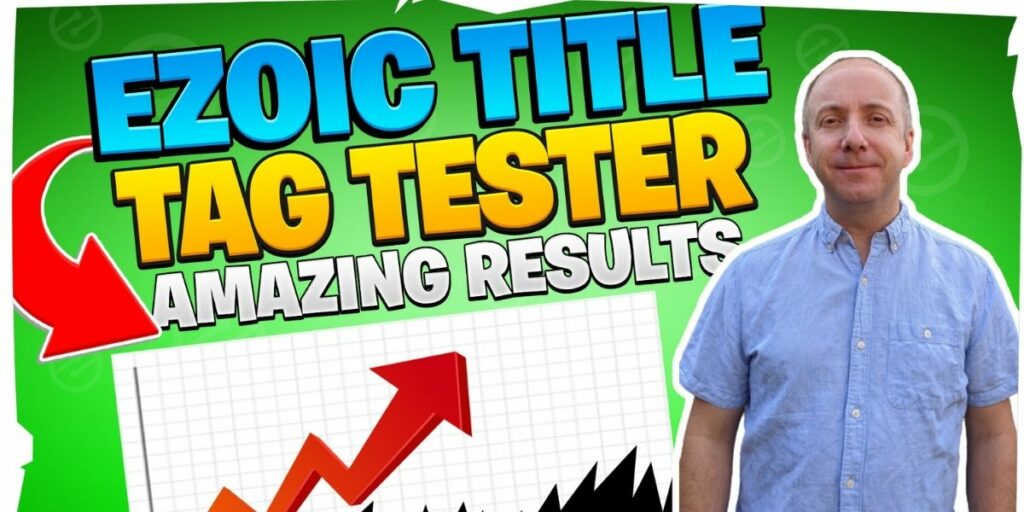 If you are familiar with my YouTube channel, you'll know that I am always looking for ways to help my content climb the SERPs and become more clickable.
Looking for ways to improve your ranking and click-through rate all tie into the bottom line of making the content you have invested in more profitable, which is what we want after all.
In this article, we will take a look at the Title Tag Testing tool I have been testing on Ezoic, which could make all the difference to increasing the traffic to your site.
Let's get into this!
Are you looking to lift your organic Click-Through Rate (CTR)?
If you are looking to get more users to your website, Click-Through Rate is one of the simplest SEO metrics to target for real impact on the levels of traffic you receive.
The Click-Through Rate is basically the number of clicks your website gets for a specific search query out of the total number of times the query shows up in the SERPs, usually expressed as a percentage.
Lifting your CTR will boost your traffic for individual queries, and if you multiply the number of queries you can improve the CTR of you can get some considerable gains in traffic.
I am all about working with what I have in hand, and for me, enhancing the CTR for my existing ranked content appears an easy, but targeted way of getting more clicks for the queries where my pages are appearing prominently.
Improving titles can really benefit your CTR
Zoning in on your titles can prove beneficial in improving your CTR. After all, it is the title that will encourage the search engine user to click on your content.
However, optimizing CTR in this way takes place on ranked pages, which, to be really honest, makes me hesitant.
We've all clicked those clickbait titles, Right?

But you need to deliver on the promise of that title.
I also don't want to create an enticing title that will encourage clicks but is not relevant to the content on the page.
So far, I have held back from fiddling with the pages that are already working for me.
For a while, I was stumped for a solution that would enable me to tweak my titles without wrecking decent SERP rankings.
But I can now share with you how I am able to try out a variety of alternate page titles for my URLs to find and use the strong performers that will help boost my CTR without risking my existing positions.
It's all on the Ad platform I use, Ezoic.
About the Ezoic Title Tag Tester
The Ezoic Title Tag Tester is a smart feature within the Ezoic platform that allows me to test the optimization of alternate page titles for my site's URLs using artificial intelligence modelling.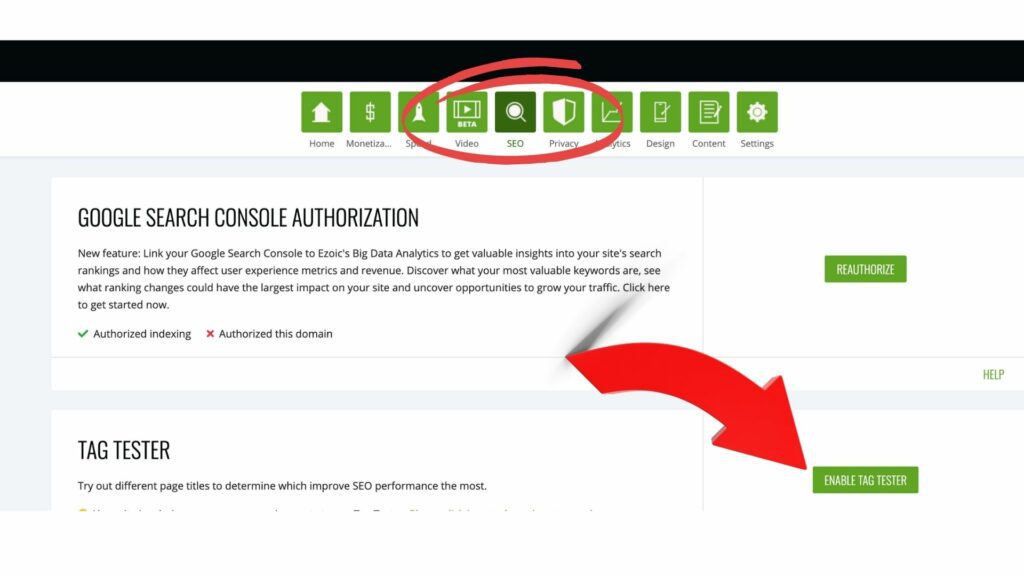 More and more I am finding that Ezoic is so much more than an Ad platform such is the sophistication of its A.I.-driven intelligence and insights.
The Title TagTester is just one tool within their expansive SEO module that connects to Google Search Console for powerful testing that draws on your actual, real-time Google data for the machine learning that can really boost your content performance and revenues.
Ezoic's Title Tag Testing Tool has been credited with significant uplifts in CTR and Page Views and even examples where pages have jumped up the rankings.
Why title tags matter
Title tags are little snippets of HTML code that you can use to give your web pages a title.
They are distinct from meta descriptions which are longer and more of an explanation of what is in the article.
The tag content will then show up in the SERPs or in the tabs of your browser.
Title tags also help facilitate social media sharing, helping users understand your content and brand better.
If you can create enticing title tags, users will click on them and your CTR will rise.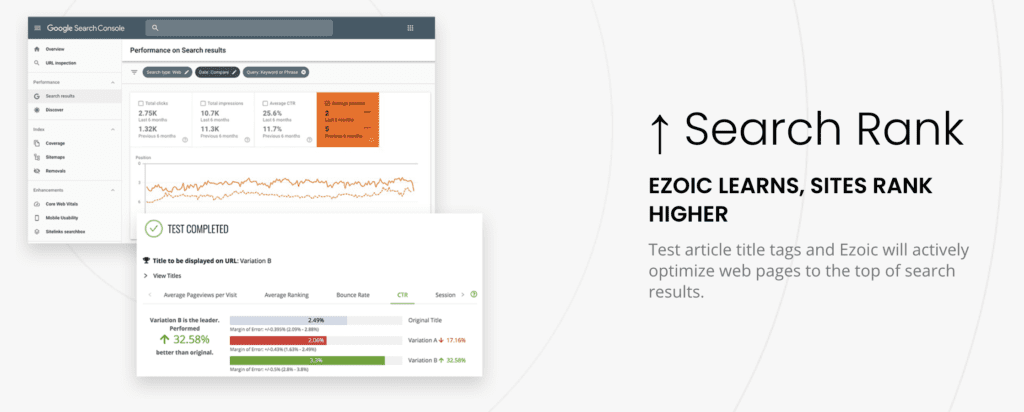 Because of the uplift in user experience title tags provide, search engines are bothered about them, and I think we should be too.
They can be easily overlooked but title tags are just one of the many little details that make all the difference to the organic ranking of your pages.
With Ezoic, you can tweak titles to your heart's content in a test environment that will help you not only to select the best performing title tags but also go ahead and change them.
Testing Title Tags with Ezoic
The Ezoic Title Tag Tester is a new application on the platform that allows you to test upto 4 titles for testing per article.
If you are familiar with A/B testing or split testing, it's very similar but far more advanced. You'll know that it takes time to accrue the effects of any of the changes or tests you make.
With Ezoic, the reporting on a title tag test is generated for multiple alternative tags within a 3-4 weeks. This allows enough time to test all options and find the best title.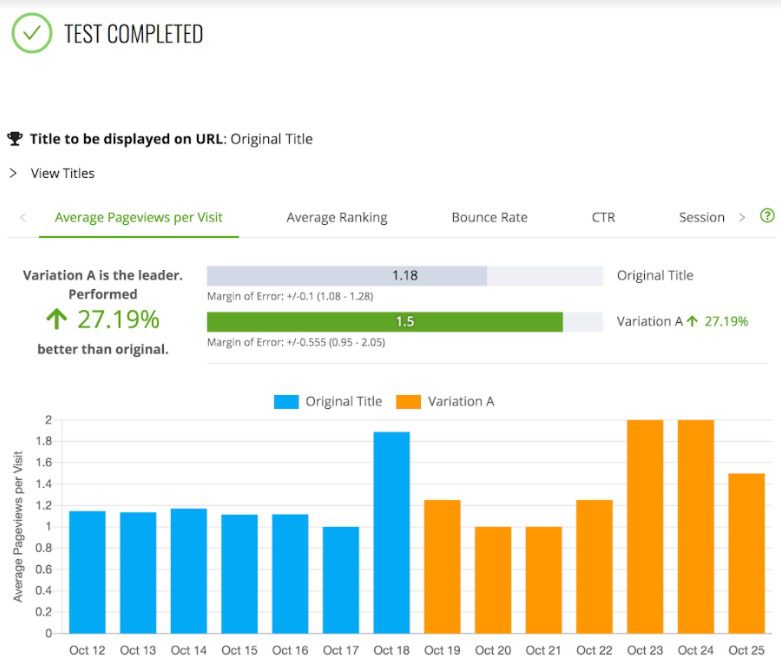 As I mentioned above, to do its job Ezoic uses the Google Indexing API and will need access to your Google Search Console for its A.I.- based analysis.
Using the Ezoic Title Tag Tester
In the Ezoic testing dashboard, you can then test up to four different titles that you create to go up against the existing title you've published, with the test run over a two-four week period.

You can run multiple tests by simply creating a new test group every time in the Tester dashboard.
You can search for specific URLs in your site or popular pages to work on.
Choose the title tags you would like to test and add your variations for immediately starting your test or saving for later. Each alternate title is tested over a one-week period.
Standard Ezoic members can run up to three tests at a time, whereas premium members can run an unlimited number of tests.
Once the test data is in, with your permission, the Tag Tester can automatically change your titles to the best-performing version.
The work is all done for you. I'm impressed by this because it is all metrics-based and in keeping with the amazing utility of this platform. Your not only going to get a 'winner', everything is evidenced with data including key metrics like:
Average Pageviews per Visit
Average Ranking Position
Bounce Rate
Session Count
…and of course CTR.
Ezoic then tots everything up to assign an overall score across the combined metrics that can be used to select its winner.
This is a pretty powerful tool that could make a real difference to CTRs of your existing content.
I hope you can see how this title testing functionality could make a real difference in creating the titles that will do the job of getting users to click on your ranked pages.
To help you understand more about the Ezoic Title Tag Tester, Sarah, my friend from Ezoic, took some time out to provide an insider's take on how it works with my YouTube channel viewers.
It's a great video and I recommend you have a watch to see how everything is set up and the tests are run:
Getting started on Ezoic is easier than ever
I'm sure you are as impressed as I am with what you can achieve with the Ezoic Title Tag Tester and their SEO module in general.
Plus it's FREE to all Ezoic customers.
I think access to this useful tool is well worth signing up to the platform.
As Sarah mentioned in the video, you can sign-up to Ezoic and use the Title Tag Tester without monetization approval, so there is nothing to stop you from having a go right now.
If you do want to unleash the monetization potential of Ezoic, you will be pleased to know that they have removed their minimum traffic requirement for approval.
I think this is great news, as I have found that Ezoic has been a great Ad partner to work with. To be able to grow your Ad revenues through Ezoic with a new or growing website is a fantastic opportunity!
Before you go!
If you're looking to start a new website then maybe you should consider an aged domain. No waiting for that 7-9 month sandbox before you see some results. Get fast results by using aged domains. I recommend ODYS which is where I purchase mine from.
What's the fastest way to monetize your blog? Display ads of course and you can't go far wrong with Ezoic. You can also join their program with a small and even brand new website. By using my link to their Access Now program you'll get quick access to high-paying display ads for your website. Start earning money today! Sign up here.
and finally…
All websites need one thing. Content, whether that be outsourced content like I get from BuySellText or AI software that will write it for you like Jarvis.AI. Currently, the best tool out there if you like AI software.
If you can't see the tool or resources you need here. Check out my resource page which is packed with helpful tools, software, and apps that can help you maximize your revenue and grow your website faster. Many of which are discounted if you click my affiliate link. See my resources page.