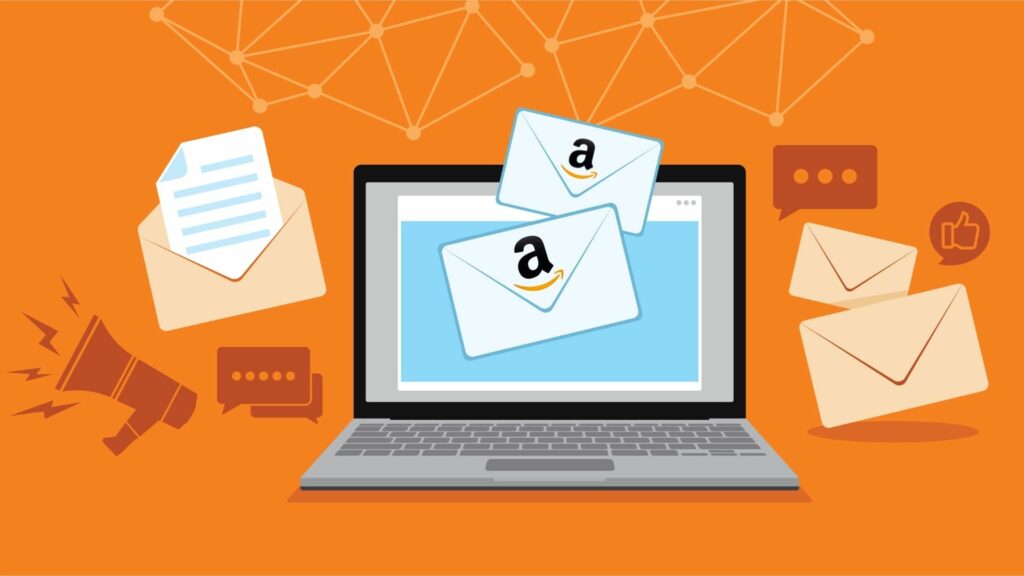 Are you wondering if you can put Amazon affiliate product links in emails?
If you are an Amazon Associates Program participant who is looking for a way of expanding your reach and boosting revenues, putting affiliate product links into your emails is probably a big temptation.
After all, it would be too simple!
More and more bloggers and affiliate marketers are becoming switched on to the potential of email marketing and if you have accrued a healthy subscriber list it would be easy to divert their attention to your affiliate links…
However, as an Amazon Affiliate, you will need to exercise restraint when it comes to putting Amazon Special Links in emails.
Amazon's terms and conditions of the Amazon Associates Program, clearly state that Amazon Affiliates cannot put their affiliate product links into emails, as this is a link placement that is outside your website.
Amazon is explicit in declaring that Special Links are specifically for your website.
Section 2(b) of the Associates' Program Participation Requirements states:
"All Special Links must be accessed directly from your Site.".

Amazon Associates Program Participation Requirements
Frustrating isn't it?
But as we will see, there are some good reasons for not putting your Amazon affiliate product links in your email marketing, both for you and Amazon.
And try as you might, it's not worth trying a workaround as if you do not comply with the Agreement terms, you could find yourself suspended or kicked off the program altogether.
So in this article, we are going to dig deeper into staying on the right side of Amazon with your Special Links and the wider topic of using affiliate product links in your email marketing campaigns.
We will also look at other places where your valuable affiliate links can be placed legitimately.
Ready? Let's get into this!
What's up with Amazon's ban on affiliate links in emails?
Amazon is very strict about the way in which its affiliate links are used.
Successful applicants to the Amazon Associates Program can display affiliate links, known as special links, on their website.
As you will know, it is these links (that carry your Associates ID), that do the hard work of the tracking and reporting needed for you to accrue your commissions.
Website only!
You can create special links of varying types to place on your website.
The Associate's Program Participation Requirements state that you can choose where links are placed on your website.
When publishing special links, it is your responsibility to ensure that they are properly formatted so that your referrals can be traced by Amazon and you can get paid.
As I mentioned above, Amazon is explicit in declaring that Special Links are specifically for your website.
As the party with sole responsibility for your website you are held responsible by Amazon for the compliant display of Special Links and associated Program content as well as other content on your website.
I've taken a look at the Operating Agreement and have found that Amazon has wide-ranging limits on using affiliate links in places other than your website.
Amazon places limitations on the types of promotional and marketing activities you can do in relation to Associates Program-related content and links.
I've found that it's best to avoid anything that is not expressly permitted under your Operational Agreement.
In particular, Amazon refers to promotional activity that is offline or outside of your website including:
"any Special Link in connection with email, offline promotion or in any offline manner (e.g., in any printed material, ebook, mailing, or attachment to an email, or other documents, or any oral solicitation)"

Amazon Associates Operating Agreement
Amazon affiliate links are also banned from being used in client-side software, like browser add-ons or apps, or electronic devices like smartphones or internet TV dongles.
Private messaging like WhatsApp, Telegram, and social media accounts is a no-no too.
They have zero patience for scams, making it clear that you should not hide or cloak the source URL of your special links in such a way that Amazon is unable to determine the site or app that a customer has clicked through to get to the Amazon site.
The issue with affiliate links from Amazon being in your emails is also tricky if you use web content in your email newsletters that contain Amazon affiliate links.
Though this was not intentional, Amazon may deem this as a breach of your Agreement, though you would be notified first so you can remedy the situation.
Remember that Amazon is expecting to track your referrals from a specific, live online location, so using them inappropriately interferes with this process.
Understanding why Amazon bans affiliate product links in emails is all about knowing your place.
Amazon is fiercely protective of its relationship between itself and its customers and wants it to be an exclusive one.
Just because you are an affiliate it does not mean that Amazon's customers are now your customers.
So the direct interaction that comes with email marketing to promote Amazon links is a dicey manoeuvre that could be treading on toes.
Especially if Amazon customers start emailing you about the purchases you referred them to.
If you are contacted by customers by email, part of the Agreement states that you must direct them to Amazon to deal with any customer service issues.
Running afoul of Amazon's ban on emailed affiliate links could see the company cutting ties with you.
At any given time, Amazon is able to suspend your agreement and participation in the Amazon Affiliates Program or even close it and withhold your revenue.
A 21-day suspension is most often due to some non-compliance with the Agreement and any relevant laws.
You are usually notified by email.
In the event of suspension from Amazon Affiliates, you lose your right to accrue income and access or use program materials and content.
Affiliates need to stay up to date with Amazon's agreement terms and conditions and other policies and guidance that can change at any time.
At the time of writing this article, this is their current position on affiliate links in emails.
Always ensure you are receiving your email notifications and the most up-to-date versions of the Amazon Associates Program Operating Agreement which supersedes all previous versions.
There is a workaround for boosting your Amazon sales with your email subscriber list.
Even though you cannot share your Amazon affiliate links, your email subscribers can be referred back to your website where they can then click on your promoted products.
Therefore if you are primarily using Amazon Affiliate links, your priority in email marketing is to create content that gets your subscribers visiting your website regularly.
Alternatively, you can shop around for an alternative affiliate program that does allow you to place links in emails.
Diversifying your affiliate partners is always a good idea and may generate higher commissions.
For example, Target and Walmart allow their affiliate product links to be shared with prospective customers via email.
So while limiting Amazon links to your niche website, you could be promoting identical products from Walmart or Target using your email list.
All eyes on email marketing!
In recent times email marketing has emerged as a very effective communications channel that provides the opportunity for targeted direct marketing to individuals who have actively expressed an interest in your content and want to stay updated.
This is also known as opt-in email as these subscribers have chosen to opt-in to receiving emails from you.
I think bloggers and affiliate marketers need to start growing an email subscriber list as soon as possible, as it is like a super concentrate of your website audience that you can keep and market to outside of your website.
If you missed it, I talked about how I am taking back control of my online businesses through proactively engaging like-minded subscribers through email marketing here at Carlbroadbent.com:
Unlike organic, referred, or paid traffic to your website, the content you produce and share via email will go directly to their inbox, with a high potential for conversion to being paying customers somewhere down the line.
In fact, Amazon does encourage Associates to drive traffic to their site through opt-in email.
Amazon clearly understands the power of opt-in email and has no problems with Associates using email marketing to drive traffic to their websites and boost sales from existing customers.
Indeed, as long as you don't post their links, they suggest that affiliates create newsletters and emails with content that will be useful and relevant to your subscriber base.
Amazon Associates can use email to share reviews and recommendations of different products alongside their website updates news, following Amazon's best practices for email marketing which include being clear about the origin of your emails, providing honest subject lines, and providing a clear opt-out option.
It is never too early to start building your subscriber list!
I have shared more on the potential of email marketing and how to build a list of email subscribers in my article "How to get your first 5000 email subscribers".
Why adding affiliate links to emails could be a good idea.
Using email marketing as a channel for generating affiliate sales can be very profitable if you are able to stay ahead of the terms and conditions of the Email Service Provider (ESP) that you use.
If your subscribers are fully engaged and open to receiving content from your business in email format, relevant affiliate links should have just as good a response as they do on your site.
With email, you can be much more focused and show your links to an audience who have already indicated a keen interest in your niche and products by opting in.
If you are already running email marketing campaigns, the inclusion of affiliate links in your email content is likely to provide an uplift in the clicks and sales you need. As long as the links can be properly tracked you are able to earn in this way.
The position of Email Software Providers (ESP) on adding affiliate links to emails.
The traditional position is that affiliate links should not be posted in mass email broadcasts, but across the ESP industry, their position has shifted markedly in recent years, due to the expansion of transactional email software and novel email marketing methods.
Generally, you are able to include legitimate affiliate product URLs in the emails you send to your subscriber list as long as the email is not spammed with links and the URLs you include are not denylisted.
Denylisted URLs are blacklisted URLs that usually belong to sites that deal in harmful or prohibited content. However legitimate sites can get blacklisted too.
ESPs will scan all URLs against denylists as well as blocking broadcasts which include links that might be suspicious for other reasons (e.g. cloaked links).
ESPs need to maintain their reputation and credibility with the ISPs they use, meaning that they will have a low threshold for anything that could be construed as spam.
Does AWeber allow affiliate product links in emails?

AWeber has gained a reputation among leading affiliates for allowing affiliate marketing by email on their platform, enabling you to place affiliate product links in the emails you send through them.
This affiliate marketing-friendly ESP permits you to send out promotional offers and articles with live affiliate links. Aweber also provides comprehensive email marketing metrics so you can track who is clicking on the affiliate links that you include.
However, just like any other ESP, they do not take kindly to spam and if your email content meets that definition, you may find yourself fined or kicked off the platform.
Does MailChimp ban affiliate product links in emails?

MailChimp is well known for banning affiliate marketing, but actually, you can publish affiliate product links in emails that you send with them.
It seems that MailChimp does not want its accounts exclusively used for affiliate marketing but if your content is not solely centered on your affiliate links and getting people to click on them your emails should fly through unhindered.
Full-time affiliate marketers tend to avoid MailChimp because they actively scan links and have a low threshold for suspending your account if any link appears suspicious.
Are you allowed to put affiliate product links in ConvertKit emails?

ConvertKit considers certain types of CPA affiliate marketing that are heavily promotional, inappropriate for their platform. They do not want emails that are all about promoting someone else's products and services but will welcome emails where you promote your own. Their ethos is about digital creatives marketing and sharing their own content and products.
They will accept affiliate links in their email as long as their use is measured and proportional.
They suggest that at most, no more than 30% of an email's content should be related to affiliate marketing.
Email affiliate marketing is certainly effective, but I am not convinced that it is a viable long term strategy.
I think that an email subscriber list is a great investment of time and effort for any internet entrepreneur.
And when used properly, email lists are capable of providing an income stream with sustained growth.
However, for email marketing to be successful you really have to peddle it with campaigns and high throughput of content to keep your subscriber list engaged.
Once a list goes cold, it is difficult to warm it back up again.
Your email subscribers are an audience just like any other and you will need to keep finding new content to put in front of them.
But unlike your website where they can browse for hours, you will need to keep generating new content pieces which last as long as an email does in a subscriber inbox.
If you are in search of passive income you need to be producing profitable income, that is evergreen and keeps users returning again and again for years, long after you've downed tools on that site.
So you need to strike the right balance and ensure that in the quest for short-term sales, your long-term content strategy is not neglected.
Alternative strategies for getting your affiliate product links in front of customers.
I'm all for thinking creatively when it comes to growing my online businesses.
You cannot afford to sit still when it comes to affiliate marketing as the rules change all the time.
If you are determined to diversify the range and types of affiliate marketing programs you participate in, you will soon find you have a lot of options for getting the products and services you promote in front of the people who are looking for them.
Let's take a look at other places where you can place affiliate product links from Amazon and other companies on a 100% legitimate basis.
YouTube
For me, I think that growing a YouTube channel is just as, if not more important than building your email subscriber list. You may have come across my Carl Broadbent YouTube channel, which has just celebrated its one year anniversary:
I've had an amazing time on YouTube and have been fortunate to find a thriving community of fellow creatives and subscribers from who I learn so much.
YouTube provides tremendous scope for even the most camera-shy affiliate marketer to generate income through sharing affiliate links with the relevant content and information users are looking for.
With over 2 billion people logging into the world's premier video platform every month you are bound to get views for the videos you make which could be tutorials, reviews, vlogs, or best of videos.
Affiliate links can be added to video descriptions, annotations within the video, or comments and pinned posts.
Better still you can put your Amazon affiliate product links on YouTube provided you have registered your channel with Amazon on your Amazon Associates Dashboard.
LinkedIn
LinkedIn has been under the radar as a source of affiliate income, but the truth is, if you have a large and engaged following, you are well-positioned to exercise your affiliate relationships on the platform.
With over 750 million members across 200 countries, posts, articles, and videos can have a tremendous amount of reach.
Being a social network for professionals, etiquette is key, but if you have informative, engaging or uplifting content to share, LinkedIn does allow you to include affiliate links. Just make sure that they are properly disclosed.
Pinterest
You may have missed the bonanza the first time around, but from what I hear affiliate links on Pinterest are back and Amazon are in on the game!
Pinterest famously had to ban affiliate links, due to spamming and other abuses, but in recent years they have welcomed back responsible affiliates who provide interesting and informative pins with disclosed affiliate links.
Amazon Affiliate links can be posted on Pinterest if they use your Tracking or AssociateID
Landing pages
If you are using your email subscriber lists to run discrete campaigns that you do not want to affect the day-to-day operation and online footprint of your website, you may want to consider using landing pages that are linked to your site's domain but hosted via your Email Service Provider.
Most ESPs provide landing page builders that you can link to your website, but use separately to provide a high-converting landing page for your campaigns and legitimately insert your Amazon special links.
I think that landing pages are the perfect partner to email marketing and as the URL for the pages are drawn from your main website, you won't get penalized by Amazon.
Why not have a quick read of my article "Do you need a website to create a landing page?" to see how it all works?
I'm sure you can see that whether you use email for your Amazon links or not your affiliate marketing businesses have amazing scope for growth!
As long as you play by the rules and keep your users, site visitors or viewers clear about your affiliate links, you will be able to find more and more creative ways of getting them in front of the people who are going to click on them.
This industry is all about experimentation and finding new strategies that will provide the return on investment you are looking for.
Before you go!
If you're looking to start a new website then maybe you should consider an aged domain. No waiting for that 7-9 month sandbox before you see some results. Get fast results by using aged domains. I recommend ODYS which is where I purchase mine from.
What's the fastest way to monetize your blog? Display ads of course and you can't go far wrong with Ezoic. You can also join their program with a small and even brand new website. By using my link to their Access Now program you'll get quick access to high-paying display ads for your website. Start earning money today! Sign up here.
and finally…
All websites need one thing. Content, whether that be outsourced content like I get from BuySellText or AI software that will write it for you like Jarvis.AI. Currently, the best tool out there if you like AI software.
If you can't see the tool or resources you need here. Check out my resource page which is packed with helpful tools, software, and apps that can help you maximize your revenue and grow your website faster. Many of which are discounted if you click my affiliate link. See my resources page.