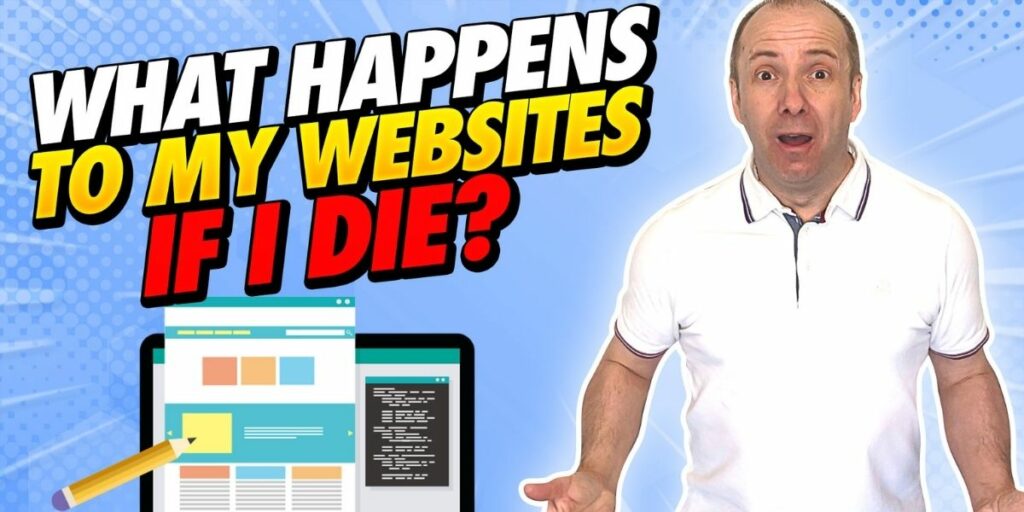 When you are working hard on your online labour of love, the last thing that is going to be on your mind is what will happen to your websites and income when you die?
You know, I'm wading out there with this article but as online entrepreneurs with growing ventures, I think it is really important that we take the time to consider who will be the recipient of our efforts if we are no longer around?
If you are subscribed to my YouTube channel you may have seen my post and survey asking this very question or commented about arrangements you have made for your spouse and children.
More than half of the people who were responding hadn't really thought about putting plans in place for their websites and income to go to loved ones if they died!
So, I am thinking that it will be worth it to explore this.
We'll look at what happens to websites and their revenue when the website owner is deceased and some possible steps we can take to ensure that the digital assets we have worked hard to build are passed on to loved ones in line with our wishes when we are gone.
It's important to also mention that this article is not legal or financial advice, but food for thought if you are an online business owner who wants to ensure that your loved ones are provided for in the event of your death.
Until recently, consideration of what happens to your possessions after you die would have been limited to physical or financial property.
Houses, cars, heirlooms, and money obviously have to go somewhere or to some nominated person.
But the rise and rise of the internet means that we are also amassing digitally held data, intellectual property, business, and money, which increasingly carry considerable value and the potential of ongoing revenue for a beneficiary.
So, what happens to a dead person's website?
There are almost 2 billion websites that are online in the world, and with only 400 million of them estimated to be active, a proportion of these domains are likely to belong to people who are no longer around.
However, without explicit arrangements for how these (what lawyers call) intangibles to be handed over.
There is a real possibility that a large part of your entrepreneurial effort, creativity, and enterprise will simply fade out of the search engine rankings and be deleted by the host, often despite the best efforts of executors or loved ones.
Without taking action to transfer the website's domain and hosting to a living person, the domain and hosting will eventually expire and the website(s) will be deleted.
The situation for a dead website owner is pretty much the same as if you stopped paying your hosting bills.
A hosting company or registrar will reach out to the dead person with reminders for the outstanding bills and renewals.
There may be a grace/redemption period, but if there is no response the website files will be deleted by the host, and the domain will expire and pass back to the domain company for sale to someone else.
A similar situation will exist for any affiliate, advertising, social media, and software accounts and subscriptions that will, in the majority of cases, leave relatives locked out if they do not have your password or legal authorization for access in place.
This is a raw deal if you have sites that pull in even a modest income that could really benefit loved ones in a time of need.
It's not hard to imagine that finding what may have been the breadwinner income to a family is abruptly stopped will be devastating for a bereaved family.
More and more, I am beginning to understand that digital assets need to be handled in the same way as real-world assets
I guess that over time, as my websites have grown I have transitioned in seeing them less as a speculative venture and more as decisive properties, that require the same care, management, and diligence as a brick and mortar business.
It is important to remember that an affiliate marketing website meets the definition of an asset, even if the financial and legal worlds have not caught on: The Oxford English Dictionary defines an asset as:
Key digital assets you could be carrying include:
Blogs
Payment gateway accounts like PayPal or Stripe.
Affiliate accounts like Amazon Affiliates (which could be holding large balances)
Online advertising accounts
Cryptocurrency
Social media accounts
Software subscriptions
Hosting
Email accounts
Messaging apps
This would make your websites, online accounts and the revenues they generate the concern of an executor, if you have a will or the excercise of intestacy laws if you are without a will
An asset is definitely something I want to ensure goes to my wife and children.
But I am finding out that I will have to be decisive, proactive, and meticulous if I want to ensure that this actually happens according to my wishes.
The legal recognition and protection of digital assets are nowhere near as defined or matured as their physical counterparts
According to British solicitors Gaby Hardwicke, there is significant uncertainty as to whether your digital content constitutes property or chattels in English Law.
This area is made even murkier when you consider that social media accounts and email service subscribers assert that content is owned by them and not you, the user.
I'm not sure about the US, but in the UK at least the law is pretty uncertain on the ownership of certain forms of digital content and the rights of access or ownership by an inheritor after the owner has died.
You will need to take action to ensure that your online assets are secured in such a way that they are accessible to a nominated executor, next of kin, or inheritor
After all the hard work you have put into providing your household with the benefits of long-term passive income, it's inconceivable that it should be all thrown away, simply for lack of planning.
Now is always the right time to ensure that you are prepared for the unexpected, by having sound plans in place for your websites/Income to go to your family.
As I mentioned above, things are not clean cut in the legal world so it is vital you take the initiative and provide explicit directions for the transfer of your online business to your heir.
Lawyers can assist, but only you know the structure and true value of your online businesses. Let me share with you the steps I am taking:
#1 Write a will outlining what should happen to your website when you die.
Drafting a will does not require wigged notaries, parchments and quills.
It is actually easier than it has ever been to set in place a formal legal document outlining how you want your website and other assets to be distributed, as well as nominating a person to manage your estate, known as the executor.
Despite the accessibility of affordable online will writing services, more than half the UK's adult population do not have one in place, which is also important if you have dependents under the age of 18.
Wills can be used to formally set out matters concerning your digital ownership including the transfer of personal digital data, domain name and hosting credentials, and logins for all online accounts that you hold.
Companies like Facebook are increasingly stepping up with memorialization, legacy contact designation, and deletion options. Google has similar arrangements and the option of extracting data.
However, the onus is on you in making it clear what the executor and inheritor of your estate should be doing.
A solicitor will be able to prepare the arrangements for the release of the logins to your executor along with documenting explicitly that they have the authorization to access your accounts and manage them to keep your site running.
For some domain companies, you may need to also have logged photo ID that can be used to verify these access requests, so that needs to be prepared too.
A will should include a collated sheet providing access details to all of your digital assets. I noticed that some of my fellow affiliates are using password management apps like 1Password or LastPass for this purpose.
Your executor should have access to this and perhaps also the beneficiaries of your estate if you think it's appropriate.
If you intend that the websites should be sold on your passing, you are likely to know more than a lawyer about how this can be done for maximum profit.
Take care that your will clearly expresses your wishes in this area and perhaps provide brokers or agents who would be able to handle a sale.
#2 Familiarize yourself with the terms and conditions for every service provider, affiliate program, social media account and payment gateway that your online business interacts with.
This really should be the preserve of a hardworking lawyer, but in reality, it is going to be down to you to be fully abreast of your position with the various digital service providers you use in the event of your death.
This is vital because so much of what we do online is in the hands of digital content or service providers, who are really third parties to the arrangements set out in a will.
Most companies will have FAQs or terms and conditions that outline what actions should be taken in the event of an account user's death and how to transfer access rights.
Stay vigilant for changes in contractural arrangements and be prepared to update your will accordingly.
#3 Provide personally authored, detailed instructions that outline to your executor and heirs how your websites work.
Even with a well-drafted will in place, a spouse, dependent or relative may have absolutely no idea how the maze of domain names, hosting accounts, plugins, content management systems, affiliate accounts, ad platforms, and other software all fit together to generate the income you had all been enjoying.
One of the big issues is that for many online business owners, only you know how the whole thing works.
This means you have to explain very carefully how the sites are to be maintained if you want your loved ones to enjoy ongoing income from your work.
This is also crucial for properly valuing and administrating your estate. It would be a shame to have bank accounts, property, or other assets used to satisfy bills when your affiliate sites could have more than done the job.
#4 I am making a walk-through video of all my digital assets, values and instructions.
As I'm leaving nothing to chance, I have decided to go a step further by making a video explaining everything my wife and kids will need to know about my portfolio of websites.
Making a video means that I can explain things in a way that may come across more effectively than a written will, in a way they are familiar with and can understand.
I want to provide my family with counsel on all their options when it comes to the sites and the value that is stored in them.
I can't guarantee what will happen so I am setting out all their options, for selling the sites for the best price or continuing to run them as a business.
Once I'm done the video can be downloaded onto USB to be kept somewhere safe. As with everything in this changing world, I am prepared to update my video as circumstances change.
An online business is more than just cash flow. It needs to be properly structured, managed and operated to have the potential for exit value or take over if you are gone
Thinking about what will happen to my websites when I die and reading the responses of fellow affiliate marketers and bloggers has got me thinking about how dependent my businesses are on me to run them and how I can get them to stand on their own two feet!
I recently posted this question on my community page on YouTube: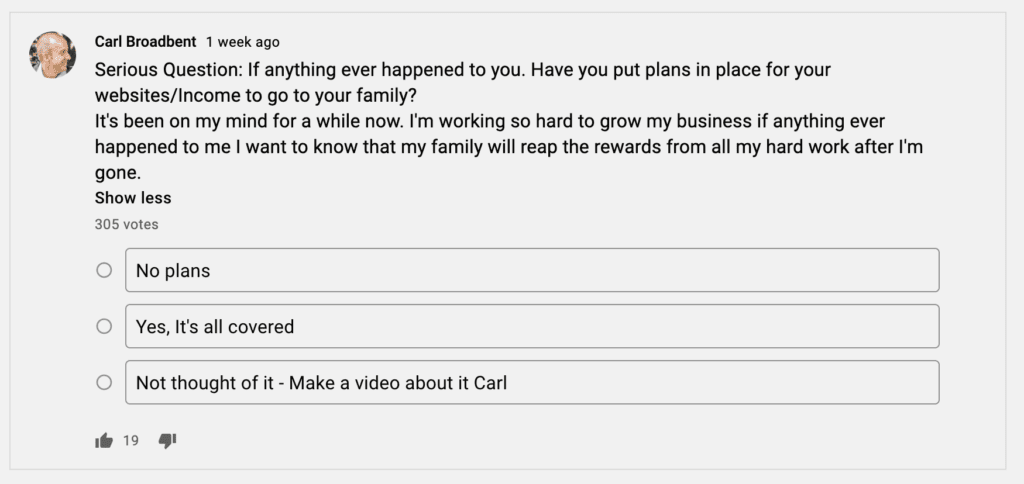 Look at what blogger Zaheer said in response to my question about putting plans in place for your websites and income when you die:
"Think about it all the time Carl.

This is why it's important to try and aim to have a business which "removes" you and can run by itself!

Easier said than done though.

Most parts you can outsource, the keyword research is the hardest part for me.
Which would essentially leave whoever takes over to manage payments and general admin and lessen the burden on them!"
I agree. When I look at how my businesses run now, I am increasingly working with a team of content writers, editors and proofreaders, webmasters and developers, and social media marketers, who all assist me in keeping the show on the road.
I am also always looking for effective methods for including automation in my day-to-day business tasks too.
Over time, as my passive income streams mature I will certainly be looking for ways to be more of an owner in absentia, which would definitely make my businesses more valuable to a buyer and easier to manage by an heir.
This means that considering what happens to my websites when I die should be part of my long-term financial planning, dovetailing seamlessly with my quest for passive income.
A thriving digital business is an opportunity to establish a legacy
In other places on this site, I've talked about being an entrepreneur and the amazing scope for growth that affiliate marketing, blogging, and other online businesses provide in this area.
When I started affiliate marketing, I could never have imagined that I would have left my 9 to 5 lifestyle, earned a significant income, and found an amazing online community of fellow digital entrepreneurs and creatives.
I really think that online businesses like these, provide the opportunity to establish a legacy that can do many positive things for many people, whether or not you are around to see it and provide reassurance that your hard work has not been in vain.
For example, while you are living, you can use your online venture to:
Secure your family's livelihood: In uncertain times, a matured business is a valuable source of occupation for your spouse and children. Depending on your circumstances, you may want to involve your family in the day to day running of your website(s). This may have the short term benefits of saving on outsourcing costs, and long term, if you are gone, the business will continue to be run by your family as it always has done.
Provide employment for others: It's likely that you are already providing work to content producers and other digital professionals, which is an amazing achievement in itself. Scaling your venture to become a significant media platform is entirely achievable if you have the right team behind you. These work relationships can prove to be enduring and invaluable in helping those who take over your business when you die while they find their feet.
Teach others how to become online entrepreneurs: For me, affiliate marketing has changed my life and is now much more about how I can help others achieve similar goals than simply making money. That's why I have set up CarlBroadbent.com, to document and share my journey to building full-time passive income and all the useful things I have learned along the way. I hope the information I share can benefit many people around the world whether I am here or not.
Last-minute tips for preparing a plan for your website after you die
Be discerning about legal and financial advice. Digital assets are an evolving area of inheritance and tax law and require expertise when wills and other arrangements are drafted. Do as much research as you can and don't just leave it to a law firm to have your family's best interests at heart.
Talk to your spouse/children/next of kin. If you ran a fish and chip shop or owned a window cleaning firm, your family would not be completely in the dark about how things work. Get them involved, interested and engaged in what you are doing, so they can understand the value of your website and how it should be run. It's not just death that causes a situation where you cannot run your income generating website, illness or family emergencies may also mean that your other half has to step in and keep things going.
Have everyone on page when it comes to updated plans, from contents of your will, to a new password. Without making it the dinnertime discussion every day, ensure that people who need to know are clear about the arrangements that have been made. In the UK, the percentage of contested wills is on the rise, but well set-plans should hopefully keep strife at pay.
Make preparing a digital inheritance part of making future-focused plans for your life
I know that this has been a thoroughly morbid topic but when we consider death, it can be a prompt to consider our motivations and reassess what we want to do with our lives.
The fast pace and demands of affiliate marketing can be relentless, leaving little time to take stock of the overall trajectory you would like for your professional and personal life.
Perhaps as you pause to set your affairs in order, you can use this time to also review and renew your plans for the future. Remember becoming an online entrepreneur is all about the journey to a productive life!
Before you go!
If you're looking to start a new website then maybe you should consider an aged domain. No waiting for that 7-9 month sandbox before you see some results. Get fast results by using aged domains. I recommend ODYS which is where I purchase mine from.
What's the fastest way to monetize your blog? Display ads of course and you can't go far wrong with Ezoic. You can also join their program with a small and even brand new website. By using my link to their Access Now program you'll get quick access to high-paying display ads for your website. Start earning money today! Sign up here.
and finally…
All websites need one thing. Content, whether that be outsourced content like I get from BuySellText or AI software that will write it for you like Jarvis.AI. Currently, the best tool out there if you like AI software.
If you can't see the tool or resources you need here. Check out my resource page which is packed with helpful tools, software, and apps that can help you maximize your revenue and grow your website faster. Many of which are discounted if you click my affiliate link. See my resources page.