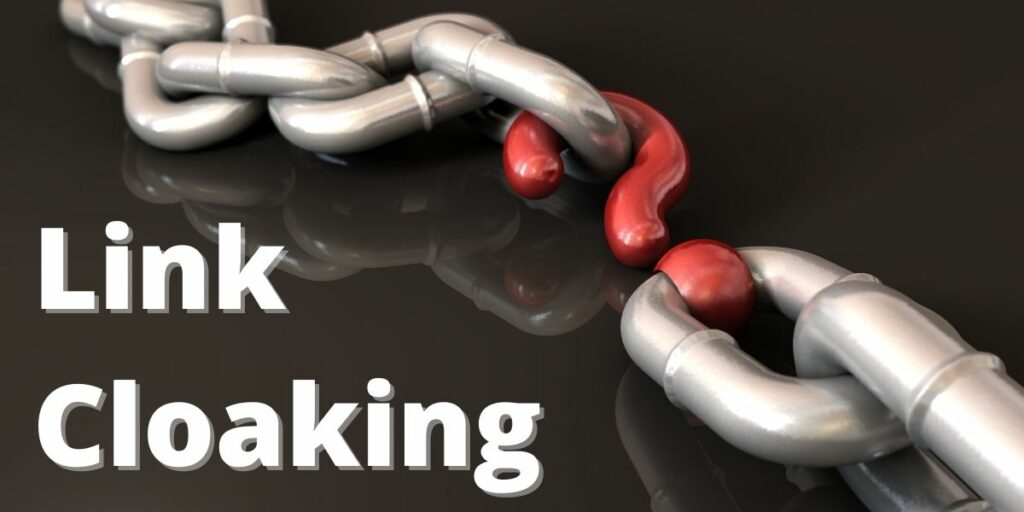 In some ways, this article feels like stepping into the back alleys and murky depths of the affiliate marketing industry. After all, the term link cloaking sounds a little bit shifty and clandestine.
But if you are serious about affiliate marketing, link cloaking or masking is something you may have to do.
And as with most things in the digital marketplace, there's a right way to go about it and a wrong way too.
So let's get to the bottom of what link cloaking is all about and how it can be used legitimately by affiliate marketers and bloggers as part of their websites.
I think that link cloaking can be a healthy part of affiliate link management which no one can escape in this game.
So join me as we uncloak, or lift the lid on link cloaking!
If you are wondering what link cloaking is…
Basically…
Link Cloaking is an SEO technique where URL destinations hidden from users or routinely redirected. The destination URL link is disguised with an alternate or vanity link that is more discrete and presentable to website visitors. When the vanity link is clicked they are then redirected to the true destination URL.
This practice, also known as URL masking or URL cloaking is widely used by affiliate marketers who want to discretely conceal their affiliate URLs originally from search engines, but lately to a better user experience as the user will not see an affiliate URL.
The process is not too different to using a URL shortener to make a long and unwieldy URL easier to use.
With link cloaking, webmasters can shorten or brand URLs and controlling or concealing the information that they contain as needed.
Link cloaking is distinct from the other, more clandestine cloaking practices.
Black hat SEO cloaking practices are designed to present different content to website users and search engines. Examples include providing HTML text to be crawled by the search engine, while website users see images.
Hackers also use cloaking to stay under the radar in a compromised site Doing this is very shady and instantly violates Google's Webmaster Guidelines.
Implementing likely to earn your site penalties or worse, have it delisted.
Even with cloaked links, you can run foul of Google if users are presented with different content than expected when they clicked on the link, so it's essential that you know the difference.
When you get it right, I've found that link cloaking can have some pretty decent benefits for your affiliate site.
Redirecting your affiliate links is about much more than hiding your affiliate staus from users or bots. Here are three sound reasons for implementing link cloaking that all affiliate marketers should be aware of:
1. You can create concise branded links that are memorable
If you browse your repository of affiliate links I'm sure you will conclude that they aren't very easy to remember and those long straggly codes can appear spammy to an uninitiated website visitor.
It sounds vain but vanity links will help your URLs look tidy and easier to use.
Permalink structures that vary between the affiliate programs you are part of can also be standardized so their structure remains consistent throughout your site.
Links that include the product or brand name inspire confidence in users that they are clicking on the item that they want, with you benefitting from an enhanced click-through rate.
2.You can use link cloaking to keep your affiliate links organized
The link cloaking software and scripts that we mention below enable you to centrally manage the many links that are scattered throughout your content.
If you need to change affiliate links, competing for the task manually would be time-consuming and error-prone.
You can also handle no-follow to make sure that you do not lose PageRank to your advertisers.
With link cloaking plugins or software, everything is in one place for you to manage as you wish.
3.Concealing your affiliate IDs can be a critical security step
Exposing your affiliate IDs in raw URLs can pose a significant security risk for your site, especially if it is high revenue.
Hackers and malware attacks can target your affiliate IDs which can be traced by scanning your link URLs and replacing them with their own.
This type of attack often goes unnoticed for a while but can rob you of your commissions.
And don't worry, by using the link cloaking strategies below you shouldn't run foul of Google
HubSpot and other SEO experts are clear that link cloaking, when done correctly, should not harm the performance of your website. This means that you have every reason to take advantage of the benefits I shared above.
What are my options for cloaking my affiliate link URLs?
There are basically two options for handling the cloaking of your affiliate link URLs. For me, one is definitely more error-prone than the other.
1. Manually redirect your affiliate links using a custom script and redirect folder.
To pull this off you will need to unleash your inner developer.
Yoast has authored a script for redirecting affiliate links that you can add to a WordPress website.
The process involves creating a folder where you can manage your redirects with the script working to redirect links to your affiliate URLs.
You can find Yoast's redirect script here.
2. Use a WordPress plugin to centrally manage your cloaked links.
If you prefer a WYSIWYG approach to handling your website you will find using link cloaking plugins a convenient solution, with many free and premium plugins available for WordPress.
This method is far easier and keeps all of your affiliate links in a convenient location.
Non-devs like me can simply add a link cloaking plugin and follow the instructions to manage the cloaked links they create.
You have to choose between plugins that provide affiliate management and dashboarding and those that deal specifically with cloaking links. Examples include Thirsty Affiliates and Pretty Links.
So, you are fully tooled up to give your affiliate links the makeover they deserve!
Link cloaking is definitely an option for affiliates who want greater organization and control of their affiliate links.
Setting aside search engines, I think it is advantageous simply because the user can click on a link that is clearly identified as being related to something they want which is a big boost for converting sales.
I hope to take a closer look at some of the plugin options available soon.  
Before you go!
If you're looking to start a new website then maybe you should consider an aged domain. No waiting for that 7-9 month sandbox before you see some results. Get fast results by using aged domains. I recommend ODYS which is where I purchase mine from.
What's the fastest way to monetize your blog? Display ads of course and you can't go far wrong with Ezoic. You can also join their program with a small and even brand new website. By using my link to their Access Now program you'll get quick access to high-paying display ads for your website. Start earning money today! Sign up here.
and finally…
All websites need one thing. Content, whether that be outsourced content like I get from BuySellText or AI software that will write it for you like Jarvis.AI. Currently, the best tool out there if you like AI software.
If you can't see the tool or resources you need here. Check out my resource page which is packed with helpful tools, software, and apps that can help you maximize your revenue and grow your website faster. Many of which are discounted if you click my affiliate link. See my resources page.