If the tornado known as the Google Helpful Content Update has passed through your portfolio of websites, you may be wondering what the *** is going on with your rankings!
Of course, big cats like Semrush, Ahrefs, and SERPRobot are laughing all the way to the bank as we try to make sense of just where exactly our sites are visible online.
If you want to spend more time growing your site than typing in 1000s of keywords or ogling SERP results I want you to take a look at PeakSERP, a quick, simple, and super cheap SEO tool that I think is a great alternative to SERPRobot.

What is PeakSERP?
PeakSERP is a simple, affordable rank tracker, that will track the position of your web pages in search engine page results for the keywords you choose.
It was founded earlier this year by Zak Kann and is proving to be a great alternative to SERPRobot. PeakSERP's nifty bots continually monitor the position of your website, delivering performance across a handful of key metrics on a daily or weekly basis.
I have found PeakSERP to be one of the easiest ways to assess the visibility of my site but also navigate the SERP fluctuations so I can adjust my SEO strategy.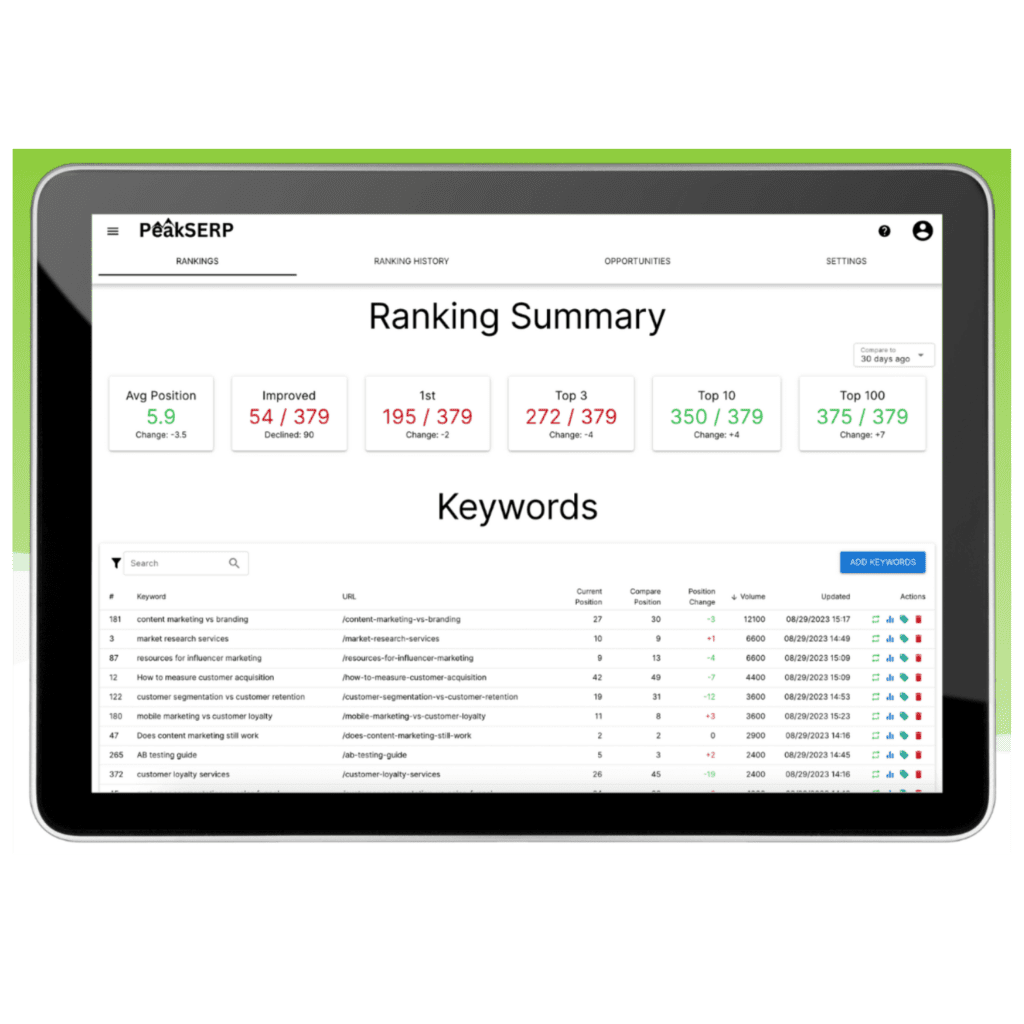 Cui bono? PeakSERP is a great fit for…
Busy bloggers
Affiliate marketers
Independent online publishers
Small biz
Site owners
Webmasters
Digital marketers
Seriously, it's a super-accessible tool that just about anyone can get some value out of. PeakSERP also bypasses a lot of the hassle of typing in a zillion individual keywords by offering simple XML-sitemap exports.
Daily and weekly tracking with separate desktop and mobile rankings provide the oversight you need. And unlike many of the more established rank trackers, it's cost-effective as you'll see below.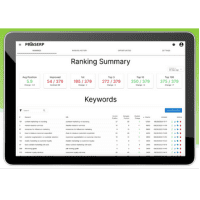 Supercharge Your Blog's Visibility and Rank higher with data!
Get crucial insights during Google Search updates, pinpoint high-impact ranking opportunities, and spy on top competitors—all in a user-friendly interface.
PeakSERP vs SERPRobot
Let's be honest. SERPRobot was a go-to for many of us but it just keeps getting more and more expensive and though it's the current market leader, I feel that PeakSERP provides all the features of SERPRobot with better functionality at a lower price. Here's how the two line up:
| | |
| --- | --- |
| PeakSERP | SERPRobot |
| Unlimited rank-tracking projects | Unlimited rank-tracking projects |
| Results across 100+ Search languages and400+ Search regions | Accurate global and local Google search volumes |
| Adjustable update frequency and data retention for up to three year | Real-time performance reports and historic data graphs |
| Generate keywords directly from your domain | Custom keyword tags |
| Track competitors | Track competitors |
| Desktop or mobile rankings | Individual keyword entry |
| XML-sitemap import | |
| SERPRobot data import | |
For me, the XML-sitemap import has made a massive difference to me, saving time on adding new keywords each time I publish an article or post.
Just use the XML-sitemap to add keywords in bulk and track hundreds of keywords at a keystroke. I also note the cheeky import from SERPRobot, but CSV export would be a great additional feature.
PeakSERP key SEO metrics
You can be confident that PeakSERP gets to the point and gives you a targeted overview of your ranking position without unnecessary metrics cluttering your data. The key metrics provided are:
Average position
1st page
Top 3
Top 10
Top 100
Just remember that when you first set up PeakSERP it will take about 24 hours to get any meaningful results.
Helpfully PeakSERP also tracks Google updates and other seismic SEO events so you can see how your site rankings are impacted and track progress (or recovery).
How to set up PeakSERP
With a portfolio of sites, introducing a new SEO tool can be a real hassle, without much meaningful gain.
But I'm pleased to say that I've been able to successfully make the leap from SERPRobot to PeakSERP without a hitch.
Here is a step by step guide to how to get started on PeakSERP, with photos:
Step 1: Head over to PeakSERP and click the Sign-up button at the top of the page
PeakSERP offers a 7-day free trial so you can test the platform. No credit card is necessary so you can go ahead and sign up.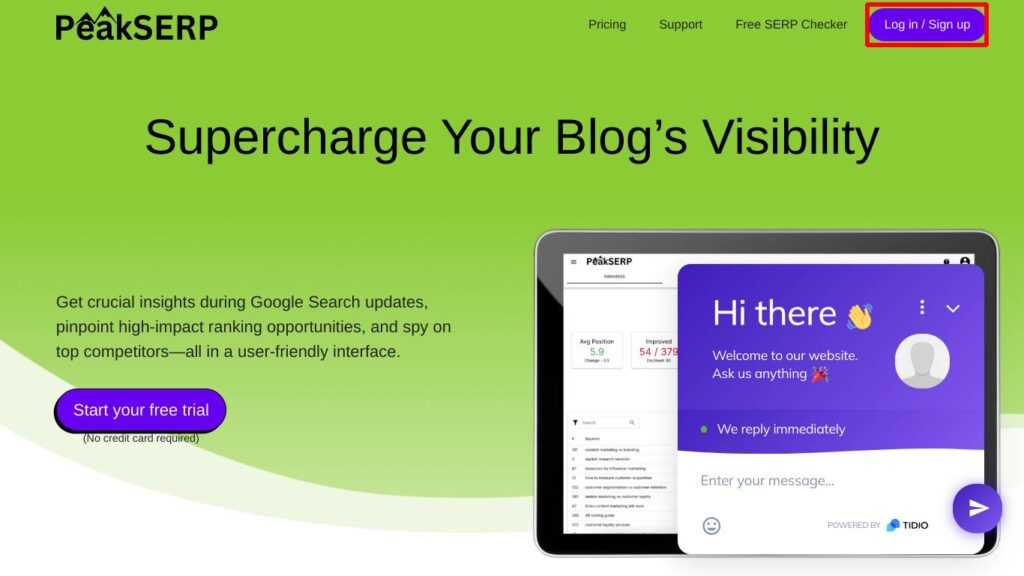 Step 2: Fill in your email address and create a password
You'll need to verify your email before proceeding.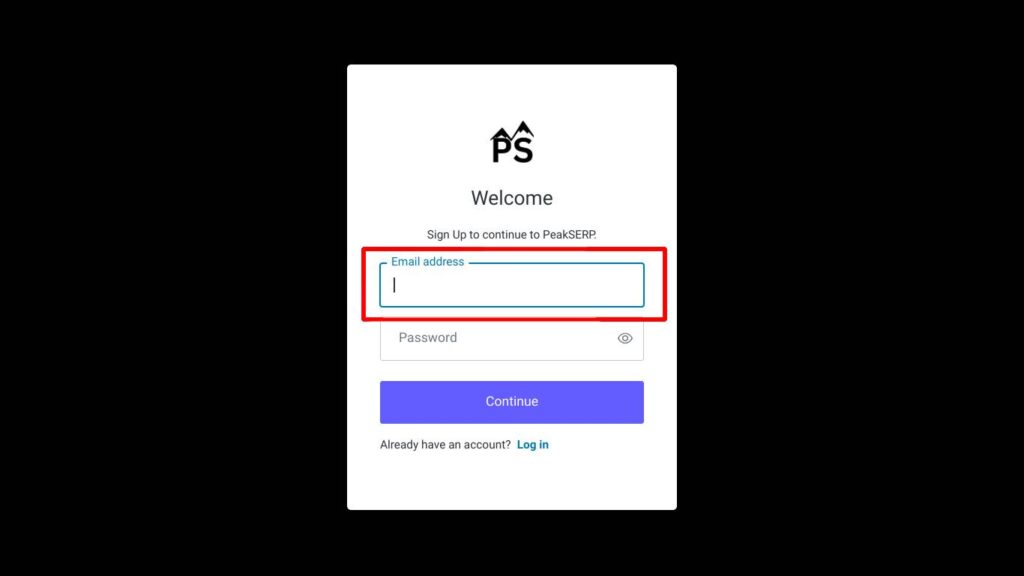 Step 3: Create your first project
Once you're logged in, you can set up your first PeakSERP project, using the web domain of your choice. Just click Option A – CREATE A PROJECT.
Alternatively, you can import your SERPRobot data by clicking Option B – IMPORT FROM SERPROBOT.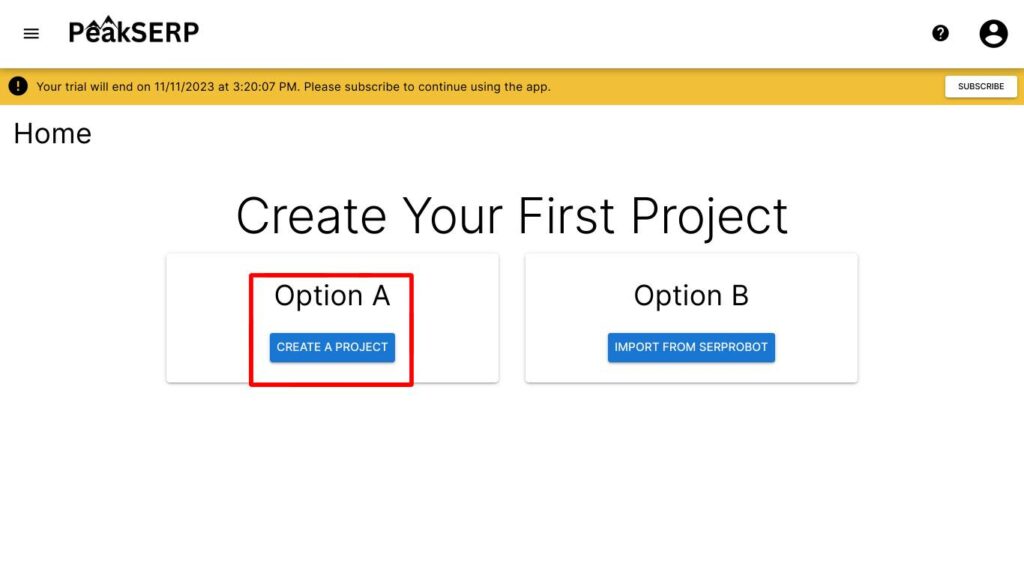 Step 4: Fill in your project details
In the lightbox that appears, fill in the details of your project including:
Project name
Domain
Ranking update frequency
Add keywords manually or by uploading your site's XML-sitemap
Choose from advanced features including search engine, location, language and search device (desktop or mobile)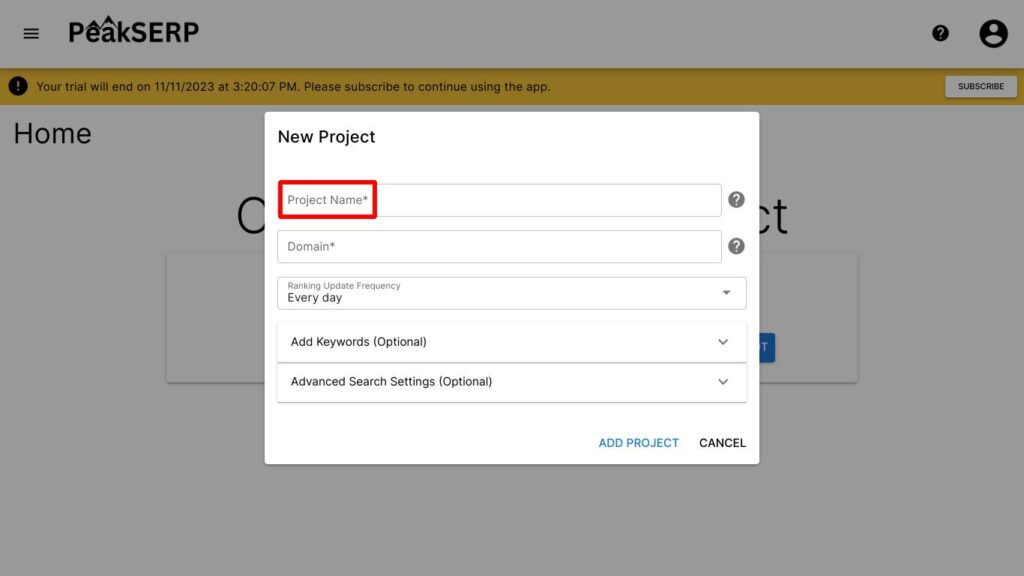 Step 5: Check your Ranking Summary for headline metrics
You'll have all the key positions for your keywords presented on a simple dashboard. Just remember that it will take at least 24 hours for the correct rankings to appear.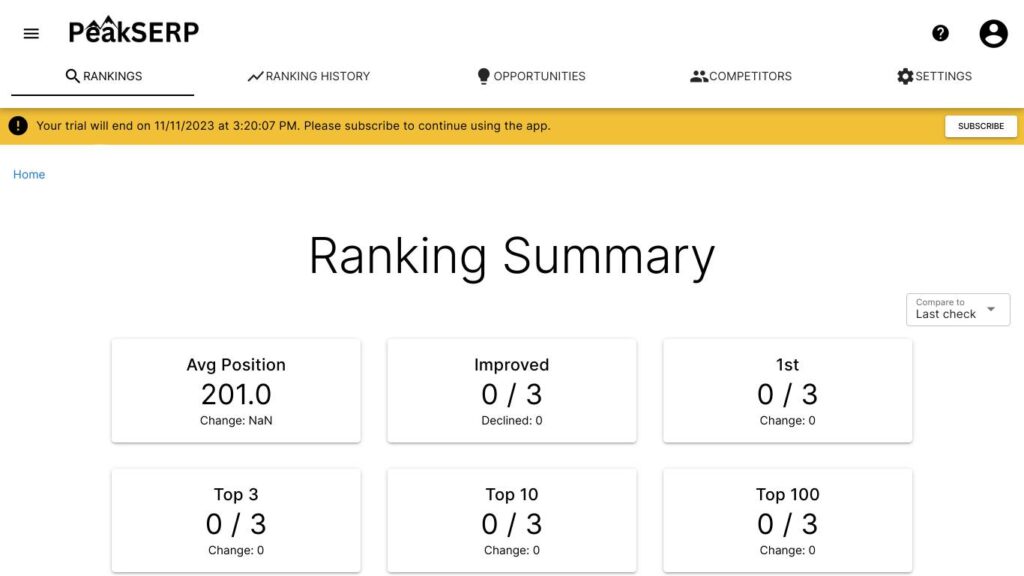 Step 6: Add more keywords to track
Just click the ADD KEYWORDS tab to add further keywords manually or import further keywords via an updated sitemap.
PeakSERP pricing and offer
One thing I like about PeakSERP is the simple low pricing. It makes this rank-tracker budget-friendly, so you can keep using it without watching the balance sheet.
Daily tracking of 75 keywords costs as little as $5 per month, with pricing and keywords scalable according to your needs. 1500 tracked keywords cost 100 dollars per month.
PeakSERP offers a 7-day free trial, allowing you to trial its rank-tracker and see for yourself. It's no obligation and they won't take your card details to sign up.
Conclusion and final thoughts
So far, I'm pretty impressed with PeakSERP as the results seem accurate and consistent. I like that Zak, the founder, is reaching out to users to see what features should be added next. Upcoming ideas include keyword difficulty estimates and traffic estimates. But all in all, this is a solid little tool that gets the job done without breaking the bank.