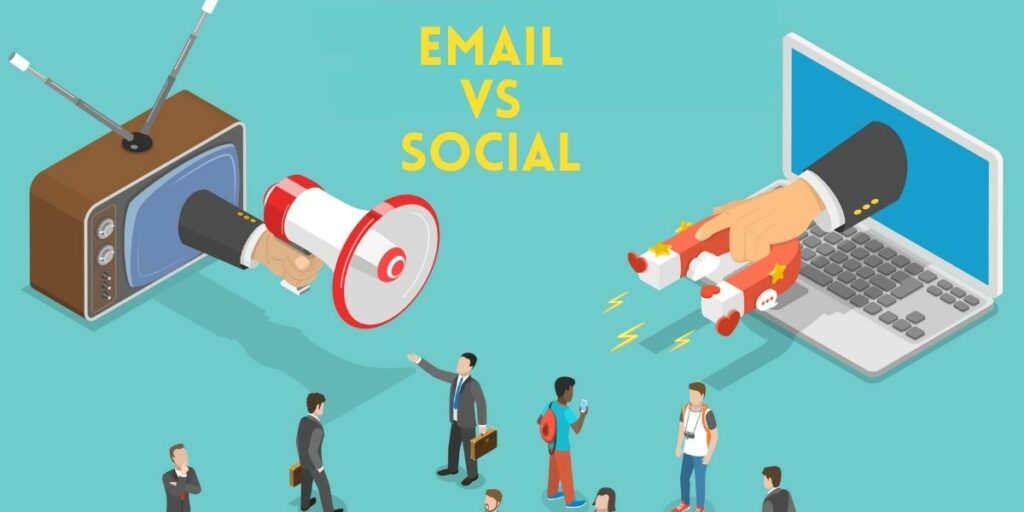 I've found that if you want to increase the momentum of your affiliate marketing, you have to be ready to promote your content outside of your websites.
It's a sure-fire way of consolidating the traffic you drive to your site and keeping your audience engaged.
Two of the most reliable ways of doing this are to use email subscriber lists or set up social media groups.
You have probably already tried one or both of these methods of increasing the reach of your blog posts.
Clearly, building a well-populated subscriber list or group on juggernauts like Facebook and LinkedIn takes considerable time and financial investment.
And when it comes to making real inroads with either method, you may only have the resources to tackle one method.
Weighing up the pros and cons of email lists versus social media groups.
So, which do you choose?
That's what we are going to take a look at in this article.
I hope a comparison of email lists versus social media groups will help you get the maximum ROI from your efforts and build a source of traffic and revenue that will be sustainable long-term.
Let's make sure that we're on the same page. A few quick definitions:
An email list is a list of individuals who have opted in to receiving email marketing from you. An email subscription service is distinct from the automated blog forwarding many websites have. The communications are hosted and delivered by an Email Software Provider that is capable of sending bulk emails to the subscriber list you build.
Social media groups are membership areas that you can set up on a social media platform, which attract people who all have a particular interest or characteristic in common. Group members can ask questions, share news, and offers and of course stay updated with your latest content, offers, products and services. Some social media groups will have open membership while others require vetting by the group admins.
Both email and social media do an amazing job of providing you with access to large audiences and people who like and want to hear more from your brand.
So, let's take a look at the pros and cons of each one.
Pros of social media groups
You cannot ignore the sheer numbers of people you will find on social media
The biggest reason for creating a social media group is the sheer volume of humanity that is out there on the big platforms.
If you can get your head around the numbers, we're talking about over half of the global population, 4.2 billion people, plugged into social media, and potentially, ready to be members of your group.
Social media groups will share your content far and wide
A social media group that you run can quickly become a hub for spreading your content and communications far and wide.
This is because people rarely use only one social media platform. In fact, the average user visits up to 6 social media platforms daily, spending a whopping two hours on this endeavor.
If you put your efforts into getting your content percolating through a group, it is likely to be shared with friends and associates cross-platform, further extending your reach.
Growing a group is great for those helpful social signals
Social signals indicate to search engines that a blog or article you have produced on your site is being shared on social media.
Though it is not a direct ranking factor, it aids in building domain authority for your site.
Your group will be an effervescent source of these valuable signals as members engage with your web content.
Groups give you the opportunity to filter the general audience on the social media channel that you use.
You are working hard to maintain momentum on your social media profiles and pages to broadcast your content to a general audience, much as you do with your website on Google.
However, groups provide a much more targeted audience on the basis that your group members have opted-in to join your group.
This means you have a group that is assembled according to a value proposition that you have offered who will be much more receptive to what you share with them ongoing.
You can have more focused and controlled conversation away from the busyness that comes with churning social media feeds.
With social media, there is so much happening at any given time that it makes for a bewildering experience for users and businesses.
A group provides a slower pace of interaction, where more deliberated and considered communications can be made.
Because group members have chosen to come together because of a specific topic, interest, or service you are providing, people will be much more prepared to read and complete any CTAs you share rather than swiping by your efforts.
Check my Discord group out as a good example of social media groups working together as a tight-knit, passionate, and constructive group of people.
Cons of running a social media group
Social media groups aren't all rosy. You need to be clear about the disadvantages of using social media groups as part of your digital marketing strategy.
Here are just a few of the pitfalls that stood out for me:
The platform owns the group.
For me, this is the #1 disadvantage of laboring to grow a thriving social media group.
Unless your group members sign up to your email list or provide some other means of contact, they stay with the platform you found them on.
Running afoul of Ts and Cs of security and privacy policy issues.
It is breathtakingly easy to find yourself suspended or kicked off social media platforms if you transgress their terms and conditions or inadvertently use the platform inappropriately.
Often you have little recourse to appeal as these platforms are private companies.
Unless you outsource, keeping up with a social media group is very time consuming.
Being a group admin comes with a lot of responsibilities including vetting members, creating announcements, moderating, and ensuring that the rules of the group and platform are followed.
If your group is successful and grows quickly, you will be under pressure to manage the group, which can become a full-time undertaking.
On the other hand… let's look at:
Pros of email lists
More and more affiliate marketers and bloggers are switching on to the real advantage of growing an email list that you can market directly to. The email list is 100% yours.
Take a look at my video "Taking back control":
I made it after all the upheavals of 2020 and Amazon's shock slash in commission rates.
In it, I explored why I am making growing my email subscriber list a priority and why it is one of the few things online that no one can take from you.
Your content and communications will be going directly into subscriber inboxes.
You cannot beat getting your content straight to a subscriber in an offline setting.
Email marketing provides a direct channel of communication with someone who has expressed genuine interest in what you have to offer that continues as long as they remain subscribed.
Using your email list with one of the major Email Service Providers (ESPs) enables you to segment and target subscribers with laser precision.
With email lists, you can work to create sub-groups of subscribers who have specific interests, demographics, or geographical locations.
I use ConvertKit and started with their FREE subscription and grew it from there.
This can be achieved by surveying your email subscriber list and asking them what they would like you to share.
This means that your emails will be more relevant to subscribers and your open rates should be higher.
You can use email lists to transfer interest and engagement from your social media accounts.
Think about it. Your social media audience had to use their emails to login into the platform you're using.
Facebook, LinkedIn, and others know that this data is valuable and retain it for themselves.
But with email subscriber lists you can get in on the deal.
You can use social media to drive traffic to a landing page where you can get interested visitors to opt into your email marketing.
I talk about this in-depth in my article "How to get your first 5000 email subscribers".
Cons of email lists
A decent email list takes time to grow.
Email subscription does not furnish you with an audience overnight.
As I mentioned in the article above, you will need to put in the time and effort to get people to opt-in.
However, once you have a successful value proposition or landing page you should see your list gain emails quickly.
Email marketing is not free.
Most ESPs offer a free service for a limited number of subscribers, but if you are serious about the growth, you will need to purchase a subscription package to gain the full functionality that email marketing can provide.

I started with the FREE COVERTKIT package which allows you to grow to 1000 subscribers and then you'll need to upgrade to the next size plan which at the time of writing this was $29.99 per month
However, if you have an engaged audience then the ROI is fantastic.
Like social media groups, email marketing requires pedaling.
You cannot escape hard work. Once you have a subscriber list, you will need to keep them engaged with content, offers, and surveys that keep them opening your emails.
In some ways, email is at a disadvantage as it is not as interactive as social media, and you may get very little feedback on what you send out.
However, there are plenty of metrics to monitor the reception of your emails.
Final thoughts
So, as you can see both email lists and social media groups have their pros and cons, but for me

ownership

always tips the balance!
The fact that my email list goes with me wherever I go online, makes growing my email list more important than cultivating a social media group.
If my site is shut down, or I am 'kicked off' a platform, I can still communicate and start up again with a ready-made audience of people who are interested in my brand.
If your time is limited and you are deciding between these two forms of marketing, I believe that building that email subscriber list will be the better long-term investment.
Before you go!
If you're looking to start a new website then maybe you should consider an aged domain. No waiting for that 7-9 month sandbox before you see some results. Get fast results by using aged domains. I recommend ODYS which is where I purchase mine from.
What's the fastest way to monetize your blog? Display ads of course and you can't go far wrong with Ezoic. You can also join their program with a small and even brand new website. By using my link to their Access Now program you'll get quick access to high-paying display ads for your website. Start earning money today! Sign up here.
and finally…
All websites need one thing. Content, whether that be outsourced content like I get from BuySellText or AI software that will write it for you like Jarvis.AI. Currently, the best tool out there if you like AI software.
If you can't see the tool or resources you need here. Check out my resource page which is packed with helpful tools, software, and apps that can help you maximize your revenue and grow your website faster. Many of which are discounted if you click my affiliate link. See my resources page.