Taking the plunge to start an online business takes a lot of guts, especially in uncertain times, but with affiliate marketing, the rewards are well worth the effort.
Affiliate marketing is here to stay as a global industry worth over 12 billion dollars!
So there has never been a better time to get involved and start generating an income stream of your own. 
To help get you off to the best possible start, I have curated a list of the best affiliate marketing programs for beginners.
Remember, I have been where you are right now so I know that selecting the best affiliate programs for beginners can make a difference to the viability of your website.
So these five programs are all about getting you stable, predictable ROI as soon as possible so you lift your head, expand your horizons and grow.
Are you ready to check them out?
Well then let's get into this!
Let's look at the best affiliate programs for beginners!
#1 Amazon Associates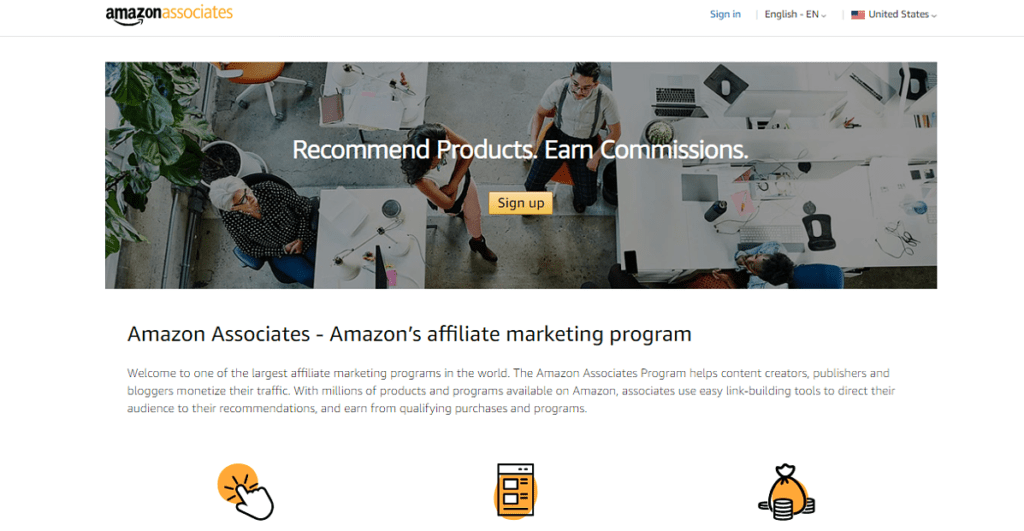 Commission: 1-10%
24-hour to 90-day cookie period
Pay-per-sale also Pay-per-action
Payments are processed after 60 days
No list of beginner affiliate programs is going to be complete without a nod to the giant that is the Amazon Associates Progam. I mean with almost a cool million affiliate marketers under its belt it easily tips the scales as one of the world's largest affiliate programs.
And it's easy to see why Amazon has put in the effort to develop a simple, scaleable arrangement that is well-supported and almost guaranteed to see you earning income. 
Once you are accepted as an Associate, all you need to do is share products, TV shows, music and other services from Amazon's vast inventory with custom links that earn you income when your web visitors click on them and make a purchase or complete other customer actions directed by Amazon. 
Amazon Associates is a straightforward program to get onto and most legitimate sites should be readily accepted. From, there qualifying purchases and user actions earn you a commission. 
Amazon's commission rates vary according to the product category and special Bounty Events, Bonuses and channel subscriptions scheduled by Amazon.
Amazon has a minimum payment threshold of $100. They payout monthly after a 60-day lag by cheque, Amazon Gift Card or direct deposit. 
You may have heard about or even experienced Amazon sudden slashing of commissions in 2020.
If you are hesitant about becoming an affiliate marketer with Amazon, my video "7 Pros and Cons of the Amazon Associate Program in 2021" on what is happening with Amazon Associates right now:
---
#2 Rakuten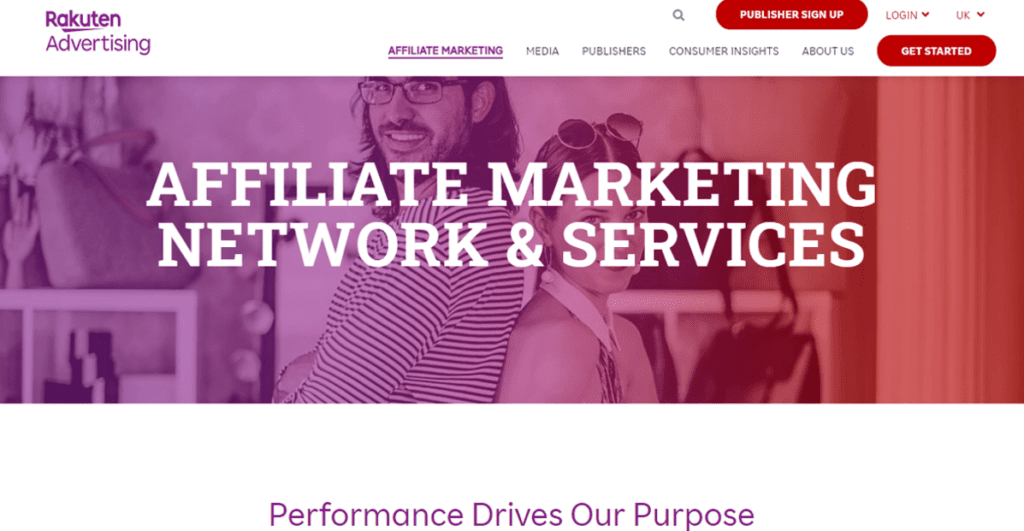 Commission: 3-7%
Cookie period varies with specific vendors - typically 90 days
Pay-per-sale also Pay-per-action
Minimum payout $50
Payments are processed after 60 days
Rakuten advertising, formerly known as Rakuten Marketing and Linkshare is a Japanese affiliate marketing platform that operates internationally. It offers a diverse range of brands that you can apply to work with all under one roof.
By working with a large platform like Rakuten you will have more oversight with data for how your affiliate links are performing as well as extremely useful audience behavioural insights. 
Rakuten has put a lot of effort into providing its affiliate with industry-leading dashboards that allow you to browse thousands of affiliate programs to apply to join. Creating affiliate links for your programs is quick and easy. 
As a beginner, you will likely appreciate the low payout level of $50. However, only approved payments are processed after 60 days and longer in some cases longer.
---
#3 Shopify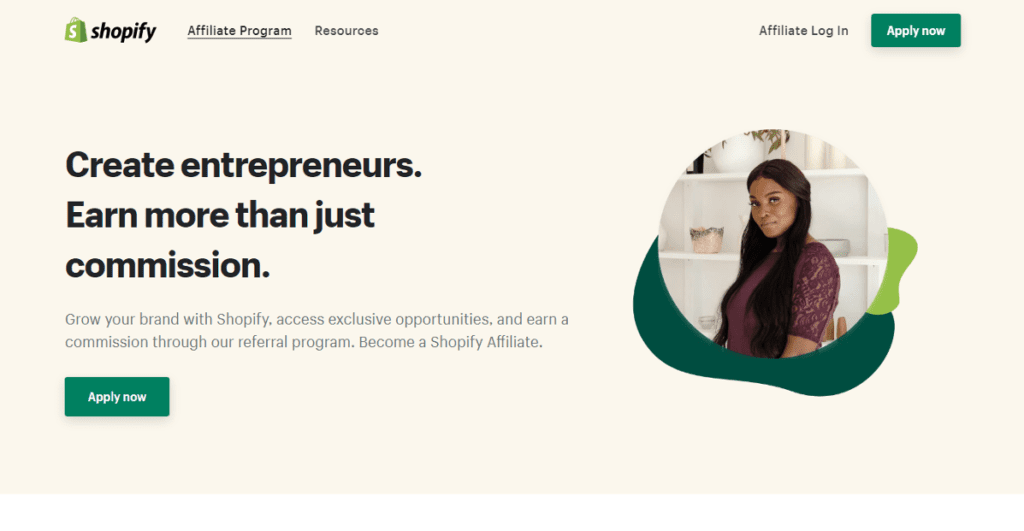 Commission: up to 200%
30-day cookie period
Pay-per-sale
No minimum payment threshold
Payments are processed via PayPal
Many people have a dream of starting an online store and if you can give them ideas and pointers on how you can achieve this as part of your website or blog, Shopify should prove an excellent partner to work with. 
Shopify is one of the world's leading e-commerce platforms with over a million vendors of every size and type choosing them to sell their products.
The sheer variety of Shopify sellers means you are likely to be able to align your content with someone ready to set up an e-commerce site. 
Shopify has e-commerce packages for every price point which helps in converting sales. Prices vary from around $9 per month for the Shopify Lite package to $2,000 per month for Shopify Plus.
Shopify isn't afraid to spend big on your affiliate marketing skills and has one of the most generous affiliate marketing programs around.
As a Shopify Partner, every person you refer who signs up for a paid plan will earn you a whopping 200% in commission!
Yes, Shopify will send your way the full first and second payments of a new signup. Now, that's the kind of motivation you need as a beginner affiliate marketer.
Shopify also makes it very simple for their partners to be paid. Earned commissions are paid every 30 days via PayPal.
---
#4 ClickBank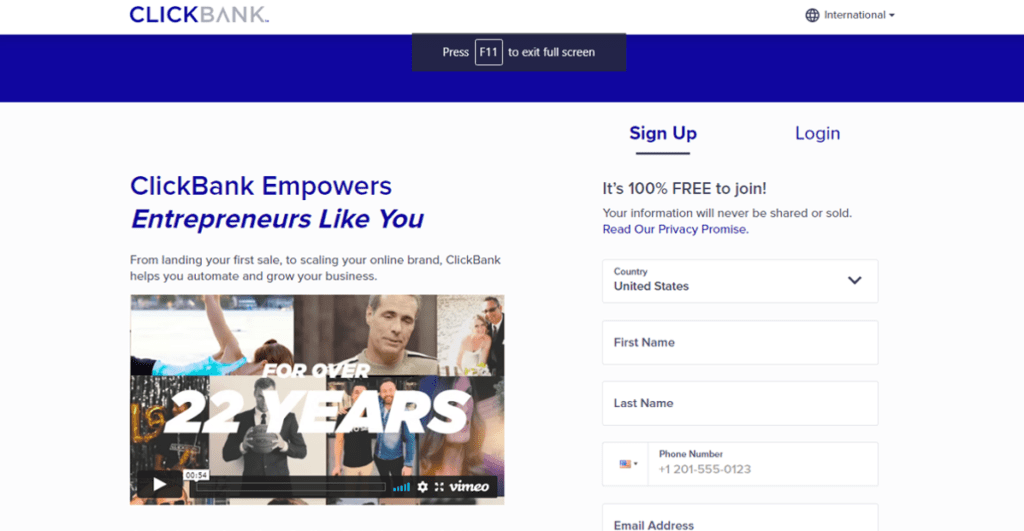 30-day cookie period
Revenue share and cost-per-action (CPA)
Minimum payment threshold of $10
Payments are processed via PayPal
ClickBank is a massive e-commerce marketplace that thrives through the efforts of its international network of over 100,000 participating affiliates. You can select from their repository of thousands of physical and digital products and services that are perfect for targeted link placement. 
ClickBank has been around for over 20 years and provides a straightforward way to earn affiliate income.
The sign-up process is simple, after which participants find products that they want to promote in the ClickBank marketplace and apply for permission to market them.
The next step is to create affiliate links (called Hoplinks) that send your site visitors to the vendor. 
ClickBank's cookies track the traffic you refer to the vendor site and verify the commission you receive. ClickBank vendors will either renumber rate you through revenue share or on a cost per action basis.
Your funds are collated and paid out on a weekly or bi-weekly basis by direct deposit, check or enabling PayPal depending on location. 
---
#5 The eBay Partner Network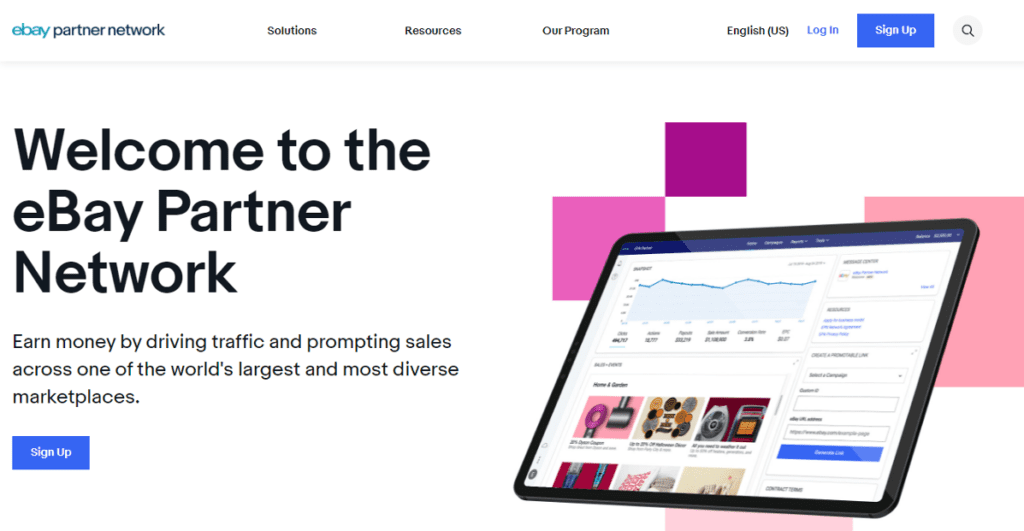 Commission: 1-5% plus or minus a seller incentive credit
24-hour cookie period
Pay-per-sale
Minimum payment threshold of $10
Payments are processed every 30 days
By working with eBay, you will have access to billions of products, 90% of which are sold via the "Buy now" button. If you are looking for a well-known brand with which you can rapidly scale your affiliate marketing business, eBay provides plenty of opportunities to successfully drive traffic to eBays high converting pages and earn income via your blog. 
I think eBay affiliate marketing is probably best suited to products that have a high turnover as the cookie length is short. List-based content could be a great way of directing users to products they need on eBay. 
If you become adept at picking and promoting the right items the commissions can snowball. This is because you earn an incentive credit alongside your lower sales commission.
For example, a $100 item would earn a commission of $3 and an incentive credit of $6.15. In addition, if a web visitor who is referred from your site skips your promoted item and buys a selected item you earn the minimum commission for that transaction also. 
Getting paid by eBay is fuss-free with a minimum payment of $10 which is processed every 30 days. eBay will pay out by Electronic Funds Transfer (EFT) or PayPal. 
---
#6 CJ Affiliate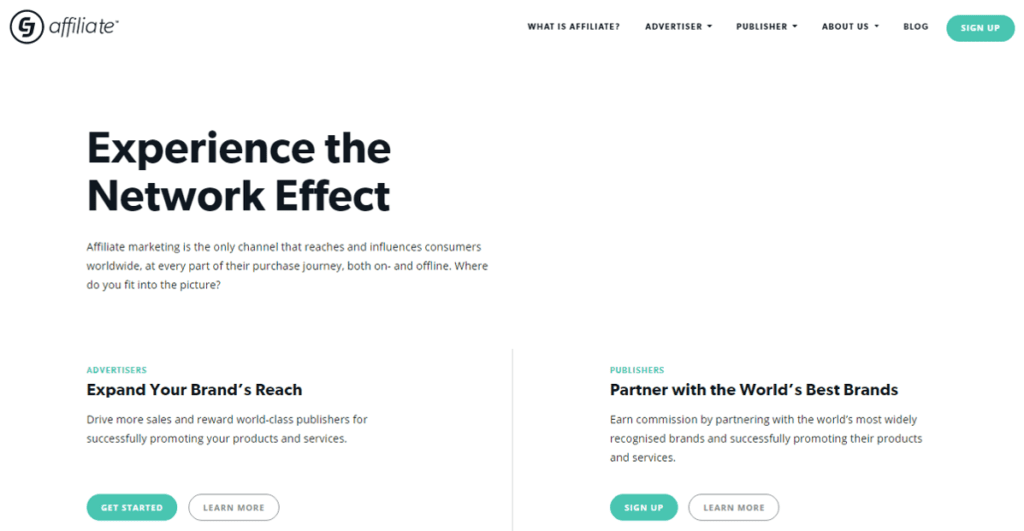 URL: CJ Affiliate Program
30-day cookie period
Pay-per-sale, pay-per-lead, pay-per-call, pay-per-view or pay-per-click 
Minimum payment threshold of $50 (direct deposit) $100 check
Payments are processed every 20 days
Also known as Commission Junction, CJ Affiliate is a 20-year-old affiliate marketing veteran with several thousand of the world's biggest brands relying on them, and potentially you, to increase their reach and convert sales.
They work with several global brands meaning that there is an opportunity to promote items from large or well-known companies like GoPro, ShopBop, or Zappos. 
Choose from thousands of companies to create a portfolio of targeted ads, banners and text links that you can place within your content to convert sales.
Some companies will only work with affiliates that have a certain level of traffic, make sure that your site is gaining momentum before you join.
Like so many other large platforms you have the advantage of having your affiliate income from different companies pooled by CJ Affiliate rolled into one regular payment by direct deposit, cheque, or Payoneer. 
The publisher's interface includes all the insightful analytics you need to utilize your links optimally.
In addition, CJ Affiliates updates its metrics in real-time meaning you are always aware of the status of your account and revenue.
---
#7 Bluehost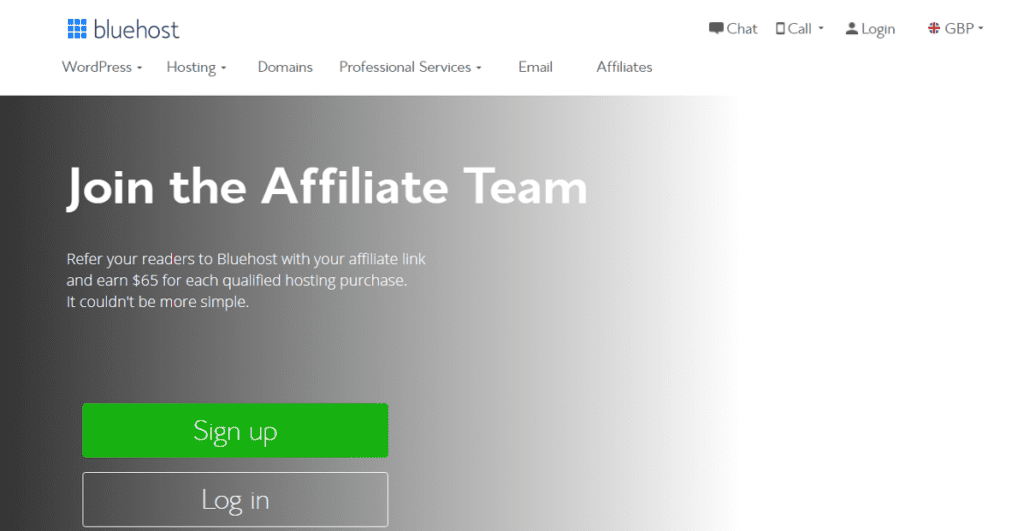 90-day cookie period
Pay-per-sale
Minimum payment threshold of $100 (direct deposit) $100 check
Payments are processed between 45 and 60 days after the month they were accrued.
Once you have been around on the world wide web for a while, you will begin to notice that almost every blogger you come across is carrying Bluehost affiliate links on their site!
And it is no surprise either as this Utah-based hosting company offers a generous remuneration program that places them front and centre on the internet.
Your income will get a massive boost from the competitive rates of commission offered by Bluehost. Affiliates are paid for each referred sale, starting at $65 and climbing to as much as $130.
You can start withdrawing your funds after your first two sales!
After all, every website needs a web host and if your blog content is speaking to digital creatives, techies or online entrepreneurs of any kind they probably are going to need the services of people like Bluehost.
It is that simple. This global program attracts thousands of affiliates who are all doing pretty well out of what is a well-structured and supported program.
As a beginner, you get a great start at earning using the custom tracking that is hard-coded into their platform to prevent delays in verifying your sales.
The platform can also be used to segment the campaigns that use the affiliate links, comparing their performance by clicks and conversions to work out what you can do better.
Maybe because they are web hosts, Bluehost knows that support matters and provides a dedicated team of affiliate managers to help you find your feet.
---
#8 Wix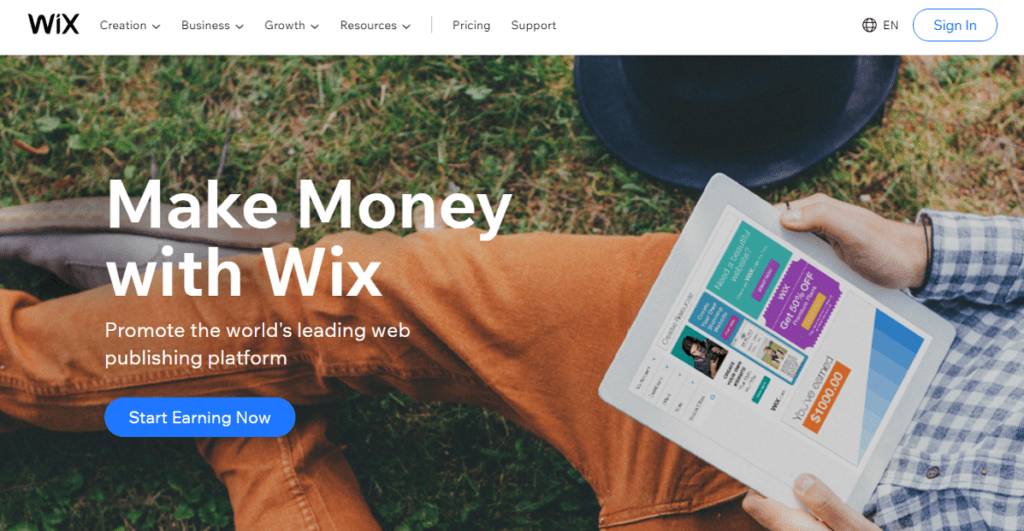 30-day cookie period
$100 commission per sale
Pay-per-sale
Minimum payment threshold of $300 (direct deposit) $100 check
Balances that clear the threshold are processed every 30 days with email notification on the 15th of the month.
Wix's drag-n-drop website builder is a popular choice for anyone wanting to start their own website. It is also well-known meaning you should have no trouble in finding people who are ready to go straight ahead and signup for Wix's services.
A big attraction to this affiliate program is the high rate of commission - $100 for every person that signs up for a Wix Premium plan.
As website building experts, they have put in the effort to provide you with smart marketing collateral and an interactive dashboard where you can track uncapped sales. 
Wix is clearly heavily invested in moving as many of their Premium website plans as they can, so you are motivated by a minimum payment threshold of $300 per month to receive a payout.
That might seem a bit steep, but when you think about it, it's only 3 sales, making this a very competitive affiliate program to add to your portfolio. 
---
#9 TripAdvisor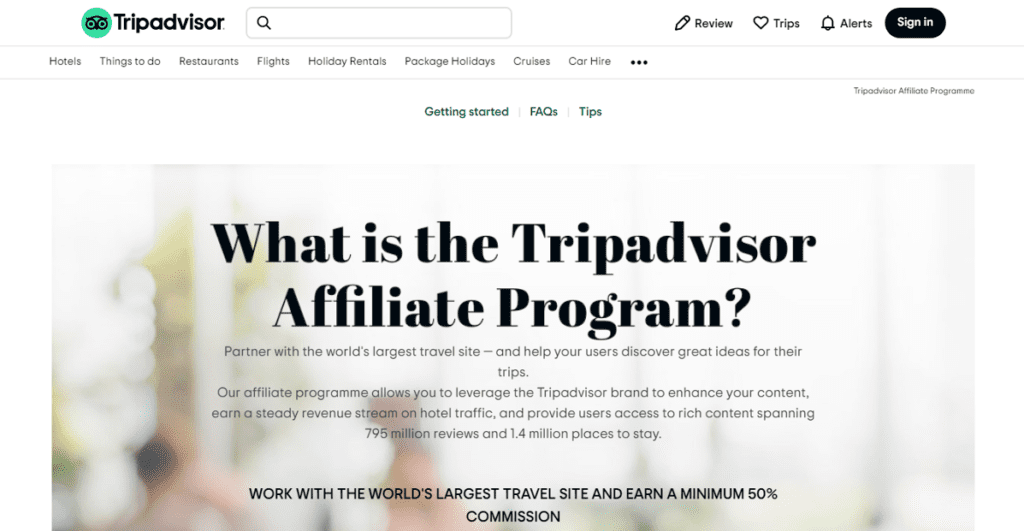 14-day cookie period
Minimum 50% commission
Pay-per-click and pay-per-sale
Minimum payment threshold of $20 (Awin) 
Twice monthly payouts (Awin)
The cool 50% commission being offered by Trip Advisor, the world's biggest travel website should be enough to have you hitting the signup button immediately.
This program is a great motivator for investing in getting your website up to speed as you will be remunerated not only for bookings made via the Trip Advisor site but also users who visit the websites of TripAdvisors hotel partners.
It is a smart scheme, especially when you consider people love to travel and the wide variety of niche accommodation that can dovetail with your needs. 
Trip Advisor will spit the commissions it receives from its hotel partners with you. The amounts will vary depending on obvious factors like season, deals, length of stay.
The commission you will receive for referring traffic is not fixed but also depends on the hotel partners arrangement with Trip Advisor.
You have the option of signing up with TripAdvisor via Awin (UK) or CJ Affiliate (US and rest of world). These larger platforms will administrate your Trip Advisor program and payout your commissions.
---
#10 Awin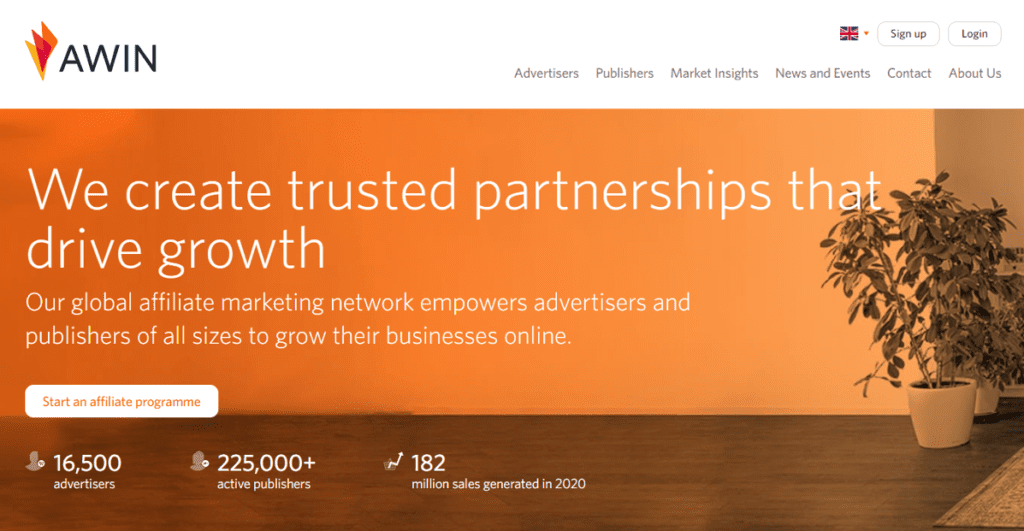 Variable cookie period depending on the specific companies worked with
Variable commission depending on the specific companies worked with
Pay-per-click and pay-per-sale
Minimum payment threshold of $20 
Twice monthly payouts 
If you are a Brit like me and are looking for specifically British companies and brands to promote like Marks and Spence or Dorothy Perkins, Awin is where you will need to go to find them.
Awin is an international company with thousands of big brands on its book that you can apply to work with.
As I said above, working with larger platforms like these is great when you are starting as everything is in one place and you will receive a payment that combines the commissions earned from the different companies you promote. 
Your commission and cookie lifespan will be dependent on the specific companies you select.
The minimum payment threshold is very low at $20, but you can raise it if you need. Awin will not hold on to your cash, paying out twice-monthly by direct deposit or Payoneer.
---
The best affiliate programs for beginners are designed to establish you in affiliate marketing.
When you are at the beginning of your affiliate marketing journey, you want to be dealing with tried and trusted affiliate programs that do not have any funny terms and conditions or unrealistic payment thresholds or methods.
By keeping things very simple you can learn what works with your affiliate marketing content and what can be improved. Large platforms have plenty of scope to test and change things without totally changing the programs you are signed up to.
These affiliate programs for beginners will serve you well whether you are:
Starting a brand new website 
Monetizing an existing blog
Affiliate marketing via your YouTube channel or a large social media following
Using email marketing to generate affiliate income
Why I have chosen these 10  best affiliate programs for beginners.
Over 16% of online purchases are made via affiliate links meaning that it is likely potential customers will be familiar and comfortable with links from larger, well-known companies.
Big online retailers and platforms provide better choice of products to promote.If the niche you are operating in is large or you are running a general lifestyle blog, working with companies with large product inventories is advantageous. 
Decent cookie lifespans maximize your opportunities to earn a commission
The larger affiliate programs are popular because they enable participants to generate a stable income, which is what you need to stay motivated when you are starting out. 
Lots of helpful collateral means you dont have to do the heavy lifting of creating brand information and product info for every product you promote. 
Before you go!
If you're looking to start a new website then maybe you should consider an aged domain. No waiting for that 7-9 month sandbox before you see some results. Get fast results by using aged domains. I recommend ODYS which is where I purchase mine from.
What's the fastest way to monetize your blog? Display ads of course and you can't go far wrong with Ezoic. You can also join their program with a small and even brand new website. By using my link to their Access Now program you'll get quick access to high-paying display ads for your website. Start earning money today! Sign up here.
and finally...
All websites need one thing. Content, whether that be outsourced content like I get from BuySellText or AI software that will write it for you like Jarvis.AI. Currently, the best tool out there if you like AI software.
If you can't see the tool or resources you need here. Check out my resource page which is packed with helpful tools, software, and apps that can help you maximize your revenue and grow your website faster. Many of which are discounted if you click my affiliate link. See my resources page.