So, I've done my homework and we are going to take a look at the best affiliate programs for dogs.
It's hard to miss that pet care, pet lifestyles, and pet nutrition are a massive marketplace for the affiliate marketer, full of opportunities to generate revenue with engaging and informative content. 
You can sign up and start earning with any of the best affiliate programs for dogs right now!
If you are canine crazy and have a new pet-related website or are looking to promote new products on a more mature site with decent traffic, these 6 affiliate programs for dogs will make a great fit for the content and reviews you create for dog owners.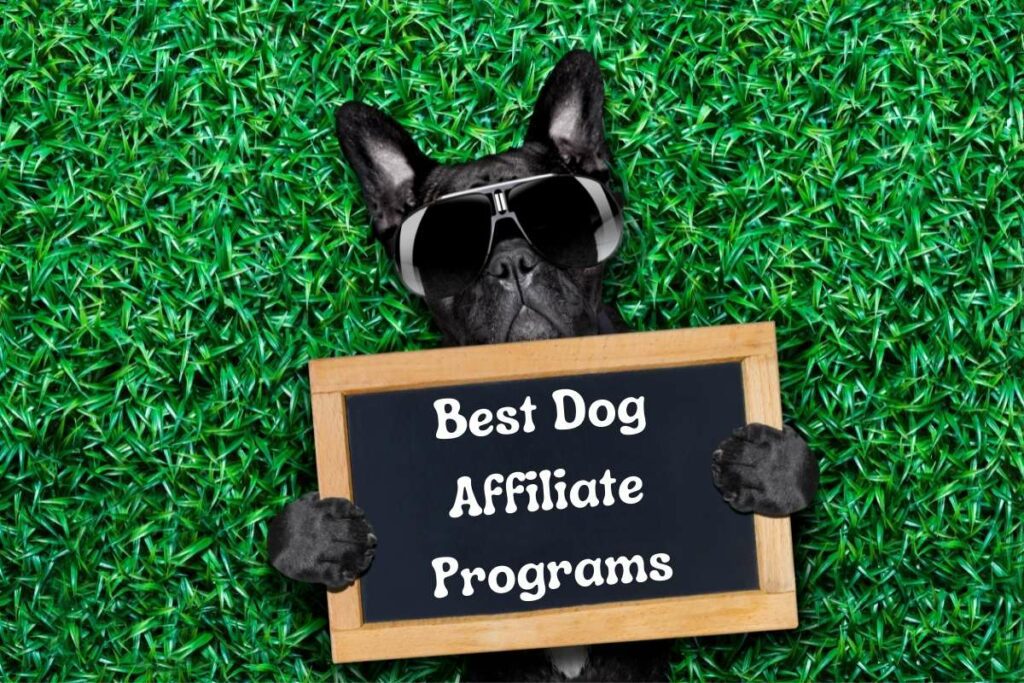 If you are also using email marketing you could also promote these companies directly to the inbox of interested subscribers.
Further on, I am going to explain why I think diversifying affiliate links on an existing site using any of the best affiliate programs for dogs is a fast and effective way to boost your income.
Here's my take on the best affiliate programs for dogs
1. Cesarsway.com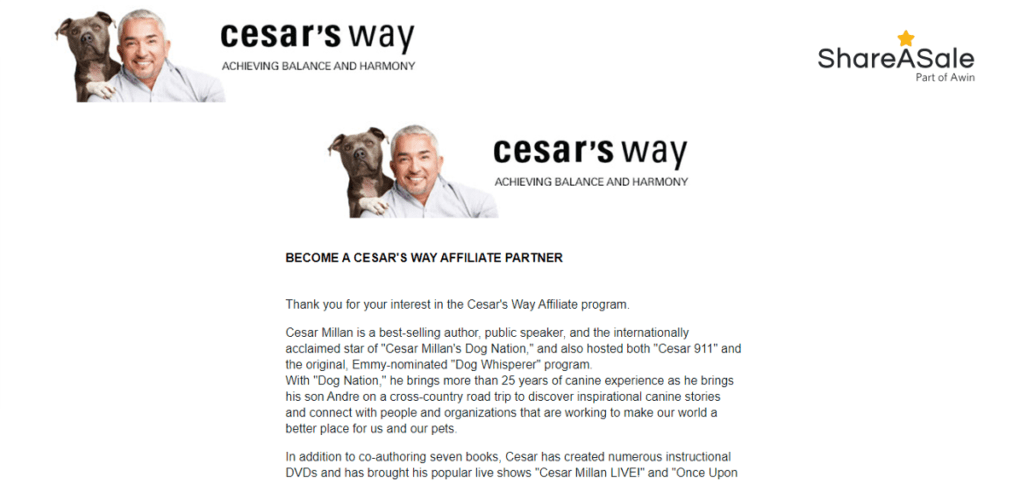 Commission: 12% and bonuses available
90-day cookie period
Pay-per-sale
Monthly payments for commissions earned in the previous month
Now you can really "join the pack", by becoming an affiliate partner of Cesarsway.com, the online home of world-famous dog trainer Cesar Milan.
The Cesar's Way team will provide you with all the collateral to have success with this program, including a monthly newsletter packed with ideas and updates. 
Cesar's website has a store that is stocked with selected dog items including his special leashes, collars and treats.
But what dog owners really flock to the Dog Whisperer for are the DVDs training programs and courses that Cesar packs with his own insights and expertise!
The Cesarsway.com store is partnered with ShareASale for its affiliate program. They administer the affiliates and links for Cesarsway.com and process the pay-per-sale commissions.
Apply to not only become a Cesar's Way affiliate but also access thousands of other companies on the ShareASale affiliate marketing platform. ShareASale has a payment threshold of $50 and will payout monthly. 
---
2. Chewy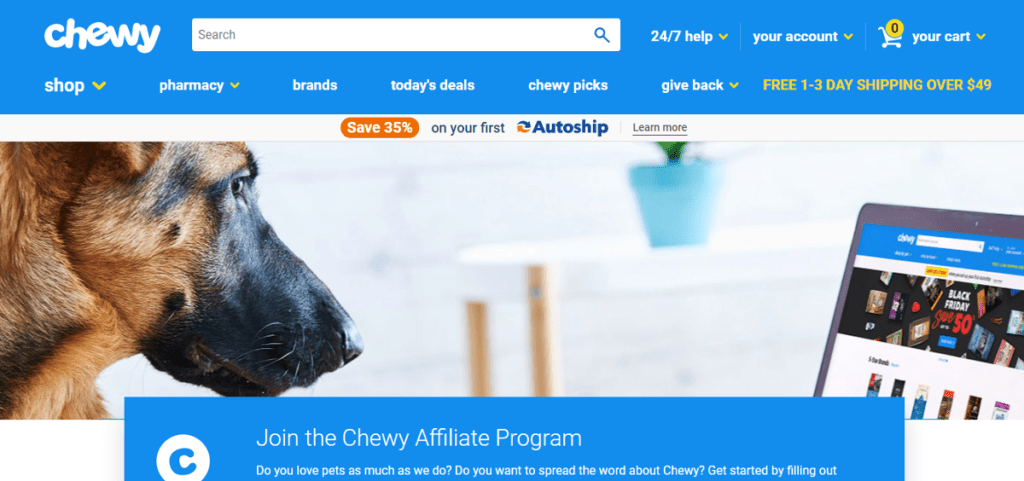 Commission: minimum of $15 on all promoted products or 8%
15-day cookie period
Pay-per-sale
Monthly payments for commissions earned in the previous month
PayPal payments available
If you are serious about generating serious traffic in a dog-related niche, Chewy.com is a great option for sourcing great dog products that your dog-loving audience will find useful.
As Chewy is part of the pet care juggernaut Petsmart, you will never be short of great dog products to share. It is like the Amazon of pet stores with hundreds of dog items from well-known brands.
Once you sign up to the Chewy Affiliate Program either via Partnerize, or CJ Affiliate, you can select dog items to promote, generating the relevant links.
Chewy provide all the help you needed with a dedicated in-house team to provide you with support and newsletter updates.
You can create your Chewy affiliate links and track yours earnings via your chosen affiliate network. 
Chewy takes a novel approach to commissions, with a minimum of $15 paid out for any new customer even if their purchase value is low.
If you use CJ Affiliates, you can receive payments every 20 days with a minimum payout threshold of $20. Partnerize will all authorized and cleared payments daily. 
---
3. Tails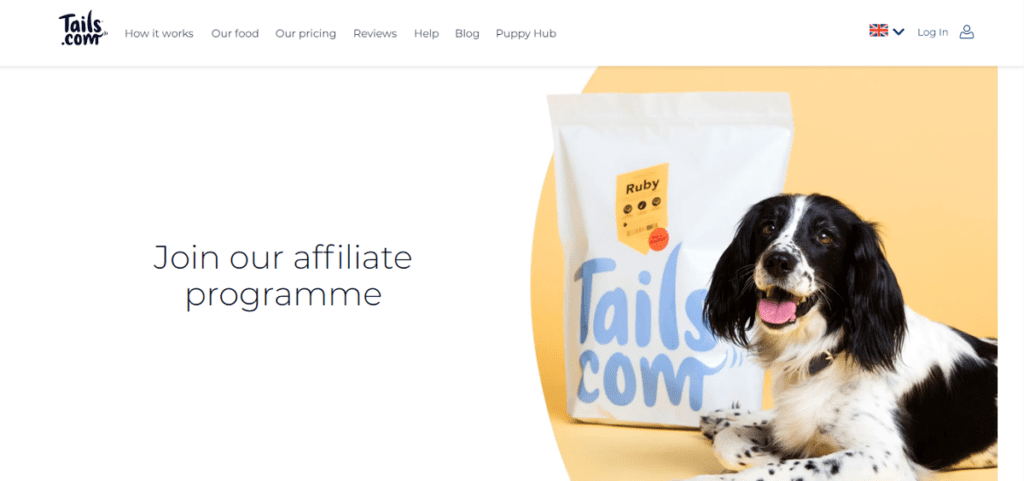 Commission: minimum of $15 on all promoted products or 8%
30-day cookie period
Pay-per-sale
Monthly payments for commissions earned in the previous month
PayPal payments available
Dog nutrition is a big issue as veterinarians and dog specialists discover more and more about how food affects a dogs health and performance.
Unique, tailored pet nutrition is a priority for many dog owners who are becoming more informed about the health benefits they can achieve for their dog with the right diet. 
Tails.com is one of the leading producers of customized dog food that is precisely nutritionally balanced to deliver key health benefits.
They will deliver their unique dog food formulations monthly to owners who subscribe, with the ability to cancel at any time. 
The Tails.com Affiliate Program is a UK affiliate program that will pay out £3 ($4.12) for every new signup to their dog food subscription service.
There is no recurring affiliate income as the new signups have a free trial of the food. The program is hosted by Awin who supply the links and a 30-day cookie with twice-monthly payouts.
---
4. Funny Fur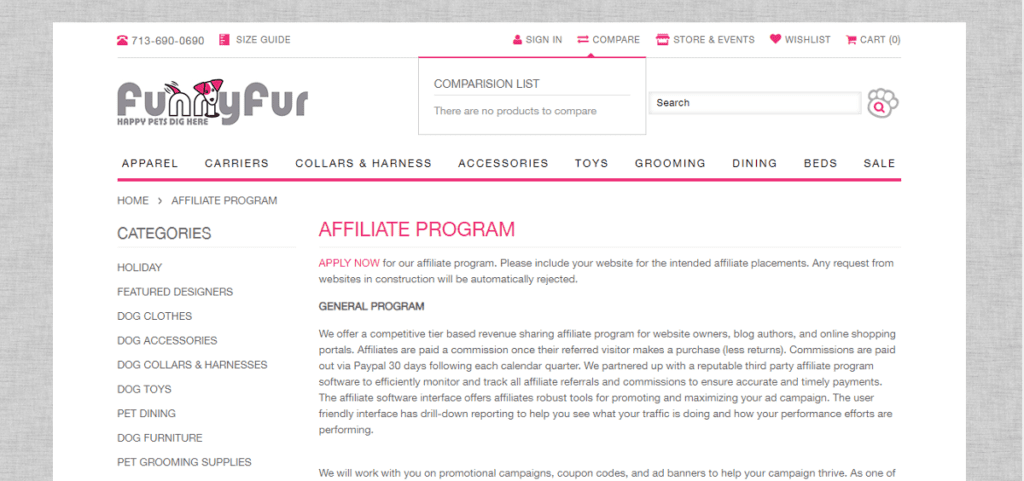 Commission: up to 20%
Pay-per-sale
Funny Fur is a specialist retailer of dog apparel like coats, knitwear, and booties. They have been serving customers from their boutique in Texas for over 15 years and have an extensive range of everyday, formal, and costume items and accessories for owners to try out on their dogs.
The Funny Fur affiliate program is managed by an in-house team at Funny Fur using a reputable affiliate program software with an interface for affiliates to generate links and track sales and revenue.
The program offers a tiered commission that can be as much as 20% which is paid when a referred customer buys a product. Commissions that are accrued over a quarter are paid out 30 days later via PayPal.
As an individual business rather than a large company, Funny Fur is keen to build a partnership relationship with participating affiliate marketers. They will supply coupon codes, banners and promotions that can be shared via your website.
---
5. EzyDog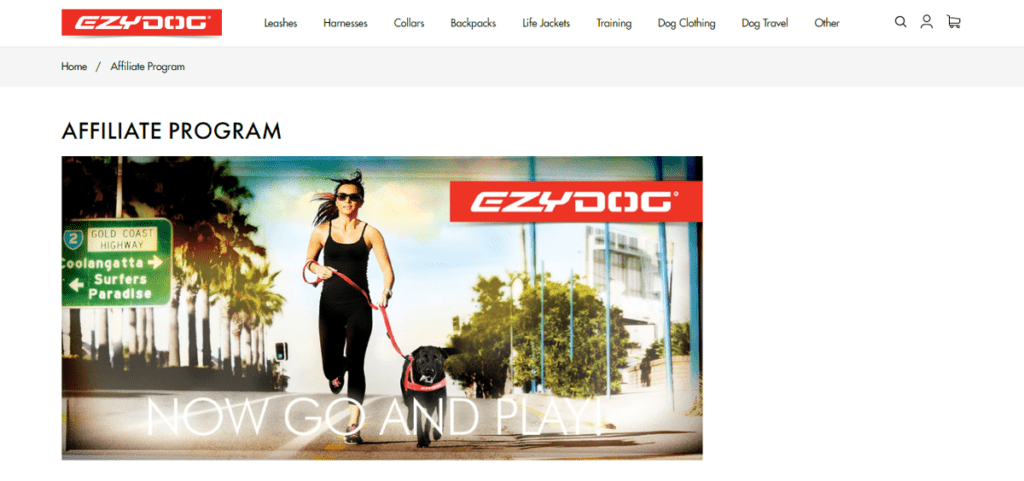 30-day cookie period
Commission: 9%
Pay-per-sale
EzyDog is a specialist retailer of technical dog equipment including their Original Shock Absorbing Leash for active dog and owner lifestyles.
Most of their products are performance dog accessories for shared exercise, water, and outdoor recreation. 
The EzyDog brand uses advanced sports technology in its lines of harnesses and leashes, allowing owners to safely control their dogs.
Bloggers and website owners who have dog-related content that is focused on the great outdoors will align well with this brands values. 
The EzyDog affiliate program provides access to over 400 high-converting niche dog items, with referred sales earning a 9% commission.
The affiliate program is administered by AvantLink which has a 30-day cookie lifespan and pays out all verified income by direct deposit on the 23rd of each month. 
---
6. Petco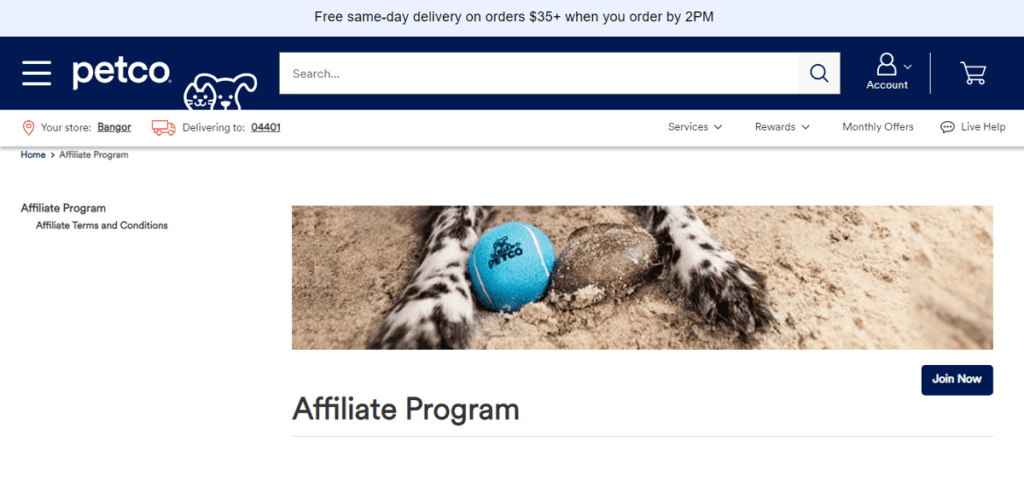 7-day cookie period
Commission: 5 – 8%
Pay-per-sale
PetCo is a tried and trusted pet product retailer with over 50 years of pet care experience. Their in-depth knowledge of dogs and exemplary customer service should make referring sales for their extensive inventory of pet supplies easier.
They carry a large number of niche and unique dog items that your web visitors may be actively looking for which is a great reason to sign up.
Having so many quality items carried by a single retailer also provides the opportunity to accrue good sales across multiple promoted products.
Commissions range between 5 and 8% depending on the product category.
The majority of items will receive the higher 8% commission but some specific FMCG products like flea treatments and food have the lower rate.  
The Petco affiliate program is delivered by CJ Affiliate. They will provide Petco affiliate links with a 7 day cookie period and accrue and payout all earned commission every 20 days.
---
7. Paramount Pet Health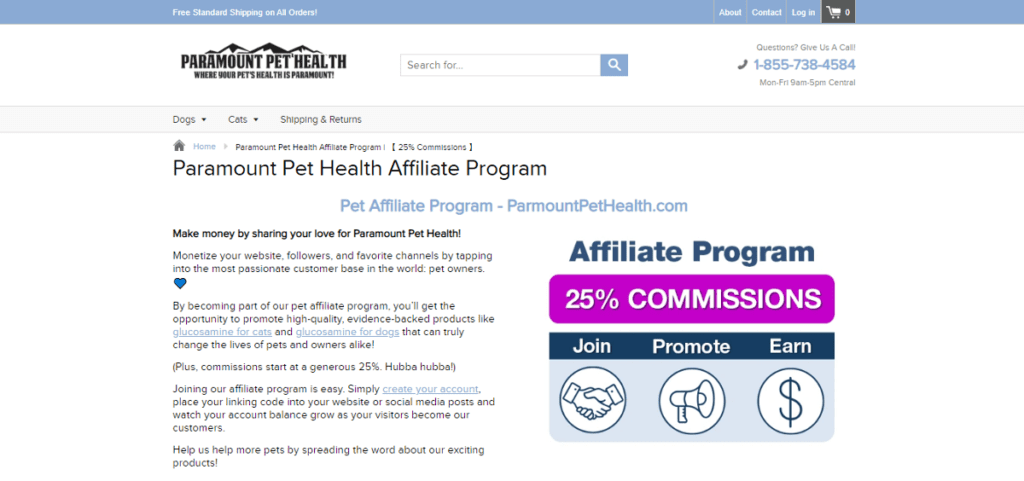 30-day cookie period
Commission: 25%
Pay-per-sale
Paramount Pet Health is an excellent affiliate program for bloggers who touch on canine health.
Dog health and nutrition are popular topics for owners and Paramount Pet Health has a range of key vitamins and health supplements for dogs that are able to provide active pets with the support they need to thrive.
Example products include glucosamine supplements for joints and daily liquid multivitamins that are ideal for older or convalescent dogs. 
.Commissions are high at 25%, with Paramount Health prepared to up the rate for high-performing affiliate marketers.
Paramount Pet Health manage their affiliate program directly and will supply affiliate links to be used on your site.
They also sell their products via Amazon, so this is an opportunity to earn more by working with a vendor directly. Payouts have a threshold of $20 and are paid monthly via PayPal. 
---
8. Raw Wild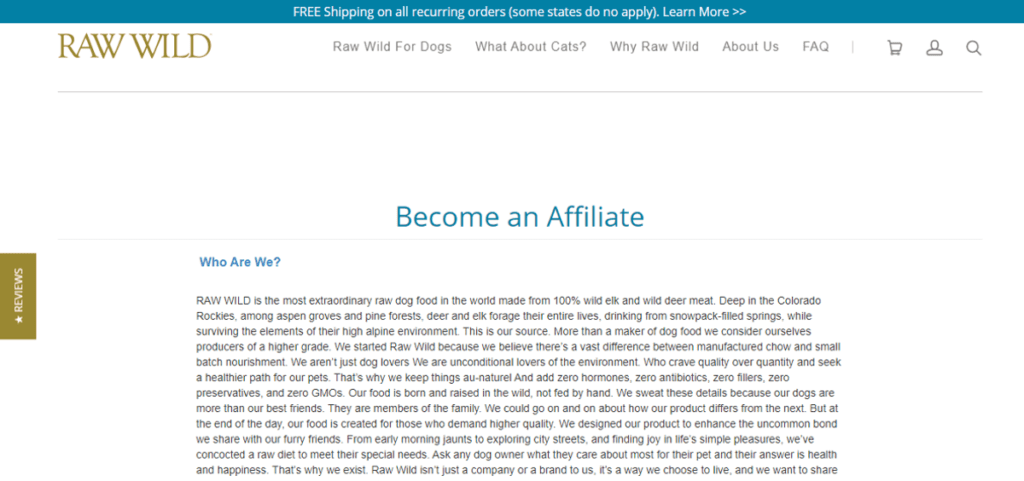 120-day cookie period
Commission: 8%
Pay-per-sale
100% raw dog food is a niche dog product that is increasingly in demand from discerning dog owners who want their pets to eat a natural diet.
The raw pet food sold by Raw Wild is a specialist product made from pure elk and deer meat with zero processing.
This is a very expensive product, that depending on order size can run into hundreds of dollars. 
Affiliates who work with Raw Wild will receive an 8% for every sale they refer.
Raw Wild provides the necessary affiliate links and banners, as well as updates on specials and sales that participants can share with their web visitors.
The program is managed by ShareASale.
The 120 day cookie is extremely generous, but this is a high-ticket dog item. ShareASale has a minimum payout of $50 and forward vendor payments monthly.
---
9. Fi Smart Dog Collar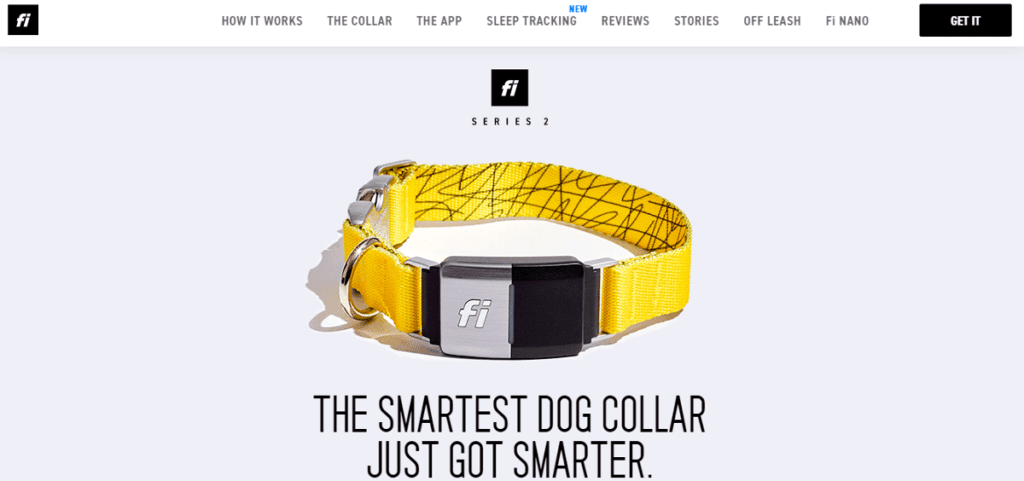 45-day cookie period
Commission: 20%
Pay-per-sale
Fi Smart is a company that produce GPS-enabled dog collars for dogs that are stylish and bulk-free.
Owners can use these smart dog collars to track their pets wherever they are in the world, monitor dog walkers, and even obtain fitness tracking data for their furry friends!
All data is accessed by a convenient smartphone app that includes lots of training tips and insights.
Fi Smart is a great product for dog owners who are interested in tech solutions, pet accessories or pet safety and is likely to garner interest from dog owners across breeds and dog-related niches.
The collar itself is $129, meaning that a referred sale will earn you just over $25! The Fi Smart Affiliate Program is hosted by CJ Affiliate which means you can access thousands of other pet-related products to promote alongside this collar. 
---
10. Frenchiestore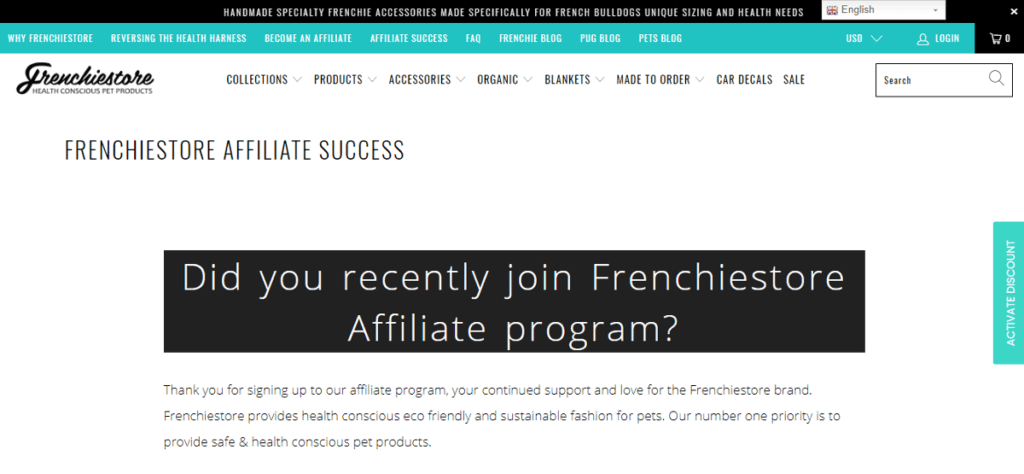 Commission: 10%
Pay-per-sale
This program could certainly be an inspiration for a new niche website! Frenchiestore.com is a store that is entirely devoted to retailing beautiful and healthy pet accessories for French Bulldogs, which have specific sizing requirements for leashes and harnesses. 
These are great products that Frenchie owners are likely to be actively searching for as their dog will not fit the standard accessories.
Frenchiestore administrates their affiliate program themselves and provides participants with a 10% commission for referred sales for everything in store.
You apply to their program by email, and once approved you are provided with links to clicks and shortcodes for referred customers to use.
Sales that are attributed to you are added to your account which pays out each month via PayPal.
---
These are some paw-tastic affiliate programmes for dogs!
If you are rubbing the tummy of your own 4-legged friend while reading this you will know why dogs are an excellent niche for quality affiliate marketing.
Here in the UK we love our dogs, and more importantly for affiliate marketing, we don't half spend on them too!
Here's why I think the best affiliate programs for dogs could be incredibly profitable for you right now:
Reason number one: The sheer number of dog owners in the UK and US!
In the UK, dogs are definitely man's best friend with over a quarter of British adults owning a dog.
In 2021, the UK has a dog population of over 12.5 million and has surged massively since the events of 2020 with almost 40% of 2020s new dog owners purchasing a puppy as they stayed home during lockdown. 
You'll be pleased to know that the US is similarly enthusiastic about keeping dogs as pets with 38% of American households owning a dog.
The USA has just under 90 million pet dogs, the largest population of pet dogs in the world. 
Interestingly, on further drill down I found that the majority of US pet owners are millennials (aged between 25 and 44 years) and slightly tipped towards females.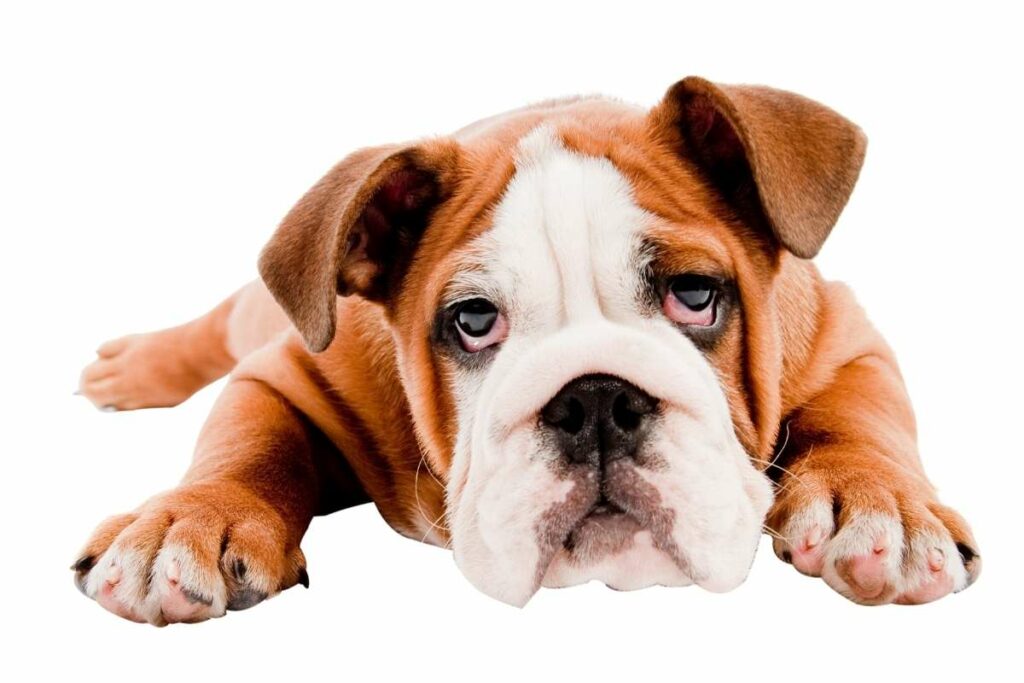 People love dogs and want to learn about how to care for them.
With burgeoning numbers of novice dog owners the world over, content is king! Just ask César Milan!
Owners see their pets as family and will treat them as such. People want information and advice on almost every aspect of caring for their four-legged friends including:
Dog training
Canine health
Canine nutrition
Dog bedding
Toys for pet dogs
Leashes and other equipment
People will spend big on their dogs!
Many of you will know this and may have already tapped into the 99 billion dollar pet care market in the USA.
Despite things slowing down in 2020, pet owners have largely maintained their spending on their animals with increasing numbers heading online to buy dog supplies, treats and gear.
Over three quarters of millennials surveyed are predominantly purchasing their pet supplies online.
British dog owners spend approximately £240 each month ($320), while their US counterparts are slightly more modest in spending at $136.73 per month on their pet.
Amazon and Walmart are the obvious first stops with one in five dog owners visiting each of these e-commerce giants to stock up on pet supplies. 
Incidentally, dog nutrition is a big topic
In 2020 the size of the UK market for pet food was 2.9 billion, and in the US dog owners will spend just under 500 dollars annually on feeding their dog.
As dog owners have become more informed online about caring for their pets, there has been increasing interest in more targeted nutrition for dogs, according to life stage, breed or health.
Raw dog food in particular, is garnering increasing interest from dog owners seeking a more natural and unprocessed diet for their pets
Dogs provide a great opportunity to tap into a market that you can make your own!
There are many new entrants and smaller companies that want to increase their online footprint through affiliate marketing.
And the niches are endless when you think about the number of breeds, life stages, health issues and owner lifestyles you can focus on.
Companies know that customers will rely on informed reliable online sources to make the best choices for their pet, and there is no reason why you can't be one of them!
Before you go!
If you're looking to start a new website then maybe you should consider an aged domain. No waiting for that 7-9 month sandbox before you see some results. Get fast results by using aged domains. I recommend ODYS which is where I purchase mine from.
What's the fastest way to monetize your blog? Display ads of course and you can't go far wrong with Ezoic. You can also join their program with a small and even brand new website. By using my link to their Access Now program you'll get quick access to high-paying display ads for your website. Start earning money today! Sign up here.
and finally…
All websites need one thing. Content, whether that be outsourced content like I get from BuySellText or AI software that will write it for you like Jarvis.AI. Currently, the best tool out there if you like AI software.
If you can't see the tool or resources you need here. Check out my resource page which is packed with helpful tools, software, and apps that can help you maximize your revenue and grow your website faster. Many of which are discounted if you click my affiliate link. See my resources page.