Let's take a look at the best affiliate programs for beauty products.
I have trawled the internet to bring some great affiliate programs for popular in-demand beauty products and brands that will be a great match for beauty enthusiasts everywhere.
These beauty products span skincare, haircare, fragrance, make-up and tools, featuring some of the most famous and cutting edge brands in the industry.
There should be something for every skin and hair type as well as a range of price points and some excellent rates of commission. This makes them perfect for adding a welcome boost to your beauty, fashion or lifestyle blog.
Want to see what I came up with?
Let's get into this!
Check out 16 of the best affiliate programs for beauty products!
1. NaturallyCurly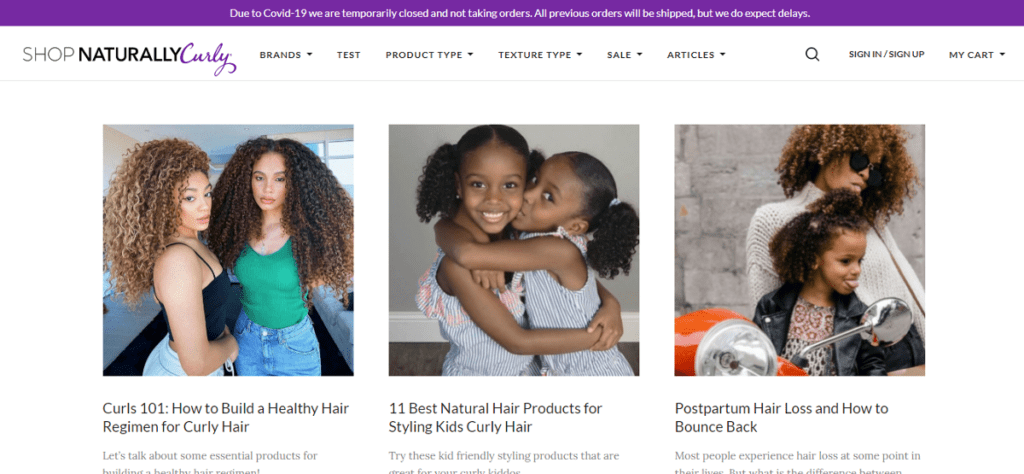 If you have a diverse or curly audience for your beauty products blog, why not introduce some great products that are specifically designed or formulated for natural black or mixed-race hair types.
NaturallyCurly is one of the world's largest websites for black hair and beauty with technical products for a wide range of textured hair types. The beauty products available in the NaturallyCurly store are great for making your content inclusive and relevant to all your readers.
Black hair care is a multi-billion dollar industry that has only just begun to become mainstream meaning that it is still a highly lucrative niche that has low competition.
NaturallyCurly pays a 5% commission on all referred sales via ShareASale which is part of Rakuten. They also provide plenty of banners, links and coupon codes that you can add to your website and social media feeds.
---
2. Murad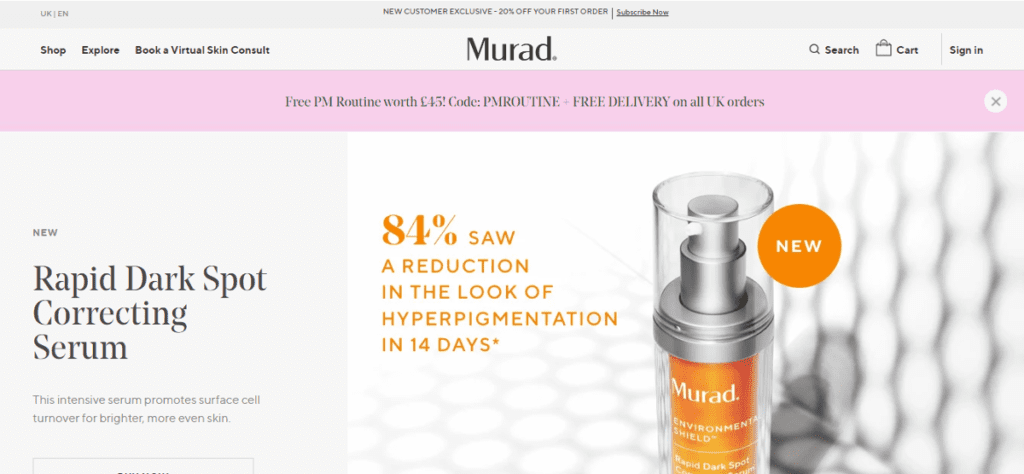 Dr Howard Murad M.D. has been at the cutting-edge of skincare innovation for decades with products that distil his years of medical practice as an expert dermatologist.
These skincare products include formulations for pore control, spots and blemishes and are a great investment for problem skin that need technical beauty products that deal with specific problems.
Murad products are high-end beauty products with blemish treatments costing upwards of £40. This means that the 6.4% commission can really build up. The Murad program is run in partnership with Awin who administrates the program and processes the commission payouts.
---
3. London International Cosmetics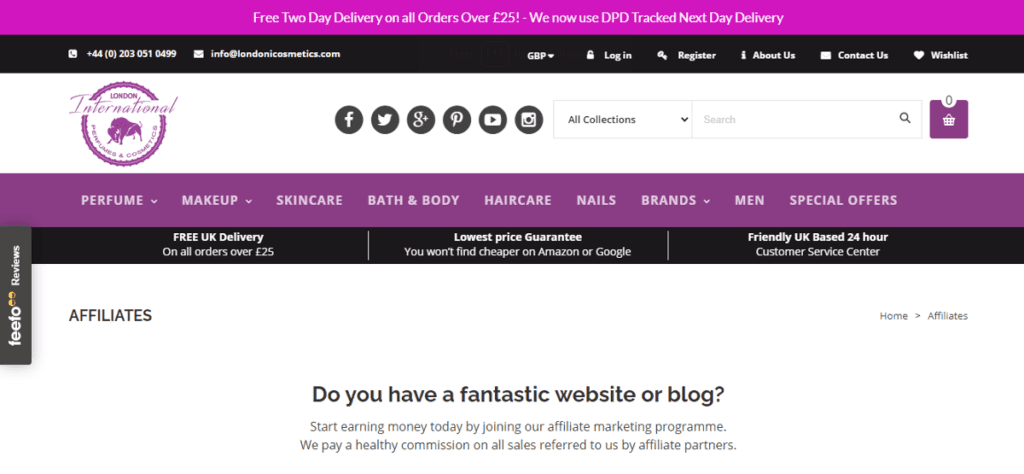 London International Cosmetics is the UK's leading beauty depot with all the big beauty and skincare brands under one roof. Because the beauty products sold are mid to high-end, you can generate a significant income stream through promoting their site and product lines to your readers.
With brands like MAC, Creed and Goldwell, you can promote and refer your web visitors with confidence. The affiliate program for London International Cosmetics is run in-house and you will be continually updated with new product lines and offers to promote.
Their 11% commission is one of the best rates in the industry and all the incentives needed to make a success of working with this company.
In addition, they help you out with a 60-day cookie period. To join the London International Cosmetics affiliate program, email their affiliate team who will provide further details on how the program work.
---
4. bareMinerals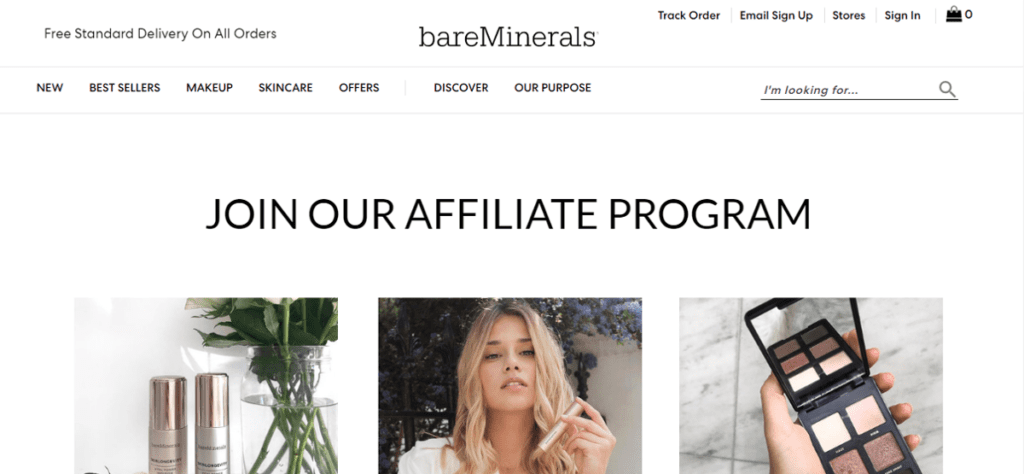 Since the 1990s, bareMinerals have built up a solid reputation for skin-friendly makeup which uses natural minerals as a key ingredient. bareMinerals are affiliate marketing and direct selling veterans and offer a generous 10% commission to new signups who refer sales across their whole range.
After 3-months the affiliate commission rate will drop to 7% across all products, which is still competitive.
The bareMinerals affiliate program is run by Rakuten publishing who will provide the platform for creating links, banners and tracking your commissions.
BareMinerals also provides a dedicated team to support affiliate partners with marketing materials and product updates.
---
5. Sally Beauty
Sally is a top destination for professional-quality beauty products. With over 6,000 individual product lines covering hair, nails and skincare, this affiliate program makes a great match for a beauty professional or hairdresser who is running a blog, or a skincare enthusiast who creates tutorials and directs their audience to purchase suitable products for treatments.
The Sally Beauty affiliate program is run by Commission Junction and will provide a 5% commission on full-price purchases on the Sally Beauty website. Sally will pay a 2% commission for purchases that use an authorized discount code.
The Sally affiliate program provides some great marketing materials including a search portal that you can embed in your site for your web visitor to search for and buy Sally products. Getting started with Sally Beauty is easy. Simply open a Commission Junction account and search for the Sally Beauty affiliate program.
The commission is paid by Commission Junction every month for balances above $50 for direct payments and $100 for cheques.
---
6. Rocky Mountain Oils
Essential oils are a big part of natural skincare and increasing numbers of people are aware of and interested in the benefits of essential oils as an alternative to more conventional skincare.
You may have a blog that features homemade beauty recipes and tutorials and wants to direct your readers to key natural ingredients or recommend essential oils as remedies for common skin ailments.
With Rocky Mountain Oils you have a comprehensive inventory of essential oils to promote on your website. Rocky Mountain Oils provide all the information required to create authoritative content that will engage and motivate your readers to try out these oils and buy!
The Rocky Mountain Oils affiliate program offers an excellent commission which starts at 9% and a 45-day cooky. In addition, Rocky Mountain Oils provide a 20% discount on every order that you can share with your readers.
---
7. ESPA Skincare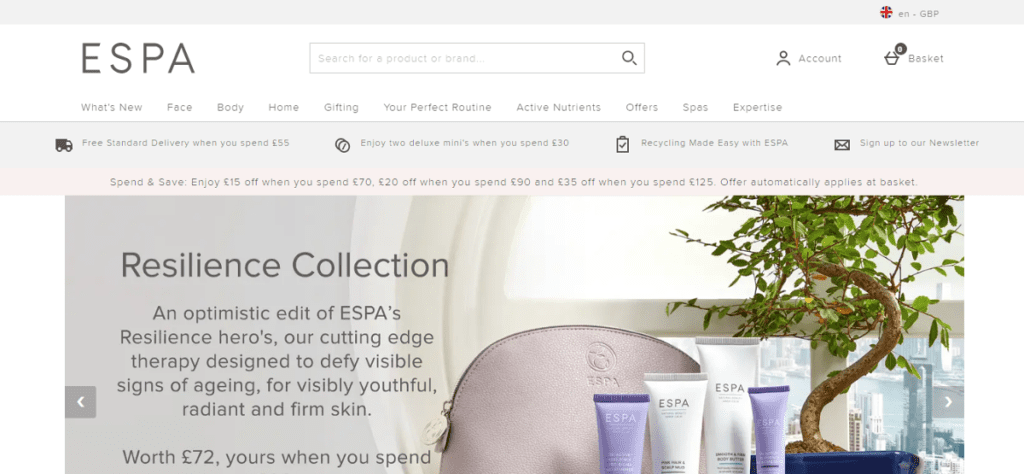 ESPA is a famous skincare brand that is used by facialists and therapists in spas across the globe. Their expansive range of holistic beauty products is formulated to promote naturally beautiful skin and a general sense of wellbeing and calm.
The EPSA website provides the opportunity to enjoy these luxury treatments, packed with plant and marine actives, at home. These premium beauty products will be a perfect match for blog readers who are discerning about what they apply to their skin.
The ESPA affiliate program is run by Awin and offers a 6% commission on all full-price orders via the ESPA website. Sales from returning customers earn 3%.
The rate of commission will drop to 2% where a coupon code or cashback is used. ESPA provides marketing materials and product updates, but beware of the coupon codes that will drop your commission.
The 30-day cookie is cross-device enabled to give you every opportunity to refer sales.
---
8. L'Occitaine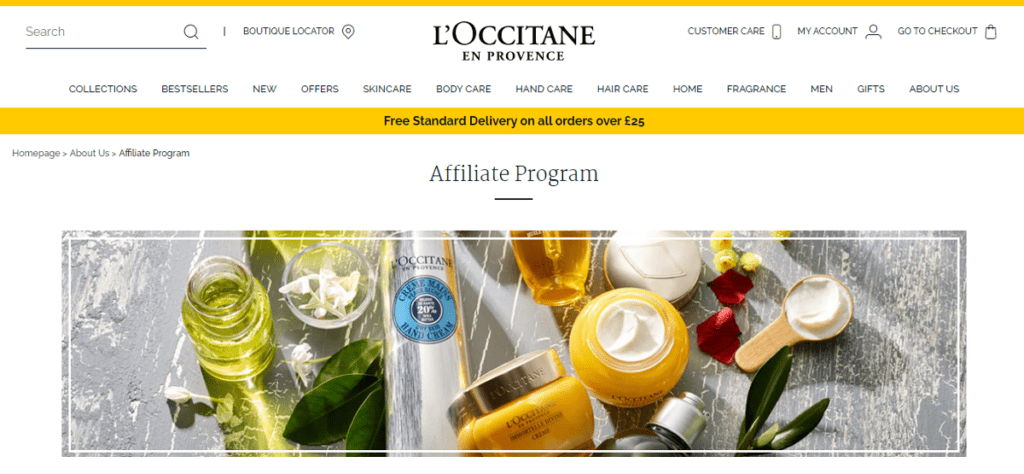 L'Occitaine is an internationally renowned French beauty brand that features rich ingredients and French botanicals that are evocative of the company's Provence heritage.
These luxury beauty products are known for the pungent aromatics and nourishing formulations that are used.
The official l L'Occitaine affiliate program is run by Rakuten and offers a commission of up to 6% on all sales that are referred to the L'Occitaine website.
As a participating affiliate, you will benefit from dedicated account management and helpful marketing collateral including offers, samples and collaboration opportunities. Rakuten will track your sales and pay commission on a Net-60 basis.
---
9. Anita Grant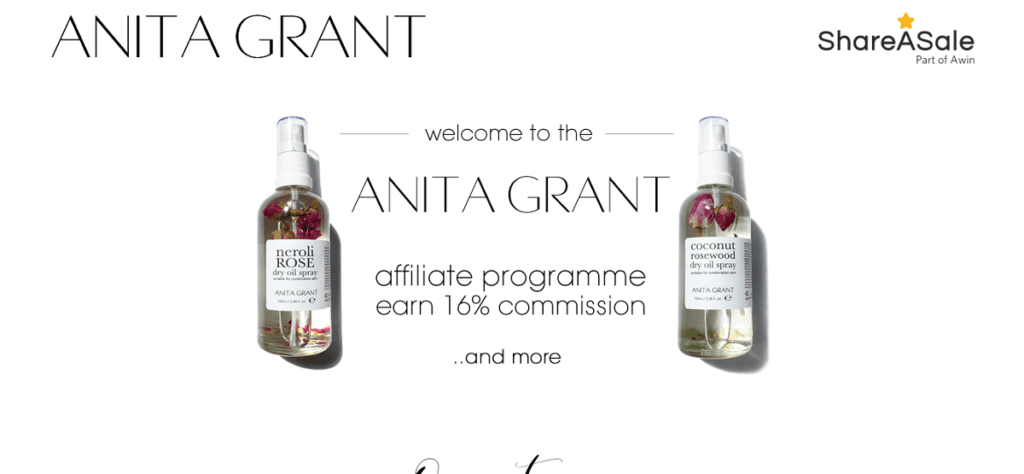 Anita Grant is a British hair and skincare company that caters for diverse hair types and textures as well as sensitive skin. Antia founded her company after being hospitalized with chemical burns from her hair products.
After recovering she started to create small batches of all-natural hair and body products that are vegan and cruelty-free. Anita Grand beauty products are for men, women and children who want beauty products for sensitive skin that have been formulated with real care.
The brand has gone from strength to strength and is seeking to increase its reach and brand recognition by forging profitable affiliate relationships with relevant content creators.
To this end, the 16% flat-rate commission is very competitive. The Anita Grant program also has a 60-day cookie which can be re-targeted for a further 90 days!
These are interesting clean beauty products that each have a story making them easy to promote. You can get started with Anita Grant by signing up with ShareASale.
---
10. Blissworld.com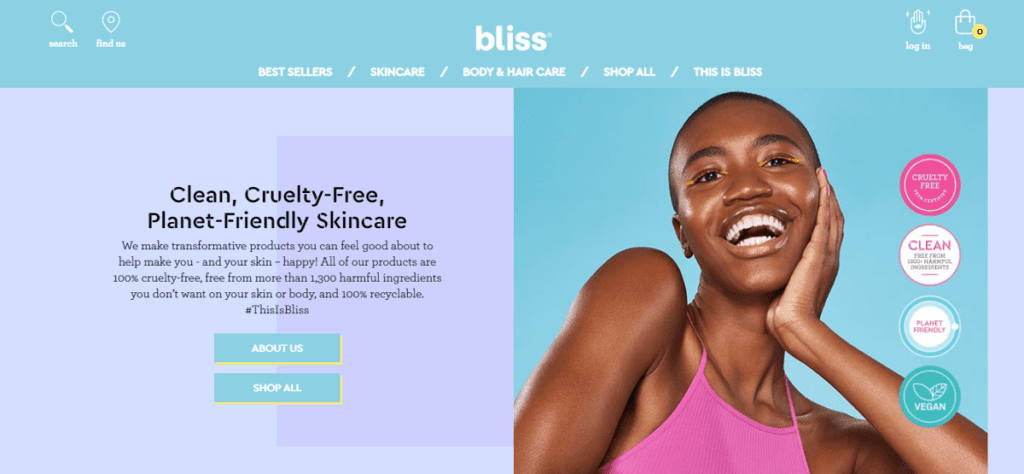 Bliss brings all the luxury of the spa experience to the home with its delightful range of beauty products that make people feel beautiful inside and out. This NYC-based brand has a global following with spa-quality soaps, cleansers, waxes, moisturisers, and exfoliants which are free from harmful chemicals like parabens.
The Bliss affiliate program gives you access to the entire range of products on Blissworld.com. The company also provides marketing materials and coupons to its affiliate marketers.
This is definitely a lively and contemporary brand that will engage your readers and earn you a competitive commission for the sales you refer.
With an 8% commission, you can generate a decent revenue stream, given that a simple bar of soap from Bliss retails for $16!
The Bliss affiliate program is hosted by LinkShare, a subsidiary of Rakuten, so you will need to sign up with Rakuten and then apply to promote Bliss beauty products.
The payment threshold is 50 dollars with payments by PayPal and cheques within 3 months of earning.
---
11. Juice Beauty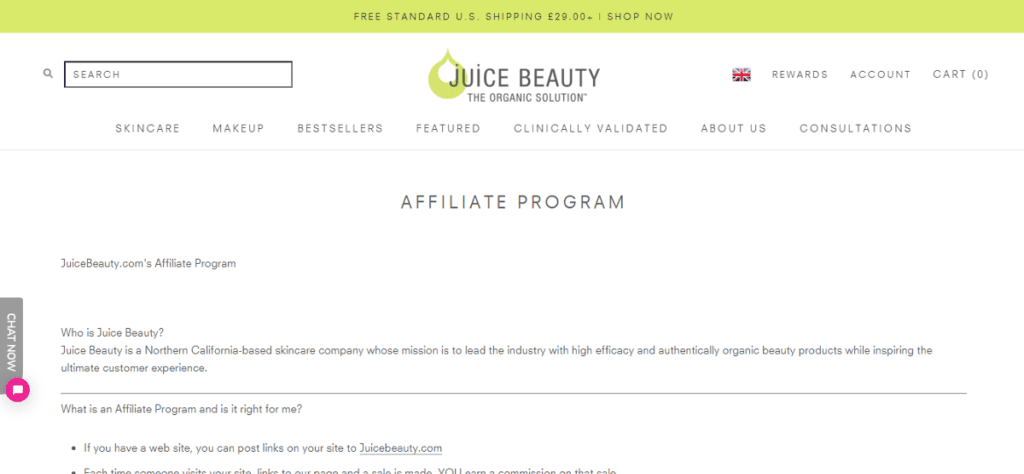 Juice Beauty is a Californian skincare company that specializes in nourishing anti-aging skincare products that use natural organic ingredients. Made by a woman, for women, Juice Beauty products feature a ground-breaking botanical juice base that is rich in key antioxidants which protect the skin.
If you think that these unique skincare and makeup products could be a good fit for your readers, why not sign up for the Juice Beauty affiliate program. It is delivered by LinkShare and offers a 6% commission on all sales you refer to Juice Beauty.
Marketing collateral, exclusive discounts and dedicated account management are provided by LinkShare which is part of Rakuten. LinkShare has a minimum payout of $50 and will release your earned commissions every 3 months.
---
13. OPI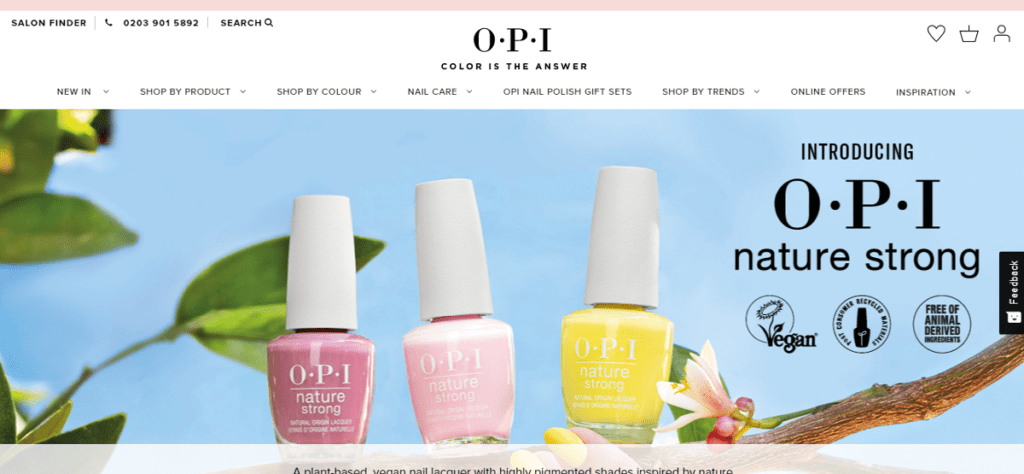 OPI is an international market leader for professional nail care. Their high quality and durable nail products are a luxury product that comes in a kaleidoscope of colors and are particularly sought after for their chip-resistant finish.
In addition to nail polish, OPI sells professional-grade manicure and pedicure products, files, tools, and acrylic nails that are perfect for sharing with an engaged audience who are interested in beauty products.
The OPI affiliate program is run by Silverbean and offers a baseline commission of 5% on their product lines. Voucher code and cashback affiliate sales earn 2%.
Once you sign up and are accepted onto the program, OPI will keep you supplied with product updates, marketing materials and unique content that can help you boost your sales.
---
14. Bobbi Brown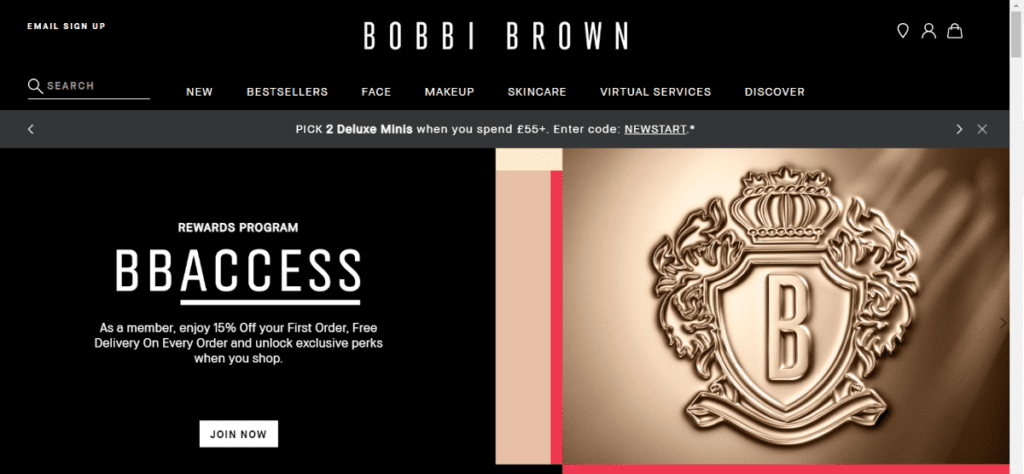 Bobbi Brown is a famous and well-loved make-up artist who has been at the cutting edge of the beauty industry for decades. Her make-up and skincare products cater for every skin tone and are designed to fit in with the modern lifestyle.
These beauty products could be easily promoted as part of a lifestyle or fashion blog as well as blogs that operate specifically in the beauty niche.
The Bobbi Brown website offers several affiliate programs with different partners. The affiliate program with Linkshare (part of Rakuten) offers an 8% commission on all sales that you refer.
---
15. Dr Jart+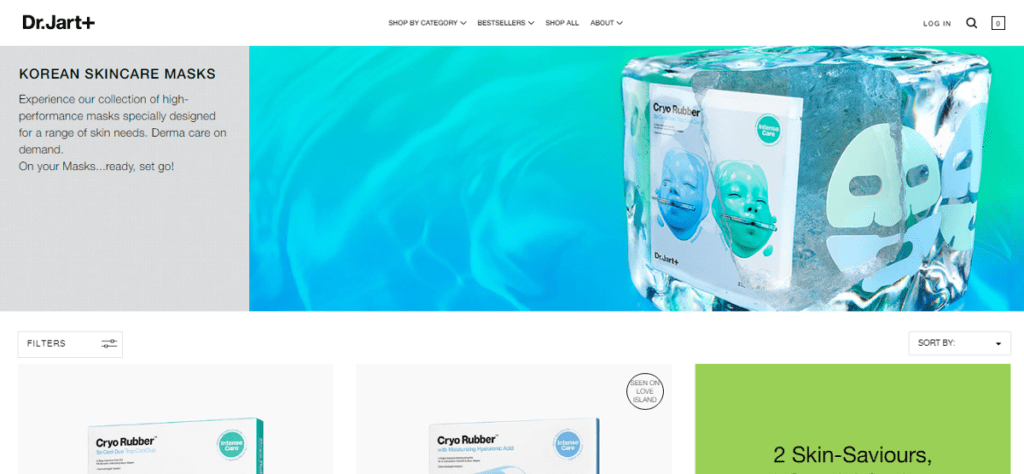 Dr Jart+ stands for doctor joins art and is a massive beauty brand that brings all the know-how of Korean skincare to the global marketplace.
Their unique masks, serums and BB creams are highly fashionable and in demand, so it is likely any readers who are interested in current beauty products will be on the lookout for this brand.
The US-based affiliate program is provided by FlexOffers and provides a 5% flat-rate commission on the full range of Dr Jart+ funky and quirky beauty products.
You will have access to these exclusive, niche products as well as the marketing collateral to help them sell.
---
16. Clinique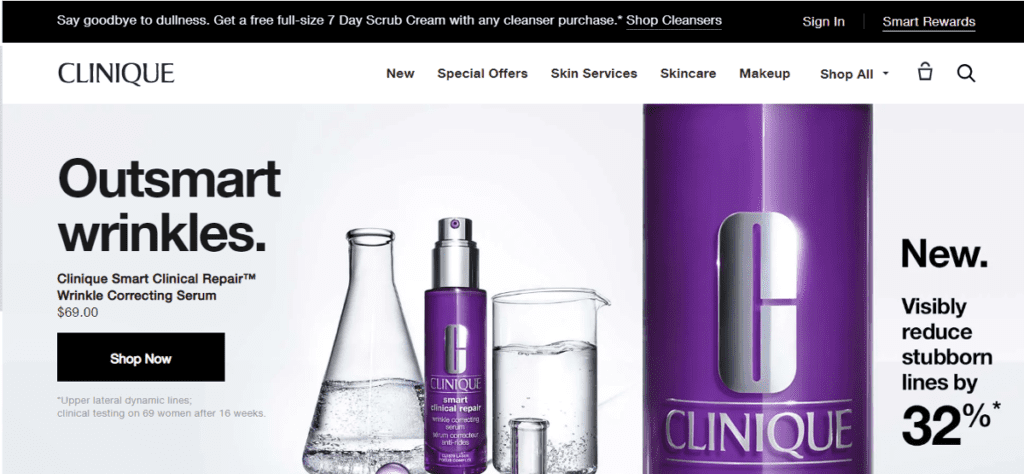 Clinique is one of the world-leading premium skincare brands and is famous for its routine-based skin care system that includes cleansing, toning and moisturizing. All products are designed for specific skin types and include a make-up range.
The Clinique affiliate program targets the US market with a 5% commission paid for sales referred to Clinique.com. The program can be applied via FlexOffers or Rakuten.
---
Beauty remains one of the most lucrative affiliate marketing sectors in the business.
The beauty and personal care industry is a growth sector currently valued at over $511 billion, amounting to around $67 for every person on Earth this year!
For affiliate marketers, the trickle-down can be immense and high competition should not necessarily deter you because there are so many micro-niches and specific types of beauty products that people are searching for. As online retail expands, more and more people are buying their makeup and skin products online.
This is an entirely different customer experience to testing makeup and product samples in a department store and requires lots of descriptive information and reviews to make an informed choice – that's where you come in!
Don't be afraid to try new programs!
It's easy to sign-up to Amazon Associates and just put your blog on cruise control, but if you are more discerning about the affiliate programs you participate in, you could gain a real uplift in income.
If you have noticed search queries for a specific beauty product or brand are trending in the search queries you may earn more promoting that specific product with the companies program rather than using a third-party retailer's affiliate program.
Give your blog a facelift by showcasing the world's leading beauty brands
These beauty product affiliate programs are perfect for targeted link placement and product discovery in a variety of blogs. Beauty products may be relevant to the audiences of mummy blogs, influencer content creators, and fashion writers.
Small business owners in the beauty sector like hairdressers, manicurists, and facialists may want to create blog content that refers their customer base to specific beauty products they can use at home between sessions.
The best affiliate programs for beauty programs are also suitable for promotion via social media, YouTube, and email marketing.
No website? No problem!
Read my article "Do you need a website to create a landing page?" to learn how you promote these market-leading beauty products without a website.
Before you go!
If you're looking to start a new website then maybe you should consider an aged domain. No waiting for that 7-9 month sandbox before you see some results. Get fast results by using aged domains. I recommend ODYS which is where I purchase mine from.
What's the fastest way to monetize your blog? Display ads of course and you can't go far wrong with Ezoic. You can also join their program with a small and even brand new website. By using my link to their Access Now program you'll get quick access to high-paying display ads for your website. Start earning money today! Sign up here.
and finally…
All websites need one thing. Content, whether that be outsourced content like I get from BuySellText or AI software that will write it for you like Jarvis.AI. Currently, the best tool out there if you like AI software.
If you can't see the tool or resources you need here. Check out my resource page which is packed with helpful tools, software, and apps that can help you maximize your revenue and grow your website faster. Many of which are discounted if you click my affiliate link. See my resources page.