If you are looking to monetize a thriving blog or social media account or diversify the affiliate programs you are already participating in, clothing is a sector that can potentially deliver great revenues.
Though the events of 2020 led to a marked downturn in the fashion industry of over 12%, the bounce-back has already begun with the global fashion market expected to exceed $630 billion by the end of 2021, making it a great time to be involved in affiliate programs for clothing.
Clothing affiliate programs are incredibly versatile and it is easy to align particular clothing brands or types of apparel with the interests of your audience.
Of course, clothing is the bread and butter of many fashion and lifestyle blogs which can generate serious income through the targeted placement of big-ticket designer items. Niche clothing and brands will also earn you decent web traffic and revenue.
Companies and retailers are keen to work with content creators because they know that your endorsement generates sales. This means you can be discerning and shop around for the affiliate programs that will genuinely make you money.
To help get you started, I've gathered 20 of the best affiliate programs for clothing on the market today.
Are you ready to check them out?
Let's get into this!
Let's look at the best affiliate programs for clothing!
1. Michael Kors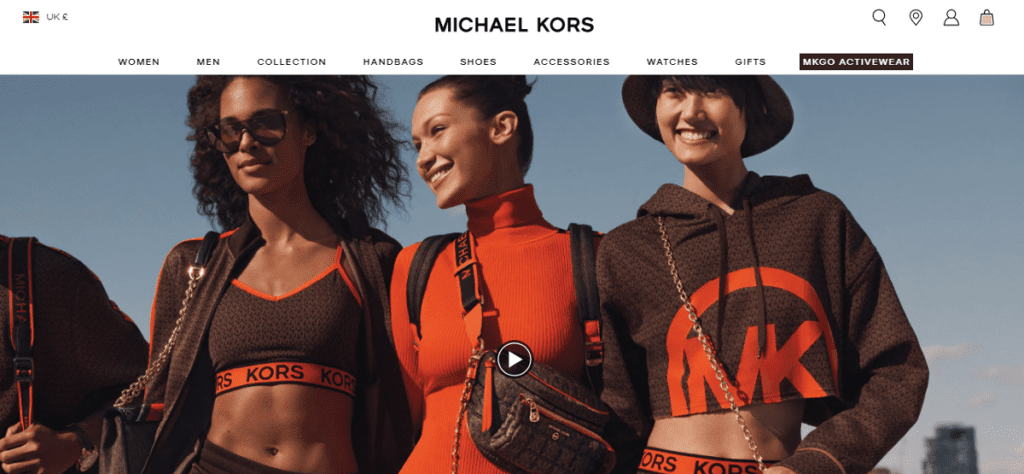 Michael Kors is a well-recognized designer of luxury ready-to-wear clothing and accessories. The Michael Kors labels offer a range of products including apparel, watches, bags, eyewear, and fragrance.
As an affiliate marketer for MichaelKors.co.uk you can bring these polished items to discerning readers of your lifestyle, travel or fashion blog. 
Awin manages the Michael Kors UK affiliate program which covers the brand's presence in the UK and Europe. Michael Kors offers a healthy 6% on the UK site that spans the entire collection across the main Michael Kors brands. You will benefit from their high average order value and 30-day cookie lifespan to generate considerable revenue.
---
2. ShirtBox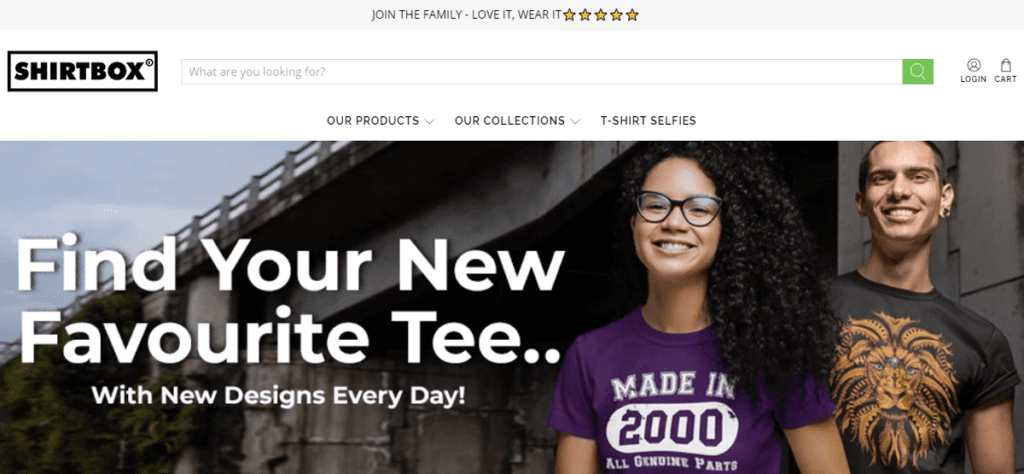 ShirtBox is a US and UK website that specializes in cool, funny, and original T-shirt designs that are real crowd-pleasers! Their T-shirts and hoodies are of great quality and perfect for celebrations and gifting.
The sheer variety of designs mean that it should be easy to include items that are relevant to your web visitors.
ShirtBox has UK and US affiliate programs. Their program hosted with Flex Offers offers a 5-15% commission on sales you refer. To get started, sign up with Flex Offers and apply to become a ShirtBox affiliate.
---
3. RewardStyle/LikeToKnowIt (LTK)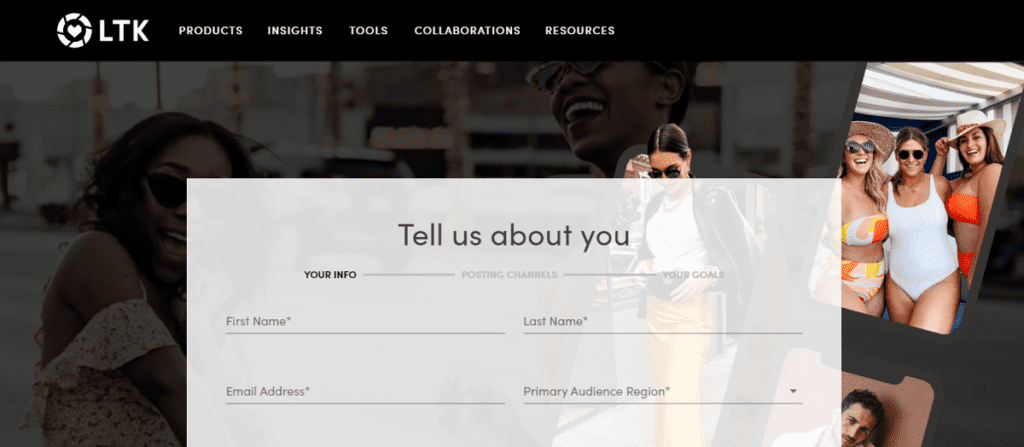 RewardStyle is a go-to for clothing and fashion-focused content creators.  This affiliate platform has done the hard work and brokered lucrative deals with some of the biggest clothing and fashion brands as well as thousands of independent and smaller retailers.
This makes RewardStyle and its sister platform LTK hard to miss if you want to sign up for an affiliate program for clothing. 
RewardStyle is a very exclusive network and you should bide your time before applying. If you fail to get accepted after 6 attempts you will be banned from the platform.
They will be looking for high resolution, quality visuals, engaging content, high levels of traffic, and large numbers of followers on social media. Reward style companies offer some of the best commissions in the industry, paying out every two weeks through PayPal.
---
4. AS by DF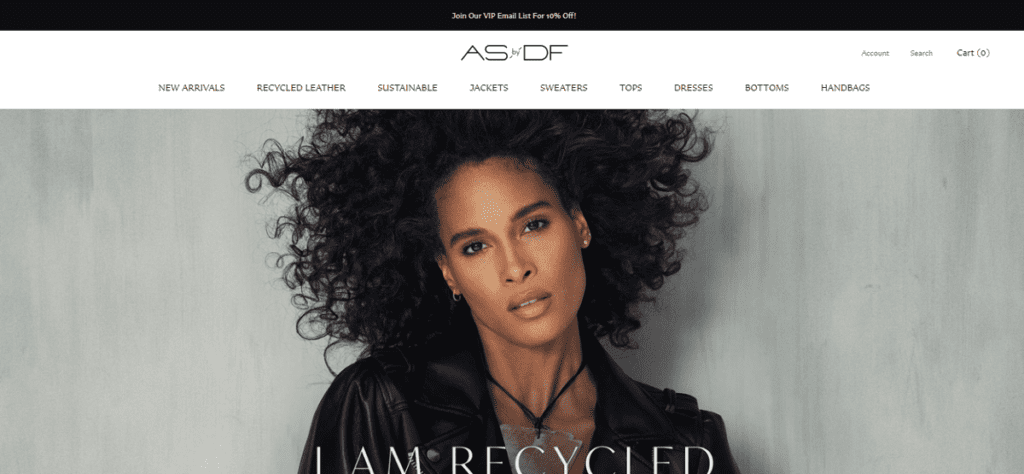 AS by DF has an amazing range of luxury designer leather jackets that are crafted with recycled leather. Their proprietary processing takes leather scraps to make a new leather fabric from which their beautiful leatherwear is cut.
This fashion-forward and sustainable company is the brainchild of designer Denise Focil who continues her quest for the perfect leather jacket.
If this is a clothing company that can resonate with your online audience, you could earn 10% for every completed sale you refer to the AS by DF site.
With a jacket costing around $800, you could soon see commissions build up to a healthy income stream. The AS by DF affiliate program can be joined via Yazing. It includes affiliate links, coupons and promotions. 
---
5. Gwynnie Bee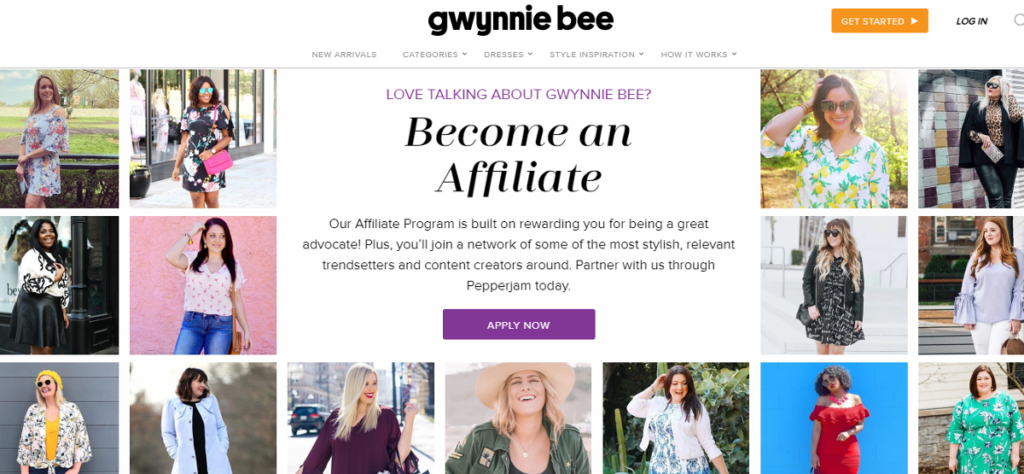 Gwynnie Bee is a smart, fun clothing company for plus-size women with a twist. It is a subscription-based service that enables women to hire or buy clothing on a daily, weekly or monthly basis.
Customers can choose from up-to-date edits and collections that feature some of the most popular clothing brands. The outfits range from everyday wear to workwear, occasionwear and bridal pieces.
Customers can try them, style them and return them as much as they want!
Gwynnie Bee is keen to work with influencers, bloggers and affiliate marketers who will make great advocates of their stylish clothing. It's easy to join their program.
Simply sign up with their affiliate partner PepperJam and apply to join Gwynnie Bee. The commission is a one-off fee to each referred sign-up of up to $75. Affiliate marketers can then create links or use targeted ads and banners in their content.
Gwynnie Bee also wants its affiliates to try and review their service and advertise any of their promotions. 
---
6. Grayers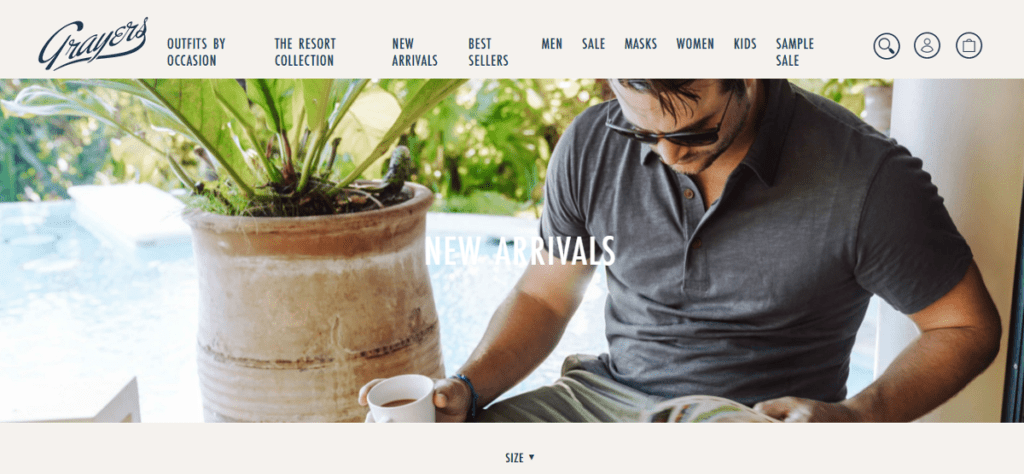 Grayers is a men's fashion brand that has made a name for itself with its classic All-American style with a hint of vintage. Men are really connecting with this brand that boasts quality fabrics and a great fit that can smarten a casual wardrobe.
The Grayers affiliate program is going to be as popular with affiliates as the clothes are with men! You'll receive 15% for each sale you refer from your blog, social media or email to the Grayers site.
The Grayers affiliate program is delivered via ShareASale, so you will need to sign up with ShareASale or Rakuten, search and apply to join this program. 
---
7. Shopify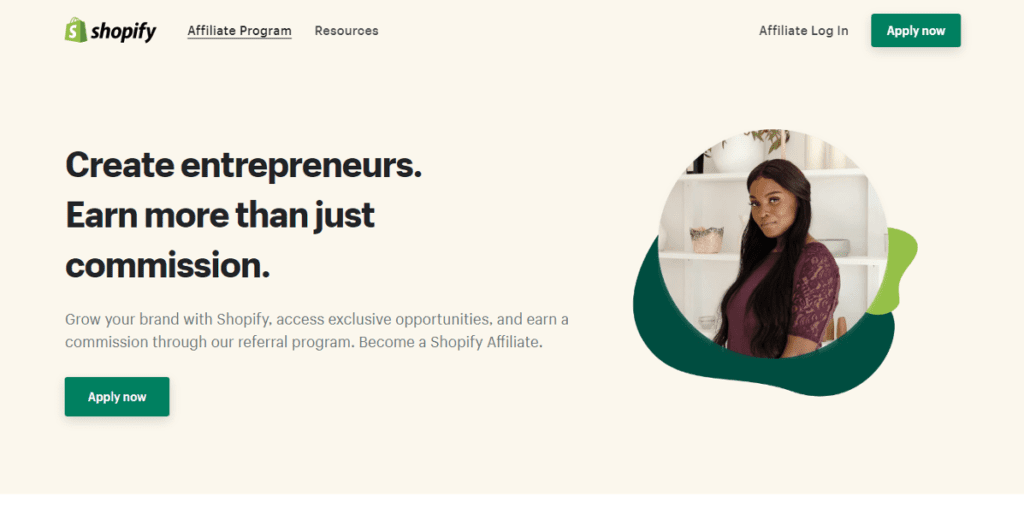 Shopify is an eCommerce brand that dovetails seamlessly with blogs that talk about fashion and clothing. As eCommerce is a rapidly growing industry your content will likely be read by someone who wants to start their online clothing store.
As one of the leading eCommerce platforms, Shopify is an affordable and accessible brand that should be easy to promote. It is already home to over 1 million vendors with a variety of products and services for sale.
Shopify packages vary in price point between $9 and $2000 per month!
I am sharing Shopify's affiliate program with you because it presents an amazing opportunity to earn significant affiliate income, with one of the highest rates of commission in the industry.
Shopify will pay out a 200% commission for every person you refer to their site that signs up for a paid plan! I'm not joking. They will give you the full first and second payments of a new signup!
You can sign up to become a Shopify Partner on the Shopify website. They will pay out your earned commission every 30 days by PayPal.
---
8. Organic Basics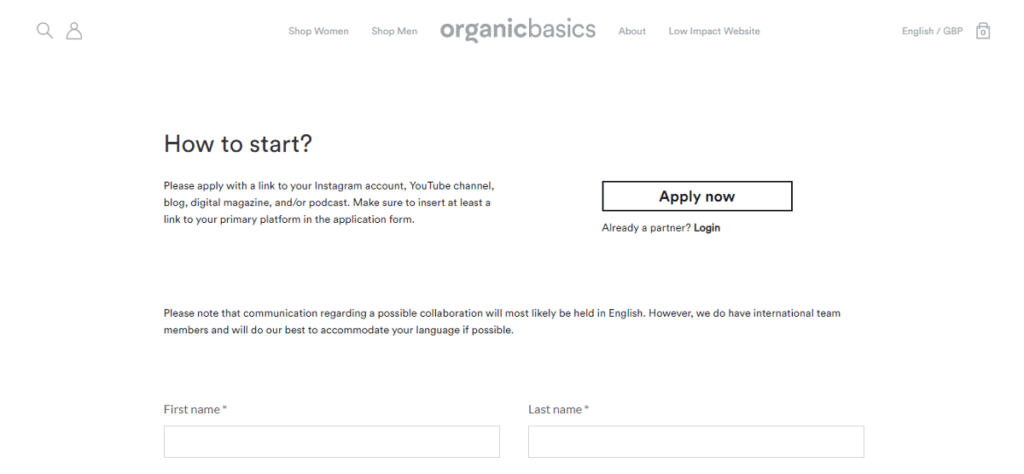 Organic Basics is a premium clothing line that specialised in sustainably manufactured basics like T-shirts, vests and underwear.
They carry clothing for men and women that is low impact and ethically sourced, with a cut and quality that really stand out.
This brand would dovetail seamlessly in a variety of blogs and social media content that covers not only clothing but also sustainability, fair-trade, organic and eco-friendly living. 
Organic Basics is on the lookout for like-minded content creators who want to work with their brand. They will pay commissions of between 10 and 15% for referred sales in their online store.
In addition, Organic Basics serve up a 10% discount for you to pass onto your readers and followers. Affiliates are regularly featured on the Organic Basics website and social media, providing you with valuable backlinks!
Apply directly on their website at the link above. 
---
9. Zappos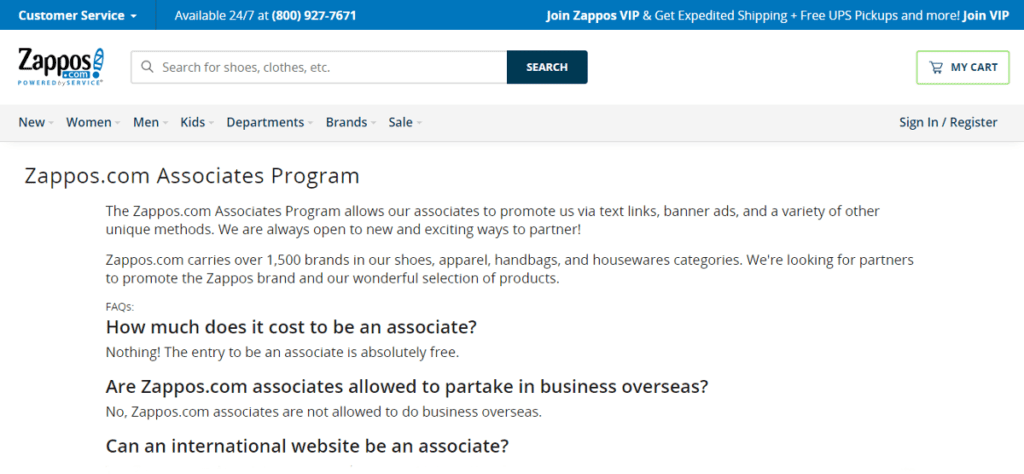 US store Zappos is a great contemporary brand that has a strong market presence in clothing, shoes and accessories. It strives to be a cool brand with great products and customer service and is keen to partner with affiliate marketers and publishers who align with its values.
With over 1500 brands carried by their massive eCommerce store, it will be easy to find and promote unique items, from a familiar brand that is relevant to the audience of your blog. 
The Zappos Associates Progam offers a flexible relationship for promoting Zappos products, with the company always looking for new ways of engineering a mutually beneficial arrangement with its associates.
Zappos is for the US market but will remunerate overseas affiliate marketers who refer traffic for them. To get started with Zappos you will need to join Commission Junction and sign up via that affiliate platform. 
---
10. Mytheresa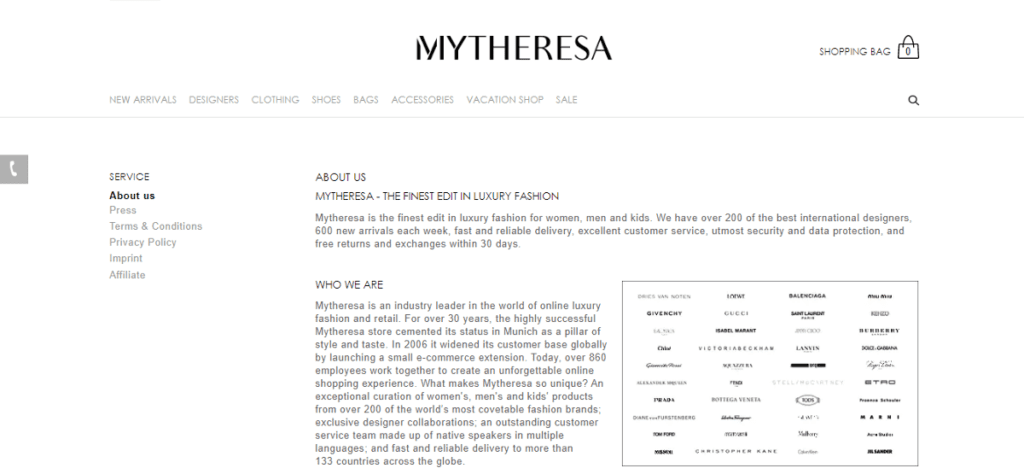 Mytheresa is a key online destination for ultra-luxe fashion with an edit of the leading 200 international designers for men, women and children.
It has built up a global reputation for luxury fashion over the past 30 years, originally operating out of its iconic Munich store. Its online store aims to recreate the famed shopping experience with up to 600 new arrivals each week for browsing and of course, purchase. 
The Mytheresa affiliate program provides an opportunity for fashion-forward websites to earn a generous 8% commission on sales they refer to the Mytheresa site.
The program can be joined via CJ Affiliate or Rakuten and has a 30-day cookie lifespan. Once approved, create the affiliate links and banners you want to use with your content.
It is the perfect affiliate program for the dedicated fashion blogger, influencer or social media maven who can promote big-ticket products for a large revenue stream. 
---
11. Yumi Kim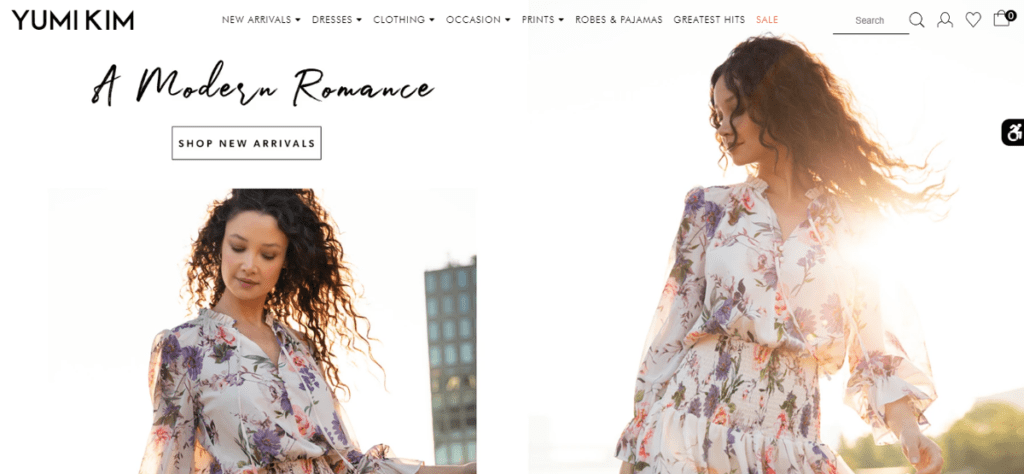 Yumi Kim is the home of fun and feminine floral dresses, robes and nightwear created by Kim Phan, a designer who interweaves Vietnamese touches in her clothes.
These beautiful clothes would appeal to a wide range of women and would not be out of place featured in a street-style, mommy or even travel blog. 
The Yumi Kim Affiliate Program is administered by Ascend Pepperiam. It offers a 10% commission on all sales referred to the Yumi Kim site with a 30-day cookie.
---
12. Crew Clothing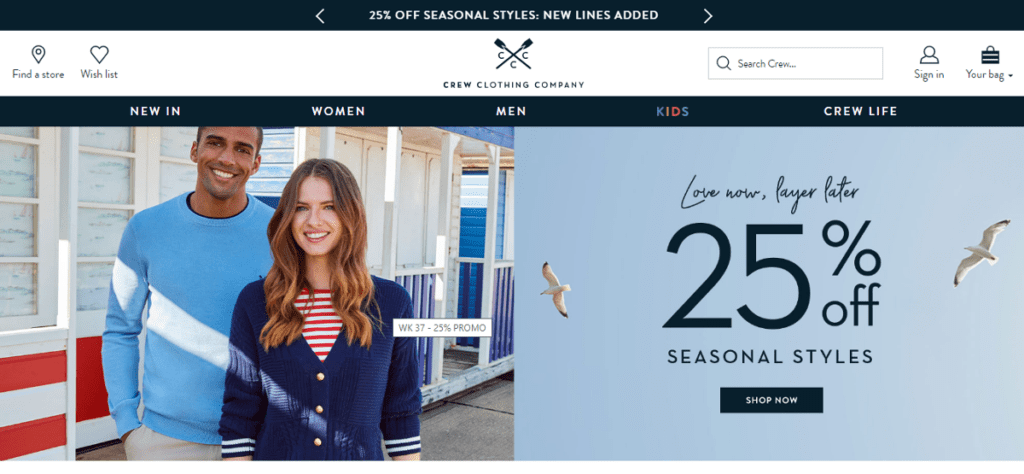 Crew Clothing is a quality British brand for those who love the marina and boating lifestyle. Family run and founded in the beautiful coastal town of Salcombe, it sells classic casual clothing that will smarten up a lunch date or weekend by the sea.
Think chinos, rugby shirts, Breton tops, anything that goes well with a pair of boating shoes!
If your blog has a nautical theme and you wanted to feature some relevant clothing, Crew Clothing smart and stylish edit would not be out of place.
The Crew Clothing affiliate program administered by Awin provides access to the entire range so that you can select the pieces that will really resonate with your audience. 
Crew Clothing offers a 5% commission on the full-price sales you refer, with a cookie lifespan of 14 days. You can apply to work with Crew Clothing by applying via Awin using the link above.
---
13. ShopStyle Collective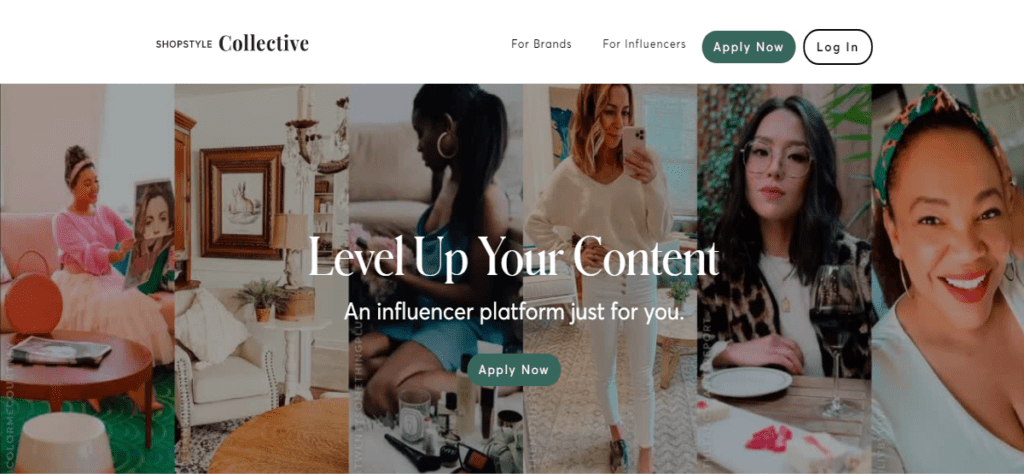 If you are a lifestyle or fashion blogger with a strong following and love all things new and trendy, the ShopStyle Collective is likely to be a great fit for your site.
You may have already visited the ShopStyle search engine to browse clothing, home decor and beauty products. Now you can bring your favorite brands to your audience via the ShopStyle platform while making decent earning via their affiliate links.
Working with ShopStyle, you will be joining glam influencers and fashion content creators to gain access to the world's biggest and most exclusive clothing brands including Nordstrom, Burberry and Saks Fifth Avenue.
ShopStyle Collective offers membership options for adding affiliate links to your existing content or creating sponsored campaigns. You can get started with ShopStyle by applying to their platform.
Commissions vary by brand worked with but ShopStyle reports that their commission run 15 – 20% higher than competitor platforms. 
---
14. ModCloth
ModCloth is a popular US site for vintage clothing covering the 50s, 60s, and 70s. Their fun fashion is great for people who love retro fashion or new ways of dressing up and enjoying their wardrobe.
Their extensive inventory of clothes comes from hundreds of designers who produce this niche style of clothing. 
Because retro fashion is a strong clothing niche, ModCloth has developed a highly connected community of enthusiasts who are looking for specific clothing styles and designs.
As a ModCloth affiliate, you can tap into this niche by promoting their unique apparel and accessories. 
The commission is 5%, but with an average sale of $120, they will add up! ModCloth will even pay an additional $10 to you for every other blogger you encourage to sign up.
You will have loads of help from their affiliate management team who provide a weekly newsletter packed with ideas, promotions and discount codes.  The ModCloth affiliate program is delivered by Commission Junction.
---
15. White House Black Market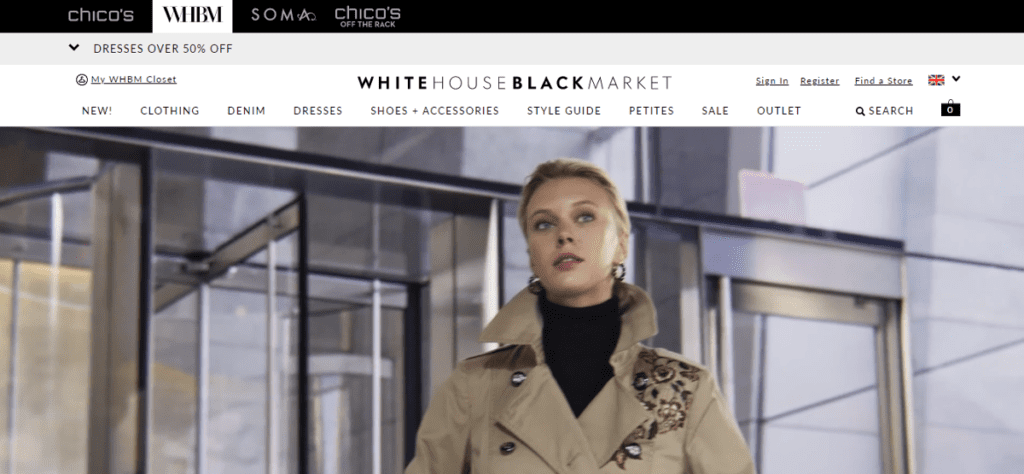 White House Black Market shot to fame when their clothes were worn by First Lady Michelle Obama in the real White House.
Since then this ladieswear clothing brand has gone from strength to strength, shipping globally. It's a great brand if you have female readers who are interested in smart casual clothing with a classic twist.
You should find it easy to select and feature staples that many women would love to wear, using your keen eye for style.
The White House Black Market affiliate program is offered by BrandReward and can be accessed via their signup page.
---
16. Nordstrom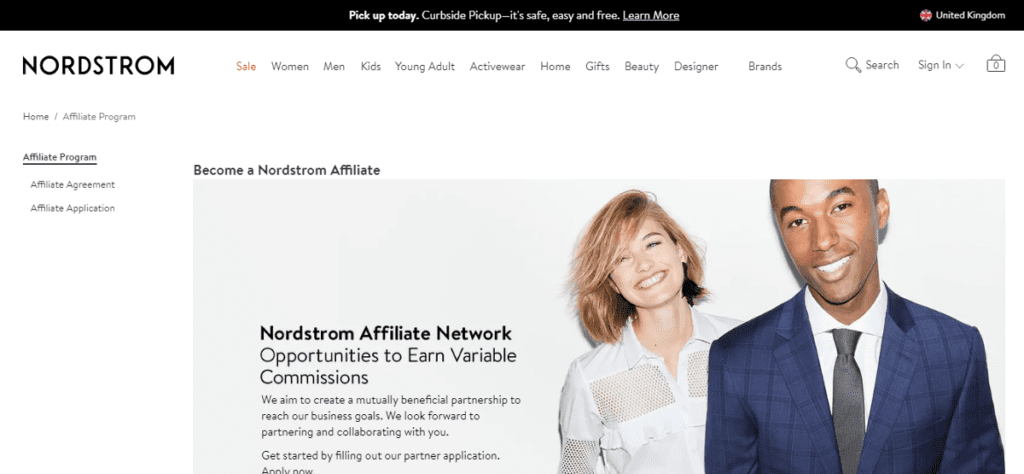 Nordstrom is one of the world's most well-reputed online fashion stores and a go-to retailer for big-ticket designer clothing. It is famed for its extensive range of clothing from leading designers and legendary customer service.
It is an ideal brand for promoting as part of a luxury lifestyle website or if your blog specialises in high fashion, streetwear or anything in between.
Having Nordstrom in your stable of affiliate programs will mean that you stay ahead of trends with the latest need-to-know brands.
The Nordstrom affiliate program delivered by Rakuten advertising pays a commission of up to 5% on the sales you refer to their site. Nordstrom is looking to work with high-quality sites or social media accounts with good volumes of traffic or followers.
Once accepted you will be equipped with the links and banners you need to bring the Nordstrom brand to your audience. Rakuten will pay out all commission earned over £25 every month. 
---
17. TK Maxx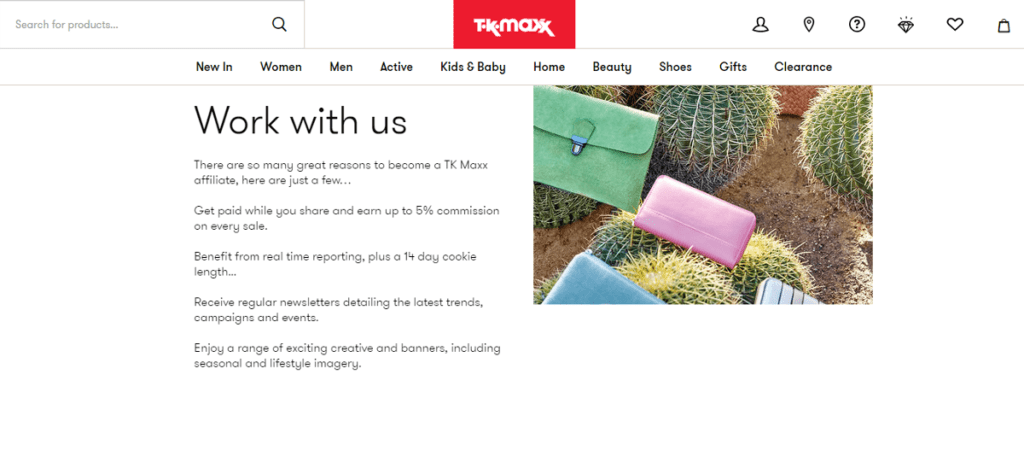 TK Maxx is a British high street staple for clothing shoppers who want to find something special at a great price. And it's great to know that they have made the transition to eCommerce meaning that your web visitors can get a fashion fix from the comfort of their own home!
Better still, joining the TK Maxx affiliate program means that you can promote their full range of designer and big brand products at great prices including homeware and beauty products.
The TK Maxx affiliate program is run in conjunction with Rakuten. Once you sign up, you will have everything needed to create affiliate links, banners and track your earnings.
TK Maxx also provides a regular newsletter and marketing collateral that keeps you up to date with seasonal trends.
---
18. J.McLaughlin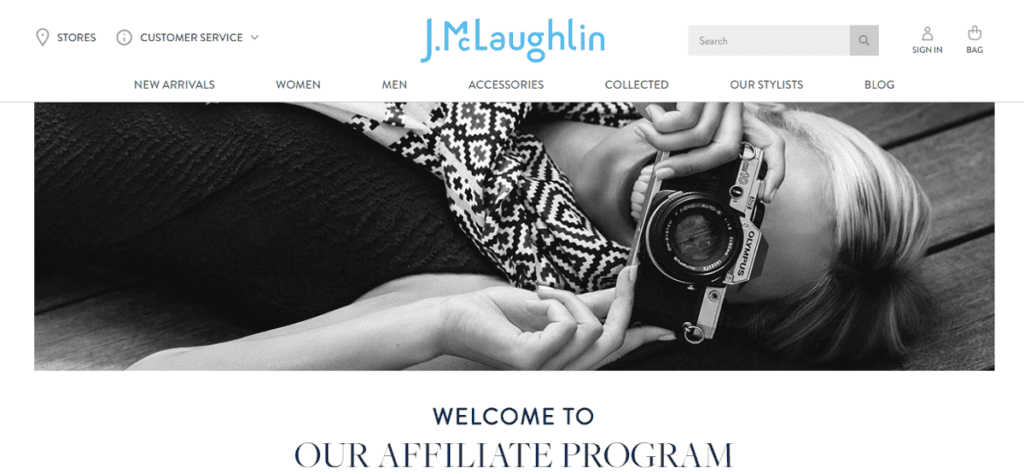 J McLaughlin is a by-word for classic grown-up style with a touch of preppy. This sportswear brand is popular across the US from East to West Coast, with its staple piece taking pride of place in many wardrobes.
It is still at its heart a family business having been started by brothers Jay and Kenny in 1970s New York. As a popular brand with well-cut investment pieces, J McLaughlin may be a great fit for a blog about workwear or as a featured affiliate partner in a well-curated lifestyle blog.
As J McLaughlin does both womenswear and menswear, you could achieve a wide reach by featuring this brand. JM McLaughlin is working with ShareASale to provide this affiliate program.
The 15% commission is generous with a standard cookie length of 30 days. Sign up is straightforward and if approved, you will enjoy exclusive access to in-store events and upcoming items from their collections.
---
19. The White Company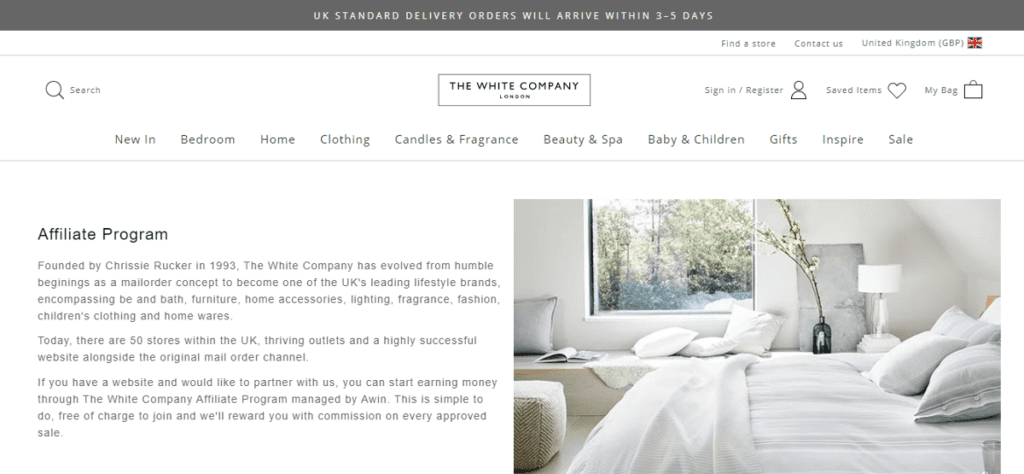 The White Company is a classic British lifestyle brand that features beautiful loungewear and children's clothing alongside its reputable homewares.
Their simple luxe style can appeal to a wide range of tastes meaning that featuring their clothing could engage people visiting your fashion blog. 
The White Company are keen on partnering with like-minded bloggers and online content creators, offering a flat-rate 5% commission for every sale referred by participating affiliate marketers to their site.
The program is managed by Awin, making it easy to sign up and create links from The White Company's extensive collection of clothing and accessories.
---
20. Craghoppers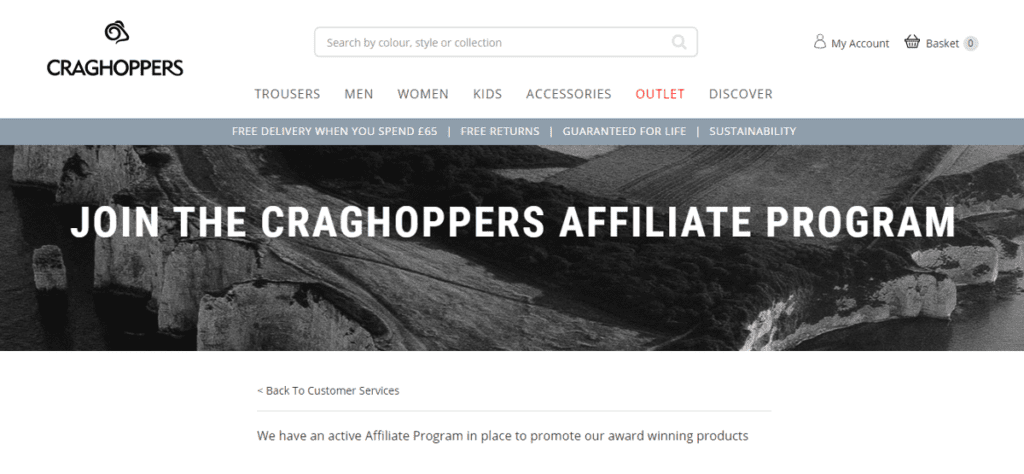 Craghoppers is a great outdoor brand with clothing and accessories for explorers of all ages. Their clothing is presentable and uses cutting edge fabrics and designs to perform optimally at all times.
They are an ideal brand to share on a website that deals with travel, walking or any other outdoor pursuit. You can join the Craghoppers program via Affiliate Window and earn a commission of 6% on all sales you refer to the Craghoppers store. Craghoppers also provide additional marketing materials, offers, and voucher codes. 
---
Before you go!
If you're looking to start a new website then maybe you should consider an aged domain. No waiting for that 7-9 month sandbox before you see some results. Get fast results by using aged domains. I recommend ODYS which is where I purchase mine from.
What's the fastest way to monetize your blog? Display ads of course and you can't go far wrong with Ezoic. You can also join their program with a small and even brand new website. By using my link to their Access Now program you'll get quick access to high-paying display ads for your website. Start earning money today! Sign up here.
and finally…
All websites need one thing. Content, whether that be outsourced content like I get from BuySellText or AI software that will write it for you like Jarvis.AI. Currently, the best tool out there if you like AI software.
If you can't see the tool or resources you need here. Check out my resource page which is packed with helpful tools, software, and apps that can help you maximize your revenue and grow your website faster. Many of which are discounted if you click my affiliate link. See my resources page.