I hope you have hot soapy water and a sponge to hand because right now we are going to take a look at how to clean up your email list.
Think about it, you probably have done an excellent job of getting your first 5000 subscribers and now you have a long list that is growing continually.
But, mixed in with the stellar responses and conversions, there will be dank, dark corners where unresponsive subscribers and dud emails are lurking – so the list will need a good old clean from time to time.
Well, you can set the bucket and sponge to one side and load up the computer as we take a look at the steps you need to take to give your email list a good scrub, improving your sender reputation and email deliverability as you go.
Let's get into this!
You could always check out my video on the topic. Click the link below
Just what exactly is cleaning an email list?
Email list cleaning is simply the task of removing inactive email subscribers. This may be due to:
Inaccuracies in the data entered by the subscriber at opt-in
Fake email addresses
Addresses that are undeliverable and continually bounce
People who have unsubscribed but you have forgotten to remove from your list
Whatever the reason, the main symptom you are looking for is an email subscriber who has had no engagement with your emails over a prolonged period, typically 3 months.
Think of your email list cleanup as a regular housekeeping task that comes with email marketing.
If you have neglected to do this, I hope I can encourage you to make this part of your routine.
Why cleaning up your email list is a must.
If you plough on with your email marketing oblivious to the condition of your list you are taking a risk.
Email lists are like plants, they can grow, but they also can rot and decay, becoming toxic to your whole operation if neglected.
It is thought that most email lists lose just under a quarter of their subscribers annually through unsubscribes.
A further 10 to 25% of subscribers may simply go cold, staying subscribed but not opening your emails.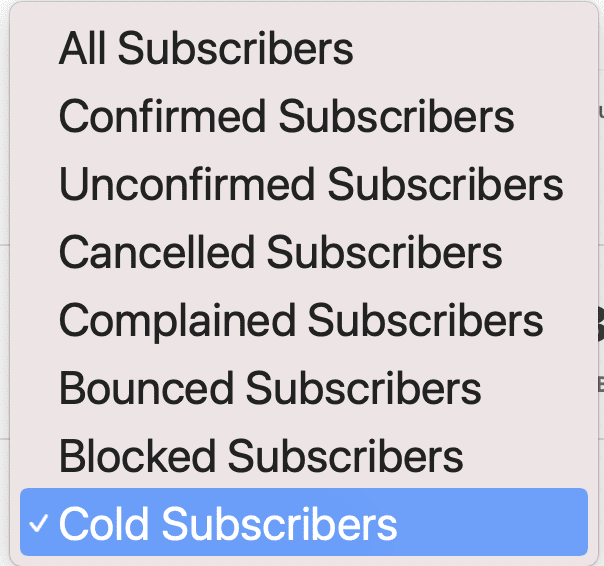 These cold subscribers don't stand out in a large email list but they can affect the performance of your entire list and the campaigns you create.
The deliverability of all of your emails is affected by the presence of cold subscribers.
If a significant proportion of your emails go undelivered it can affect how mail servers perceive your email campaigns.
Emailing uninterested subscribers can mean that your emails are marked as spam, leading you to run foul of the spam filters generally.
Using a good email provider to build your email list like Convertkit really helps make the process of building a successful email list thanks to all its pre-built tools. That's why I use them.
Keep deliverability issues at bay
Keeping a clean email list is essential for maintaining the deliverability and reputation of your email domain.
One of the most effective ways of improving your email deliverability is to weed out inactive subscribers and bad emails will prevent you from getting to the stage where large numbers of emails are being blocked before taking action.
Don't let yourself get snagged by dodgy signups, uninterested subscribers or emails that continually bounce!
Cleaning up your email list also delivers several other benefits that will help you get more value from your email marketing.
Here are some of the key advantages of cleaning your email list:
Work with a more responsive pool of subscribers
Once the subscribers that never respond, or fake emails are removed, you will find yourself with the people who genuinely want to hear from you and often reply.
After all, you need to know what your subscribers want or are interested in, and dealing with a responsive group will make it that much easier to increase your conversions or transactions by serving them in a more targeted way.

Your bounce rate should be lowered
Cooling or cold email addresses are often the culprits behind a rising hard or soft bounce rate. If you are noticing that your bounce rate is creeping up along with your email list, you're likely accumulating undeliverable email addresses that need to be removed.
Lift your conversions
The inactive or undeliverable emails you are keeping have no chance of converting. Removing them immediately shows you the real conversion rate you are working on.
Stripping back to a more engaged audience leaves you able to focus on improving the quality of your emails to boost conversions further.
Save on the cost of your email marketing package
As so many Email Service Providers charge for their services based on the number of subscribers you have, you could be paying more than you need to.
Sending hundreds or thousands of emails to inactive subscribers is a waste of money.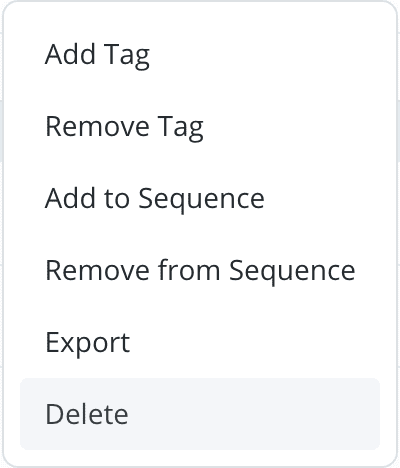 Reducing your list may mean you can operate on a cheaper package while enjoying better results.
Get a more realistic picture of how your email marketing campaigns are going
By sending emails to persistently inactive users, you are skewing your campaign stats towards those emails that are going to be undelivered.
The only way you will know how engaging your content actually is by removing the emails that are never going to receive it.
With clean data, you are going to have more impactful and actionable insights from your analytics and feedback data that you can harness to improve your campaigns.
A cleaner, more engaged list delivers the best ROI.
With better deliverability comes raised open rates and which should translate into a bottom-line increase in revenue.
An improved sender reputation will lead to your emails being prominently placed in inboxes, strengthening your brand's ability to reach and engage subscribers.
Starting off slow and only sending a few emails to people you know who WILL open it can improve your sender score.

Maintaining your email subscriber list is one of the best ways of enhancing sender reputation
By keeping your email list free of unresponsive and dodgy emails you will be protecting the reputation of your domain.
Lots of emails that are not opened or deleted really harm email domain reputation and increase your overall chances of being diverted to spam.
Regular re-verification is a key strategy for keeping your list up to date and reducing the incidence of mail being trapped by spam filters.
So, by cleaning up your email list, you'll not knock a lot of deliverability issues on the head but also acquire favourable account metrics to build email domain reputation
I have to say that working with a more responsive pool of subscribers makes for more satisfying work and keeps my messages out of the spam folder.
If email domain reputation leaves you scratching your head, why not pop over to my article "How to avoid emails going to spam " where I explain why boosting sender reputation is a long-term strategy for avoiding the dreaded spam filter.
If your email list is due for a clean up, let's run through how to properly clean up your email list. Just like pruning a tree, you have many ways in which you can go about this, meaning you can settle on a routine that works for you.
Email marketing re-engagement is my go-to strategy for keeping my list clean and active!
One of the key methods I routinely use for list clean up is a re-engagement campaign.
This marketing strategy has been aced by e-commerce pros who call it various names like win-back campaigns or reactivation emails.
What is a re-engagement email campaign?
An email re-engagement campaign is a sequence of emails that you specifically send to your inactive subscribers. The objective of these emails is to stimulate some kind of response and interaction that will let you know that it is worth continuing with them on your list.
It works for all sorts of subscription services but here we will apply it to email. I'm not ashamed to say that it is 100% about warming over the cooling or cold part of your email list to see if you have any retrievable subscribers before they are purged.
Setting up and running a re-engagement campaign for your inactive subscribers.
Obviously, you cannot pop round, knock on the door and ask if anyone is home, but I have found that a more targeted approach to dealing with subscribers that have gone cold can revive some lost connections and helps me definitively clean up my list.
As some of you may know, I am having a great time using ConvertKit for my email marketing. So I will run through how I tackle cold subscribers on this Email Service Provider platform step by step.
Step 1: You need to identify your cold subscribers. I do this by creating a tag for them.

Being a data and metric fanatic, I love ConvertKit's amount of segmentation you can achieve. It's easy to separate out the cold subscribers.
Simply head over to the right-hand sidebar where your tags will be and hit the create a tag button.
Keep it simple and call it "cold subscribers".
Step 2: Filter your email subscriber list by individuals who have not opened an email from you in the last 3 months.
ConvertKit will pull you up a list, providing you with the number of emails that meet this criterion.
Step 3: Head over to the bulk actions tab and click "Tag Selected Subscribers".
The tag you will add is your newly created tab called "cold subscribers". Now you have identified a group of cold subscribers you are ready to tackle them head-on.
Step 4: Head over to the Broadcast tab and create a new email broadcast for your cold subscribers.
Bring up a new email broadcast and select your tagged cold subscribers as the recipients.
You are now ready to draft an email to your cold subscribers, usually asking them if they still want to hear from you
Step 5: Put some effort into writing a re-engagement email that gets to the point and asks them if they are still interested in hearing from you.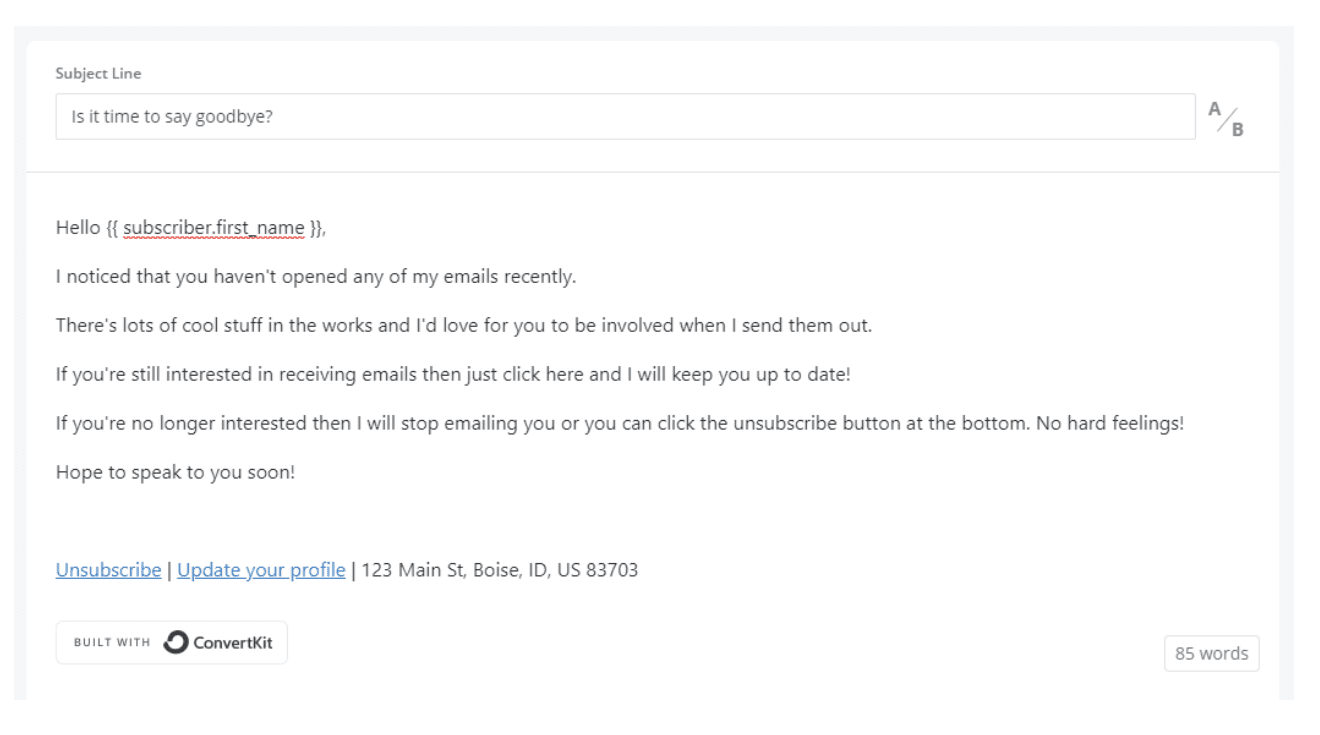 Re-engagement emails are probably best kept short, given these subscribers have not been opening your regular ones.
Hold back from being brusque and stiff. If you can try to woo them. 
Here are my top tips for creating re-engagement emails that can resuscitate even the coldest of subscribers.
Ask them if they still want to hear from you. This is a basic step and makes a great subject line.
Tell them what they are missing. Let them know what has been happening over at your website or channel.
Do you have a voucher code or offer that could entice them? Send that over!
Direct them to their email subscriber options. They can choose to unsubscribe if they want. 
A verification link is a reputation-building CTA.
This is an effective confirmation of the desire to continue receiving emails from you and will let them know that they are not unsubscribed.
Send them to a questionnaire. They may want to only hear from you about certain topics or less frequently – a little feedback goes a long way.
 
Experiment with email subject lines and content using A/B testing.
ConvertKit is great for this type of experimentation that could help improve your open rate. 
Merge tags are a must.  Use as much personalization as possible in your effort to get them to respond.
HubSpot has some great examples of re-engagement emails drawn from the e-commerce sector.
Step 6: Use the Automation section in ConvertKit to set up the rules for sending your re-engagement email.
You definitely don't want to end up deleting the subscribers that respond to your email.
So you need to ensure that they do not continue to be labeled as cold subscribers. 
Click the "Add rule" button and then create a trigger (usually a CTA link in your re-engagement email).
The Action that you need to set up in response to the trigger is that the subscriber will be removed from the cold subscriber's tab.
Make sure that your link trigger is correctly set up and active in your broadcast email.
Step 7: Send your email to your cold subscribers.
Just in case my first email is missed, I will send 2 re-engagement emails before deleting cold subscribers, waiting a week between each one to check for a response. 
Step 8: After waiting for a response, it's time to say goodbye and purge those cold subscribers.
Subscribers under your "cold subscriber" tab are now a group who have not replied to any of your re-engagement emails and to be honest, need to go.
Simply delete them and continue with your active campaigns. 
One of the great things about ConvertKit is its automation.
Once I set up this tag and broadcast, I can run it again and again; whenever subscribers go cold, they become eligible. 
A bit of reflection is always valuable when considering cold subscribers.
After all, no marketer is infallible and there may be a reason why a proportion of your subscribers are ignoring you. People lose interest and their needs change.
Addressing some of the common reasons why email subscribers go cold can be the key to keeping your email list effervescent! Here are some areas to look out for with your campaigns.
The frequency of your emails: There are some great email subscriptions with excellent, valuable content. But you know what? I simply can't keep up with the volume of emails they send. If this is you, you may want to reduce your frequency so your subscribers can catch up with your email perhaps weekly with a coffee and doughnut.
Repeated clickbait: Sometimes it's simply because you have put so much effort into coming up with a great subject line. But try as much as possible to have content that matches your subject lines precisely.
Poor mobile optimization: I'm sure you know what it's like to walk into a lamppost while peering at poorly formatted content on a smartphone!
Offer-heavy opt-ins: Let's be honest. People can be fickle and just sign-up to get your offers or resources.
Keeping a clean email list is all part of getting the maximum value from running email marketing campaigns.
There are multiple factors involved in making an email marketing campaign successful, but list cleaning and maintenance are some of the big ones.
I have found that staying on top of cold subscribers has meant that creating campaigns and interacting with subscribers has been much more satisfying.
And I can rest assured knowing that I am doing my bit to keep my email domain reputable and my emails hitting inboxes. 
Before you go!
If you're looking to start a new website then maybe you should consider an aged domain. No waiting for that 7-9 month sandbox before you see some results. Get fast results by using aged domains. I recommend ODYS which is where I purchase mine from.
What's the fastest way to monetize your blog? Display ads of course and you can't go far wrong with Ezoic. You can also join their program with a small and even brand new website. By using my link to their Access Now program you'll get quick access to high-paying display ads for your website. Start earning money today! Sign up here.
and finally…
All websites need one thing. Content, whether that be outsourced content like I get from BuySellText or AI software that will write it for you like Jarvis.AI. Currently, the best tool out there if you like AI software.
If you can't see the tool or resources you need here. Check out my resource page which is packed with helpful tools, software, and apps that can help you maximize your revenue and grow your website faster. Many of which are discounted if you click my affiliate link. See my resources page.