The pet products industry's growth shows absolutely no signs of slowing down in 2021! So in this article, I am going to let you in on the best affiliate programs for pets. 
I've searched high and low evaluating each of the best affiliate programs for pets as an opportunity to boost revenues from a new or existing site. Combining affiliate links from these pet product affiliate programs in existing content is a great way of making your existing content work harder for you.
Alternatively, you may want to use one or all of these programs to seed a new venture using email marketing, YouTube or social media. 
Ready to see what I came up with?
Let's get into this!
Start earning income with the best affiliate programs for pets!
1. Bird.com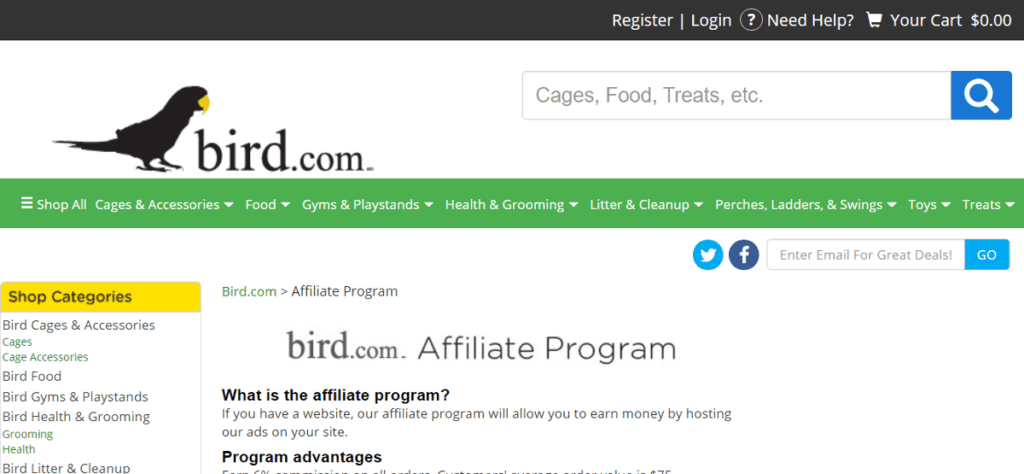 Bird.com is one of the largest avian pet supply sites which has an encyclopedic inventory of products and consumables for every kind of pet bird. It is a well known online destination that 
sells large volumes of key bird care items that span cages to bulk birdseed.
The Bird.com affiliate program will pay out commission for referring traffic via targeted links and ads that you place on your site.
The 6% commission is across all products which include large cages and aviaries worth hundreds of dollars. By carefully selecting products that are ideal for different bird owners a substantial income stream could accrue.
The program is run via Commission Junction (CJ Affiliate). Following sign-up, affiliates will be able to create links and banners to include within your pet blog content. CJ Affiliate will track sales and payout earned commissions. 
---
2. Fish.com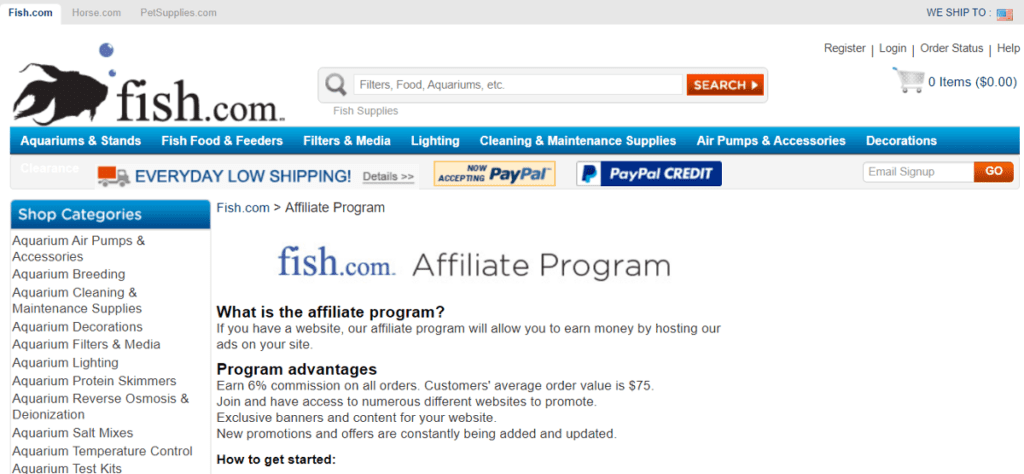 Fish.com offers a comprehensive product range for aquarists and fish keepers across all fish species.
If your blog includes content on fish keeping, this site provides a competitive affiliate program with a 6% commission paid out for referred sales across all product categories.
With Fish.com selling a large number of aquariums costing hundreds of dollars, there is the potential to generate a decent income with this program.
The large product inventory at Fish.com is ideal for reviews, list articles and the creation of product bundles that can be recommended to your users and tailor for specific fish species or aquarium setups.
The Fish.com affiliate program is administered by CJ Affiliate who provide the software interface for creating your affiliate links and ads.
Cleared commissions earned above $50 are paid out by direct deposit, or those above $100 by cheque. 
---
3. Omlet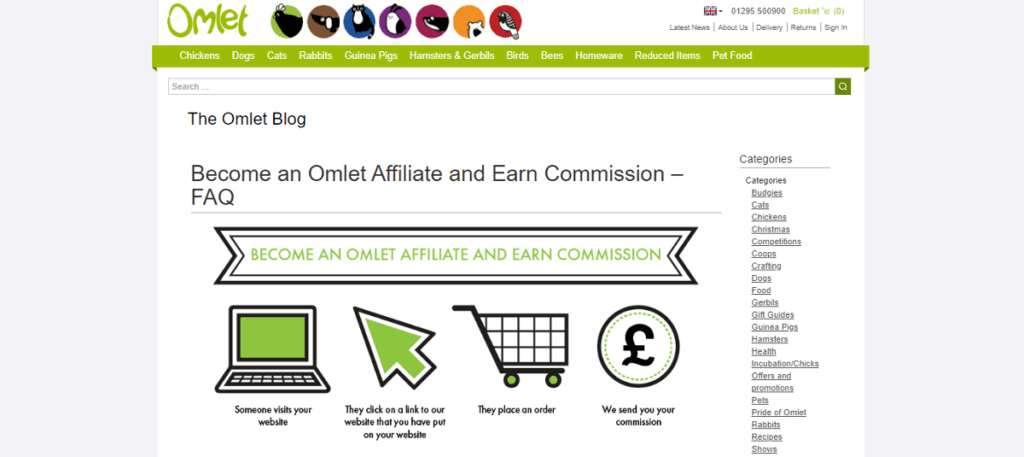 British pet company Omlet are well known for their unique pet products and ethical approach to pet care. Their leading product, the Omlet Eglu Chicken Coop is a multi-award winning and has earned a strong market share in both the UK and US.
Omlet is keen to grow and wants to enlist the help of affiliate marketers like you to promote their large product selection, referring traffic to their website.
All sales earn 5% commission, which adds up since the Eglu coops are worth several hundred pounds. In addition, Omlet sells great products for cats and dogs, including high-quality durable runs. 
Omlet manages their affiliate program themselves. It is accessed by creating an account with them and clicking on a highlighted "Affiliate Scheme" button.
Their portal for affiliate marketers provides everything needed to select items to promote, create affiliate links and banners, and track your earnings.
The long cookie period is ideal for converting sales. Tracked sales generate commission which is paid out by Omlet 30 days after the sale by direct deposit or PayPal. 
---
4. EasyCoops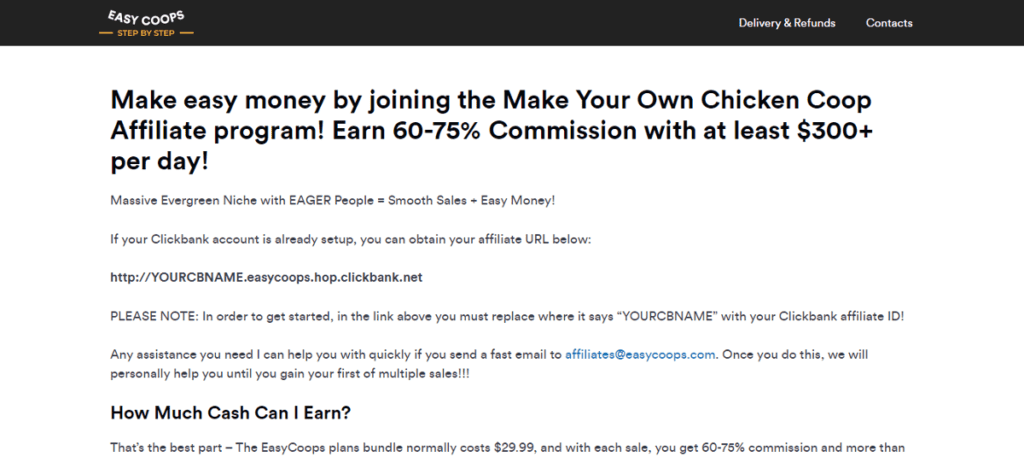 EasyCoops is a company that specialises in providing plans for beautiful DIY chicken coops. They have developed 15 coop designs that a perfect for backyard hens, providing the plans as easy to follow digital downloads.
This is an evergreen product that should do well as people are continually looking to build their own coop for homesteading or running a smallholding. 
It's hard to miss the very generous commission that EasyCoops are offering which they say should provide you with around $17 per sale.
Easy Coop suggests that sales will accrue quickly with their best-performing affiliates earning hundreds of dollars per day.
This is a great motivator for driving traffic to the EasyCoop site. Their program is administered by ClickBank. To participate, sign up with ClickBank and create a custom HopLink (ClickBank's version of an affiliate link) to EasyCoops featuring your ClickBank name.
All commission earned is tracked by ClickBank and payments above $10 will be forwarded every  Wednesday.
---
5. Chewy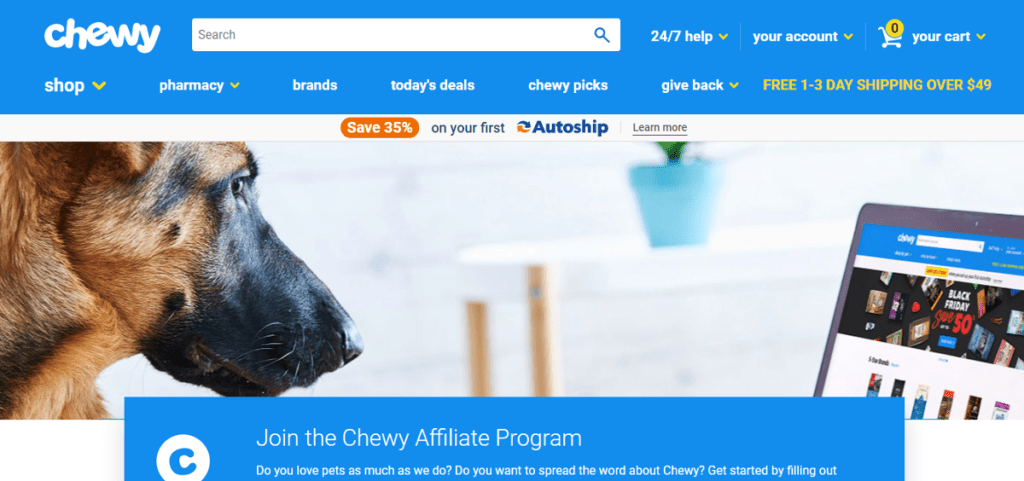 Chewy is a massive pet care website with thousands of products that cover dogs, cats, birds, fish, reptiles, farm animals and horses. As a subdivision of PetSmart, it is highly recognizable and dog or cat owners are likely to be familiar with this brand. 
Joining the Chewy Affiliate Program means you can promote anything from their inventory. Sign-up with either  Partnerize or CJ Affiliate to create your affiliate links and track your earnings.
Chewy will be on hand with a dedicated affiliate team to support you with marketing collateral, promotions and product updates. 
Chewy offers decent commissions; typically, 8% with a minimum of $15 paid out for every sale even if the sale's value is low. 
Payment is processed by the platform you use. Partnerize will send cleared funds daily and CJ Affiliate pays out every 20 days.
---
6. Fur Haven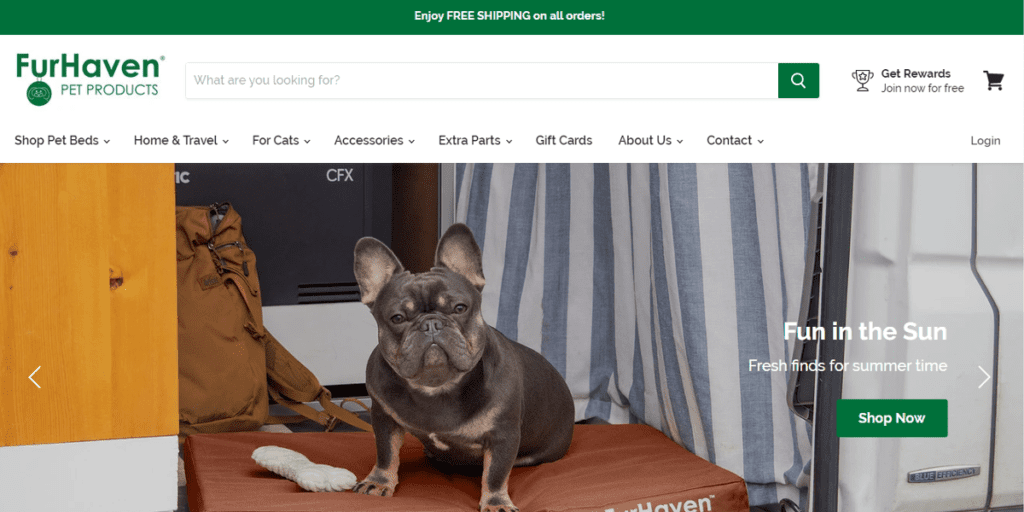 Fur Haven is a great online destination for quality pet bedding for home and travel. For almost two decades they have offered a fantastic range of pet beds, playgrounds and scratching posts for dogs and cats.
The product range is affordable meaning that it should be easy to refer sales of these pet beds which include specialist orthopaedic bedding with joint support for older pets. 
Fur Havens affiliate scheme is delivered via the ShareASale affiliate network. They offer a 10% commission on sales referred across all product categories.
With their dog bed ranging in price between $100 and just over $200, you could be in line for decent revenues.
To join the Fur Haven program, sign up to ShareASale via the link above, and then search for and apply to the Fur Haven affiliate program. 
---
7. Petco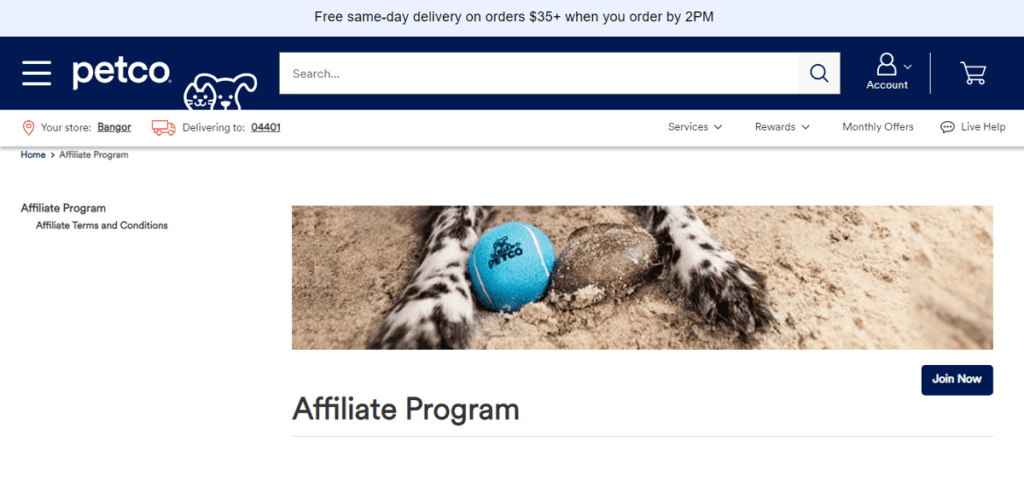 Petco is a massive specialist retailer of pet products for dogs, cats, fish, reptiles and birds meaning a general pet website will be able to promote a wide range of their products.
They are a popular site for pet owners looking for specific product lines and niche items which are not widely available.
Working with Petco should provide the opportunity to refer a good volume of sales which earn commissions between 5 and 8% depending on the product category.
To join the Petco affiliate program, you will need to sign up with  CJ Affiliate who provide 7-day cookie affiliate links and payout earned commission. 
---
8. Zooplus UK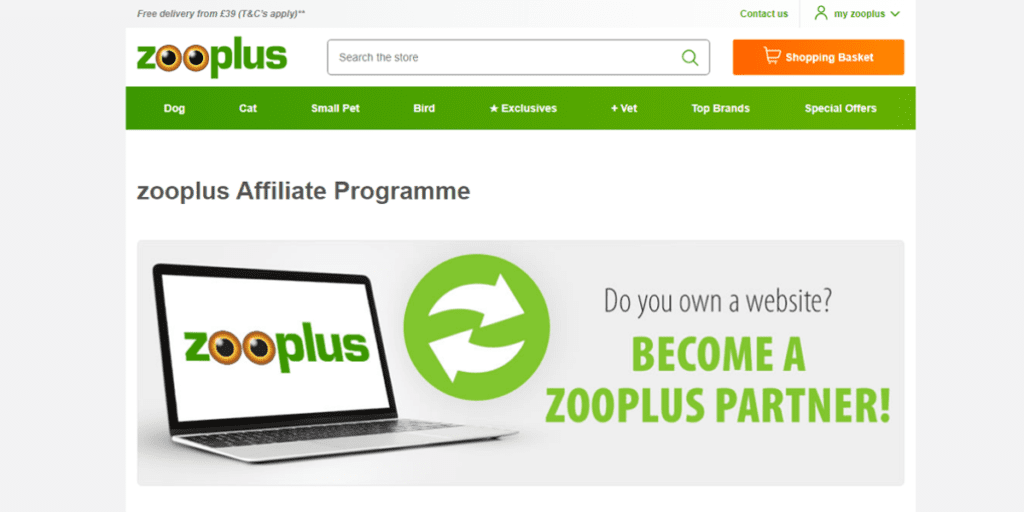 Zooplus is one of Europes biggest online retailers for pet and animal supply with a staggering 8000 product lines for almost every breed or species of dog, cat, reptile, fish and rodent. 
Though the rate of commission is low, Zooplus features leading brands and a constantly updated product inventory. Regular offers and discounts will also engage your audience to buy.
The Zooplus program is provided via the Awin affiliate network where you can create links, obtain advertising materials and track your referrals.
The cookie length is standard at 30 days with Awin making weekly or fortnightly payments of affiliate income balances above $20.
---
9. Petplan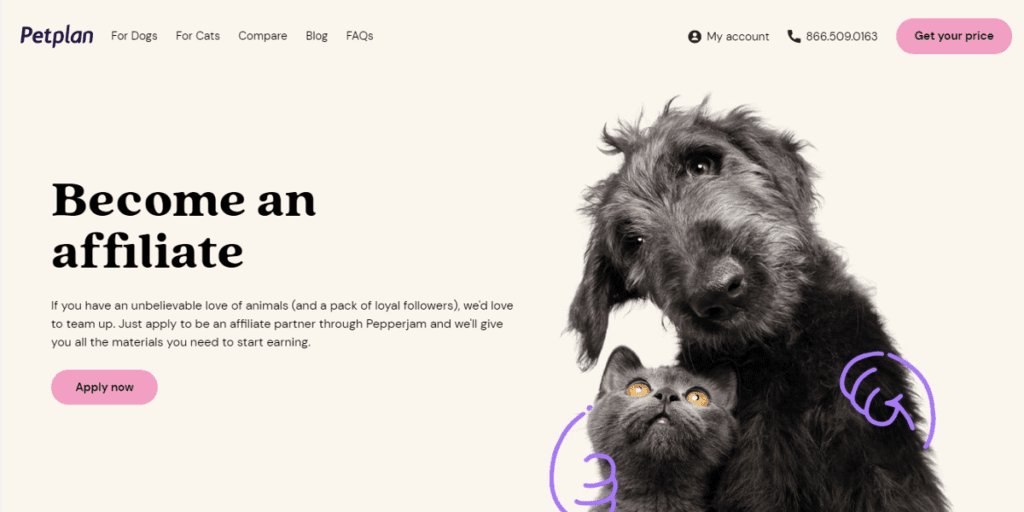 Pet insurance should never be an oversight. A decent insurance policy can be relied on in the event of serious illness or injury in a pet, saving the owner a significant financial outlay.
Petplan offers affordable pet health insurance policies for cats and dogs that cover sick visits, accidents and illnesses and emergency and specialist veterinary care. 
The Petplan affiliate program, delivered in partnership with Pepperjam will pay out a $25 commission to every referred signup for health insurance.
This single one-off payment is equivalent to the first monthly payment for a cat health insurance policy. Commissions are paid out monthly by direct deposit with Pepperjam providing the affiliate links and software platform for tracking your referrals and commission. 
---
10. TrustedHousitters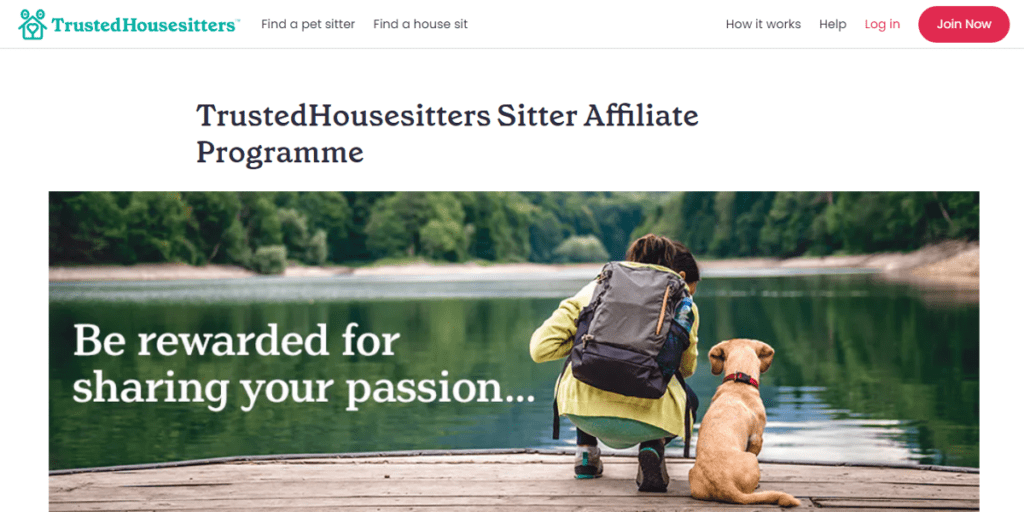 Looking after a pet can cause serious logistical challenges when pet owners start to think about having some time away from home.
Owners of pets or animals like chickens or sheep can choose from thousands of approved house sitters who will be able to care for pets while their owners are away from home.
TrustedHousitters opens the doors to adventure for both pet owners and globe-trotting housesitters who are experienced in meeting the needs of a pet while their owner is away.
This platform is incredibly popular and is recognised as a reputable source of pet-friendly housesitters. As it serves both pet owners and animal lovers who want to be sitters, you have the potential to earn affiliate income from referring both types of people to sign-up as members of this site. 
The TrustedHousesitters affiliate program is run by Awin and offers a 20% commission on membership which should provide affiliates with about £20 ($27) for each signup.
UK commission revue is paid in pounds and US and international commissions are paid out in dollars. TrustedHousesitter provides marketing resources and updates as well as a dedicated affiliate team to support program participants. 
---
Why the best affiliate programs for pets are a win-win for your site!
If you are on the fence about jumping into the pet blog niche with the best affiliate programs for pets, I am here to let you know there is still a lot of life in pets!
The pet sector remains one of the most, if not the most, lucrative sectors in affiliate marketing. It's no surprise when you consider that the value of the pet care industry topped 232 billion dollars in 2020 and is continuing to grow.
A third of households worldwide have a dog and a quarter a cat, and the rates of pet ownership from mundane to exotic show no signs of slowing down.
I know some of you are worried about the competitiveness of your pet-related content, but to encourage yourselves have a sit down with this YouTube video I made about the technicalities of affiliate marketing in pet blog niches:
A different approach to affiliate programs for pets
Working with smaller, niche companies makes for interesting content creation as you will be bringing interesting, new products to the market that your website visitors are likely to be interested in.
Don't be afraid to head off the well-beaten path to Amazon and research smaller pet companies that are seeking to penetrate their market.
This can be a useful strategy as they will be putting in as much work as you into growing their brand, and take care of you as they do it. 
What should you be looking for in the best affiliate programs for pets?
Cool products and multimedia are not going to pay your hosting bills. Seriously, after the hard slog of getting your website off the ground and ranking well for its keywords, the affiliate links you put in can feel like a bit of an afterthought.
But your hard work must pay you back through affiliate marketing arrangements that offer a decent return on investment.
Here are 4 key things that I was looking for when choosing the best affiliate programs for pets and that you should look for too:
The affiliate cookie duration: The cookie is going to do the hard work of tracking your referrals. Look for programmes that have cookies with a decent lifespan. 30 or even 90-day cookie lifespans are great, especially if you are reminding site visitors who also email subscribers with a helpful prompt via your email marketing campaigns. 
Recurring Commission: Recurring income is always welcome! For pet food, in particular, this is an excellent deal as you will get a residual commission every time a customer you referred customer purchases Fido or Trixie their monthly dry food or treats. 
Marketing materials and resources: Working with companies who put the effort into educating you and providing resources that will empower your website visitors in their decision making, makes our work so much easier. 
High Brand Recognition: This can sometimes work against you due to the level of competition you may have but prospective customers will respond to brands and products they recognize and engage with which gets your links clicked!
Use these affiliate programs for pets to create new silos in an existing authoritative site
If these best affiliate programs for pets have got you loading your XL spreadsheet to hunt new keywords, you may want to consider penetrating a new pet care niche by creating a silo of relevant articles that showcase your links. Getting organized with a silo structure is a great SEO technique.
Link them easily by using Link Whisper as I do. You can link hundreds of articles within minutes.
You can curate and collate relevant articles to your new affiliate program in a specific category, using strategic internal linking to combine the articles into a more substantial and informative resource.
Search engines love well-organized authoritative content and a well-executed silo should lift the page rankings of all participating articles.
Before you go!
If you're looking to start a new website then maybe you should consider an aged domain. No waiting for that 7-9 month sandbox before you see some results. Get fast results by using aged domains. I recommend ODYS which is where I purchase mine from.
What's the fastest way to monetize your blog? Display ads of course and you can't go far wrong with Ezoic. You can also join their program with a small and even brand new website. By using my link to their Access Now program you'll get quick access to high-paying display ads for your website. Start earning money today! Sign up here.
and finally...
All websites need one thing. Content, whether that be outsourced content like I get from BuySellText or AI software that will write it for you like Jarvis.AI. Currently, the best tool out there if you like AI software.
If you can't see the tool or resources you need here. Check out my resource page which is packed with helpful tools, software, and apps that can help you maximize your revenue and grow your website faster. Many of which are discounted if you click my affiliate link. See my resources page.