I'm really pleased to be able to share with you my take on the 10 best affiliate programs for moms.
Moms or mums as we call them over here are some of the world wide web's most prolific bloggers with 14% of US mothers with kids at home running a blog.
They also make up a sizable proportion of the 42.97% of affiliate marketers who are female. These best affiliate programs for moms will be the perfect match for content creators who are moms, mums, parents, and generally child-focused in their blogging.
If that sounds like you then it's well worth having a look at these lucrative programs.
Interested? Then let's get into this!
Let's take a look at my picks for the best affiliate programs for moms
1. Regatta Outdoor Clothing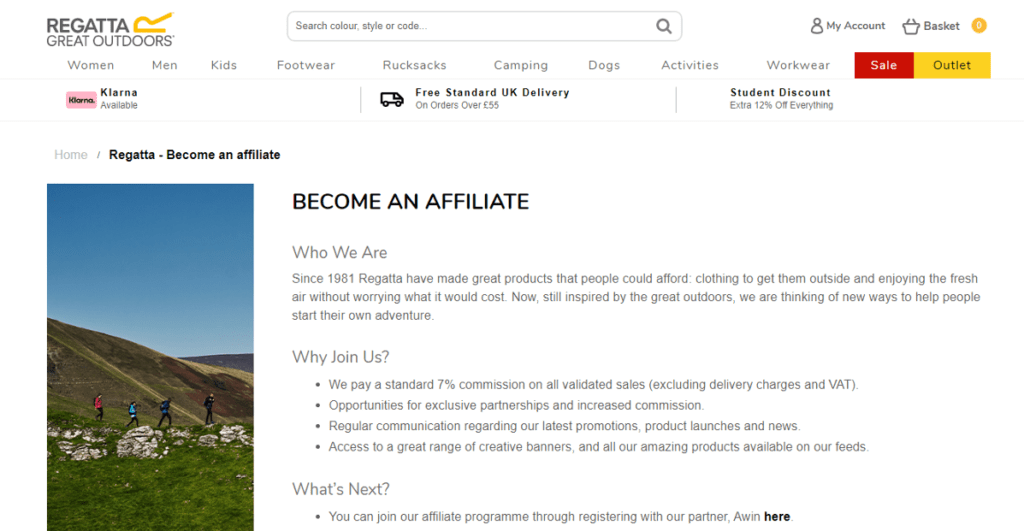 Commission: 7%
30-day cookie period
Pay-per-sale
Payments are processed within 65 days
If you and your family love the great outdoors, you probably have come across Regatta's quality outdoor clothing. Regatta is a 40-year-old British family-run business that has been producing hardwearing adventure clothing for men, women and children and has recently branched out into the US market.
Despite their thick fleeces, waterproofs and walking shoes being highly affordable they are a brand that is popular with the British Royal Family with the Duke and Duchess of Cambridge dressing their children in select Regatta pieces.
The Regatta Affiliate program is one of the most competitive in its sector with a satisfying 7% commission (excluding delivery charges and local taxes like VAT) across their entire inventory of items for all verified sales.
Regatta items range from a few pounds in value to over £100 for more technical clothing or coats. There is also the potential to broker higher commissions and exclusive relationships with this company. 
The Regatta affiliate programme is managed by Awin, but they are a proactive partner, keeping their affiliates up-to-date with new products and company news regularly.
As soon as you are approved you can start creating and inserting Regatta links into your content.
---
2. Ergobaby Baby Carriers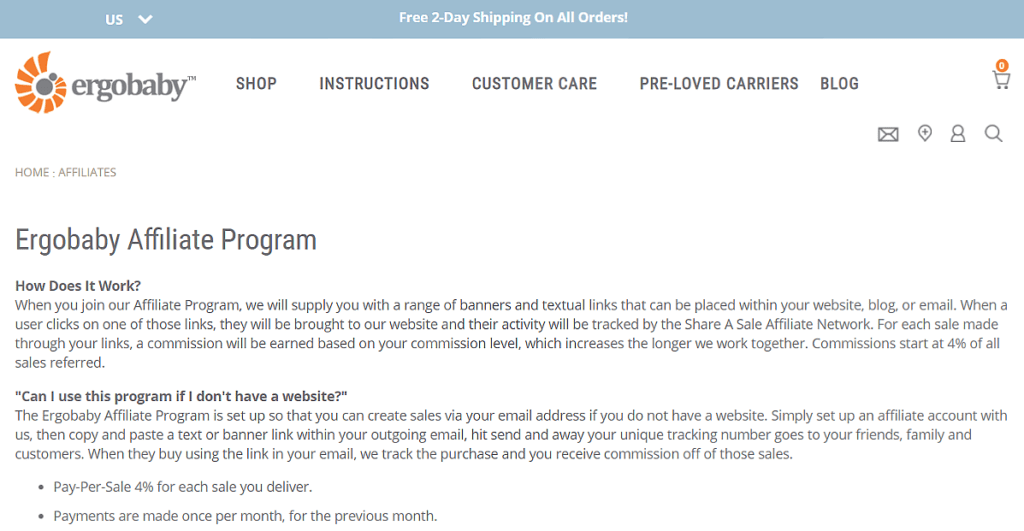 Commission: 4% starting
400-day cookie period
Pay-per-sale
Monthly payments for commissions earned in the previous month
Ergobaby is a niche manufacturer of baby carriers based on the traditional Chinese Mei Dai or Mei Tai design. It was founded in Maui, Hawaii over 18 years ago by Karin Frost.
Since then these baby carriers have achieved cult status, being worn by celebrities such as Gwen Stefani and Orlando Bloom.
Ergobaby is popular with mums and dads because of how the baby or small child's weight is distributed across the adult's hips taking the strain off carrying a small child off have the back.
This is helpful for comfortable babywearing which is increasingly recognised as being good for babies and young children. 
Parents like to make informed decisions when purchasing baby carriers and welcome great content that will educate and help them in finding the right baby carrier.
These carriers retail for upwards of $120, so there is a reasonable rate of remuneration at 4%.
The Ergobaby affiliate program is run by ShareASale which is known for its extremely long cookie duration, giving the best opportunity to convert sales. 
---
3. Shabby Paints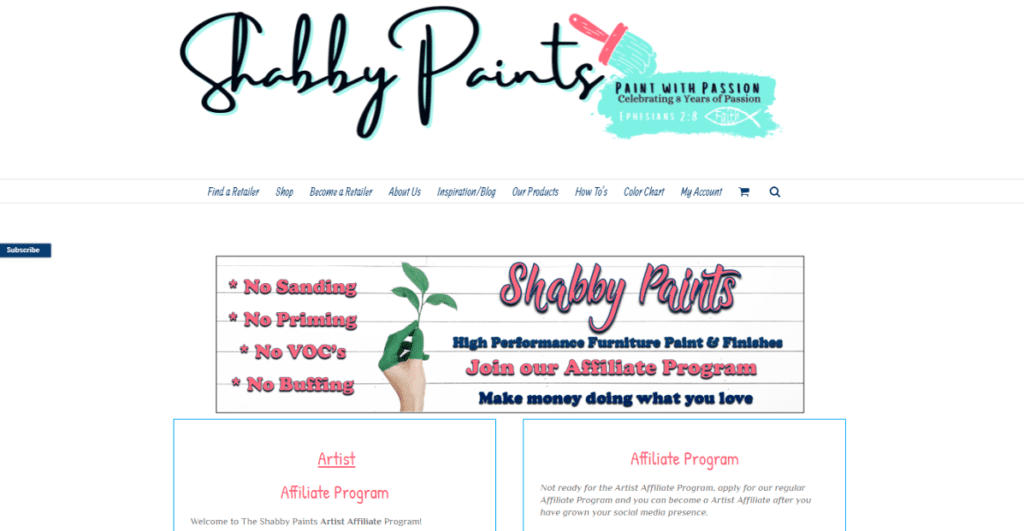 Commission: 12% 
60-day cookie period
Pay-per-sale
Monthly payments for commissions earned in the previous month
Shabby Paints is a small, but thriving family-owned US paint company that specializes in manufacturing chalk paint. This specialist paint features traditional non-toxic ingredients that are popularly used in "shabby-chic" home decor and furniture renovation projects. 
Shabby Paints has grown because of the distinctive and characterful finish of the painting projects that it is used on. It is ideal for the crafting and home decor projects featured on a mummy blog. 
The Shabby Paints affiliate program is run in-house, and though it is small, it is generous with a whopping 12% common and 60-day cookie lifespan.
They sell furniture paint and a variety of kits and paint sets that can be used to create custom effects in projects around the home. Products are priced under $100.
They are primarily looking for US-based affiliates who are furniture painters with a good eye for design and a strong social media following. If you think you could be a good fit, fill out their application form, supplying details of your URL.
---
4. The Scholastic Store Affiliate Program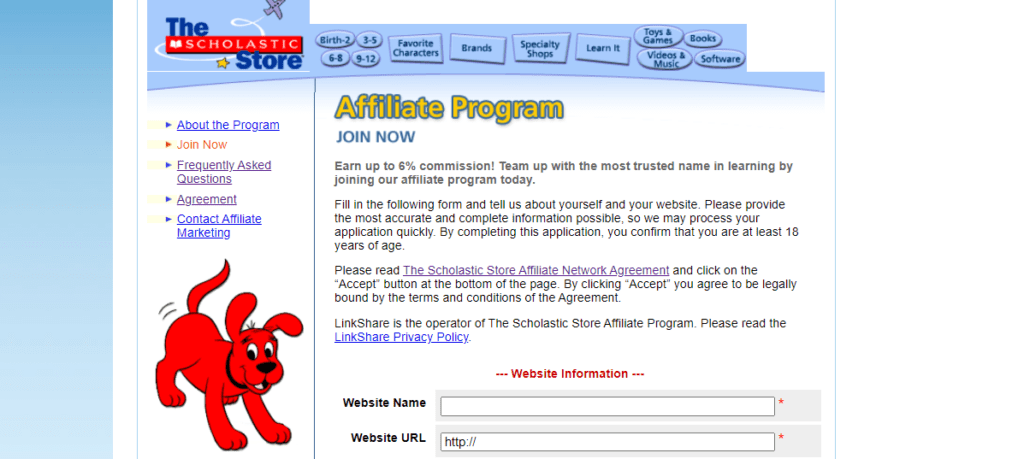 URL: 
Commission: 2 - 6%
30-day cookie period
Pay-per-sale
Monthly payments for commissions earned in the previous month
Scholastic is a market leader in educational books and resources. Parents know and trust this brand which is affordable, accessible and covers a wide range of subjects.
By joining either the UK or US version of the Scholastic affiliate program you will be able to promote educational materials including great fiction and non-fiction titles to both fellow parents and teachers, who may make bulk orders that boost your commission. 
Though the commission is tiered between 2 and 5 per cent, books like these are high conversion, with an adequate cookie length to convert a decent number of sales.
The range of books also spans Early Years Learning, through to A-Level meaning you have a large number of age groups to target with informative content relevant to Scholastic products. 
---
5. Milkology Breastfeeding Affiliate Programme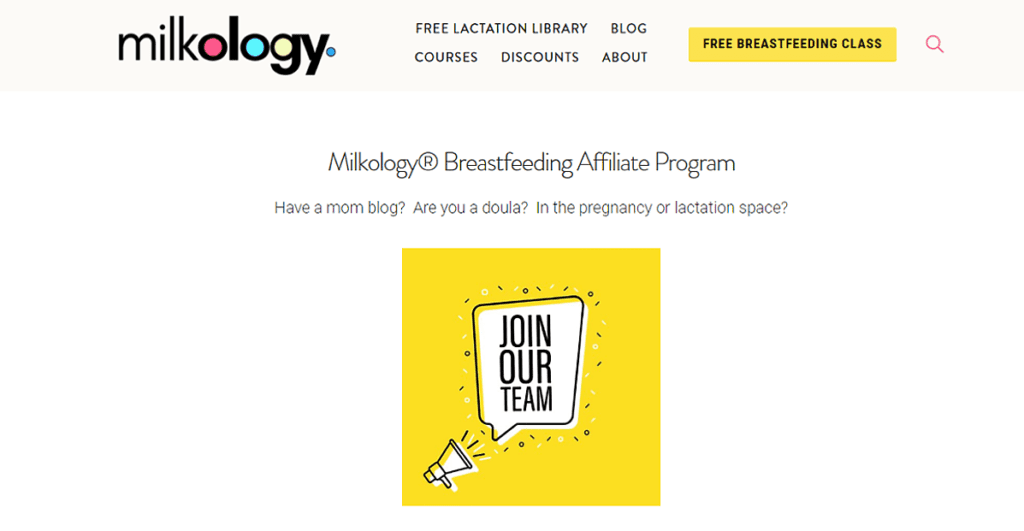 Commission: 53% 
Pay-per-sale
If you are a mum blogger who writes about pregnancy, childbirth and babies, you may be interested in partnering with Milkology, who are lactation experts who offer online courses and training on all aspects of breastfeeding.
For new mothers, establishing breastfeeding can be stressful and new mums will often search online for advice on common breastfeeding problems and breastfeeding support.
Through their range of step-by-step online teaching courses hosted by Teachable, the Milkology team will provide much-needed lactation education to new mums. 
As you can see the commission is extremely generous, working out at around $18 per purchased course. This is indicative of this program being more a partnership than an affiliate scheme.
I always recommend digging deep for independently-run affiliate programs from smaller companies and retailers as there is often the potential for much higher commissions. Their affiliate application is on their website. 
---
6. Madewell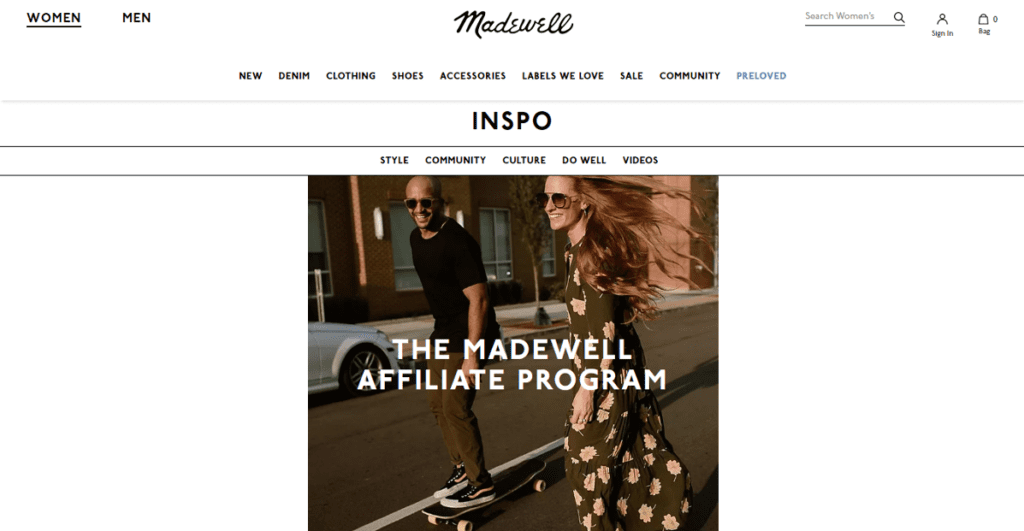 30-day cookie period
Commission: 1 - 30%
Pay-per-sale, pay-per-click
Madewell is a sister company to JCrew and a great choice if your mommy blog includes posts and articles on fashion. The visually rich images and marketing materials also work really well on social media, with Madewell supplying you with promo codes and offers to boost your audience's engagement.
The rates of affiliate commission will vary with the clothing and accessories you promote with top tier commissions tipping 30%!
The Madewell Affiliate Program is run via CJ Affiliate, a larger platform that will provide Madewell affiliate links and track your sales. They have a minimum payment threshold of $50 and process payments every 20 days. 
---
7. The Body Shop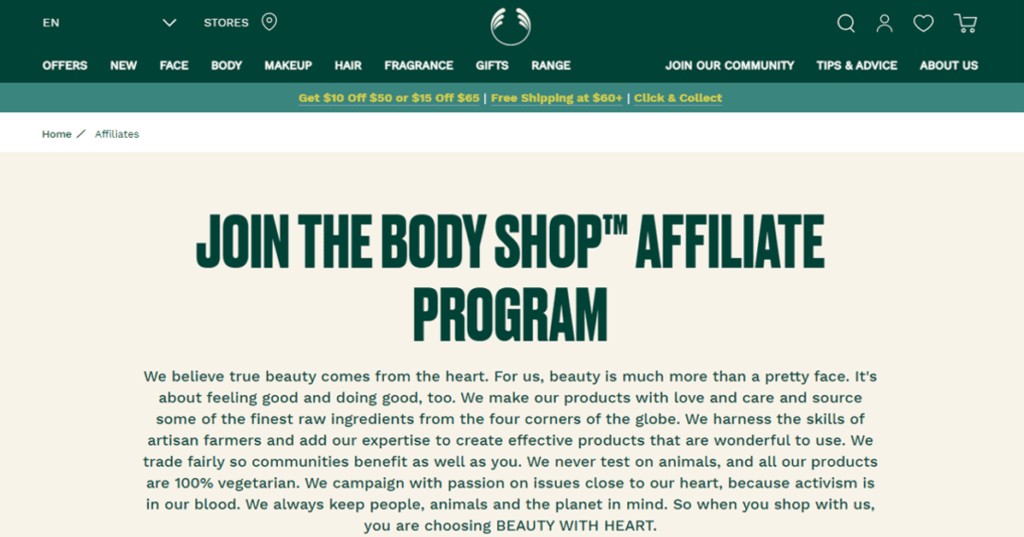 30-day cookie period
Commission: 8%
Pay-per-sale
The Body Shop is a beauty brand that is popular across the world so it is highly probable that your audience will be interested in their products.
Their competitive 8% commission and diverse product range, featuring natural ingredients and an ethical approach which are great motivators for driving traffic to their site. 
Their affiliate program is administered by the larger affiliate network Awin, though the Body Shop has a dedicated team that is willing to assist with affiliate enquiries and provide excellent multimedia marketing materials and offers to share with your audience. 
---
8. Melissa and Doug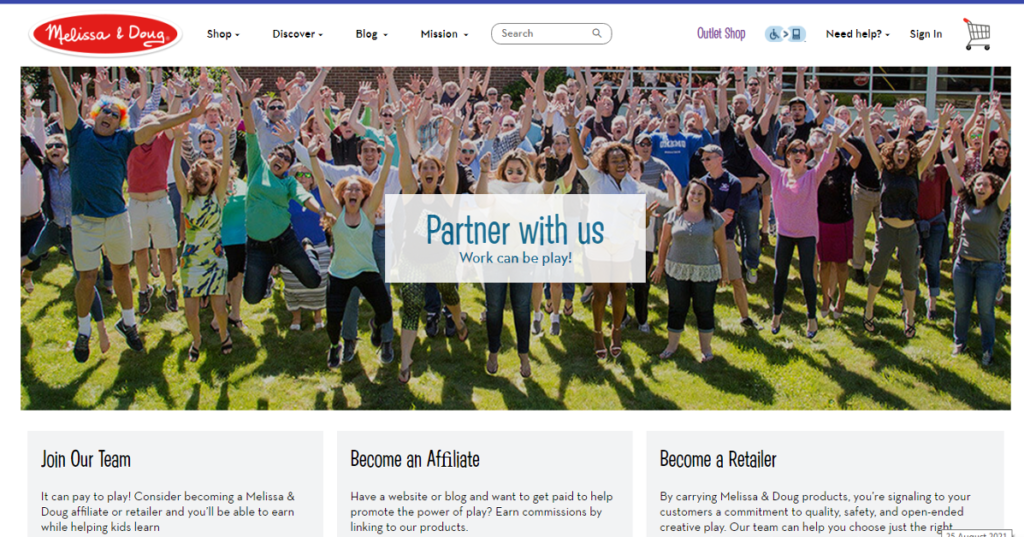 30-day cookie period
Commission: 4%
Pay-per-sale
If you have kids of a certain age, you're likely to have come across the fun educational toy brand, Melissa and Doug. They have an exhaustive range of wooden toys and crafting kits, targeting babies through to pre-teen children that are perfect for sharing with other moms and even education professionals via your blog. 
Melissa and Doug's affiliates are fully equipped to promote the brand with colourful marketing resources and ideas for how parents and children can get the most out of the brand.
Their program is accessed via the Rakuten affiliate network where you can generate branded affiliate links and receive payment of any commission earned (no payment threshold) every month.
---
9. TripAdvisor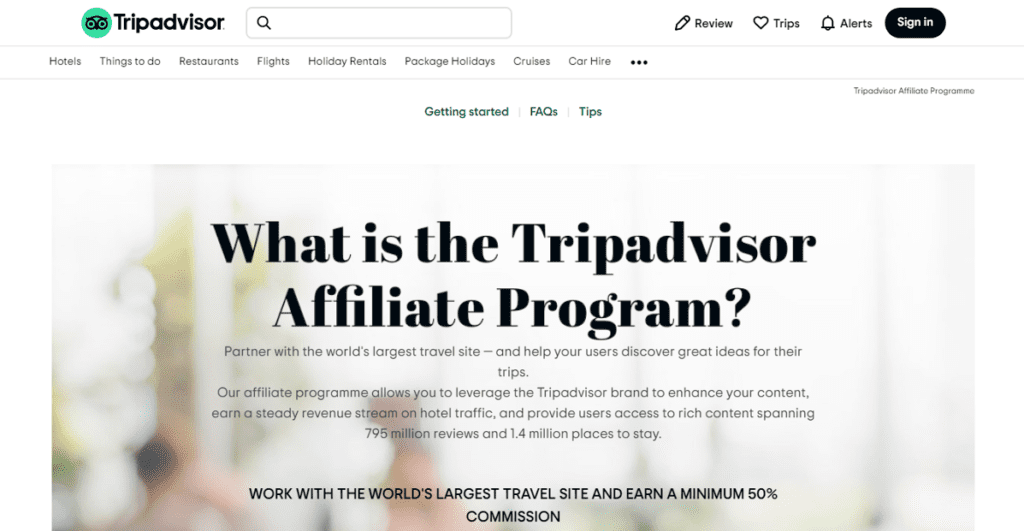 14-day cookie period
Minimum 50% commission
Pay-per-click and pay-per-sale
$20 payment threshold
If you are world-schooling, home educating or a globe-trotting family, your blog could be earning your a decent revenue stream through teaming up with Trip Advisor!
Their 50% commission is one of the best rates around, with them literally splitting their commission obtained from bookings with their partner hotels and vacation rentals.
Choose to review or promote any of their thousands of attractions, hospitality venues and accommodation options across the globe!
You can fulfill your Wanderlust urges while referring traffic to their site and also earn for the clicks of users who visit TripAdvisor Partner websites. 
Getting started with TripAdvisor is as easy as signing up with one of their partner affiliate companies, currently Awin or CJ Affiliate. 
---
10. Cannon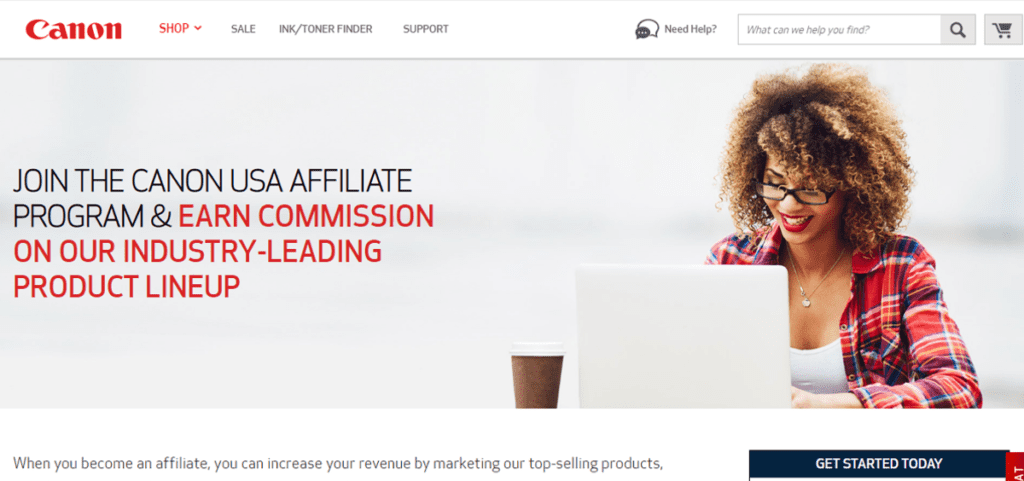 30-day cookie period
2.5 commission
Pay-per-sale
Canon is a trusted brand for quality cameras, printers that families need to create and record special memories. Canon DSLR cameras are a key piece of equipment for mommy bloggers who love food photography or making photo journals or tutorials.
The 2.5% commission may appear paltry but Canon products often cost hundreds, if not thousands of dollars.
You will be able to incentivize your audience with the year-round offers provided by Canon and a product feed that is updated daily with the latest product available on the website.
You also have the support of a dedicated affiliates team at Canon as well as the platform provided by CJ Affiliates, their chosen partner for delivering the program.
The Cannon Affiliate Program can be joined via CJ Affiliates. They have a minimum payment of $50 with payments from Canon and any other companies you work with on their platform processed every 20 days
---
Why this selection of best affiliate programs for moms is a perfect match for your mommy blog.
I understand that you need a decent return on the investment of the time and money you have put into creating a successful blog. Some of you might have taken the hit from Amazon slashed commissions in 2020 and are looking to regain ground.
You want to ensure that every piece of content that you have published is as profitable as it can be. Adding affiliate links for companies that align well with your audience and their values is key to achieving this. 
I have selected brands that will resonate with today's parents and the products and services they will be looking for to make life that little bit easier as they raise their youngsters.
As lifestyle bloggers, I know you'll be abreast of the latest parenting trends.
So there are programs represented here that will dovetail into content related to the big online markets for families including:
Like the little ones themselves, the size of the online baby products retail market is expected to grow and grow, reaching 12.7 billion US dollars by 2025!
Baby products are a lucrative affiliate niche that does not grow old and is often high converting if you are adept at pointing parents to the items they need.
Some of the most successful mommy bloggers have made their fortune by creating crafting printables and tutorials that fill the gap for parents who need to entertain their kids through the summer on a rainy day.
A great example of someone who has nailed this niche is mommy blogger Sarah Titus who built a blog that pulls in over $500K per month! I talk about her amazing story more in this video:
The lost art of homemaking is alive and kicking online. And with home decor being a 202 billion dollar industry, there are plenty of mums who are sharing Joanna Gaines-style home renovation, furnishing, and interior projects. Inspirational content, step-by-step tutorials, and product reviews and recommendations are the ideal pairings for affiliate programs that target DIY, decorating and interiors.
There is also scope for overlap with mommy blog topics like clothing, child health, nutrition, and wiggle room for more niche pursuits like education or food! Once you move beyond the big affiliate programs you have lots of precision-targeted affiliate links that could give your blog income the uplift it needs.
Before you go!
If you're looking to start a new website then maybe you should consider an aged domain. No waiting for that 7-9 month sandbox before you see some results. Get fast results by using aged domains. I recommend ODYS which is where I purchase mine from.
What's the fastest way to monetize your blog? Display ads of course and you can't go far wrong with Ezoic. You can also join their program with a small and even brand new website. By using my link to their Access Now program you'll get quick access to high-paying display ads for your website. Start earning money today! Sign up here.
and finally...
All websites need one thing. Content, whether that be outsourced content like I get from BuySellText or AI software that will write it for you like Jarvis.AI. Currently, the best tool out there if you like AI software.
If you can't see the tool or resources you need here. Check out my resource page which is packed with helpful tools, software, and apps that can help you maximize your revenue and grow your website faster. Many of which are discounted if you click my affiliate link. See my resources page.