If you are a content creator that is helping new parents in their search for essential baby products, this round-up of the best affiliate programs for baby products will help you get rewarded for your efforts.
I've taken a look at some of the most competitive affiliate programs for baby products that are available to join right now, making sure that I am sharing trusted and reliable brands that will be a great fit for your audience. 
These 15 best affiliate programs for baby products cover everything parents, grandparents, relatives and friends are going to be hunting high and low for to give the little bundle of joy in their lives.
I'm talking about baby carriers, prams clothing, furniture and of course, toys! Everything featured comes from trusted reputable brands that sell online. 
These programs are perfect for slotting links into content that is generating decent traffic or even getting a new niche website off the ground and earning a good income.
Want to see my take on the best affiliate programs for baby products?
Let's get into this!
1. BabyBjörn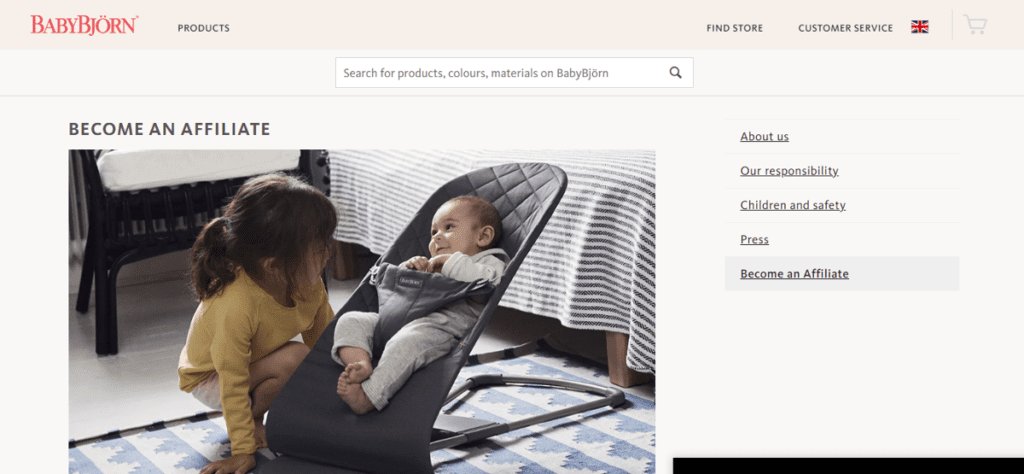 BabyBjörn has been a trusted brand for many years for new parents who are looking for high-quality, safe products for babies and toddlers.
Their product range spans, baby carriers, travel cots, feeding and seating equipment and is an ideal store for purchasing durable essentials that can be handed down to baby #2 or #3.
You can be rewarded with an excellent 12% commission for sharing the BabyBjörn brand with your website or social media audience.
You will be able to earn decent cash via the program BabyBjörn run in partnership with Awin.
They will provide you with BabyBjörn banners and links to add to your baby or parenting blog. Awin will take care of the payments, releasing them twice monthly.
---
2. The Natural Baby Company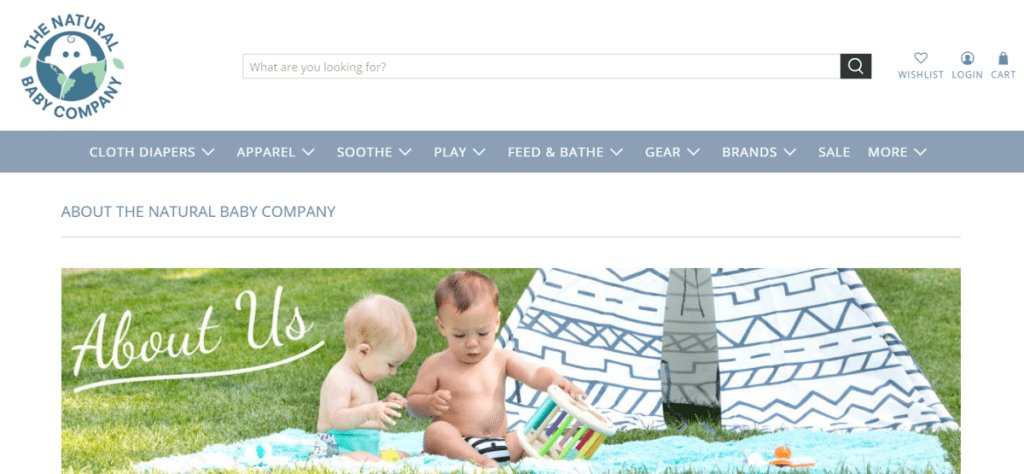 The Natural Baby Company is a specialist retailer of high-quality eco-friendly baby products that are free from the environmental impacts that come with plastics, chemicals and heavy dyes.
The company initially started by selling reusable diapers and has expanded over the past decade to provide clothing, toys, accessories and feeding equipment.
The reusable diapering systems have remained a popular draw to their US website and may also be products that interest your blog or social media audience. 
The Natural Baby Company Affiliate Program offers a 10% commission on every sale that you refer. The program is run via ShareASale who will provide links and banner ads that can be shared with your audience.
The cookie lifespan is 180 days which is great if you intend to really push these baby products in a variety of articles, videos or posts. To get started, simply sign up with ShareASale and search for The Natural Baby Company.
---
3. Aeroflow Breast Pumps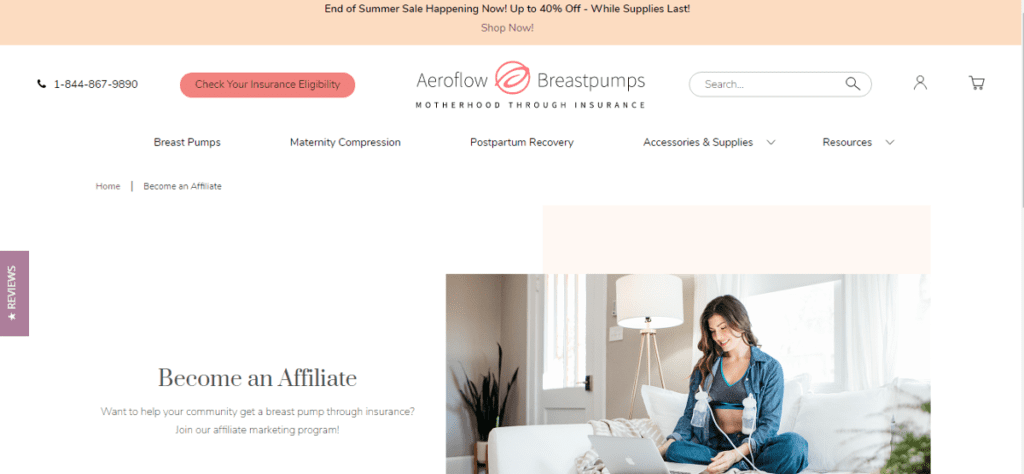 Aeroflow Breast Pumps is a smart US company that provides top of the range breast pumps using a new mother's health insurance coverage.
Breast pumps are an essential item for new mothers who have a baby that is in the neonatal unit, returning to work, or want a store of breast milk for fathers and other caregivers to provide to their baby.
However, the best pumps can cost hundreds of dollars which may not be easy to come by with all the expenses of a new baby. 
The Aeroflow affiliate program is one of the most successful on their partner platform CJ Affiliate. They will pay you $4 for every lead you refer and 10% on all successful sales.
Earnings are extremely high as this company achieves a 30% conversion rate consistently. 
The Aeroflow affiliate program can be joined via  CJ Affiliate who handle your affiliate links, banners and the direct payment of commission earned.
---
4. Ergobaby Baby Carriers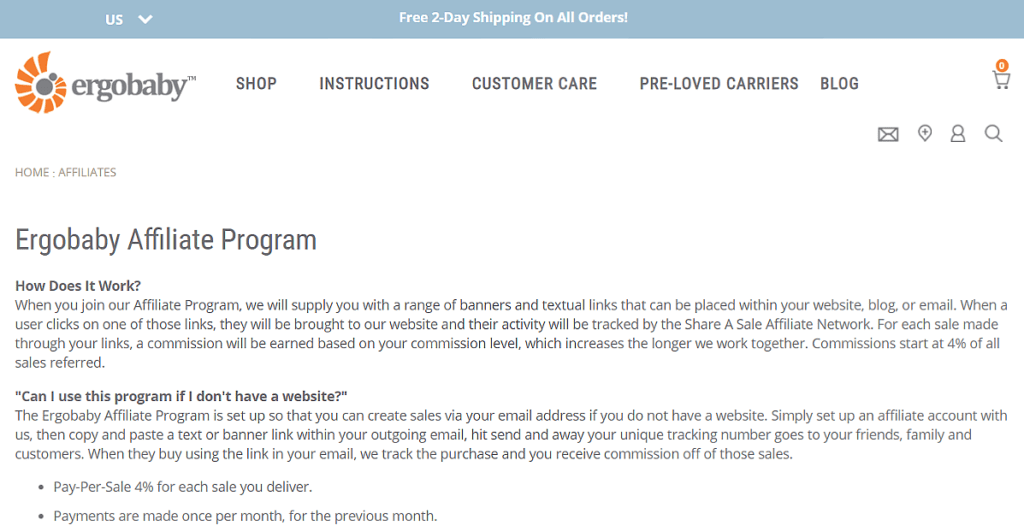 Ergobaby is a premium baby carrier company whose roomy stylish design is worn by celebrity parents all over the world.
It is an adaptation of a traditional Asian design that has been updated and innovated with modern materials and engineering.
If you are a mommy blogger or writing a parenting lifestyle blog it is likely you would recommend this carrier to your readers as it is so comfortable for parent and child.
Ergobaby carriers come in a range of styles and designs and parents are often looking for new or limited edition designs to stand out from the crowd.
These baby carriers are expensive and in-demand, typically retailing for over $120. This means the sales you refer to as part of the Ergobaby affiliate program should provide a decent income stream, despite the 4% commission.
The affiliate program is run in partnership with ShareASale and has an extremely long cookie life, meaning you have every opportunity of earning a commission.
---
5. Diaper Junction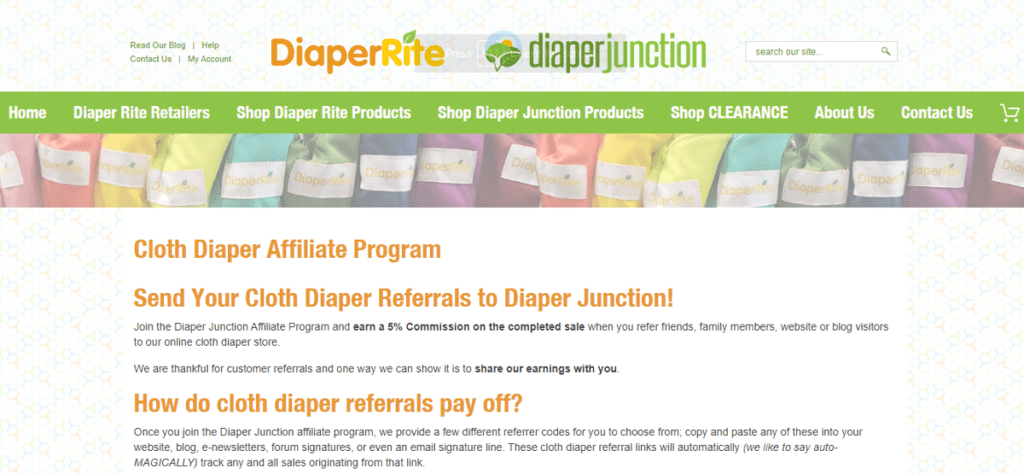 Cloth diapers are making a comeback with many parents seeking to learn more about how they can save money and reduce waste through using reusable diapers.
If your online audience is talking about cloth diapers Diaper Junction will pay a 5% commission for referrals with completed sales at their cloth diaper store.
Getting started is simple as you will work directly with Diaper Junction rather than a third-party affiliate platform.
DiaperJunction provides referrer codes that can be added to your content, that will automatically track sales. The company then makes a cash payment or provides credit for their online store.
---
6. Uber Kids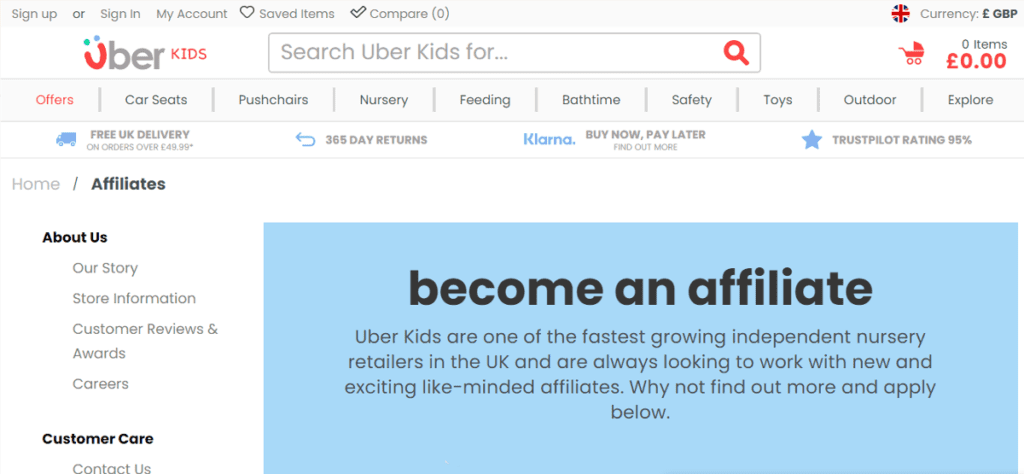 Uber Kids is a great baby products website that any affiliate marketer can confidently recommend to parents who want to get all their baby essentials in one place.
The extensive inventory of products spans car seats, pushchairs, nursery furniture and feeding equipment, everything needed to sail through the baby and toddler years. 
You can choose to recommend anything on the Uber Kids site with a 5% commission earned for most referred sales. If a voucher code is used, however, the commission drops to 1%.
The Uber Kids affiliate team will keep you updated with regular product updates and banners that you can add to your content.
This affiliate program is run in conjunction with Awin and can be joined by applying through the Awin website.
---
7. Milkology Breastfeeding Affiliate program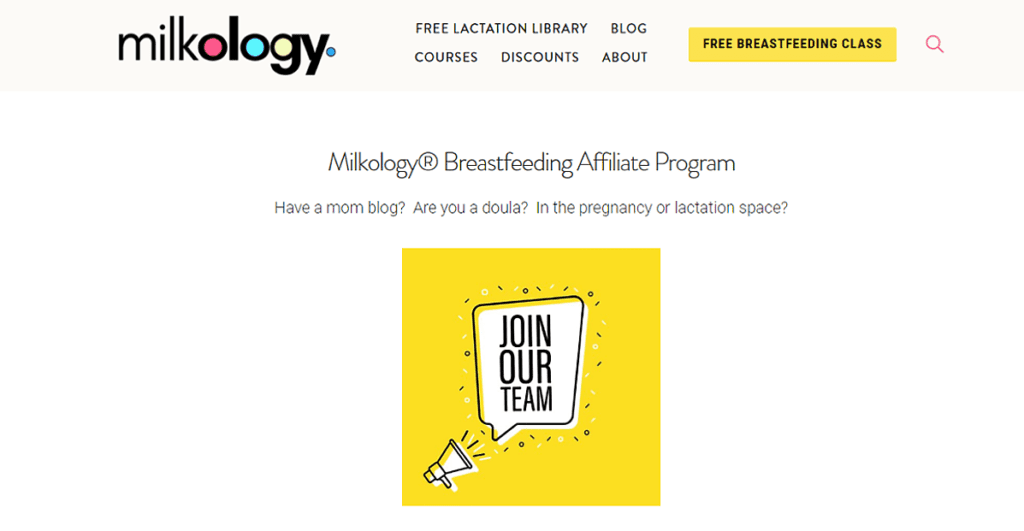 Breastfeeding can be a fraught and stressful issue in the first months of having a new baby. New mums need all the support they can get and are increasingly turning to online resources for advice and training to succeed.
Milkology offers Teachable-hosted courses for breastfeeding mothers that are designed to cover everything they need to know to establish and maintain breastfeeding.
The video-based training is led by a lactation consultant and also includes support and communication where new mums can ask questions and get advice. 
This affiliate program offers excellent commission with a 53% commission being shared for every sale you refer. This independently run program is, therefore, more of a partnership and may have scope for a shared campaign in time.
---
8. Bugaboo Affiliate program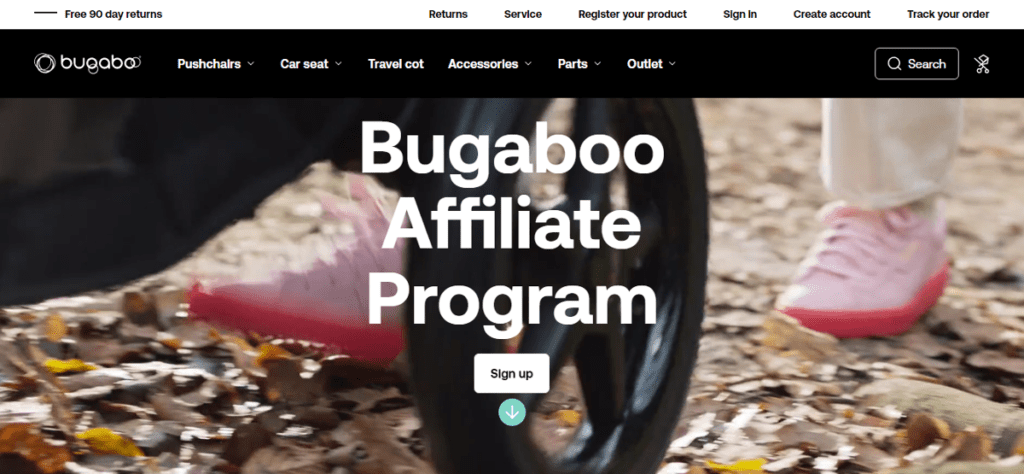 Bugaboo is a premium purveyor of prams, pushchairs, car seats and great baby accessories for life on the go. These luxury baby products are often the preserve of celebrities and the ultra-rich but are also popular with parents who want to spend on a fashionable pram that performs reliability and fits in with an active lifestyle.
The Bugaboo affiliate program is run in conjunction with Awin and offers commission of up to 6% on the sales you refer to the Bugaboo website. This Dutch company retails pushchairs that cost over a thousand pounds, meaning that the earning up to 6% commission could see your revenue climb quickly.
Bugaboo also provides coupon codes and other incentives but these earn the lower, 3% commission.
Sales are authorized within 30 days of a transaction occurring and credited to your Awin account. Awin will payout cleared funds on the 1st and 15th of the month. 
---
9. Samuel Johnston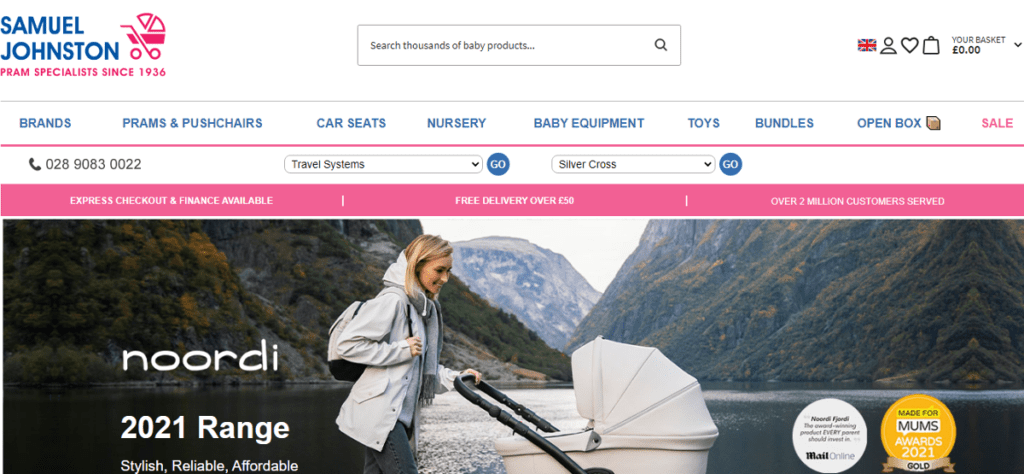 Samuel Johnston is a historic specialist nursery retailer that is based in Northern Ireland. They are famous for their extensive inventory of baby and nursery products from all of the leading trusted brands including iCandy, Joie, and the royal pram maker Silver Cross.
Their online store ships across the UK and internationally.
By joining the Samuel Johnston affiliate scheme you will be choosing from among thousands of baby products, all from the 150 top nursery brands.
Their affiliate program with Awin pays a commission rate starting at 4% on referred sales.
They keep you updated with new or changing products, offers and stock levels and are even willing to consider private arrangements with high commission rates. 
---
10. Melissa and Doug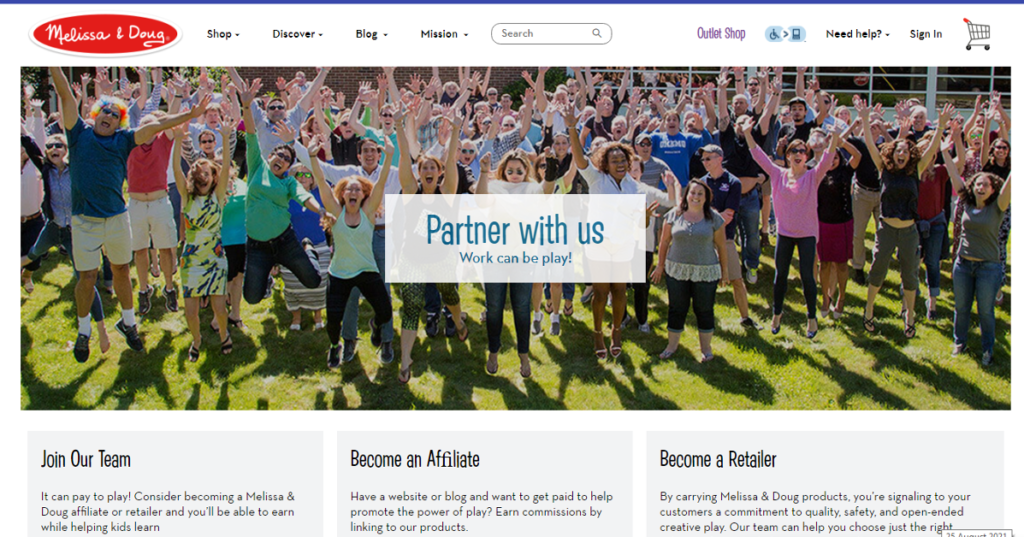 Parents are always looking for safe, healthy and engaging toys to help their babies meet key developmental milestones.
There is probably not a more reassuring material for baby toys to be made out of than all-natural wood and that is where learning toymakers Melissa and Doug have cornered the market with just about every classic wooden baby toy you can imagine – and then some!
The Melissa and Doug affiliate program is run by Rakuten and offers a 4% commission on all sales referred by affiliates to their website.
They have stacks of materials and ideas to help you make a success of this marketing relationship. These can be shared with parents to help them get the most out of this popular range of baby toys. 
---
11. Jojo Maman Bebe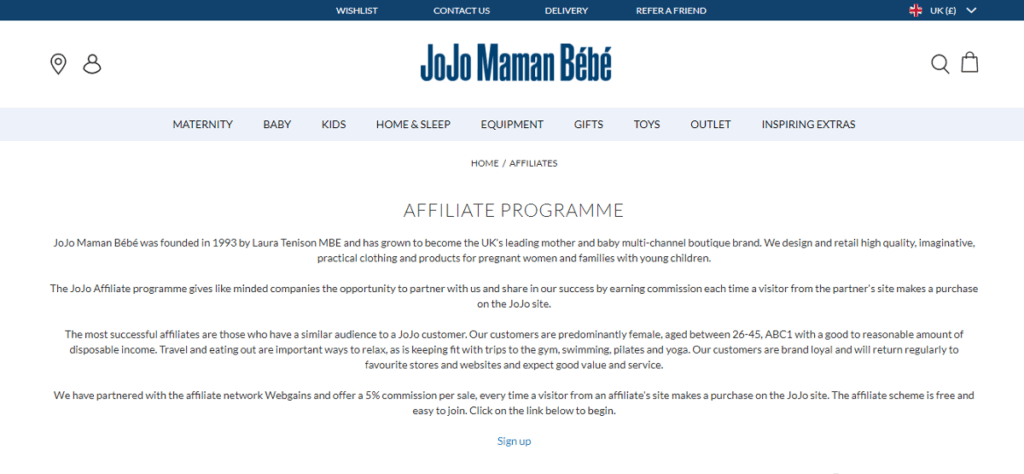 Jojo Maman Bebe is a British baby brand that produces beautiful baby clothing and accessories with a charming Breton theme.
Since the 1990s this company has grown to become a trusted brand for baby products that are stylish and durable. Their product range also includes maternity and nursing wear so there is every reason to introduce this brand to your web visitor who may be expectant or new parents. 
The Jojo Maman Bebe affiliate program is hosted by Webgains. You will need to join Webgains and apply to the Jojo Mama Bebe affiliate scheme. Once you are accepted, you can earn 5% per complete sale that you refer to the Jojo Maman Bebe site. With an average order size of £42, the commissions will add up!
---
12. Trendy Baby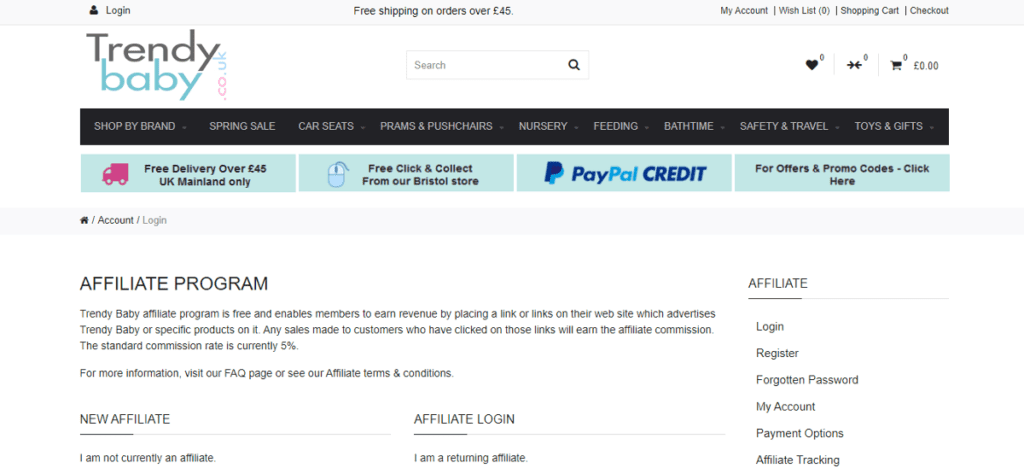 Trendybaby.co.uk is an eCommerce site that provides smart and stylish baby accessories that are perfect for parents and babies who love to be out and about. They carry product lines from all the leading baby brands including Maxi-Cosi, Mamas and Papas, Graco and Chicco.
This baby products website is ideal for a lifestyle blog, travel blog or parenting blog that has an audience that would be interested in baby products. All referred sales will earn a 5% commission from Trendy Babys in-house managed affiliate program.
---
13. Beaming Baby Nappies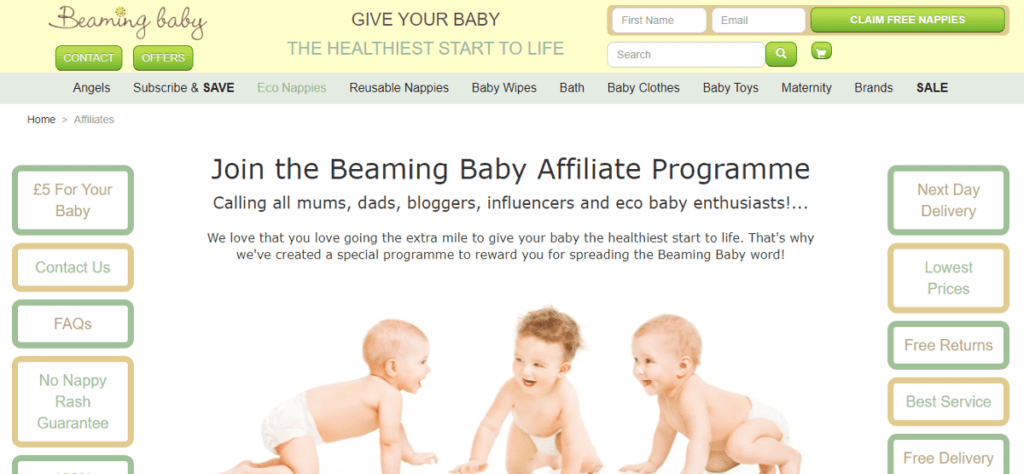 Beaming Baby Nappies is a UK company that manufactures all-natural, biodegradable nappies that keep a baby's behind rash-free!
These specialist nappies are ideal for babies who may have sensitive skin or eczema and need a nappy that is free from plastics and chemicals.
This small company is now shipping nappies across the world from their base in Devon, England and in addition to their own brand retail other leading brands of organic, biodegradable and reusable nappies. 
The beaming baby affiliate program provides the opportunity for you to earn recurring revenue from introducing these nappies to your online following.
Beaming Baby Nappies will pay a 10% commission on new orders and a 3% commission on subsequent orders from the same customers. This is an in-house affiliate program with a 30-day cookie and a member of the team on the end of the phone.
The Beaming Baby team has produced lots of unique content that you can also use to promote the brand online. Beaming Baby even lets you choose how you are paid for your efforts including using the commission to purchase nappies for your own household.
---
14. Boba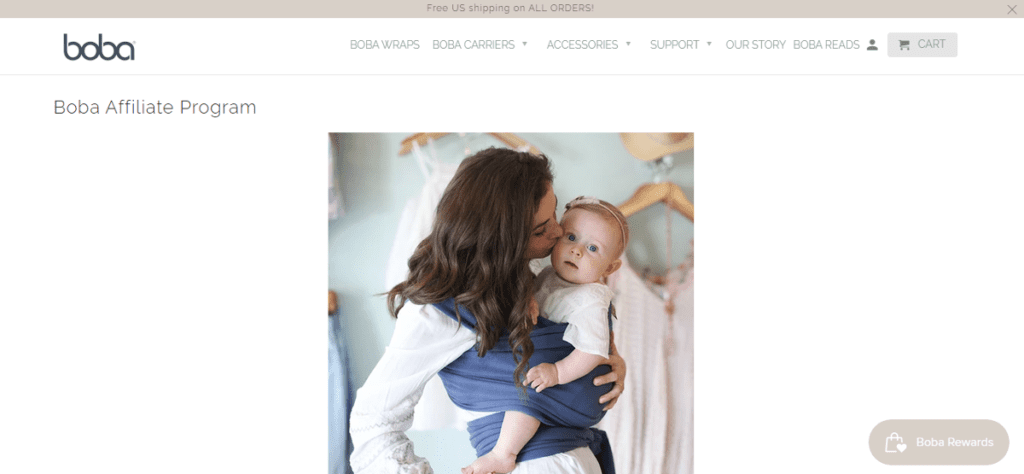 Baby wraps are a wonderful product that helps parents be close to their babies and carry them safely. There are many baby wraps on the market and it is often hard for new parents to know which brand to trust.
Boba is a reputable family run firm that manufactures high-quality baby wraps made from a proprietary cotton-spandex blend. Their products are well-known and carried by some of the world's leading stores. 
The Boba affiliate program is relatively new. They are partnered with ShareASale and offer a generous 12% commission on every sale you refer.
This program is a great choice for online publishers in the babywearing niche and offers lots of room for growth!
---
15. Verbaudet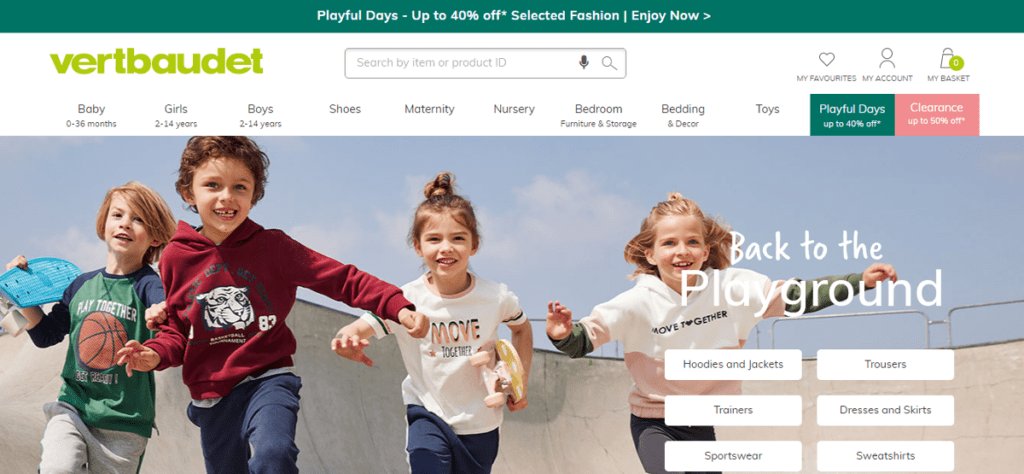 French brand Verbaudet is a market leader for baby clothing and products with an online store that ships 20 million products across Europe annually.
The stylish baby clothing is of high-quality and competitively priced with new product lines added regularly. In addition, Verbaudet also retail nursery products, soft furnishings and maternity clothes. 
This popular and fantastic range is easy to promote to new parents looking for baby products that have something special about them.
Verbaudet offers a competitive 6% commission with a 21-day cookie with its affiliate program hosted by Awin. Payouts are twice monthly. 
---
Leading baby product affiliate programs will help you tap into the profits of this multibillion-dollar industry
Baby products is a 67 billion dollar industry with baby care and hygiene, clothing, and safety predicted to have strong growth in the years ahead.
The eCommerce sector has captured significant market share from brick and mortar stores meaning that people are increasingly turning to online searches as their primary method of finding the baby products they need.
As an online publisher that features baby products, you are uniquely positioned to reap profits from this significant shift in consumer behavior.
Creating evergreen continent for baby products will generate you long-term passive income
Babies are always born, meaning that you have a steady supply of new parents who will be searching for the best products for their baby.
Specific products and fashions come and go, but by producing authoritative evergreen content that answers the common questions new parents have, you should be able to generate a consistent flow of traffic to your site where you can promote relevant products and services. 
The big baby brands and retailers are looking for content producers that consistently deliver content that has Expertise Authoritativeness and Trustworthiness (EAT).
Get this right and you should be able to negotiate more advantageous affiliate relationships.
Working with smaller and niche affiliate programs for baby products may lift your rates of commission
The baby products sector has lots of smaller and niche companies that have values that may align well with those of your audience. If you have readers who are interested in environmentally friendly, organic, or chemical-free baby products, specialist retailers may be great companies to work with.
These smaller and newer businesses often have higher rates of commission and may be open to forging an advantageous arrangement in return for exclusivity or more access to your audience to increase their market share.
Often simply asking will get you a better rate of commission, so be open to a variety of programs, especially those where you work directly with the company you promote. 
Before you go!
If you're looking to start a new website then maybe you should consider an aged domain. No waiting for that 7-9 month sandbox before you see some results. Get fast results by using aged domains. I recommend ODYS which is where I purchase mine from.
What's the fastest way to monetize your blog? Display ads of course and you can't go far wrong with Ezoic. You can also join their program with a small and even brand new website. By using my link to their Access Now program you'll get quick access to high-paying display ads for your website. Start earning money today! Sign up here.
and finally…
All websites need one thing. Content, whether that be outsourced content like I get from BuySellText or AI software that will write it for you like Jarvis.AI. Currently, the best tool out there if you like AI software.
If you can't see the tool or resources you need here. Check out my resource page which is packed with helpful tools, software, and apps that can help you maximize your revenue and grow your website faster. Many of which are discounted if you click my affiliate link. See my resources page.