Travel bloggers who want to stay ahead of the latest travel trends, packages and products can earn while showcasing some of the worlds leading travel brands on their site.
Travel is a multi-billion dollar industry, and despite the setbacks of 2020, has and will continue to grow.
Affiliate marketing in the travel sector is booming with lots of opportunities to get involved.
Travel is one of the top 5 verticals for affiliate marketing with many companies providing competitive rates of commission and bonuses. 
As you'll see below, travel agents and vendors are keen to provide smart integrations like search bars, eCommerce modules and even dedicated phone lines in the websites of affiliate marketers and bloggers.
So I think that there has never been a better time to get involved.
All packed and ready to go?
Let's get into this!
20 Best Affiliate Programs for Travel Bloggers
1. Tortuga Backpacks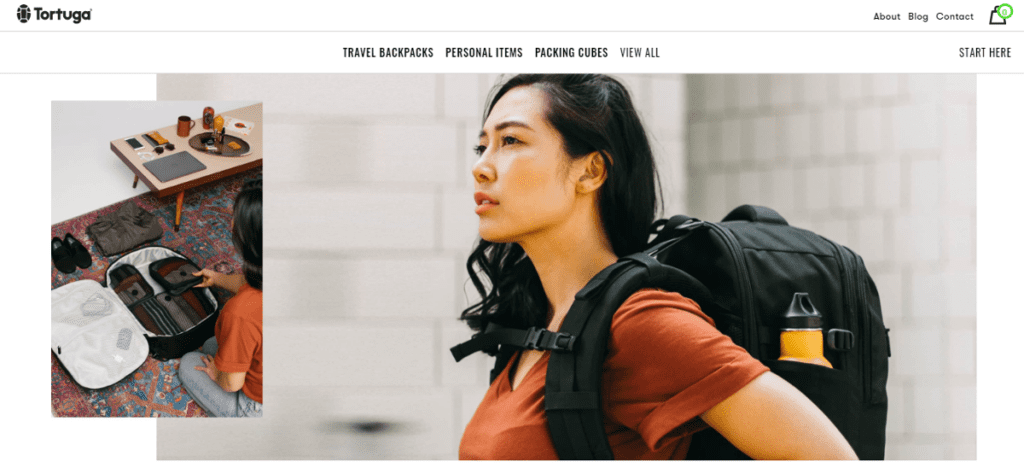 Tortuga Backpacks are award-winning carry-on backpacks that are made for city breaks and other adventures. Their resilient fabrication and insightful design make them the perfect accessory for the seasoned traveler.
This is a great, practical brand for travel bloggers to share with their audience. Tortuga Backpacks makes it worth your while with a decent 10% commission and 60-day cookie.
You can even receive free travel gear to test and review! The Tortuga Backpack affiliate program is delivered by AvantLink who will track sales and payout earned commission.
Applicants who have monthly web traffic of more than 50,000 visitors and Domain Authority of 25 or more will sail through. 
---
2. Safetywing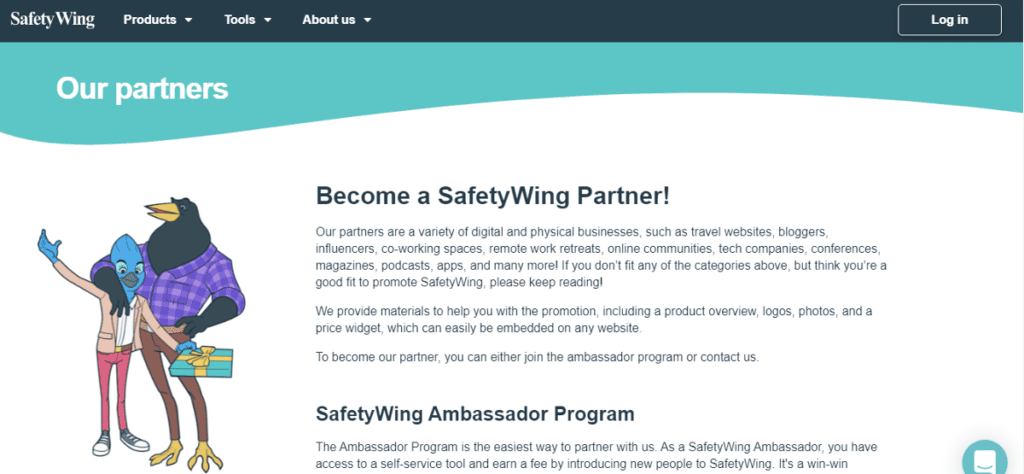 Safetywing is an insurance company that provides travel insurance and remote healthcare services. Their subscription service cover is perfect for the digital nomad and can be switched on and switched off whenever required, even during a trip.
The Safetywing Ambassador Program is looking for travel bloggers like you to promote their brand of flexible insurance and healthcare to like-minded travel enthusiasts.
For each new user signup, you refer, you will earn a 10% commission of the value of a year-long contract. The cookie lifespan is one year. 
Safetywing is particularly keen to speak with affiliates who have over 50,000 monthly subscribers or turnover of $500,000 annually and will broker specific agreements with special rates of commission.
---
3. Hostelworld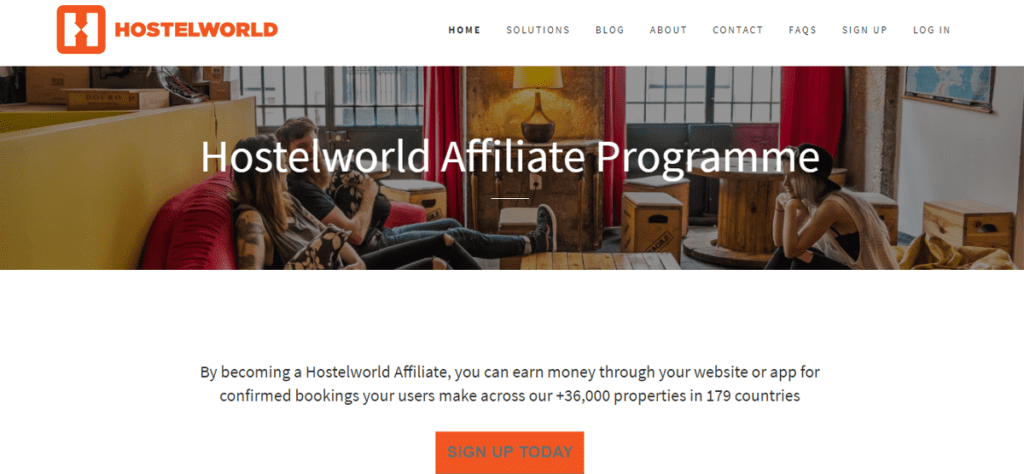 Hostelworld is a global leader for hostel bookings with 36,000 accommodations in over 170 countries. They are a first stop for backpackers and travelers who are looking for flexible accommodation options while they explore the world.  
This is a great company for travel bloggers who have expertise in backpacking, world schooling or city breaks. Hostelworld will help you maximize your traffic and earn a generous 40% commission on all booking deposits you refer.
You can use affiliate links or choose integrations that facilitate Hostelworld searches and transactions on your site. Hostelworld provides a dedicated affiliate platform that will track your sales and earnings and direct deposit payouts in up to 60 currencies.
---
4. TrustedHousitters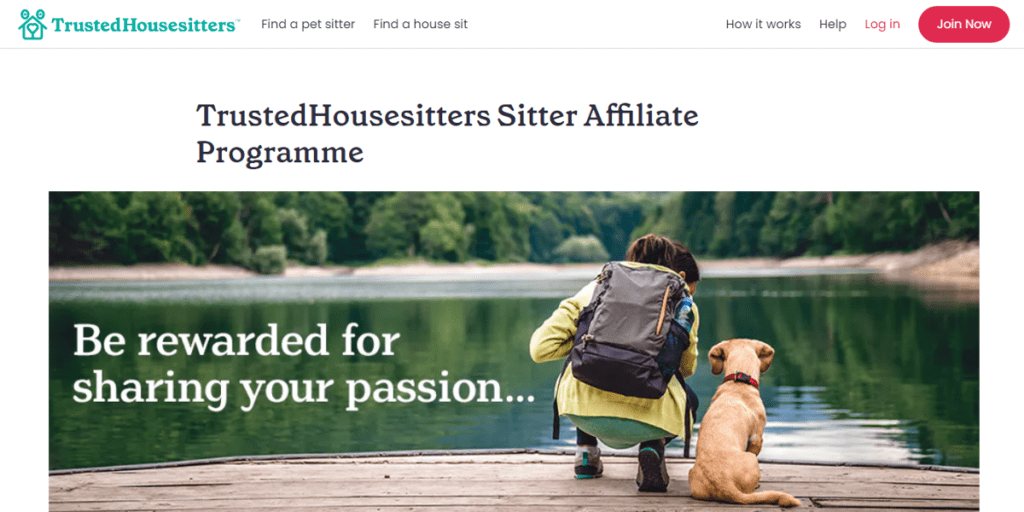 Housesitting is an amazing way of getting to see the world. Many property owners are uncomfortable leaving their homes unoccupied for an extended period or have pets and livestock that will need supervision and care.
TrustedHousesitters is a subscription service that provides fully-vetted people who are keen to accommodate themselves by housesitting in different countries and regions, matching them to people who require their help.
You can promote TrustedHousesitters to fellow globetrotters by prompting them with affiliate links and banners on your blog.  
For each signup, you refer to TrustedHousesitters you will earn a 20% commission which is around $27. The TrustedHousesitters is administered by Awin who will payout in pounds or US dollars twice per month.
---
5. Get Your Guide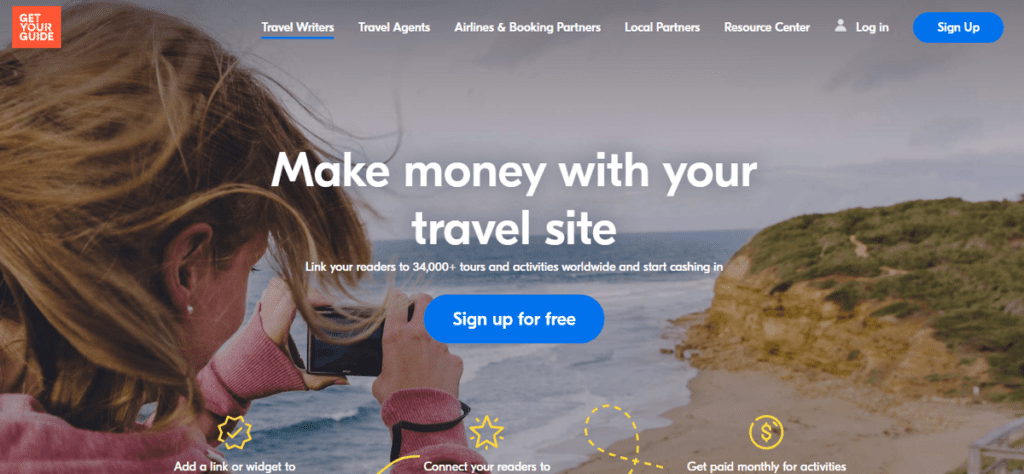 If you are a budding Ernest Hemmingway, the Get Your Guide affiliate program could be a perfect match for your site. Get Your Guide is a travel website that specializes in connecting travelers with over 34,000 tours and activities across the globe.
They are already incredibly popular with leading travel bloggers due to the quality of their portfolio of travel experiences.
Sign up directly with the Get Your Guide Partner Program for affiliate links and widgets to add to your site that promotes unique and interesting tours, aspirational destinations, and adventurous activities to your readers.
The Get Your Guide Partner Program also have a responsive support team who will assist you in optimizing your affiliate links and maximizing your revenue.
---
6. Skyscanner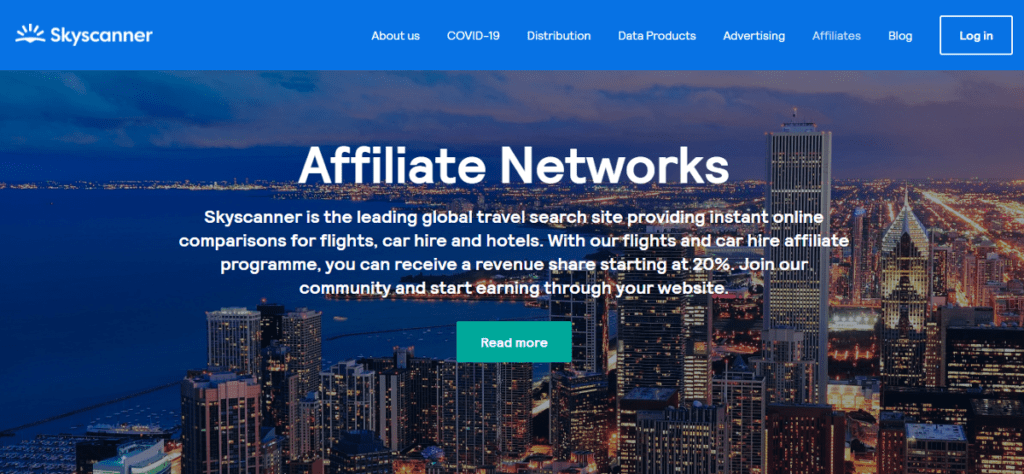 Skyscanner is a popular travel search engine that provides its users with instant price comparisons for flights, accommodation, and car hire.
Its affiliate program offers a generous commission starting at 20% for all bookings referred to the site with a welcome, short payout window.
It is an ideal program to participate in if you are speaking to an audience that is serious about post-pandemic travel and are likely to convert into sales.
Like many affiliate programs for travel bloggers, Skyscanner offers affiliate links, search widgets and banners that you can include in your content.
They also have a flight API for a much higher level of integration and potential conversion.
The commission is paid out of the profit Skyscanner makes from its partners meaning you will not be paid a commission that is based on the full price of the flight or booking.
---
7. KAYAK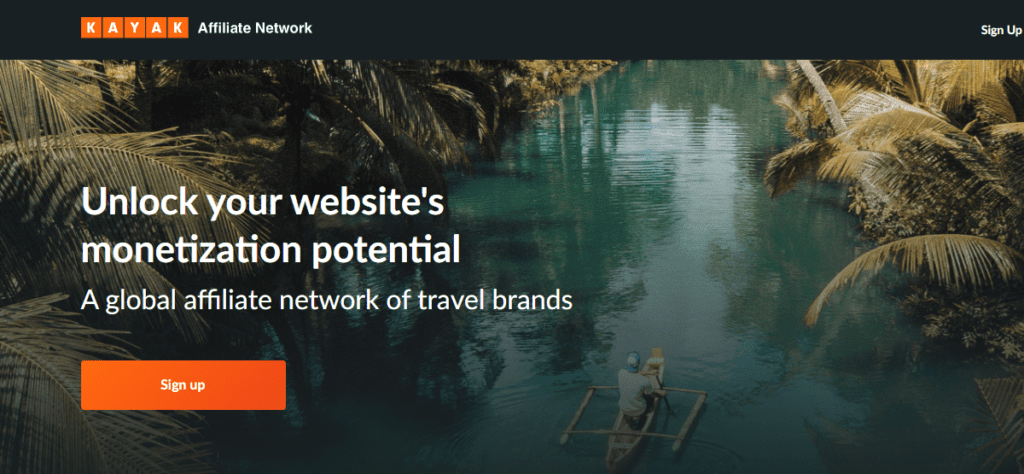 The KAYAK affiliate network helps travel bloggers and influencers earn more through affiliate marketing. It is the worlds first meta-search affiliate network for travel, providing access to a global network of the top travel brands.
With Kayak, you can earn money through clicks as well as completed bookings with a commission rate of up to $0.95 per click!
KAYAK provides customized affiliate tools including deep links, search boxes and widgets. Everything is designed to integrate seamlessly with your site. The tools can be white labeled as well, to make them your own.
There is also a support and technical team on hand to assist you in getting the best performance from the provided tools.
---
8. Expedia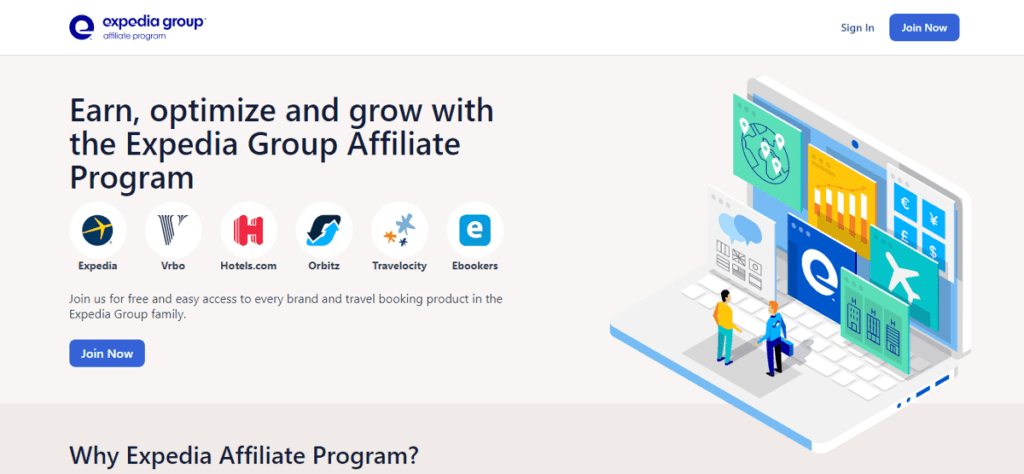 The Expedia Group is one of the world's largest travel bookings networks including big recognizable brands like Vrbo, Hotels.com, and Ebookers.
This means that joining this massive platform will enable you to harness revenue from bookings generated on any of the Expedia Group sites, potentially multiplying your earnings. 
You will earn a commission every time you refer someone who books via their platforms. With Expedia, content creators can unleash their inner travel agent with access to affiliate links and banners for over a million hotels and vacation rentals, 500 airlines and 35K unique recreational activities in over 200 countries.
When you are accepted onto the Expedia Affiliate program you gain access to their affiliate hub that equips you with tools including widgets and API, that will help you optimize your campaigns and convert sales. They also provide an exemplary level of support to their affiliate marketers with valuable travel insights. 
---
9. Booking.com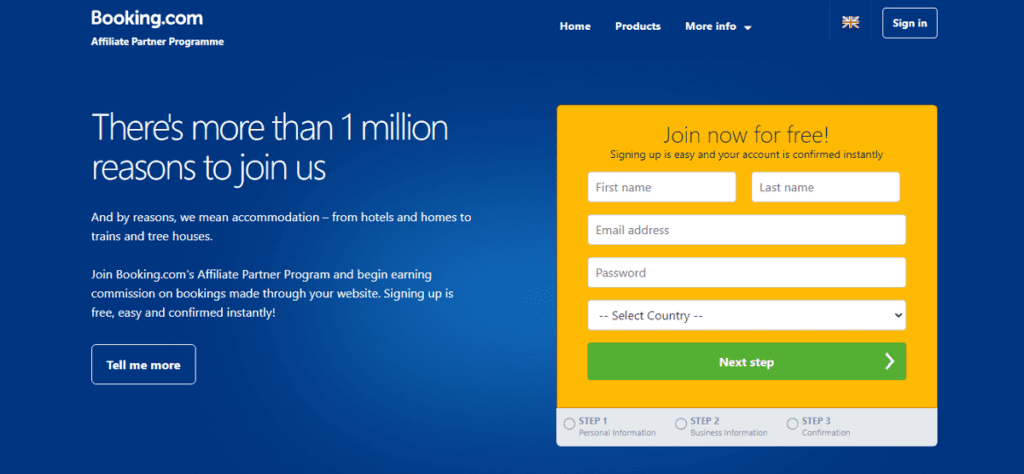 Booking.com is one of the worlds leading platforms for travel bookings with 920,000 accommodation vendors partnering with them to offer the best price on accommodation.
By joining the Booking.com affiliate program you will be able to access their inventory of hotels and accommodations in 224 countries for reviews and recommendations that your website visitors can act on, earning you a slice of commission. 
With booking.com the commission you earn is not on the listed value of the booking you have referred but a 25% slice of Booking.com's commission.
Booking.com typically takes 15 – 20% of the value of a booking through their site. So for a $200 booking, you are only taking a quarter of Booking.com's $40 commission, just $10.
That being said, this is a trusted global brand that potentially has a high conversion rate. Booking.com also provides integrations for your website to make referrals and conversions seamless.
---
10. Agoda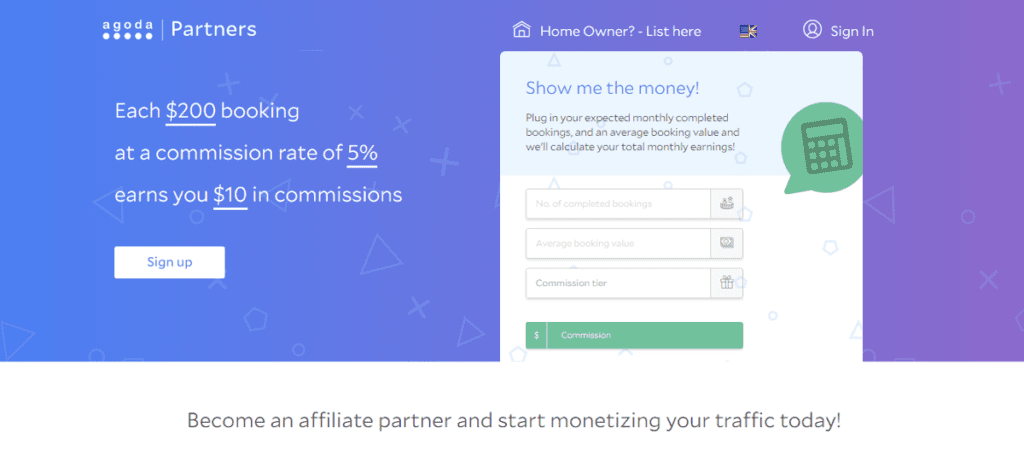 Agoda is an online travel agent and search engine that overs over 2.5 million hotels, vacation rentals and other accommodations globally.
You can also book flights and transfers on the site making it a turn-key end-to-end bookings platform that was originally built by a travel enthusiast in Thailand for people who love to travel. 
The Agoda affiliate program, known as Agoda Partners is competitive with the commission starting at 5% of the total value of the booking and rising with an increasing number of referred sales.
This is clearly an international program with Agodas proprietary affiliate platform and web and app content available in 38 languages.
All the software needed to participate as an Agoda Partner is easy to integrate into your existing website. You will also benefit from detailed reporting to help your track the success of your campaigns and your revenue.
---
11. Hilton Worldwide Affiliate Program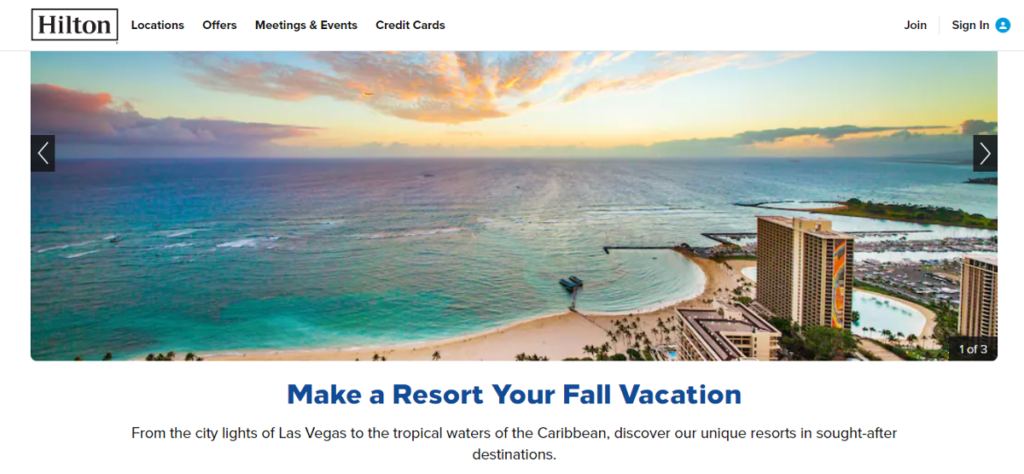 Hilton is an internationally recognizable hospitality brand with luxury accommodation on every continent of the globe. With iconic destinations and hotels like the Waldorf Astoria, Hilton is often the first choice for discerning travelers who want to be assured that their every need will be catered for. 
The Hilton Worldwide Affiliate Program, delivered by Flex Offers, will pay a 4% commission for bookings that travel bloggers refer to their site. The cookie period is short, but Hilton is a well-regarded brand that your readers may be actively looking for.
Choose from an inventory of thousands of hotels and unique packages, creating affiliate links that point to the Hotels by Hilton website.
---
12. Hotels.com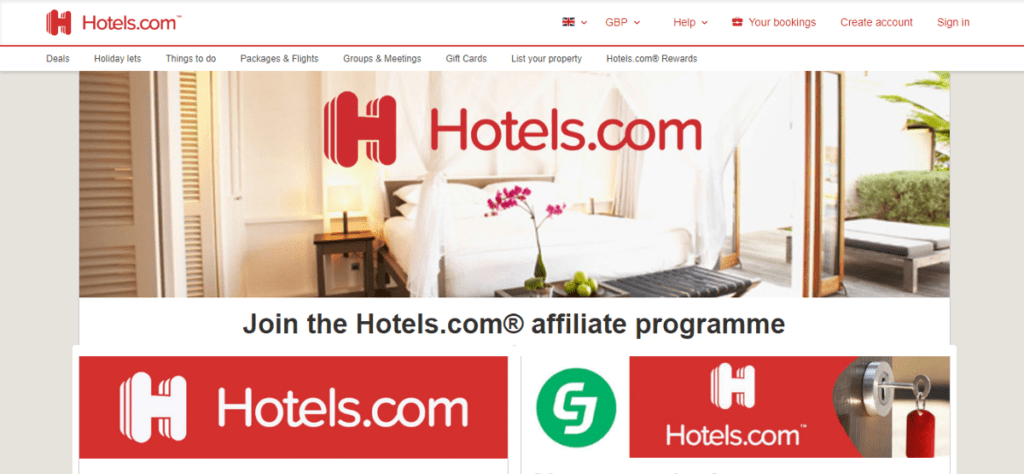 Hotels.com is going to be the first site that comes to mind for many people looking for quality hotel accommodation across the world.
It offers a fast and reliable platform for searching for real-time accommodation availability wherever you want with a Best Price Guarantee to ensure amazing value for money. 
With bookings via the website or their handy mobile app, their affiliate program provides a great opportunity to generate an income stream in the travel sector. It is part of the Expedia Group but has its own affiliate program that is delivered via Commission Junction.
When you join the Hotels.com affiliate program you will gain access to a range of branded affiliate tools that are designed to integrate with your site and boost conversion. Promotions and discount codes are also provided.
You can promote hotels from across their global inventory. In addition, you receive reporting and dedicated account support with payouts handled by Commission Junction on the 20th of each month.
---
13. G Adventures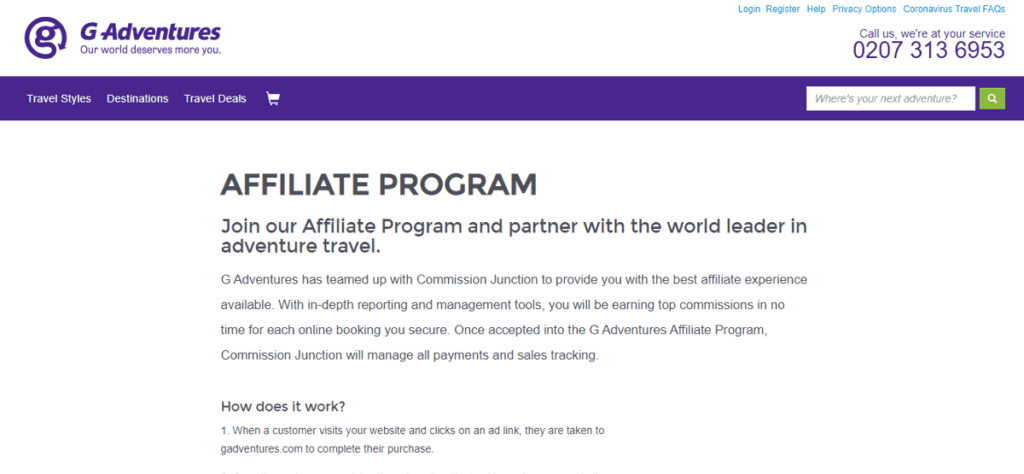 G Adventures is a travel company founded by like-minded travelers who want to be able to safely and confidently explore the world. They are a niche travel agency that creates trips that provide unrivaled access to amazing locations and cultures, delivered with local expertise and hospitality.
Their tours span the globe including destinations like Bhutan, Bolivia, and the British Virgin Islands. G Adventures plan the itinerary, accommodation, flights, and transfers for unforgettable travel experiences. 
The G Adventures affiliate program, delivered via Commission Junction provides an opportunity to partner with a leading adventure travel company.
The program offers a 6% commission on all completed bookings that are referred from your website or social media account. This is a generous offer as the average online order value is £2,600. The 90-day cookie period also gives you the best opportunity of earning.
Commission Junction handles the creation of affiliate links, tracking of your sales and monthly payout of earned commission.
---
14. Travelpayouts.com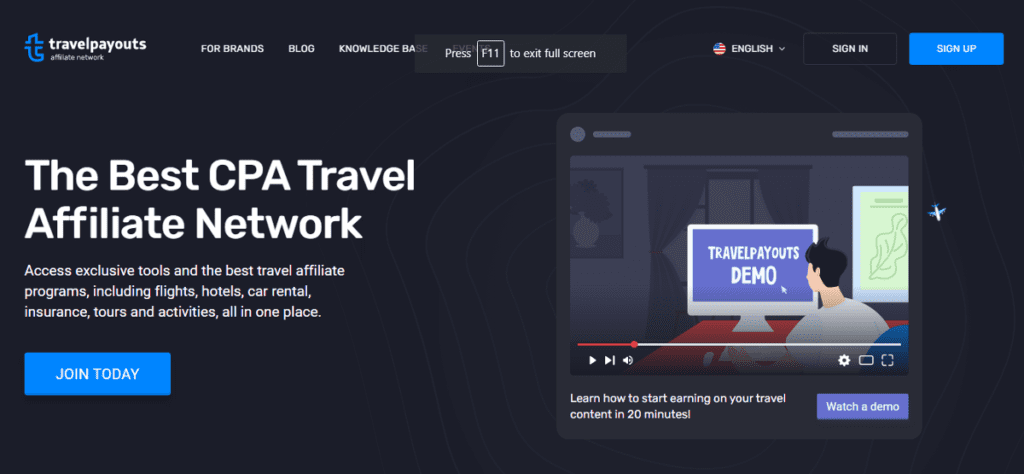 If your online content is travel-focused you may be interested in working with Travelpayouts.com. Travelpayouts.com is a leading travel affiliate network that works with leading travel agencies to promote their services.
By joining the Travelpayouts.com network you will be promoting a range of travel services including accommodation,  transfers, and even bike hire.
Signing up to Travelpayouts.com is quick and easy. You will be provided with an affiliate dashboard where you can browse join the affiliate programs of participating travel companies. Travelpayouts.com provides tools for you to use that help you refer traffic, including search boxes, links, plugins and APIs.
You can even use the Travelpayouts.com tools for more than one website you own. Commission ranges between 1 and 5% of the total value of a booking.
---
15. World Nomads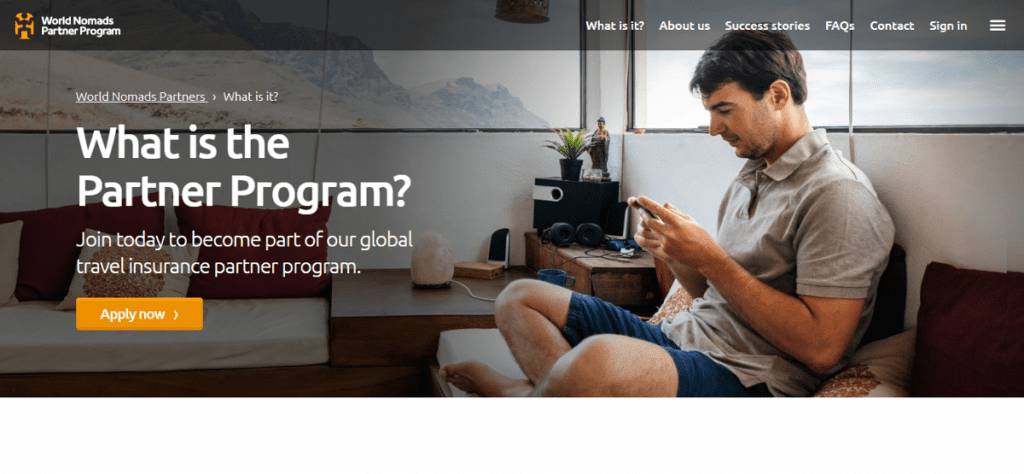 In changing times, real adventure requires real insurance, an World Nomads is a specialist in travel insurance and travel safety services designed by travelers themselves.
Their insurance products can be bought and claimed online while backpacking meaning that people who travel for extended periods to obscure places can always be covered. Insurance is a must for travel so featuring an insurance provider on your travel blog is bound to earn clicks and potentially, sales. 
World Nomads also give back via charity donations meaning the sales you refer can really make a difference in disadvantaged communities.
The World Nomad Partners Network provides affiliate tools to help you refer web visitors. Integrate their banners, links and widgets in your site and start earning immediately.
The referral fees are uncapped with the commission of 10% of every completed sale that you refer. Earned commission above a minimum payment threshold of $250 is paid out every month via PayPal or direct deposit.
---
16. Viator Partners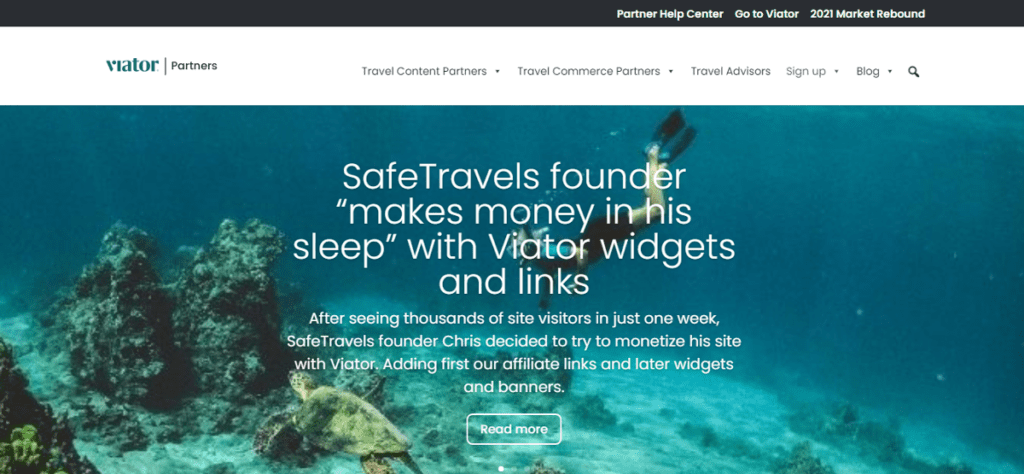 Viator Partners is a well-known travel affiliate program that works with publishers and content creators of all sizes to drive traffic and generate sales.
This is a truly global company with a massive product inventory spanning 395,000+ packages and 2,500 destinations. Unlike other affiliate programs featured here, Viator also enables its partners to sell travel experiences via proprietary eCommerce integrations.
For standard affiliate relationships, Viator provides link and widget solutions that you simply insert into your website where required. You can track referrals and sales within a 30-day cookie window via the Viator affiliate dashboard.
The commission starts at 8% and is paid out via direct deposit, PayPal, or Payoneer in 17 currencies. Viator provides dedicated support and tools to help you lift your conversion rate and maximize your revenue.
---
17. Take Walks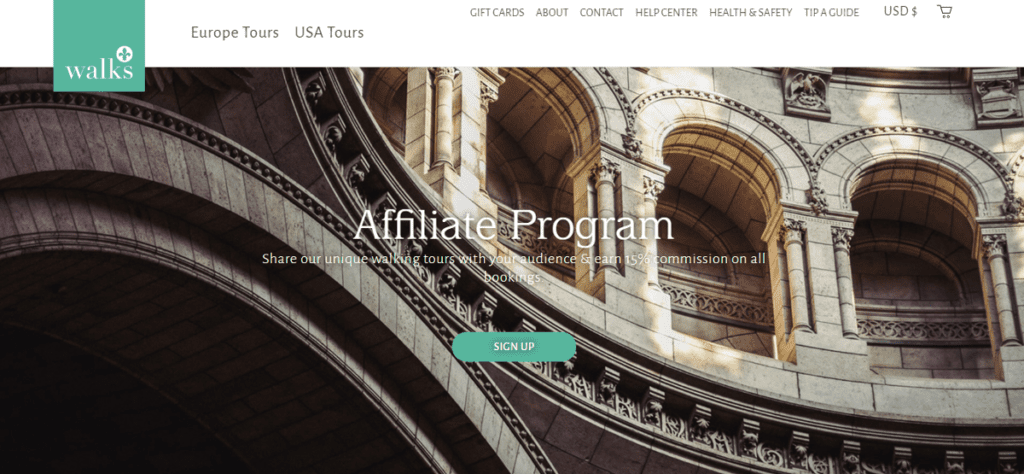 Take Walks is a unique company that arranges walking tours and experiences for tourists in some of the worlds leading destinations.
Their beautifully designed itineraries help tourists get the most out of their destination and the small-group approach is personable and welcoming in new places.
This is an interesting travel site that may resonate with your audience and help them in planning their next holiday, or if your travel blog has travel agents as an audience, they may want to include this company's services for their customers.
Take Walks are enthusiastic about engaging travel bloggers to promote their tours to their audience and raise the profile of this niche website.
They offer a 15% commission for every sale that you refer to their site with a cookie period of up to 90 days. You can sign up to join the Take Walks affiliate program on their website.
---
18. Insure My Trip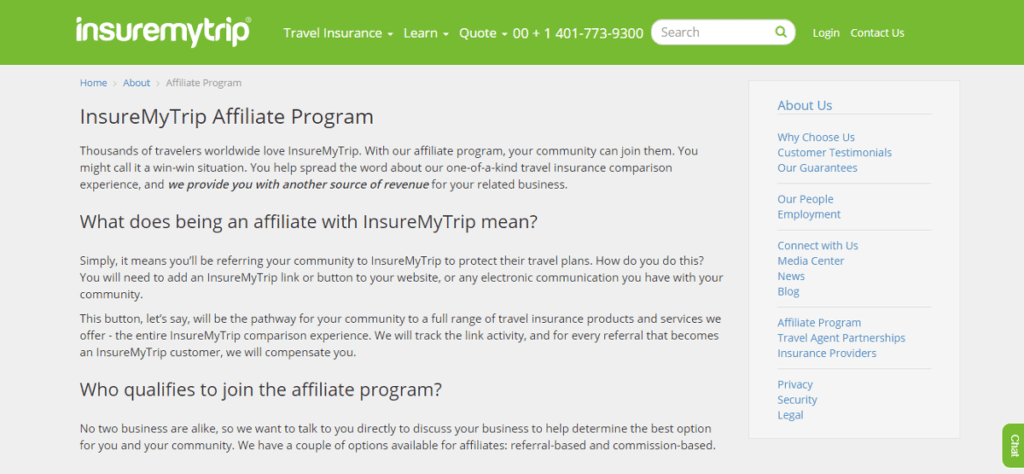 Insure My Trip is a price comparison site for travel insurance. It is popular with seasoned travelers as it enables them to get a competitive quote for travel insurance without shopping around.
Insure My Trip ensures that travelers get the right amount of coverage at the right price, something that your blog readers may be keen to learn more about. 
The Insure My Trip affiliate program is homegrown and based around the placement of a referral button in target content or as part of your blog's sidebar. You are compensated for the sales you refer.
Insure My Trip do not publish specifics about the level of commission or cookie tracking. They encourage applicants to contact them directly as they have some flexibility in the way of working with their affiliate marketers offering referral-based or commissions based compensation programs.
---
19. Sandals Resorts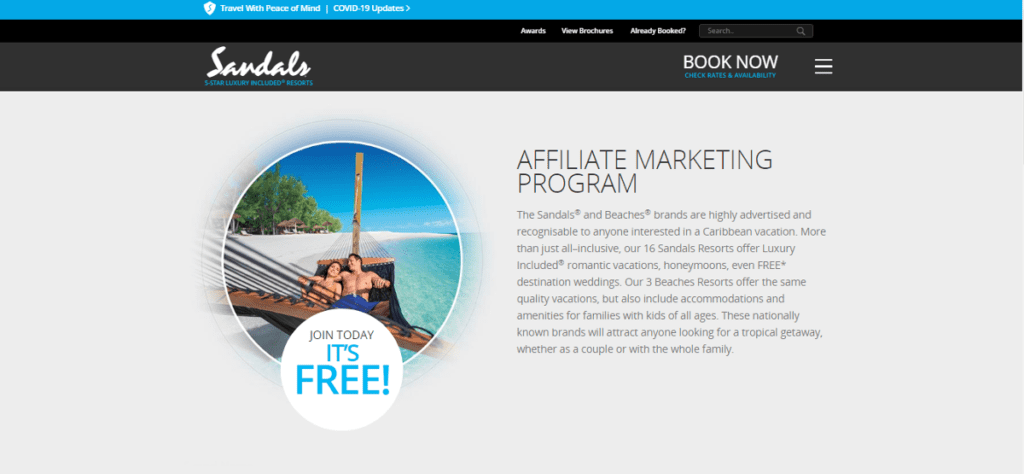 The iconic Caribbean resort brand Sandals is the ultimate destination for luxury hospitality. With 16 all-inclusive resorts with the finest beachside accommodations, cuisine and recreational activities.
Sandals have teamed up with Commission Junction to provide you with the opportunity to share this world-class travel brand with your blog readers.
Participating travel bloggers are rewarded with a 4% commission across all of Sandals' travel products including their luxury waterside suites and exclusive dinners. 
You can really earn with Sandals as they have one of the highest earnings per click in the travel industry, around $137. The 60-day cookie lifespan will further boost your opportunity to make significant earnings with this program.
Not only will you receive dedicated support and updates with offers and promotions to share, but you also become eligible for performance bonuses from Sandale & Beaches. To join, signup with Commission Junction and apply to the Sandals Resorts affiliate program.
---
17. Trip Advisor
TripAdvisor is one of the worlds biggest platforms for travel bookings and reviews and is often the first site that people visit to find out about things to do and places to go.
As a seasoned travel writer, I'm sure TripAdvisor is on your radar for ideas and research, so it's great that you can participate in their affiliate program and generate competitive earnings by referring your web visitors to their site. 
TripAdvisor makes it worth your while with a 50-50 revenue share on the commission their earn from bookings you refer. They have a massive inventory of partner hotels and holiday rentals that you can profile and share as well as restaurants, bars, and attractions that should be on the itinerary of any seasoned traveler. 
To get started, you need to signup with either Awin or CJ Affiliate who will handle your account and process your commission payments.
---
Before you go!
If you're looking to start a new website then maybe you should consider an aged domain. No waiting for that 7-9 month sandbox before you see some results. Get fast results by using aged domains. I recommend ODYS which is where I purchase mine from.
What's the fastest way to monetize your blog? Display ads of course and you can't go far wrong with Ezoic. You can also join their program with a small and even brand new website. By using my link to their Access Now program you'll get quick access to high-paying display ads for your website. Start earning money today! Sign up here.
and finally…
All websites need one thing. Content, whether that be outsourced content like I get from BuySellText or AI software that will write it for you like Jarvis.AI. Currently, the best tool out there if you like AI software.
If you can't see the tool or resources you need here. Check out my resource page which is packed with helpful tools, software, and apps that can help you maximize your revenue and grow your website faster. Many of which are discounted if you click my affiliate link. See my resources page.