So, let's take a look at the 20 best affiliate programs for food. I've searched high and low for 20 of the best programs on the market today!
Affiliate marketing is a great source of revenue for food bloggers who make up to half their full-time income through affiliate arrangements.
Expanding and diversifying your portfolio of affiliate programs for food is a great way of safeguarding your valuable income stream.
Food-based affiliate programs not only work well for food bloggers but also bloggers, social media pros, and influencers in health and fitness, wellness and even interior design and appliance fanatics. 
I have to admit some of these products look delicious and are perfect for a taste test YouTube channel or reviews website.
You can include the 20 best affiliate programs for food in:
Blogs
Pinterest accounts
YouTube channels
Email marketing campaigns
Facebook Groups
…and more!
The best affiliate programs for food offer decent levels of remuneration with either a healthy percentage cut of sale or a one-off payment.
This spread of affiliate programs span British and US companies with many shipping internationally. 
Are you ready to take a look at my list to see which ones will work for your site?
Well, let's get into this!
20 Best Affiliate Programs for Food Bloggers
1. Le Creuset
10% commission
30-day cookie
Pay-per-sale
Iconic French cookware brand Le Creuset specialises in heirloom-quality cast iron cookware that is world-famous for its quality and longevity.
The iconic orange enamel finish is found in affluent kitchens around the world. Their cookware is a match for foodies who want the best cookware for preparing their premium ingredients!
The Le Creuset Affiliate Program provides the opportunity for you to bring this famous brand to your foodie fans, who probably will be well versed in the benefits and types of cooking that can be achieved with their expansive range of pots, pans and casserole ovens.
The Le Creuset Affiliate Program is managed by Flex Offers with a 10% commission on all completed sales that are referred.
---
2. British Corner Shop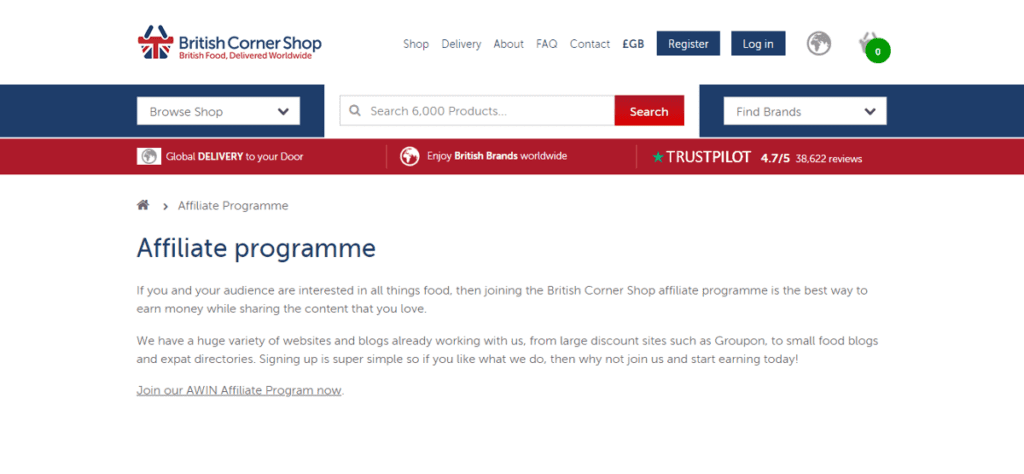 7% commission
30-day cookie
Pay-per-sale
British ex-pats always miss the flavors from home. After all, where else can you get a decent cuppa?
The British Corner Shop has come to the rescue with a great range of British brands including Shreddies, Yorkshire Tea and Bisto, to give a comforting taste of home wherever you are in the world.
This company has real momentum and is working with large platforms like Groupon as well as smaller websites and bloggers to extend the reach of their brand.
Their affiliate program is run by Awin and offers a 7% commission on over 6000 product lines you can sell. 
The British Corner Shop also provides a discount code you can share for the first order. Repeat orders earn a commission of 3%.
Though the individual products are low value, customers often buy in bulk meaning you can soon generate a decent revenue stream. 
---
3. Approved Food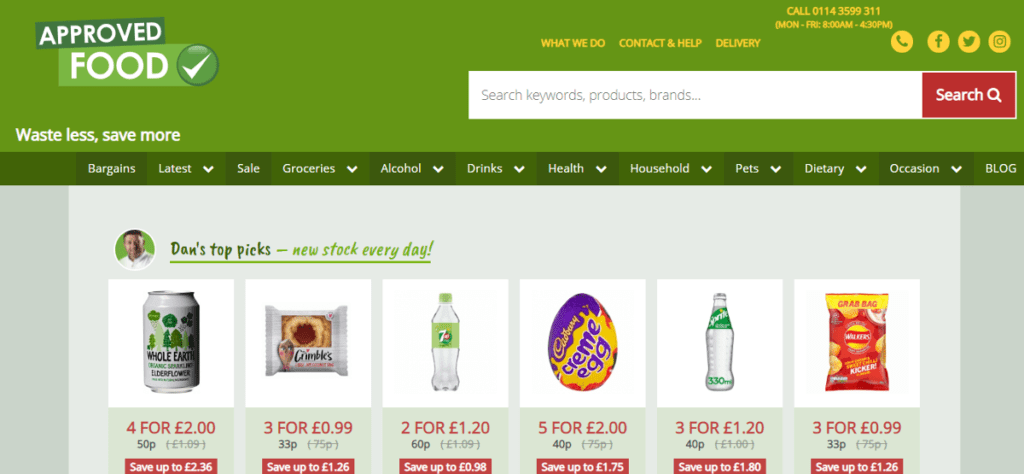 Commission: £5 new orders £1.50 repeat orders
30-day cookie
Pay-per-sale
Approved Food is a UK discount retailer of clearance food and drink. If you blog about food waste, frugal living, or where you can get great deals on everyday items this affiliate program is ideal for you.
Everything on the Approved Food website is surplus or short dates so customers have to move quickly to get what they want. Buying from Approved Food regularly can shave hundreds of pounds off a family's annual food shopping bill, up to 70% of the total cost.
This is an amazing deal that should be easy to promote, especially on social media. There are over 4000 changing product lines to choose from and Approved Food will ship across the UK and Europe.
You can join the Approved Food Affiliate Program by signing up with Paid On Results. Approved Food pays out £5 per new order you refer and £1.50 for repeat orders that are referred via your site or social media account.
---
4. Green Bay Supermarket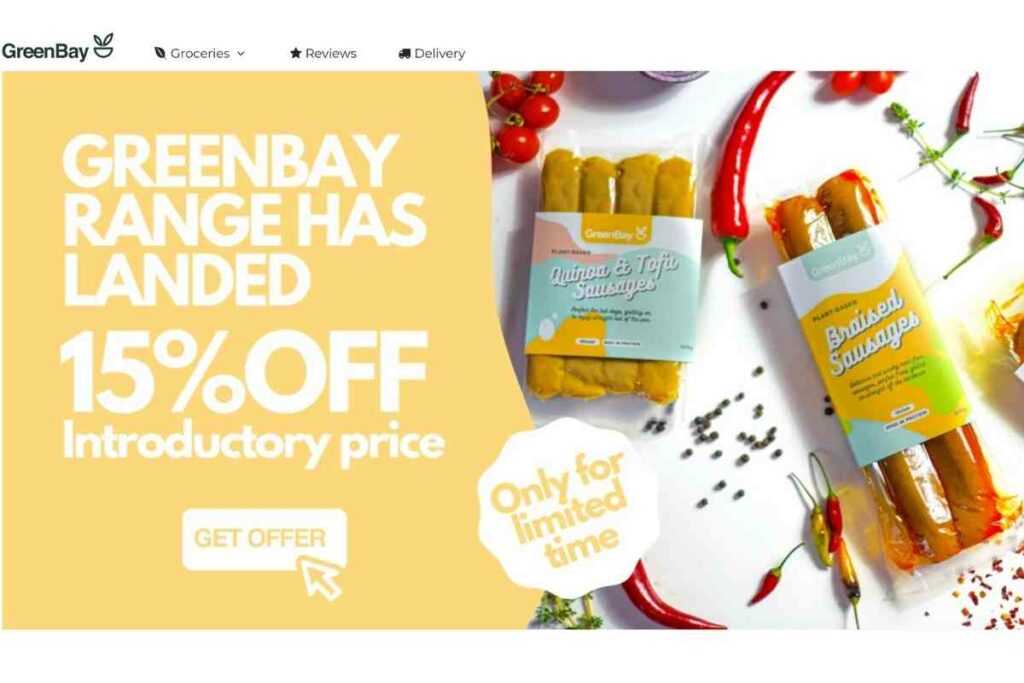 Commission: 10%
30-day cookie
Pay-per-sale
Green Bay Supermarket is the UK's first fully Vegan supermarket stocking one of the country's most extensive ranges of plant-based food.
Based in West London, the supermarket ships their delicious fresh, canned, dried and frozen vegan foods across the UK and Europe and are seeking to work with like-minded affiliate marketers to spread their message. 
By joining the Green Bay Supermarket, you will be able to profit from sharing their unique, hard to find vegan ingredients with the readers of your food blog.
Though not openly published, Green Bay Supermarket reports that their rates of commission are competitive.
You can sign up with Green Bay Supermarket via Awin (link above) or Paid On Results.
---
5. Loving Foods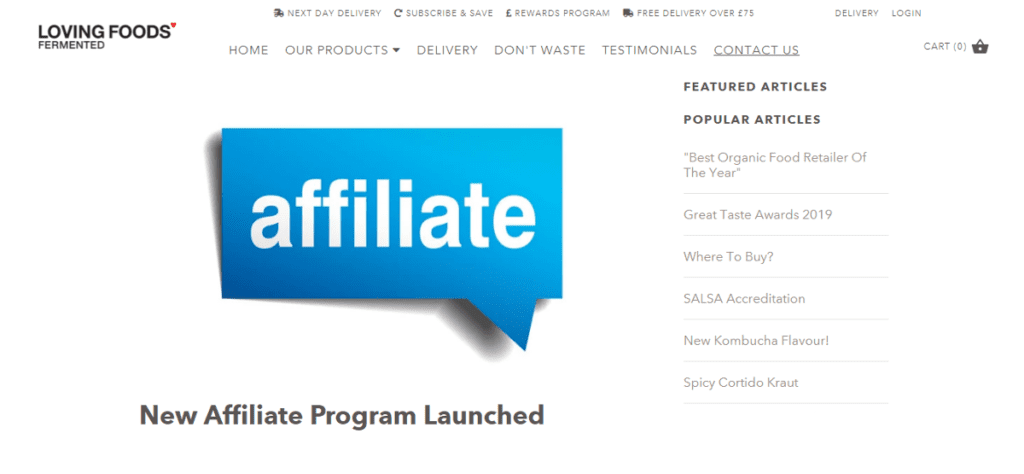 Commission: 10%
30-day cookie
Pay-per-sale
The Loving Foods Affiliate Program is ideal for fermentation fans, they specialize in nutritious fermented foods. These colorful foods with bold flavors are perfect for quick and snappy social media shares on platforms like Pinterest or Instagram, or inclusion in the recipes you create.
Loving Foods is the perfect destination for fermentation fanatics, stocking a wide range of fermented foods and juices that span spicy Kimchi to classic Sauerkraut.
Fermented foods are great to share with audiences that are interested in healthy foods or just those who love to try out new flavors. Customers can purchase individual products or sign-up for a subscription to have their favorite foods delivered regularly.
If you are interested in participating in the Loving Foods Affiliate Program, you can contact their team to join. Loving Foods pay a 10% commission on every sale.
---
6. Fortnum and Mason
Commission: 10%
90-day cookie
Pay-per-sale
Your blog readers can dine like British royalty with the luxury hampers and fine foods of the exclusive London retailer, Fortnum and Mason.
Fortnum and Mason are partnered with Awin for the delivery of their affiliate program. By joining you will be able to promote niche products from one of the world's finest department stores whose Piccadilly food halls ship across the world.
Their commission is 4% with 30-day cookies. You will receive a regularly updated product feed, promotional banners, and, of course, access to their online inventory of luxury items including popular picnic hampers.
---
7. Mama Sezz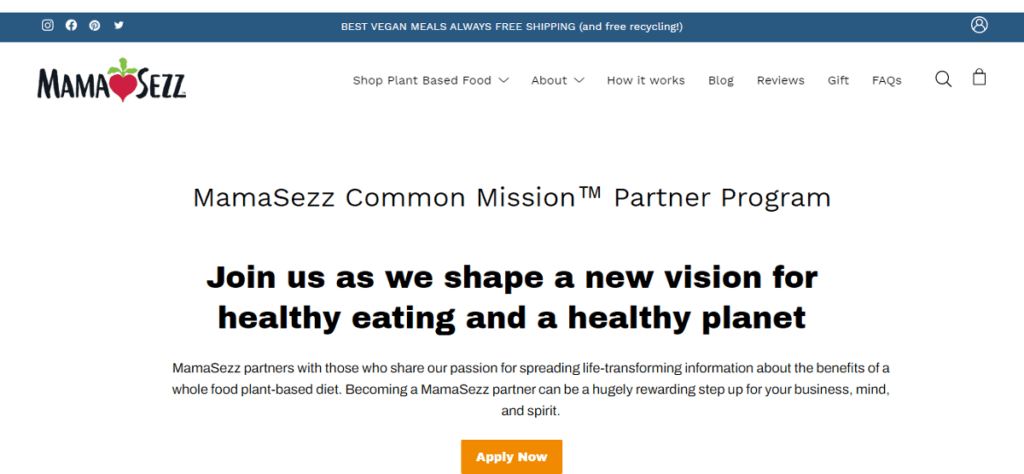 Commission: 10%
90-day cookie
Pay-per-sale
Mama Sezz is making waves with its delicious 100% plant-based meal delivery service. They are the perfect solution for balancing veganism with a busy lifestyle and is likely to resonate with food enthusiasts who are interested in the benefits of whole food plant-based diet.
Mama Sezz is a company that is keen to get the message out about the benefits of their meat, egg and dairy-free cuisine. They want to team up with like-minded food, fitness, or health bloggers who can share the benefits of their plant-based approach to food.
Mama Sezz makes it very easy for you to earn with a 10% commission and whopping 90-day cookie. Get started at the link above.
---
8. Planet Organic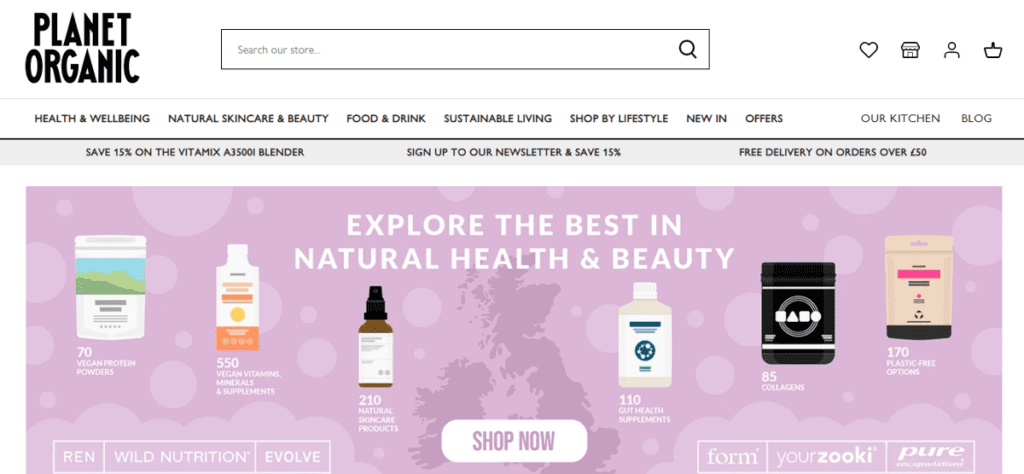 Commission: 8%
30-day cookie
Pay-per-sale
Planet Organic is the UK's largest fully organic retailer. Based in the capital it has been a trendy destination for organic food and sustainable meat and fish since 1995.
You can now promote this hip and ethical brand through your foodie blog. When you share with your customers the Planet Organic range you can earn a healthy 8% commission on approved transactions.
Planet Organic affiliates can promote exclusive products that can only be purchased on planetorganic.com. Sign up with Awin and earn monthly commission payments with regular product updates and promotions from the Planet Organic team.
---
9. Sunfoods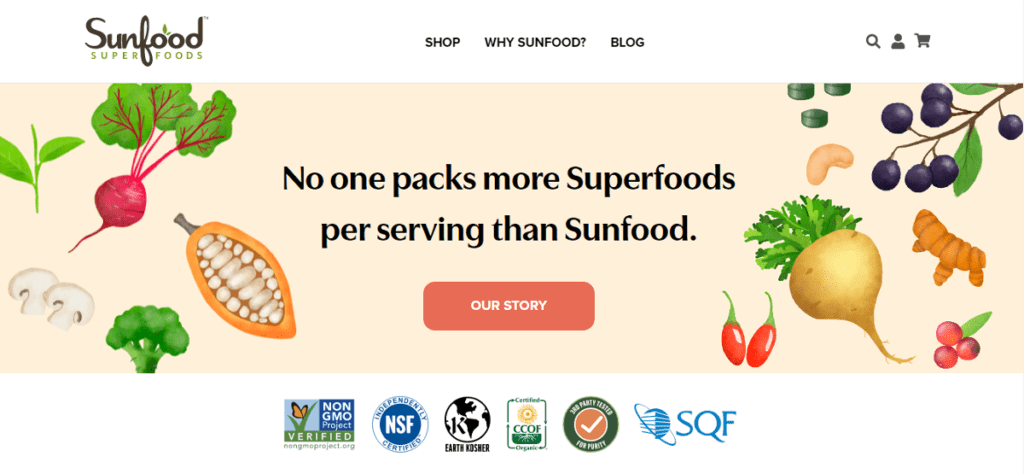 Commission: 10 – 20%
45-day cookie
Pay-per-sale
Sunfoods is an established health foods company that operates out of San Diego in the US. For over 25 years they have been making nutrient-rich superfoods like coconut oil, spirulina and goji berries.
They are an ideal company to include in health and wellbeing and fitness blogs that cover nutrition or specific diets and allergies with a massive product inventory with niche products like exotic camu camu that can help your site show up in searches.
Why not create delicious recipes and link your shopping list to this website so your audience can buy?
Joining the Sunfoods affiliate program means that you can earn a competitive commission rate of up to 20% on sales that you refer to their wholefoods website. Their affiliate program is run by Flex Offers. Simply signup and apply to the Sunfoods program.
---
10. Hello Fresh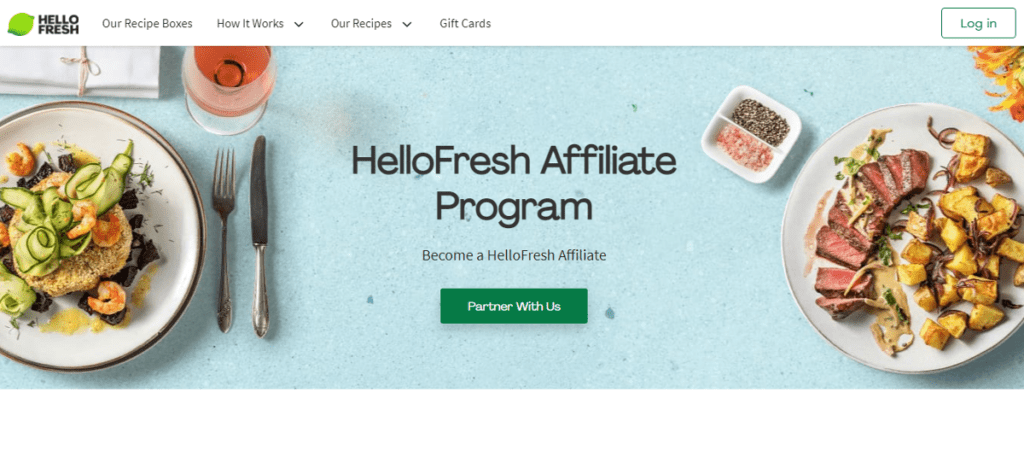 Commission: £8 / 25% of total order (whichever is higher)
30-day cookie
Pay-per-sale
Hello Fresh has been making a name for itself in the US and UK as a meal ingredients subscriptions service. This novel approach to dinner involves ordering pre-portioned ingredients for delicious recipes that feature cuisine from all over the world.
With Hello Fresh, there's no more wondering "what's for dinner?" Meal plans, portion sizes and the duration of subscriptions can all be controlled by the customer. It's a clever concept and one that your food blog reader might just want to try out.
The Hello Fresh Affiliate program is extremely generous with an £8 fixed fee commission on all sales you refer. If the commission earned as a percentage of sale value is higher, the commission is paid at a rate of 25%.
You get a 30-day cookie to track your referrals and Hello Fresh provides you with marketing collateral and exclusive time-limited offers that you can share.
---
11. Eat Better Meals
Commission: 10%
30-day cookie
Pay-per-sale
Eat Better Meals is all about making great nutrition simple. They deliver healthy, nutritionally balanced ready to eat meals direct to customers.
You may be wondering how this is different from take-out, but with Eat Better Meals, the food you receive is tailored to your dietary and calorie requirements. I think this could really help dieters as their breakfast, lunch and dinner could be prepared for healthy steady weight loss.
Eat Better Meals currently operate in New York State only, but are growing. They are looking for bloggers that write about fitness and nutrition who would be interested in referring users to subscribe to their weekly, monthly or bulk meal service.
They will pay out a 10% commission on every order with a week's worth of meals for one costing $115.
---
12. Vitamix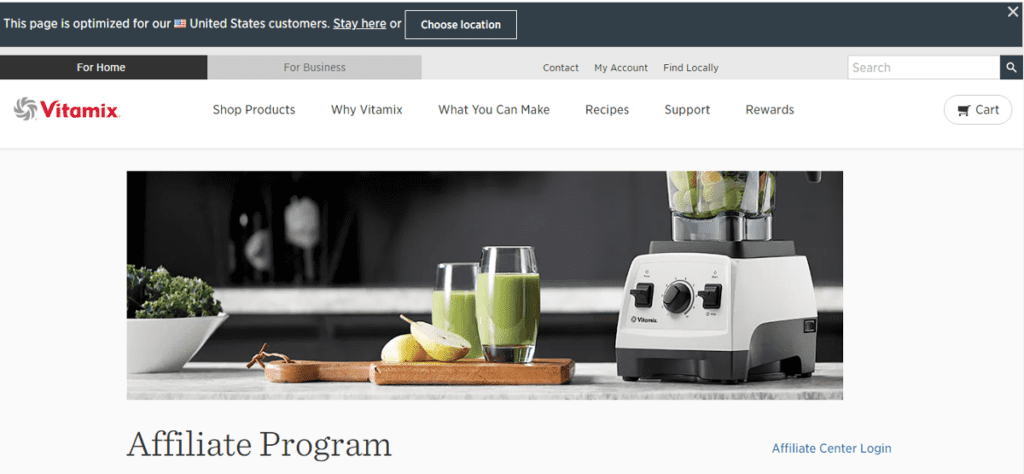 Commission: 3%
30-day cookie
Pay-per-sale
Vitamix is the leading brand for blenders and food processors with powerful versatile kitchen aids that make food preparation a pleasure. These blenders have become a cult appliance, especially with the smoothie and frappucino crowd.
Many of your foodie followers or reader will probably want to add a Vitamix to their kitchen worktop, so I think that the Vitamix Affiliate Program could potentially be very lucrative.
Commissions start at only 3% but can rise quickly for effective affiliate marketers. With most blenders starting at $400 dollars, you will be taking at least $12 per sale, which can add up with a sought after product like this.
---
13. Vital Choice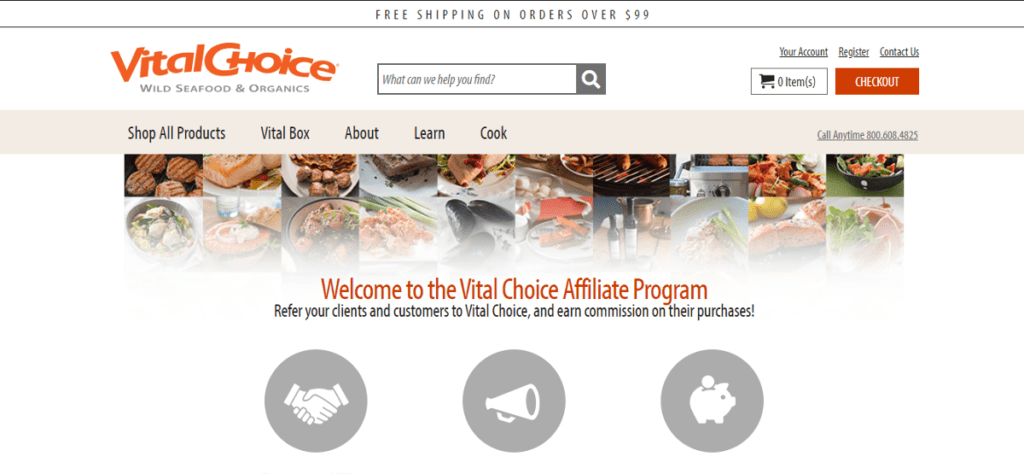 Commission: 1 – 4%/$15 for new subscriptions
7-day cookie
Pay-per-sale
Vital Choice is an online purveyor of premium fish, grass-fed meat and organic foods. Everything on their site has been sustainably sourced and is perfect for a clean-eating diet and maybe a match for your health and wellness blog followers or foodies who love meat and fish with excellent provenance.
You can earn a 4% commission on new orders that you refer to the Vital Choice site with their affiliate program that is run by PepperJam.
In addition, if your web visitors end up subscribing to their VitalBox delivery service you will earn $15.
Vital Choice report an average order value of $175 so it is possible to generate a healthy revenue stream through promoting these foods.
---
14. Sunburst Superfoods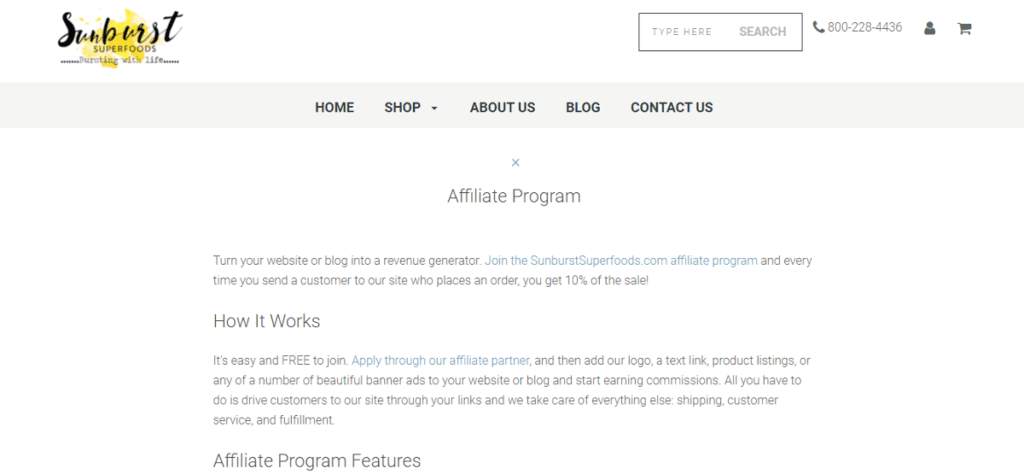 Commission: 10%
60-day cookie
Pay-per-sale
Superfoods add a welcome nutritional boost to meals, snacks and smoothies and Sunburst Superfoods are an ideal online destination for stocking up on these organic all-natural health foods.
Their dried powdered superfoods may be perfect for blogs on vegan or vegetarian diets, or they may just be great products that you enjoy yourself. Either way, Sunburst Superfoods are will pay a 10% commission on all sales you refer to their site as part of their affiliate program.
Sunburstsuperfoods.com work with ShareASale to deliver their affiliate program for food. ShareASale will track sales and payout earned commissions on a monthly basis.
---
15. Material Kitchen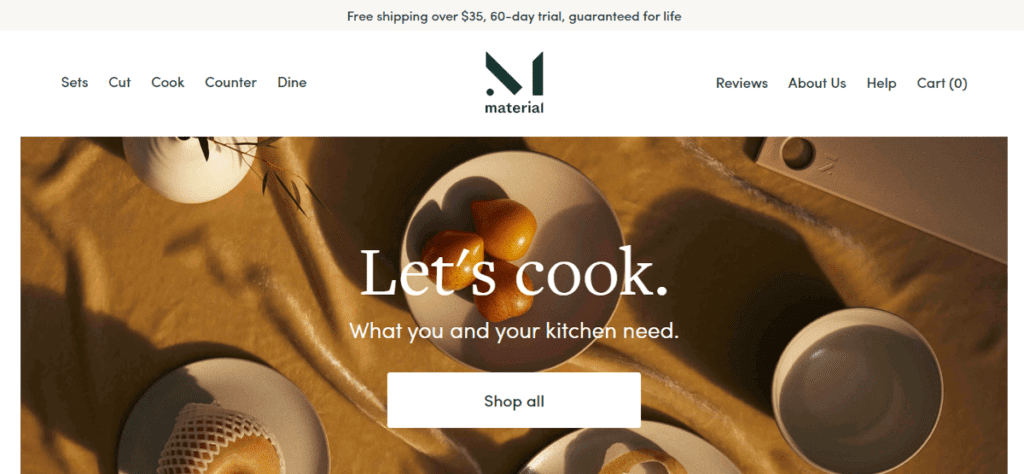 Commission: 10%
15-day cookie
Pay-per-sale
Material Kitchen produces fine cooking utensils, cookware, dinnerware and cutting boards made by foodies, for foodies. This upmarket company has made its mark in the cultured and cosmopolitan neighborhoods of the big US cities and is growing in popularity as a dinner party favorite. 
These iconic pieces are designed to be the last items you need to buy. The will not only appeal to people who read food blogs, but also people who are interested in architecture and interior design.
You can share Material Kitchen with foodies in your online audience and be rewarded with a 15% commission on any items purchased. The practical, well-curated sets that include knives and spatulas in minimalist wooden holder cost over $200 dollars so a 10% rate of commission is generous. Join Material Kitchen at ShareASale.
---
16. FarmFoods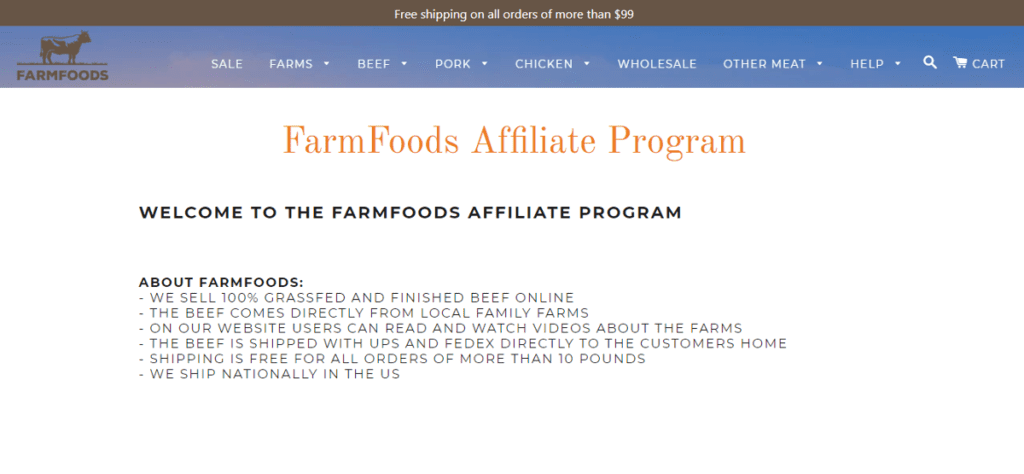 Commission: 10%
15-day cookie
Pay-per-sale
FarmFoods ships premium 100% grass-fed and finished beef online, that has been farmed by small-scale, local farmers.
Being able to buy high-quality meat of good provenance is considered a worthwhile investment by many households so it is likely this online meat delivery will resonate with some of your followers or readers in the US.
FarmFoods provide lots of marketing support as part of their affiliate program with lots of engaging content about the family-run farms you can share with users. There are no subscriptions, no boxes, and customers can choose the exact cuts of meat that they want.
Their average order size is $120 with affiliates earning around $16 in commission per order. They suggest they can achieve a conversion rate of between 4 and 10% with users who are familiar with the benefits of grass-fed meat.
FarmFoods used ShareASale to run its affiliate program. Simply sign up for an account and apply to the FarmFoods Affiliate Program to start earning.
---
17. Graze
Commission: £1.50 per sign up
Pay-per-sale
Graze are a snack-lovers dream product. Their bespoke snack boxes that are posted to your door are perfect for grazing through the day and the healthy options that they provide mean that people don't have to feel guilty while eating something that tastes good.
And the goodies keep coming with the UK-based Graze Affiliate Program that will earn you £1.50 for every person who signs up for a discounted trial of their snack boxes. Graze help you out with promo codes and lots of marketing materials that you can share with your audience.
The program is run by Awin who will payout your commissions over $20 on a monthly basis.
---
18. German Food Box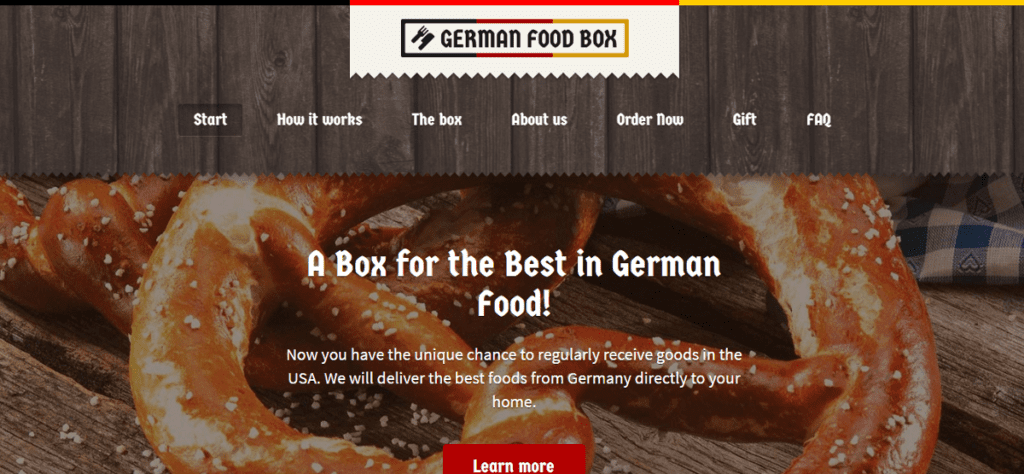 Commission: $5
30-day cookie
Pay-per-sale
The German Food Box delivers authentic German foods across the US. It is founded and run by a German husband and wife team who are passionate about sharing delicious German foods like Bratwurst, Spaetzle and Stollen.
If you are interested in sharing global foods, why not join the German Food Box Affiliate Progam and put their mouthwatering delicacies on the map?
For every German Food Box that is purchased by a visitor you refer, you will earn $5. These are niche products that are ideal for introducing in a popular food blog.
The German Food Box Program is administered by ShareASale. Sign up using the link above to join immediately.
---
19. Sunbasket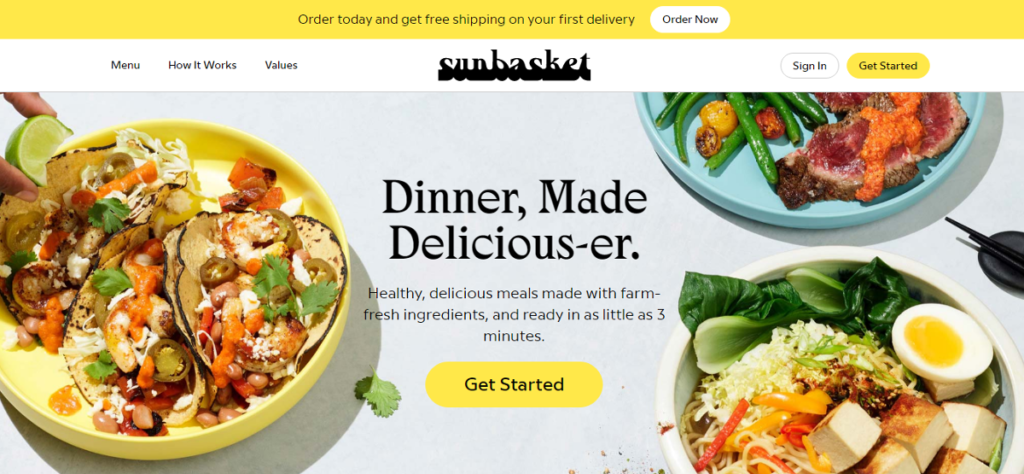 Commission: $20
30-day cookie
Pay-per-sale
The demand for meal delivery companies shows no sign of slowing down, and now people with busy lifestyles can eat wholesome and well-balanced meals from Sunbasket, a healthy meal delivery company.
Sunbasket is the brainchild of award-winning Chef Justine Kelly who creates satisfying means using fresh, sustainable and organic ingredients. The mouth-watering menu can be customized for weight loss, allergies or specific diets. 
Sunbasket wants to team up with you to promote their award-winning cuisine. They will make it worth your while with a $20 commission for every person you refer to their site who buys meals.
This a great product with a great rate of commission which could perhaps be featured in a niche website that compares meal delivery services.
---
20. Laconiko Olive Oil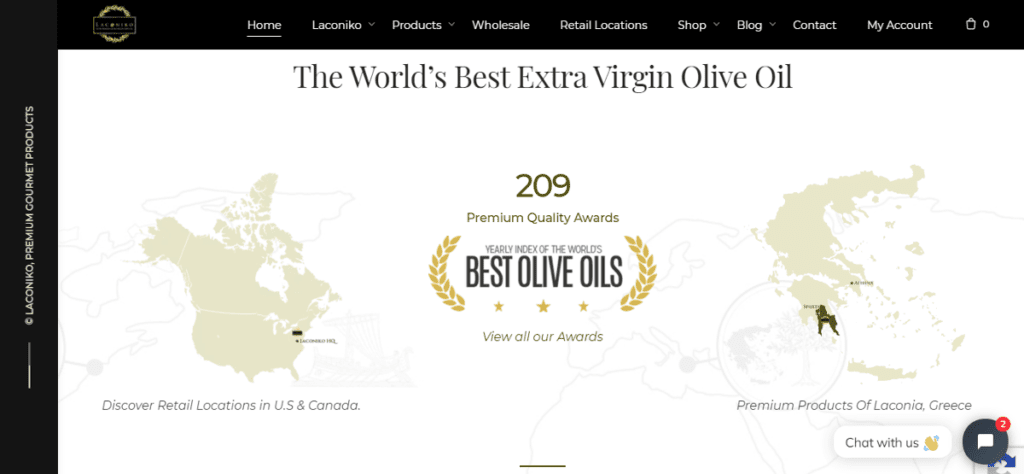 Commission: $20
30-day cookie
Pay-per-sale
Olive is a basic ingredient for any foodie's countertop or pantry. Informed food writers and bloggers will know that not all olive oils are the same. Connoisseurs will seek out premium extra virgin olive oils that are so pungent and flavourful that all they need is a piece of crusty bread to dip into them!
Olive oils are a great product to promote as an affiliate marketer as foodies love to buy them for themselves or as gifts for others.  And if you want to promote a big-ticket olive oil, Laconiko Olive Oil is one of the best on the market. This high-ticket price olive oil comes from ancient Greek olive groves with centuries of flavor and expertise in each freshly-pressed bottle.
The Laconiko Olive Oil Affiliate Program is the perfect incentive for bringing this delicious oil to a new audience. It is ranked the #2 best olive oil in the world with a 500ml bottle retailing for $27.95.
Affiliates who drive traffic to the Laconiko online store earn a commission with cookie duration. You can join this program by signing up with ShareASale.
---
Before you go!
If you're looking to start a new website then maybe you should consider an aged domain. No waiting for that 7-9 month sandbox before you see some results. Get fast results by using aged domains. I recommend ODYS which is where I purchase mine from.
What's the fastest way to monetize your blog? Display ads of course and you can't go far wrong with Ezoic. You can also join their program with a small and even brand new website. By using my link to their Access Now program you'll get quick access to high-paying display ads for your website. Start earning money today! Sign up here.
and finally…
All websites need one thing. Content, whether that be outsourced content like I get from BuySellText or AI software that will write it for you like Jarvis.AI. Currently, the best tool out there if you like AI software.
If you can't see the tool or resources you need here. Check out my resource page which is packed with helpful tools, software, and apps that can help you maximize your revenue and grow your website faster. Many of which are discounted if you click my affiliate link. See my resources page.