I've searched high and low across the web for 20 of the best affiliate programs for recurring commission.
This is the list that every affiliate marketer is looking for because recurring commission is perfect for building passive income quickly!
A recurring commission affiliate program is an affiliate program where you will receive commission payouts on repeated payments made by the customer you have referred.
It is a common approach for subscription services where a user makes monthly, quarterly or even annual payments.
The recurring commission makes these 20 affiliate programs lucrative schemes to join. I have covered reputable companies (that should keep your referrals subscribed) in a variety of niches, so there should be something for everyone.
Are you all set to apply to some of these great recurring commission affiliate programs?
Let's get into this!
20 Best Affiliate Programs for Recurring Commission!
1. Food Blogger Pro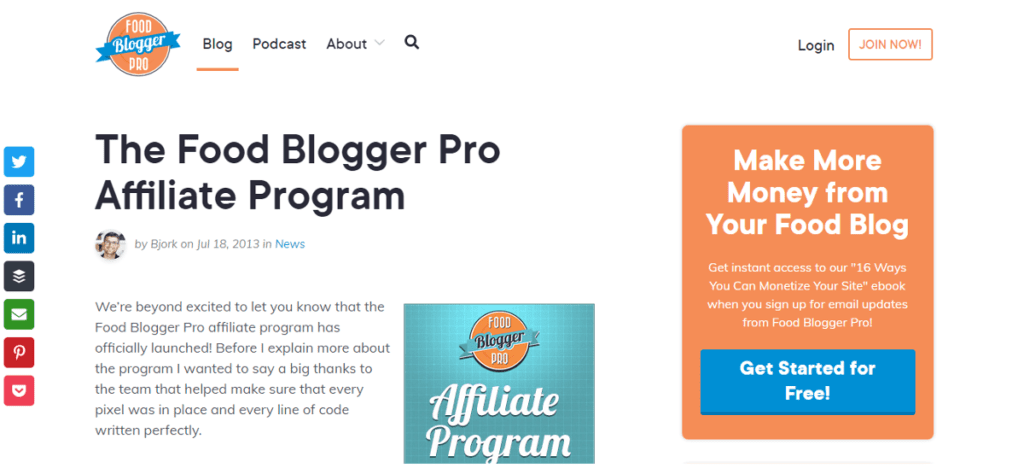 Food Blogger Pro is the brainchild of husband and wife blogging team Bjork and Lindsay Ostrom, who together run the popular food blog Pinch of Yum.
They have created a subscription course with the mentoring and community to help food bloggers confidently monetize their blogs. 
This affiliate program is made by content marketers for content marketers and the team at Food Blogger Pro have put in the effort to ensure that participants get great value and support.
Their level of commission ranges between 20 and 40% for every subscriber that an affiliate refers to their program. Food Blogger Pro ensure that participant affiliates receive a commission for the entire period that a member they have referred is subscribed.
Food Blogger Pro is partnered with ShareASale for the administration of its program.
---
2. Smart Kitchen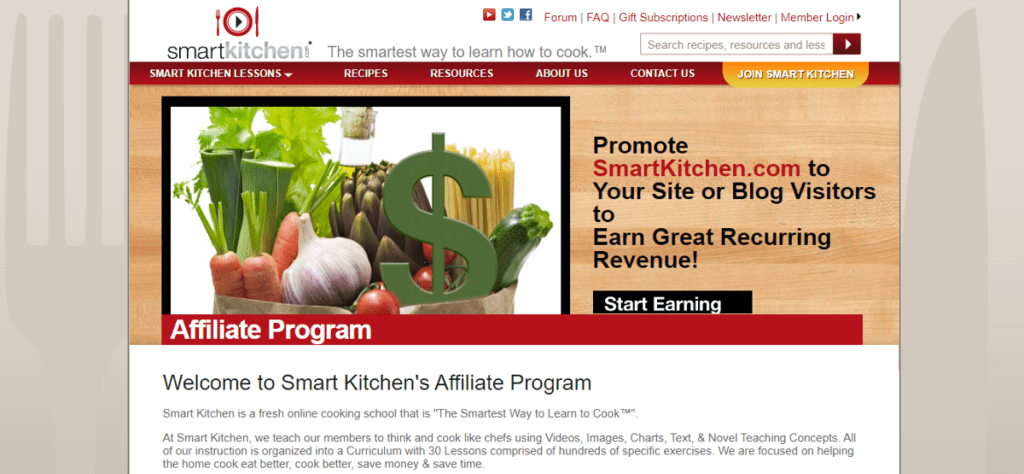 Smart Kitchen is a vibrant online cooking school that teaches its subscribers to think and cook like a professional chef. This program is perfect for foodies and food bloggers who want to help their online audience achieve some great cookery skills.
Their suite of video tutorials is high-quality and makes a cost-effective alternative to a traditional culinary academy.
Smart Kitchen are keen to work with confessed foodies who will enthusiastically promote their cookery courses. They make it worth your while with a generous 30% commission which recurs for the duration a referred member is subscribed. The commission is also offered on gift subscriptions.
Smart Kitchen help you convert sales by providing marketing materials and access to recipes videos and other culinary learning materials.
The Smart Kitchen Affiliate Program is delivered in conjunction with ShareASale. It can be joined at the link above or ShareASale members can log in and apply there.
---
3. CoinMama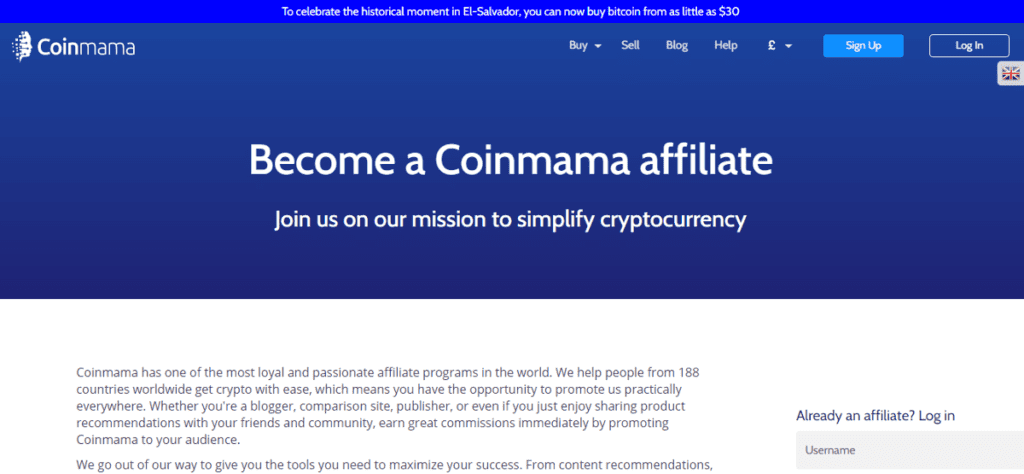 CoinMama provides simple secure access to the worlds leading cryptocurrency markets with the ability to instantly purchase Bitcoin, Dogecoin and Ethereum.
They operate in over 180 countries across the globe and enable their users to sell cryptocurrencies accumulated from their wallets direct to a bank account.
The CoinMama affiliate program is all about sharing the benefits of this simple-to-use service. CoinMama suggests that they are a great match for comparison websites, crypto and blockchain blogs or social media accounts that track these explosive markets. 
CoinMama affiliates earn up to 30% of every cryptocurrency purchase made through the site by someone they have referred. Commissions are tracked and payouts are multi-currency including Bitcoin, Euro, US dollar and New Israeli Shekel!
With CoinMama, it's as simple as register, sending the traffic over and earning your commission!
---
4. Villiers Private Jet Charter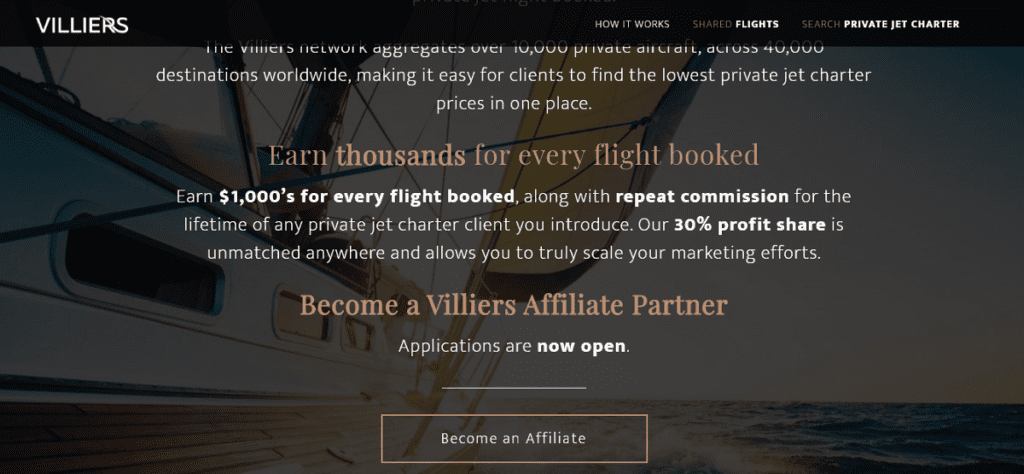 Villiers is a global leader for chartered flights on private jets, with access to over 10,000 private aircraft in over 40,000 destinations across the world.
They are experts in securing the best charter prices available for any journey by private jet, with responsive round the clock support so customers enjoy an end-to-end VIP experience.
The Villiers Affiliate Program Flights is one of the highest paying affiliate programs in its sector, which already is a high-ticket niche.
These flights cost tens of thousands of pounds at a minimum and Villiers is prepared to pay its affiliates a massive 30% commission for all sales referred to them from websites, blogs or email marketing!
You will earn thousands with every charted flight booked. Not only will you make a one-off commission but Villiers will provide you with a 30% profit share for every flight that a client you refer takes.
This is one of the best recurring commission affiliate programs out there and well worth investigating further. Learn more and apply at the link above.
---
5. Our Journey Westward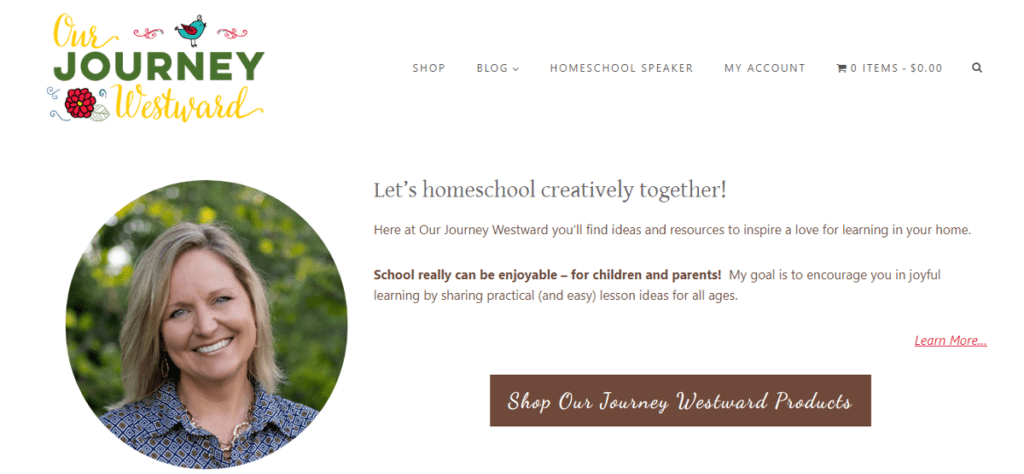 Home Education is increasing in prevalence and parents and educators often turn to online resources to support children's learning.
Our Journey Westward is a website and blog specializing in homeschooling lesson plans, video training, books and printables that are designed to foster a love of learning. 
The Our Journey Westward Affiliate Program is a great program for lifestyle, mommy, and education bloggers.
Our Journey Westward incentivizes with a 25% commission for these largely digital products that recurs for any purchases someone you refer make, both now and in the future. 
---
6. Monday.com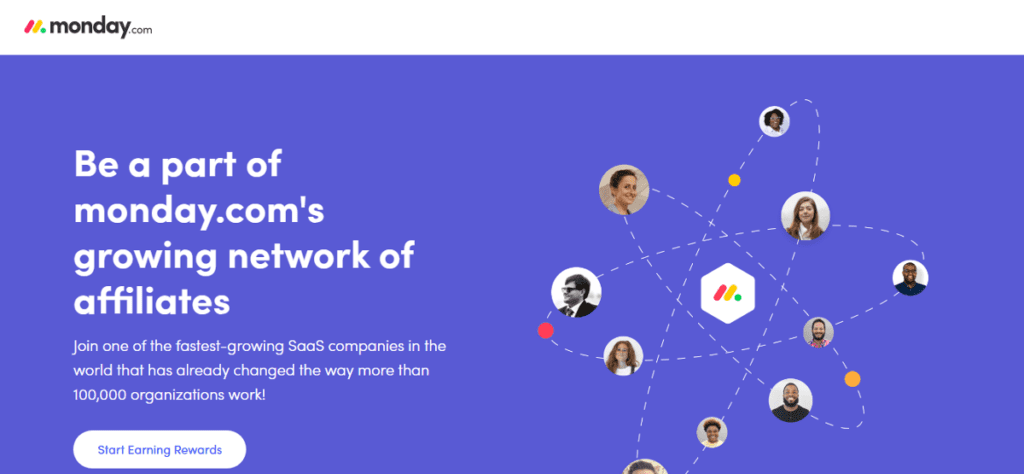 Monday.com is well known for its project management SaaS, which is sought after by entrepreneurs, marketers, and anyone who wants to take control and scale a large team or project.
Monday.com is used by over 125,000 leading companies and provides a single location for creating and managing workflows with hundreds of integrations.
Because of the power and versatility of this product, it will likely resonate with readers of a variety of blogs or followers of social media accounts that deal with sales, marketing and small business. 
The Monday.com Affiliate Program has a growing network of affiliates who promote their software to their online followers.
They will pay a 25% recurring commission for up to two years on all sales referred to their site. Monday.com also provide marketing collateral to help you boost your sales. The affiliate program pays out by PayPal or Stripe.
---
7. AWeber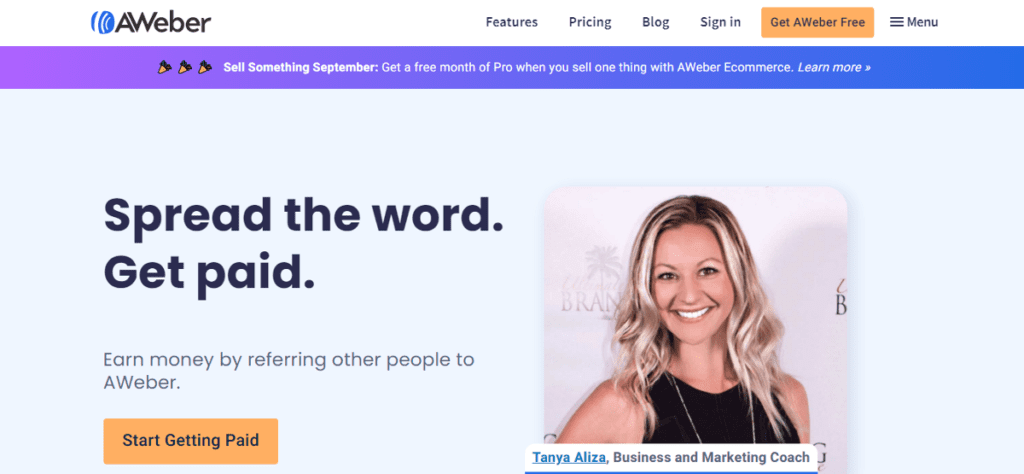 AWeber is well known as an email service provider, but it is more an all-in-one multi-channel marketing platform, complete with landing pages and eCommerce functionality.
It is a great product for any digital marketer with a range of competitively priced plans that can be used to grow a variety of online ventures.
AWeber offers an AWeber Advocate program that provides the opportunity to earn commissions on subscriptions you refer to the AWeber.
This company thrives on word of mouth and referrals and wants content creators who can communicate the excellent value of this marketing software. 
AWeber pays out a generous 30% commission for every sign-up referred. The commission is recurring throughout the life of the paid subscription purchased!
---
8. FATJOE
FATJOE has cornered the market on outsourced linked building and content creation. Working with FATJOE as part of their affiliate program will earn them a 10% lifetime commission on all sales you refer to their site including one-off and recurring orders.
They include a 30-day tracking cookie, sales tools, help and support needed to convert sales. FATJOE helps you out with targeted autoresponders and re-targeting to boost conversion after someone signs up, keeping them subscribed and you earning!
The FATJOE Affiliate Program is run via an easy-to-digest dashboard where you can create links and track your commissions. All earnings are paid out by PayPal every month. 
---
9. Kinsta WordPress Hosting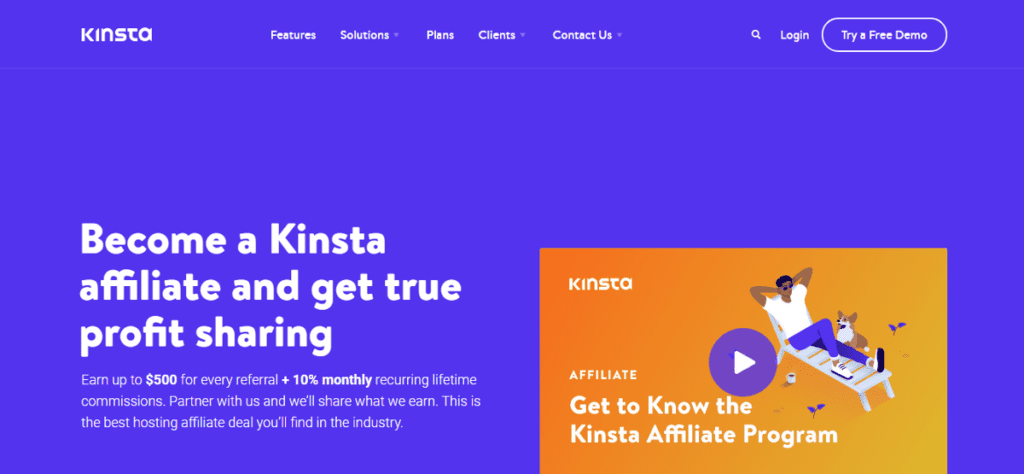 If you run your affiliate website on WordPress you are likely to have come across Kinsta. It is a highly reputable specialist WordPress host with over 20,000 companies benefiting from their fast and efficient hosting.
Kinsta is understandably keen to spread the word about their hosting capabilities and want to work with savvy affiliate marketers who have a switched on following who would benefit from a Kinsta hosting strategy.
They offer an excellent deal to their affiliate partners: up to $500 for every referral and monthly recurring lifetime commissions of 10%.
Customers can choose from 4 different Kinsta hosting packages, the Starter plan, Pro plan, Business plans, Enterprise plans that provide an upfront cash payment, then a 10% cut of the subsequent monthly payments.
---
10. Depositphotos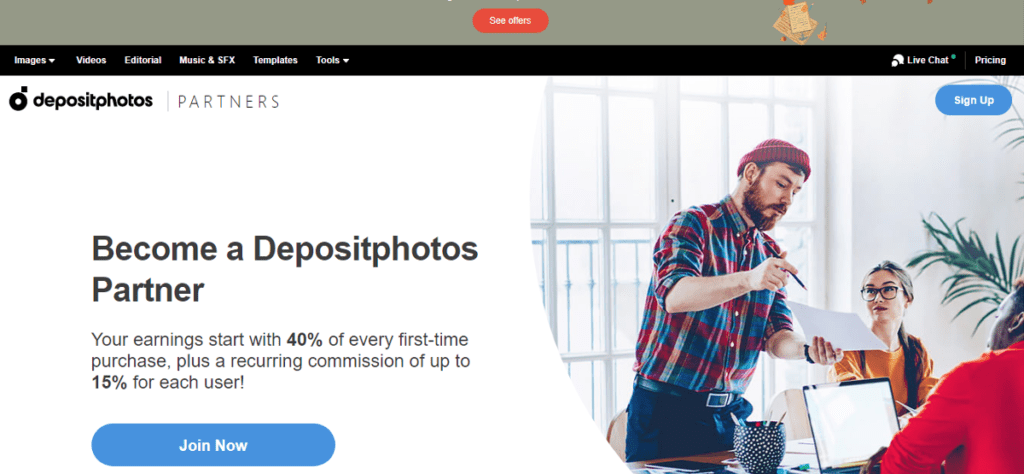 Royalty-free images are the bread and butter of content marketing. Marketers, affiliate marketers, bloggers, influencers, web designers and other digital creators rely on a steady supply of high-quality, relevant stock photos to bring their content to life.
Depositphotos is making a name as a leading purveyor of great photography, video and sound to add to projects. The Depositphotos Partner Program is a great match for people who blog about any aspect of digital marketing.
They incentivize with a 40% commission on all first-time purchases you refer, and a recurring commission of 15% on subsequent purchases.
Depositphotos also throw in the potential for enhanced commission packages for top-performing affiliates, image-rich marketing collateral and regular promo codes to help get the ball rolling.
---
11. Teachable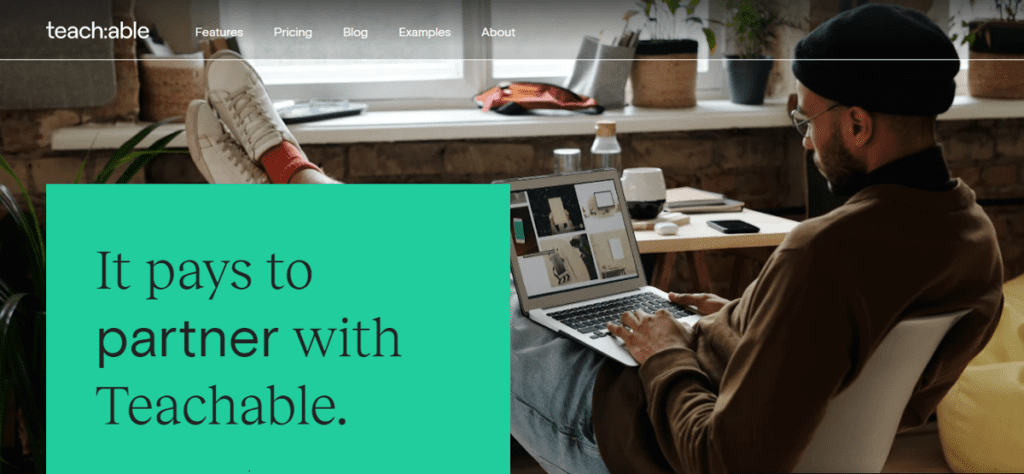 Teachable is a leading platform for creating and selling online courses in any and every subject on the planet! Their service supports end-to-end production of the courses and even handles hosting and payments.
They are used by some of the worlds leading experts on all sorts of topics including, interestingly, Pat Flynn of Smart Passive Income.
You can generate significant earnings by participating in the Teachable Partner Program that offers a commission of up to 50% on all sign-ups you refer. The Teachable program offers a 90-day cookie, that is perfect for boosting your sales conversion and you will earn recurring commission as long as the course creator you refer remains on Teachable.
This is a program to put some effort into as the better your sales performance, the higher the rate of commission you will earn.
The commission ceiling is raised by working through bonus tiers that are applied to calendar months. The minimum commission is 30%. Robust tracking throughout the Teachable.com site means that you have every opportunity to earn great commission on your referred traffic.
Teachable reports that their affiliates earn an average of $450 per month as a partner with an income of $1000 per month being achievable with this brand. If sounds like a match for your online venture simply sign up at the link above.
---
12. Crowdfire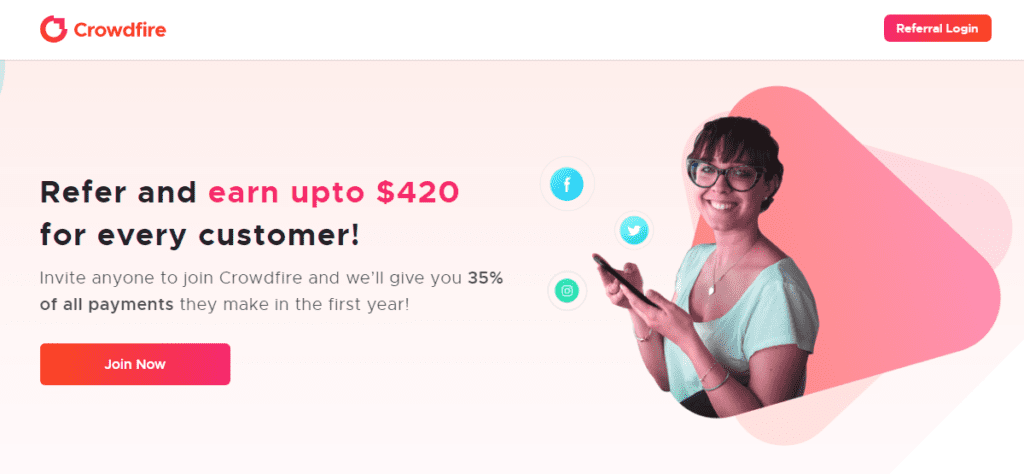 Crowd fire is a social media management tool that helps its users enhance the growth and engagement on the leading social medial platforms. It integrates with Facebook, Instagram, YouTube, Twitter, Pinterest, LinkedIn, and other leading platforms enabling its user to manage all their accounts on one simple platform.
You can promote this social media channel management software to your own online audience by participating in the Crowdfire Referal & Affiliate Program.
You will be paid a 35% recurring monthly commission on all referred sales that work out at around  $420 for every customer on the monthly VIP plan!
Crowdfire will provide a referral link that can be used by participants for you to share and promote to your online audience. Sales are tracked via their affiliate dashboard with payouts using PayPal and Stripe.
13. Jade Bloom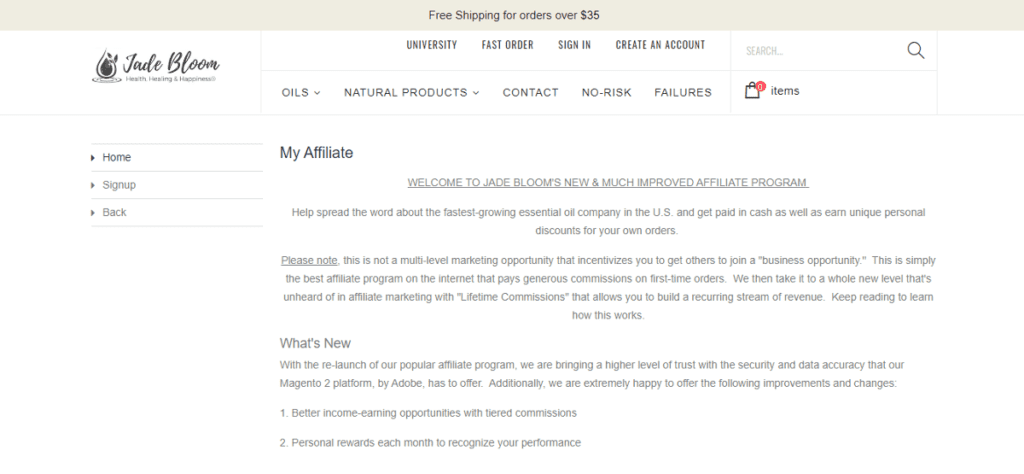 Jade Bloom is a fast-growing US-based specialist in essential oils that are popular for a variety of health and beauty uses. With over 200 different essential oils as well as bath and body products they are a key online destination for health and wellness enthusiasts.
Jade Bloom has revamped its affiliate program to offer a great recurring income with tiered levels of commission depending on the number of monthly sales you refer.
This affiliate program is a little different to the conventional program as Jade Bloom will expect you to purchase their product before applying to joining the program. You will also receive training and a $32 credit to spend on samples to familiarise yourself with the Jade Bloom brand. 
You can then use the wide range of attractive banners and links to place on your website to refer traffic to Jadebloom.com. Any new accounts you refer to Jade Bloom will become your "Lifetime Customers" with all subsequent purchases they make earning you a commission.
Sales and commission balance is tracked and payments can be made once your account balance exceeds $25.
---
14. Plan to Eat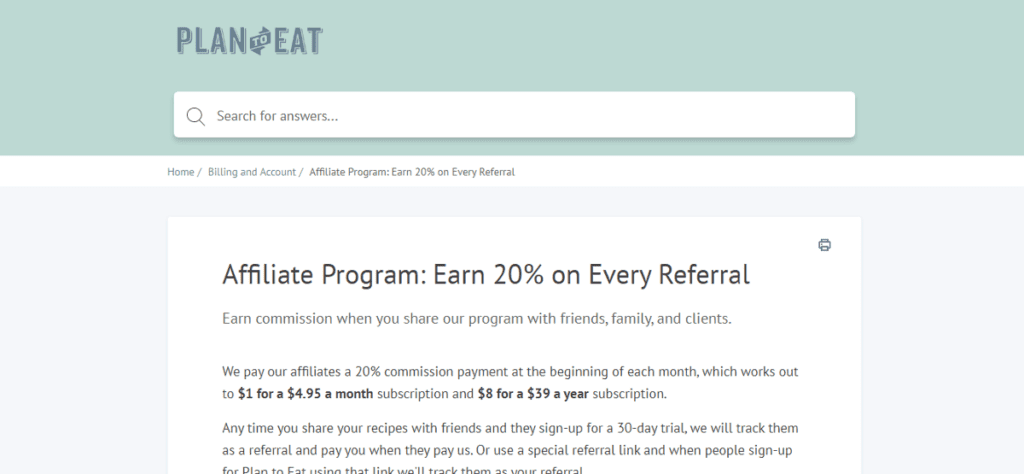 For many of their subscribers Plan to Eat is life control as it helps large families and busy households plan and budget their meals. This SaaS provides a proprietary recipe organizer, shopping list and meal planner that is all integrated and available for a low, monthly fee. 
They have a great monthly recurring commission affiliate program that pays out 20% commission for every month a subscriber you refer uses their service.
Plan to Eat offers a 30-day trial with payments kicking in with the first payment. The amount you should expect is $1 for a monthly subscription and $8 for an annual subscription. All referral commission earned is paid out monthly via PayPal.
Join at the Referral Program page.
---
15. Organifi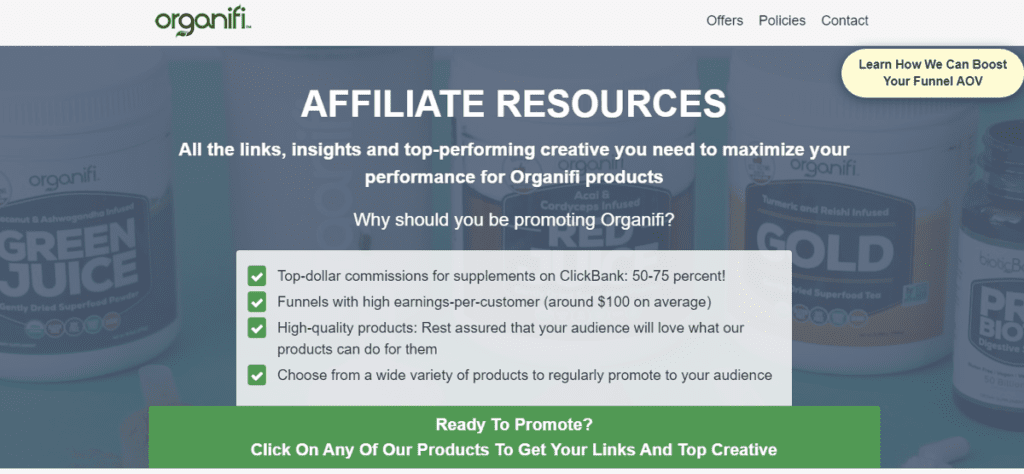 Organifi sells nutritious superfood supplements that are formulated to support weight loss and optimise health. Their original "Green Juice" powder is a bestseller and over the years their range has expanded to include protein powders and liver and immune support.
The Organifi affiliate program pays an extremely high rate of commission, currently up to 75%! Organifi affiliates enjoy high rates of commission, around $100 per customer, with commission paid out on every repeat sale.
The Organifi affiliate program is administered by Clickbank. To join sign up with Clickbank and get your account whitelisted by Organifi so that the affiliate links created will work.
Organifi provides a strong hint that the Green Juice powder is their best-selling product and provides tips and selling strategies to help their affiliates get started.
---
16. ClickFunnels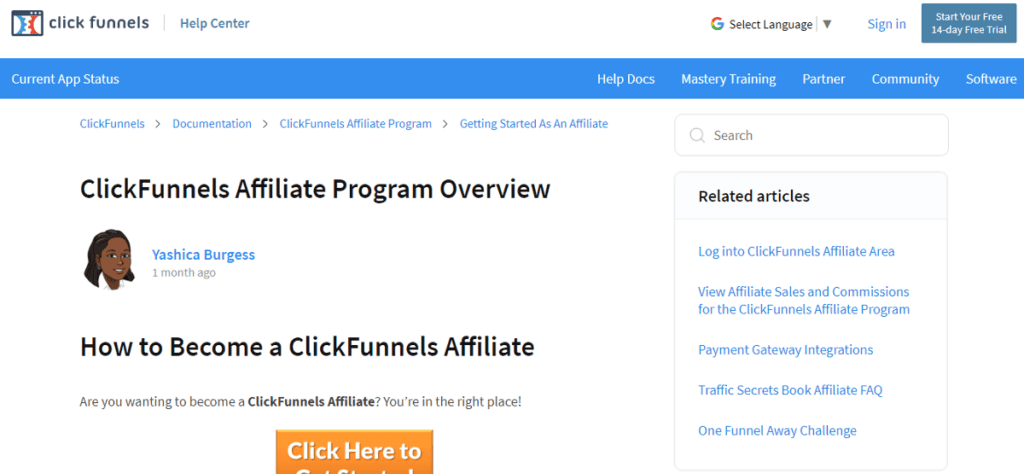 ClickFunnels is powerful automation software that creates sales funnels that help businesses convert enquiries and sales. It is sought after by entrepreneurs and businesses that want a watertight, pre-made sales funnel, with over 100,000 members that use them. Their sales funnels come in a variety of pre-made designs that can be customized to the products and services being sold.  
Given that ClickFunnels is the #1 sales funnel in the world, it is no surprise that their affiliate program is also extremely competitive. In fact, ClickFunnels has been known to give away sports cars to their high-earning affiliates. At the minimum, you will enjoy a 40% recurring commission for the lifetime of the customer.
ClickFunnels delivers industry-leading training to their affiliates as well as all the collateral you need to succeed, provided within their Affiliate Portal. 
---
17. pCloud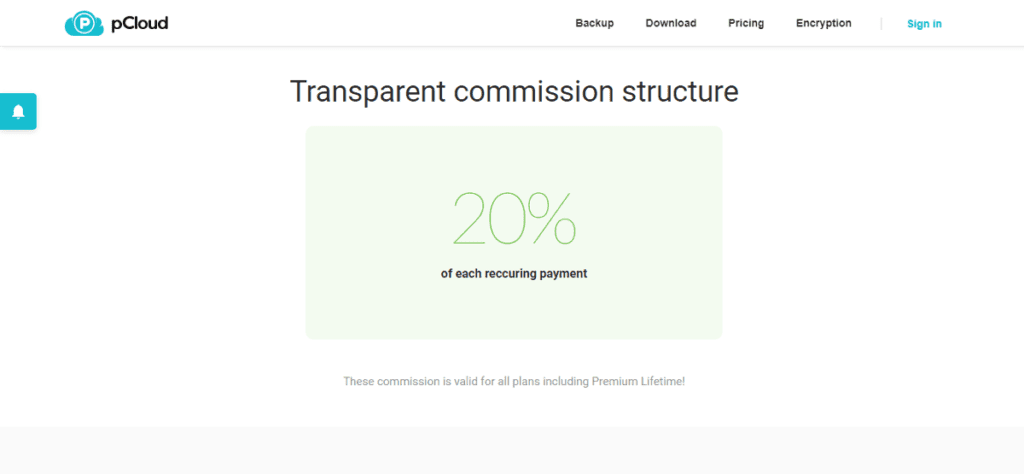 pCloud, provides secure, reliable Cloud storage and digital asset management for private or enterprise use. This Swiss startup has enjoyed strong growth since 2013 and has 14 million users and growing. pClouds services and features include backup, file management and file sharing.
The pCloud Partners program pays a 20% commission (up to $70) for referred customers who purchase one of their Cloud services packages. The commission will be faithfully paid for the lifetime of the customer subscription, with monthly payments via PayPal.
Affiliate URLs point to specially designed and targeted landing pages that are designed to convert a sale. A 45-day cookie is also provided as well as marketing materials that can be freely used for promotion.
---
18. Snappa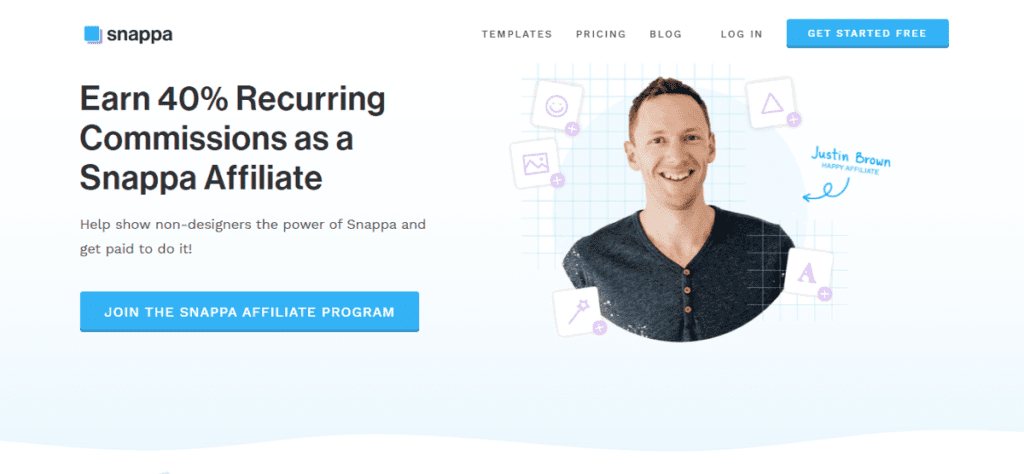 Snappa is a content creator's best friend with premium drag-and-drop image design software that can be used to create any graphic elements you want. Everything that is created is original and licence-free, meaning you won't run into trouble when publishing online.
Now you can share this practical image sign software with your online followers to generate a flat rate of 40% commission as a Snappa Affiliate!
The program is straightforward, simply sign up with your details and start earning via a unique referral link after approval. If anyone you refer to the Snappa site signs up, you not only earn an initial commission but ongoing monthly payments for as long as the referred customer remains subscribed.
Snappa will payout at the start of each month by PayPal.
19. Shopify
Shopify is one of the most competitive affiliate programs on the market. It is a popular product as so many people want to try out running their own online store.
As a leading eCommerce platform hosting millions of vendors they have the insight and expertise to convert the sales you refer, and for every sale you generate, they make it worth your while.
The Shopify Affiliate Program not only provides you with an exception 200% upfront commission when someone signs up for a paid plan, but they will also provide you with a 20% recurring commission from their monthly subscription payments.
Given that Shopify packages range in price between $9 per month for the Shopify Lite package to $2,000 per month for Shopify Plus, you could enjoy fantastic earnings with this program ongoing.
The earned commission is paid out via PayPal every month.
---
20. TimeDoctor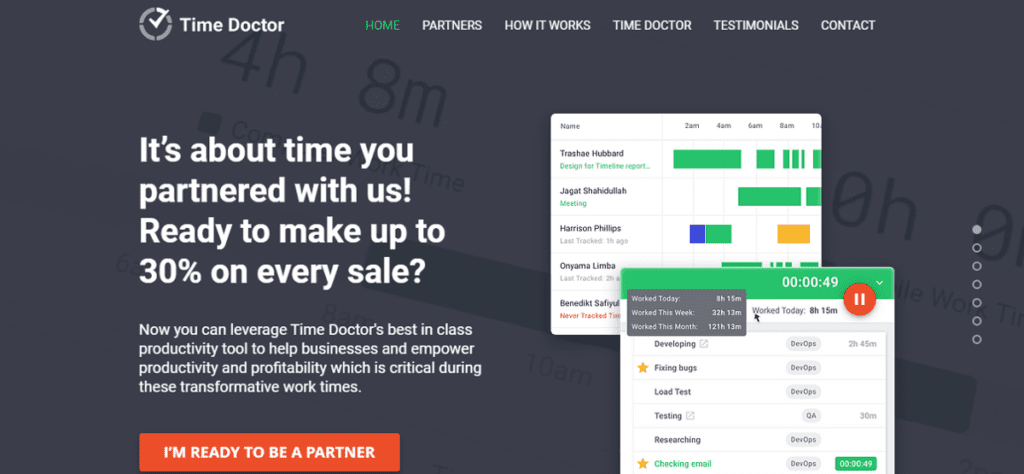 TimeDoctor is a smart time tracking software that is an amazing solution for tracking productivity in remote teams. This best in class productivity tool will make calculating hours worked a doddle, and its numerous integrations mean that it can be combined with payroll management and other key business functions.
If this is a product that could be of use to your blog readers, you can sign up for their affiliate program that offers a 30% commission on all referred sales of this SasS.
The commission is recurring, meaning that every month you earn 30% of the ongoing subscription fee for up to 3 years
---
Before you go!
If you're looking to start a new website then maybe you should consider an aged domain. No waiting for that 7-9 month sandbox before you see some results. Get fast results by using aged domains. I recommend ODYS which is where I purchase mine from.
What's the fastest way to monetize your blog? Display ads of course and you can't go far wrong with Ezoic. You can also join their program with a small and even brand new website. By using my link to their Access Now program you'll get quick access to high-paying display ads for your website. Start earning money today! Sign up here.
and finally…
All websites need one thing. Content, whether that be outsourced content like I get from BuySellText or AI software that will write it for you like Jarvis.AI. Currently, the best tool out there if you like AI software.
If you can't see the tool or resources you need here. Check out my resource page which is packed with helpful tools, software, and apps that can help you maximize your revenue and grow your website faster. Many of which are discounted if you click my affiliate link. See my resources page.