This is my round-up of the 20 best affiliate programs for small business, which is an absolutely amazing sector for generating affiliate income!
Small business does not always spring to mind as the first stop for affiliate marketing, but it should, especially as in both the UK and the US, small businesses account for over 99% of all businesses!
This means that there is a massive online audience of small business owners, marketers, sales teams, web designers, and sole traders who are looking for targeted solutions to make a commercial impact both on and offline.
Most people start a small business to be their own boss, but few know how to go about it and stay competitive.
That's where you come in.
By promoting products and services that are targeted to the small business sector, you are providing small business owners and personnel with solutions for the everyday problems and bottlenecks they encounter.
I have gathered 20 great products and services which cover key aspects of operating a small business.
Not only are these affiliate programs relevant to your small business audience, but they also offer some of the most competitive rates of commission in affiliate marketing.
Ready to take a look at 20 new small biz affiliate programs to boost your online income?
Let's get into this!
20 Best Affiliate Programs for Small Business!
1. Wise.com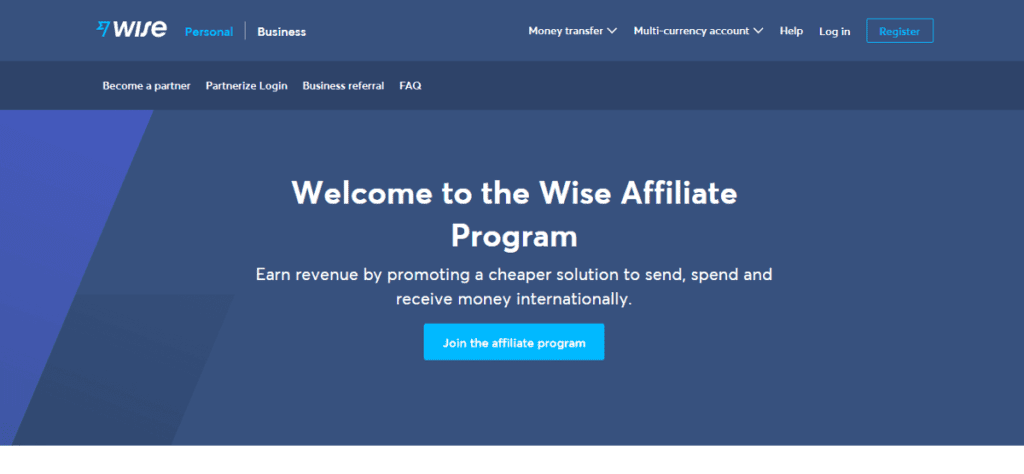 The world is continuously becoming a smaller and smaller place, and as even the smallest businesses grow they often need to operate across borders with the attendant financial headache of transacting in a variety of currencies.
Wise.com, formerly known as Tranferwise is a disruptive entrant to the Forex sector with ultra-competitive rates and fees for money transfer and a multi-currency bank account that allows you to transact in several currencies simultaneously.
You can promote the excellent benefits of this Forex banking solution and earn an impressive rate of commission per CPA. For every referred customer that completes a cross-currency transaction, you will earn £10 if they are a personal custom and £50 for business transactions.
There is even scope for higher rates of commission if your content marketing has a very wide audience. Wise.com provides marketing assets, dynamic widgets, APIs and an unlimited cookie lifespan to help get you conversions.
Get started by clicking the link above.
---
2. ChitChatChimp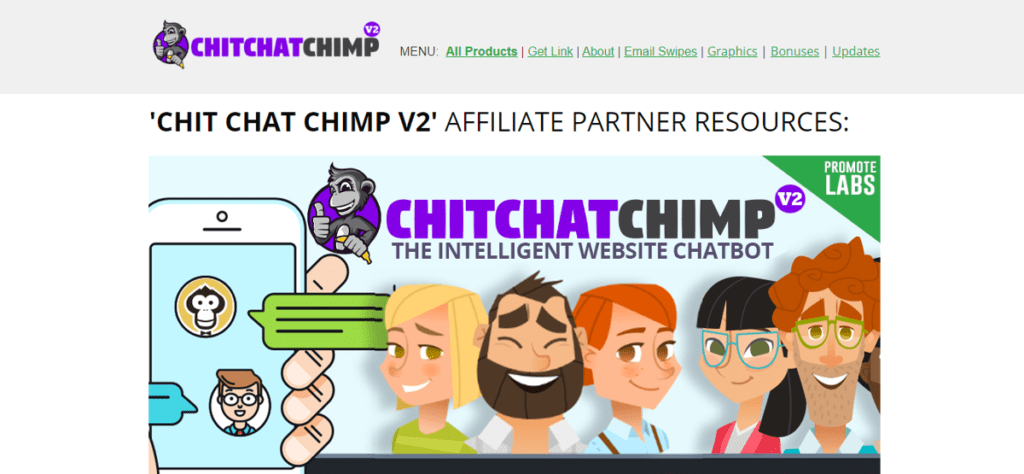 ChitChatChimp is a programmable chatbot that can be used by businesses to create their own custom chatbot. It is quick and easy to use (code-free) and can have a professional chatbot service up and running in minutes.
It is a cost-effective alternative to live chat and can help convert sales, during periods of sales team downtime.
The ChitChatChimp Affiliate Program pays out a 25% commission on all new sales that are referred to their site, with an ongoing 10% commission earned from each subsequent monthly payment.
You can sign up for ChitChatChimp with PromoteLabs. After the first thirty days, all accrued earnings are paid weekly.
---
3. Eggflow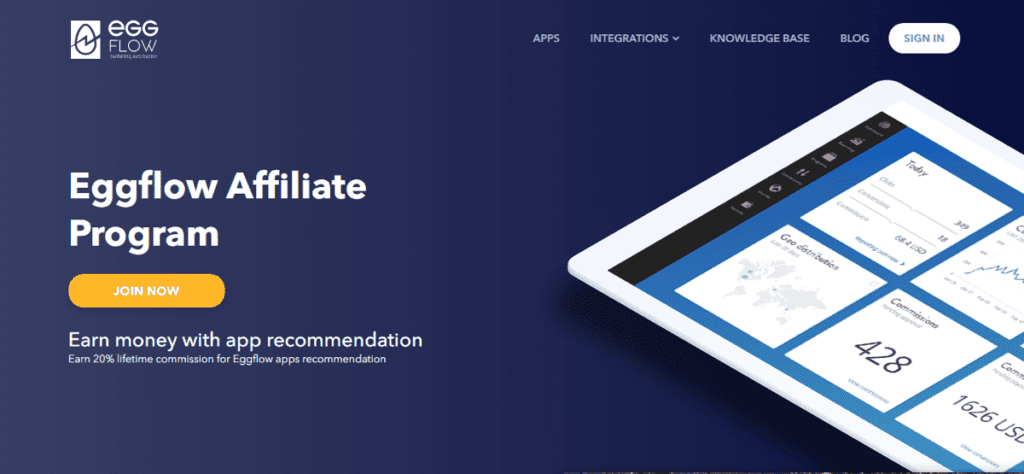 Eggflow is a SaaS for marketing automation and customer engagement. It can be used to create an effective sales funnel that includes content marketing, lead generation, and customer transactions. Eggflow also provides multi-channel integrations which include MailChimp, Shopify and HubSpot.
The Eggflow Affiliate Program offers a 20% recurring commission for all referred subscribers to their suite of marketing apps.
Eggflow offers a range of packages that can be used by both small businesses and larger enterprises and is likely to resonate with sales and marketing managers.
When the 90-day cookie lifespan and excellent content and email marketing are combined, the Eggflow Affiliate Program has the potential for generating a decent income stream. Affiliates can enjoy timely Net 20 payouts via PayPal and Payoneer, with a payment minimum of £10.
---
4. Pipedrive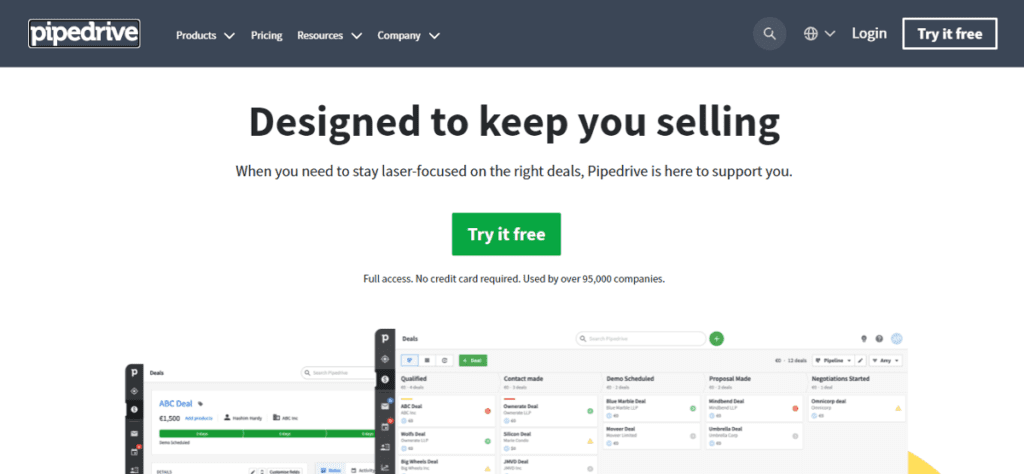 Pipedrive is a Cloud-based software company that is known for its highly rated CRM. This sales management tool is ideal for small businesses to stay in control of what can be protracted or complex sales cycles.
Pipedrive's bold dashboarding and automated prompts will keep sales teams focused on the actions that will move customers along the sales funnels and close deals.
Pipedrive is looking to work with bloggers and content creators who are adept at communicating its benefits in the sales and marketing sector.
If this is you, you could be earning a 33% commission on the monthly subscription paid to Pipedrive by the people you refer. The recurring income commission payments run for 12 months.
Pipedrive tracks referrals, sales and commissions via its affiliates portal. It will payout on balances that exceed $50.
---
5. ActiveCampaign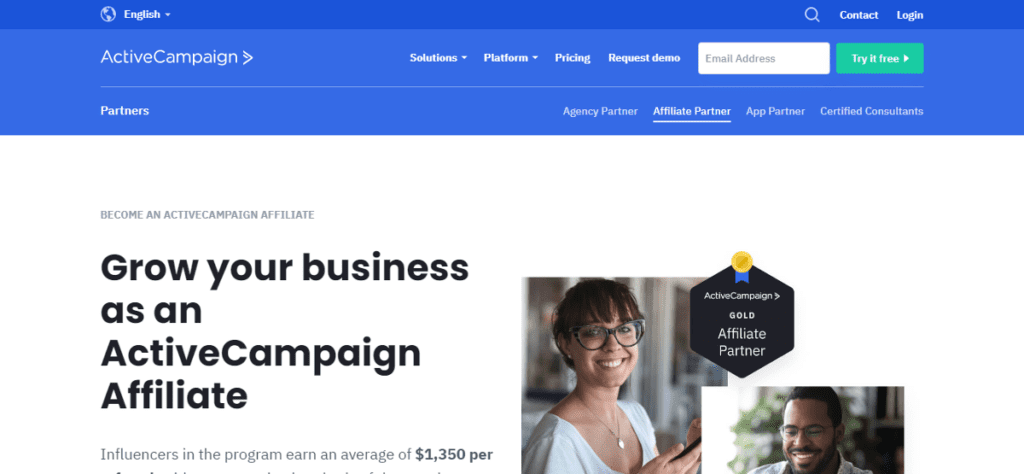 ActiveCampaign is a Software as a Solution (SaaS) that helps businesses automate and optimize their customer experience. It is active in 170 countries and is available in 15 languages. The ActiveCampaign Customer Experience Automation platform provides seamlessly integrated marketing, sales and support processes for small and businesses.
The ActiveCampaign affiliate program is looking for bloggers and online publishers in the small business sector to promote ActiveCampaign. This can be done by showing businesses how they can transfer their email marketing, automation and CRM over to this all-in-one platform.
ActiveCampaign will pay a commission of up to 30% for every new subscriber you refer. The commission is recurring over the customer's lifetime. The longer they remain with ActiveCampaign the more you earn!
Affiliates can do really well with this program and leading affiliates earn hundreds of thousands per month. The average affiliate earns $1,350 per referral.
When you sign up, you will be provided with a unique affiliate link that is ready to refer your audience to ActiveCampaign. In addition, you will receive a starter pack that provides lots of advice, evergreen video content and visuals to make your campaigns successful.
---
6. Clickmeeting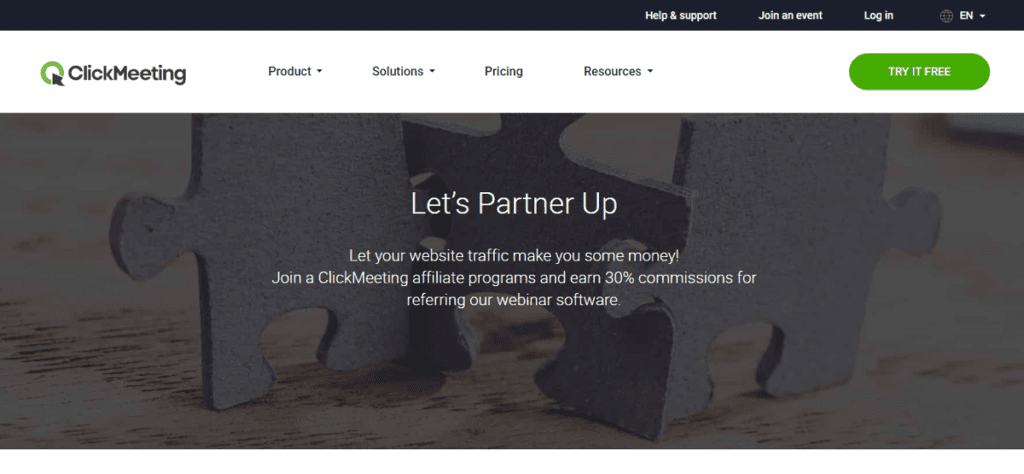 With remote working and the work from home lifestyle going mainstream, businesses have had to adapt at short notice to managing teams effectively online. Clickmeeting is a video conferencing solution that can be used to host online meetings and webinars for businesses of all sizes.
Businesses of all sizes are actively looking for secure video conferencing platforms so promoting Clickmeeting to your engaged online audience in the small business sector is likely to generate sales.
Clickmeeting makes it worth your while with a generous 30% commission for an unlimited number of customers that you refer. The 120-day cookie maximizes your opportunity to earn. The commission will be paid out with every monthly payment the customer makes for as long as they remain subscribed.
The program is run in conjunction with TradeTracker who will provide affiliate links, track sales and process your payments.
---
7. TimeDoctor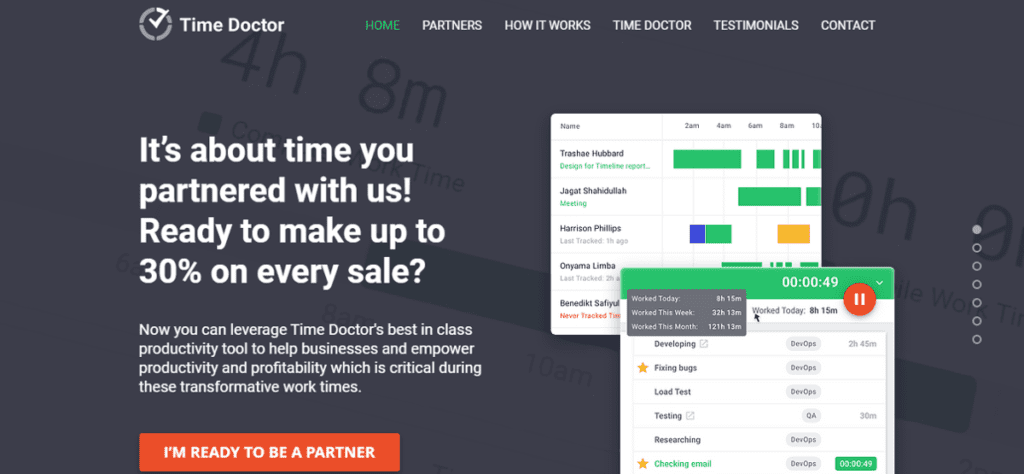 In the age of remote working, a small business or entrepreneurial venture is only as strong as the team behind it. TimeDoctor is a time tracking tool that can be used to track time for remote workers.
TimeDoctor boosts productivity and performance and team cohesiveness, especially as it includes chat monitoring, screenshot captures and payroll functionality to keep everything fair and above-board.
The TimeDoctor Affiliate program pays out a 30% commission on all referred sales of its productivity monitoring software. The commission is recurring over the customer lifetime making it a lucrative program to join.
8. ConvertKit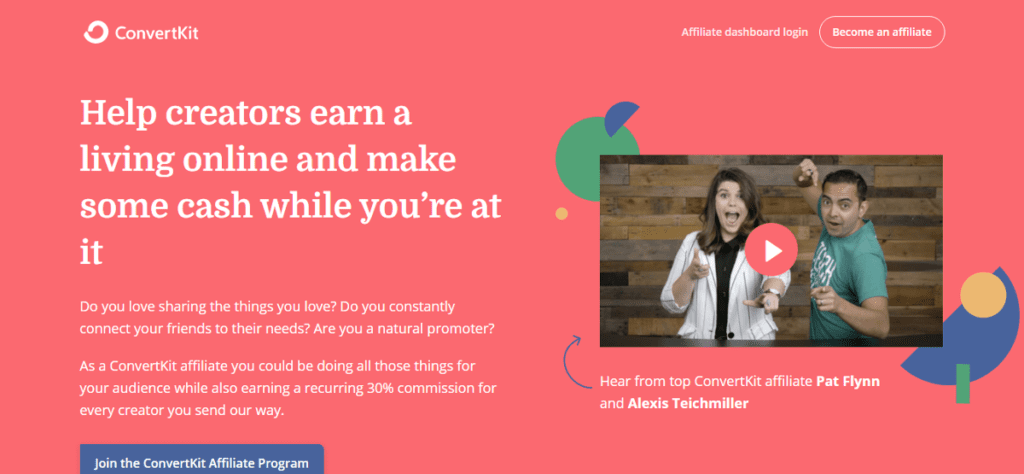 ConvertKit is an email software provider that is popular with content creators of all kinds, including affiliates. You have likely encountered this brand online that not only provides powerful email marketing software but also can be used to create high-converting landing pages.
The ConvertKit Affiliate Program is keen to work with content creators who have an online following that would benefit from its services.
The users you refer to ConvertKit will enjoy a 14-day trial before purchasing a premium package of services. For every payment they make, you will earn 30%.
You can sign up for the Convert Kit Affiliate Program at the link above. Their program is run in conjunction with LinkMink with monthly payouts via PayPal.
---
9. EasyStore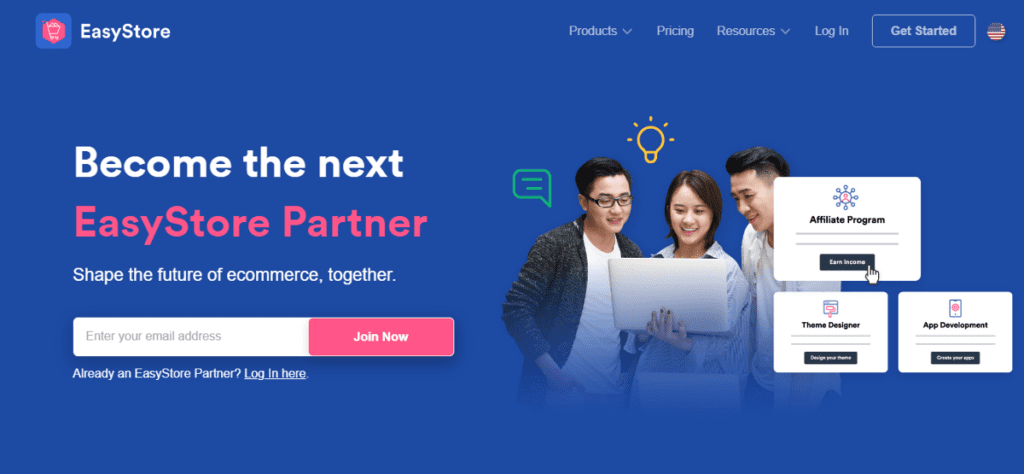 EasyStore is an eCommerce platform trusted by thousands of online retailers across the world as an all-in-one solution for brick and mortar companies who want to make a competent transition to selling online.
Their hosted eCommerce stores support multi-channel retail with integrations for generating sales on platforms like Google Merchant, Instagram and Facebook. EasyStore provides an end-to-end retail experience including powerful marketing and order processing and inventory management capabilities.
Small business and marketing bloggers can earn a healthy income by sharing the benefits of EasyStore who payout 100% of the first month's subscription (up to 77%) of a referred user.
Affiliates then get an ongoing 20% commission from the fees of subscribers who continue to run their online shop using EasyStore. The earned commission is paid out by PayPal.
---
10. ClickFunnels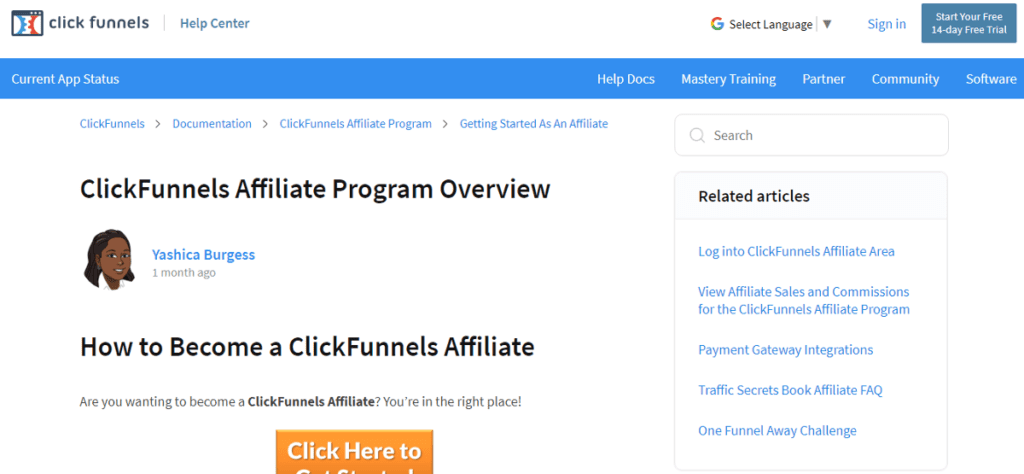 Small business owners often wrack their brains for ways in which they can compete with larger competitors. Marketing automation has proven itself as a key way in which smaller companies can pack a bigger punch in sales and marketing and ClickFunnels is software for achieving this.
Over 100,000 signed-up members use the automated sales funnels from ClickFunnels, making it the world's #1 sales funnel.
The ClickFunnels Affiliate Program is well-known for its generous commissions and incentives, including giving away sports cars to top earners.
It pays a recurring commission of 40% for every month a customer you refer remains subscribed. This program has a lot of support, with ClickFunnels providing training and incentives to help you grow your income.
---
11. Kartra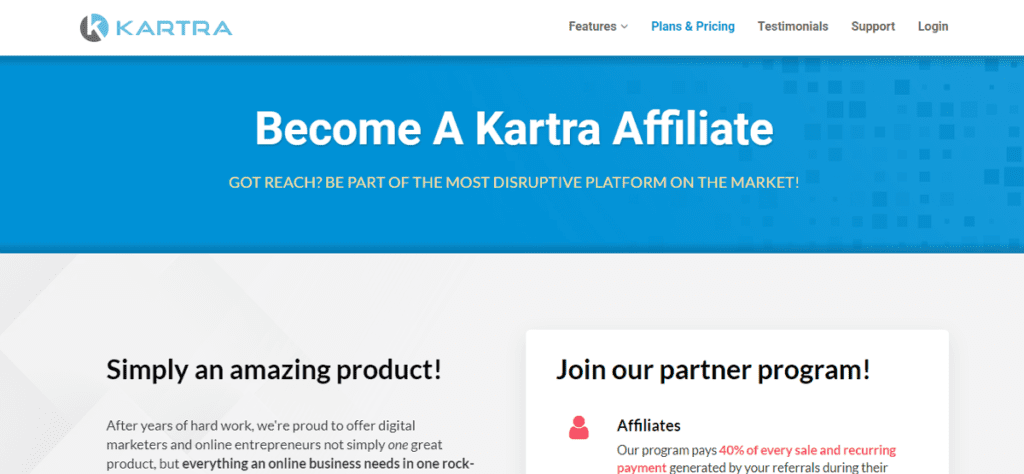 Kartra is a turn-key solution for creating an online business, covering content management, lead generation and eCommerce. Businesses can even do their email marketing and create their own membership areas and forums.
If this platform is the type of solution your small business audience may be interested in, you can earn a healthy 40% recurring commission on all signups you refer. You can even earn a further 10% commission from the earnings of other affiliates you invite to work with Kartra.
Kartra provides all the support you need to get to grips with understanding Kartra and making your promotion successful. The program is run in conjunction with Genesis Digit who provide an affiliate ambassador to support participants.
---
12. PremiumCoding Themes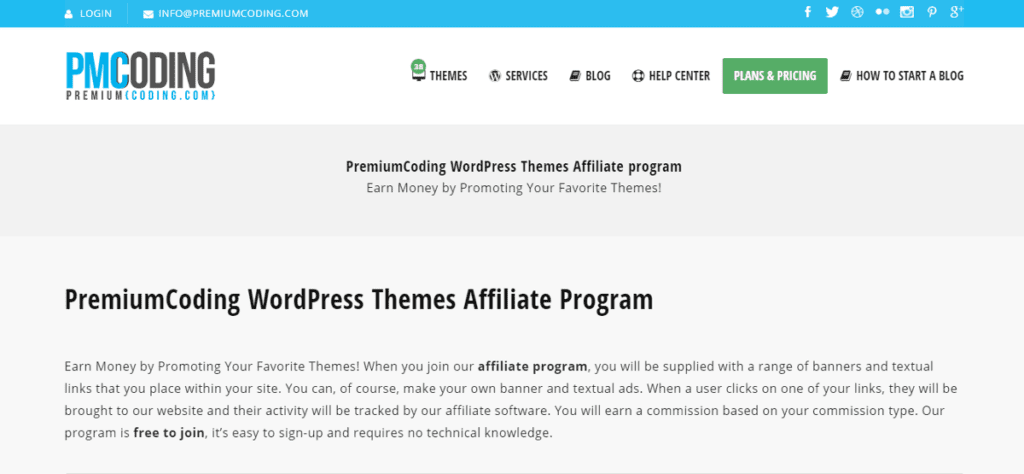 WordPress is the best friend of small businesses around the world with over 35% of published websites using this content management system. Its ease of use, professional presentation and significant functionality make it an ideal match for businesses that are prioritizing growth.
With the PremiumCoding WordPress Themes Affiliate Program, you can recommend their range of powerful and visually stunning WordPress themes. Their packages are perfect for a small business web designer or marketer that wants to help local businesses punch above their weight!
PremiumCoding WordPress Themes pay a commission for every sale that you refer to their site. When you sign up to their affiliate program you will be supplied with banners and text links that you can use within your content to promote these WordPress themes.
The cookie duration is 90 days with earned commissions above $50 paid out monthly.
---
13. Semrush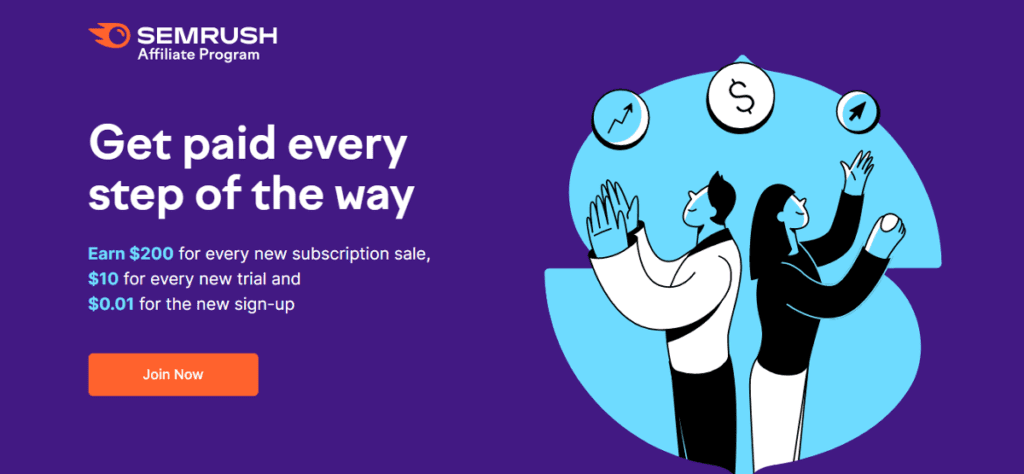 Semrush is a well-known SEO brand that provides an all in one platform for boosting online visibility and obtaining key marketing insights.
With a subscription to Semrush users have access to the largest database of keywords in the world (20 billion) and industry-leading tools that cover everything from competitive research to PPC.
The Semrush affiliate program is one of the most competitive in the SEO industry, with loads of opportunities to learn. Affiliates earn $200 for every software subscription referred. Alternatively, you can earn $10 per user trial and even 1 cent for new signups.
This is a great deal and Semrush goes out of their way to help you make a success of working with them. The 120-day cookie provides the best opportunity to get a profitable user action from your web audience. Get started at the link above!
---
14. SocialPilot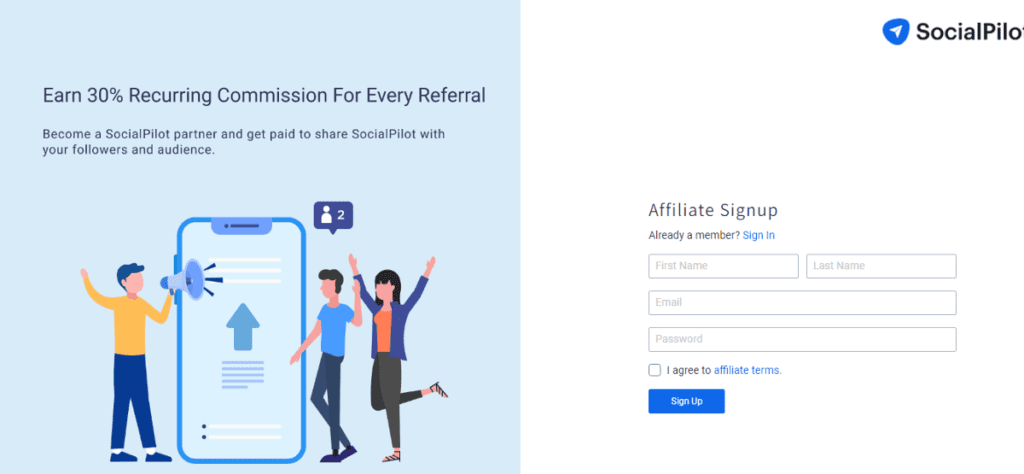 Small business marketing professionals that are serious about increasing the visibility and reach of the brands that they market need to have competent and responsive social media tools at their hands.
All-in-one solutions like SocialPilot provide a high level of integration and actionable dashboarding for multi-channel social media account management. Its extensive features for publishing and collaboration on social media campaigns mean that small businesses can take on the bigger brands and win.
If this sounds like a product that would resonate with your online audience, you can earn 30% for each new paid subscription you refer to Social Pilot. The 30% is recurring over the lifetime of the customer relationship.
Like most small business related affiliate programs, SocialPilot has plenty of expertise and marketing materials to share. They provide software for tracking referrals and sales with at least 2 customer referrals or a balance of $50 before a monthly payout via Paypal.
---
15. SEOPressor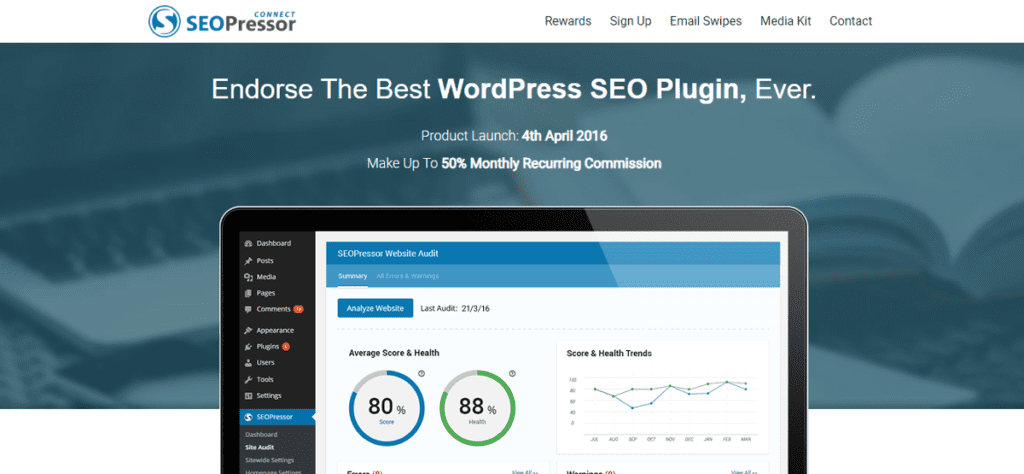 The SEOPressor WordPress plugin is an excellent partner for optimizing the performance of any website in the SERPS, with loads of insights and actionable on-page SEO features that help to ensure that content performs as it should.
You can earn a 50% commission by promoting SEOPressor and its SEO tools to your small business audience. It is a popular plugin, and with a recurring commission, you can grow an income with this brand.
Simply sign up to get hold of your custom affiliate link and starter earning.
16. National Processing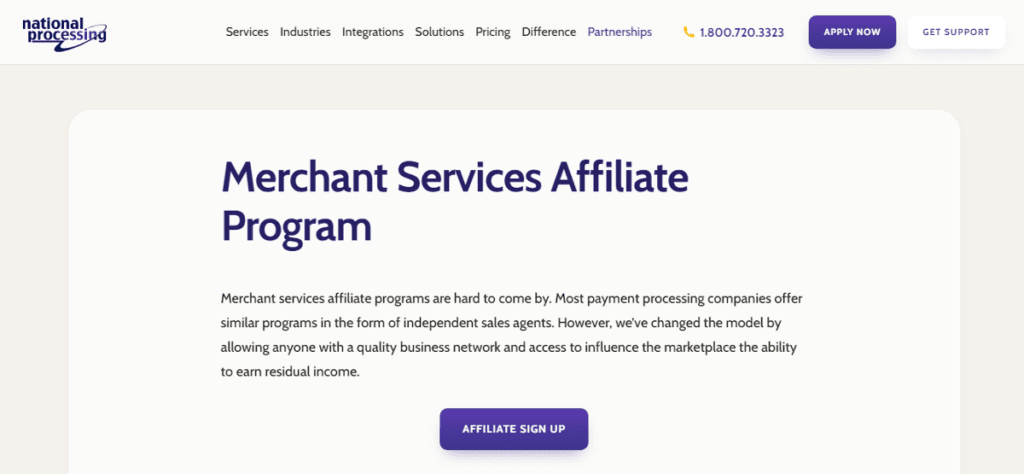 Merchant Services are essential for doing business online. In an often expensive marketplace, many businesses are actively looking for merchant services providers that are genuinely competitive.
National Processing has set itself apart with a variety of online and offline payment processing services that are competitively priced and easy to use. It also stands out for having one of the few merchant services affiliate programs out there.
You can share the benefits of National Processing with your small business audience or business network. By joining the National Processing Affiliate Program, you can earn money by referring your online audience to the National Processing website as "warm leads".
National Processing will reach out and follow up with referred enquirers. If a lead is converted into a sale, you will earn a commission of up to a 70% profit share on the transactions processed.
This financial affiliate program can earn you a lot of income with a commission from the program exceeding $10K per month reported. Balances above $50 are paid out after 60 days.
---
17. HubSpot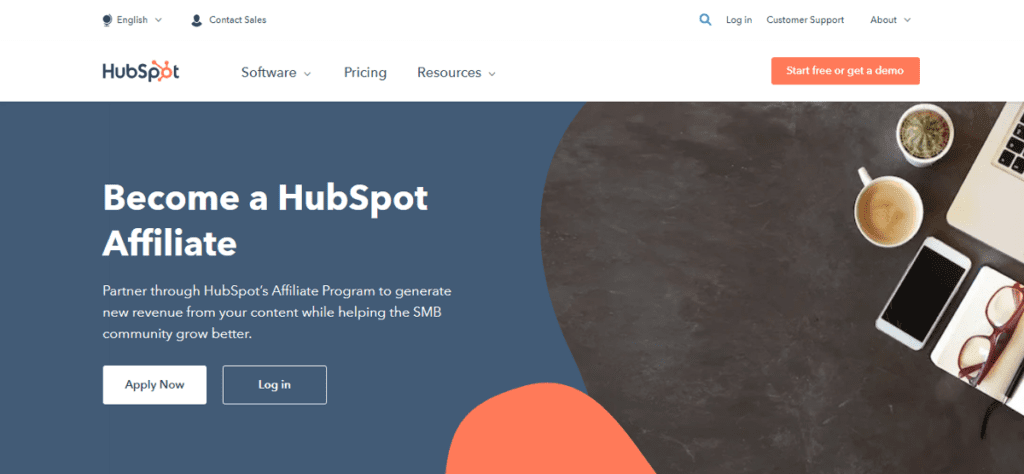 HubSpot is a massive brand for small business marketing and is well-known for its holistic approach to providing sales and marketing automation. HubSpot has its trademarked range of sales funnels, CRMs and resources to assist businesses in achieving the growth they desire.
The HubSpot Affiliate Program is one of the best paying affiliate programs in the world and provides a lucrative opportunity to earn from the small business-related content you produce.
HubSpot offers two tiers of commission for its affiliates: a 15% recurring rate of commission which is paid out with each payment a referred customer makes.
Alternatively, you can opt for 100% of the first month's payment which is a $276 one-off payment. The cookie window of 90 days also helps in generating affiliate income.
Apply to be part of the HubSpot Affiliate Program at the link above.
---
18. Superb Themes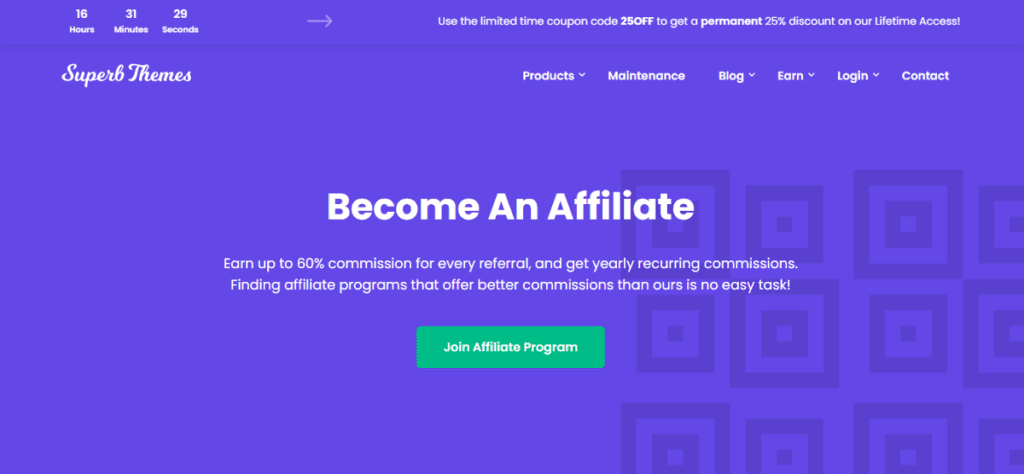 Superb Themes specialise in SEO and mobile responsive WordPress Themes that have great page speed. Many small businesses are on the lookout for an improved WordPress Theme that will keep their business on the right side of Google's Web Vitals.
By promoting Superb Themes range of themes and plugins for WordPress you can earn a commission of up to 60%. The commission recurs on products like plugins that require an annual renewal.
You can create tutorials, comparisons, reviews and blogs to demonstrate the utility of these themes. Superb Themes provide banners, marketing materials and of course a unique affiliate link to track sales.
The cookie duration is 30-days and the minimum payout threshold for the Superb Themes program is $200.
---
19. Collect.chat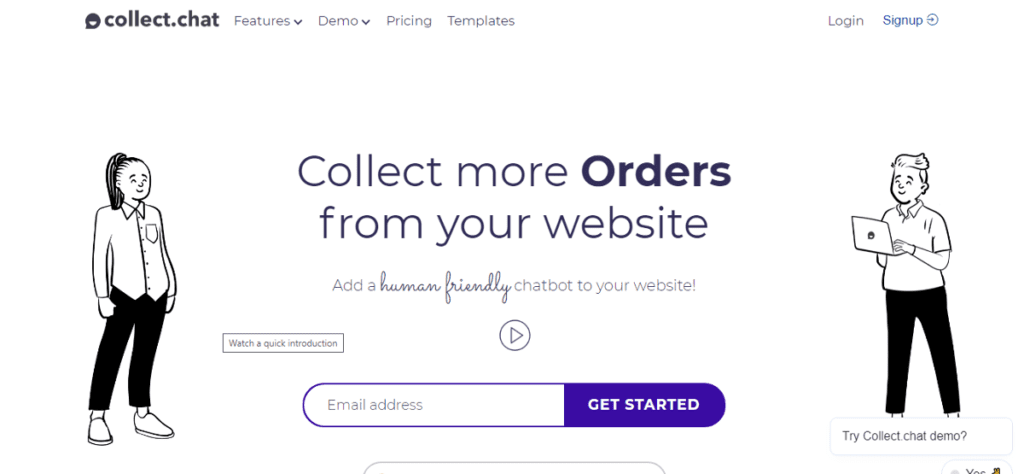 Collect chat is a chatbot software that harnesses the data of website visitors to optimize its performance and boost sales lead generation. This interactive bot is an ideal replacement for static web forms, achieving better levels of data capture, due to the conversational nature of this interface.
The Collect.chat Affiliate Program pays a commission of 25% for visitors you refer who use the Collect.chat customizable chatbot. In addition, you can earn $50 cash for every 10 sales you refer.
---
20. Shopify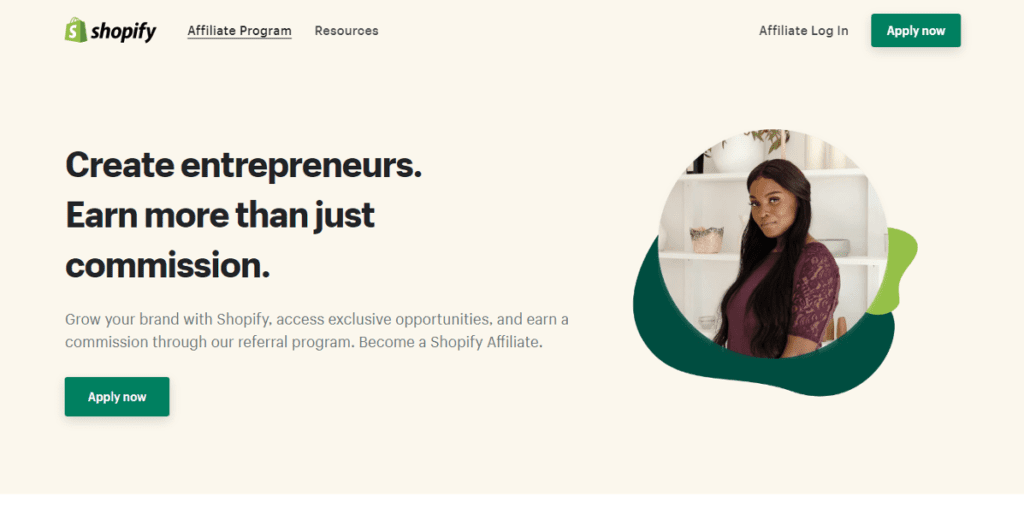 Shopify runs an extremely lucrative affiliate program that is well-positioned to appeal to small business owners who want to open an eCommerce store without the hassle of securing hosting and complex channel management and integrations.
With millions of online vendors on its books, Shopify has established itself as a market leader for eCommerce. As a highly recognizable brand, you are likely to be able to readily refer traffic and convert sales.
The Shopify Affiliate Program makes it worth your while with an excellent 200% upfront commission. This is two whole months of their paid subscription service at any tier, from $9 per month for the Shopify Lite package to $2,000 per month for Shopify Plus.
In addition, Shopify provides a 20% recurring commission from monthly subscription payments.
---
Before you go!
If you're looking to start a new website then maybe you should consider an aged domain. No waiting for that 7-9 month sandbox before you see some results. Get fast results by using aged domains. I recommend ODYS which is where I purchase mine from.
What's the fastest way to monetize your blog? Display ads of course and you can't go far wrong with Ezoic. You can also join their program with a small and even brand new website. By using my link to their Access Now program you'll get quick access to high-paying display ads for your website. Start earning money today! Sign up here.
and finally…
All websites need one thing. Content, whether that be outsourced content like I get from BuySellText or AI software that will write it for you like Jarvis.AI. Currently, the best tool out there if you like AI software.
If you can't see the tool or resources you need here. Check out my resource page which is packed with helpful tools, software, and apps that can help you maximize your revenue and grow your website faster. Many of which are discounted if you click my affiliate link. See my resources page.