Affiliate marketing can offer almost instant online income opportunities, provided you connect with the right platform and promote the right products.
And while there are almost unlimited options out there when it comes to affiliate and associate programs, none are quite as well known (or as well-regarded) as the Amazon Associates Program.
Below we highlight seven Pros and seven Cons of this program, shining a light on why you might want to consider signing up and promoting offers from Amazon ASAP – as well as why you want to go into the situation with both eyes wide open, too.
Let's get right into it, shall we?
Pros
7. Large Platform
To kick things off, Amazon is one of (if not THE) largest affiliate platforms on the planet.
The world's biggest online e-commerce platform and a dominant force in the world of online retail, everyone that orders online either shops at Amazon or has thought about purchasing from this giant before.
Getting a chance to promote affiliate offers through Amazon gives you almost endless opportunities to make sales, make money, and hit the ground running – all while partnering with a brand and a business that the world at large knows and trusts already. You can use their links to promote products on every type of platform imaginable from WordPress websites to Instagram.
6. Converts Like Crazy
Amazon (thanks to the trust and credibility they've built as the world's biggest online retailer) can provide Associates with some of the best conversion rates in the affiliate industry.
Customers on Amazon aren't worried about whether or not they are going to get their products. They aren't (usually) comparing prices, and they aren't usually "windowshopping" online, either.
No, the people that are on Amazon and filling up their carts are (more often than not) intending to complete that purchase and put affiliate cash in your pocket from the conversions.
5. Super Easy to Start
You also have to love how simple and straightforward Amazon makes it to get started as a new Associate.
Instead of having to jump through a lot of hoops, instead of having to go through a massive onboarding process, and instead of having to figure out the ins and outs of the technical side of becoming an associate/affiliate Amazon has simplify things dramatically.
Create a couple of links, insert them into your content, and Amazon pretty much handles the rest of the heavy lifting for you.
It really doesn't get much easier than that!
4. Great Service
The fact that Amazon also has some of the best customer services in the business will only help you succeed as an affiliate, too.
You won't have to worry about handling frustrated customers, you won't have to worry about finding out what's going on with individual orders, and you won't have to field all kinds of questions from customers, either.
Amazon takes all of those responsibilities off of your shoulders and has their own team of customer service agents handle things for you.
On top of that, any questions or concerns you might have will be answered by Amazon Associate Program specialists that are only interested in helping you succeed as much as humanly possible.
3. Can Promote Services, Too
Getting a chance to promote pretty much any product under the sun sold on Amazon (with new products being offered all the time) opens up nearly unlimited options for affiliate sales and income, being able to also promote services from Amazon as an affiliate is a big boost, too.
That's right, you'll be able to promote Amazon services like Kindle Unlimited, Amazon Music, and even Amazon Prime and pocket a pretty penny off of those conversions.
That's tough to beat!
2. Get Paid Every 30 Days
There are a lot of affiliate programs in the industry that pay on a 60 day or a 90 day basis, but Amazon shortens those paydays up significantly by making sure their Associates get paid every 30 days.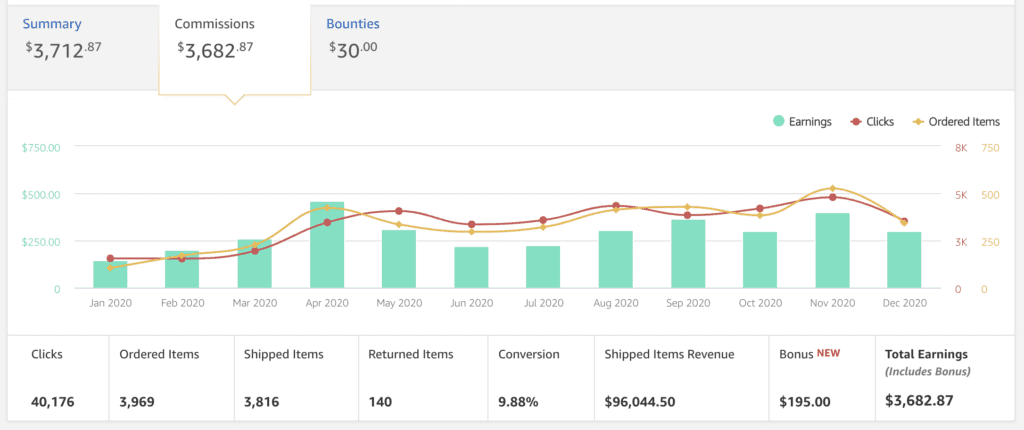 Getting to put cold hard cash in your pocket from your affiliate sales every 30 days is a big bonus, especially if your used to getting paid every 60 days or every 90 days.
The fact that you can have your funds directly deposited into a bank account of your choice, making them available almost instantly, is another reason to move forward with this e-commerce giant and their Associate program.
1. Fun and Strange Orders
Anything that gets added to the shopping cart of someone that follows your Amazon Associate link (whether it's related to that affiliate product or not) is going to count as an affiliate sale for you – and that's a big bonus, letting you collect "ghost" commissions on sales that you might not have even been involved with!
There aren't a lot of other affiliate programs out there that offer this kind of deal, making sure that you get paid commissions on the entire Amazon shopping cart associated with your tracking cookie as opposed to just the individual item that was promoted.
Being able to collect fantastic commission payouts on strange, quirky, fun orders that you didn't have a whole lot to do with is a nice bonus and a great way to pad your associate income.
Cons
7. Low Commissions
Of course, not all is sunshine and roses when it comes to the Amazon affiliate set up.
One of the biggest reasons people are at least a little bit leery about moving forward with Amazon Associates is because of the almost laughably low commission payouts.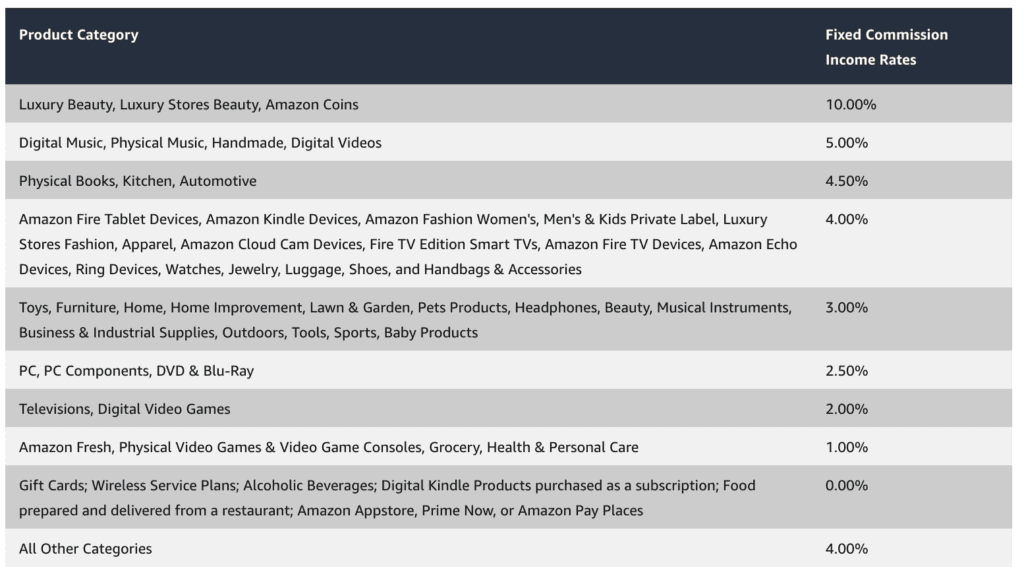 Most every other affiliate program is going to have a significantly higher payout structure than Amazon offers, but that's sort of to be expected.
After all, you'll be able to collect commissions on every item in a shopping cart associated with a cookied item (try finding that kind of deal anywhere else).
Still, it wouldn't be a terrible idea for Amazon to bump up their commission rates even just a little bit.
6. Shorter Tracking Cookies
You'll also want to be aware of the fact that Amazon tracking cookies for all associates and affiliates are only going to last for 24 hours.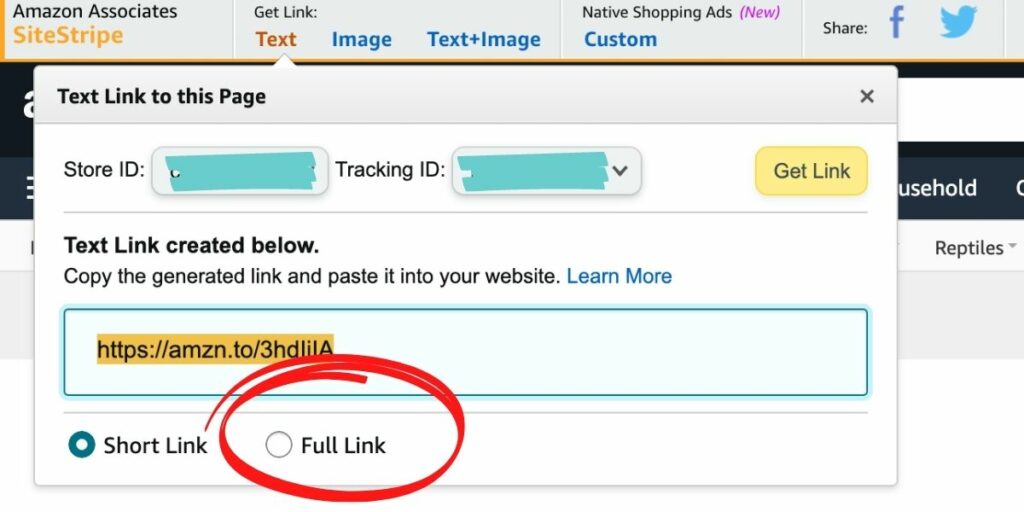 Most of the time this isn't that big of a deal (a lot of sales on Amazon happened immediately, with a very low cart abandonment rate) – but it's always frustrating when you see someone visit Amazon through your link, wait more than a day, and then buy the item they were considering after your tracking cookie expires.
Because of this super short window of time the odds are pretty good you're going to miss out on a fair amount of sales. Recognize that, understand it's going to happen, and it won't bother you as much as it might have otherwise.
5. Amazon Could Cancel the Service at Any Time
Amazon has been flirting with the idea of ending the Amazon Associates program for at least a couple of years now.
Rumors bubble up every six months or so about Amazon finally pulling the plug and calling it quits, but the program continues to soldier on – though that may not be the case moving forward.
At any point in time (and without any warning whatsoever) Amazon could decide to fold up their tent for the Associate program once and for all.
That would inevitably cause some pretty substantial income streams to disappear immediately, but that's the reality of being an affiliate on someone else's platform.
4. Super Strict TOC
Unsurprisingly, Amazon has one of the strictest Terms of Conditions agreements with all of their Associates and affiliates.
It's a good idea to make sure that you read this agreement from top to bottom, even though the overwhelming majority of the agreement is going to be super dry and super dull.
The reason you want to read every letter of every word is because you don't want to run afoul of these rules and regulations.
Amazon regularly audits random Associate websites and has a history of shutting people down completely for the smallest infractions imaginable.
Make sure that you abide by the TOC at all times and you shouldn't have anything to worry about.
3. Everyone is Promoting the Same Stuff
While the amount of opportunities to become a successful affiliate marketer online are almost unlimited at Amazon, you aren't the only person that has a chance to take advantage of these income generating opportunities, either.
This is a bit of a double-edged sword.
On the one hand, you'll be able to promote anything and everything that Amazon has to offer – but so will everyone else.
You'll have to get creative with the ways that you promote the products and services you're offering if you're going to have any chance of success going up against stiff competition today.
2. Poor Image Quality
You're also going to be stuck with the images that are provided to Amazon, images that (often) aren't always of the highest quality.
Low resolution images, images that don't really show off or sell the product, and images that are just kind of dull and lifeless can kill conversions pretty quickly. Worst of all, you won't be able to get in the driver seat and improve those images, even if you wanted to.
What you see is what you get!
Unless you use AmalinksPro this allows you to use any product image on Amazon without breaking their TOC and you get to resize the image. I use it on all my sites.
1. Amazon Won't Like Affiliates Use Reviews
Finally, even though Amazon has one of the best review systems and communities on the planet affiliates and Associates aren't able to use that information when marketing and advertising.
That can be a huge bummer, especially if you're operating in a competitive niche and want to make sure that you're getting the word out about the products and services you are selling through the Associates program.
At the same time, customers that follow your link are going to be able to read reviews before they pull the trigger on a purchase. You just won't be able to use those reviews to drive traffic or to boost conversions from your website or your platform.
All in all, though there are a handful of cons to moving forward as a new Amazon Associate the benefits far outweigh the drawbacks.
If you're serious about hitting the ground running with a new opportunity to make great money in the affiliate marketing game, there's no better place to start than as an Amazon Associate!