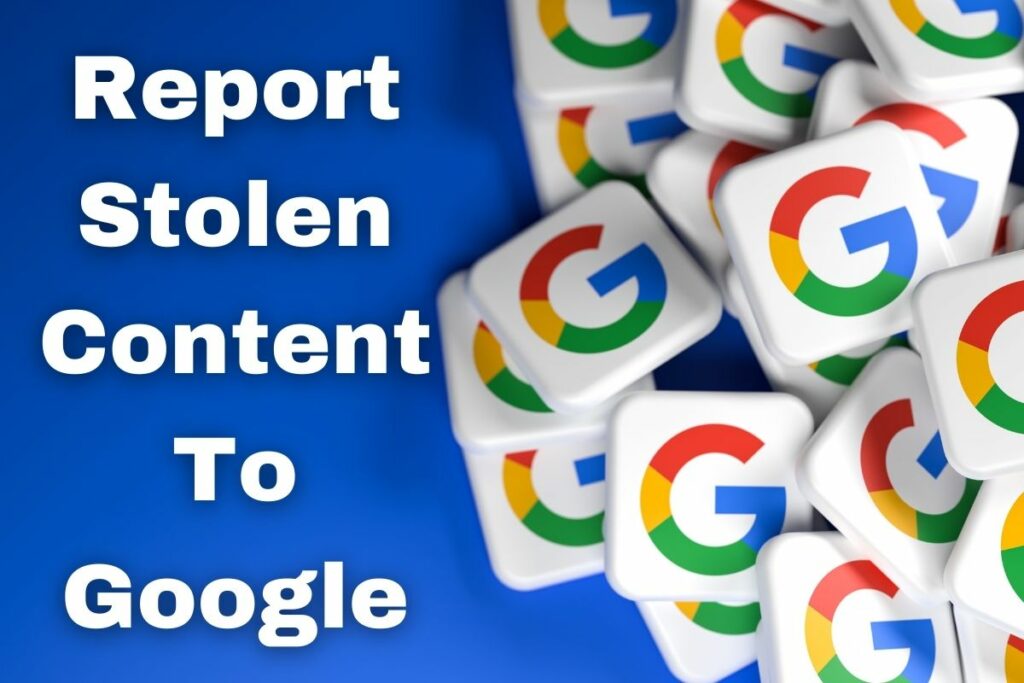 They say imitation is the sincerest form of flattery, but sometimes copied content is just downright theft!
The last thing a website that you have worked hard to make authoritative and engaging needs, is to find its content has been duplicated elsewhere.
Yet some unscrupulous individuals, spammers, and scraper bots will think nothing of stealing whole pages of original content and blogs from your site to furnish their empty or worse still, spammy pages.
Unfortunately, if this happens to you, it can't be ignored.
Though search engines are increasingly sophisticated when it comes to discerning duplicate content, you may find that your site ends up with the blame and any penalties that might be incurred.
This means that if you find that you have had content stolen, you'll need to know how to alert Google to the problem so that your site is not negatively impacted.
Getting this sorted favorably might sound like an impossibility, but if you act promptly, you could have a resolution to this issue within days.
In this article, we'll look at how you can go about reporting stolen content to the search engine and how you can prevent content thieves in future.
Ready? Let's get into this!
Don't ignore a copied content issue!
Stolen or duplicate content can be problematic for your site in many ways, but most importantly because the thieves can get off scot-free, while your innocent site languishes in the rankings.
The key symptoms of a copied content issue include a nasty dip in the SERPS and being outranked by the plagiarized content.
Some website owners only become aware of a crafty duplication by being hit hard by one of Google's algorithm updates.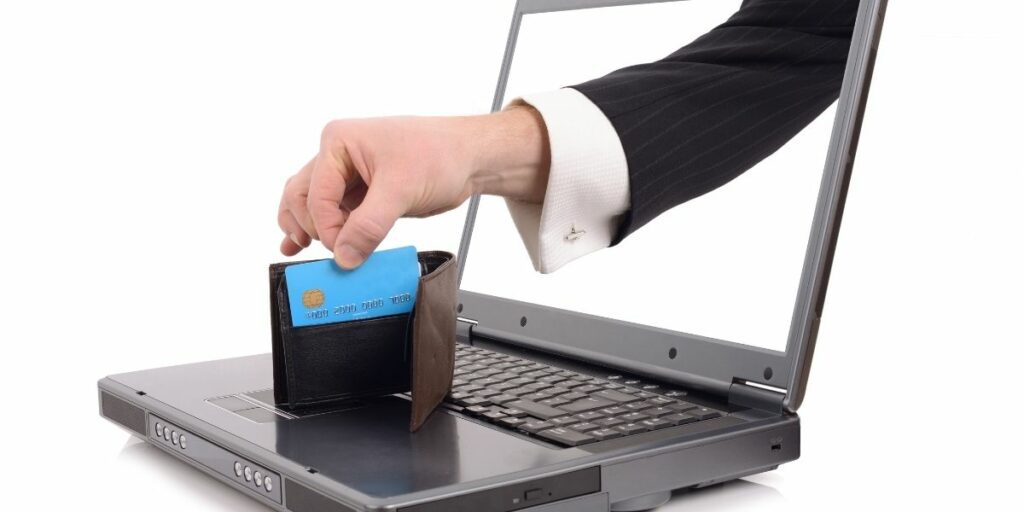 Content theft can affect any site that can be read or scraped, and even if the content has a high page rank, page or domain authority and plenty of social shares, it is not immune from this adverse effect.
This is because if the stolen content is published in a more recent blog, article or webpage, the search engine bots may prioritize it as fresher, updated content despite your vintage original being right there!
Identifying malicious non-internal examples of duplicate content is still a bit of a blind spot for Google (despite the Panda update that was actively targeting duplicate content) and the content thieves are currently taking advantage of it.
Take direct action about content theft by reporting it to Google yourself
This is not the time to be shy and retiring or take a wait-and-see approach.
If you are concerned that your web content is being stolen, you need to first identify the theft and then report it to Google.
It's a good deed to the search engine because, after all, it doesn't want to be delivering spammy copied content in its SERPs.
Let's go through how to report stolen content to Google, step-by-step.
Step one: Use a plagiarism checker to identify the content that has been duplicated and its source.
Grammarly and Copyscape are well-known plagiarism checkers that can scan anything from a paragraph of text to your whole website.
Any duplicate content will be identified and highlighted with the offending domain.
Alternatively, you can copy and paste content from your site directly into Google to see where it is being used.
Step two: You can be polite and reach out to the website with the duplicate content, asking them to remove it. 
Sometimes, directly requesting that a site that has copied your duplicate content remove it is all you need to do.
They may not be aware that the content was copied as it may have been purchased or added by the original web designer.
Providing a chance for them to put things right, saves them from being penalized.
Step three: The identified copied content can be reported to Google as a legal request under DMCA law.
Since the late 1990s, the Digital Millennium Copyright Act (DMCA) has been enacted to protect all sorts of creative content on the internet from theft.
It is on the basis of the US copyright law that Google will act to tackle plagiarizers.
You report the stolen content you would like to be removed in accordance with DMCA for each Google service in which it appears.
If the content is ranked in Google search but comes from a Blogger site, you will need to make two separate requests. 
Step four: Once you have started your request, complete the requested information from Google.
This can be time-consuming but, providing accurate information will help Google identify and remove the offending content more quickly.
The short Google questionnaire that you will have to complete for each Google service that is affected includes the reason for reporting the content for removal and whether or not you are the copyright holder of the content. 
Step five: You will then progress to a further form where you can report the URLs where your content is being copied.
Check everything carefully before submitting your request. 
Here is the link to report copyright or stolen content to Google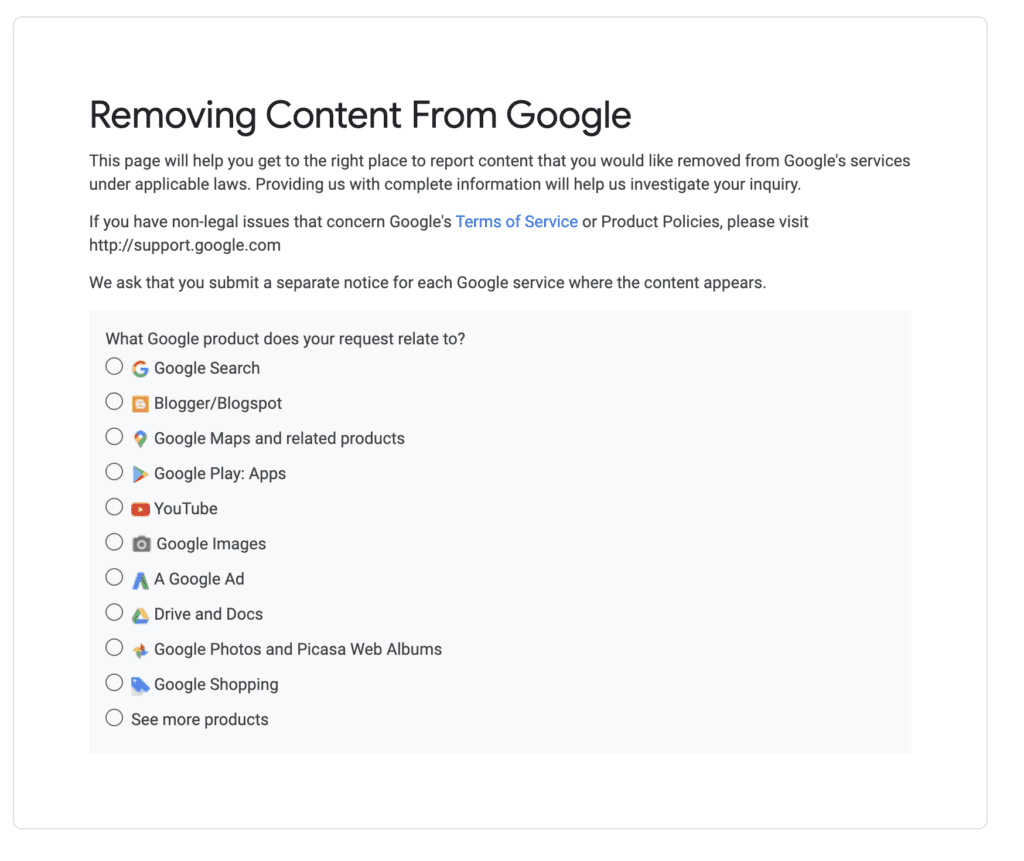 How long does it take Google to tackle stolen content that has been reported?
Thankfully, Google is responsive, but it can take anything between a few days up to two weeks or more to have the stolen content removed.
Many website owners will see an uplift in their traffic as the stolen content is purged.
You can also target the offending website directly by drafting a DMCA takedown notice in the first instance and looking up the web host of the site to submit a DMCA takedown request there.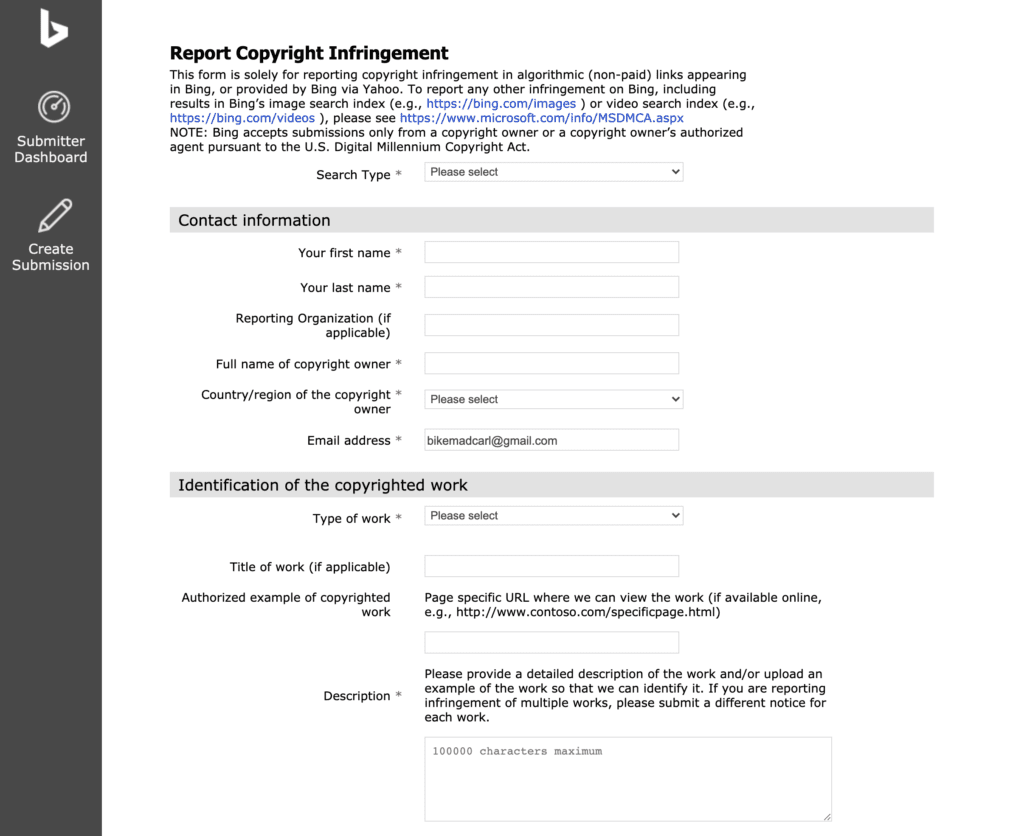 This method is often less effective though as hosts vary in their responses and interpretation of the law.
Prevent content thieves from returning by protecting your content from theft
Thankfully, there is some great software that you can use to prevent your content from being stolen.
Many of these programs can ringfence your site content to protect it from scraper bots that scrape and steal content on the internet, or continuously crawl and monitor for new instances of duplicate content.
Here are some of the available solutions.
Copysentry by Copyscape will continually monitor the web for duplicate content from your site and will notify you by email if your web content is plagiarized.
Google Alerts is a handy free way of keeping tabs on instances of your unique content being used elsewhere. By setting up a Google Alert for distinctive phrases or paragraphs in your text, you will be notified if someone else is using them.
Cloudflare content protection provides a strong firewall for your site that prevents scraper bots from accessing your website servers. 
You can also add a copyright notice to your blog which can deter some plagiarizers or disable text highlighting or copying on your page. 
Before you go!
If you're looking to start a new website then maybe you should consider an aged domain. No waiting for that 7-9 month sandbox before you see some results. Get fast results by using aged domains. I recommend ODYS which is where I purchase mine from.
What's the fastest way to monetize your blog? Display ads of course and you can't go far wrong with Ezoic. You can also join their program with a small and even brand new website. By using my link to their Access Now program you'll get quick access to high-paying display ads for your website. Start earning money today! Sign up here.
and finally…
All websites need one thing. Content, whether that be outsourced content like I get from BuySellText or AI software that will write it for you like Jarvis.AI. Currently, the best tool out there if you like AI software.
If you can't see the tool or resources you need here. Check out my resource page which is packed with helpful tools, software, and apps that can help you maximize your revenue and grow your website faster. Many of which are discounted if you click my affiliate link. See my resources page.