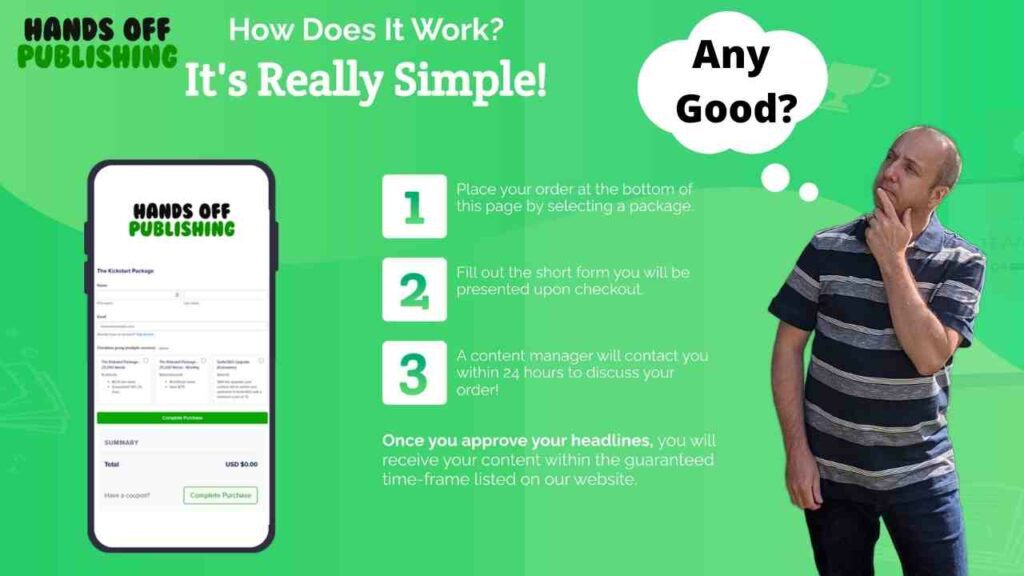 Here we go with another content agency review. Well, that is the business we're in so I suppose there's never enough content you can buy or try.
I'll be reviewing a content agency called Hands Off Publishing founded out of the UK (where I'm from) and walking you through my experience with them.
Before I get into that, I want to explain why I do these reviews. The first thought most readers might have is affiliate commissions. You're not wrong that I do get commissions if I recommend a business, but a review and a recommendation are two entirely different things.
When I begin reviewing a content agency, my initial focus is finding a good content provider for my sites that can produce well-written articles at an affordable rate.
If they can't provide me with that, then simply put, how will they serve my customers?
That's what this unbiased review is about today. Is Hands Off Publishing a good content provider?
Should you outsource your content to them? Let's find out.
PS. There is a discount code available should you wish to test them for yourself.
And yes, I am an affiliate because I do actually like and use them ( Spoiler )
Discount code: carl75 Get 7.5% off 25k word plans
Who is Hands Off Publishing? And who's behind it?
Hands Off Publishing claims to be the solution to all your content issues from keyword research to publishing. I mean maybe because they offer it all – research, writing, images and publishing.
Founded by Abdullah Ashraf (UK), and co-founder Sidharth Ganguly (India). Two young entrepreneurs with a history of launching successful digital businesses from publisher sites to online courses and now a thriving content agency.
They provide keyword research, writing, images, and publishing to WordPress sites all under one fee.
That alone is a very powerful offer but not everyone can live up to such promises.
Obviously, I've already received content from them to be writing this review today, but I'm going to take you along my entire journey from discovering them to buying from them and to publishing their content (or did I?).
Here's what they offer and promise their customers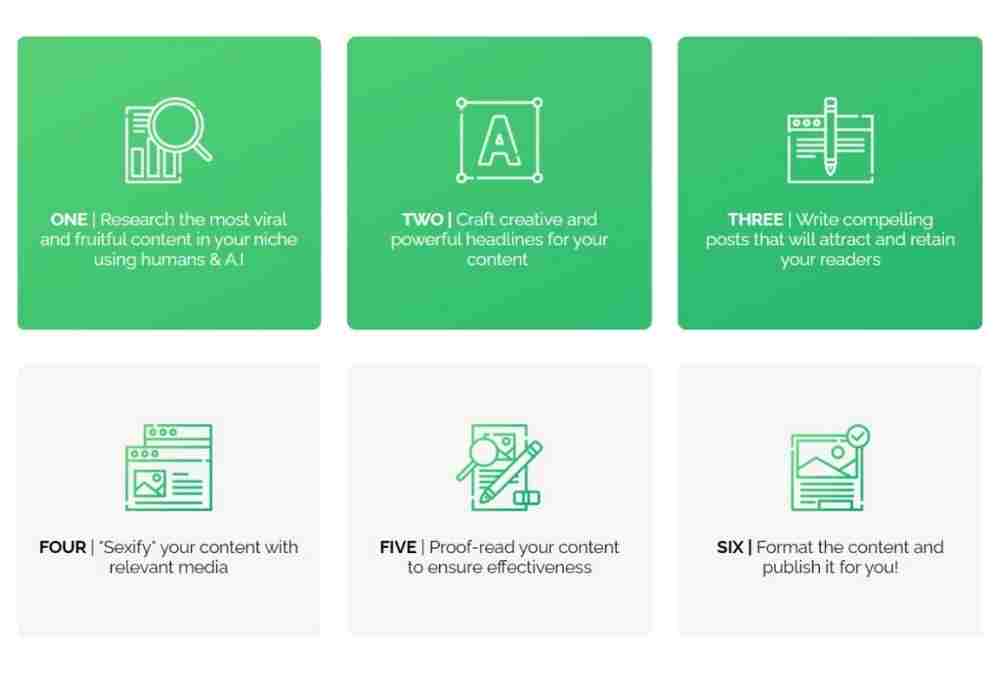 How I came across Hands Off Publishing
Other influencers in the space that I do business with, and trust started to promote their sponsored ads in their email lists and on their blogs. Brands like Fat Stacks Blog, Niche Pursuits, Investing.io, and some others.
When you see money, you don't just wave it goodbye. I reached out to them and let them know I'd be happy to sell them ad space if they can tell me a little more about their business, and if they're well equipped to serve my customers.
Without personally ordering from them, they provided me with enough information to give me the confidence to run their sponsored ad. The next time I heard about them was from my own customers and subscribers.
The good reviews started coming in. I had some space in my content calendar and figured it's high time I give them a shot myself.
What do people say about them?
There are a few reasons why I and many others purchase content from them:
Their content is SEO friendly
All-in-one service
Super affordable high-quality content
An experienced and talented team of writers
Great support and transparency
In this post, I will walk you through their entire service, their different offers, and discuss my experience with them to help you make an informed decision on trying out their content.
Some thoughts I had before testing them
I uncovered a slightly concerning review on the internet, but it was the only one at the time and was a little outdated.
Plus, I already had a good experience with them long before this review and since then, they have changed a lot. My review today is about my most recent experience with them starting from September 2021.
Plus, I'm always in need of content. My audience is always in need of content. There are never enough words one can publish, so let's give these guys a shot.
With businesses like this that appear out of nowhere making unique offers and promises, I truly hope it works out because I know how game-changing it could be.
Let's try them out, shall we?
Transparency is key
One more thing to mention before looking inside their company and the service they delivered to me, is their transparency. This really won me over and cleared any doubts I had before ordering.
Since they're a new agency with young and hungry directors, they're very reachable. From my own experience, what I've been told by Hands Off Publishing and my customers, Abdullah and Sidharth (the founders) handle all their support inquiries.
Abdullah was happy to take me back to the early days of their agency (a year later, we can still call these early days). He explained that their first few months of business were a little rough as they were not clued up on everything, bit off more than they could chew, and compromised on content quality on multiple occasions.
He even went ahead and shared that they refunded just under $25,000 in their first 4 months of running their content agency to make up for any inconvenience they caused their customers while delivering free content across the board. Legends say they're still recovering from this loss (bad joke?)
Good thing is, today they boast an under 1% refund rate for a business that operates in volume, that's pretty impressive. Heck, they served over 6,000,000 words in their first year of business.
Let's talk about their writers
Abdullah regularly boasts on social media that he majorly hires across India and Pakistan with the help of his partner who as mentioned earlier, is based in India.
Over the last few months, as their demand has heavily increased and their prices have gone up, they're brought on many native writers which I've had to work on my jobs too – honestly, you can't tell the difference.
They discover their writers through freelance platforms, job boards, word of mouth, and social media. They have a very thorough hiring process which you can see the start of here.
Hired writers are then monitored and trained by Abdullah who is quite the writer himself; he's published 100s of thousands of words on Facebook alone that go back 5+ years – ties right back into the transparency factor.
It's almost crunch time a.k.a. reviewing the ordering process and the content itself, but can I just confirm that you're at the right place?
Is Hands Off Publishing for you?
Well, do you need blog content?
Are you tired of filtering through writer networks and freelance platforms?
Could you do with paying one fee for all your content needs?
Look, if you're about saving time, money and exploring new content options, it's safe to say this agency is a must-try.
Ok, it's crunch time.
The day is Thursday. It's the 23rd of September 2021. I'm placing my first order at Hands Off Publishing straight through their website.
I was actually one of their first customers when they first launched in January 2021, but I'm leaving that experience out of this review as their service, ordering process and fulfillment methods were completely different then.
In case you're worried that went bad, here's the email I sent them that month.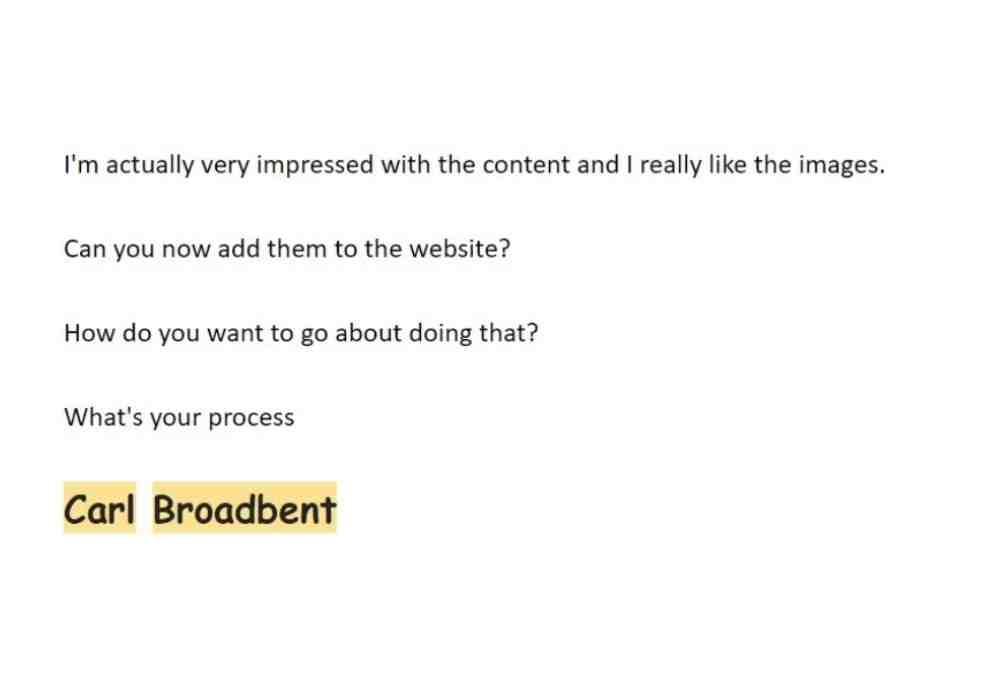 Let's get back to the 23rd of September. I went ahead and ordered their Baby package (10,000 words) which I was familiar with, but not the pricing. What was once $350 had become $415, and $450 today but I guess that comes down to the transformations they went through in all this time.
I do appreciate their transparency during the year, however. They sent constant email reminders and updates that their current prices are temporary as they are new, and weeks' notice before rolling out new pricing.
Fast forward to today
I've ordered and received 55,000 words from them. My experience with them has been seamless, no revisions have been requested till now and I've always been pleased with the outcome.
Broken down into their packages, we're looking at 3x Baby Packages (10,000 words) and 1x Kickstarter Package (25,000 words).
Let's go through their ordering process – super straightforward.
Before I show you the full process I highly recommend testing their 'TESTER' plan out. Try for yourself. What have you got to lose?
---
How to place an order at Hands Off Publishing
In three steps your content is ordered, and in another three, it's on its way to you.
Step 1) Go to their website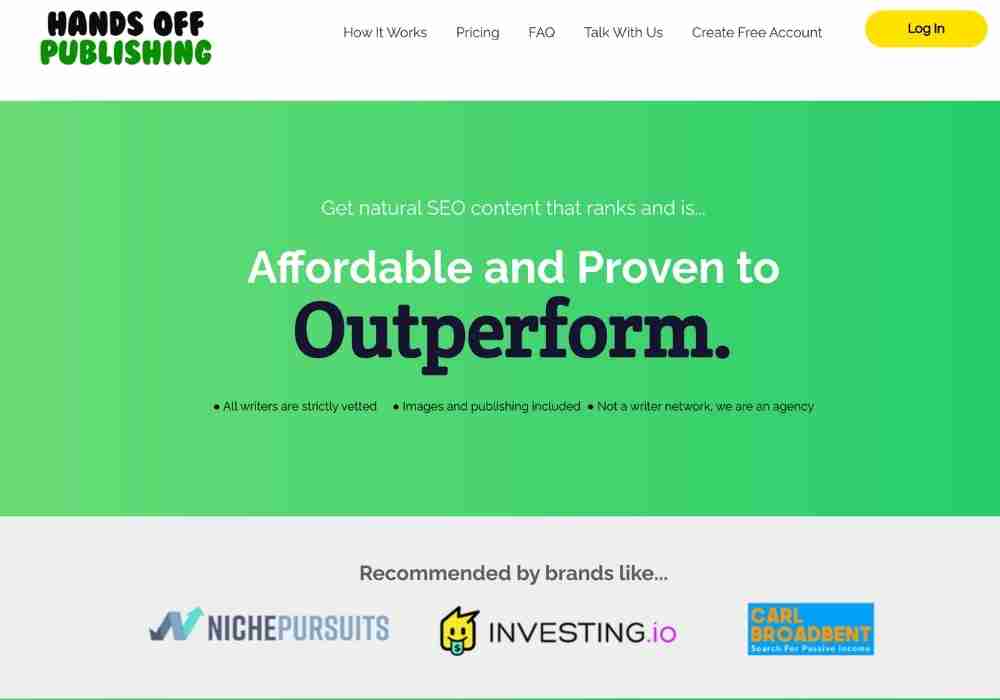 Step 2) Select your content package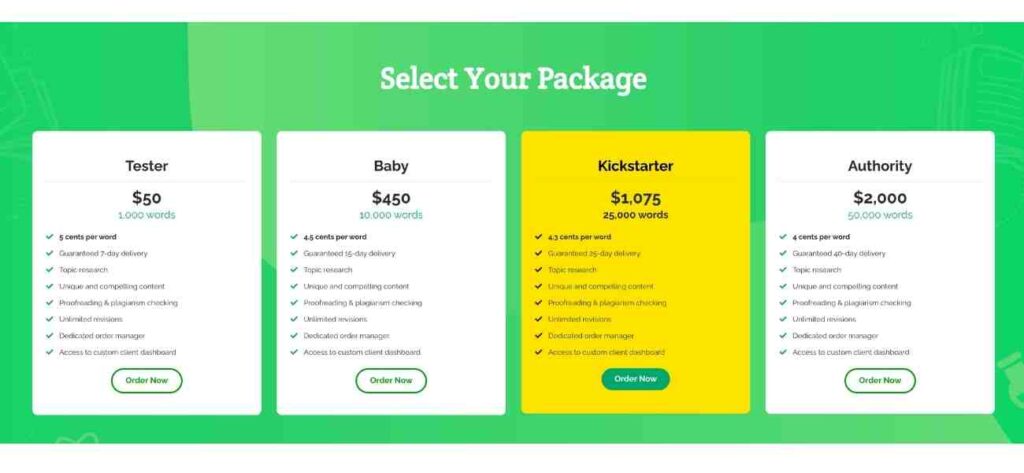 Step 3) Check out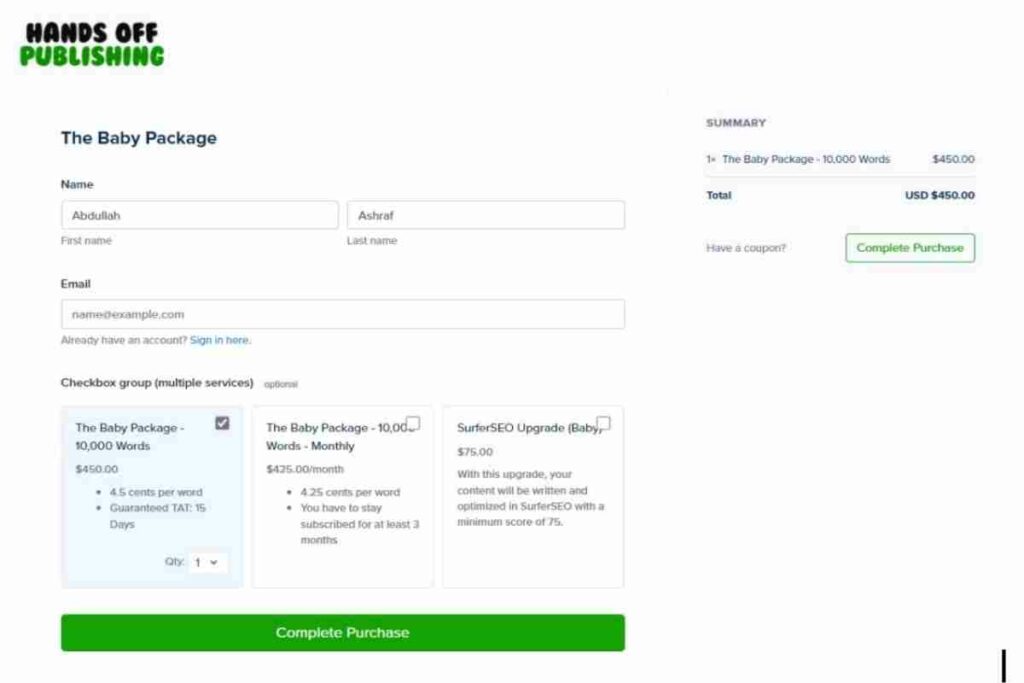 Step 4) Enter customer dashboard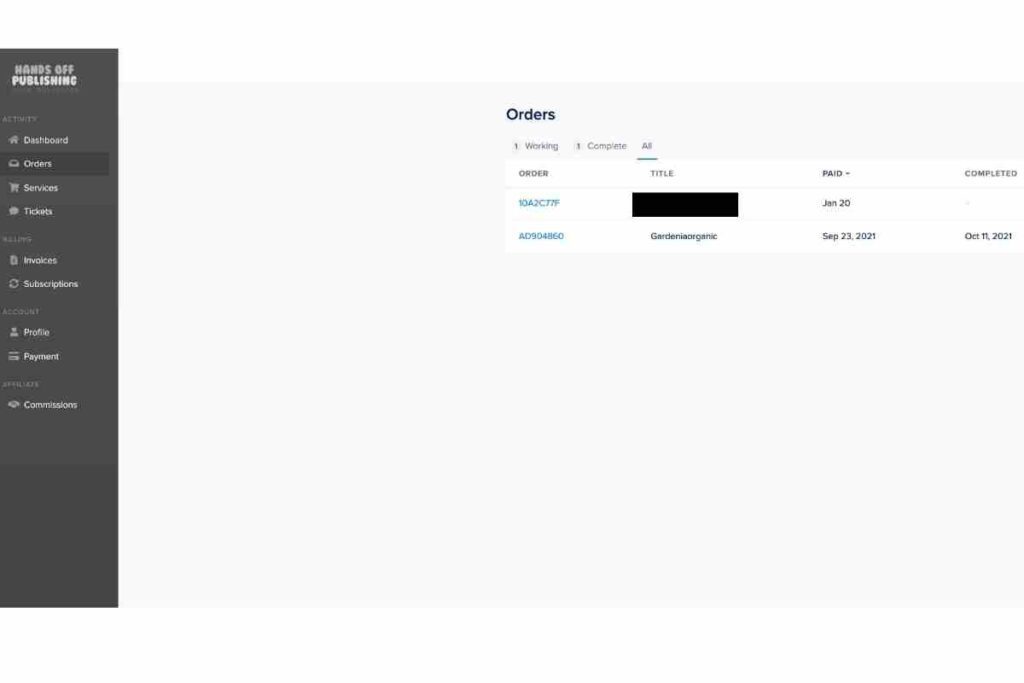 Step 5) Fill out the order form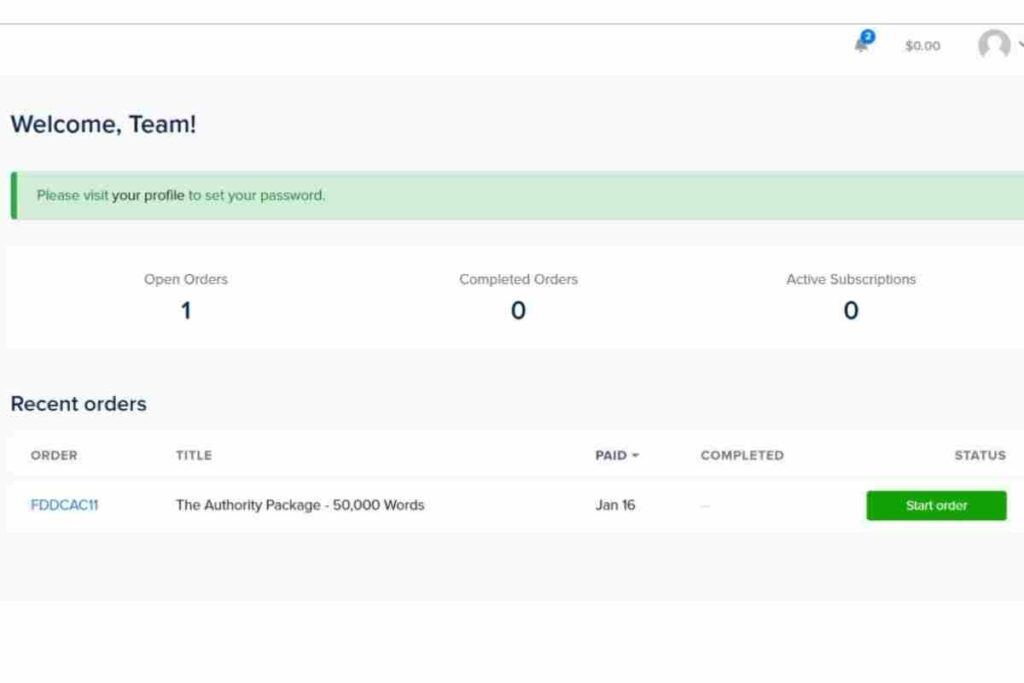 Step 6) Wait for an order manager to reach you
This is typically one of the founders, but in recent times, they've added managers to keep up with the orders.
Huge Key: Work Directly with the Creators of HOP
Who's going to be more passionate about a business and its customers than the creators of it? Not many and that's why it's a real blessing to be able to work directly with Abdullah and Sidharth on orders.
Since they've been in this business themselves for a long time, they know exactly what their customers are after and a year of running Hands Off Publishing later, they know exactly how to give it to them.
As mentioned earlier, there's no exclusivity on this matter. Whether you order 1,000 words or 50,000 words. Whether you're Carl Broadbent or John Doe, you'll get the chance to work directly with them, if not on your order, all calls booked through their website are taken by them.
Order intake form
Once you place your order, an account is created for you inside the client dashboard where you will be presented with a form that'll ask you the following questions so they can get started with your order.
Project name – This is going to help you stay organized. Whether it's different websites you're working on or different clients, it's always good to be able to keep on top of your work from one place.
What niche is this order for? I'm sure you can work your way around this one.
What is your website URL? You don't have to provide this, but it just helps their writers get a better idea of the type of content and quality you're looking for.
How would you like this order broke down? Let's say you place an order of 10,000 words. Hands Off Publishing is happy to break this order down for you however you like, across however many articles, niches, and sites you like. This is an amazing benefit of working with them.
Would you like us to carry out your Topic Research for you? If you don't have keywords/briefs ready to give them, you can have them carry out your keyword research and prepare topics to write on for you. They run them by you for approval before they start writing and are happy to keep replacing them until you are satisfied.
Please provide us with more information around the type of content you are looking for and what we should look out for when carrying out your Topic Research. If you opt for Topic Research, you can provide them with more information on what you're after and maybe share with them a list of keywords to not research in case you've already published them, or simply don't want articles around them.
Please upload your own keywords/briefs here – You can upload your own keyword sheet or briefs here if you already have keywords for them to write on. If the briefs are a little technical or you have links to frase.io (or similar software) briefs, you can just send them as a message through the order chat.
Is there a specific tone you'd like us to write in? 1st or 3rd person, formal or informal, let them know here so later you're not needing them to redo the entire piece.
Do you want us to add images? Type "yes" and they'll research high-quality, relevant, royalty-free images for your content.
Do you want us to upload the content to your WP site? Just type "yes" here if you require uploading to your site, but you don't need to provide them details till the job is done and you are satisfied with the content. This will save you from removing content from your site that requires revisions then re-uploading.
Is there anything else you'd like to add before we get started on your order? Literally, anything else you want to add regarding your order.
That's it. One of the managers or the founders will reach out to confirm they've received your order and that it's in motion. If there are any delays, they'll inform you and if they have any questions, they'll let you know.
It's always good to have someone who understands the publishing game on the other side. If they think you need more or less words for a post, they'll let you know. If they think they won't be able to do a good job at writing one of your suggested topics, guess what? They'll let you know.
Only one thing left now…
Fulfillment day!
13 days later, they delivered the entire 10,000 words in one batch which falls under their guaranteed 15-day TAT. So timely delivery?
Check. If you need content earlier than the guaranteed time-frame, I'm sure you could message them and ask them to deliver some content earlier.
Each post will be formatted into a Google Doc and placed inside a Drive folder.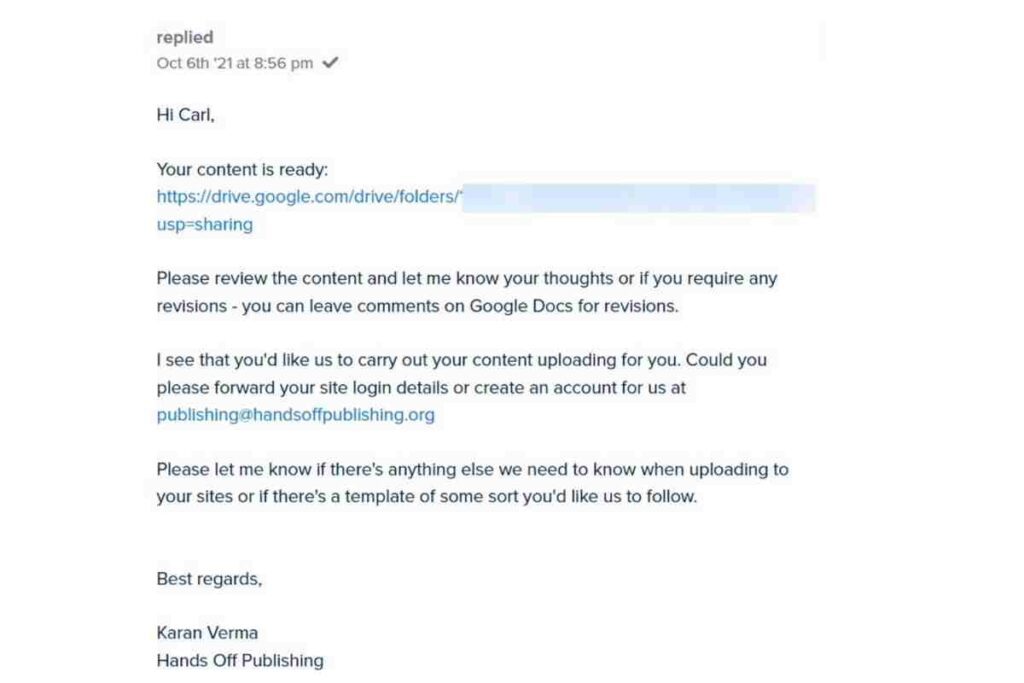 Any orders above 10,000 words are delivered in more than one batch so the above just applies to orders of 10,000 words or less.
As mentioned, all orders are delivered in secure Google Drive folders through their Dashboard. I prefer this as I can then seamlessly leave comments and suggestions on Google Docs if revisions are required.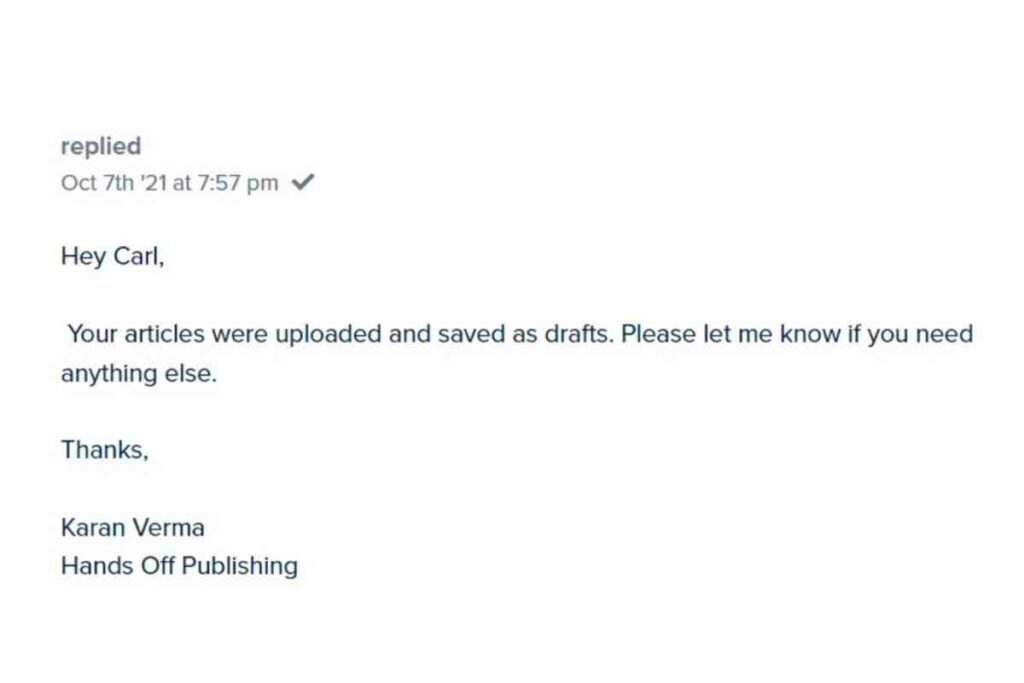 That's when I decided to create this video.
Perfectionist? Don't worry.
They offer unlimited revisions on all the work they produce and really do honor them. Just leave comments on Google Docs and relay any other information you think they could do with through their client dashboard in your order chat.
It's common business knowledge to give your customers what they want so they come back for more vs dragging them out and making their experience miserable.
Of course, many still don't understand this in the content writing industry, and any industry for that matter.
Luckily, Hands Off Publishing is a customer-first content agency from the $25,000 they refunded in their early days, to the countless good reviews customers leave for them and my personal experience with them.
You can feel confident that you'll end up satisfied whatever the outcome with these guys.
Content packages and pricing
You've got to appreciate their simple pricing. No quality tiers. No additional fees for images and publishing. You get charged by the word and the more you order, the cheaper it gets.
Take a look at their packages:
Some customers get confused and think that it's not possible to order between 1,000 to 10,000 words. All you have to do is select the 1,000 word package (Tester) and on the checkout page, increase the quantity of it.
Keep in mind that this can become quite costly – well it's all perspective really but the larger packages offer great savings.
If you want to place an order larger than 50,000 words, then you can book a call with them through their site, and they'll be able to arrange a special deal for you.
Since they charge by the word, you can even order something as specific as 64,500 words, but you'll have to email or call them to discuss this.
5 Reasons I think Hands Off Publishing are a good choice
Don't get it twisted, this is still a review before you think "damn Carl, you just went pro HOP".
Here are 5 things that are great about Hands Off Publishing and why I'll continue to do business with them.
1) Easy to work with
They always understand my requirements (so far), are super easy to communicate with, and are prompt with their delivery.
2) Not a writer network
All writers are constantly monitored and reviewed by the same person ensuring a strict quality across the board. All writers go through the same hiring process and must pass the same criteria. 90% of their writers are their employees and the rest are freelancers who exclusively work for them.
3) Customer-first attitude
They say the customer is always right but it's quite rare you get to feel this way. Hands Off Publishing always puts their customers first from what my experience and what I've seen from my own audience. I've sent them 57 customers to date, and not one refund or complaint.
4) One writing tier
You don't have to worry about trying your luck with different writing tiers. They don't believe in this concept. Either a writer is fit for the job, or they're not. There's no in-between in their eyes, and I very much believe this myself. You're after results, not words.
5) Everything in one place
Say goodbye to hiring 3-4 different people to manage your content calendar. Their research team will carry out your Topic Research, their writers will write your content, their editors will proofread and edit your content before it reaches you and their graphics team will source images for you.
You'll receive one well-researched, compelling piece with images and external links, everything that gives you the satisfaction of a wonderful post. Finally, their publishing team will upload the content for you. Each department strictly handles its job.
They will research, write and publish for you.
Even after mentioning these amazing things, it's not all sunshine and rainbows.
But how can you expect it to be? This is the real world, not a fantasy.
Let's look at 4 potential cons about working with them
Did you think they'll get away scratch-free? Here are some problems we've not yet discussed but you should be aware of.
1) A little difficult to scale with them
Their writer team is growing faster than ever this year as Abdullah just posted to Facebook the other day saying they received 700+ writer applications in 36 hours, however, their hiring rate is very low.
They currently have 24 writers on their team and are capped at serving around 1.2m words per month. The good thing is, I know this is temporary and growth is imminent.
2) They sell out by the middle of the month
Due to their limited capacity and huge demand, by the middle of the month they are sold out. This does not mean you won't be able to order but you might receive a follow-up email that there could be some slight delays.
I wouldn't worry too much about this as they are super transparent, they're growing very fast, and delays are never any longer than the guaranteed time frame + 10 days (this is what I've been told by Abdullah).
3) No live chat
If you wanted an immediate response and the satisfaction of seeing that "Online" symbol on the live chat, you won't be able to get that here.
The good thing is their operating hours are 9 AM to 5 PM EST and they are very active in those hours. I've never had to wait more than 6 hours to receive a response from them.
Like most founders, they never sleep and so if your order manager does not respond during the day, Abdullah or Sidharth will be sure to.
4) Don't offer PayPal payment
At least they take Amex, hey? So, I guess if you're 100% PayPal, you're going to have to say goodbye to Hands Off Publishing but I truly doubt anybody is one hundred percent PayPal.
I know many businesses have 100% hate for them, but fully dependent on them, I don't think so.
Did I tell you about their SEO upgrade?
You might've seen it on their checkout page. It's pretty common for content agencies to offer this service these days. They use a software called SurferSEO to write and optimize your content for the search engine.
You can totally do this yourself once you receive your content, but you're looking at $199 per month and it's harder to optimize content than write from scratch using the tool.
For what it's worth, they don't charge too much more for the upgrade.
Many writers and agencies boast SurferSEO but when you receive your content, you're looking at spammy, keyword-filled posts that you wouldn't even offer your worst client.
HOP lets you know beforehand that delivering a natural piece is their priority and optimizing based on Surfer suggestions comes secondary.
So you won't hear them guarantee a 100 score on Surfer, in fact, on their website they guarantee a score of 75+ which is just perfect.
Who are you going to trust to do a better job? Human or software? Some years from now (around the corner) we'll be able to say software, but for now, I'm sure Google appreciates a good human-written article far more than a keyword-spammed post.
A quick recap on delivery times
Every package at Hands Off Publishing comes with a guaranteed fulfillment timeframe. If you request specific writers to work on your job or provide them with multiple websites/niches to work on under one order this can delay the guaranteed TAT and they'll let you know this.
Here's the TAT breakdown:
Tester – 5 days
Baby – 15 days
Kickstarter – 25 days
Authority – 45 days
Custom orders – they'll inform you over the phone or email
Out of the 4 orders I've made, deliveries have always been made on time, and quality was never compromised.
Final thoughts about Hands Off Publishing
From their transparency to their content quality and prompt communications, I think Hands Off Publishing stands up there with some of the best content agencies on the market.
Once I run a 100,000-word order with them, then I'll really be able to establish the final verdict on this agency but until now, my experience with them hasn't been anything but smooth or short of amazing.
Do you want to save on time, money, and general resources? Hands Off Publishing has everything your website needs all in one place and is not out to break your bank.
If you're a blogger, e-commerce business owner, run multiple sites, or a small to medium-sized agency, you ought to give these guys a shot.
Use my coupon code "CARL75" to get 7.5% off your first order of 25,000 words or more.